Hummingbirds are some of the most unique and gorgeous birds on our planet. Their brightly colored feathers and quick movements bring our yards and gardens to animated life. And if you're wanting to introduce wildlife to your own garden, hummingbird feeders are a wonderful way to get started.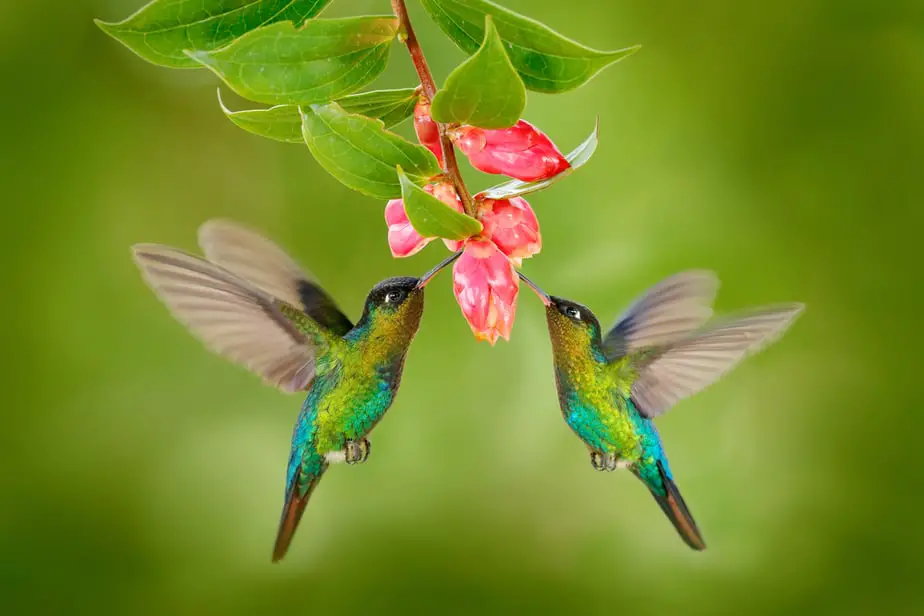 In this article, we'll be taking a look at some of the best hummingbird feeders on the market today and going over their features; taking a closer look at the mighty hummingbird, and giving you some quick tips on how to make your yard more bird-friendly.
Let's get started!
In a Hurry? Here's Our Top Picks…
1.
First Nature 32-ounce Hummingbird Feeder
First Nature 3055 32-ounce Hummingbird Feeder
ATTRACTIVE FEEDER: 32 ounces of nectar in this bright red hummingbird feeder attract multitudes of hummingbirds to your backyard. 10 flower-shaped feeding ports and perches are arranged in a circular manner for several birds to feed simultaneously. Made in the USA.
LEAKPROOF RESERVOIR: The mouth of the reservoir tightly screws onto the base, effectively sealing the bird feeder. After filling the container and screwing it onto the base, flip it over; the feeder will not leak even while upside down.
ERGONOMIC DESIGN: Reservoirs and base are made of hard plastic, and the 2-part base easily twists apart for an effortlessly thorough cleaning job. Hand-wash only; not dishwasher safe.
CLEAR RESERVOIR: The transparent exterior of the container allows you to monitor nectar levels so you always know when to refill. The wide mouth ensures simple filling and cleaning.
feeder is slipped onto a tree with an S-shaped hook. Hang the feeder 5 feet aboveground and enjoy watching the birdies flock.
Last update on 2023-09-02 / Affiliate links / Images from Amazon Product Advertising API
The First Nature Hummingbird Feeder is a wide-mouthed, easy-to-clean feeder perfect for the first-time hummingbird watcher. Because of their immaculate eyesight and tendency to favor the color red, hummingbirds will easily spot the bright red top, base, and artificial flower blooms of this feeder.
First Nature offers a variety of purchase options for this feeder. This hummingbird feeder is available in affordable individuals, packs of 2, packs of 2 with ant guards, packs of 4, and packs of 6.
These feeders are constructed with a comfortable perching ring and 10 individual nectar ports to comfortably accommodate nearly a dozen hummingbirds at a single time.
The base is made of two parts that can be easily deconstructed for effortless cleaning. Every part of this feeder can be washed with warm, soapy water (but not used in the dishwasher).
Likes:
Extremely affordable, even for those who may be on a tight budget
Bright red bases to appeal to the visual senses of hummingbirds
Easy to clean
Available in a variety of purchase options (individuals and packs of 2, 4, and 6)
Comfortable perching ring made specifically for the unique build of hummingbirds
10 feeding ports to accommodate multiple hummingbirds at once
Dislikes:
Some users have reported that these feeders spill nectar too easily
---
2.
Juegoal 12 oz Hanging Hummingbird Feeder
Juegoal Hanging Hummingbird Feeders (12 OZ)
Juegoal hummingbird feeder 12 oz nectar capacity with 5 feeding ports.
It has 12 plastic tips, others will not into the feeder easily.
Hanging rod opening, can be hung the bird feeder on the hook, tree and outdoor.
The feeder detachable cover easy to clean and refill.
Add 12 tips and cleaning brush for free.
Last update on 2023-09-02 / Affiliate links / Images from Amazon Product Advertising API
The Juegoal hummingbird feeder is constructed to prevent pests and effectively attract flittering hummingbirds. With a built-in moat, ants taking over your feeders will be a thing of the past.
This is a 12-ounce round feeder with 5 feeding ports, but the Juegoal feeders are also available in round 16-ounce feeders (with 8 nectar ports) and 12-ounce square hummingbird feeders (with 4 ports).
12 tips are included in your purchase to plug into the underside of the feeding ports. These tips are wonderful for creating a barrier between the nectar and larger insects that might try to steal a bite or two.
A cleaning brush is also included with this hummingbird feeder and the red top is easily removable for effortless caretaking. Like the previous feeder, this feeder has a comfortable perch made specifically for tiny hummingbird feet.
Likes:
Available in three different purchase options: 12-ounce round feeders (with 5 ports), 16-ounce round feeders (with 8 ports), and 12-ounce square feeders (with 4 ports).
Affordable feeder – a great option for those who don't want to spend a fortune on hummingbird feeders
Bright red top and flower feeding ports to appeal to a hummingbird's senses
Built-in ant moat to capture curious ants
12 feeder plugs to prevent large insects, such as bees, from getting into the feeder
An included cleaning brush and an easily removable top for effortless cleaning
Dislikes:
Comes with less feeding ports than other hummingbird feeder options
---
3.
More Birds Ruby Hummingbird Feeder
More Birds Bird Health+ Ruby Hummingbird Feeder, Glass Hummingbird Feeders for Outdoors, 4 Feeding Stations, 10 Ounces
NECTAR CAPACITY: Holds 10 fluid ounces of hummingbird nectar
FEEDING PORTS: Features four flower-shaped feeding ports to accommodate multiple hummingbirds
ANT MOAT: Built-in ant moat stops ants in their tracks preventing them from reaching the precious nectar
ATTRACT MORE HUMMINGBIRDS: Red is a hummingbird's favorite color; attract more with the red top and base
EASY CLEANING: We recommend washing your hummingbird feeder by hand with warm soapy water; please refrain from putting your feeder in the dishwasher
Last update on 2023-09-02 / Affiliate links / Images from Amazon Product Advertising API
Unlike the previous two feeders, the 10-ounce More Birds Hummingbird Feeder is made with a visually striking glass bottle. It's constructed with 5 feeding ports and 5 individual perches to accommodate multiple hummingbirds at once without the possibility of the feeder becoming overcrowded.
This feeder has a large, wide top opening for easy refilling and a base that can be unscrewed for cleaning. Both openings are bright red to attract more hummingbirds to the feeder. An ant moat is built-in to the feeder to prevent ants and various other insects from entering the ports and getting to the nectar.
A decorative hanger is included in your purchase for hanging the feeder practically anywhere you'd like.
Likes:
Affordable price
Bright ruby-red coloring to attract hummingbirds
Made with glass rather than plastic, which may last longer and look more appealing
Consists of individual perches to keep from overcrowding
Large top and basin for easy refilling and effortless cleaning
A decorative hanger is included in your purchase
Built-in ant moat
Dislikes:
Feeder only contains 5 nectar ports, which may not be enough for some bird enthusiasts
---
4.
Grateful Gnome – Hummingbird Feeder
Sale
Grateful Gnome Hummingbird Feeder for Outdoors Hanging Hand Blown Glass Fiery Bell Tower 20 Fluid Ounces Free Bonus Accessories S-Hook, Ant Moat, Brush and Hemp Rope Included
💥 VIBRANT BEAUTIFUL RED COLORED TO ATTRACT HUMMINGBIRDS 💥: We understand the types of outside colors that attract humming birds. Our colorful hummingbird feeders are beautiful and closely imitate the natural flower look that the hummingbirds are attracted to. Fancy design looks great on your deck, porch or balcony. Kit includes ant guard, s-hook, and cleaning brushes.
🔥 EXPERIENCED GLASS ARTISANS 🔥: Each product is handmade and unique like a fingerprint, The entire process of creating just one of these is truly amazing and actually requires numerous people just to create one of them! Our collective team has perfected this process! We engineered a leak proof handblown glass hummingbird feeder using a rubber seal ring that prevents dripping, 4 flower feeding ports for hummingbirds to drink nectar from and a nice round perch for the hummingbird to rest on.
🙏 GREAT CUSTOMER SERVICE 🙏: At Grateful Gnome, We Worship Our Customers! We Are An American Company With A Dedicated Customer Service Team Just For Our Bird Feeders! Many Of Our Competitors Here On Amazon Are Not Domestic And Lack Adequate Customer Support As A Result! Our Customer Service Is Superb And Will Provide You With Immediate Assistance!
⭐ RUGGED MATERIAL AND EASY TO CLEAN ⭐: Our Hummingbird Feeders for outdoor hanging are Hand blown glass, very sturdy, thick, and durable. The color in the glass is embedded in two layers of glass and won't fade and damage. The glass has portions where you can see through which makes it easy to seeing nectar levels. Very easy to refill and clean! Wide Mouth and Easily Cleanable.
🎁 THE PERFECT GIFT 🎁: Gift This To A Friend or Family. Ultimate gifts for parents who have everything. They'll Love It! We are always coming out with new models, so be on the lookout! Give them the world's best glass Hummingbird feeders for outdoors!
Last update on 2023-09-02 / Affiliate links / Images from Amazon Product Advertising API
Different from your average hummingbird feeder, this Grateful Gnome Hummingbird Feeder is made of handblown, red, orange and yellow glass. The bright, fluorescent colors are perfect for getting the attention of hummingbirds that tend to feed off of vibrant flowers.
The base is made of sturdy metal materials, including a circular perch that follows the circumference of the feeder. This hummingbird feeder contains 5 nectar ports to accommodate half a dozen (or more) hummers at once.
It can hold 20 ounces of nectar and has a wide mouth and detachable base for easy refilling and cleaning. The base also has a rubber ring to prevent nectar leaks and small insects from entering the feeder through the underside.
Likes:
Gorgeous handblown glass bottle in visually striking colors
Sturdy metal base
Easy to clean, detachable base
Affordable price for the great quality and appearance
Can hold up to 20 ounces of nectar at one time
The base consists of a rubber ring to prevent leakage, spills, and small insects from crawling through the underside of the feeder
S-hook is included with the purchase
Dislikes:
Some users have reported nectar leaks when left out in the hot sun. We recommend keeping your feeders in the shade during hotter months
---
5.
ShinyArt Hummingbird Feeder
ShinyArt Hummingbird Feeder for Outdoors, 38 Ounces, Blue Phoenix, Including Ant Moat, S Hook, Hemp Rope, Brush, Cleaning Rag and Service Card
✅ COLORFUL AND ATTRACT MORE HUMMINGBIRDS: The unique and shiny colors make the hummingbird feeder more attractive for hummingbirds. 4 flower feeding ports for hummingbird to drink, a nice round perch for the hummingbird to rest on
✅ EXQUISITE DESIGN: Our hummingbird feeder is a beautiful piece of art. Featuring gradient colors on the bottle, exquisite floral relief designs and 3D flower feeding ports keep bees away from your feeder. Perfect artwork to decorate your courtyard and home
✅ RELIABLE MATERIAL: Glass is sturdy and durable, the pigment won't fade and damage. Food grade silicone sealing ring aids in leak prevention and contamination. All the materials of the base are sturdy and environmentally friendly. Our hummingbird feeders ensure the safety of nectar
✅ EASY TO FILL AND CLEAN: This clear glass and wide mouth of the feeder is a breeze to clean and fill the nectar in a convenient way. Hummingbird feeders are easy to disassemble and clean, using a brush and cleaning rag to clean the bottle and base separately
✅ THE PERFECT GIFT: A great gift to your friend or family. They'll Love It! We are always coming out with new models, so be on the lookout! We provide replacement rubber seal. We want to make sure you are happy with your purchase
Last update on 2023-09-02 / Affiliate links / Images from Amazon Product Advertising API
Yet another handblown glass hummingbird feeder, this feeder is made with gorgeous bright colors to attract hummingbirds to your yard.
It's available in five color tone varieties including blue, green, red, all with swirls of bright reds, oranges, and yellows to grab the attention of hummingbirds. There are also two feeders with hummingbirds and flowers available for purchase.
The glass bottle unscrews from the base for easy cleaning and effortless nectar refilling. And though the glass is colored, it's semi-transparent so that you'll never overfill the bottle and always know when it's going empty.
This feeder is constructed with four feeding ports and four individual perches to allow for multiple hummingbirds to feed at once but prevent overcrowding. On the underside of the base is a rubber ring to prevent leaks.
With your purchase, an ant moat, metal hook, cleaning brush, rope, and hook are all included.
Likes:
Great price for the quality
Comes in five gorgeous color choices that are guaranteed to attract hummingbirds
Made of sturdy materials and handblown glass
The base is removable for effortless cleaning and refilling
---
6.
Perky-Pet Mason Jar Hummingbird Feeder
Sale
Perky-Pet 785-1SR Mason Jar Vintage Glass Hummingbird Feeder - Outdoor Garden Décor - 32 Oz Nectar Capacity
Stunning Antique Design - The vintage mason jar-style bottle, embossed details, and decorative ports will make a stunning backyard accent piece that you're sure to love
Accommodate Multiple Birds – This feeder boasts five flower-shaped feeding ports with comfortable perches so multiple birds can dine at the same time
Durable Construction - The thick glass bottle and metal base and ports are durable enough to withstand the elements
Easy to Clean & Fill – The feeder's wide-mouth bottle allows for easy filling and cleaning
Large Nectar Capacity – This feeder holds up to 32 oz of nectar, ensuring you have the perfect amount of nectar to go around in between cleanings
Last update on 2023-09-02 / Affiliate links / Images from Amazon Product Advertising API
If you're into the rustic, country chic garden look, The Perky-Pet Mason Jar Hummingbird Feeder may be just the garden addition you've been searching for.
This hummingbird feeder is available in two colors, blue and red, and is detailed with embossed lettering to give it a more vintage look. It holds up to 32 ounces of nectar and consists of 5 feeding ports and a perch that lines the circumference of the feeder's metal base.
The mason jar unscrews from the base, making this feeder a breeze to clean and refill; and though the glass is tinted, it's semi-transparent so that you always know the state of the nectar.
A metal hook is included in your purchase for hanging on small tree limbs or metal garden hummingbird feeder hangers.
Likes:
Adorable southern design
Can hold up to 32 fluid ounces of nectar
Easy to refill and clean – simply unscrew the jar from the base
Made of sturdy glass and metal materials
Available and blue and red glass to appeal to the senses of hummingbirds
Affordable considering the great quality and details
Included hook for hanging on metal garden hangers or tree limbs
The semi-transparent glass allows you to see the level and quality of the nectar
Dislikes:
Some users have advised against this feeder due to the galvanized metal parts on the outside of the feeder
---
7.
More Birds Glory Hummingbird Feeder
Last update on 2023-09-02 / Affiliate links / Images from Amazon Product Advertising API
This More Birds Hummingbird Feeder is an elegant, decorative feeder that would make a gorgeous addition to any garden. From the twisted glass bottle to the brushed copper top and base, this hummingbird feeder is a decorative force to be reckoned with.
Smaller than some of the hummingbird feeders on our list, this feeder can hold up to 13 fluid ounces of nectar and accommodate up to 5 hummingbirds comfortably. It's also made with 5 individual perches to prevent overcrowding.
The wide mouth and detachable base make this hummingbird feeder a breeze to clean and refill and the base is beautifully adorned with bright, red flowers to grab the attention of the color-biased hummers.
Likes:
Affordable, especially for the wonderful quality and gorgeous detailing
Individually made perches prevent overcrowding
Beautiful copper finish and twisted glass
Easy to clean and refill
---
The Uniqueness of Hummingbirds
Unlike your average yard bird, Hummingbirds are a much-desired bird by gardeners and bird enthusiasts everywhere. So what makes these little birds so unique? Let's take a look at some of the most wonderful attributes of these feathery friends:
Their "hum": As you can probably gather from their name, hummingbirds make a humming noise as they flitter around your yard. This occurrence happens due to the extremely fast beat of their wings. A hummingbird can beat their wings 53 times every second on average. The fastest wing beat on record is 80 beats per second by an Amethyst Woodstar Hummingbird.
Vibrant feathers: Many North American birds are adorned with brightly-colored feathers. But a hummingbird's feathers are unique in that they are iridescent and usually more vibrant than your average backyard bird. The colors of their feathers range from oranges and reds to purples, greens, blues and practically everything in between.
Size: Hummingbirds are some of the tiniest birds in the entire world. Their size is a characteristic that's hard to beat and their petite build has been beloved by the bird enthusiasts for decades. The smallest bird on record, the Bee Hummingbird, is 2.5 inches long. On average, hummingbirds are less than 4 inches in length (how cute!).
Tiny eggs: Hummingbirds lay some of the smallest eggs out of all of the bird kind. Each egg is less than half of an inch long and a mother hummingbird will usually only lay 2 eggs at a time.
Tiny Nests: Tiny eggs are only fit for tiny nests, after all. And hummingbirds create some of the smallest bird nests in the world. Their nests usually don't exceed the size of your average walnut shell.
Feeding habits: Though it may seem as though hummingbirds would suck up nectar with their long, pointy beaks, they actually use their long tongues to lap it up! They can lick up to 15 times per second as they feed! Because they use up so much energy, hummingbirds will feed up to 8 times each hour to replenish the nutrients lost during flight.
Aggression: Though small, they are mighty! Hummingbirds are some of the most aggressive birds in the world. They have been known to attack various kinds of birds that invade their territory or infringe on their eating habits at the hummingbird feeders. They'll even attack hawks!
Weight: On average, hummingbirds weigh about as much as the United States issued penny! That's about 3 grams!
Flying habits: Unlike most birds, hummingbirds can fly backward, upsidedown and hover in the air better than any other bird.
Legs: Contrary to the abilities of most birds we find in our yard, hummingbirds cannot walk on the ground. Their legs are too small to hold their bodies in a walking position. However, they can move from side-to-side when they land on branches. For the most part, gardeners will only see hummingbirds in flight which is unique in and of itself.
Color attraction: Hummingbirds are known for being attracted to the color red specifically. Designed to feed off of sugary nectar, they hunt for crimson flowers that hold an abundance of nectar compared to flowers of other shades.
Migration: They're loners, Dottie. Rebels. – Hummingbirds don't migrate together in flocks like other birds. They will travel alone for up to 500 miles!
Machine hearts: A hummingbird's heart has the fastest beat known in the animal kingdom. Their heart can beat at an average of 1,200 times per minute! (No wonder they're such zippy creatures).
Amazing eyes: Due to their ability to process ultraviolet light, hummingbirds can see brilliant colors that we can't. They're also equipt with a third set of eyelids to protect their eyes while flying. Did we mention that they can fly around 50 miles per hour on a good day?
Making Your Yard Hummingbird-Friendly
Of course, if you want to attract hummingbirds to your yard, then you should probably implement aspects that are specifically attractive to them. Here are a few ways in which you can do that:
Give them a food source. The first suggestion (and the main topic of this article) is to provide Hummingbirds with their favorite food. Rather than going off to find food elsewhere, having a hummingbird feeder will bring the tiny birds to your home instead.
Provide a water source. Like food, water is a necessity for hummingbirds. Placing a birdbath with cool water in your garden is a surefire way to attract hummingbirds (and other pretty birds alike).
Plant flowers that hummingbirds love. Hummingbirds love flowers that have lots of sweet nectar and are native to North America. These include Trumpet Vine, Honeysuckles, Bee Balm, Lillies, and dozens of other flowers.
Create a little haven for them. Having a designated wildlife area in your yard is a great way to attract hummingbirds. Keep noisy people and pets separate from where you want the hummingbirds to gather. You can also add thicker vegetation to help the animals feel more natural and secure.
If you'd like to know more, you can read about how to make your yard more bird-friendly, here.
Hummingbird Feed
In nature, hummingbirds feed on the nectar of brightly colored flowers. Hummingbird nectar can be found at your local gardening center, but you can also make your own in only a few short minutes. According to birdwatchinghq.com, the best recipe to use is the following:
Ingredients
1 part white sugar
4 parts warm water
Method
In a glass, simply mix the warm water and sugar until the sugar has dissolved completely.
Then place the nectar in your hummingbird feeder.
That's it!
Depending on the weather, you should empty, clean, and refill your hummingbird feeder once or twice a week. Changing time varies during the year (due to the fluctuation in temperatures and weather conditions), but as a general rule, if the nectar looks cloudy or gross, it's time to clean!
Best Hummingbird Feeder Brands
FAQ
Q: I've heard that hummingbirds are attracted to the color red. Is this true?
A: Yes! Hummingbirds are attracted to red and other bright flowers that contain large amounts of nectar. That's why you so often see hummingbird feeders with red tops and bottoms.
Q: Is store-bought hummingbird nectar better than my at-home recipe?
A: Not generally, no. Hummingbird nectar is extremely simple to create and really the only reason to buy premade nectar is if you don't have the time on your hands to make your own. Making your own will also save you the unnecessary expenses of premade hummingbird nectar.
Q: Can I add honey to my nectar?
A: No. Definitely do not add honey, as it can be detrimental to the health of hummingbirds. Hummingbirds do not eat honey in the wild, therefore it's not necessary to artificially include it in their diet.
Q: Since hummingbirds like the color red, should I add red dye to my nectar?
A: No. It's not necessary, considering the feeders themselves often have red tops or features to attract the birds. Additionally, food dyes can be harmful to hummingbirds. When dealing with wildlife, it's always best to avoid artificial ingredients and substances that aren't required to meet their natural dietary needs.
Q: What else do hummingbirds eat? Can I include other food sources besides nectar in my yard?
A: Aside from nectar, a hummingbird's diet also consists of small insects including spiders, ants, mosquitoes, fruit flies, and wasps. If your yard is lush and full of vegetation, it will naturally attract these hummingbird food sources.
You can read all about hummingbirds and their insect diet, at The Spruce.
Q: Is it better to keep my feeder in the sun or in the shade?
A: It all depends on the weather. During hotter seasons, it's best to keep your hummingbird feeder out of direct sunlight. On the other hand, during cooler seasons, it shouldn't be a problem to keep the feeder out in the sun. Just be sure to clean and refill the feeder once a week or whenever it begins to look foggy.
Q: What can I do to keep ants off of my feeders?
A: If ants are taking over your hummingbird feeder, you can attach an ant moat above the feeder, or apply Petroleum Jelly to the hanger rod. You can read more about ant moats (including how to make your own) and deterring ants, here.
Q: Does it matter if my feeder is glass or plastic? Is one more durable than the other?
A: Nope! In our experience, we've noticed that both glass and plastic hummingbird feeders can last for years – some even half a decade or more! Just as long as you take care of the feeder, it shouldn't matter what materials it's made out of.
Q: Okay, so you can keep ants off the feeders. But what about bees?
A: You can't really do much about the bees. Bees love nectar just as much as hummingbirds do! We wouldn't worry too much about the bees, though. Bees are important creatures and awesome pollinators that will naturally tend to your garden. They're a good yard guest to have!
Q: What do I do if mold becomes an issue?
A: Extremely hot temperatures combined with the nectar can encourage the growth of mold. If you notice mold developing in your hummingbird feeders, just be vigilant to clean it out thoroughly daily.
Final Thoughts
Bringing hummingbirds to your yard with hummingbird feeders is one of the best ways to bring your garden to extravagant life. There's no bird quite like the hummingbird and their physical attributes surely attest to that. With their bright colors, quick movements, and chirping, humming songs, hummingbirds are a coveted backyard visitor all over North America.
We hope you enjoyed our article covering the best hummingbird feeders and have come to know our fast and furious bird friends just a bit better. Happy bird watching!