Finding the right gift ideas for backyard bird watchers is no easy feat. With the hundreds of birds they encounter, it's difficult to find them something that they haven't already bought themselves. Thankfully, there are a few treasured finds that even the savviest bird lovers aren't likely to have found.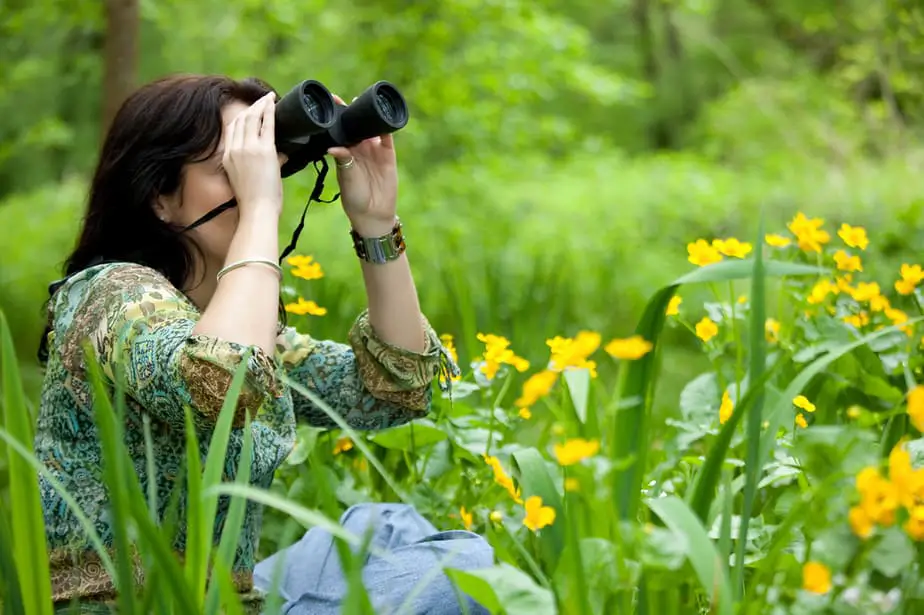 Each of these 15 gifts gives you the potential to wow and impress your bird-loving friend or family member, all while ensuring you're not getting them something that they probably already have. Diversity is important in the bird-loving world and having new gadgets and books to help identify and have fun with this bright and colorful hobby is important, as well.
Let's jump into our favorite gifts!
1. This Waterproof, Shockproof Phone Attachment
Gosky Titan 12X50 Monocular Telescope with Smartphone Holder - Waterproof Fog-Proof Shockproof Scope BAK-4 Prism FMC for Bird Watching Hunting Camping Traveling Wildlife Scenery
12X50 High Power Magnification: 12x magnification, 18mm eyepiece and Light-Gathering 50mm objective lens, Gosky 12x50 high power monocular presents bright and clear images within a range of 289ft/1000yards (larger view than other higher magnification telescopes). The Titan telescope is a great option for bird watching, moon watching, stargazing, wildlife spotting, and watching concerts.
See True Colors: The BAK-4 prism and fully multi-coated (FMC) lens can increase light transmission and resolution, ensure true colors and provide you with a colorful and vivid view. The Twist-up eyecup could be smoothly rolled in or out to a comfortable distance, which is very convenient for users who wear glasses.
Portable and Lightweight: Perfect size and compact design for users to hold or focus with a single hand. The monocular is lightweight for adults and even kids to carry around all day long. There's also a solid framework and shock-absorbing rubber armor with stripes to keep it from slipping out of your hand.
Universal Smartphone Adapter: With the included upgraded quick-alignment smartphone adapter, your mobile phone could be easily attached to the Titan telescope. Feel free to take pictures or videos and share those exciting moments with your loved ones. (Note: The included adapter is compatible with almost all other smartphones on the market.)
IPX7 Waterproof: IPX7 Nitrogen-filled waterproof design and O-ring sealed optics provide waterproof, fog-proof, shockproof, and dustproof protection in any weather or any condition for any mission. It's robust and durable enough to withstand unexpected extreme weather during your outdoor adventure.
Last update on 2023-09-21 / Affiliate links / Images from Amazon Product Advertising API
This shock-absorbent, waterproof, and dustproof phone attachment is perfect for bird watchers. It helps them zoom into the bird they're trying to look at, allowing them to take a photo of the bird with their phone. It has a large focusing wheel to make sure you can really see the bird and an objective FMC green lens. This attachment clips right to your phone, though it does take some lining up to get it to sit right. Once it's on you're ready to go. You just open the camera app and feel free to photograph.
This attachment boasts 12×50 magnification giving you a pretty great view of the outdoors. It can also be used for scenic viewing, hunting, and so much more. Dust and debris can't even get in due to the nitrogen-filled o ring that seals it, keeping moisture out so you can see the birds clearly and get great pictures.
Overall it's a sturdy attachment, but on occasion, certain components are actually missing from the package. This can upset some buyers and frustrate others.
It also doesn't work with the iPhone 7 or up, you simply can't get it to sit over the camera hole properly. Other than that this is a sturdy, shock resistant, waterproof, phone attachment that can provide a lot of backyard fun for the birder in your family.
Things We Like:
Comes with a smartphone adapter
Shock absorbing sturdy framework
Waterproof and dustproof
Check Price and Reviews on Amazon
---
2. National Geographic Backyard Guide to the Birds of North America
Last update on 2023-09-21 / Affiliate links / Images from Amazon Product Advertising API
This North American Bird Guide comes from National Geographic themselves and contains high-quality vivid pictures, a plethora of information on the individual bird species, and a wonderful color-coded index to help you find the birds. You can look for specific birds or you can try to identify birds you've seen directly from this book because it has such high-quality photos and information.
At about eight inches in height, it's also great to travel with, so if you decide to go out to a new location to find birds, you can still identify what you find. This comprehensive guide is an excellent addition to any bird lovers arsenal and anyone looking for gift ideas for backyard bird watchers would be missing out if they didn't consider this book.
It's an excellent choice for both well seasoned and new bird lovers but there is a minimal flaw with this potential gift: sometimes the wrong book gets sent in its place, which should be easy enough to clear up.
Other than that minuscule issue, there have been no problems with this book. Most bird watchers thoroughly enjoy it, making this a wonderful gift for any occasion, and an impressive, extensive guide for those that love all things with feathers.
Things We Like:
Very vivid pictures
Lots of information on each individual species
A color index helps locate birds in the book
Check Price and Reviews on Amazon
---
3. This Interesting Bird Bingo Book
Sale
Last update on 2023-09-21 / Affiliate links / Images from Amazon Product Advertising API
Bird lovers young and old like this cute Bird Bingo book, making it perfect for gift ideas for backyard bird watchers. It has a sturdy and colorful design that holds up to small children, it's great for all ages, and is educational along with being quite a bit of fun. Children have even been able to identify birds in their yards after playing this game!
The creators took great care of designing the game, making it clean and bright. There are even birds printed on the bag the game comes in. The birds available are from all over the world, though, which is just one downside to this game.
It is also labeled as a 'book supplement' which can confuse some people when they go to purchase it. Other than that this is a great little game that the whole family would love. You can easily impress the bird watcher in your family with this bright and attractive bingo game.
Don't forget to use this game to teach about conservation. This is a subject that bird watchers are very adamant about so using this opportunity to teach the next generation about protecting the environment would be a wonderful idea.
Things We Like:
Great for all ages
Sturdy and colorful design
Educational
Check Price and Reviews on Amazon
---
4. Bird Trivia!
Last update on 2023-09-21 / Affiliate links / Images from Amazon Product Advertising API
Have you ever asked, or wanted to ask a bird-related question that seems silly? This book is perfect for great gift ideas for backyard bird watchers. It has a wide variety of questions answered – even the ones you're embarrassed to ask!
The wit and humor in this book make it wildly entertaining for all bird watchers. All the questions the writer answers are answered in an interesting manner and all the information works for both well seasoned and brand new bird watchers. It's an all-around appealing, and funny book, that is sure to delight the birder in your family no matter the age. A great book for any bird lover.
The best part? We can't find a single person that was unhappy with their book. This author is funny and witty without being offensive while still managing to be incredibly informative. The book is well written and has plenty of information on birds, the silly questions people ask, and why certain birds do certain things. If you're looking for gift ideas for backyard bird watchers this is an excellent choice that will make them laugh and teach them more about the birds they already love and enjoy.
Things We Like:
Entertaining and humorous
Answers questions in an interesting manner
Applicable to both seasoned and new birders
Check Price and Reviews on Amazon
---
5. This Pair of Aurosports Binoculars
Sale
Aurosports 10x25 Binoculars for Adults and Kids, Folding Compact Binocular With Weak Light Vision, Lightweight Small Binoculars for Bird Watching, Travel, Concerts, Hunting, Hiking
【High Powered 10x25 HD Binoculars】10x power magnification, helps quickly catch long range target 10x closer. The birds in the backyard and the animals and plants in the forest can cover all at one glance and perform equally as well for sporting events and concerts. With 25mm objective lens, 10x25 binoculars provides the brighter, clearer images and more comfortable observation for you.
【Compact Palm Size And Lightweight Binoculars With Only 0.55lb】Compared with other large and heavy 10x42,12x42 binoculars, 10x25 binoculars weights 0.55lbs with moderate size for both kids 8-12 and adults to use. Easy to hold and fit in the palm of hand, suitable enough to get child's attraction for nature. For anyone looking for a pair of lightweight but powerful binoculars that will allow them to enjoy bird-watching and sightseeing.
【BAK4 Prism, High Contract And Crystal Clear Images】BAK4 Green coating and fully muti-coated lens, which provides you vivid and real images in backyard bird watching. With field of view: 362ft at 1000 yards, this binoculars provides a great up close view in camping trips for bird watcher, sports fan, race car fan etc.
【Binoculars With Lens Covers, Accessories Complete】Binocular comes with a cover for the lens in case it is accidentally dropped on the rock or dirt. The neck strap is padded and adjustable, to used for comfortable carrying while still having your hands free. A case to keep the binoculars clean and protective. Travel binoculars high quality optics, being able to take out easily while hiking or doing outside activities.
【Smooth Focus Wheel, Easy To Operate】Right eye focus and center focus binoculars, simple for both adults and kids to view objects quickly at different distances during a hike or hunting. Central focusing wheel, smooth to help you get faster and more accurate objects on African Safari trip. On both sides of the binoculars, diamond and non skid texture designed to prevent slipping.
Last update on 2023-09-21 / Affiliate links / Images from Amazon Product Advertising API
Bird lovers and bird watchers not having a pair of binoculars to see their flighty friends with are unheard of. This little pair of binoculars is lightweight and versatile. It provides a large field of view and lets you zoom in on a target a great distance away. Making this great for gift ideas for backyard bird watchers. Its waterproof design created by multi-coated lenses makes for an even better experience. It's great to use in low-level darkness but does not have night vision.
Though this isn't a night vision pair of binoculars it does do well in low light, and the lack of night vision isn't a problem with these binoculars. The focus wheel though is another story. It's difficult to focus these binoculars making it difficult to capture birds at a distance because birds are so quick to come and go.
If you're looking to use these binoculars at a closer range than they're a great gift for any bird watcher. Trying to use these binoculars at night though is going to give you nothing but a headache, so try to use them during the day as long as you possibly can to see your feathered friends.
Things We Like:
Lightweight
Large field of view
Waterproof
Check Price and Reviews on Amazon
---
6. This Color-Changing Mug
Birds on a Wire Heat Changing Mug - Add Coffee and Colorful Birds Appear
This heat-chaning mug will transform before your eyes -- when it's cold, the mug is encircled with the elegant silhouettes of birds on a wire; pour in a hot beverage and 18 bird species appear in full color!
12 oz. ceramic coffee cup with a comfortable handle
Comes in a beautifully designed, colorful box
Microwave safe, but not dishwasher safe. Hand wash only. Don't soak.
Click the store link near the product title for more great gifts from The Unemployed Philosophers Guild
Last update on 2023-09-21 / Affiliate links / Images from Amazon Product Advertising API
This beautiful color-changing mug is one of many great gift ideas for backyard bird watchers. It reacts both to hot and cold temperatures, the cold temperatures don't do much, leaving the birds on the cup in their natural silhouette. Hot liquids, though, slowly reveal the individual birds in color, a total of eighteen different species in all.
This mug holds a total of ten fluid ounces and comes in a delightfully colorful box. It's also microwave safe, but there are always downsides to awesomeness. This delightful little cup is hand wash only, no dishwasher allowed. If you try to put this cup in the dishwasher the color-changing ability of the birds will be affected, taking the uniqueness right out of the cup.
Things We Like:
Color changing
Microwave safe
Cute design
Check Price and Reviews on Amazon
---
7. This Awesome Wall Art
Last update on 2023-09-21 / Affiliate links / Images from Amazon Product Advertising API
This wall art collection is specifically of hummingbirds and is downright gorgeous, perfect for any backyard bird watcher. Bird watchers love to be able to see birds, and these high-resolution pieces of wall art are ready to frame and make great gifts. These pieces of art house vibrant colors that contrast delightfully with hummingbirds on each of them. This is a wonderful piece for those bird watchers that have a special place in their hearts for the hummingbird.
Things We Like:
Ready to Frame
Beautiful color
Great for hummingbird lovers
Check Price and Reviews on Amazon
---
8. A Lucky Shirt
This Is My Lucky Bird Watching Shirt Gift Birding Bird T-Shirt
This Is My Lucky Bird Watching Shirt Gift Birding Bird Design. Makes a terrific gift for bird lovers, ornithologists, and backyard bird watchers. Perfect for women, men, kids, boys, and girls who are bird lovers.
Makes a great birthday, Chirstmas, Mothers day, or Fathers day gift for Mom, Dad, Grandpa, or Grandma. This novelty graphic design by Impuriteez.
Lightweight, Classic fit, Double-needle sleeve and bottom hem
Last update on 2023-09-21 / Affiliate links / Images from Amazon Product Advertising API
This quirky little shirt is a great addition to a bird watchers wardrobe. These shirts are machine washable, and come in a whole slew of sizes and colors, making them appealing to just about anyone who loves watching birds. These shirts are also lightweight and comfortable. Normally we anticipate a downside for something so wonderful but thankfully there haven't been any reported issues with this shirt, no late deliveries, no off colorations and no mistakes. Which makes it so much easier to ensure you're going to get a great gift for your feather searching friend or family member.
Things We Like:
Can choose if the shirts for men, women, or children
Multiple colors available
Lightweight and comfortable
Check Price and Reviews on Amazon
---
9. Or This Witty Shirt
No products found.
This shirt, like the previous shirt we suggested, is wonderful, colorful, and comfortable. The witty little saying will surely win over the hearts of every bird watcher in the area. It's a cold wash shirt, and the 50 by 50 cotton and polyester gives it the incredible feel, on top of the fact that the witty little saying makes this shirt fun and funny regardless of who you're buying for. This shirt is a wholesome gift that, like the previous shirt, has no current noted downsides. A truly wonderful one of many awesome gift ideas for backyard bird watchers.
Things We Like:
Comes in multiple colors
Witty and funny
Check Price and Reviews on Amazon
---
10. This Wonderful Spotting Scope
CREATIVE XP Spotting Scopes HD 20-60x80mm Zoom with FMC Lens, 45 Degree Angled Eyepiece, Fogproof Spotting Scope with Tripod, Compact with Phone Adapter for Birding Watching
EXTRA-LOW DISPERSION GLASS: While other spotting scopes for target shooting and hunting can get blurry the farther you zoom in, this ED glass includes a 60x magnification for perfect image quality without any chromatic aberrations.
EASY TO USE: See nearby planets, follow elusive birds, and find bullet holes from up to 500 yards away with our spotting scope tripod combo! Zoom in with ease and focus clearly with the 2 Fine Focus knobs.
WATERPROOF & ANTI-FOG: Our long-range hunting scope is built to withstand the harsh elements. It's built with a waterproof O-ring sealed outer shell, which also protects the interior optical lens from fogging.
NON-REFLECTIVE & DURABLE: This bird watching scope gets you a clear image, every time. The fully multi-coated lenses don't just prevent reflections, they're scratch-resistant!
SET INCLUDES: Our spotter scope comes with a tripod (compatible w/ Vortex, Leupold, Nikon, and Bushnell tripods), a protective case, a phone adapter, and a photo clicker to take pics from great distances.
Last update on 2023-09-21 / Affiliate links / Images from Amazon Product Advertising API
This delightful spotting scope doesn't require your phone to function, which is great for those who didn't quite like the scope phone attachment further up in this list. This little spotting scope packs a big punch. It's waterproof, has a shealth and phone attachment with it, and can zoom in to an incredibly crisp image.
There are some very minimal complaints that the quality is not as expected in the image, but that could easily be due to user failure. This wonderful scope brings delight and wonder to bird watchers of every age. Regardless of the minimal complaints, plenty of people have enjoyed using this scope for birdwatching.
Things We Like:
Crisp image
Heavy-duty – lightweight
Comes with both a phone attachment and a sheath
Check Price and Reviews on Amazon
---
11. A Fine Feathered Suncatcher
Sale
River of Goods Birds on a Wire - Stained Glass Window Hanging - 24.25" L x 9.5" H - Window Suncatcher - Bold Home Decor
SUN CATCHERS FOR INDOOR WINDOW: Our beautiful bird suncatcher makes a stunning window decor piece. It features 10 delightful birds happily perched next to one another with glimmering green, blue, yellow, and orange hues.
HANDCRAFTED STAINED GLASS ART: Fabricated from 162 individual rippled, striated glass pieces and 15 cabochons, each piece is wrapped in copper foil and hand-soldered. It includes a decorative 30" chain and measures 24.25" L x 0.25" W x 9.5" H.
VIBRANT AND VERSATILE: As part of the finishing process, oil is added to the outside of the design to protect the metal from erosion. Our bird ornament is perfect for your home office, kitchen window, bathroom, or dining room space.
BIRD LOVER GIFTS: The beauty of stained glass is its versatility when illuminated by light. It becomes more vibrant when lit, making it a thoughtful present for friends and family. It's a thoughtful gift for Christmas, a birthday, or an anniversary.
RIVER OF GOODS: A sourcing and product development company headquartered in Minnesota that derives inspiration from our world travels. Our passion is to offer unique lighting products, home furnishings, and home décor accents that light up your life.
Last update on 2023-09-21 / Affiliate links / Images from Amazon Product Advertising API
This beautiful suncatcher is one of the most perfect gift ideas for backyard bird watchers. It comes in two different colorations: a lighter and darker version and each is impactful and gorgeous. It lights up the room its in so long as it's in the window. This suncatcher is built of handcrafted glass and is incredibly delightful and impactful.
It brings light to every corner of the room just by staying in the window and sending spirals dancing outwards. This suncatcher is incredibly versatile and works as a delightful gift for any backyard bird watcher. There is one potential downside though, some buyers have complained of the metal foil unraveling, leading to claims of poor quality. These claims are few and far between, making this one beautiful potential present for bird lovers.
Things We Like:
Handcrafted glass
Versatile
Great for any window
Beautiful coloring and craftsmanship
Check Price and Reviews on Amazon
---
12. An Official Bird Call
Pet Media Birchwood-and-Metal Original Audubon Bird Call
Handmade and individually tuned original Audubon bird call
Attract various species of wild birds from miles around
Durable Birchwood-and-metal construction; compact and lightweight
Included rosin should be used occasionally to renew the call's voice
Measures 1/2 by 1/2 by 2-1/4 inches
Last update on 2023-09-21 / Affiliate links / Images from Amazon Product Advertising API
This is an official Audubon bird call and is capable of bringing in dozens of species of bird. It's handmade of metal and wood and is tuned individually, making it unique. It's also incredibly compact and lightweight making it easy to grab before you step into your backyard. With each passing moment, you could see dozens of birds because of this call, and there's even rosin you can use in case the call loses its 'voice'. This restores that voice and allows you to keep on using the call regularly to bring in birds you love to see on a regular basis.
Things We Like:
Attracts various species
Handmade and Individually Tuned
Compact and Lightweight
Check Price and Reviews on Amazon
---
13. Bird Trivia is Always a Hoot
Outset Media What Bird Am I? – The Bird Identification Game – Contains 300 Cards for 2 or More Players Ages 14 and up
CALLING ALL BIRDERS: What Bird Am I? is a tabletop game designed for birders to test their species identification skills!
LEVELS OF DIFFICULTY: With three levels of difficulty, What Bird Am I? is perfect for novice and intermediate birdwatchers, as well as truly serious birders.
MADE IN AMERICA: The game has 300 spectacular photographs of birds from across continental United States and Canada. And it was proudly Made in the USA!
HOW TO PLAY: The object of the game is to identify the bird species in as few clues as possible to win the most points for that card.
INCLUDES: 300 Cards, 1 Score Pad, 1 Pencil and Instructions
Last update on 2023-09-21 / Affiliate links / Images from Amazon Product Advertising API
Can you say card games? This card game is one of many great gift ideas for backyard bird watchers, it incorporates levels so you don't have incredibly difficult questions paired with new bird watchers. This game is designed to test your bird trivia, and it has a great attraction to backyard bird watchers. Each bird is photographed vividly and comes with a great deal of detail. The game is also incredibly easy to play, which makes picking it up a quick and easy process.
There is one downside to this purchase though, there are some very uncommon instances where the box of the game is damaged, though there have been no reports of the game itself being damaged at all. It's unlikely that you'll see this issue, and that shouldn't stop you from seriously considering this awesome potential gift.
Things We Like:
Easy To Play Game
Great full color and high-quality pictures
Three levels of difficulty
Check Price and Reviews on Amazon
---
14. This Collapsible Checklist
BESPIN Reversible Bird Map of North America - A2 Size Bird Guide - Water Proof- Tear Resitant - Portable -583 Birds
✓Satisfy Your Curiosity: This BESPIN Bird Map is an item that will help you enjoy bird watching 120%! There are 583 kinds of North American birds all contained on one large two-sided map. You might just fall in love with these birds once you see them!
✓The Best durability: This product uses Yupo chemical synthetic paper which is also used in Hazard Maps which require high durability and visibility. It is hard to tear and can completely repel water, so you can bring it to the ocean, mountains, rivers, anywhere.
✓Smooth Paper Quality: Known for its excellent color development, you can enjoy a clear, vivid image of feathers with Yupo paper. It's also writable, so you can add check marks next to birds you discover.
✓Large but Compact: When laid out, the map is about the size of A2 paper, but can be folded into the size of a booklet. It is light weight and easier to carry than a general bird guide book, which makes it stress free for those of all ages..
Last update on 2023-09-21 / Affiliate links / Images from Amazon Product Advertising API
This waterproof tear-resistant poster is great for gift ideas for backyard bird watchers. Each bird is displayed clearly in color, with a short description, and a place to check them off. This makes it easy for you to keep track of a lot of the birds you've seen. The paper itself is very durable and even though it's thin, it resists both water damage and is tear-resistant to aid toward quality for many people take this compact but thorough guide into their backyard, and other places, with them.
This is a sturdy checklist with vivid pictures and a great depiction of the birds you may come across.
Things We Like:
Satisfies curiosity
Large but compact
Very durable paper
Check Price and Reviews on Amazon
---
15. A Guide to Birds and Locations
Sale
Last update on 2023-09-21 / Affiliate links / Images from Amazon Product Advertising API
This bright, comprehensive guide is perfect as one of many gift ideas for backyard bird watchers because those birdwatchers rarely leave the backyard. This book can help them see birds that they would never see simply due to their region, and even give them information on birds that are specific to their area. Each page has bright and colorful pictures, and this book is made by National Geographic, a well-known wildlife publication.
The only real downside anyone has with this book is the idea that it has less detail than desired, and that the information is a few years out of date, which is to be expected due to publication restraints. Otherwise, this is an excellent book, and an excellent addition to any bird lover's arsenal.
Things We Like:
A great birding location guide
Vivid pictures
Well-Known publication
Check Price and Reviews on Amazon
---
A Little Info About Bird Watching
Now that we've shared our favorite gift ideas for backyard bird watchers, we'll give a little background about bird watching to provide a better understanding of the hobby!
Where Did Bird Watching Come From?
Bird watching, otherwise known as 'birding' is the act of watching birds in their own natural habitats. This past time wasn't made popular until the 20th century with the invention of the binoculars. Before then it was difficult to identify a bird correctly unless you had shot and killed it. The binoculars make it easy to see the bird from a distance without disturbing it, and absolutely without killing it.
Bird watching was first made popular in Great Britain but quickly moved throughout Europe and to the United States. This interest was mostly fueled by books on birds, these informative tomes sparked a great deal of interest in birds, leaving many people with a want to see them in their natural habitat.
Journals and magazines took off from there bringing in even more bird lovers to the sport of bird watching. People since then have been asking about gift ideas for backyard bird watchers and have been searching for unique and interesting gifts for their friends and family members.
Bird Watching for Sport
Birding is a sport that stretches back for decades, and ornithology or the study of bird species has been revered by bird watchers since it came to be. The most attractive birds for birders is the male of the species. They are easier to spot usually due to their bright and flashy plumage. The females are more difficult to distinguish overall, but well-seasoned bird watchers can easily spot them and tell what species they are.
The female birds and male birds aren't usually very far away from one another location wise. If you spot one, you may soon spot the other if you're patient and know what to look for. Citizens that watch birds are usually quite concerned about the environment, especially in which their birds would inhabit.
Final Thoughts
If you're looking for great gift ideas for backyard bird watchers you don't have to look any further. These wonderful gifts, from books to binoculars are inspired additions to a bird watchers arsenal. The gift we'd suggest depends on the things your bird watcher already has.
Ask them about the things that they have, and take another look at this list. Who knows, maybe you'll even pick up a few of these gifts for yourself. You can never have too many things in common with your loved ones.
Bird watching is a wonderful sport, a vibrant past time and a great way to compete against others. The birds are beautiful powerful, vibrant creatures and you would be lucky to share this past time with a friend or family member. From games to new books and more any of these gifts would be wonderful to get for the bird watcher in your life.