If you're looking for the best bird feeder to bring a little more birdsong to your mornings and color into your afternoons, you've come to the right place. With all of the options for different styles and types of bird feeders, it can be overwhelming trying to figure out what kind of feeder will be right for you and your local birds.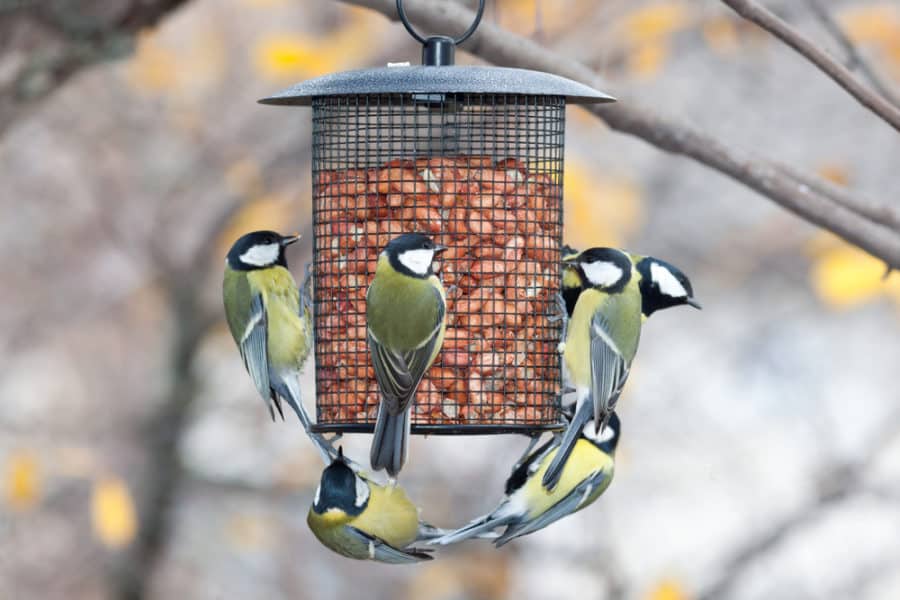 This comprehensive buying guide tells you everything you need to know to decide what your best bird feeder will be and how to take care of it (and your new feathered friends)!
Rubicon Suet Feeder with Tail Prop
Last update on 2023-09-18 / Affiliate links / Images from Amazon Product Advertising API
This suet feeder, made by Songbird Essentials, comes with an environmentally-friendly design, made from recycled milk jugs, and is guaranteed not to fade, peel, rot, crack, chip, or warp. It's the perfect feeder for helping wild birds survive during the winter when food is scarce, and its natural color scheme is great for attracting a varied group of birds to your yard.
Suet is one of the best foods you can offer your local birds to help them get through when there's not a surplus of food around. This model is especially popular with woodpeckers and other birds who balance by resting their tails against tree trunks, as it features a tail prop, which extends from the bottom of the suet container.
The Rubicon Suet Feeder can hold a single block of suet at a time, with hungry birds able to access it through the metal mesh on either side. The mesh is sturdy and should be able to stand up to the most determined squirrels. This is a great model for helping out your feathered friends in the winter, though it can still be used in the summer as long as the temperatures don't get too high. It doesn't require as much upkeep as some of the other feeders and brings in a variety of birds.
Things We Like
The environmentally-friendly design is both sustainable and highly durable, so you don't have to worry about it getting damaged even if the weather is bad
The tail prop will attract larger birds who use their tails for balance
Suet enclosing metal mesh will deter squirrels
Check Price and Reviews on Amazon
---
Perky-Pet 325S Panorama Bird Feeder
No products found.
The Perky Pet Panorama Bird Feeder is the best-selling bird feeder. It combines a rustic aesthetic with quality materials to attract and feed all kinds of wild birds. Not to mention it lasts for a long time, even when exposed to the elements.
The Panorama Feeder has a seed capacity of 4.5 pounds, which can be made up of mixed seed, fruit/nut combos, peanuts, or black oil sunflower seeds. It's divided into two compartments which are easily visible through the clear plastic compartments so you can always tell how much food is left. The divider also means you can use two different types of feed to attract a larger variety of birds. The Evenseed system allows for both sides to dispense seed equally.
There are two circular perches, allowing the birds to easily access their meal, which fills into the trays from the eight seed-dispensing ports, as well as a patented Sure-Lock cap system that keeps squirrels from being able to get into the seed (and makes it super easy to refill).
This bird feeder comes with a hook for quick and easy hanging. It's been designed to have a rustic, earthy look, which will blend in nicely with any yard and not take the attention away from the bright colors of your new feathered guests.
Things We Like
Evenseed system allows both sections of feeder to disperse evenly into their trays
Sure-Lock cap system keeps out pesky squirrels and makes it easy to refill the feeder quickly
Eight seed-dispensing ports mean that there's always food available, even if there are lots of birds
Panoramic perches have extra room for many birds to enjoy this feeder
Check Price and Reviews on Amazon
---
Aspects 367 Hummzinger Ultra Hummingbird Feeder
Sale
Last update on 2023-09-18 / Affiliate links / Images from Amazon Product Advertising API
The Hummzinger Ultra is one of the most popular hummingbird feeders on the market. The design is simple, made from polycarbonate, and features a built-in ant moat to keep ants from getting into the sugar water. Additionally, this feeder is one of the best at keeping away wasps and flies because of its built-in Nectar Guard tips, which are made of a flexible membrane that opens easily when hummingbirds insert their beaks into the flowers, but can't be opened by flying insects.
The raised flowers help keep rain out of your mixture as well, and it's easy-to-open for cleaning and refilling the feeder. It can hold 12 ounces with four feeding ports to allow multiple hummingbirds to eat at once, and the integrated wrap-around perch offers the birds a comfortable place to sit and rest for a while.
The Hummzinger comes with a metal hook for easy hanging or mounting from a post, and is the most leak-proof hummingbird feeder on the market. If you're looking to bring some color to your yard with fun-to-watch little birds, you can't go wrong setting up this hummingbird feeder.
As an added bonus, you don't have to purchase special mixes to keep the hummingbirds coming back year after year. They'll be delighted with a simple mix of one part sugar and four parts water. You can get these in packs of two, as well, to attract even more hummingbirds and keep a territorial bird from bullying the others away.
Things We Like
Built-in ant moat keeps ants out of your sugar mix
Nectar Guard tips allow hummingbirds to drink with ease while keeping out flying insects
Metal hook is easy to mount anywhere
Easy to open, clean and refill with minimal effort
Leak-proof design prevents other creatures from being attracted to the feeder and makes sure there's no sticky mess below the feeder
Check Price and Reviews on Amazon
---
Nature's Hangout Premium Window Bird Feeder
Sale
Window Bird Feeder with Strong Suction Cups, Clear Window Bird Feeders for Outside - Transparent Bird House, Balcony Glass Mount, Acrylic Cat, Kids & Elderly Viewing Clear Bird Feeder for Window Perch
BIRD WINDOW FEEDER GIFT - Perfect for birding and bird lovers, our window bird feeder is a great outdoor present for kids, cats, and the elderly. They arrive in a holiday-ready box, perfect for the season!
SUCTION CUP BIRD FEEDER WINDOW - 6 Ultra-Strong weatherproof suction cups are included. To install, clean your window on both sides, slightly dampen suction cups then press them onto the window firmly to secure.
YOUR NEW FAVORITE BIRD BUDDY - Bird feeders for outdoors hanging from Nature's Hangout are EASY TO FILL AND CLEAN! Simply slide out our patented tray, fill with your favorite seed, and slide back in. To clean, just wipe with a cloth. The elderly and children will have NO trouble!
WINDOW MOUNTED BIRD FEEDER - Bird feeders for outside by Nature's Hangout provide an unobstructed view! With no hole to get in the way, the clear backing is the perfect place to watch and enjoy your favorite birds.
SQUIRREL FREE WINDOW BIRD FEEDER INSIDE HOUSE - Squirrels can't climb glass! Keep your feeder 5 feet away from any ledges and viola! The drip holes in the bottom of the tray keep your seed dry for only your favorite birds to enjoy!
Last update on 2023-09-18 / Affiliate links / Images from Amazon Product Advertising API
This is easily the best window feeder on the market. It's so great that many others have copied the Nature's Hangout design, but with lesser quality materials. This bird feeder brings the wild to your window, where you can enjoy the view without disturbing them.
It's made from high quality, transparent acrylic that doesn't darken or yellow over time. Plus the durable, all-weather design features mold-free drainage holes to help keep your seeds from going bad. It comes with powerful suction cups that will keep the feeder adhered to your window, no matter how windy it is.
Nature's Hangout feeder can hold up to four cups of seed and has dividers so you can use different types to attract a larger variety of birds to your window. The removable tray is easy to access for cleaning and refilling. To encourage your new feathered friends to come and hang out with you, it has a comfortable padded-grip perch and a birdhouse cover on the top to keep the rain or snow off of the seeds and the birds.
This is definitely the best option if you want to bring the birds right to you. It's best to place this bird feeder up high on windows to keep squirrels and raccoons away, as well as in a place that is relatively protected from the elements. We also recommend putting it someplace that has grass or plants underneath, rather than over a deck or porch to prevent a buildup of sunflower shells and droppings from accumulating in an area that you have to clean up regularly.
Things We Like
Clear acrylic design lets you watch the birds unimpaired and doesn't darken with weather exposure
Mold-free drainage holes keep your seeds from getting damp and moldy
High-quality suction cups will adhere to any window in any weather
Padded-grip perch is comfortable for birds to rest and relax for a while, so you can enjoy their company longer
Easily removable seed tray makes cleaning and refilling a breeze
Large design (11.8 x 5 x 4 inches) gives you plenty of space to attract a variety of birds
Check Price and Reviews on Amazon
---
Choosing the Right Bird Feeder for You
There are a lot of things to consider when picking out a bird feeder for your yard, and it can get a little bit overwhelming. Don't worry though, we've got you covered! We've compiled everything you need to know to choose the best bird feeder for you.
What Kind of Birds Do You Want?
To determine what kind of bird feeders will suit your needs and location best, it's important to know what types of birds are around you. Project Feeder Watch has a great interactive list of North American birds and what they like to eat. The Audubon Society has a list of 15 common birds you likely encounter regularly. Plus, you can do your own research by observing the birds around you. Bird Watcher's Digest has some great tools to help you learn to identify your local birds.
Types of Bird Feeders
Once you've decided what types of birds you're looking to attract, the next step is to pick out the kind of bird feeder that's most likely to appeal to them. If you're not sure what sort of creatures live around you, you can always experiment with different types of bird feeders and see who comes to visit.
Tray/Platform Feeders
Tray feeders are likely to give you the most variety from a single feeder. They're comprised of an open tray, which is either mounted on a pole or fence or suspended from a tree or other structure. When left low to the ground, these provide an excellent source of food for ground-feeding birds who won't be attracted to (or easily able to) access hanging or high-up feeders.
Birds who like these include:
House finches, jays, northern cardinals, song sparrows, titmice, doves, juncos, towhees, and goldfinches.
Hopper Feeders
Hopper feeders are another option for attracting a wide variety of birds to your yard, and they have the added bonus of protecting the seed from weather. Typically they can hold several days' worth of food, which dispenses from the bottom of the feeder as the birds eat. They also tend to have larger platforms for the birds to rest upon while feeding. Hopper feeders need to be emptied out completely and cleaned at least once a month to protect the birds.
Birds who like these include:
House finches, jays, northern cardinals, titmice, grackles, red-winged blackbirds, buntings, and chickadees.
Tube Feeders
Tube feeders are hanging feeders with a plastic or glass tube. Usually, they have feeding perches with access to the seeds inside, so the birds can land and snack. A well-designed tube feeder does a great job of feeding smaller birds while keeping away larger birds who might bully them, as well as being fairly squirrel-proof, so long as you get a sturdy one; squirrels have been known to chew through poorly designed feeders. One way to prevent this is to get a feeder with metal ports around the seed dispensers, instead of plastic. Some tube feeders have a perch or tail rest that is designed to be used while hanging upside down to attract even more species of birds. With these feeders, it's important to make sure that no feed is stuck at the bottom where it may rot and contaminate the rest.
Birds who like these include:
Goldfinches, house finches, chickadees, pine siskins, and redpolls.
Window Feeders
Window feeders are clear, usually plastic, boxes that attach to your windows. They typically either use suction cups or hooks to attach to a window sill. These are a great option if you want to see birds up close because it brings them right to your window. While it might sound surprising, they're also one of the safest kinds of feeders for protecting birds from window collisions.
Window feeders are one of the easiest kinds of feeders to clean, although if you have one that encourages the birds to sit directly in the feed it will need daily cleaning to remove droppings and shells to keep your birds healthy.
Birds who like these include:
Finches, chickadees, titmice, and certain sparrows.
Nyjer/Thistle Feeders
Nyjer is a tiny seed imported from Africa and Asia. Although it's unrelated to thistles, it's commonly referred to as "thistle seed." Nyjer feeders are designed for birds with small beaks who can't shell larger seeds. There are two main types of nyjer feeders: tube feeders and bag feeders. The tube feeders have a similar design to the ones discussed above but have much smaller feeding ports to keep the small seeds from falling out. Bag feeders appear like hanging mesh bags that the birds can hold on to while they eat. Either is a good option, but if you're in a rainy place you have to be cautious of the bag feeders getting wet. After a rain, they should be emptied and refilled.
Birds who like this include:
Goldfinches, house finches, redpolls, and pine siskins.
Suet Feeders
Suet feeders are especially useful in the winter because suet is a high-fat and protein-rich feed that gives wild birds much-needed nutrients in the harsher weather. It's available in several different forms, but typically the feeders will take the form of a wire frame around the suet, which birds can grab onto. Suet is typically made of peanut butter or rendered fat mixed with grains and seeds, which makes it poorly suited for hot weather.
Birds who like this include:
Woodpeckers, bluebirds, wrens, warblers, nuthatches, chickadees, titmice, jays, cardinals, and starlings.
Hummingbird Feeders
Although hummingbirds actually have a varied diet which includes small seeds and insects, they can't resist stopping to sip on some sugary water.
When placing your hummingbird feeder, you want to keep it in a place that's protected from the wind, so no sugary solution spills out and attracts bugs, and out of direct sun to keep the solution from spoiling and making your hummingbirds sick.
Birds who like this include:
Hummingbirds.
Accessories
Once you've started feeding the birds, and you've begun to enjoy having the added company in your garden or yard, there are several different kinds of accessories you can pick up, either to help protect your feeders or encourage more birds to come.
Squirrel Baffle
If you've found yourself waging a low-stakes war with a squirrel who keeps bullying away your invited guests, as many a bird feeder has, one option that can be used with a variety of different feeders is investing in a squirrel baffle. They're kind of like plastic umbrellas that you can place on either your feeders mount or chain to keep squirrels from being able to jump to the feeder. Here's a couple of tips for installing them.
Bird Waterer
You may find that you want to bring even more song and color to your garden once you've begun. If you're looking for a way to attract more birds, a bird waterer is a great option. Birds need water just as much as they need food, and you may get some different species who aren't interested in what you've got on the menu but could definitely use a drink. They're better than bird baths for keeping your visitors healthy because the water doesn't get soiled as easily since it comes out as needed.
Feeding Station
Feeding stations are all-in-one setups that you can find all over Amazon and probably your local garden shop or hardware store. Their main piece is typically some kind of pronged pole that you place in the ground, with shelves and hooks allowing you to set up several different bird feeders in one place. You can add a waterer or flowers (or anything else you'd like) to make your lawn a more inviting and aesthetically pleasing place for the birds (and for you) to hang out in.
Types of Feed
Since birds have different dietary needs, if you're looking to attract a certain kind of bird to your feeder, this guide will help with encouraging various common birds to come to your yard.
Straight Seeds
Straight seeds, which are still in their shells, are best fed from tube feeders, while sunflower hearts are best for platform feeders. These can only be eaten by birds who have an appropriately designed beak, so it isn't very useful to some of the smaller or ground-feeding species.
Nyjer Seeds
Nyjer seeds are tiny, so you need a special feeder for it with holes small enough to keep the seeds from falling out. They're a special favorite of the colorful goldfinch.
Peanuts
Peanuts should be fed from a mesh feeder, to prevent larger birds, like robins, from attempting to swallow them whole and subsequently choking. There are many species of birds which love peanuts, so having some of them in your feeder can draw out some more rare species, like nuthatches and great spotted woodpeckers. If you decide you want to feed your local birds peanuts, you have to be careful to only purchase nuts labeled "Nil detectable signs of aflatoxin," which guarantees that the peanuts are safe for your feathered friends.
Seed-Based Mixes
Seed-based mixes are a great choice for attracting many different kinds of birds with various dietary needs. If your mix is husk-free, so none of the shells are remaining, most types of birds can happily enjoy your feeder. These mixes have the added bonus of not requiring any clean up below the feeder, as there is no buildup of shells on the ground which needs to be tidied fairly regularly to prevent diseases from spreading.
Suet
Suet is available in a variety of forms, such as pellets, balls, and blocks, which can be used in different types of feeders. Suet can attract long-tailed tits, who typically won't feed on seeds and mixes. In fact, it's a big hit with all kinds of tits, in addition to woodpeckers and starlings.
Live Mealworms
Live mealworms are one of the less popular options for bird feed, but is no less important for the health and wellbeing of the many birds, especially when they're young. During breeding seasons, and as the infant birds are growing, these are the best food to put out. They contain everything that baby birds need to grow up strong and are easily regurgitated by the parents.
Where to Place Your Bird Feeder
With any bird feeder, you want to place it someplace the birds will feel safe. This means you want to place it away from areas with lots of activity, like backdoors and spaces where children play a lot. It should be near some kind of cover, but still visible. That way birds can find it easily, but still have a safe place to retreat to if predatory birds swing by.
Keeping Your Feeder Clean
Different kinds of bird feeders require different kinds of maintenance. It's important to keep your feeder clean because it's easy for the seeds to go bad if they're exposed to water. You don't want your seeds to become moldy or your sugar water to spoil because then your new feathered friends could become ill. Following are instructions for keeping different kinds of feeder clean:
Tray Feeders
Because these feeders typically have no roof or any protection from the elements, they're especially susceptible to molding, sprouting, and the growth of bacteria. It's important to get one that has good drainage for this reason. The best tray feeders you can get will have a screened bottom instead of a solid one, that way water can filter out, rather than soaking into your feed.
With these feeders, you only want to put enough seed in for one or two days at a time and shake out the bottom when you're putting in new seed. Tray feeders also tend to accumulate droppings from the birds, so you'll want to give it a thorough washing about once a week. Mostly this means soaking the tray (again, ideally mesh bottomed) in either a 50/50 mix with white vinegar or a bleach mix with 1 part bleach to 9 parts water.
Hummingbird Feeder
These are one of the easiest feeders to wash. You just take off the lid and dump out the sugar mixture. You want to do this often so that the sugar doesn't spoil or mold and make your hummingbirds sick. Once you've opened it up, just use one drop of dish soap and some warm water. Wash it bare handed.
Use the sudsy water on the lid and scrub with a soft brush, taking extra care to clean the four holes where the hummingbirds drink from. Rinse the whole feeder and dry it before pouring in some more sugar water and hanging it back up.
Window Feeders
Depending on the type of window feeder you have, they require different maintenance. If you're going with the Nature's Hangout Window Feeder that we reviewed above, the clean-up process is easy and can be done without removing the whole thing from your window. Because of the drain holes installed in the tray and feeder, you don't have to worry too much about the seed molding unless you live in an especially rainy place.
When it's time to clean, you simply take out the removable tray and shake out any old seeds and other debris. Give the feeder surface a quick wipe with a wet towel to get rid of any dirt or smudges. Refill and voila! You're ready to watch the birds come flocking back.
Tube Feeders
Typically, all you need to tidy up your tube feeder is a brush and a nine parts water to one part bleach solution. Once you've emptied the feeder out, making sure there's no seed trying to sneak past you, give it a good rinse with the solution and a gentle scrub. You want to make sure to get at the feeding ports as well, because it's an easy place for disease to spread from.
If your tube feeder is clear, like the Perky-Pet Panorama, cleaning it regularly will help keep the material from aging and coloring. If it's not clear, so you can't see the seed inside, it's important to check regularly to make sure no water has gotten in and damaged the feed. The last thing you want to do is make your visitors sick!
Suet Feeders
Although they're easy to forget, it's just as important that you clean your suet feeder as any of the other types. It's possible that it's more important if you're using a suet or container that has animal fats or byproducts, which more easily attract bacteria.
Because they're typically made of wire mesh, these feeders can be pretty easy to clean. Once you've removed what's left of the suet, just give them a little bit of a soak in a similar solution as above. Whenever you use bleach, remember to give it a couple of extra rinses afterward to make absolutely sure nothing remains on your feeder that could cause any birds to become sick.
Best Brands
Songbird Essentials
Songbird Essentials is a family-owned company with a passion for bringing birds into backyards everywhere. They manufacture most of their goods in the United States. Their products are award-winning and unique in their focus on assisting and protecting wild birds – with your help!
Perky-Pet
Perky-Pet was the first company to design and sell a hummingbird feeder, but they're on this list for a different feeder because they've grown into a highly respected name in the bird feeding industry, providing high-quality goods and building a community and online resource center for learning about wild birds.
Aspects Inc.
Aspects products are manufactured in the United States and given a lifetime-guarantee because this company is so confident in their quality. Their goal is to create the highest quality bird feeders that really will last a lifetime and provide you with plenty of birds to watch.
Nature's Hangout
While you may know Nature's Hangout as a hammock manufacturer, the company has grown and branched out to encourage people to interact more with nature in any way they can, whether it's by heading out into the wild and camping, or birdwatching from your living room.
FAQ
Q: Where should I put my bird feeder?
A: Placement, of course, is crucial. You want your feeder near a wooded area, or some kind of protection from predators, but in an area where it's still visible to passing birds so they can find it. It's also important to keep it away from any windows (unless it's a window feeder) so that no startled birds come flying into the glass in an attempt to flee.
Q: How can I get birds to come to my bird feeder?
A: If you've just set up your bird feeder but haven't gotten any action yet, don't worry. Sometimes it takes the birds a little while to discover a new source of food. Usually, once the first one comes, the others will follow soon.
You can try spreading some seed on the ground near your feeder. If birds are looking for food, they may be more likely to discover that first, then go looking for more nearby. If that doesn't work, consider where you've placed your feeder. Check out our location tips, and maybe move it to a safer space.
Vine House Farms has put together a great tutorial to help you get started attracting birds to your garden.
Q: Can bird feeders attract mice or rats?
A: It's unfortunate but possible. Because bird feeders can spill and drop seeds, or whatever kind of feed you're using, on the ground, it's possible for them to attract rats. You can also end up with curious and hungry squirrels or raccoons. Keeping the area around and, especially, beneath your bird feeder clean will help you keep away unwanted visitors. You can find a more in depth answer here!
Wrap Up
While the best bird feeder for you is naturally going to depend on the kinds of birds around you, which ones you want to bring closer, and what kind of feeder you want to use, the options we've reviewed above are the best of their kinds.
If you're new to the bird-feeding game, the Nature's Hangout window feeder is a great way to get to know your local birds and bring them close enough that you can learn about what kinds of birds live near you and what they like. Even if you're an experienced bird watcher, it's excellent for giving you a close-up of your local species too!
The Perky-Pet Panorama feeder is a good option for bringing a more diverse mix of birds to your lawn, with a more traditional look. If you're not trying to bring a specific type of bird, with a special diet into your yard, you can't go wrong with this catch-all option.
No matter what, whether you're trying to get to know hummingbirds or thrushes, remember to keep your feeder clean and, once you've started filling them, don't stop feeding the birds! They'll grow to rely on your food, especially in the winter.
In the meantime, enjoy the life and music that a bird feeder brings to your lawn!
Need more backyard design ideas? Check out our Walkway Ideas, Goat Fence Ideas, Vinyl Fence Ideas, and 70 Backyard Design Ideas articles!