Rope lights are a fun and simple way to dress up any area for any occasion. These easy-to-install, low-cost lights create a huge impact when it comes to adding mood and ambiance.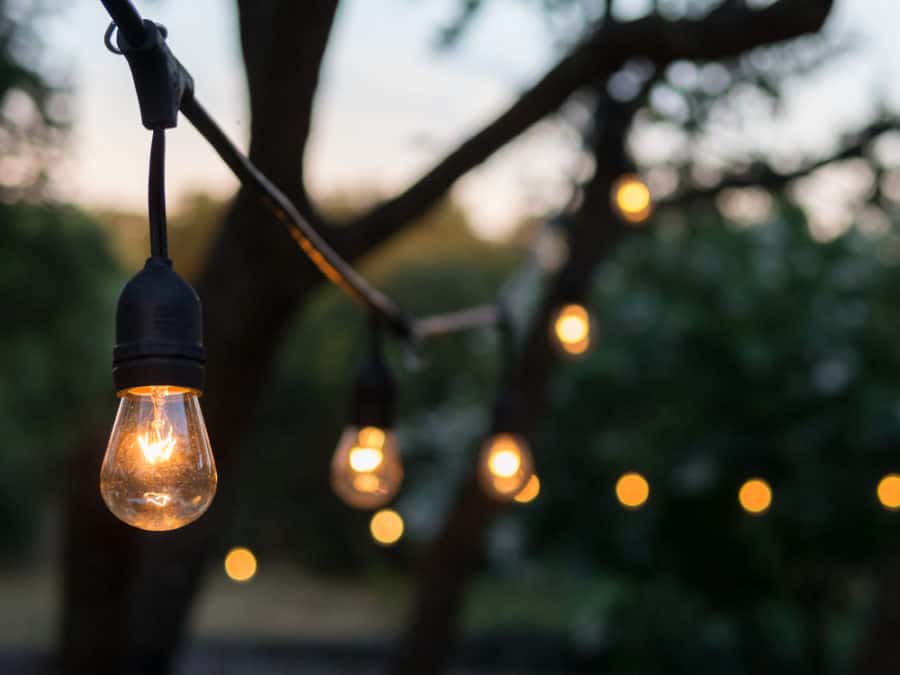 There's no shortage of rope light ideas. These fun lights can be wrapped around trees, ran along staircases, and turn a regular porch into an extraordinary porch. They can add ambient light to bedrooms, TV areas, or walkways. The only limit is your imagination!
Here we've compiled 27 ideas with images that will help you get your creative juices flowing when deciding how to use your rope lights. We'll also talk about LED lights, string lights, and other light variations in this article as well!
If you need more outdoor light ideas, check out our article covering solar lights!
Rope Light Ideas
Clear Rope Lights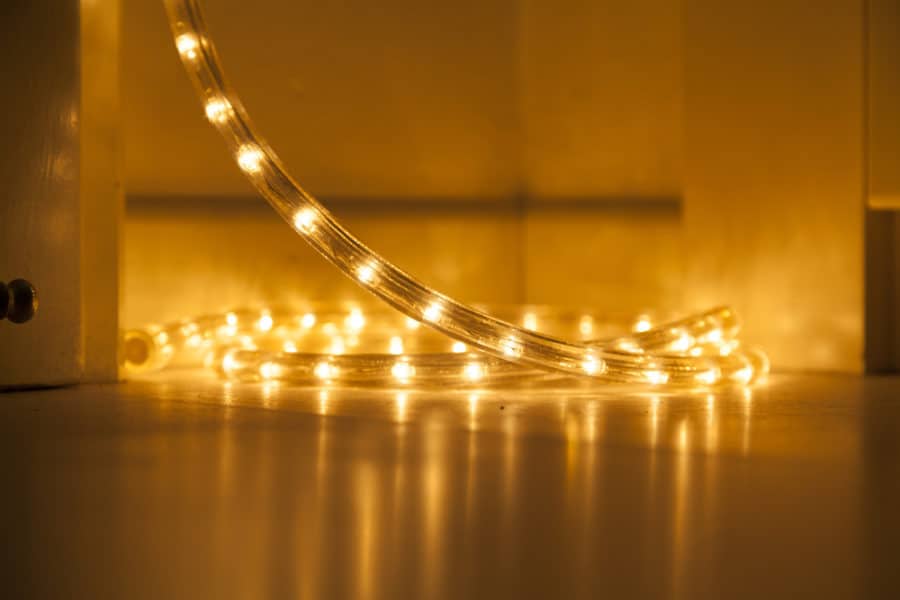 Rope lights are lights placed in a clear plastic tube. This can make the lights more weather resistant and easier to wrap around trees and objects. There are weatherproof versions for outdoor use and lighter versions for indoor use.
Clear rope lights are a very versatile option and can be used, for example, to wrap around trees or outline your doorways. They're easy to shape, and look great. You can't go wrong with this timeless option.
Colored Rope Lights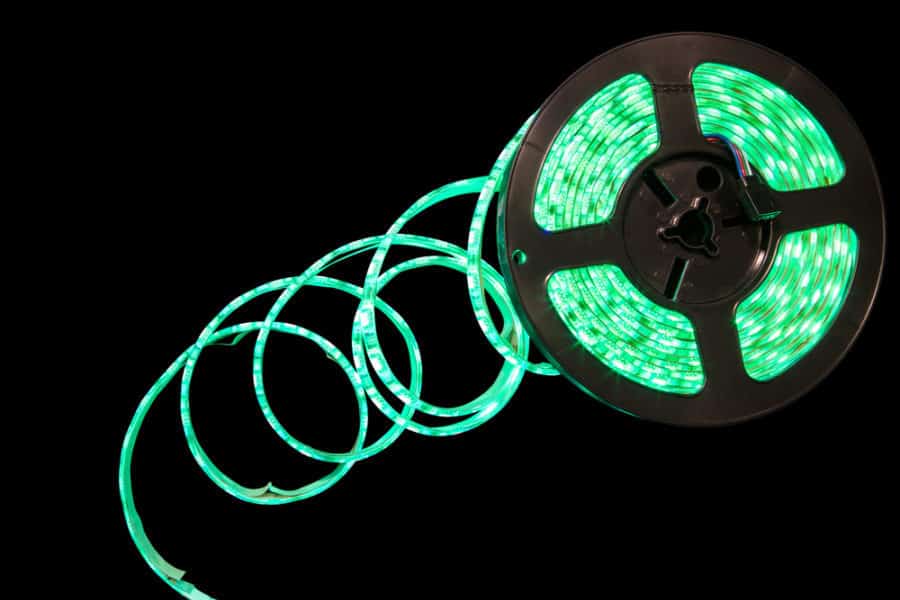 These colored rope lights are great for decorating large areas and outdoor spaces. A large roll like this can cover a lot of ground. The color can be from the bulbs, but often the plastic tube that the lights come in are tinted. Either way, colored rope lights are awesome.
Star-Shaped Rope Lights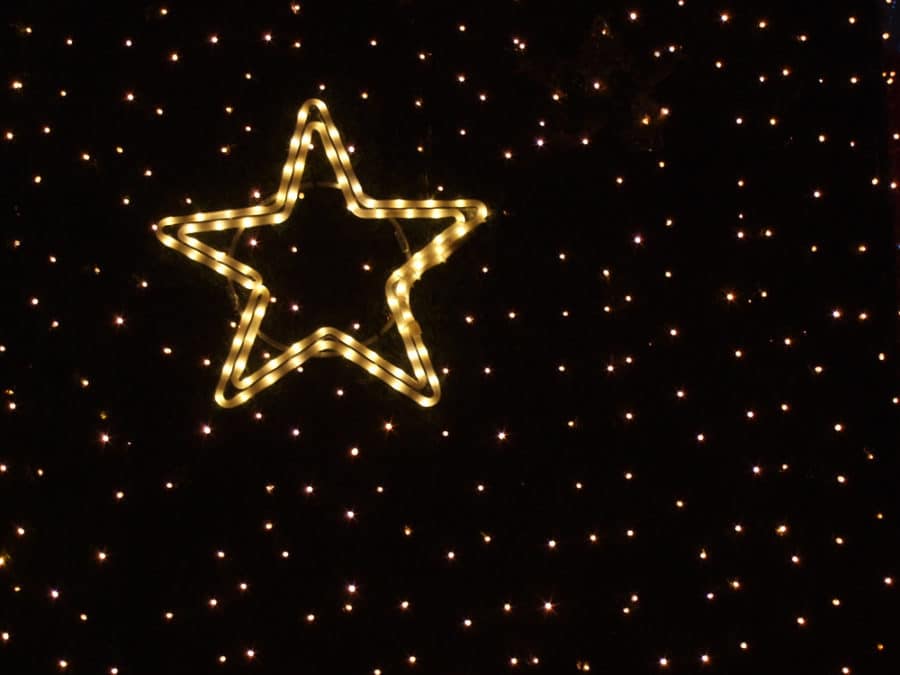 Rope lights are perfect for forming into shapes and designs. The solid tubing is much easier to shape than a tangled string, which is definitely another advantage of rope lights.
To make an intricate design, create a pattern out of wire or an already-existing object, and then wrap the lights around the pattern. This method even works when making word art.
Rope Light Pendant Lights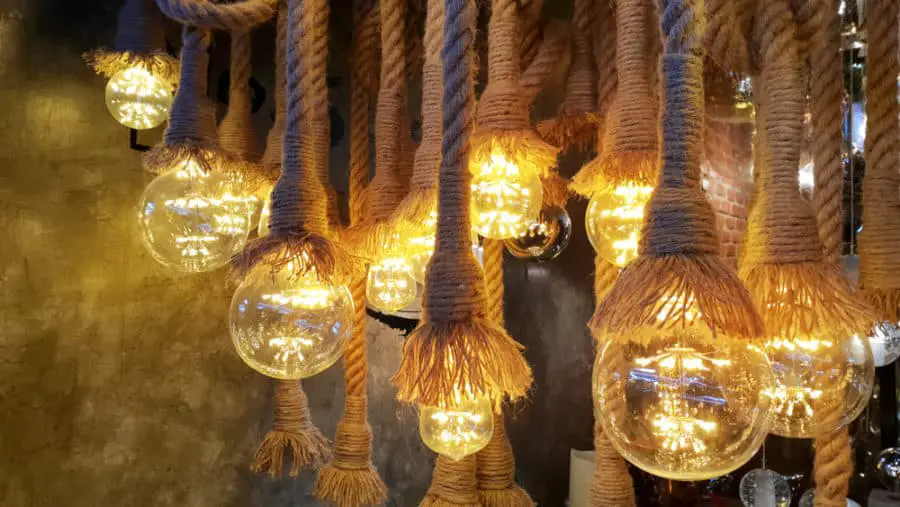 Here's a unique twist on rope and pendant lights. These are pendant lights with a rope-covered cord. These would look great in a western-themed venue or at any rustic venue, such as a barn dance or cabin.
Ainfox LED Rope Light 150Ft  Indoor Outdoor Waterproof LED Strip Lights 
Last update on 2023-09-17 / Affiliate links / Images from Amazon Product Advertising API
This 150-foot rope light is perfect for decorating outdoor spaces. It can be used indoors and outdoors since they're waterproof. It actually comes with 1,620 LEDs, but the rope can be cut to size once you're done installing it. If you have a large, continuous area to cover this would be a great choice.
Check Price and Reviews on Amazon
---
Edison Bulbs
Mix and Match Edison Bulbs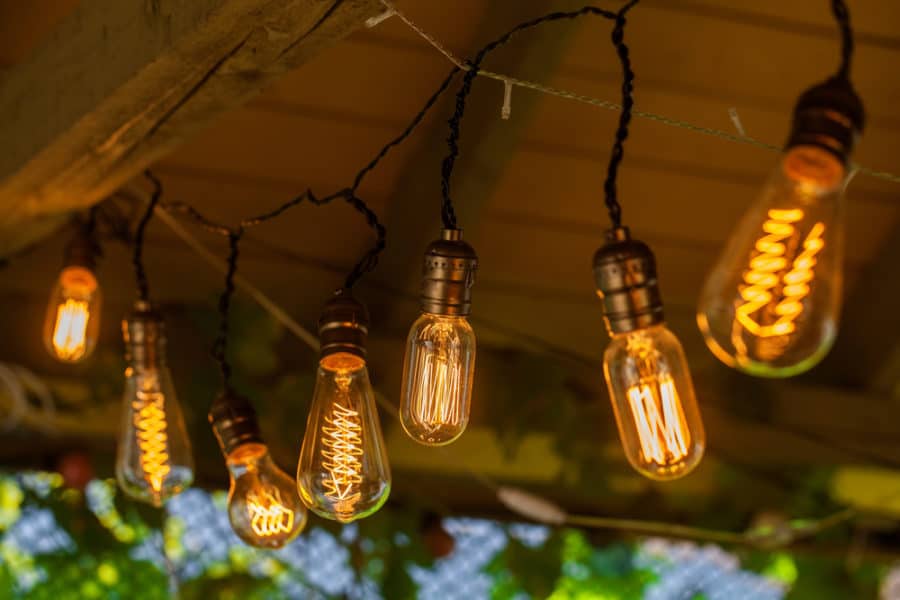 Edison bulbs have made a stylish comeback. This new lighting with energy-efficient bulbs (or LEDs) has a clear dome that makes them look like some of the original light bulbs that Thomas Edison first began producing.
Bulbs Strung Through the Trees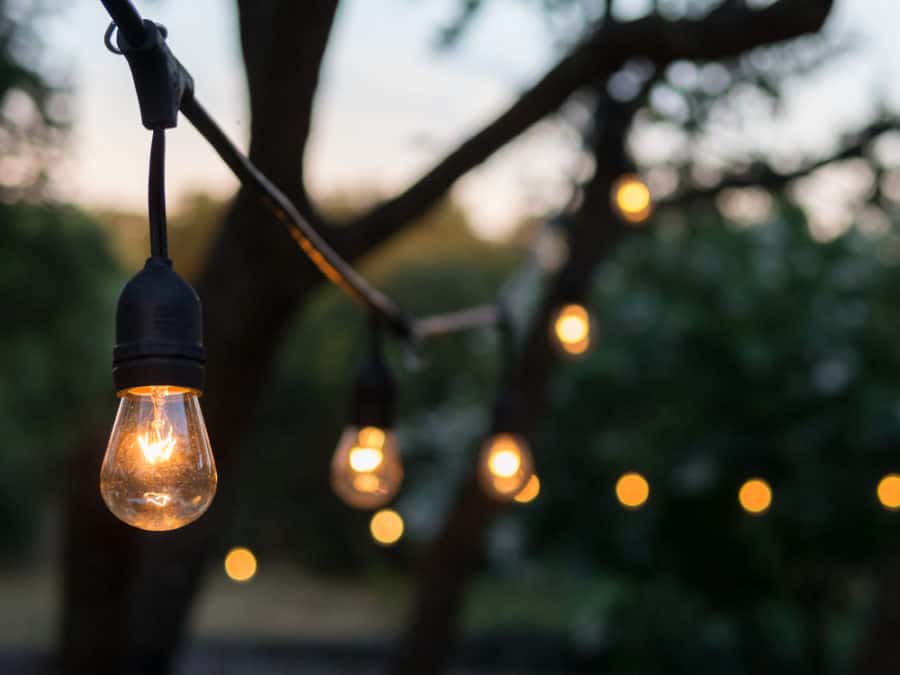 Trees create the perfect natural hangers to string your lights. What would normally look like eerie trees in the twilight, becomes a magical garden with the simple addition of a string of lights.
Lights Against the Sky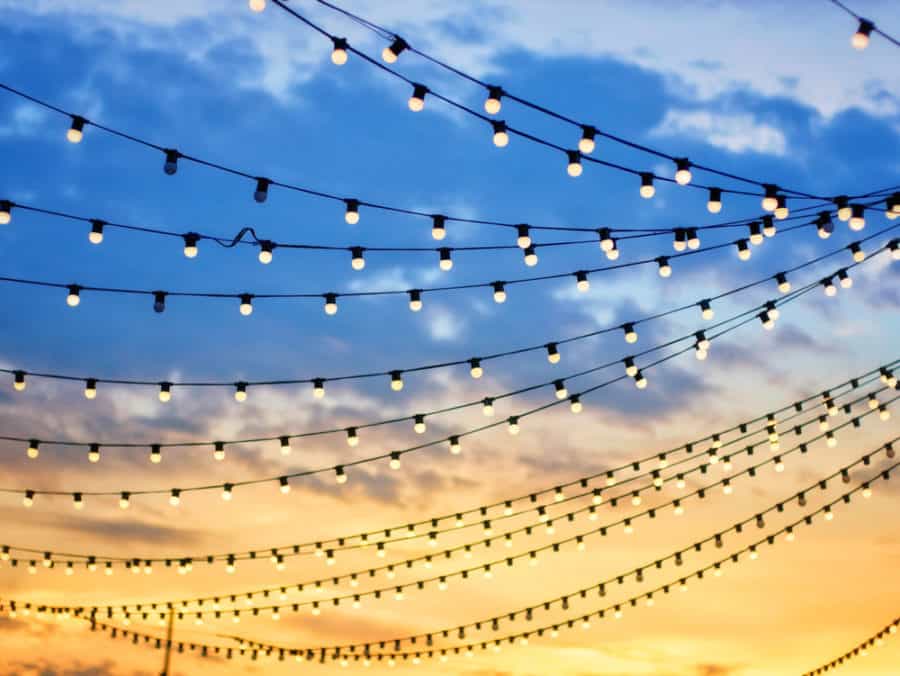 Several strings of light create a beautiful twilight effect as the sun begins to set over this semi-cloudy sky. This dramatic effect will only be enhanced once it becomes dark. It really is amazing what a string of lights can do to enhance your surroundings.
Lights Crossing a Street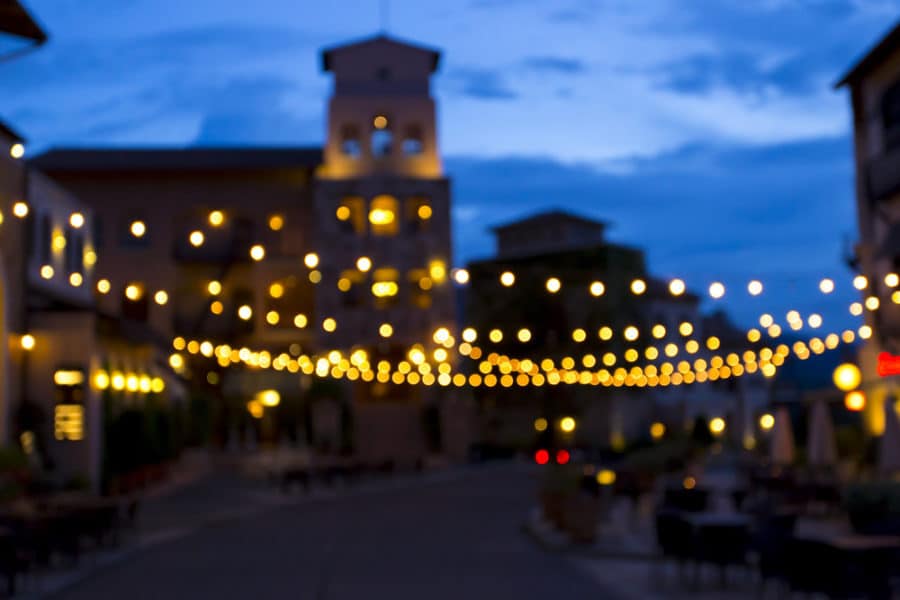 These lights running back and forth across the street create the perfect picturesque backdrop for an evening stroll in this sleepy town. There's nothing more magical than faint sparkling lights as you walk along Main Street.
Lights at a Dinner Party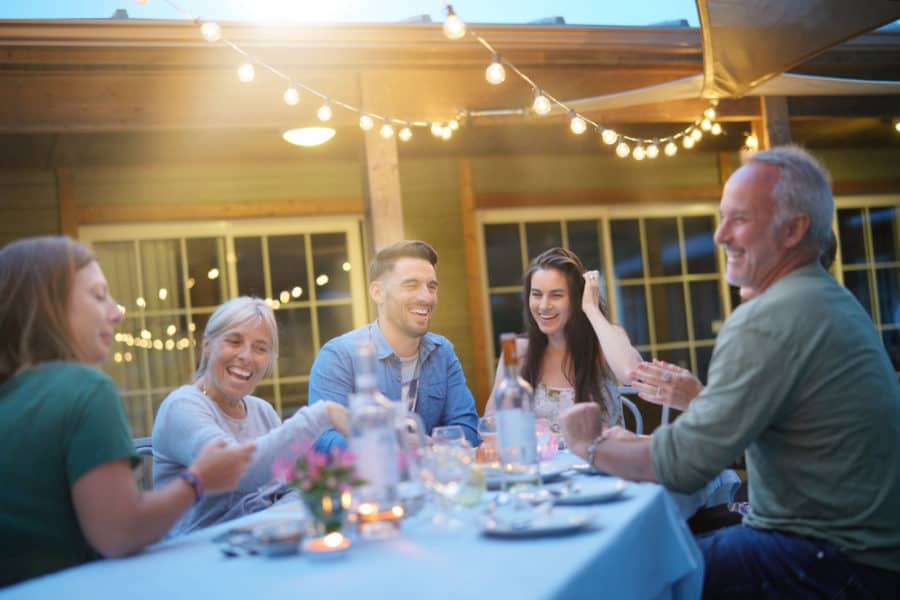 These sparkly lights create the perfect dinner party ambiance. They decorate the eating area and give the patio a sophisticated, warm, and welcoming look.
Romantic Wedding Lights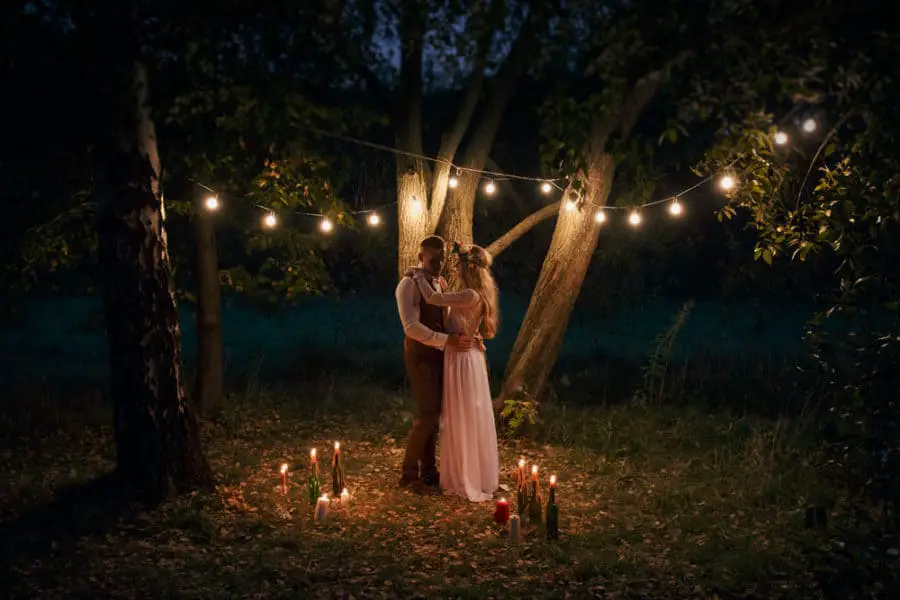 Weddings can last until sundown. Fortunately, planning ahead and decorating outdoors with these beautiful lights creates an added ambiance against the backdrop of the trees behind the night sky.
Lights at the Beach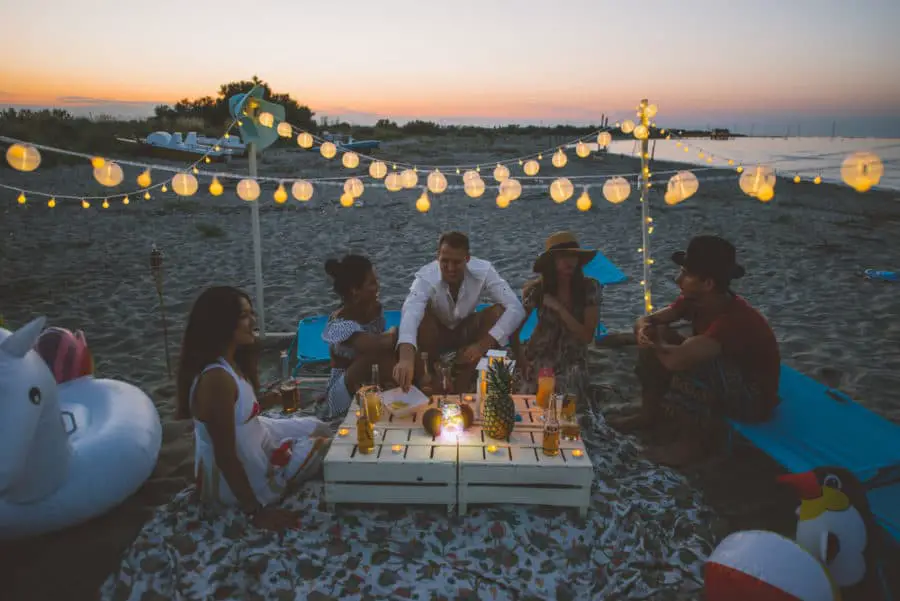 Your table may be made out of pallets. You may be sitting on the sand – but at least you took the time to string beautiful lights all around your beachside picnic area. You might stay for the conversation, but the lights will add an extra glow to your evening, and they sure are inviting.
Brightech Ambience Pro – Waterproof LED Outdoor String Lights
Sale
Brightech Ambience Pro - Waterproof LED Outdoor String Lights - Hanging, Dimmable 2W Vintage Edison Bulbs - 48 Ft Commercial Grade Patio Lights Create Cafe Ambience in Your Backyard
Energy Saving Outdoor LED String Lights: 24 ft long string lights with 7 hanging 2 watt bulbs spaced 3 feet apart. Brightech porch string lights are approved for residential and commercial lighting and they never get hot even after being on for hours. Connect up to 20 strands end to end. 2700 K soft white LED string lights.(Please NOTE: Bulbs are made for use with 110v only.)
Commercial Grade Weatherproof Patio String Lights: Brightech's Ambience Pros hanging lights string has our own WeatherTite technology - withstood winds up to 50MPH, rain & snow. The rubberized flexible heavy-duty cord withstands the wear of indoor and outdoor use. The core is UL listed. Confidently leave these lights on display year round.
Flexible Installation & Widely Used LED Patio Lights: Brightech outdoor decorative yard lights are the perfect decoration for balcony terrace, garden, bistro, bedroom, living room, pergola, gazebo, tent, barbecue, city roof, market, cafe, umbrella, dinner, wedding, birthday, party etc. Brightech string lights are easy to assemble, plug to play. You can string them straight, or wrap them in trees for unique shapes.
Classic Cafe Ambience: Brightech indoor outdoor string lights use vintage Edison Bulbs. Install this hanging lights string with old-fashioned filaments to give off a warm, old-time glow so that you can come home after a busy day and enjoy your very own retreat. Make your pergola, porch or other space to be an enticing, relaxing and soothing retreat with Brightech LED outdoor lights.
THE WARRANTY: Our string lights are built to last, and we stand behind that. That's why we offer an industry-leading 3-year limited warranty on all purchases from Brightech USA, including any defects, malfunctions, or sudden failures to your lights. If you experience any trouble with this string light set, don't hesitate to reach out to our all-star customer support for help.
Last update on 2023-09-17 / Affiliate links / Images from Amazon Product Advertising API
These Brightech Ambience Pro Edison Bulbs are the perfect choice for outdoor decorating. These are heavy-duty, commercial-grade lights that come in long 24 or 48-foot strands. These would make the perfect addition to any outdoor patio or garden area. They'd also look great hanging from a gazebo or pergola.
Check Price and Reviews on Amazon
---
Copper Light Strings
Copper Light Strings in a Jar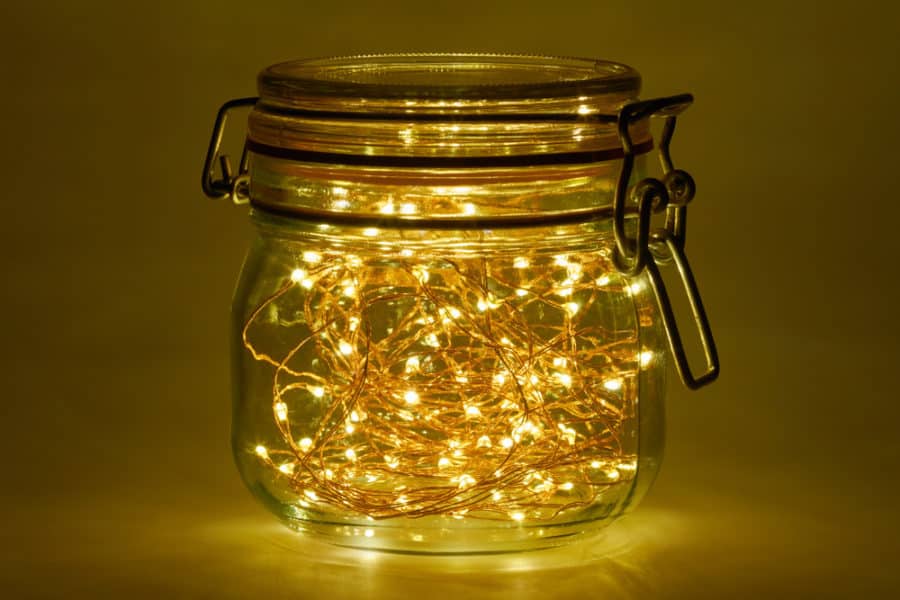 Copper light strings are all the rage. These lights are little, LED lights mounted on small, bendable strands of copper. Most of these lights are low power consumption LEDs and are generally battery-operated. You can do practically anything you'd like with them, but they do look great in a mason jar.
Fairy Lights in a Jar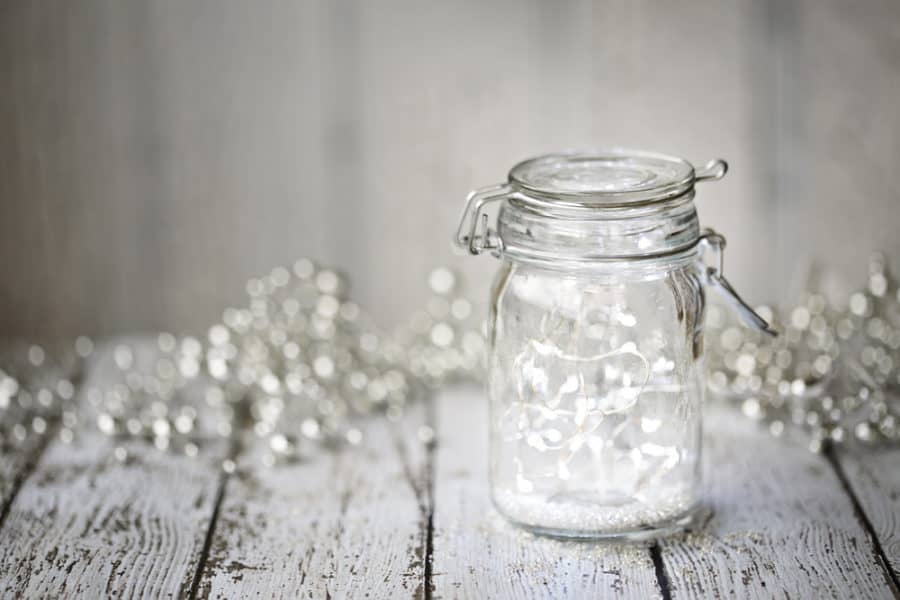 These fairy lights in a jar are very similar to the copper string lights, except they're lighter in color. They're referred to as fairy lights because of how small and delicate they are (just like the sparkly pixie dust left behind by fairies).
Waterproof Battery-Operated Copper Wire Fairy Lights
LightsEtc 2 Packs 33 Feet/Pack Fairy Lights Battery Operated, 100 Led Fairy Lights with Remote Timer Control, Waterproof Copper Wire String Twinkle Lights for Bedroom Wedding Indoor Outdoor Decoratio
Package Included: 2 Pack 100 Led 33 Feet fairy string lights, 2 pieces remote control & 2 waterproof portable battery cases.
Modes and Brightness: This LED fairy light has 8 modes 10 brightness levels: Combination, In waves, Sequential, Slo-Glo, Chasing/Flash, Slow Fade, Flash, and Steady on. Using 13 keys remote control or button on battery case to adjust modes.
Auto Time Setting: 6H On/18H Off, will be turn on for 6 hours and off 18 hours automatically cycle. These copper wire led string lights can work continuously for 60 hours.
Portable Battery Operated: Led string lights battery is powered by 3 AA batteries(not include), perfect as DIY decoration for party Christmas garden patio home in any shape and any places, excellent choice as wedding festival holiday decoration.
CE certification, ensure the waterproof rubber is installed while use outdoor. LightsEtc fairy copper string lights, if you are not satisfied just feel free to contact us via Amazon message box anytime.
Last update on 2023-09-17 / Affiliate links / Images from Amazon Product Advertising API
You can make your own fairy lights with this 2-pack, 100-count copper wire fairy lights. Not to mention they're battery-operated, waterproof, and come with a remote control that offers 8 lighting modes. These lights are a great way to bring magic to your home.
Check Price and Reviews on Amazon
---
LED String Lights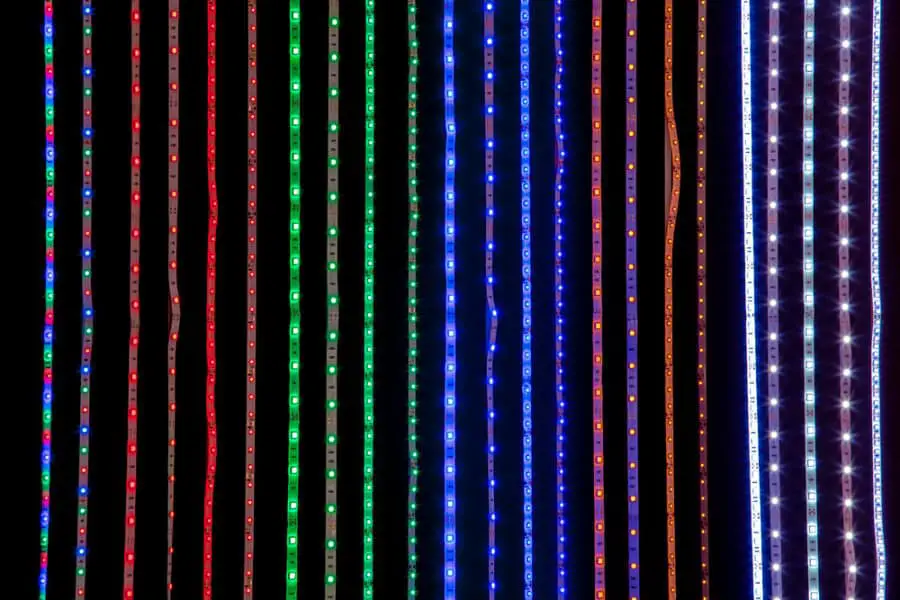 LED string lights are a wonderful thing. They come in so many different colors and configurations. They're generally used to light up an area under a counter, cabinet, desk, or a media area.
Many of them also come with remote controls or even iPhone apps, so you can control them with your cell phone.
Light Nets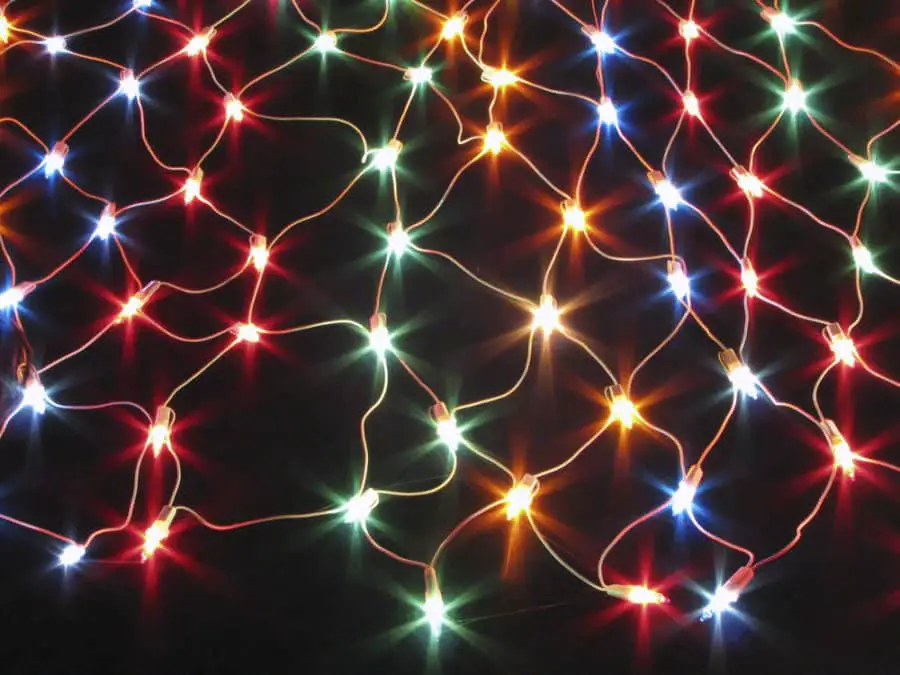 Light nets are another creative innovation. Having a patchwork net of meshed LED lights is the perfect tool for covering large areas and keeping your lights evenly-spaced.
Wrapping these lights around a fence or throwing them on bushes is a great way to utilize net-lights.
Rope Lights Around Trees
Rope Light Around Palm Tree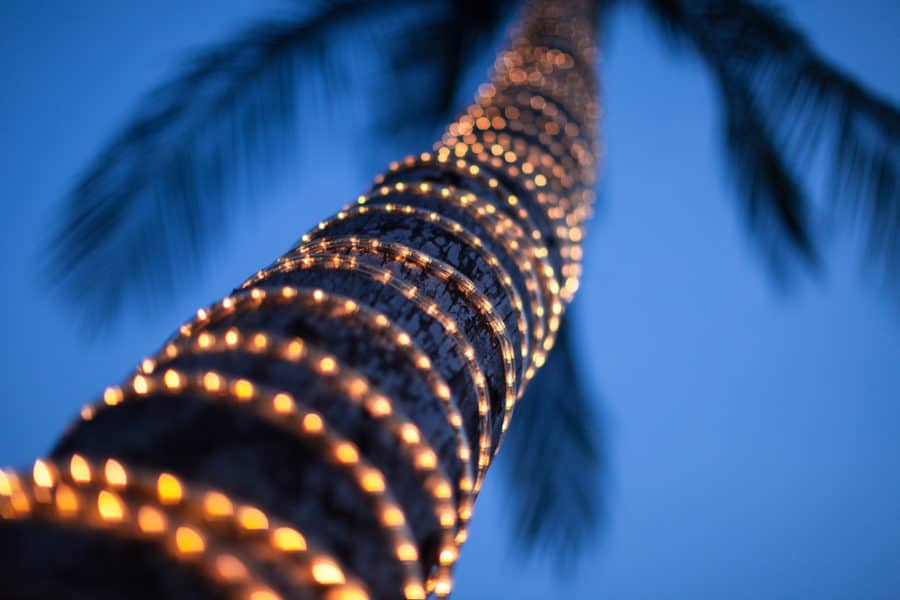 Wrapping a rope light around a tree is not only simple, but it can also create a really dramatic look. The LEDs usually don't use a lot of power and you can just leave them plugged in all the time. If you're planning on putting lights outdoors, make sure that you're using outdoor LED lights and that any hookups to outlets or extension cords have a waterproof covering.
Check out our Outdoor Rope Light Ideas article for more!
Lights Wrapped Around Tree Trunks and Branches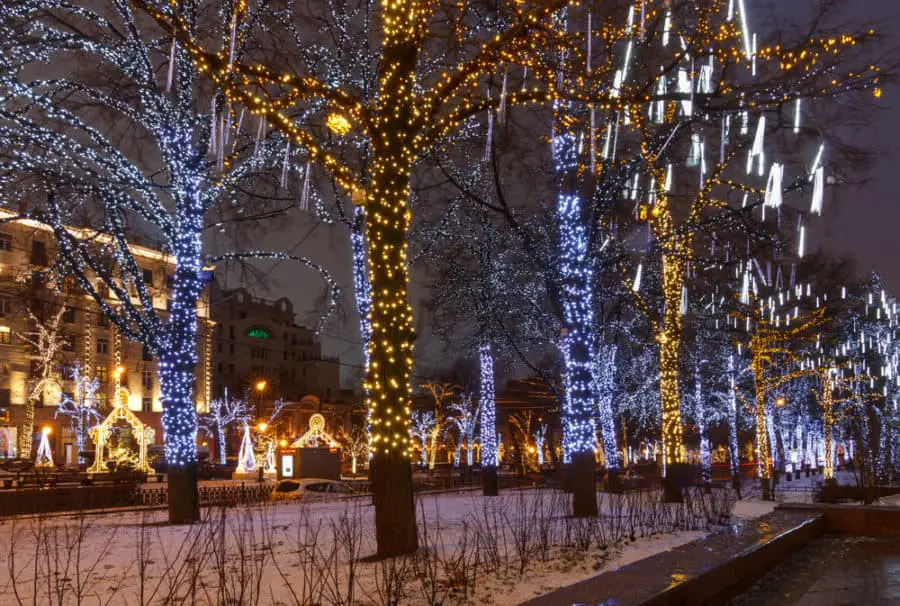 Using two different-colored strands of rope lights and wrapping them around the entirety of these trees creates a dramatic effect for this nighttime city square.
Even when the leaves may be gone for the winter, trees definitely shine when lights are strung throughout their branches.
Colored Lights on a Palm Tree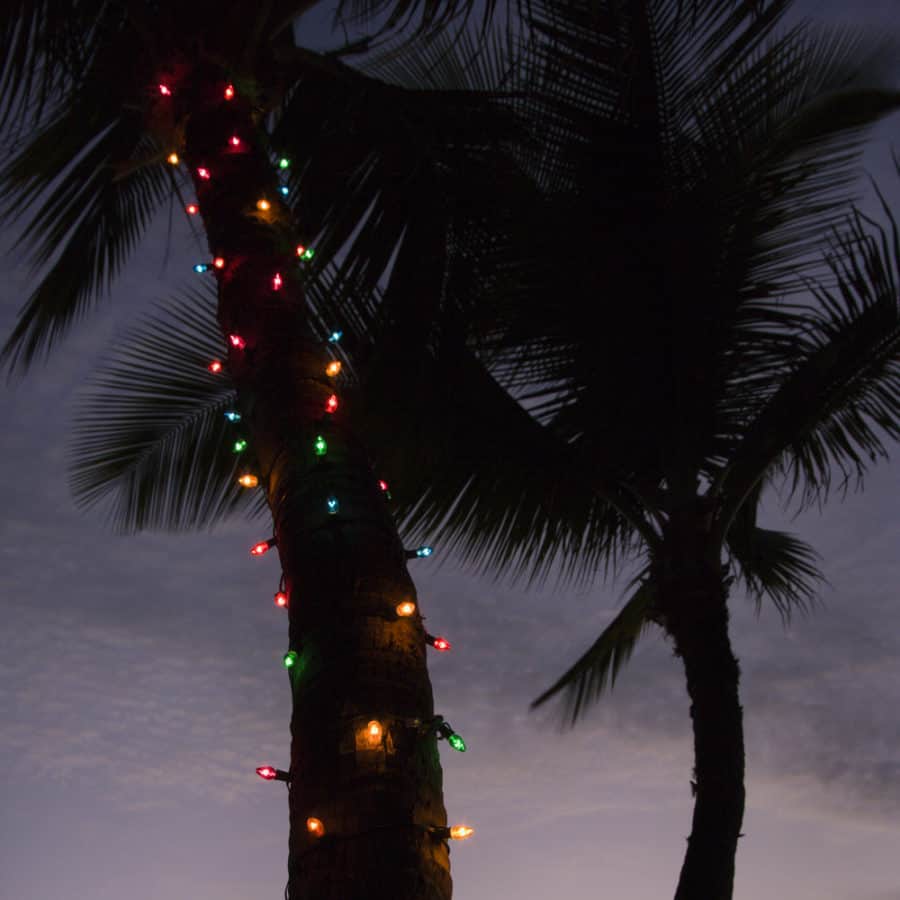 Who says the lights on your palm tree have to be only one color? A beautiful tropical location deserves beautiful colors. These stringed, colored lights wrapped around the palm tree create a festive atmosphere for any time of year.
Rope Lights at Home Ideas
Backyard Kitchen Lighting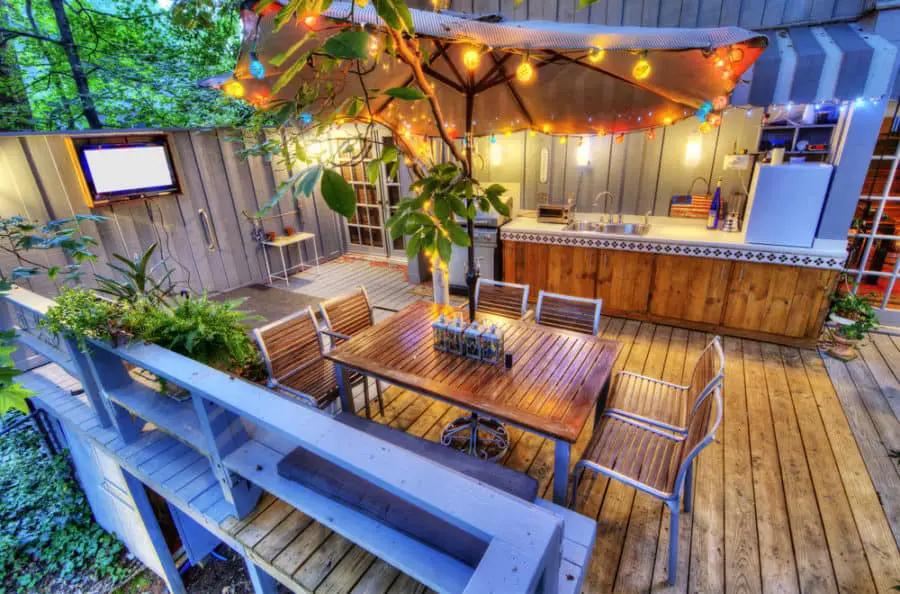 If you have a backyard kitchen, adding a few strings of light can create extra ambiance and enhance nighttime use. These lights decorate the patio umbrella and are also used to highlight the bar area.
Bedroom Wall String Lights
Using string lights to highlight an accent wall is a wonderful way to make your room unique and beautiful. This is a popular way to decorate a wall without additional painting or remodeling costs.
Swimming Pool String Lights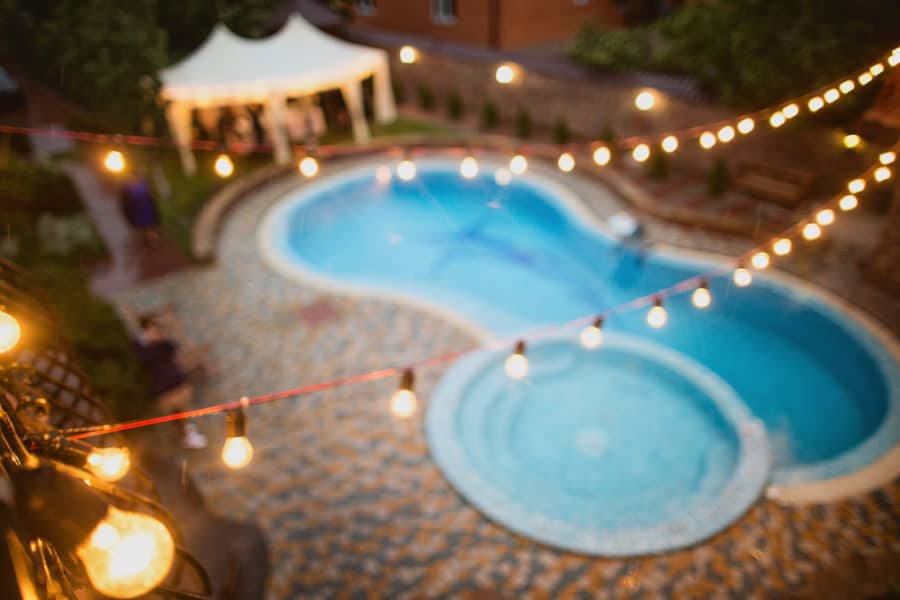 Swimming pool options are practically endless these days. Even if your pool is old-school, you can dress up the area with some added lights. These create outdoor ambiance and added beauty as the lights flicker across the water.
Rafter Lights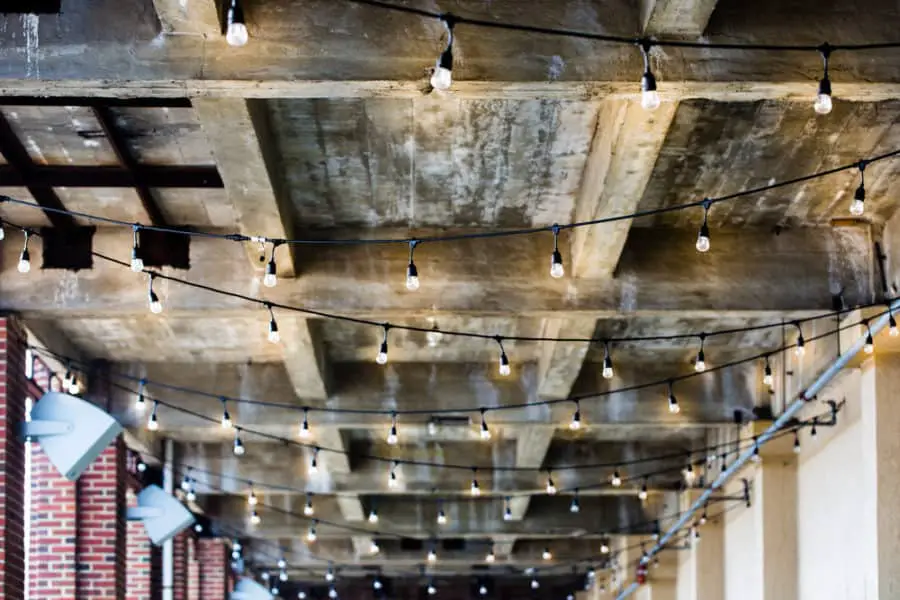 Reclaimed wood and original accent pieces create the perfect combination of old and new when you're remodeling. You can also highlight beautiful old features by adding lighting. These small, white bulbs offset the rustic rafters in a beautiful way.
Enbrighten Vintage Seasons LED Warm White & Color Changing Café String Lights
Sale
Enbrighten Premium Color Changing String Lights, 24ft Black Cord, 12 Shatterproof Acryllic Bulbs, Weatherproof, Remote Control, Dimmable RGB LED, Outdoor String Lights, 37791
Vintage String Lighting – Adds warm white light and year-round color options to any environment — light your backyard, porch, balcony, deck, pergola, gazebo, bar, restaurant, venue, tailgating, parties, camping and more
Color Changes Everything – Offers choice of 16 colors, endless 2-color combinations and a variety of preset modes for special occasions, holidays, tailgating and more — all of which can be selected, dimmed and timed via included wireless remote
Acrylic Bulbs – These 12 old-fashioned, Edison-style bulbs are impact-resistant and won't break if dropped, stepped on or blown around in the wind — hang from hooks, screws, nails or guide wires
Linkable Strands – Each strand of Enbrighten Café Lights is linkable end-to-end up to 750ft., letting you customize your space the way you want
Lifetime LED – This Enbrighten product is created to last, ETL-listed for year-round installation and proudly designed to provide lighting for life
Last update on 2023-09-17 / Affiliate links / Images from Amazon Product Advertising API
These Enbrighten Vintage Color-Changing LEDs are the perfect choice for a patio or around a seating area and umbrella. They'd even look amazing on a front porch. They're heavy-duty, waterproof, and change colors. How cool is that?
Check Price and Reviews on Amazon
---
Creative Rope Light Ideas
Curtain of Lights
There's no reason why you can't get creative with your lighting options. This curtain of lights creates a magical backdrop for any outdoor setting. These would be great for a wedding, an outdoor party, or any event where you'd like a dramatic effect.
Lights on the Boardwalk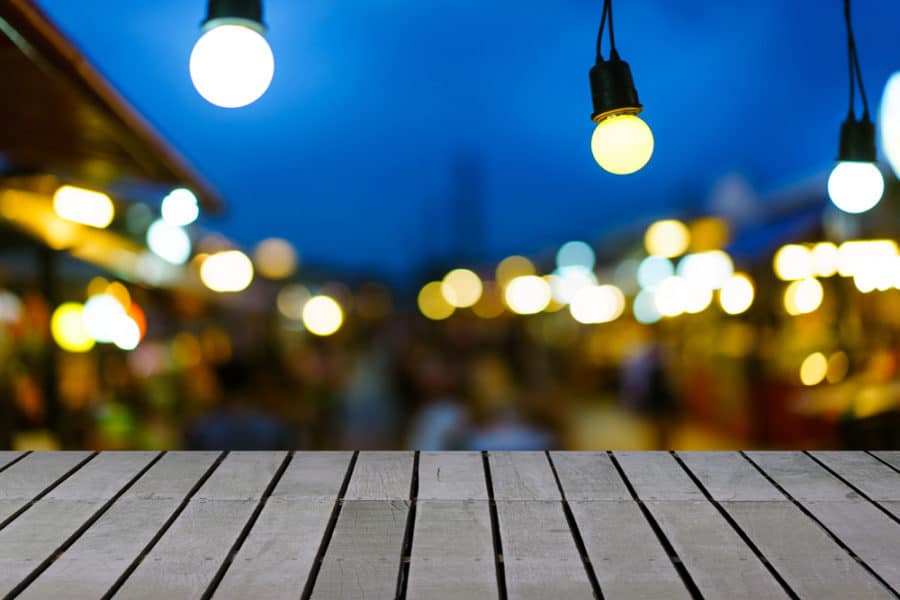 Whether you're a business or you have an outdoor patio, lights can change the mood (and they're practical, too). The addition of these small, white lights creates a sparkle that will lighten any mood and delight any imagination.
Carnival Lights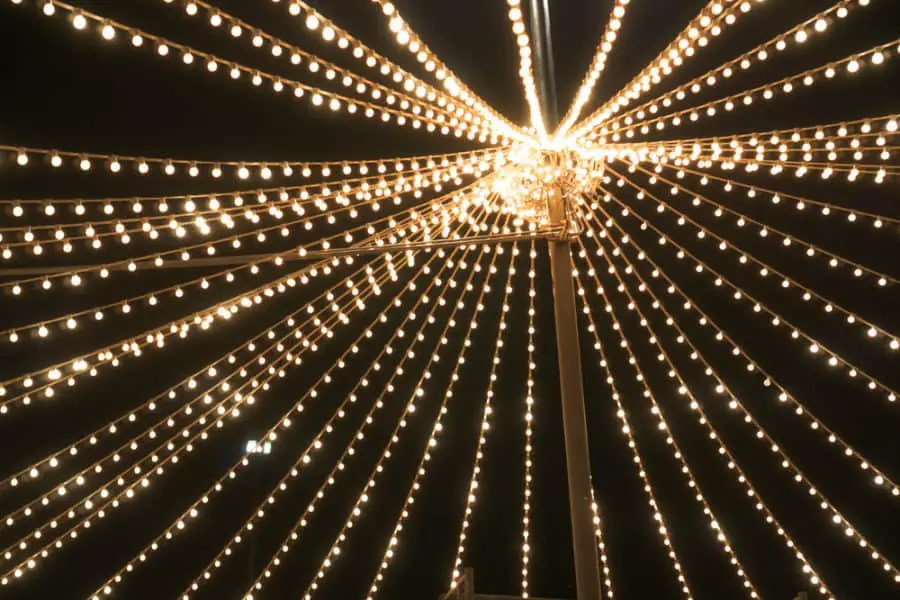 You can create a fun, carnival-like tent effect by attaching strings of lights to the top of a post and running them to the ground. Who wouldn't want to spend their evening in a magical tent made out of lights?
Rope lights can be a wonderful way to create ambiance and make your space your own. Hopefully, these rope light ideas will help spark the creative giant within you and you can come up with some wonderful ways to use lighting to decorate your home.
Need more design ideas? Check out our Goat Fence Ideas, Vinyl Fence Ideas, White Picket Fence Ideas, Fire Pit Ideas, and Enclosed Patio Ideas articles!