We've said it before and we'll say it again – lighting is one of the easiest ways to control the atmosphere in your backyard. It can change the whole feel of your outdoor living space with a minimal amount of effort. It's like magic. It doesn't matter if you're decorating for the holidays or setting up a magical space for a party, nothing has quite the same effect as some thoughtfully-placed lighting.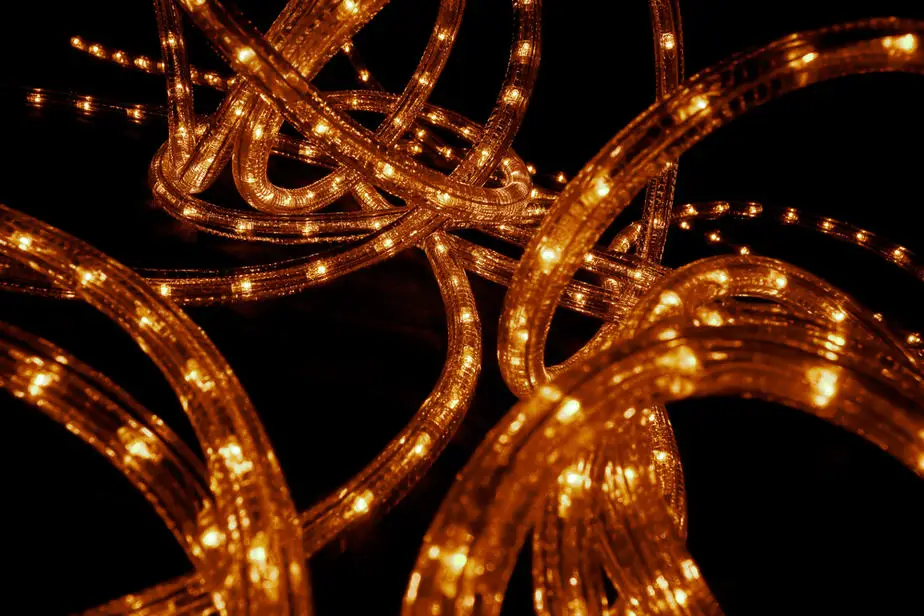 Rope lights are some of the most popular lights out there for both festive light scenes and subtle accent lighting. They're versatile, bright, and easy to install. Below, we've put together a list of the best outdoor rope lights you can get for all of your DIY light projects.
If, by the end of this article, you're looking for other ways to brighten up your backyard, check out our article covering outdoor string lights or our buying guide for magical solar lights!
In a Hurry? Here's Our Top Picks…
LED Rope Lights
Areful LED Rope Lights, 16.4ft Flat Flexible RGB Strip Light, Color Changing, Waterproof for Indoor Outdoor Use, Connectable Decorative Lighting, 8 Colors and Multiple Modes
COLOR CHANGING & REMOTE CONTROL: 8 bright colors and 6 gorgeous lighting modes to meet your changeful decoration needs. Remote controls the lighting performance, like the on/off, colors, modes, brightness, speed. Awesome decorative lights for Christmas, Thanksgiving, wedding, party, yard, ceiling, handrail, balcony, etc.
CONNECTABLE & FLEXIBLE: These RGB LED rope lights are extendable units. Coaxial connector can connect up to 65.6ft (Connect up to 4 sets of the same model rope lights). The flexible feature enables to be bent. Flat shape fits better with the object to be decorated and meets your decorative lighting needs perfectly.
WATERPROOF: Thanks to the carefully crafted connection segments, these rope lights have excellent water resistance to withstand the water splashing, great for indoor or outdoor embellishment. CAUTIONS: The controller box should be protected for outdoor usage. Ensure that all connections and the end cap on the last segment are tightly secured to preclude the entry of water.
EASY INSTALLATION & SAFE: This rope light comes with connectors and mounting hardware. Easy to connect, install and use. This product has a polarized plug (one blade is wider than the other) and two electrical fuse (one in use and one for spare) as safety features to reduce the risk of electric shock.
THICK PVC JACKET: These rope lights feature thick PVC casing which ensures the lights work well under harsh external condition and cannot be easily damaged when used outdoor. Any question, please don't hesitate to contact us. Our customer service team will reply to you within 1 business days and would be more than happy to assist you fix the issue.
Last update on 2023-09-18 / Affiliate links / Images from Amazon Product Advertising API
Whether you're decorating for the holidays, setting up for a backyard event, or just adding some mood lighting to your outdoor living space, these are a great option. These popular rope lights give you nearly 16½ feet of 150 bright LED lights, but can be combined with others of the same model to give you up to 65½ feet to work with, lasting over 50,000 hours of use.
One of the coolest things about this set is its ease of use. It comes with a remote control so you can easily cycle through the seven different lighting modes and the eight solid color options, simply by pointing at the infrared sensor at the end of the cord. You can choose between red, green, blue, white, orange, yellow, cyan or purple if you want a uniform color. Alternatively, you can choose between an automatic color change, a 3-color sequence, a 3-color fade, 7-color pulsing, 7-color sequence or 7-color fade.
This model is super flexible, but one drawback is that it's designed more like LED strip lights, so it can only be seen from one side, rather than a 360 degree viewing angle. On the other hand, that design means that it has a flat back which makes installation easier. It also comes with an accessory package that includes everything you need to mount the lights so you can get started without needing to take another trip to the hardware store.
The heavy-duty PCV tube that houses the lights is eco-friendly and ETL-listed so you can use them outdoors safely. It's important to note that the plug itself, while it has an electrical 8-amp fuse for safety, is not designed for unprotected outdoor use. So when you're using the lights outside, make sure that the outlet is sheltered from the elements.
Another great thing about this option is the manufacturer's great customer service record. These lights come with a 30-day money back guarantee, a 12-month limited warranty against factory defects, and lifetime tech support to troubleshoot any issues that might come up.
Things We Like:
Remote control to easily move through the many different lighting options available
The flat-backed design makes for easier installation than some other models
The coaxial connector allows for up to four sets to be strung together to quadruple the available length
Great customer service!
Check Price and Reviews on Amazon
---
DLIUZ 98 Feet Thick Safe 2-Wire Waterproof LED Rope Lights
YEOLEH String Lights Curtain,USB Powered Fairy Lights for Party Bedroom Wall,8 Modes & IP64 Waterproof Ideal for Outdoor Wedding Home Garden Christmas Decor (Warm White,7.9Ft x 5.9Ft)
8 MODES TINKLE LIGHTS --- Combination, in waves, sequential, slogs, chasing/flash, slow fade, twinkle/flash, and steady on. Best gift wall lights for dorm.
REMOTE CONTROL & TIMER FUNCTION --- Pressing the controller's Timer button, the warm white christmas lights will keep 6 hours on and 18 hours off automatically once TIMER activated.
USB OPERATED --- Very convenient for you to plug the USB port in any USB charger, power bank,etc.Note:USB Charger Not Included!
SAFE TO TOUCH --- CE and RoHS listed for safe operation. Passive cooling system prevents accidental burns and injuries, extra protection to you and you love ones.
WIDELY USED WITH IP64 WATERPROOF --- Perfect for indoor/outdoor patio decorations. such as Outdoor christmas tree, Valentine's Day, Weddings, Halloween decor, Holiday, Shows, Commercial Building, Shopping Center,etc. NOTE: ONLY STRING LIGHTS,NO INCLUDE CURTAIN.
Last update on 2023-09-18 / Affiliate links / Images from Amazon Product Advertising API
These heavy-duty lights are perfect no matter where you want to put them. With this remarkably affordable option, you get 98 feet of ultra-thin and flexible lighting that includes 360 super bright LEDs, giving you 34 lumens of warm white lighting per foot.
These lights can be used indoors or outdoors with no worries. The Flex PVC tubing is weatherproof with an IP65 waterproof rating and protects against yellowing UV rays. The LEDs stay cool even after many hours of running and are energy and cost efficient.
They include UL-certified short circuit protection so that both the power adapter and controller are protected during prolonged usage. The power cable is just under 5 feet, so it's easy to keep the adapter out of sight and plugged in someplace guarded against the elements.
You can customize your lighting experience by choosing between eight different light modes: combination, wave, sequence, slow, chase, slow down, flashing, and steady on. These rope lights are an excellent option if you have a large area that needs some cozy mood lighting.
Not to mention, these lights come with a 12 month "worriless warranty" for a free replacement or full refund if the lights are faulty or not what you expected.
Things We Like:
Extra-long rope gives you plenty of lighting to work with and a remarkable light output
Lengthy power cable allows you to subtly attach the lights to a power outlet
Short circuit protection and a waterproof IP ranking to keep your lights – and home – safe
Great customer service!
Check Price and Reviews on Amazon
---
LE 33 Ft 100 LED Solar Power Rope Lights
LiyuanQ Solar String Lights Outdoor Rope Lights, 2 Pack 8 Modes 100 LED Solar Powered Outdoor Waterproof Tube Light Copper Wire Fairy Lights for Garden Fence Yard Party Wedding Decor (Cool White)
【Malleable PVC Tube Cover】 These outdoor rope Lights is with 33 feet copper wire, which is fully covered by clear PVC tubes, the tubing of the firefly lights is durable and flexible, but thin enough to wrap any which way to create a glowing character as snowman or super hero or unique wordings, adding extra fun to your outdoor or indoor events. 100 glowing Leds with steady 360 degree viewing angle they illuminate in every direction. Just ignite your imagination!
【High Battery Capacity & IP65 Waterproof Benefit】 Designed with adjustable solar panel and rechargeable battery, our solar fairy lights can work continuously for more than 12 hours at night if the panel absorbs enough sunshine during day. The tube is designed to withstand light rain or water spills. Making it excellent for party, wedding, home, window, bathroom, shows, restaurant, hotel, yard, garden, patios, commercial building, shopping center etc.
【Highly Quality Solar String Light】Our solar rope light with 100pcs low-heat-emission LED bulbs, up to 19% high energy conversion rate comparing to others' 13%. They're environmental protection and energy inexhaustible; Durable and safe to use, the LEDs will not overheat after using many hours, you can see some firefly lights shining in your garden any time, make your yard charming. The super flexible wire can be easily bend and shaped around plants, signs, furniture and almost everything else.
【8 LIGHTING MODES to Create Lots Fun】Gorgeous 8 lighting modes including combination, fireflies flashing, waves, fading, chasing/flashing, fading slowly, twinkle/flashing and steady on, which can create different atmospheres for your life. Flexible wires can easily build the shapes you want; wrap around tree trunks or gazebos; in the dark, the wire fades to invisible, leaving only the bright lights. This decorative solar rope string lights make your house and garden charming and romantic.
【Indoor and Outdoor Wide Application】The bedroom string lights are not only long and flexible but also waterproof, which makes them perfect for an outdoor decoration. Decorate your bedroom, patio, garden or whatever you want with these sparkling and magical waterproof salor power string lights.
Last update on 2023-09-18 / Affiliate links / Images from Amazon Product Advertising API
These colorful and versatile lights make a great addition to any backyard during any season. They're solar powered, which means they're eco-friendly and cost-effective because once you've purchased the set it won't cost you a cent to run them (thanks, sun)!
You just have to turn the lights on and make sure to set the attached solar panel in direct sunlight, facing the sun, so it charges during the day. With its Smart Light Sense technology, it will turn on automatically once the sun goes down and switch back off again at dawn so you'll never have to worry about doing it yourself.
The 33-foot rope has 100 LEDs and six feet of input wire so the solar panel can be discretely moved to a sunny spot without disturbing the lights. The rope itself has an IP55 waterproof rating which makes it perfectly safe for outdoor use.
These multicolor lights have two lighting modes: full brightness mode and flash mode, so you can customize them to fit your lighting needs.
To get the most out of your solar lights, give them a full two days of charging before you use them at night. That way you'll get longer-lasting and brighter lights going forward. You'll also want to give the solar panel a gentle wipe down every couple of weeks to do away with any grime that has gotten in the way of your panel gathering solar power.
Things We Like:
Eco-friendly solar-powered lights reduce your carbon footprint and your electricity bill
High IP ranking means that your lights will be safe and sound outdoors even if it rains
Brightly-colored lights have "flashing" and "steady" mode to choose between
Check Price and Reviews on Amazon
---
LE LED Rope Lights
Govee Indoor Christmas Decor Rope Lights with Remote Control, 33 Ft Led Rope Lights Warmwhite Waterproof 8 Modes Timer Battery Operated Outdoor String Lights for Wedding Party Landscape Lighting
Enjoy a Beautiful Life: Use 33ft/ 10m warm white LED rope lights to create a romantic, warm and joyful atmosphere that will make your wedding, party, Christmas, holiday, home more enjoyable.
8 Scence Modes & Timing Options: This rope lights is recommended to use the remote control within 16.4ft. You can choose 8 lighting modes: combination, in wave, sequential, slow flash, chase, slow fade, fast flash and steady on. timing functions: delay off 4H, which will cycle automatically for 24 hours, 10 brightness adjustment levels.
Easy to Shape: The outdoor string lights can be easily bent and molded in potted plant, bed, display case, wall, ceiling, window, Christmas tree and many other places. Becoming a designer in your life is something to look forward to!
Waterproof Rating: All parts of this led rope lights are waterproof. The battery case waterproof rating is IP44, and the wire waterproof rating is IP67. This allows it to be used normally in the water or rain to create amazing night scenes.
Last update on 2023-09-18 / Affiliate links / Images from Amazon Product Advertising API
These lights are the only battery-powered option on our list. The 33 feet of super flexible silicone tubing keeps your 120 "daylight white" LEDs safe from the elements. They're easy to install and, since the lights run on AA batteries, you don't have to worry about placing them near a power outlet.
These lights have eight different modes: combination, wave, sequential, slow glow, chasing, slow fade, twinkle, and steady on. These are super easy to control using the remote, which also allows you to adjust the brightness of your lights with a push of a button. The remote also includes a timer option that will keep your lights on for a set six hours of the day, and off for the other eighteen (to save on battery life).
These lights have an IP44 rating, which means you can safely use them outside. They're flexible and sturdy, so you can easily arrange them to make your backyard vision a reality! If you're looking for something more colorful, Lighting EVER (LE) also makes a colored version that you can pick up.
Things We Like:
Battery power source means you can place these lights anywhere without worrying about access to an outlet or sunlight
Timer setting keeps them running for six hours at a time to preserve battery life and keep you from having to remember to turn them off during the day
Easy-to-use remote control lets you select your lighting settings with ease
Check Price and Reviews on Amazon
---
LEDMO 5630 Flexible LED Strip
LEDMO SMD5630 LED Strip, 16.4Ft, 300LEDs Warm White 3000K, DC12V Waterproof IP65, 25LM/LED, 2 Times Brightness Than SMD5050 LED Light Strip, LED Strip Light
High Quality 5630 SMD Top LED, 300 LEDs (60Led/M), Warm White 2800-3000K, 23-25LM/LED, 2 times brightness than SMD5050 LEDs
DC12V,16.4 Ft (5 Meter) Roll, Cuttable every 3 LEDs, approx. every 2", at designated cut marks, without damaging the rest strips
Waterproof IP65, prefect for home and business lighting decoration
Long life span more than 50,000 hours. 1 Year warranty
Low power consumption, can feed by a 12V/5A (60Watt)
Last update on 2023-09-18 / Affiliate links / Images from Amazon Product Advertising API
Okay, so these are a little different from your run-of-the-mill rope lights. Strip lights, though very similar to rope lights, are designed with flat backs and a protective tubing covering the front, so you don't get the 360-degree lighting that you get with most rope lights. Instead, these lights are typically easier to install and brighter, with less yellowing of the tubing that causes the lights to dim and their color to distort.
The LEDMO LED strip works great for any kind of DIY project. The 16.4-foot roll has 300 super bright 5630 SMD Top LEDs and features an adhesive backing, so you can unroll the lights and stick them up with ease. These lights are especially good as subtle lighting features, although their brightness would allow you to use them for all kinds of different lighting projects.
These lights have a waterproof IP ranking of 65, so you can comfortably use them outdoors without worrying too much about them getting wet. One of the great and highly-customizable things about these lights is that you can reshape and connect them to fit any space perfectly. This set comes with a cutting mark every three LEDs, though you'll have to pick up the connectors to reconfigure them separately.
Probably the biggest downside to these lights is that you'll have to order the 12V 5A power adapter separately. You also, if you want access to the customizable lighting features and dimming, need to purchase the remote control separately. The lights themselves are great but it's unfortunate the company decided to turn shopping for lights into an Amazon scavenger hunt.
Things We Like:
Hi-tech and super bright 5630 SMD Top LEDs can keep going for over 25 years
Adhesive backing makes setting these lights up a breeze
Super versatile strip light can be used in any setting with a myriad of different effects possible
Check Price and Reviews on Amazon
---
LED vs Incandescent Lights
LEDs are becoming much more popular than their old-school counterparts and all of the rope lights on our list use them. There are a few safety reasons for this and only one drawback we can see.
LEDs, or light-emitting diodes, are smaller and more efficient. They use less power than incandescent bulbs and in doing so, they burn much less hot. You will never burn yourself on an LED. This makes them a safer and cheaper alternative.
The only drawback, and it's not always the case, is that incandescent bulbs on the whole burn brighter. It's rarely an issue though, unless your goal for your outdoor space or holiday decorations is "let's blind the neighbors." If you want to know more, this article breaks down the differences with science!
Power Source
As you can see in our list, you've got a couple of different options when it comes to the power source you'll be using for your lights. Each power source has different strengths. Your options are essentially solar powered, battery-powered, and your classic plug-into-the-wall lights.
Battery-Powered
These lights are convenient because you can put them anywhere on your property without having to worry about whether or not they are getting sunlight or if they're close enough to an outlet to be able to use. Which is great!
The downside is that you have to make sure that the batteries are always replaced and, if they don't have an automatic timer, it can be easy to forget about turning them off. With a run time of only about 8 hours on average, it can get pricy to keep them running regularly. One way around this is to invest in rechargeable batteries and a charger for them. You can read more about using battery-powered outdoor lights here.
Wired Lights
Wired lights get their power from your home's electricity. This definitely has some benefits. Unlike solar lights, you don't have to worry about a string of bad weather days interfering with your lighting since the power is there at the flick of a switch. You also don't have to worry about them being low on power and dimming as a result. So far as cost goes, your lights aren't likely to cost you more than $1 a month to run, especially if you're using LEDs.
The downside, as everyone who has ever decorated a house with Christmas lights knows, is that it can be difficult to make sure they're in reach of an outlet and that gets harder when you have lots of lights you're trying to use at once.
Solar Lights
Solar Lights are definitely our favorite. They're an environmentally-conscious option that requires very little upkeep once they're set up and run at absolutely zero cost to you. They typically have their own on/off sensors that activate by sunlight (or lack thereof). You can put them anywhere that the attached solar panel can pick up light and they use LEDs, too. While the output isn't always as bright as their wired counterparts, it's rarely an issue for most.
The downside is that they tend to be pricier at the beginning – though eventually, the cost evens out. If you're in an area with little sun it can be an issue getting them fully charged. Some solar lights give off a slightly more blue light as well, but it's not common. Here's a more detailed breakdown of the differences between solar and wired lighting.
Safety Certifications
You'll often see the different light manufacturers proudly stating that they have various kinds of certifications that are designed to tell you that they have passed certain varieties of safety standards and testing. Here's what the most common ones mean:
UL Certified
UL, or Underwriters Laboratories, has been around for over 100 years. They set safety standards for products (that they don't produce) in a whole bunch of different categories and then independently test and verify that those products are meeting those standards. It's a way of knowing that what you're getting is safety-certified. You can read more about what they do, here!
IP Ranking
We've talked about IP ranking before. It's basically just a way of determining how water and dust-resistant a product is. The higher the rating in the first number, the more dust-resistant it is. The higher the second number, the more water-resistant it is. That's all explained in more detail, here. As long as the second number in your IP ranking is 5 or higher, it's basically waterproof, but not against complete or continuous submersion.
Best Brands
Areful
Areful manufactures a variety of highly-rated LED rope and string lights for backyards.
DLIUZ
DLIUZ is known for its lighting and car accessories. They're also known for their quality customer service attitude!
Lighting EVER
Lighting EVER, or LE, is a leader in the LED industry, designing and creating high-quality products. Their focus is on creating the best lighting experience and providing value for their customers – as their reputation attests.
LEDMO
LEDMO is an innovative LED-focused company that's constantly seeking better lighting solutions for consumers.
FAQ
Q: How do I install outdoor rope lights?
A: First figure out exactly where you want the rope lighting to be. Is it going around your deck? Lighting a fence? Highlighting a tree or other landscape feature? Then, measure the distance to figure out how much light you'll need. You can adjust your rope light to size (more on that, here) and then string them up!
Many lights will come with the tools you need to mount them, either brackets or an adhesive attached to the back. If you don't have an adhesive rope, the easiest way to install your rope light is to pick up some rope light clips, which you can get online or in your local hardware store, and set them up at regular intervals where you want your rope light to be. Once that's done, all you have to do is feed your rope into the clips and voila!
Q: How do I clean outdoor rope lights?
A: Unplug them first and foremost! Although most of the rope lights on this list are waterproof, you never want to mess with them without first unplugging them. If you notice the tubing of your rope light picking up dirt or discoloring, you can clean the tubing with a rag and a lightly soapy solution. Some people swear by using vinegar or baking soda to clean their lights.
Q: Can rope lights be cut to length?
A: It depends on your rope lights. Most of the time the answer is "yes", if you're using LEDs. Places that are safe to cut should be marked by either a dotted line or a pair of scissors. This will help you!
Wrap Up
Finding the best outdoor rope lights for your backyard can change the whole feel of your outdoor living space. You can find endless ideas online for ways to use rope lighting to guide the eye to different features in your backyard or to light a path in a way that's both functional and aesthetically pleasing.
Our overall favorite from this list is the LEDMO lights. They're super versatile, easy to cut and reconnect, and incredibly bright. The fact that you have to purchase the adapter separately can be frustrating, but these are lights that are going to last you for years and can be used in so many different projects. Now, get to decorating!