Finding the best bocce ball set that meets regulation bocce ball standards will help you participate in the world's oldest game. A game that has been played by royalty, nobility, peasants, presidents, and regular people for casual play all around the world.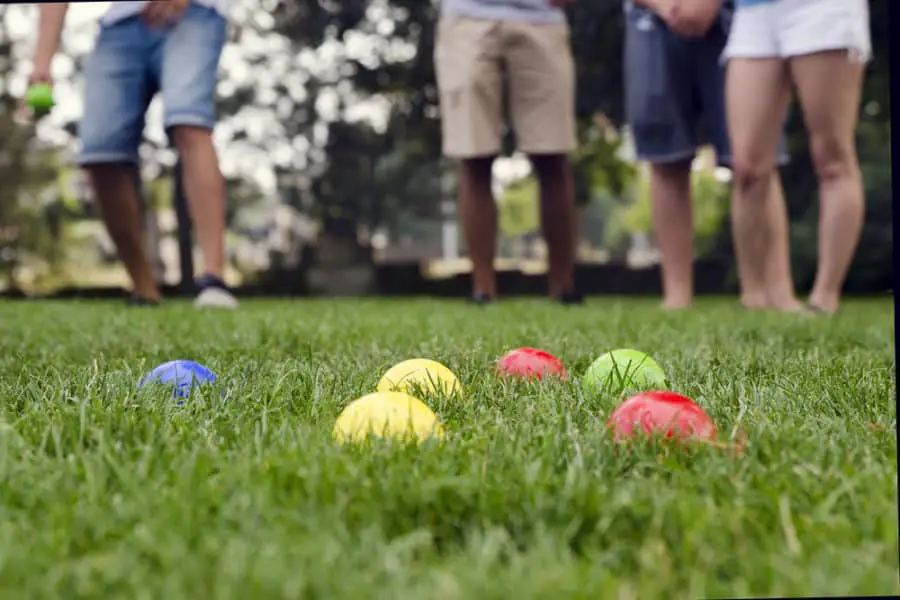 It's an ancient game that resembles bowling or pool and is super popular in France and Italy? It's also popular in the US and all over the world. Bocce has been around for over 2000 years and has been played by emperors and grandfathers alike.
There are tons of reasons to play bocce from health to improving social skills to just having fun. We talk about the game, the equipment, the history, and why you just might want to make playing bocce part of your life.
In a Hurry? Here's Our Top Picks…
1. Perfetta Club Pro Bocce Ball Set 107mm Made in Italy
Perfetta Club Pro solid Bocce Set - Made in Italy
Made in Italy. By the official supplier to the world bocce champs for more than 20 years. Balls laser engraved Made In Italy.
Bocce federation regulation size 4.2 Inch and weight 2.02 lbs balls Solid color and 2 inch white pallina (target ball)
10 Year warranty against ball breakage. Best warranty in the industry. Most other bocce sets are 30 days on workmanship and no breakage warranty.
If you play on a bocce court or want true pride in ownership and a set that will out last by decades any other set on the market then this is the best.
Playaboule has been the exclusive US distributor of Perfetta bocce sets for more than 15 years.
Last update on 2023-09-17 / Affiliate links / Images from Amazon Product Advertising API
You really can't go wrong with this Perfetta Club Pro Bocce ball set. This is a quality set that is made in Italy. This is the same brand that is the official supplier of to the world bocce champs.
The 107mm size bocce balls are regulation size for the US Bocce Federation and the International Bocce Federation.
The laser engraved balls are sturdy and the colors are vibrant. Perfect for seeing the colors down the court. There is a 10-year warranty, but it probably won't be needed with these well-made sturdy bocce balls.
These bocce balls are made with a proprietary blend of solid phenolic resin plastic. The set comes with four red balls, four green balls, a white pallino, and a carrying bag.
Features We Like
Solid Resin
Laser Engraved
Made in Italy
Official Supplier of the US and International Bocce Federations
10-Year Warranty Against Breakage
Highly Rated in Player Satisfaction
Replacement Balls Available
Check Price and Reviews on Amazon
---
2. Champion Sports Bocce Ball Set: Tournament Series Classic Family, Party and Lawn Game
Sale
Champion Sports Bocce Ball Set: Tournament Series Classic Family, Party and Lawn Game
FULL SET - The Champion Sports Tournament Series Bocce Ball set features eight bocce balls and one jack ball, everything you need to play the games as a beginner or veteran player
RED AND GREEN BALLS - Each bocce ball is crafted with tough phenolic resin, known for its use in products like billiard balls, countertops, and adhesives; choose either red or green for your team
PLAY ON MULTIPLE SURFACES - Play a game on the lawn at the backyard picnic, on the driveway, indoor on carpet, or at the park; this set is built to roll smoothly on virtually any surface
FOR TWO TO EIGHT PLAYERS - Whether it's two players or as many as eight joining in the fun, this set is perfect for families and adults who enjoy outdoor activities
CONVENIENT CARRY BAG - Store your set or carry it along with our 1680 Denier nylon bag that's durable and weather resistant; comes with official rules so anyone can play
Last update on 2023-09-17 / Affiliate links / Images from Amazon Product Advertising API
The Champion Sports Bocce ball set is a more affordable and yet quality bocce ball option. It come in the classic red and green colors with a white palino or jack ball.
The balls are made of tough phenolic resin the same type of resin that is used to make billiard balls, counter tops, and some adhesives.
These are multi-surface balls that can be used on grass, carpet, or driveways. You can have two teams from two to four players with the four red balls and four green balls.
This is a quality set at an affordable price. The durable polymer balls are a hit with recreational and tournament bocce players. This set also comes with a weather resistant nylon carrying bag.
Features We Like
Four Red Balls, Four Green Balls, and One Jack or Pallino
Made of Tough Phenolic Resin
Smooth Roll on Multiple Surfaces
Weather Resistant Carrying Case
Affordable Tournament Quality
Check Price and Reviews on Amazon
---
3. GoSports 100mm Regulation Bocce Set with 8 Balls, Pallino, Case and Measuring Rope – Premium Official Size Set
GoSports 100 mm Regulation Bocce Set with 8 Balls, Pallino, Case and Measuring Rope - Premium Official Size Set
OFFICIAL SIZE: Complete Set of 100mm (3.94 in) Bocce Balls (4 Green + 4 Red with circle and square markings)
CANVAS BOCCE BAG: Includes durable canvas carrying case with ball dividers and shoulder strap for easy portability and storage
REGULATION MARKINGS: 8 high gloss balls with 4 red (2 square cut, 2 circle cut) and 4 green (2 square cut, 2 circle cut) and 45 mm white pallino
PREMIUM RESIN: Compare against other low quality brands that use cheap resin leading to cloudy finishes
Last update on 2023-09-17 / Affiliate links / Images from Amazon Product Advertising API
GoSports is a US company that takes pride in its outdoor game products. This Bocce set is affordable and comes highly recommended.
This set has four red and four green balls. Two of each color have square markings and two of each color have circular markings to make it easier to keep track of each teammate's roll.
This set comes with eight 100mm balls, a pallino, and a sturdy carrying case. This set meets regulation standards and also comes with a regulation measuring marker.
The high-quality poly-resin works great on any surface and this is the perfect set for beginners and old-world pros. This is the perfect activity for camping, picnics, and backyard fun.
Features We Like
Timeless Style and Quality
100mm Regulation Size Balls
Regulation Marker Tape Included
Rugged Carrying Case with Divided Pockets
Designed in Southern California by an American Company
Dedicated Customer Support Team
Smooth Rolling
Bright Easy to See Colors
Check Price and Reviews on Amazon
---
4. St Pierre Sports Professional Bocce Set, Green/Maroon, 107mm
Last update on 2023-09-17 / Affiliate links / Images from Amazon Product Advertising API
This is another highly rated bocce ball set. This set comes with four green and four maroon 107mm bocce balls. The Palino is easy to aim for bright yellow.
This professional bocce ball set is made from solid all-resin balls with each color having two distinct markings to keep the team rolls straight.
These are the official size and weight and have a smooth even roll. This set also comes with a sturdy nylon carrying case.
This is another high-quality set that will be appreciated equally by the kids at the beach and your Italian bocce playing grandfather.
Bring a little of the old world to your backyard with this long-lasting professional bocce set. Bocce is a fun and challenging game for old and young alike.
Features We Like
Professional Size, Quality, and Grade.
Durable Smooth Rolling Poly-Resin Balls.
Bright Green and Maroon Regulation Sized Balls
Bright Yellow Pallino for Easy Aiming
Nylon Carrying Case
Check Price and Reviews on Amazon
---
5. Deluxe 4-Player Resin Bocce Ball Set with Carrying Case, 90mm by Crown Sporting Goods
Last update on 2023-09-17 / Affiliate links / Images from Amazon Product Advertising API
This professional set is a smaller and lighter bocce ball set at a more affordable price. These 90mm balls by Crown Sporting Goods come in four bright colors. The balls are smooth, but teams can be divided by the colors of red, yellow, blue, and green.
This is the perfect mix for four players or teams of two. These 90mm poly-resin balls have an authentic feel and weight. There is also a nylon carrying case and a 1.5-inch white poly-resin jack.
This is the perfect beginner set or the perfect set to keep in the car for beach trips and impromptu bocce outings. The smaller size is great for kids and adults alike.
Features We Like
Comes in Four Bright Colors
Solid Poly-Resin Materials
Slightly Smaller for Younger Players
Comes With Instructions
Reinforced Nylon Carrying Case
More Affordable Than Pro Sets
Check Price and Reviews on Amazon
---
Why Bocce?
Bocce ball has been a popular pastime for over 2000 years. It's a great way to spend time with friends and family. It encourages healthy social interaction and friendly competition.
Playing the game of bocce can increase your mental, physical, and spiritual well-being. It is a game of strategy as you consider your opponent's strengths and weaknesses as you plan your moves.
It increases self-awareness as you frequently have to rethink your thoughts and strategies to outwit your opponent in skill and strategy.
It improves coordination as you practice your skill. It is great for old and young alike as it helps to increase hand and eye coordination. Being outside and having fun with friends is also a great stress reliever.
There is even some light cardio and movement involved, but you won't feel like you are exercising because you will be too caught up in the game. It is a great way to socialize, increase confidence and concentration, and enjoy the company of others.
Bocce ball may be one of the most beneficial games that you have never played. If you haven't tried it, now might be the time to give it a shot or a roll.
History of Bocce
According to the United States Bocce Association USBF throwing balls at a target is the oldest game known to mankind. It's rumored that ancient Egyptians played a form of a bocce ball game using polished rocks.
Bocce is a popular game in Italy. This all originated when the Romans learned the game from the Greeks and it caught on throughout the empire. They began using coconuts and then carved bocce balls out of olive wood.
Bocce became the sport emperors and rulers. The game was known to rejuvenate the body because of the athleticism and friendly competition involved.
Similar to the way that shuffleboard was banned during early American history, bocce was banned for a while because it became so popular that it took time away from archery and military practice.
The popularity of bocce has come and gone throughout history. It caught on early in the US, and it's rumored that George Washington even had a bocce court at Mount Vernon. Thanks to Italian immigrants, bocce stayed popular in the US and is having a resurgence today.
Bocce is the oldest known sport in history and is the third most popular right behind soccer and golf.
How to Play Bocce
To play bocce, you need two teams. Each team can have one, two, or four players. Gameplay begins with a toss of a coin.
A member of the team who won the coin toss rolls the pallino down the court. The pallino needs to pass the centerline of the court.
The player tossing the pallino rolls the first ball. Then the next team rolls trying to get their ball closer to the pallino than the first ball.
When one of the opposing team's balls is closer, it becomes the turn of the other team to get a ball closer.
Teams keep rolling until all four of their balls have been rolled. Then the closet ball takes the point and everyone begins rolling from the opposite side of the court.
Scoring Bocce
One point is awarded to the team that has the closest ball to the pallino. If there's a tie in distance no points are awarded. The first team to win 16 points wins.
More Bocce Rules
Balls should be thrown or rolled underhanded. The ball can't go outside of the court and the person rolling it can't step over the foul line. You can knock your opponent's ball away from the pallino or knock the pallino closer to one of your team's bocce balls.
Advanced Bocce Strategy
There is a strategy involved in bocce. Getting your ball in front of the pallino will block your opponent. You can also push one of your team's balls closer, but you don't want to push the opposing team's ball closer.
Even simple games have an advanced strategy as you begin to play and as you discover your opponent's abilities and lack thereof. Bocce is easy to learn, but hard to master. Just like many other fun games.
Great Bocce Ball Players
A lot of famous historical figures are known to have played bocce. It was popular with the Romans and the Roman Emperor Augustus was said to have been a bocce player.
Bocce was also popular in Britain and Queen Elizabeth I and Sir Francis Drake were both known to be bocce ball participants. In the US, it is said George Washington had a bocce ball court at Mount Vernon.
Brands of the Best Bocce Ball Sets
Playaboule
Playaboule has been the exclusive US distributor of Perfetta professional bocce ball sets that are made in Italy to exacting standards. They also feature other bocce ball sets and replacement parts for the bocce ball sets that they sell. They also sell Petanque sets.
Bocce means ball in Italian. Petanque means ball in French. Petanque consists of a jack and six to eight larger metal balls. It is very similar to bocce. They also sell some very nice bocce ball sets and bocce accessories.
They even sell the Playaboule Glow LED lighted bocce ball and Petanque set. They also offered special order bocce balls in an assortment of colors. These are special order, but you can get several variations of mixed colors and shades of black, blue, white, and red. They really are the go-to bocce seller.
Champion Sports
Champion Sports has been manufacturing sports and fitness equipment for over 50 years. You would be hard-pressed to find an athletic, sports, or game product that they are not involved in creating. They also create bocce ball sets.
The founding of Champion Sports is a true entrepreneurial success story. In 1961, Bernard Meller started making jump ropes or leather boxing ropes as he called them in the basement of his Bronx, New York apartment. His wife Dolores handled the bookkeeping for the business.
It wasn't long before Champion Sports opened its first store in lower Manhattan, and Champion became synonymous with quality sports and athletic equipment.
GoSports
GoSports is one of three Go brands under P&P Imports. This company was founded in 2007 and is headquartered in Orange County, California. They import quality sports equipment from Asia to sell in the US. They specialize in outdoor games and sports.
Some of the notable items they sell include air hockey, croquet, many versions of cornhole, and best sellers like giant yard games like connect four and a giant wooden toppling tower which is similar to the game Jenga.
St. Pierre Sports
St. Pierre Sports is part of St. Pierre manufacturing corporation. They are the makers of bocce ball sets, pitching horseshoes, tire chains, and chain & wire rope.
They are the world's largest manufacturer of drop-forged steel pitching horseshoes and have been making them for over 50 years. They also make premium bocce sets. The company founder, Henry St. Pierre, invented an improved gripping tire chain after getting stuck in the mud on his Vermont farm.
He founded his company in 1920 and also started making quality drop forged horseshoes for the popular Vermont pastime of pitching horseshoes. In 1966, his sons started St. Pierre Manufacturing which is the company we know today.
Frequently Asked Questions
Q. Can you play bocce ball on the beach?
A. Absolutely, the beach is one of the best places to play bocce. The only downside is that you won't have a court with clear boundaries, but you can use a marker to get close.
Q. Are boules and bocce the same?
A. They are very similar. Boules means a game of rolling balls to get closer to other balls. It's a French term and is used interchangeably with bocce and bocce like games.
Q. Can bocce be played on grass?
A. Bocce can be played on grass. Short grass is best. Bocce can also be played on other surfaces.
Q. What are bocce ball courts made of?
A. The court should have minimal bounce. Some common classic materials include sand, crushed oyster shell, and decomposed granite. Artificial turf is a common modern-day bocce court material.
Final Thoughts
It's easy to get started playing bocce with any of the above best bocce ball sets. There is something for everyone when it comes to quality and affordability. Bocce is a great way to have family fun and engage your friends in a unique activity.
This ancient game is having a modern-day resurgence. Courts are springing up in parks and community centers around the country. There are tournaments and organizations that will help you get started and find other bocce enthusiasts to mingle with.
This is an easy game to learn. Yet, it requires skill and strategy to play well. There is a myriad of benefits to playing bocce. It helps with coordination, it provides a light cardio workout, and it's fun for the whole family.
As this game becomes more popular, you will be ahead of the curve if you start honing your bocce ball skills now. This is fun game you can play anywhere with anyone.