Bocce ball is one of the staples of backyard barbecue games. Alongside Cornhole and Croquet, these games form a trifecta of entertaining distractions that we've all loved to whittle our evenings away with. Bocce ball is arguably one of the better ones; it separates everyone into teams and there's plenty of opportunity for messing with your opponents! But you'll only be able to enjoy Bocce ball appropriately if you have the right stuff. Too few people have any supplies for Bocce ball at all, let alone a decent scoreboard. With so many Bocce scoreboards to choose from, how can you know which one is correct for your backyard?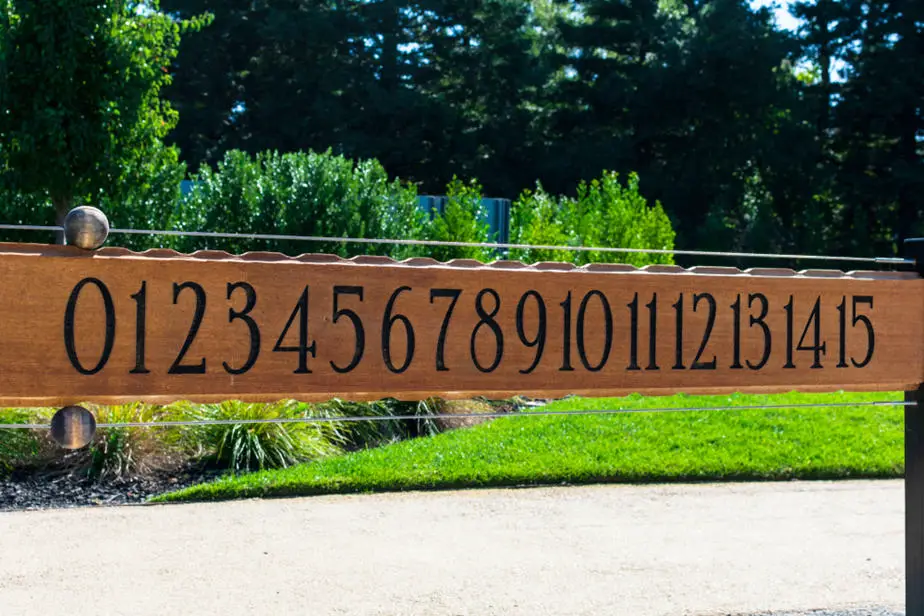 Luckily, we've already done tons of research and found the ideal Bocce ball scoreboards for anyone. We've organized them below and provided some helpful advice when it comes to choosing a top scoreboard for the next backyard hangout.
Let's begin!
In a Hurry? Here's Our Top Picks…
1. ScoreTower Scoreboard and Drinkholder for Bocce Ball
ScoreTower - Scoreboard & Drinkholder for Bocce Ball
Provides players and spectators with game score
Double drink holder holds cans, bottles, coozies, and mugs
Includes 5 Color-coded ScoreClamps to match your team's colors
Stands a convenient 54" tall when in use
Rugged Stake easily pushes into ground using just your foot
Last update on 2023-09-22 / Affiliate links / Images from Amazon Product Advertising API
This scoreboard is one of the most comprehensive Bocce accessories you can purchase. It has two scoring sides along its vertical axis, and each scoring side goes to a total of 21 to allow you to complete as short or long of games as you prefer. The numbers are colored in alternating hues – red and white – so it's easy to keep track of things and move the marker pin up or down depending on your current score.
It's installed using a thin rod/stake that has a pointed tip to allow it to easily puncture a grassy lawn or yard. It doesn't require screws or any other parts to be installed, save for the drink holder that requires a little finalizing before you can use it.
That's right, drink holder. This is positioned at the bottom of the scoreboard and it's wide enough to hold any cup or bottle you might want to bring with you on your next game. It's even wide enough to fit mugs within it if you want something hot on a cooler morning or evening.
Altogether, the scoreboard is exceptionally durable with a powder-coated heavy-duty steel frame that provides the scoreboard with enough weight to prevent it from tipping over despite its apparently thin design. The scoreboard itself is made from weatherproof and waterproof materials to keep it looking great even if you leave it outside for weeks on end. It stands 54 inches tall once you've pushed it into the ground: an ideal height for most users.
Things We Like
Very durable overall
Doesn't blower tip over
Has a great drink holder
Graphics are high visibility
Things We Don't Like
Check Price and Reviews on Amazon
---
2. Midwest Masterpiece Upright Magnetic Scoreboard Bocce Ball
Last update on 2023-09-22 / Affiliate links / Images from Amazon Product Advertising API
This scoreboard is a very affordable alternative. Despite its low asking price, this scoreboard uses a more unique scoring method to keep its marking pins in place: magnetism. It comes with two pawn-type neodymium magnets, plus mounting screws to keep that main scoring card in place against the magnetized back board.
The magnetic pawns are easy to place along a board's length and the magnetism strength is suitably intense such that they won't fall off easily, even if you hit the board with one of the balls by mistake. There's also a round flat washer that you can easily mount on the underside of the board; this allows you to store the magnets and pawns when they are not in use.
The plate overall measures 3" x 21" and has a baked white powder finish to improve its durability and aesthetic. The numbering for the line dividers on the board decal itself is super durable as well, using the same paint on commercial vehicles and rated to last for many years before it wears off. The numbers are easily visible even if they aren't the largest we've seen.
On the downside, you only get the plate itself rather than a board itself. You'll have to provide a vertical surface for the plate to be mounted on, and it might be difficult to locate a board suitably sized. Still, the affordable asking price offsets this negative in our eyes. It's ultimately a very easy to use and convenient Bocce scoring board. The magnetic solution to keep the score pawns in place is very clever.
Things We Like
Magnetically keeps the markers in place
Easy to attach to a variety of surfaces
Affordable asking price
Durable and long-lasting materials
Has washer for storing the pawns
Things We Don't Like
Doesn't come with a board for mounting
Check Price and Reviews on Amazon
---
3. House Scoreboard Red White and Blue
Last update on 2023-09-22 / Affiliate links / Images from Amazon Product Advertising API
This Bocce scoreboard will be an instant classic for fans of the American red, white and blue aesthetic. You get three distinct scoreboards in this pack, one for each primary color, and each board goes from 0 to 21 with two spaces on either side of each number to let you clip pins or other marking tools with ease. The purchase comes with several scoring clips, so you don't need to provide your own.
The boards are all made with durable and weatherproof plastic so you can easily use them for indoor or outdoor activities. They also aren't made specifically for Bocce but can also be used for similar games like cornhole. They're 3/16 of an inch thick and are UV resistant, as well. This grants them excellent sun damage resistance, making them perfect boards for leaving outdoors for long stretches of time.
There's a metal grommet at the top of each board that you can use to hang them from hooks or fasten them to wires. You can also easily fasten these to stakes, although neither stakes nor materials to ensure proper fastening are included. However, given the low asking price, we can't complain too much about this apparent oversight.
Overall, these Bocce scoreboards provide great value from their durability, flexibility, and ease of use. They're not all that advanced but they're a great pick for occasional Bocce ball players or those who aren't too concerned about finding a scoreboard that they can permanently mount.
Things We Like
Comes with three scoreboards
Each board is weatherproof and UV resistant
Has metal holes for hooks
Very easy to store/install
Things We Don't Like
No included mounting tools
Numbers blend in a bit
Check Price and Reviews on Amazon
---
4. GoSports ScoreCaddy
Sale
GoSports ScoreCaddy Set of 2 Outdoor Scoreboard Tables with Drink Holders - Perfect Score Tracker Accessory for Backyard Cornhole and Yard Games
ULTIMATE OUTDOOR GAME ACCESSORY: Impress your friends and upgrade any outdoor game setup: Cornhole, Ladder Toss, Horseshoes, Washer Toss and More!
INCLUDES 2 TABLES: Includes 2 tables, one for each side! The main tower includes a built-in score-keeper
4x CUP HOLDERS: Each table has 2 built-in drink holders for cups, bottles or cans and also notches to hold wine glasses
MAGNETIC SCOREBOARD: Forget about keeping track in your head, just have a good time! Scores go up to 21 points to work for any game
SPACIOUS TABLES: Store your game pieces (bean bags, bolos, washers, etc) on the table to keep your hands free
Last update on 2023-09-22 / Affiliate links / Images from Amazon Product Advertising API
GoSports' ScoreCaddy is a higher end but more expensive Bocce scoreboard. It comes with two pieces; the main scoring post and a secondary drink-carrying caddy. Both pieces are made with solid wood construction and have been improved with a durable coating to keep them looking and feeling great use them outdoors without storing them.
The pieces are easy to assemble in about 10 minutes and can be used for a variety of outdoor games, not just Bocce ball. There are two tables with the purchase, one for each team, and a single main tower that has a built-in scorekeeper. The scorekeeper the big negative we could find with this pick, as the numbers are quite small and difficult to see from afar. Each piece is also not strictly weatherproof or waterproof, so we'd still recommend storing them indoors or in a garage if you can remember.
But it does come with marking magnetic pins that won't fall off easily. The numbers also go all the way up to 21 so it works for a variety of games or more intense sessions of Bocce. The drink holders are also great, with tons of space to spread snacks or other things and deep cup holders to keep your beverages secure.
But the table and scorekeeper feature a four-foot design that keeps them stable even on somewhat uneven ground. We think these will be a huge favorite for larger Bocce ball players or families that like to get together and play outdoor games relatively frequently.
Things We Like
Comes with two tables
Scorekeeper is magnetized
Legs are four-pronged for stability
Durable construction
Things We Don't Like
Not weatherproof
Scoring numbers are small
Check Price and Reviews on Amazon
---
5. Love The Ultimate Bocce Scoreboard
Last update on 2023-09-22 / Affiliate links / Images from Amazon Product Advertising API
The Love Ultimate Bocce Scoreboard is a truly phenomenal option for Bocce fanatics that have a little extra cash to spend. For starters, it has score-indicating markers on either side and very large numbers to keep things easy to read even from a great distance. As a result, you can place this scoreboard near the center of the court or all the way at the end and you won't struggle to see how the game is going.
It also comes with a 48-inch wooden mounting post, along with all the tools or accessories you need to put it together and prepare your game. There are two color pegs included with the purchase, so each team has a separate peg to clearly keep the score accurate.
The main scoreboard itself is also super durable. It's made from a multicolored polymer that is totally weatherproof (and which can resist water or shock damage) and UV resistant, so the lettering won't fade even if the scoreboard spends long hours in the sun. Additionally, this polymer is graffiti resistant. This makes it a great scoreboard for professional Bocce ball courses or courts.
The numbers go from 1 to 20 to accommodate even longer Bocce ball games. It can further be installed indoors or outdoors. Altogether, it's the best of the bunch when it comes to sheer quality and ease of use, though it's attached to a high price tag. We'd recommend this only for Bocce ball fanatics or those who are putting together a professional-looking Bocce court for frequent play.
Things We Like
Very durable and UV resistant construction
Weatherproof and graffiti resistant
Can be installed with 48-inch mounting post
Numbers are easy to read and double-sided
Comes with two colors of marker pegs
Things We Don't Like
Check Price and Reviews on Amazon
---
What To Look For in a Bocce Scoreboard
When you're looking for a new Bocce scoreboard, keep these major things in mind and you'll be able to distinguish excellent boards from mediocre ones.
Weatherproof Construction
The best Bocce boards will undoubtedly be made to withstand inclement weather, as very few will make the effort to move their boards indoors or into a garage each time it rains or snows.
Bocce scoreboards that can withstand in any weather won't degrade as quickly as cheaper boards. You can simply keep them up during the warm but rainy summer months and enjoy them each time you go to play.
Weatherproof construction is also valuable because it ensures that other backyard things, like water from a hose or mud from a dog splashing around, don't affect its quality or cause it to degrade too quickly. These boards are also better for Bocce scoreboards you plan to take to a friend's house.
Durability
Related to weatherproof construction, you'll also want a scoreboard that is built to last. Durable Bocce scoreboards are worth more money since you won't have to replace the scoreboard as quickly and it'll take significant wear and tear before showing signs of stress.
This might also be important because Bocce balls can occasionally hit the scoreboard. More durable boards won't break as easily, prematurely ruining the game. Durable boards will also be safer for use in busy backyards that are filled with kids or animals; boards that break easily might fling debris around the yard, possibly causing safety hazards during playtime.
Ultimately, durable and weatherproof Bocce scoreboards are much more valuable than their cheaper, flimsier counterparts. This is true even if you have to pay slightly more money upfront to get a decent board. Chances are, you'll save money in the long run.
Size
The size of the Bocce scoreboard you choose will have an effect on how well it fits into your yard. Larger scoreboards can fit more score numbers onto their surface areas, while smaller boards are easier to transport to a friend's house or to store in a garage.
There's no right or wrong answer about the ideal size of a Bocce scoreboard; it all depends on the size of your backyard and how big of a scoreboard you want to deal with each time you need to take it out. Keep in mind that smaller boards are often lighter and easier to install than heavier ones.
Installation Type
Some Bocce scoreboards are installed by screwing the board into small holes precut by the manufacturer so you can mount the board onto a fence or a wall of your house. Such boards can also be mounted onto the wall of the garage, or any other horizontal surface you can imagine. Many boards with this kind of installation method also come with the screws and/or tools you need to complete the process.
Alternatively, some Bocce scoreboards are designed to be mounted on stakes. These can be planted in your backyard, allowing for easy setup. However, these scoreboards leave holes in your backyard if you continually remove the scoreboard and store it between Bocce games.
Finally, some Bocce scoreboards are meant to be hung with a chain or rope. These require a simple hook installed on some vertical surface. These might be ideal for boards that you hang on a patio or inside a garage.
Number Readability
Bocce scoreboards are designed to tell you the score of the game at a glance. Naturally, the size and color of the numbers dictate how easy this is for all the players.
Some Bocce scoreboards have smaller numbers but fit more of them into a more confined surface area. These are helpful because some Bocce game scores and go into the 20s or beyond. Others might have larger but easier to read numbers, with a smaller number maximum.
Again, there's no right or wrong answer when it comes to the ideal number size and color; it all comes down to personal preference and the vision quality of the players.
If you accidentally purchase a scoreboard with numbers that are too small for comfort, remember that you can always reposition the scoreboard to be closer to the players.
Number Maximum
Like the last factor, this is largely down to personal preference. Some boards have numbers that go above 20 while others will only have score maximums that go up to 10 or so. Neither option is necessarily better, although better players may want Bocce scoreboards that have higher maximum scores for more competitive and dramatic games.
Even if you have a scoreboard with a low number maximum, you can still enjoy games with higher scores than what the board represents by remembering to add a "1" to the front of each number as you hit the teens. Solutions like this exist for every Bocce scoreboard issue you might run into.
Extras
Finally, consider whether a given Bocce scoreboard has any accessories or extras that come with its purchase. These may not necessarily affect the actual quality of the board, but they can help you choose between two very similar boards or be intriguing enough for you to finalize a purchase.
As an example, some great Bocce scoreboards feature drink holders. These let you bring your favorite cool beverage out to the yard and store it somewhere safe even if there isn't a chair or table nearby. Others might have chains attached to their marker plugs, which prevents the plugs from being lost or dropped on the ground.
Best Bocce Scoreboard Brands
GoSports
GoSports is an outdoor game and sporting goods company that hails from sunny southern California. They produce a huge collection of top-tier sporting goods and other accessories to allow families or sporting events to be the best they possibly can.
Midwest Masterpiece
Midwest Masterpiece is a smaller company that only produces a handful of products. But they employ disabled or needful people, so purchasing from them is directly helping workers who need employment most.
Backyard Scoreboards
They make scoreboards for a variety of fun family and backyard games, not just Bocce ball. They also focus on delivering goods in bright, USA-focused colors, so they'll fit right in for those who appreciate classic American BBQ aesthetics.
FAQs
Q: How Do You Play Bocce?
A: Bocce ball is played by setting up a court: a level, flat space that's 91 feet long by 13 feet wide. Of course, casual games can play with these dimensions. Divide the playing space by five lines, drawn four and ten feet from either side of the space. Draw the fifth line through the center. There should also be a back wall of some kind set up at the far end of the court to keep balls from flying into the yard, though this is not a strictly necessary part of the setup.
Next, collect the Bocce balls. A Bocce call set will come with eight falls in two different colors, plus one Pallino – this is a smaller white ball. Separate the players into teams.
Bocce ball is played in "frames", where one of the teams tosses the Pallino or jack. Then players try to get as close as they can to the Pallino with their Bocce balls without letting the balls fall outside the court space. All tosses have to be done from behind the 10-foot line on the nearest side of the playing space.
To throw a Bocce ball, toss it in an underhanded fashion to combine power and control. It's also a good idea to give the ball some air time instead of trying to roll it, especially if you play on uneven ground like grass.
Q: What is a Bocce Scoreboard Meant to Do?
A: It keeps track of the Bocce ball game, of course!
After each Bocce ball in a set has been thrown, you'll examine which team has the Bocce ball that landed closest to the Pallino. The winning team will have the closest ball.
But that's not all. Then the winning team gets an additional point for each Bocce ball that rests closer to the Pallino than the opposing team's Bocce balls. Winning teams, therefore, always score at least one point. Then can score a maximum of four (since there are four balls per team in a set of eight).
You then mark this on the Bocce scoreboard. The frame is then considered "complete", and you move on to the next frame. The traditional maximum score is 12 – the first team to reach this is the winner. Of course, you can go beyond this limit if you choose.
Q: What About if the Bocce Ball Hits the Pallino?
A: In this case, it depends on your rules. Some people don't let it count at all. Others have you score two points if the frame ends and your team's ball is still touching the Pallino. In most cases, nothing happens if the Bocce ball just hits the Pallino and doesn't remain in contact.
Q: Can Bocce Be Played Indoors?
A: Bocce ball can be played indoors, but it's recommended that you only do this in a gymnasium or in a space where the ball won't A) damage the floor or B) bounce too much and not be able to land near the Pallino. Outdoor environments are usually a much better bet for Bocce ball.
Q: How Do You Pronounce "Bocce"?
A: Bocce is an Italian word, so it's pronounced "Bawt-che" or "Boe-chae" depending on your preference. However, most English-speaking folks just called it "Boch-ee". You can either impress or irritate your family members the next time you play by bringing this up.
Q: Why Do Bocce Balls Bounce the Way They Do?
A: It has to do with their constructions. Bocce balls are made from a solid resin that promotes durability and gives them a satisfying thunk when they hit the ground. This prevents them from becoming too bouncy and constantly falling outside the court limits. Traditionally, Bocce balls were made from wood.
Q: What Happens if You Step Inside the Court Line?
A: This is typically considered a foul. It's up to the ones playing to determine what this means for the game.
Conclusion
Ultimately, any of the above five Bocce ball scoreboards should be able to serve you well at your next backyard cookout or hangout. Each one can provide you with workable accuracy to let you keep score (and make sure the other team doesn't cheat!) as well as allow you to use them outdoors without worrying too much about durability or the weather.
Maybe you're looking for something affordable and with a drink holder, so you don't have to keep heading back to the patio. In that case, the ScoreTower Scoreboard and Drinkholder for Bocce Ball is probably your best bet.
Or maybe you're looking for something even higher in terms of quality and professional aesthetic. In that case, the Love The Ultimate Bocce Scoreboard is a scoreboard that professionals (or wannabes) will truly love.
Whichever you choose, we hope this guide has been helpful. Thanks for reading!