If you have flat feet or know somebody that does, that shouldn't stop you from enjoying a game of soccer. The majority of soccer cleats aren't built for those of us with flat feet. Thankfully, there are a handful of high-quality soccer cleats that will fit you just right! After plenty of research, I have found the five best soccer cleats for flat feet that money can buy. Below you will read in-depth reviews, followed by a buyer's guide to help you find the perfect cleats for you. After this, you'll be ready to score some corners and goals!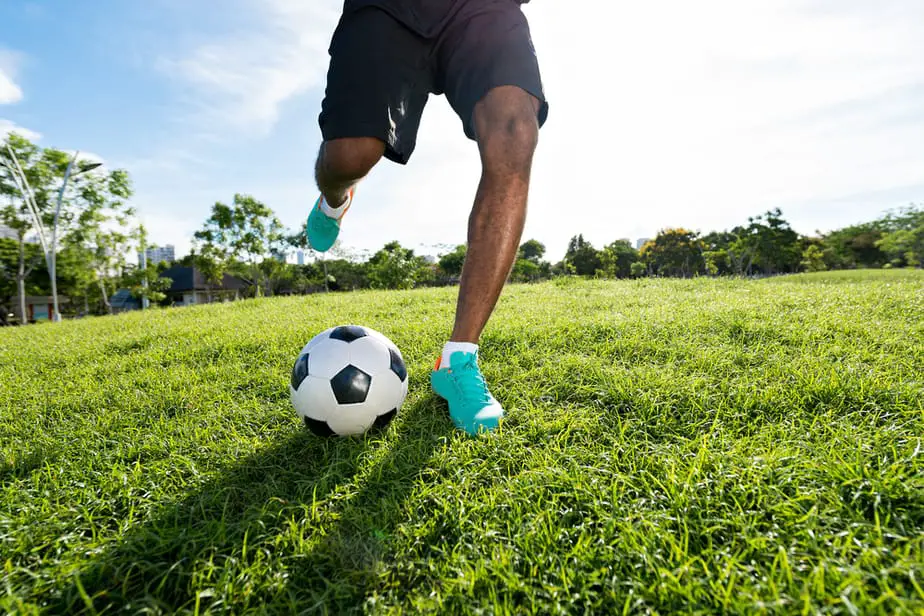 Let's see which products made the cut!
In a Hurry? Here's Our Top Picks…
1. DREAM PAIRS Men's Cleats Football Soccer Shoes
No products found.
First on our list as a pair of men's cleats from Dream Pairs. For starters, these cleats are designed with man-made material. There is a comfortable synthetic sole reason under a cushioned insole and the shoe has a lightweight and soft fit that almost makes you forget that you're wearing them. The rubber molded cleats help you to get the best traction possible while on the pitch.
Another great thing about these cleats is that they're available in 15 different color combinations. You can choose something casual such as black and gray or go for something that will make you stand out on the field such as lime green or bright orange. It may be important to note that these shoes tend to run a bit big. If you have wide feet you'll enjoy how roomy these Dream Pairs cleats are.
Due to the high-quality materials, they are designed with these shoes should last at least two seasons. It also may be beneficial that this pair is quite cost-efficient. If you run of these shoes to the ground it won't cost you an arm and a leg to replace them. Lastly, you won't have to worry about these shoes slipping and sliding around during your next game.
What we like:
One of the biggest reasons people enjoy these shoes is the price point. That was also one of our favorite features as well. For less than $30 you get a high-quality pair of soccer cleats that are long-lasting and durable.
These shoes also have a wider variety of color options than many other soccer cleats on the market. While this doesn't necessarily improve the shoe itself, it's a great way to make customers happy.
The cushioned insole provides extra comfort and support. Perfect for flat feet!
What we don't like:
The only thing that we can think of that is negative for these shoes is the sizing. As long as you remember to size a half size or full-size down, this shouldn't be an issue.
Check Price and Reviews on Amazon
---
2. Adidas Copa 19.4 Firm Ground
adidas Unisex-Adult Copa 19.4 Firm Ground Soccer Shoe
Synthetic leather stitched upper
Lace closure; Soft, extended textile lining for comfort
Move with explosive speed and traction on firm ground (dry natural grass), artificial grass (long-bladed synthetic fiber) and hard ground with the Flexible Ground outsole
Last update on 2023-11-05 / Affiliate links / Images from Amazon Product Advertising API
Adidas makes their first appearance with the Cops 19.4 Firm Ground cleats. These synthetic shoes are available in all black or black and white. These not only work great on the field but they are stylish as well. There is a synthetic leather upper but has a stitched vamp that keeps your feet in place at all times.
Due to the flexible ground outsole, you won't have to worry about losing balance no matter what surface you're playing on. Adidas makes high-quality products and these cleats are a great example of that.
They are durable and long-lasting, allowing you to wear them season after season. These shoes are also fairly inexpensive. You can usually find them between $35 and $70. These can be used during professional games, high school games, or even youth soccer.
What we like:
One of the best things about these Adidas is that they provide speed and traction on any type of surface. Whether the grass is firm, long, or even if you're on hard ground, you will have support and traction.
We also like the look of these shoes. There're sleek and minimalistic. The exterior is completely synthetic and they look good with any uniform.
What we don't like:
Just like other cleats on the market, these Adidas tend to run a bit big. It is suggested to get a half size down when purchasing these shoes.
Check Price and Reviews on Amazon
---
3. NIKE Boy's JR Bravata II FG Soccer Cleats
No products found.
Since soccer is such a popular sport that kids enjoy, we wanted to include a youth soccer cleat that stands out from the rest. The Nike Boy's JR Bravata II FG are amazing shoes that are perfect for youth soccer. They are available in three different color combinations including yellow, pink, and black.
There's a synthetic upper that was created with micro-texture technology that helps to make these Nike shoes as durable as possible. This technology also helps players control the ball when running at faster speeds. Unlike many other cleats, these have asymmetrical leasing. This also provides extra control and allows you to perform more consistently.
The outsoles are designed with rubber FG to give you extra traction, stability, and acceleration. This is perfect for youth soccer players who are still learning how to play. These shoes are also extremely comfortable thanks to the perforated sock liner that provides extra cushion while still allowing the shoe to be lightweight. With excellent grip and a design-build for those with flat feet, these affordable Nike soccer cleats are a great addition to any player's uniform.
What we like:
The asymmetrical leasing really stands out to us. The ability to provide players with more consistency and better ball control is a nice touch.
We also enjoy the unique perforated sock liner. When you're running at fast speeds for long periods of time, you want a shoe that's comfortable and lightweight. That's what the perforated sock liner has to offer.
There's no need for breaking these shoes in. As soon as they arrive, they can be used without the fear of getting blisters or sore feet.
What we don't like:
It's important to note that these shoes run a little small and narrow. This can be a downside to some soccer players.
Check Price and Reviews on Amazon
---
4. LEOCI Men's Women's Firm Ground Soccer Cleats
Last update on 2023-11-05 / Affiliate links / Images from Amazon Product Advertising API
The penultimate soccer cleat that is best for flat feet is the LEOCI Unisex Firm Ground Soccer cleats. These man-made shoes have a synthetic rubber sole. Conveniently, the shaft is a low-top from the arch, making them perfect for those with flat feet that are looking for a cleat that will stay put while being worn.
They've also designed the upper in a criss-cross design to provide extra friction when controlling the ball. The LEOCI Unisex cleats are available in a few different color combinations including pink and blue, silver and orange, and orange and black. One thing that these cleats are known for is the comfort and performance that they provide.
Thanks to the high-quality materials, you will have full control over the ball in any type of conditions. The cushioning has been molded to provide wearers with flat feet as much comfort as possible. These cleats give you control on firm grass and hard ground as well. The outsole is incredibly flexible, allowing you to move smoothly on the pitch. You may also enjoy the honeycomb insoles that keep your feet cool and dry.
What we like:
These cleats are incredibly comfortable to wear. They can be worn for long periods of time on different terrain types.
LEOCI makes durable and long-lasting shoes. You won't have to worry about replacing these pair at the end of every season.
They're also affordable, usually priced around $35 to $40.
What we don't like:
Though these shoes are comfortable, it may take a while to break them in.
Check Price and Reviews on Amazon
---
5. Adidas Performance Mundial Team Turf Soccer Cleat
Last update on 2023-11-05 / Affiliate links / Images from Amazon Product Advertising API
Last but not least, Adidas makes a second appearance on the list for the five best soccer cleats for flat feet. Even though these shoes are available in multiple different color options, it's quite subtle. The exterior of the shoe is made out entirely of leather, including the classic three-stripe logo, which gives these cleats a trendy and sleek look.
Adidas even designed these with a split-suede leather upper and a low-top from the arch. There is a comfortable rubber sole that is accompanied by synthetic lining to bring ultimate comfort to those soccer players with flat feet or low arches. The midsole is molded with EVA making the cushioning comfortable, yet lightweight enough to easily run on.
If you're looking for extra grip on the field, the TRAXION outsole provides just that. These soccer cleats are built to last for multiple seasons, which saves you money in the long run. Lastly, these shoes have a convenient heel loop that makes them incredibly easy to slip on and off as needed.
What we like:
These cleats run true to size, which makes buying them online much easier.
Adidas is a well-known and trusted brand that makes high-quality products
If you're looking for comfort, you've found it with the Mundial team turf shoes from Adidas.
What we don't like:
The price point can be a bit steep for some. The Adidas Mundial Team Turf soccer cleats run between $50 to $120 on average.
Though short, there is a break-in time needed for a pair of these cleats.
Check Price and Reviews on Amazon
---
Buyer's Guide
We understand that finding the perfect cleat can be hard, especially when shopping online. This is why we've included an in-depth buying guide. Hopefully, this makes it easier to compare one shoe to another.
Types of Soccer Shoes
FG
FG stands for firm ground. These cleats are best used on natural grass surfaces that don't get a lot of rain. With that being said, many people still use FG cleats on artificial fields.
AG
Speaking of, AG stands for artificial ground. This is one of the newer types of soccer cleats. These provide amazing traction and give you a lot of control. Unfortunately, AG cleats cannot be worn on firm ground.
SG
In the soccer world, SG stands for soft ground. These are best worn on real brass where it rains often. You will know if the pitch is soft enough for SG cleats if the cleats sink into the ground when you take a step.
IN
Then there is IN soccer cleats. These are designed for indoor use only. They have specific grips and sole that are meant to be used on indoor floors and shouldn't be used on any surface that isn't flat.
TF
TF cleats are designed for artificial turf. They are made with shorter studs that are thin enough to grip on artificial turf easily. TF cleats are similar to FG cleats. The main difference being TF for specifically for artificial pitches. You may also see these advertised as AT (artificial turf).
HG
HG cleats are for hard ground use only. This is one of the original types of soccer cleats but is slowly going out of style. HG cleats are best used on gravel or bare surfaces, such as worn-out grass.
Laced vs. Laceless
Soccer cleats come in both lace and laceless styles. There are also ghost lacing and personalized lacing that some brands offer. Laceless soccer cleats are easy to take on and off, but some people may not like that they are a bit loose.
They are best used for front to back movements, making them a bad choice for goalkeepers. Laced soccer cleats are great for any position. They allow you to choose how tight or loose the shoe is and you can customize the fit how you'd like. Ghost lacing and personalized lacing won't affect how the shoes perform, they're more aesthetic-based preferences.
What Position You Play
If you're unaware, different cleats are used for different positions. For example, a goalkeeper isn't going to wear the same cleats as a midfielder. Let's talk a bit about the differences in each position.
Forwards
If you are a forward, you'll likely want to focus on cleats that provide speed. Forwards are the fastest people on the team and they need a lightweight shoe that easily lets them control the ball.
Goalkeepers
Since goalkeepers don't do as much running as the other players, they opt for more comfortable cleats. If you are a goalkeeper you want to test out your side to side movements to make sure that the cleats will be comfortable during a game.
Defenders
The majority of defenders prefer leather cleats over any other material. Many others prefer the same cleats that forwards wear to enhance their speed. If you're a defender, you're able to wear just about any type of soccer cleat.
Midfielders
Midfielders need cleats that give them full control. Like forwards, they need speed but also want something that is a bit more padded. The more natural a cleat feels on your foot, the better it is for midfield positions.
Price
As you've seen, soccer cleats can range in price quite a bit. There are inexpensive shoes that cost less than $20, while other cleats cost hundreds of dollars. Most people opt for soccer cleats that are between $40 and $80. This gives a nice mid-range quality and won't cost you a ton of money.
If you're interested in playing professionally or you already play professionally, you'll be interested in boots that are $150 and over. Please provide the best quality and are incredibly durable for near-constant use. Many players opt for getting their cleats custom made to their liking. You can often find soccer shoes on sale towards the end of summer, right before school starts.
Upper Material
Synthetic
Synthetic soccer cleats are made out of thin material. They won't change much from the initial where and our best worn by soccer players with plenty of experience.
Leather
There are three different types of leather soccer cleat uppers. The most common are synthetic leather. These are usually waterproof and provide players with a better quality performance.
Because synthetic is a newer type of material, some kinks are still being worked out by companies who use synthetic leather. There are also natural leather and K – leather shoes. These cleats can cost quite a bit more but give you a personalized feel and are incredibly comfortable.
Mesh
Mesh uppers are becoming more and more common in the soccer world. Similarly to synthetic, mesh offers a thin and lightweight design that players love. It is important to note that if you're interested in a pair of mesh cleats, make sure that they're waterproof or else you'll be kicking with wet feet.
Knit
Last but not least, some players enjoy wearing knit soccer cleats. Please give players a unique feel of the ball and keep feet dry at all times. While knit cleats offer support, not many brands offered this material quite yet.
Fit
While fit varies from position to position, the majority of soccer players enjoy a snug fit. There should be around a quarter inch of room between your toes in the front of the shoe. It's also crucial that your toes don't actually touch the shoes upper. Depending on what position you play, the fit of the shoe can change quite a bit.
If you are a forward, you want something that is as snug as possible without being too tight, whereas if you're a goalkeeper you can have cleats that are a bit loose. Fit is the perfect reason to read reviews when purchasing soccer cleats online. You'll be able to see if you need to size down or if they are made for wide or narrow feet.
Best Brands
Adidas was founded in the fall of 1949 in Germany. They are best known for their athletic wear including shoes, pants, and accessories. They are the second-largest sportswear manufacturer in the world.
The largest sportswear manufacturer in the world is Nike. The headquarters are located near Portland, Oregon, and the company has been around since 1971.
LEOCI
LEOCI isn't too well known when it comes to soccer shoes. The company itself doesn't have a website, but it sells the majority of its product on Amazon. Most of the shoes they make have high star ratings and positive reviews.
Dream Pairs has over 6,000 styles of shoes including athletic wear, pumps, boots, and sandals. Their main goal as a company is to make each individual happy with high-quality shoes.
FAQ
Q: Is there a difference between soccer shoes and soccer cleats?
A: Yes! Soccer shoes are designed mostly for indoor use. They are often flat on the bottom, whereas cleats have rubber cleats to help players stay sturdy while running on the pitch. Cleats should never be used indoors and soccer shoes without cleats shouldn't be worn on the field.
Q: Can I wear my cleats from other sports to play soccer?
A: It is not uncommon for people to think that all cleats are interchangeable. Soccer cleats can be used in sports such as lacrosse, baseball, and football. However, lacrosse, baseball, and football cleats may not be used to play soccer.
Q: How can I find the best fitting soccer cleats for flat feet?
A: Soccer cleats tend to be about a ½ size smaller than your normal tennis shoes. They should be snug, but not tight. If you have flat feet, make sure that the cleats you're interested in have plenty of cushioning.
Q: What does MG stand for in soccer cleats?
A: MG stands for maximum grip. These shoes can be worn on dry and synthetic surfaces only.
Q: How long do soccer cleats last?
A: This depends on how often you're playing and what the main material the cleat is made out of. If you're a forward wearing lightweight cleats, you can expect to replace your shoes more often as lightweight cleats are less durable. The more often you play, the quicker your cleats will get run down. On average, if you're playing or practicing three to seven days a week, you can expect a pair of high-quality cleats to last you at least one season.
Q: Are there other names for soccer cleats?
A: Yes. Soccer cleats may also be called boots or soccer shoes depending on where you're located. They're usually interchangeable, with the exception of soccer shoes usually pertaining to indoor cleats.
Q: How can I make my cleats smell better?
A: There are several ways you can keep the stench out of your soccer cleats, no matter how often you wear them. First, you can put baking soda, Epsom salt, or citrus rinds in the cleats and allow them to sit overnight. You could also rotate between pairs which not only helps with the smell but keeps one pair from wearing out quickly.
Q: Is there a way I can make my cleats last longer?
A: If taken care of properly, cleats can last a bit longer. There is a protective spray you can apply to the cleats that protect from dirt, debris, and normal wear and tear. You can also replace the studs and change sizing as needed. Making sure your soccer cleats get cleaned after every use is the best way to get a longer life out of them. You'd be surprised at what warm water and gentle soap can do.
Wrap Up
By now you're practically an expert on all things related to soccer cleats. Have you found a pair that will work for you? It can be incredibly difficult to find comfortable shoes when you have flat feet, add in needing specific shoes for a sport and it can be quite a stressful task to find shoes that work. Hopefully, the reviews above gave you a better idea of what you should look for when shopping around for soccer cleats.
The buyer's guide is best used when comparing one pair to another. Remember to get the best cleats for the position that you're playing. You wouldn't want to wear a goalkeeper's cleats if you're a forward. Keep in mind the material as well. Some materials such as leather can affect how the shoe fits and performs on the field.
Lastly, pick a cleat that is built for the surface you'll be playing on. If you switch between practicing indoors and playing outdoors, it's best to have a pair for each. We hope that learning about the five best soccer cleats for flat feet has helped you find the perfect cleat for you or a loved one. Good luck on the field! We're rooting for you.