Does your backyard smell bad? In this article, we list the best plants and methods to use to make your backyard smell better. From clearing out sources of smell to fixing your yard back up after the dirty work is done – we cover all the bases to set you on your way!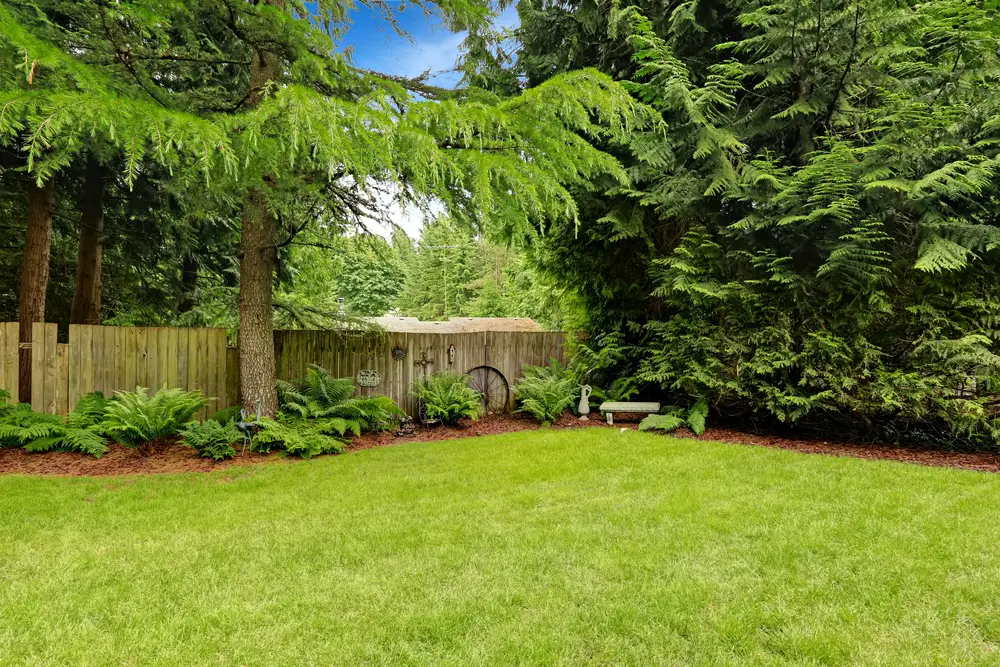 Let's get started!
How to Make your Backyard Smell Better
In the next few sections, we'll be walking you through step-by-step how to make your backyard smell better so that the process is quick and painless for you to complete.
Step 1: Find the Source of the Bad Smell
Why does your backyard smell bad? Do you have a dog that keeps leaving unpleasant odors in your backyard? Try cleaning up after your pets by cleaning up their waste and eliminate urine odors.
Or maybe there's garbage, stagnant water, or a dead animal lying nearby. Search around the perimeter of your yard for any signs of decay or trash and then promptly call the proper authorities to remove them from your property (or remove the source of smell yourself).
After you have the bad-smelling source or sources removed from your yard you can then begin adding elements to your yard to naturally freshen it up.
Step 2: Plant Some Nice-Smelling Plants
When someone asks us how to make their backyard smell better it is hard for us not to automatically think of nice smelling flowers or plants. If you add some good smelling flowers, herbs, or shrubs to your backyard then you are sure to have a better smelling place to relax.
Make this a family project and teach the kids or grandkids how to plant vegetation. Consequently, while you are teaching them how to do that you will also be making your backyard smell better.
35 Plants That Will Help Your Backyard Smell Better
We have compiled a list of 35 plants that have nice smelling aromas and would look gorgeous in any yard they're planted in:
Daphne: Daphne plants are shrubs with upright stems. They're known for their scented flowers and brightly colored berries.
Wisteria: Wisteria flowers are climbing vines. Some of its species are known for its fragrant aroma.
Honeysuckle: Honeysuckle plants are arching shrubs or twinning vines. Some species are highly fragrant and colorful.
Hyacinths: The Hyacinths plant is a flowering fragrant plant.
Roses: Roses are flowering plants known for their nice scents.
Gardenias: Gardenias are a flowering plant that smells absolutely amazing.
Freesia: Freesia is a flowering plant known for its fragrance.
Jasmine: jasmines are shrubs or vines. Jasmine is also known for its fragrance.
Magnolia: Magnolia is a flowering plant known for its smell.
Lilac Bush: Lilac Bush is typically grown for its intense fragrance and blooming flowers.
Peony: Peony is a flowering plant that smells nice.
Sweet Alyssum: is a low- growing flowering plant that smells good.
Phlox: Phlox is a flowering plant that smells good.
Butterfly Bush: The flowers are rich in nectar and smell like honey.
Flowering Crabapple: Ornamental crabapples are used for landscaping purposes.
Chocolate Flower: Chocolate Flower is a chocolate scented flower. How awesome is that?
Baby Moon Daffodil: Baby Moon Daffodils are miniature daffodils. They are charming and strong scented. Who doesn't love daffodils?
Dianthus: Dianthus is a really colorful flower with a nice smell.
Stock: Stock's common name is night-scented stock.
Korean spice Viburnum: The Korean spice Viburnum plant has a spicy smell with red berries that fade to black in the fall.
Pineapple Sage: Pineapple Sage will attract hummingbirds and butterflies. It also makes great cut flowers.
Jasmine Tobacco: Jasmine Tobacco has fragrant, flat, star-like flowers.
Stargazer Lily: The Stargazer Lily plants are known for their fragrant perfume.
Four O' Clocks: Four O' Clocks are bushy flowering plants.
Tuberose: Tuberose has one of the world's most sought after scent.
Heliotrope: Heliotrope is a sweetly scented flower.
Lilacs: Lilacs are grown for there scented flowers.
Herbs That Will Make Your Backyard Smell Nice
Have you ever considered starting an herb garden? Now may be the time to do so. Herbs can add nice smells to your backyard, as well.
Lavender: Lavender is known for its calming abilities. The smell is very calming and is grown for use in essential oils.
German Chamomile: German Chamomile is an herb that smells a little like an apple.
Lemon Balm: Lemon Balm is a lemon-scented herb.
Rosemary: Rosemary is used in perfumes, also known for its fragrance.
Basil: Basil is one of the popular herbs grown in gardens.
Peppermint Mint: 'Peppermint' Mint, of course, smells like mint.
Catnip Lemon: Catnip Lemon herb has a powerful lemon aroma.
Fennel: Fennel is a hardy herb used in medicines.
Step 3: Make the Area Look Nice
In addition to the good-smelling plants, you could fix up the area around them. Don't forget to add mulch, rocks, or other natural decorative items to make your new amazing-smelling area look even better. Check out our budget-friendly landscaping ideas to get you started. Remember to pick a border to help separate the flowers from the yard. This will help when you are mowing or weed-eating.
You could also add a relaxing seating area to your new fresh and clean garden.
Step 4: Keep the Area Nice and Clean with Upkeep
Of course, you need to be sure to keep the area free of weeds. This will help you be able to enjoy the area when you are trying to relax. It can be hard to relax when you know there are weeds that need pulling in your flower bed. Set a schedule daily or weekly as to when you will pull the weeds. This will help you stay on top of the upkeep of a new flower bed.
Additionally, be sure to hunt for debris that may have gotten into your yard that could potentially make it smell awful again. It's best to nip a scent issue in the bud before it has the opportunity to overrun your yard again.
Step 5: Just Enjoy Your Nice-Smelling Backyard
Lastly, it is time to enjoy your nice smelling backyard. If you added seating to your area, go sit out there and marvel in the completeness of your new project. Did you add a little garden area for the kids or grandkids? Sit back and relax while they play in their new garden areas.
Overall, with weekly upkeep, you'll have an outdoor area to enjoy for years.
Conclusion
If your backyard smells bad, we hope that you try our five steps to learn how to make your backyard smell better. We compiled a list of 35 good smelling flowers, shrubs, and herbs to help you. Hopefully, with the help of our five steps and the 35 nice smelling plants, you will be able to make your backyard smell amazing.
We hope you enjoy your new good-smelling backyard for years to come. Soak up all the amazing memories you will make now that your backyard doesn't have an awful stench engulfing it.