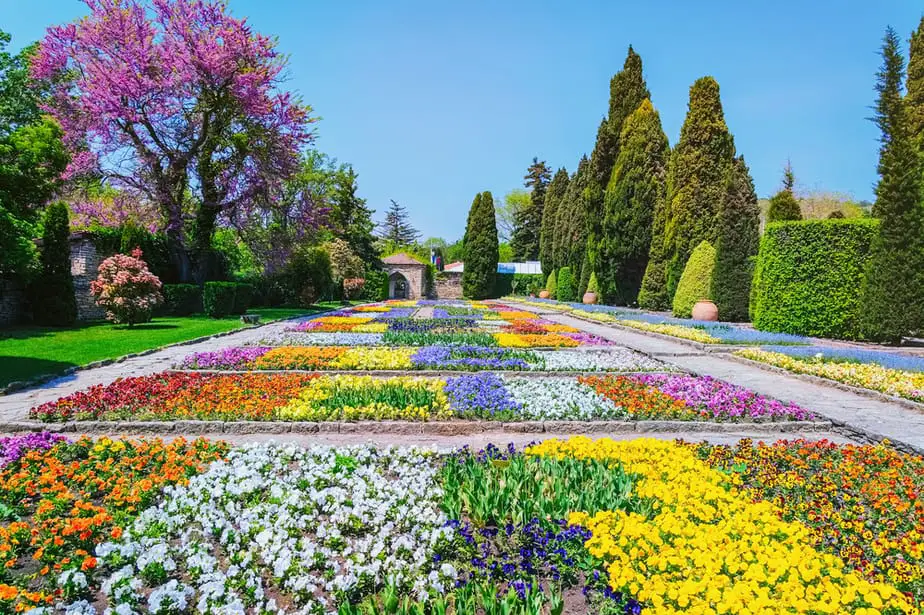 You may be thinking of brightening up your space and adding some flowers or a flower garden to make it feel more in tune with the beauty of nature. You're not alone in that thought. Many people are now looking for different and innovative ways to brighten up their homes and gardens, and these flower garden ideas seem like a beautiful way to do just that.
Bringing flower gardens into several areas of your home, whether it's in your patio, terrace, or inside your actual home spreads a sense of calmness throughout. This is one of the well-sought after effects flowers can bring to any space, definitely turning a dull one into something more lively.
How to create a flower garden
To create your first flower garden, you will need to get a few things in order. Firstly, you need to decide where you want to create it and what it'd look like. Second, decide on what types of flowers you want to include. Try to pick flowers that would complement each other when in the same space.
And lastly, you need to figure out how you'll carry out the design you have in mind. Some people prefer to go the DIY route while others go straight to hiring a professional gardener to make sure their flower garden idea turns into an impeccable reality.
Places to turn into a flower garden
In this article, you'll see that we've added several flower garden ideas to suit different spaces. Some of these spaces include terraces overlooking a garden, a window overlooking the city, front doors, backyards, pavilions; the whole nine yards. All these ideas are here to help you work with what you have and remove any limitation that restricts where you can have a beautiful flower garden.
Flowers choice
Although not discussed thoroughly throughout this specific article, you could easily find the types of flowers you'd like to add to your flower garden by looking up flowers of a certain color you have in mind. For instance, if I have the pink, white and purple as a color theme, I will look up flowers of these colors and end up with several suggestions like pink peonies, purple allium, and white hydrangea.
Props you can use
In coherence with the "use what you have" theme, what I mean by props is things you may already have in your garden or space. For example, if you have a wooden ladder as you'll see in one of the ideas down below, you can pair it up with a flowering vine plant, or if you have a pergola, you can hang flower pots off of its roof. The options are really endless, you just have to get creative; this article is a good place to start.
In this post, we'll cover 25 different and creative flower garden ideas that will definitely compliment your space.
Indoor flower gardens
We'll start off with small indoor spaces and how you can enjoy a compact little flower garden there.
Bring the view inside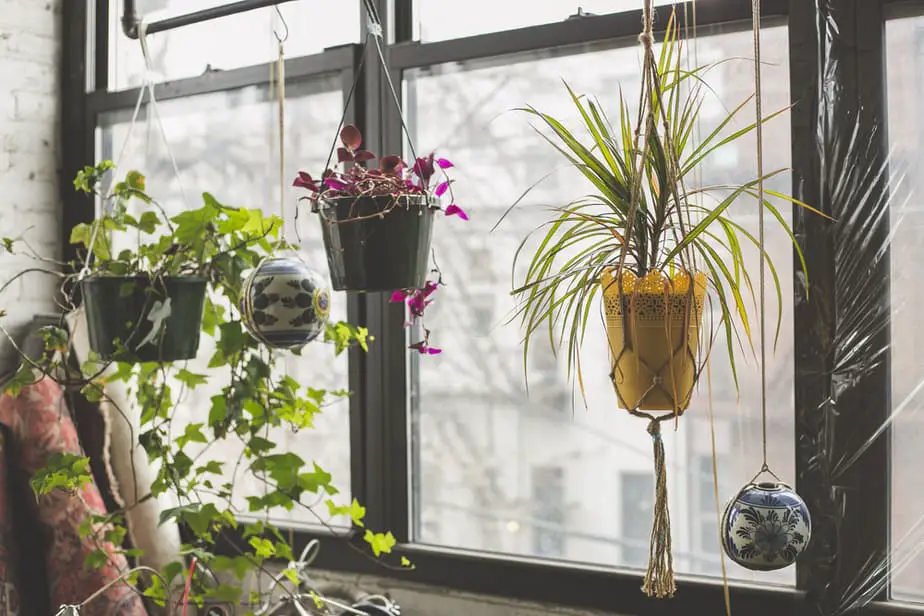 By hanging a few flower pots off of your window sill, it won't matter what your tiny apartment overlooks anymore. You will have your very own nature-inspiring view every morning to break the coldness of the city. Not only would this create a more homely indoor space but it will also make for very easy maintenance, just keep a spray bottle near your window and spray your flowers every so often to keep them blooming.
Liven up your office desk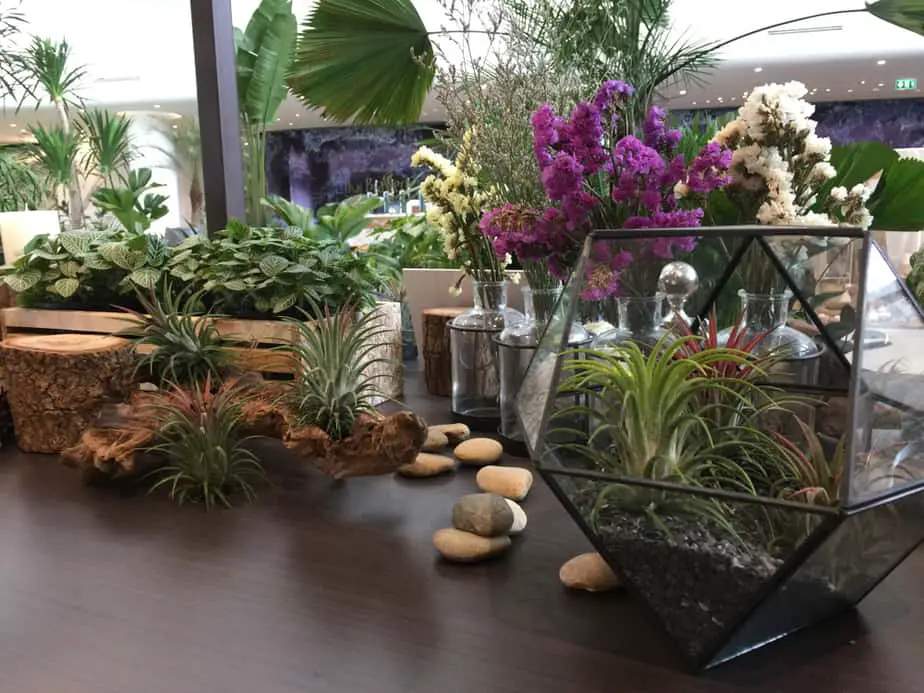 Not a fan of hanging pots, no problem; set them down. Place a few small potted flowers on your desk to create a small garden right on your desk, or any surface really. Get innovative with the pots you use so that they can double as flower pots and as décor for your space.
Going even smaller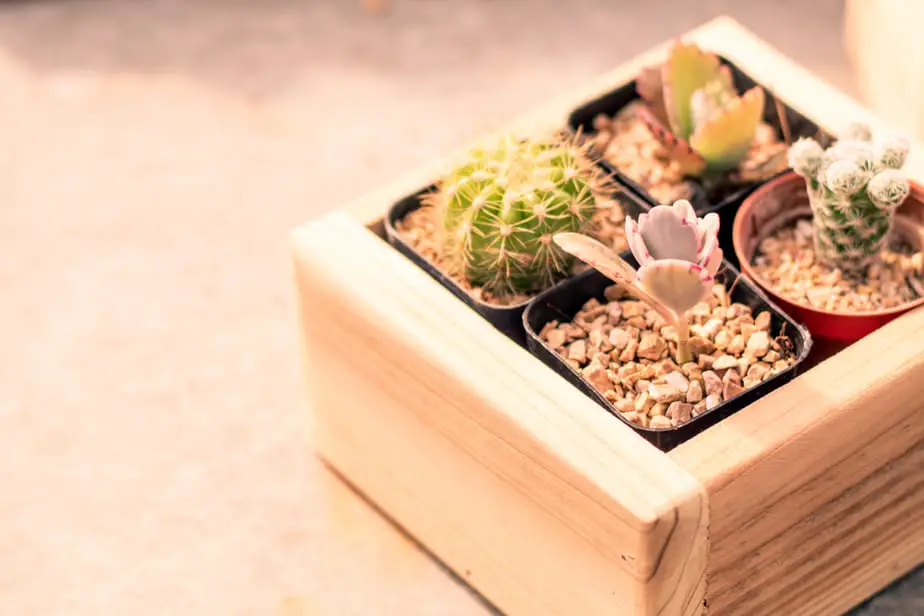 For those who really lack the space yet long for a flower garden of their own, you should consider tiny flowering cacti. Not only will they add a sense of Zen to your space, but they are also extremely easy to maintain. Perfectly suited for busy people that have to keep up with a fast-paced lifestyle but would love to have a glimpse of nature every now and then.
Designate a special corner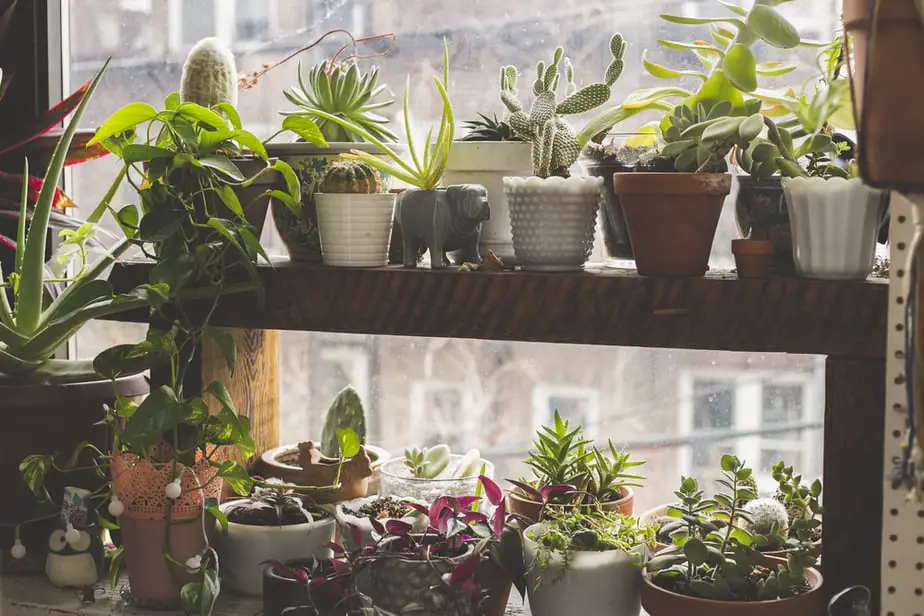 If you want to go all out in your indoor space, dedicating a special corner to your plants would be the best idea. And the best thing about it, since this corner is made just for your flowers, you can mix and match all you like. Place huge steel pots next to tiny ceramic ones, leafy plants next to flowering ones; you're free to arrange it however way you find looks nice.
Hanging flower gardens
If your space is already crowded with furniture and there's no space for flowers on the ground, hang them up in the air.
Use mason jars as pots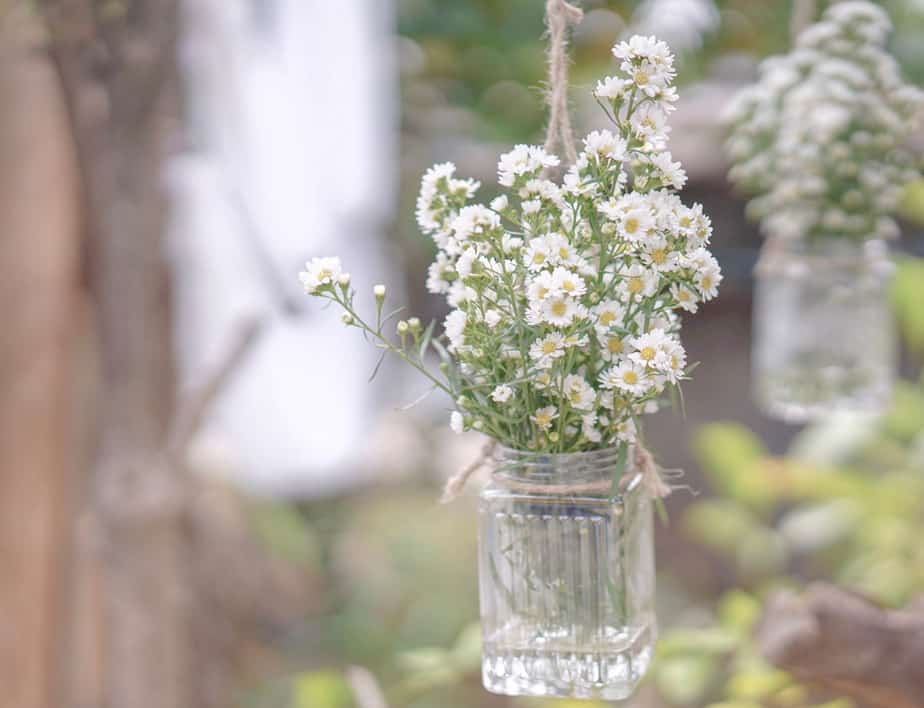 Nothing is as delicate as flowers in a mason jar, but more so, nothing is as delicate as flowers in floating mason jars. Place some Limoniums or Valley Lillies in mason jars and hang them from the ceiling. This can be a lovely addition to your home or a beautiful decoration for a cozy outdoor wedding party.
Create a flower ceiling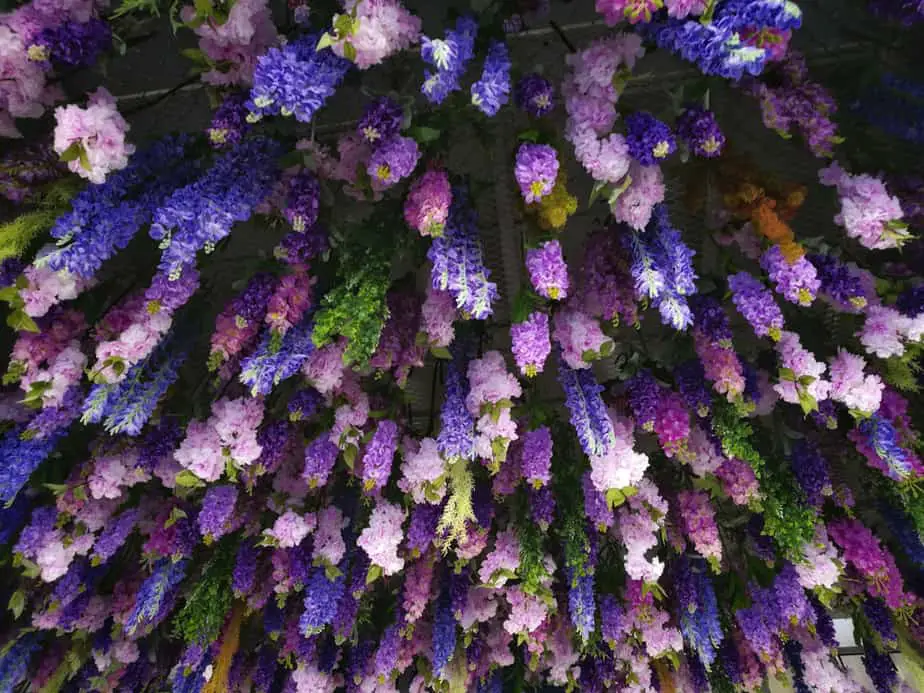 This would be perfectly suited a pergola ceiling but can work with any webbed ceiling as well. Get yourself a flowering vine and let it grow in and around your ceiling's webbing for a magical garden set right above your head.
Replace your wall art for potted flowers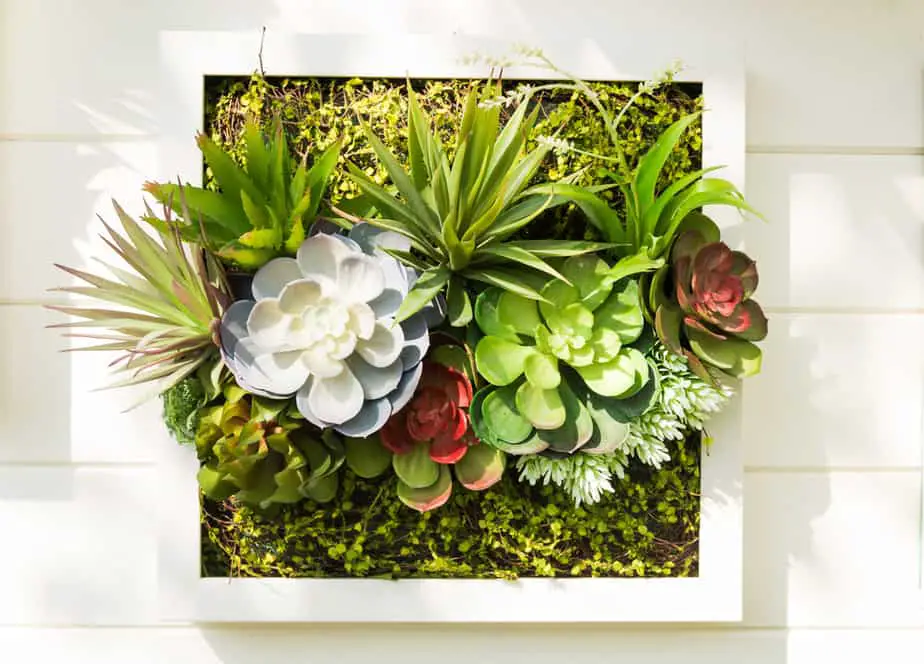 Arrange your flowers in a picture frame and simply hang in on your wall. This will brighten up your indoor or outdoor space while making a great conversation piece at your next gathering.
Potted flower gardens
The pots you use for your flower garden and how you place them can add a whole new meaning to your space.
Create a terrace garden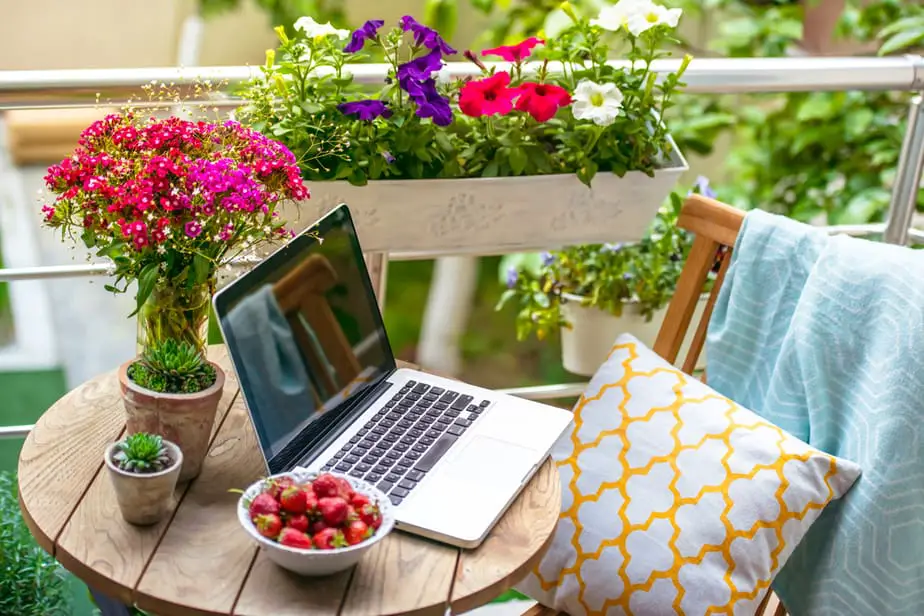 Place potted flowers all around your terrace to create a beautiful space to sit and read in the morning. Add a coffee table and a few lounge chairs and you've got yourself a vacation-inspired breakfast spot.
Go for an edgier feel
Substitute your regular ceramic pots for stainless steel pots to give your space an edgy makeover. Go with lighter colored flowers that suit both day and night and turn your terrace into a modernly beautiful space for a romantic dinner or a get-together.
Color things up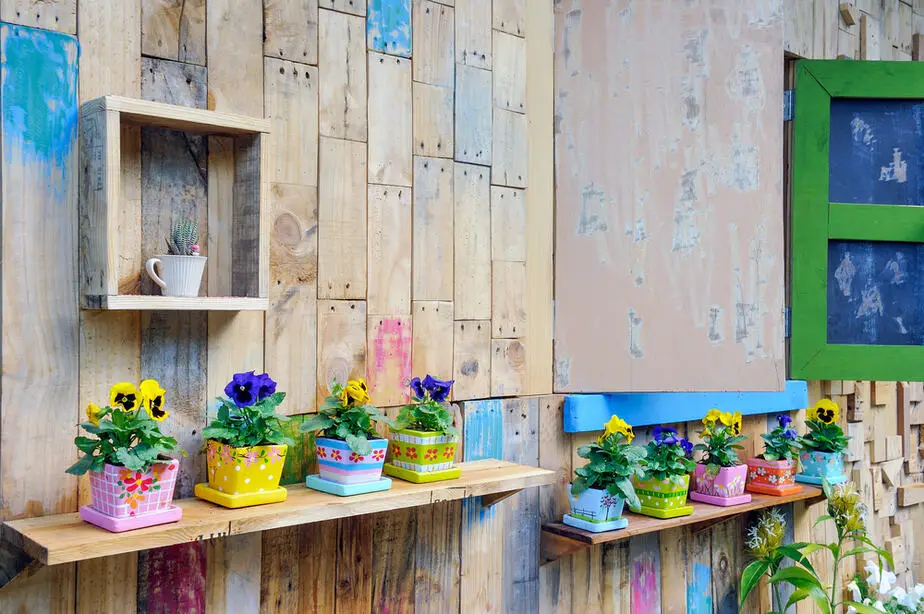 Use several colorful pots to brighten up your space and add a pop of color to a rather dull area. Potting choices are endless. In addition to these beautifully colored pots, you can use a wine bottle, beach buckets, or the mason jars we talked about earlier as pots.
Go all out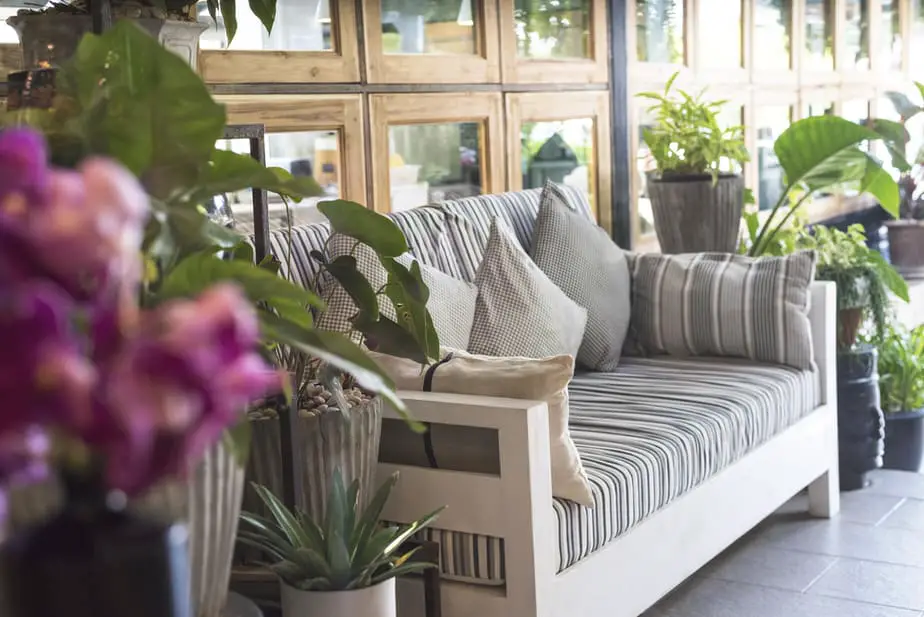 Take your terrace or outdoor sitting area and turn it into a full-on Amazon jungle. Use pots of different shapes and different sizes to house all the different plants you want to add to your space. Go for large flowering plants that have sizable leaves to give you the feeling of being in the jungle.
Pathway flower gardens
As for outdoor spaces, you can easily create an eye-catching flower garden along the walking paths you have outside, take these for instance:
Make your own fairytale tunnel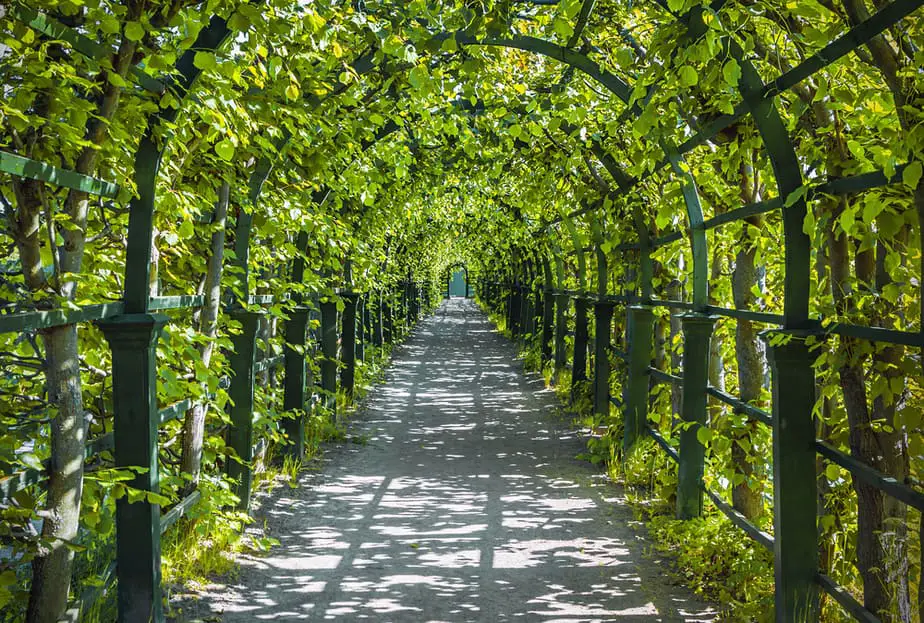 Build your flower garden to form a tunnel pathway by weaving your plants through a metal structure that serves as a shaded pathway. Pair that with fairy lights and you've got yourself a fairytale-inspired flower garden that can be used for pretty photo-shoots as well.
Add a touch of pretty to your driveway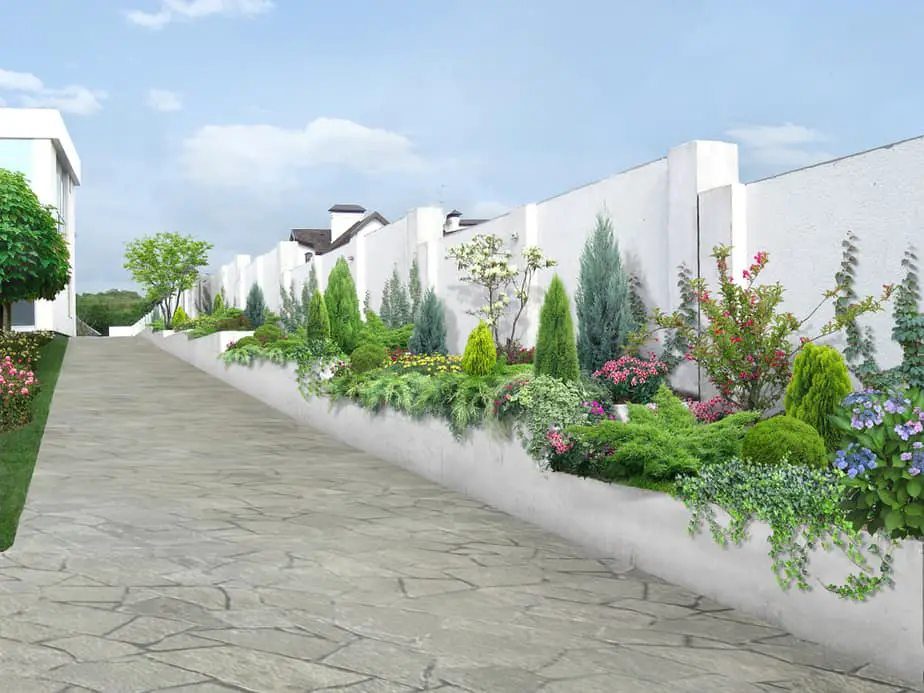 Line your driveway with flowers so that whoever visits your house can get a whiff of the beautiful garden you've created on the other side. Use a step or the pavement to keep your floral arrangement off of the ground and away from car tires and what not.
Make the pathway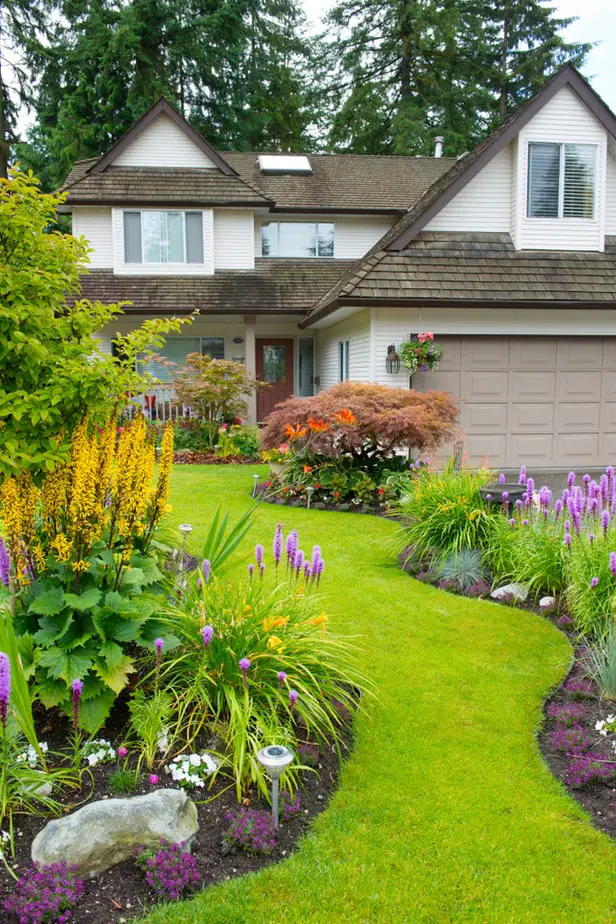 Give some structure to a large garden by weaving a path through it like the one in the picture above. Line the path with different flowers to give a sense of direction to the path. If your garden lacks color, this will surely add that touch of color it needs as well as make your garden seem bigger.
Vertical flower gardens
Sounds out of this world, but decorating your walls with flowers is the new artisanal paint. You will probably need the help of a gardener here, but this is completely doable on your own; all you really need is the right flowering vine.
Decorate your staircase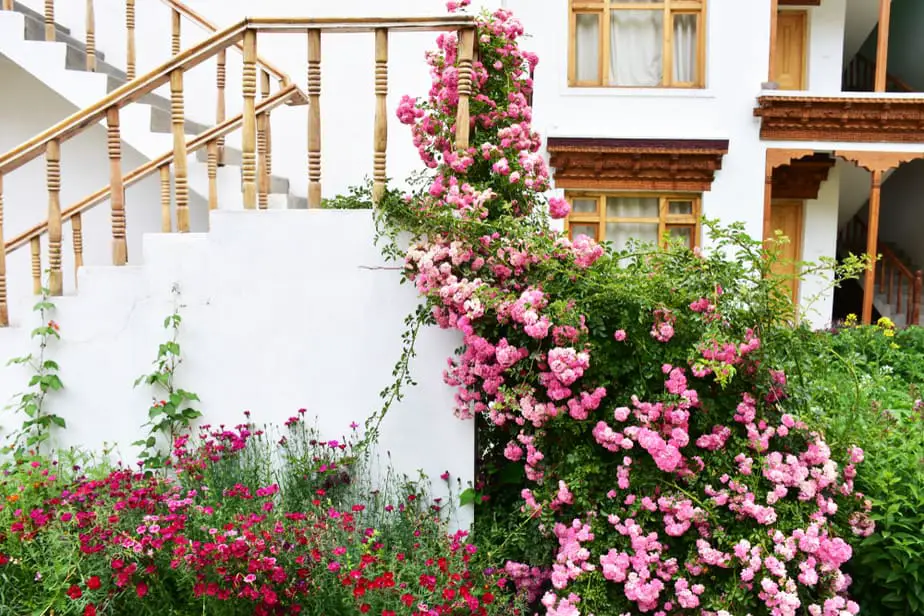 You can plant a few fast climbing flowering vines right next to your house's staircase and watch as they bloom up higher every day, eventually creating this masterful web of intricate leaves and petals.
Or your window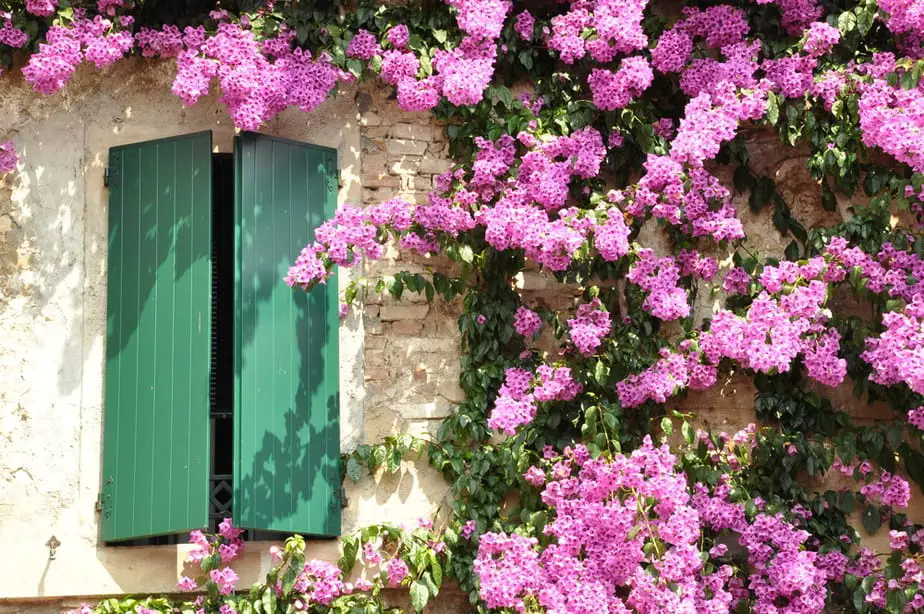 This will be especially beautiful if you're aiming to have your flowering vines climb all the way up to a second-story window. You might want to give your vines some support during their climbing by placing criss-cross wooden panels along the wall they'll be climbing up on.
Or simply, just any wall you find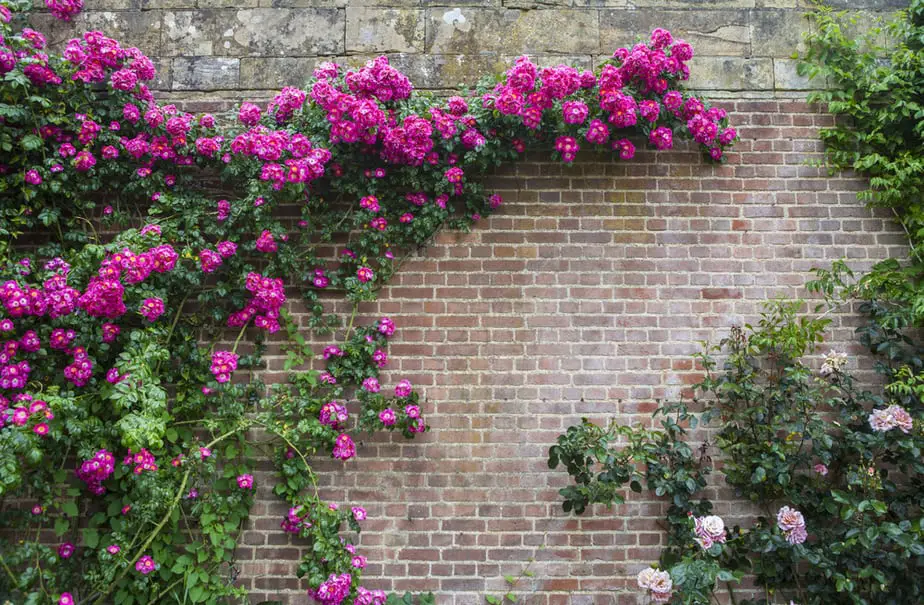 You don't really need a center-piece like a staircase or a window for your vines to climb up around and frame. You can simply let the vines be the main event and grow them up any plain wall you have and add some life to a rather plain or worn-out wall.
Let it dangle down your fence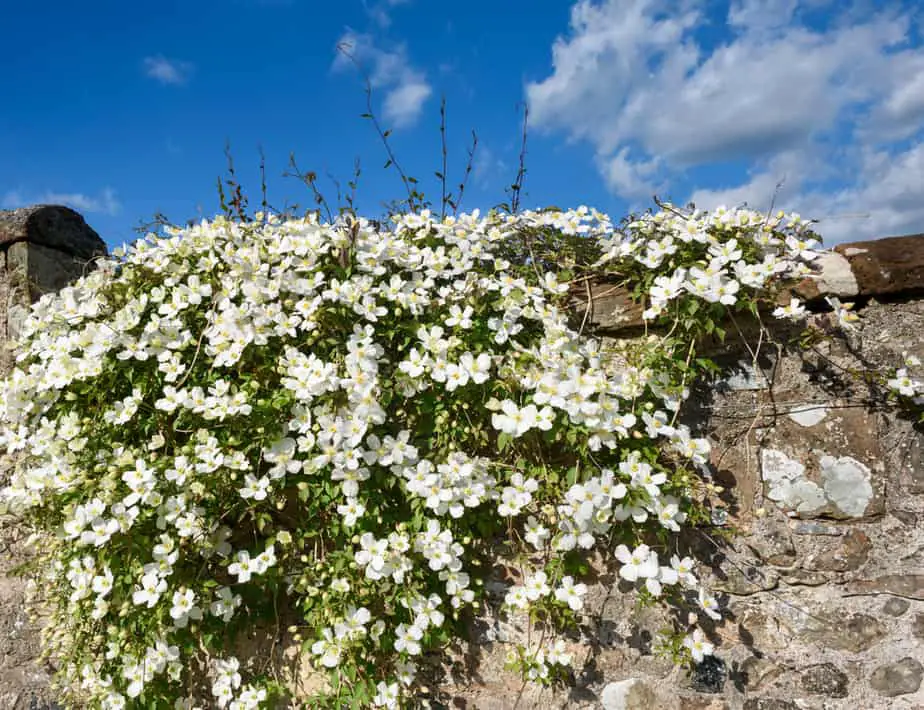 A simpler way to grow your flowering vines is to use your fence as a wall. This can work with any fence really; stone, white picket, net, etc. this will turn your house and garden into a haven with a beautiful flower garden lining it all around.
Patio flower gardens
Patios are not excluded from the list; we have some ideas that will turn your cozy patio into a vibrant space for winding down.
Go for a simplistic garden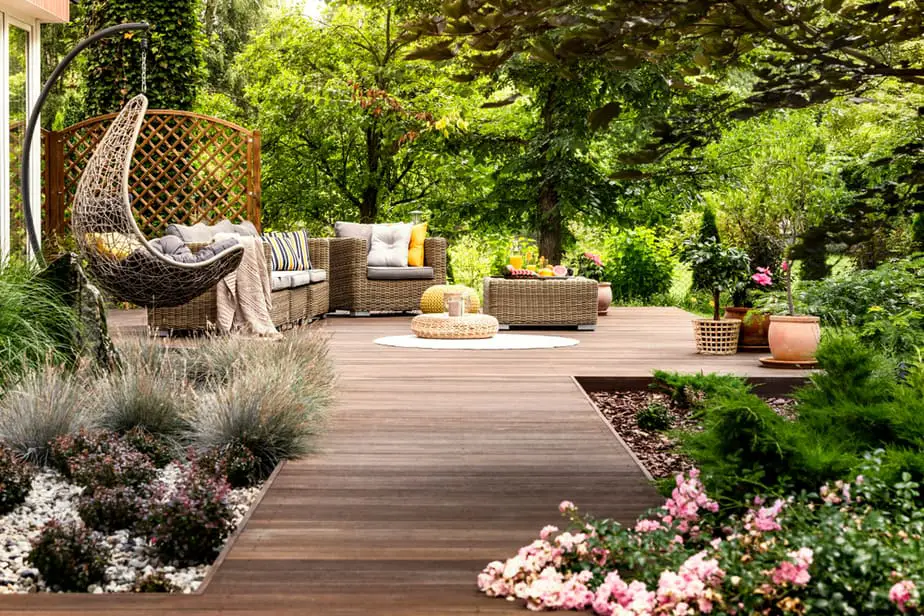 Arrange your flower garden around a sitting area in your patio and pair that with tiny little pebbles framing the space to create a minimalistic and calming atmosphere. Go for light-colored flowers to complement the whole simplicity theme.
Have it sprout out of the ground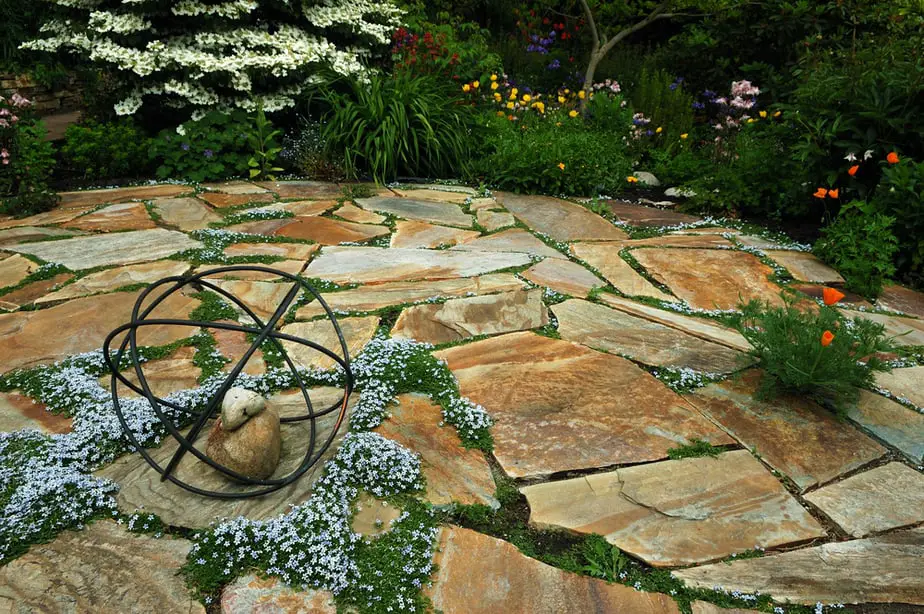 Tile your patio's floor with beautiful stone and have your flower garden flourish in and around these tiles. This will be especially pretty next to a pond or a pool where a large flower garden may seem misfitting but a subtle one like this would make the space more wholesome.
Make it even cozier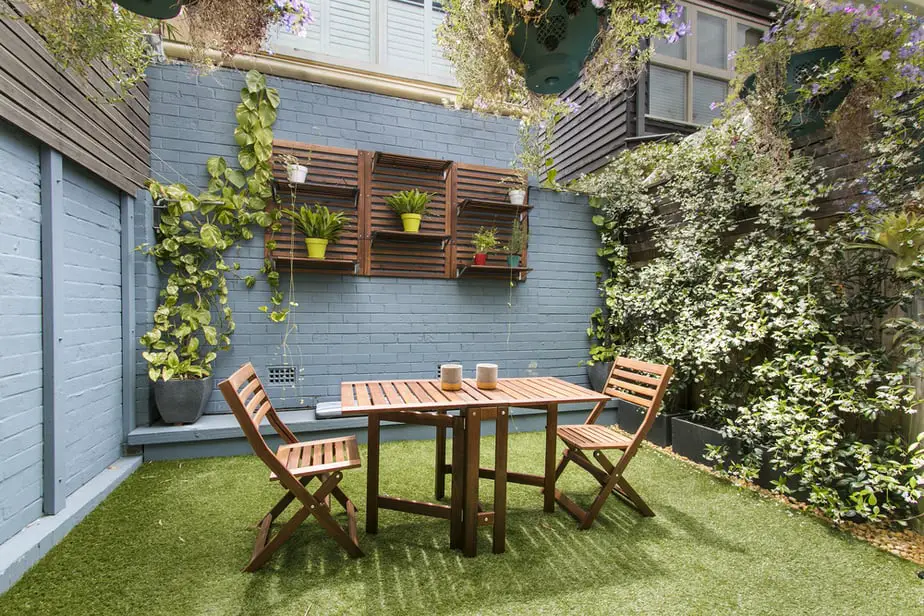 Create a flower garden in one corner of your tiny patio and add a coffee table along with a couple of chairs an make your patio a cozy spot for breakfast or a late afternoon get-together.
Scape designs
Here are some more ideas that are on the lavish side of the spectrum and although not natural-looking, are creative and hold a captivating allure to them.
Run a water system through it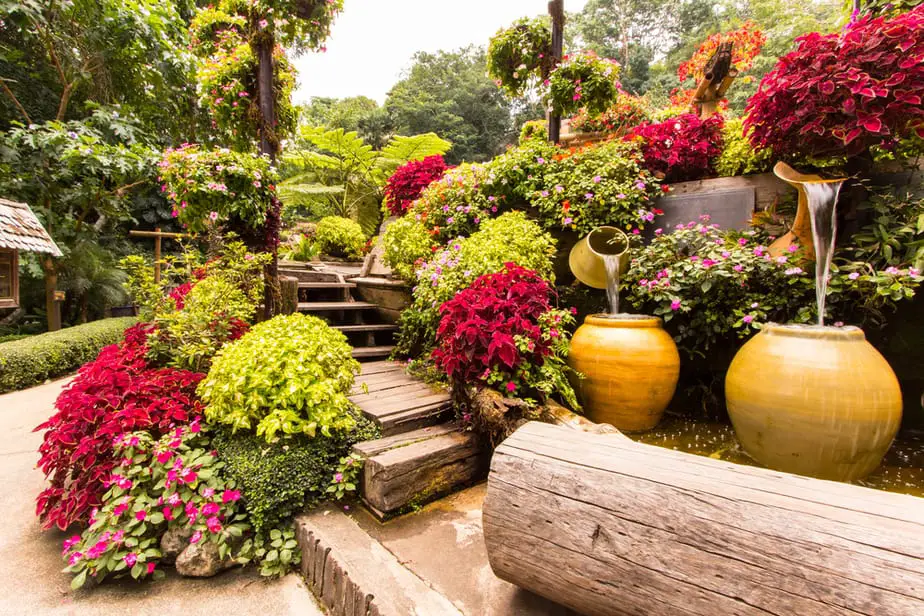 Either build your flower garden around a fountain or have a fountain-system run through it. picking the right fountain accessories and pairing them with vibrant and blooming flowers will instantly turn your garden into a slice of heaven.
Use props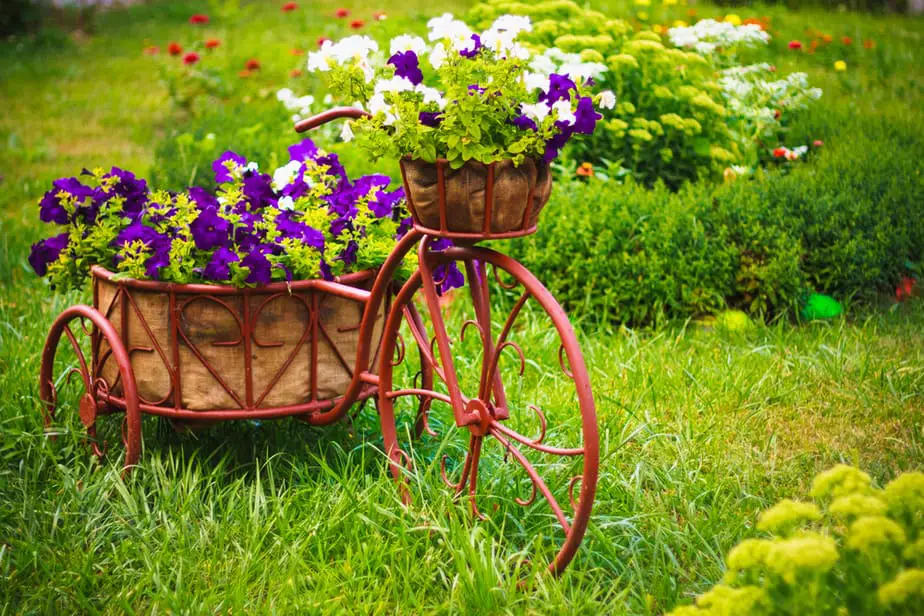 Not just limited to vintage bicycles, you can use anything as a flower garden prop; a stone statue for instance.
Neat flower beds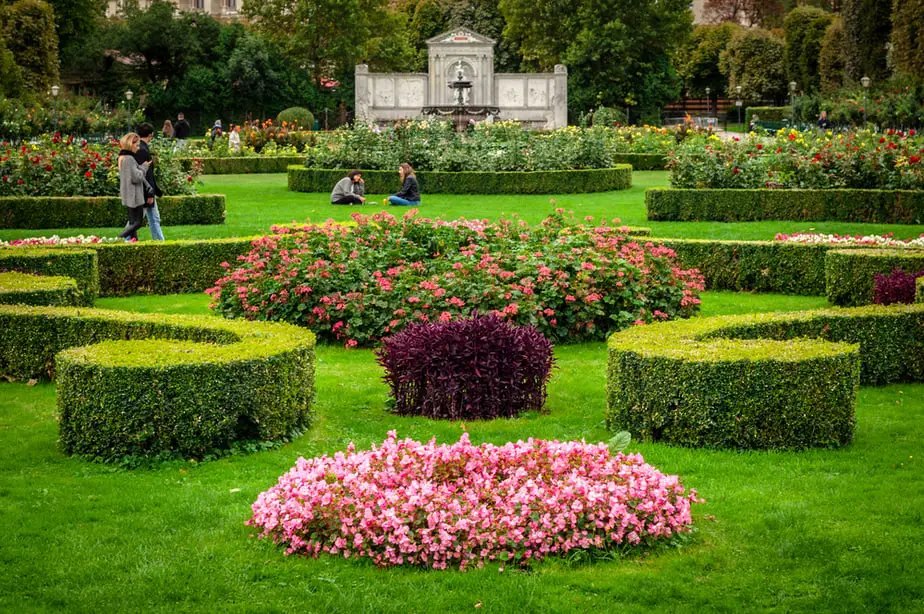 Again, you may need a gardener for this one. Have them plant your flower garden into neatly trimmed flower beds and turn your garden into a posh space. The best thing about this idea is that it's very subtle but with the right flowers and a skilled scaper you can turn your flower beds into whatever creation is on your mind.
Have it geometrically organized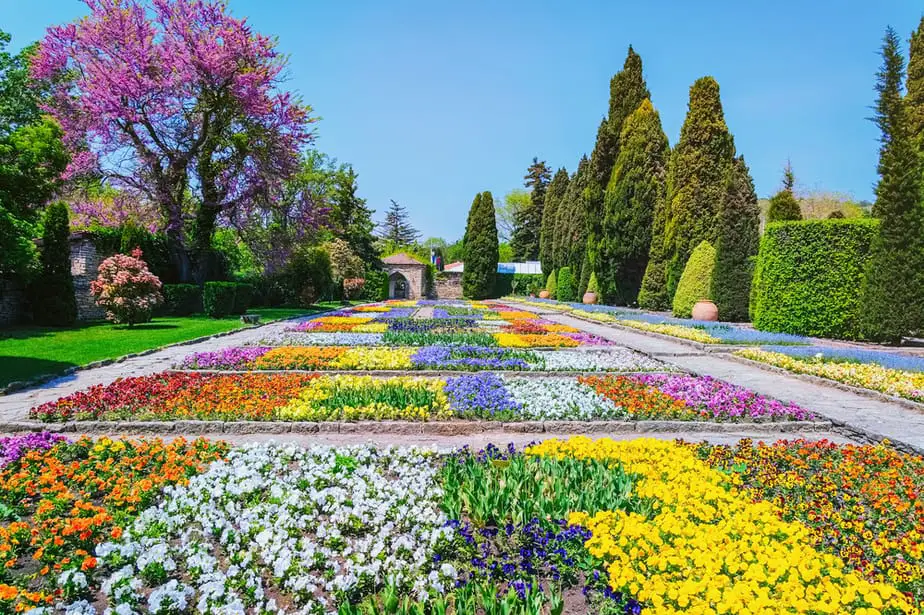 But then again, you can never go wrong with a classic flower garden arrangement like this one.
And there you have it, 25 ideas for flower gardens that suit almost anyone and any space. All you have to do is get creative and even your work space can have an awe-inspiring flower garden in its corner.