Summer's here! And what better way to get your kids outside and playing than a fun, interactive sprinkler? Not only are sprinklers fun and great for keeping kids entertained and cool during the warmer months, but they're also far safer for smaller children than other water entertainment options (such as pools – and even kiddie pools).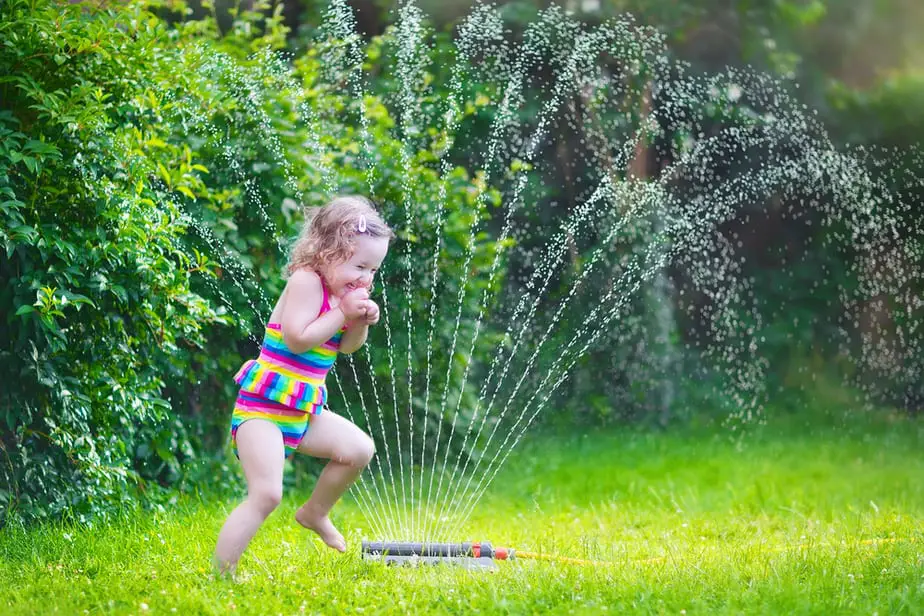 Sprinkler toys might run your water bill up a bit, but they'll get your kids excited about going outside and getting active as they play in the water (so we think it's worth it!). That's why, in this article, we'll be covering the best sprinklers for kids on the market today! Let's get started!
In a Hurry? Here's Our Top Picks…
Our Favorite Sprinkler for Kids
Melissa & Doug Sunny Patch Blossom Bright Sprinkler
Sale
Melissa & Doug Blossom Bright Sprinkler
OUTDOOR SPRINKLER: This outdoor sprinkler encourages refreshing and active outdoor play and coordination, inspires kids to help care for the garden, and cultivates connection with others
INSTANT FUN: Attach to any garden hose for instant fun. Adjust the water pressure to make the water spray higher or lower, to extend the outdoor fun for the whole family, while also watering the garden in the cutest possible way
WHIMSICAL DESIGN: When this beautiful bouquet of pink, fuchsia, and violet flowers is connected to a garden hose, fun will bloom
GREAT GIFT FOR AGES 3 AND UP: This sprinkler is the perfect gift to keep children cool and entertained for hours. Pair with the Melissa & Doug Blossom Bright Watering Can to help young kids cultivate a joy of gardening and nurturing
"THE GOLD STANDARD IN CHILDHOOD PLAY": For more than 30 years, Melissa & Doug has created beautifully designed imagination and creativity sparking products that NBC News called "the gold standard in early childhood play"
Last update on 2023-09-23 / Affiliate links / Images from Amazon Product Advertising API
With over 500 positive reviews on Amazon, this cutesy flower field sprinkler is sure to get kids moving and playing for hours on end! The Sunny Patch Blossom Bright Sprinkler easily attaches to any size garden hose, and with decent water pressure, shoots water up and out at around 8-10 feet. Of course, the height can be adjusted by using more or less water.
It's an excellent-performing sprinkler for the affordable price and is also a wonderful option for those on a budget (or for those who simply don't want to pay an arm and a leg for a toy sprinkler).
This sprinkler is made of pretty durable materials and has lasted some users for nearly 5 years! The flower spouts are flexible, which is great if your kids tend to become curious and pick at their toys.
What We Like Best:
Super cute
Flexible flower spouts
Made of durable, lasting material
Water shoots out of spouts up to 10 or so feet
Fits any size garden hose
Hundreds of happy users
Affordable
Check Price and Reviews on Amazon
---
Other Awesome Sprinklers for Kids
Kids Sprinkler Fire Hydrant
Sale
Last update on 2023-09-23 / Affiliate links / Images from Amazon Product Advertising API
This small but mighty fire hydrant sprinkler comes in three bright colors; red, navy, and purple, and is extremely affordable. With decent water pressure, the hydrant will spray water up to 8 feet and spin the top around, throwing water every which way.
Though very affordable and petite, this sprinkler toy has hundreds of positive reviews praising its durability, noting that this sprinkler has lasted families for years!
It attaches directly to virtually any sized hose without a connector piece and can hold itself up rather well without stakes or anything weighing it down.
What We Like Best:
Very affordable
Available in three bright colors
Adorable
Durable, lasting some users for years
Works on any hose
Water shoots up to 8 feet and spins top
Petite and doesn't take up too much room
Check Price and Reviews on Amazon
---
KKONES Sprinkler Splash Play Mat
Last update on 2023-09-23 / Affiliate links / Images from Amazon Product Advertising API
The KKONES Sprinkler Splash Play Mat for toddlers is a #1 Best Seller 68″ sprinkler mat that shoots water at varying heights. The water doesn't go too terribly high, but for the affordable price, the functionality and durability are pretty hard to beat!
The water on the mat will only puddle up to an inch or so, but (just as a friendly reminder) it's always best to pay extremely close attention to toddlers any time they're around puddling water.
Like the others on this list, this sprinkler toy has hundreds of positive reviews and has lasted buyers years of summer fun! The sprinkler is also incredibly cute with a sea-themed pattern of fish and other marine life that children are sure to love.
What We Like Best:
The sea creature pattern
Affordable
Durable, lasting users years
#1 Best Seller
Large sprinkler mat
Multiple spouts that shoot water at varying heights
Hundreds of positive reviews
Concerns:
Puddling. Though not an extreme danger, please watch small children carefully.
Check Price and Reviews on Amazon
---
Little Tikes Beach Ball Sprinkler
No products found.
The Little Tikes Beach Ball Sprinkler is unique in that it has two functions: a sprinkler, and a weighted beach ball. There are a few extra steps involved in setting up this toy compared to the others on our list, but we have no doubts that it will bring your kids hours of fun!
You can either blow up the beach ball and attach it to a hose for kids to use as a stationary sprinkler, or you can fill the ball with air and water, and plug it up for a mobile toy!
It's a large ball with an 88-inch circumference that has multiple holes in the top to sprout water out of. Depending on the water pressure, the water can shoot out 5 or so feet.
What We Like Best:
Large ball with two functions
Can shoot water out quite a ways
Colorful and fun
Affordable
Check Price and Reviews on Amazon
---
Trampoline Waterpark – Kids Fun Summer Outdoor Water Game Sprinkler
Thrillzoo Trampoline Sprinkler for Kids, 39ft Outdoor Sprinkler, Water Trampoline Toys for Kids Games, Play, Exercise, Summer Fun | Trampoline Accessories, Water Sprinkler for Kids Backyard【WaterPark】
EASY TO INSTALL - This outdoor sprinkler for kids easily attaches to any trampoline. The white line on the hose indicates where to attach it. Simply ziptie the hose to the net, connect your water source, and watch your kids hop in on the outdoor fun.
SAFE - Kit attaches on the outside of the net, and also includes a dry zone so that kids can join or safely exit with ease. This will become your favorite of your trampoline's accessories in no time.
DURABLE - This summer sprinkler for yard trampolines is built for hot summers and active children! Hose is sun damage resistant, double-walled, and made with leak-proof metal components for an air-tight seal able to hold water pressure up to 200psi.
EXTRA LONG HOSE - Fits up to 16-ft trampolines and is adjustable to fit any trampoline net enclosure with straight pole, curved pole, angled pole, or arch pole. A favorite backyard water sprinkler toy, it's like having your own fun water park.
GIFT IDEA FOR KIDS - Whether a kids birthday gift, holiday gift, or just a thoughtful surprise to bring to a family backyard barbecue, this trampoline hose is sure to be a hit, while encouraging children to be more active.
Last update on 2023-09-23 / Affiliate links / Images from Amazon Product Advertising API
If you're like us and you spent most of your summers rolling around in the dirt and jumping on the trampoline with a hose, then this Trampoline Game Sprinkler may be the perfect summer toy for your kids! We didn't have this luxury growing up, but kids these days definitely should! This is a sprinkler that hooks up to a hose so water can rain down on the trampoline. Yeah, we know, it's totally awesome.
The cord is 10 feet long and meant to fit any sized trampoline. It won't follow the entire circumference of a trampoline, but this design choice was intentionally made as to give kids a warm space on the trampoline away from direct contact with the water. It hooks up to virtually every size hose and with decent water pressure, you can truly expect a backyard waterpark!
This sprinkler toy is also incredibly durable, lasting users years and holding up for months outside in hot weather. It's also pretty affordable so you'll really be getting your money's worth!
What We Like:
Brings back awesome memories from our childhood
Affordable
Durable, lasting years and months outside in hot weather
Can attach to virtually any hose
Fits any size trampoline
Cleverly designed with children in mind
Check Price and Reviews on Amazon
---
Consider This Before You Buy
Your Child's Age and Abilities
All of our options are for toddlers or children ages 3 and up. While these sprinkler toys have been manufactured specifically for small children, it's important for buyers to consider their children's abilities before purchasing. Very small children are susceptible to hazards whenever water is involved so it is extremely important to always pay close attention as they're playing. If you are unsure if your child will do well around these toys, by all means, find a safer play option or perhaps wait until they grow a little bigger before purchasing.
Budget
Most of the options on our list are affordable and great for families who may be on a budget. However, there are a few on our list and a ton on the market that can possibly be over budget and outrageously expensive. We suggest that you determine how much you want to spend before you begin looking around for sprinklers for kids. Determining your price range beforehand will save you time and money in the future.
Water Pressure
When it comes to sprinkler toys, it's important to consider what the water pressure in your yard is like. Most toys will not work efficiently if the water pressure is too low. Be sure to only use one hose to connect to the sprinkler, as two or more hoses linked together will lower the water pressure and functionality of the sprinkler toy. Make certain that the water is turned on all the way and that the connector is positioned properly and not leaking. Tighten the connector if needed; a loose or awkwardly positioned connector is usually a main source of leaking. Lastly, don't forget to check your child's sprinkler toy for malfunctions such as rips, tears, or breaks… which leads to our next section.
Warranty
If you purchase any of the toys we reviewed, you can rest easy if one of them malfunctions or doesn't perform to you or your child's expectations. Most of the choices on our list come with a warranty and can be returned (except for the fire hydrant and Little Tikes Beach Ball – for which we could find no warranty information). When browsing around for a sprinkler toy, it's always in your best interest to check and see if the company accepts returns or comes with a warranty. However, it isn't always necessary. Be sure to check the reviews and see what other parents had to say about the product – if it's worthwhile to most, it's likely a great product with or without a warranty.
Durability
All of the options on our list check out in regards to durability: they can be left out in the sun, they don't rip or break easily, and they've lasted most users for years. When considering sprinklers for kids, it's a good idea to check on the durability of the toy. After all, you don't want to buy a sprinkler that will last a week and then give out on you. Again, it's always best to check the reviews to see the experience other buyers had with the product. Lucky for you we did the work for you on this list!
Kid's Sprinkler Brands
Here we're going to take a look at a couple of the brands that manufacture our favorite sprinklers for kids.
Melissa and Doug: Melissa and Doug is a children's toy company founded in 1988. They manufacture mostly educational toys and Melissa and Doug started their business from humble beginnings in Doug's parent's garage.
Little Tikes: Little Tikes is a toy company that was founded in 1969 and has since then been creating toys for children. With over 50 years of experience, they create toys from basketball hoops and puzzles to mini playground sets and (of course) sprinklers for your kids to enjoy!
FAQ
Q: Will I need a separate connector for the hose and sprinkler?
A: With the options on our list, you won't need a separate connector piece. However, other options on the market may need connector pieces so if you go for a choice that isn't on our list, be sure to read the descriptions of other toy sprinklers!
Q: Can I leave the sprinkler for kids outside?
A: You can, but it's not recommended. Most of the sprinkler toys we reviewed are durable enough to be left outside during the sun or rain and still last for years. However, the colors may fade after some time in the sun and if temperatures are hot enough, plastic pieces may melt or disfigure. Regardless of the durability, we recommend that you store your child's sprinkler toy in a safe place when it's not in use.
Q: Should I opt for a more expensive sprinkler toy?
A: Usually when it comes to any type of purchase, more expensive usually means higher quality. However, when it comes to sprinklers for kids this isn't necessarily the case. Most of the options on our list are affordable and last users throughout many summers. We did list a couple more expensive options, and there are plenty of expensive options on the market, as well. So if you're leaning towards spending a bit more money for a potentially better quality product, that's completely fine and up to you (but we don't feel it's necessary).
Q: Do the sprinklers have to be staked into the ground?
A: For most sprinkler toys, you won't have to stake them into the ground or otherwise weigh them down. It's best to position sprinklers on the flattest ground possible so that they're less likely to fall over.
Q: Can you adjust how high or far the water shoots?
A: Yes. The height and force of the water aren't so much determined by the sprinkler itself but by the water pressure from the hose. You can adjust the height of the sprinkler water simply by turning the pressure of the hose down or up.
Q: Does water shoot out of the sprinklers continuously or intermittently?
A: This varies based on the toy, but with the options on our list water shoots out of the sprinklers constantly.
Q: Can toy sprinklers be used inside of kiddie pools?
A: Yes, you can use any of the toy sprinklers on our list inside of a kiddie pool just as long as the spouts are above water level. If you are going to partially submerge the sprinkler, we suggest that you dry the toy after using it to prevent harmful bacteria from accumulating.
Q: Will the sprinkler fit any size hose?
A: Most sprinkler toys have built-in adjusters to fit virtually every size hose. If you just have your regular old garden hose (about 5/8 of an inch in diameter) then there should definitely be no worries about it fitting any of the sprinkler options.
Q: Do kids prefer toy sprinklers over regular yard sprinklers?
A: Most do. Toy sprinklers are designed specifically with kids in mind. They're usually colorful with cute themes and are more sporadic with the direction of the water than your average garden sprinkler (which makes playing more fun for kids).
Q: Would sprinkler toys be appropriate for children ages 6 and up?
A: Yes! Most children from toddler to 10-year-old love playing with the sprinkler during the summer when days are hot. (We know we did!)
In Conclusion
If you're looking for an affordable way to get your kids outside and playing, a sprinkler is definitely the way to go. Not only are they safer for smaller children, but they're often more fun and less stressful than other water play choices! They keep kids happy, excited to play outside, and cool during the summer without the worry of deep pools or fast-acting boredom.
We hope you enjoyed our article covering the best sprinklers for kids and have found an option that your kids will love!