There's nothing better than lounging around on a shady porch on a hot summers day, out of sight to those around you and left to your moment of relaxation. And if you're one for aesthetic appeal, what greater way to bring shade, privacy, and style to a porch than with billowing porch curtains?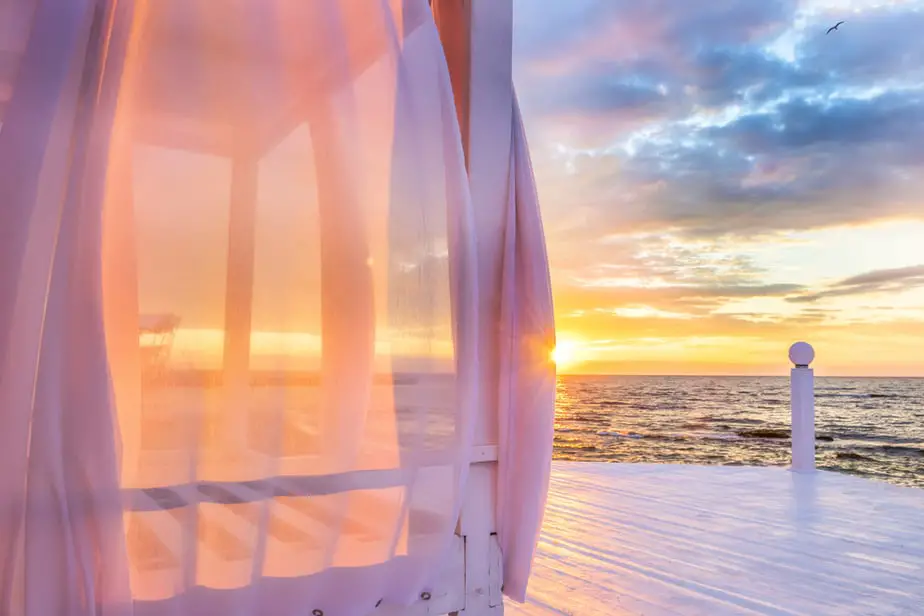 With so many fashions and ways to utilize curtains, it's difficult to conclude which approach is the most eye-catching. That's why, in this article, we've made it our mission to bring you our favorite porch curtain ideas (and links to where you can purchase some – if you're super eager to get decorating)!
From wind and weatherproof curtains to lace and lights, we cover it all! So, let's get started, shall we?
In a Hurry? Here's Our Top Picks…
1. Pastoral Burlap Curtains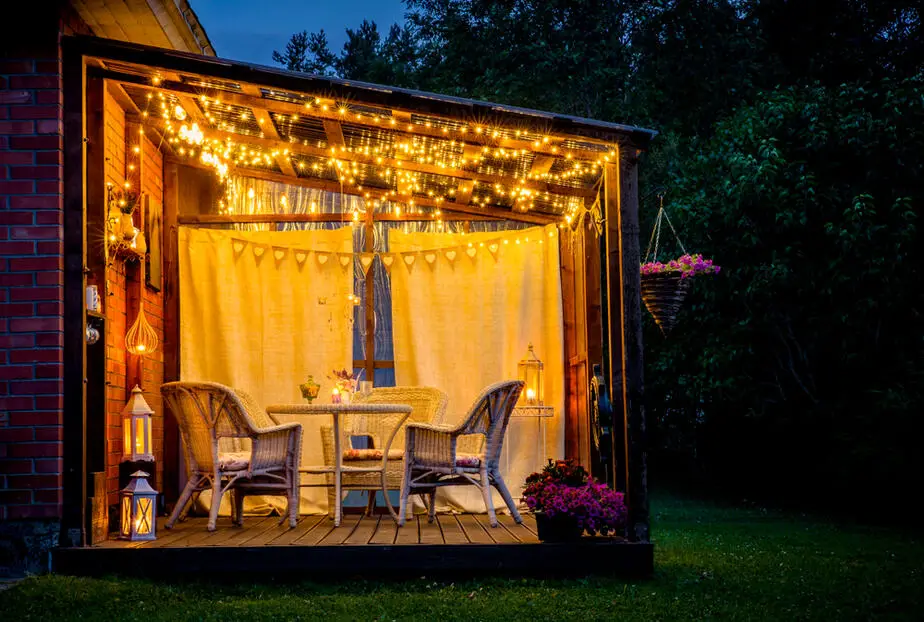 Burlap curtains are an extremely affordable, southern chic style perfectly suited for a country porch. Not only are they super cute, but they're also surprisingly simple to make yourself! The fine folks at FourGenerationsOneRoof.com have laid things out in this comprehensive guide if you want to give it a try!
2. Nestled Bench with Curtains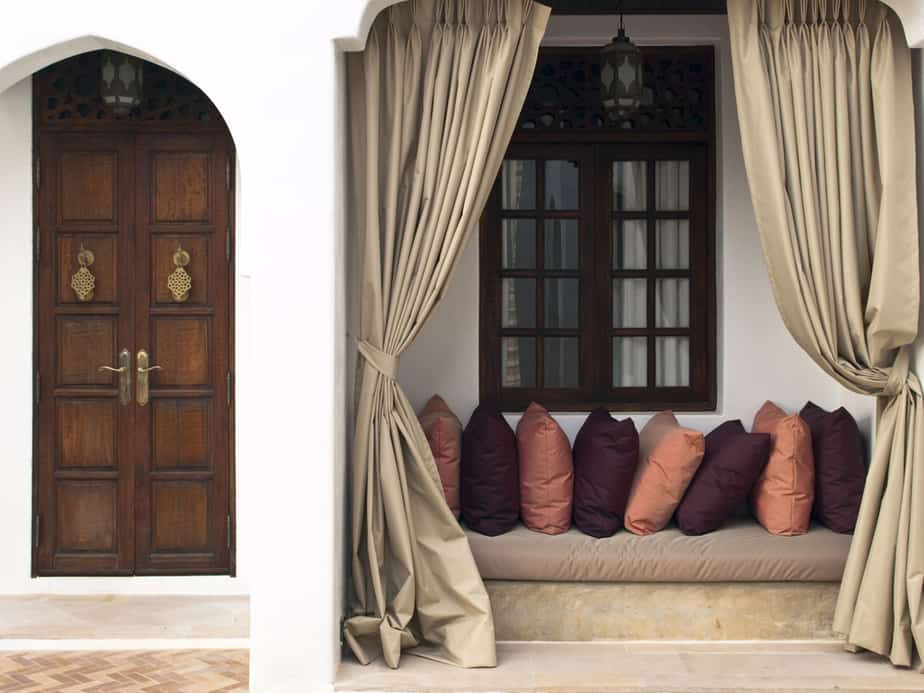 The tan-colored curtains tied to the sides of this seating area gives the stone bench a more appealing look. Though the curtains are a neutral color, the bunching of the fabric does a great job at adding texture to the space to keep it from appearing too drab.
3. Flowy Seaside Curtains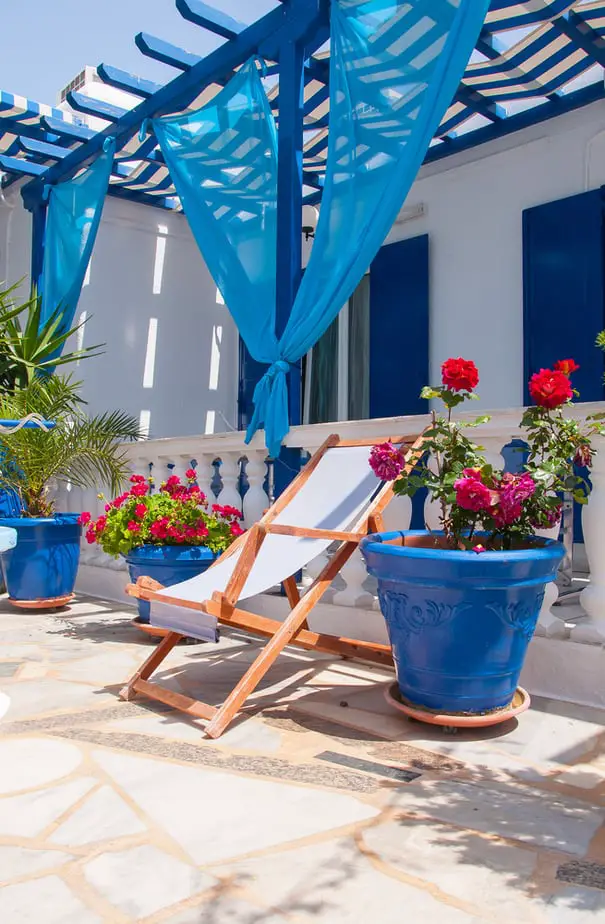 These semi-transparent bright blue curtains are drape beautifully from the pergola of this seaside porch. The openness of the pergola roof and thin fabric of the curtains allow light to pass through to the porch, creating an airy, uplifting mood.
4. Floral Porch Curtains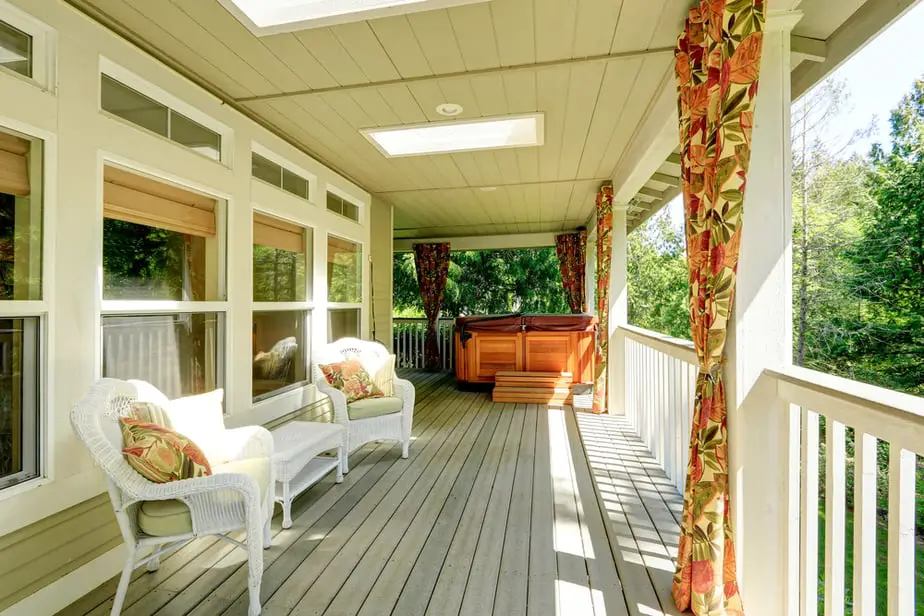 Yet another sassy southern style, these floral curtains add pattern and color to this off-white porch. For porches that are monochromatic, including sharply-colored curtains in the space can counteract any plainness and really drive the eye to the prettiest aspects of your outdoor lounge.
5. Victorian Lace Curtains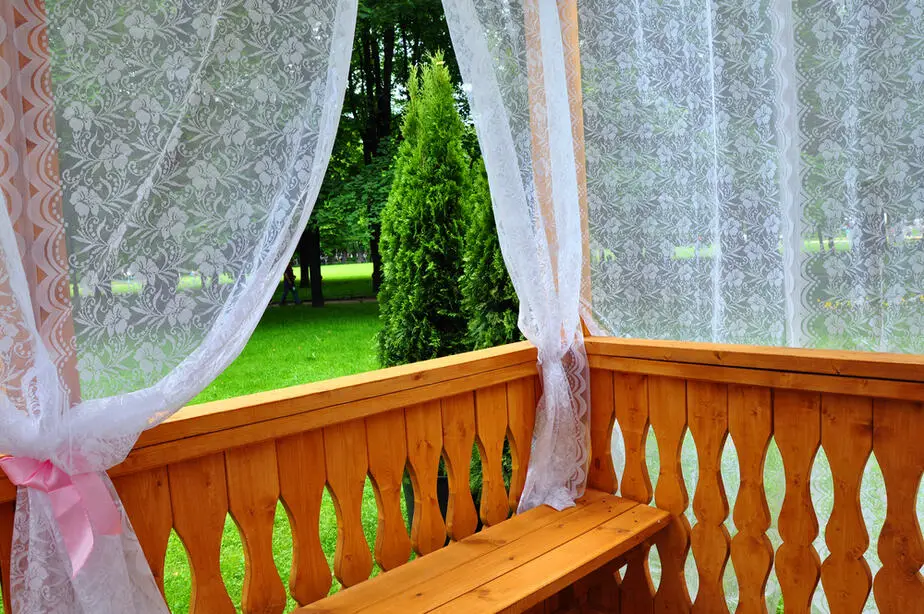 Lace is one of the most beloved elegant fabrics and was popularly used in homes during the Victorian Era (along with just about every other Era). The graceful appearance of lace is hard to beat and creates a calm, sophisticated look when used as porch curtains.
Lace curtains will get dirty if left outside during weather conditions that aren't ideal. Luckily, there are tried and true methods to clean this delicate fabric if it happens to get scuffed up.
6. Gingham Porch Curtains
No products found.
The Gingham pattern is a classic, used for nearly everything in the late 19th and Mid-20th centuries including clothing and various home furnishings. If you're obsessed with the timeless vintage styles, these Gingham porch curtains may be the way to go.
These Gingham Plaid Outdoor Curtains will protect your outdoor furniture and your family from the sun by blocking around 90% of harmful UV rays. Because the fabric is thicker, these will create a lot of shade for your porch and keep you cooler during hot days. The colors are vibrant and long-lasting which is a huge plus when considering outdoor curtains. The sun often bleaches color over time but these seem to be quite durable.
What We Like Best:
Blocks light and harmful UV rays
Made with durable material that doesn't fade easily
Rust free rings
Easy to wash when dirty
Check Price and Reviews on Amazon
---
7. Heavy Stripe Beach Curtains
No products found.
Usually when someone says, "beach", your mind goes automatically to sandy shores, glistening water, and the stripey decor that is literally all over the place. Well, these heavily striped beach porch curtains certainly fit right with the theme.
These striped curtains are made with a light material but are not see-through. So it's a double-win; you won't be lugging around curtains that weigh a thousand pounds and you'll also get the shade you need!
They blow freely in light breezes since they're lightweight (which is always relaxing), they're water and mildew resistant and don't easily fade in the hot sun. There's a variety of vibrant and natural colors to choose from, as well, so go hog wild.
What We Like Best:
Variety of colors to choose from
Durable fabric and non-fading
Water resistant
Perfect for beach settings
Light material
UV ray blocking
Check Price and Reviews on Amazon
---
8. Curtain Lights
Sale
Lighting EVER Christmas Curtain Lights, 306 LED 10×10 ft Plug in Curtain String Lights, Indoor Outdoor Hanging Fairy Twinkle Lights for Bedroom Wall, Wedding Party Backdrop (18 Strings, 6.9" apart)
[High Density Hang Down Fairy Lights] With 18 vertical strands, the spacing between each vertical strand is only 6.9 inches, providing a denser and more captivating display compared to curtain fairy lights with only 10 strands (13.1 inches apart).
[Measuring 9.84 ft (118 inches) in width & height] Our fairy lights are ideal for covering a standard window, decorating a wall, or wrapping them around a pergola in your backyard.
[8 Lighting Modes] Featuring 7 blinking modes and a "Stay On" option, you can easily cycle through different lighting effects to match your mood or event. These lights will create an enchanting atmosphere.
[Safe & No Heat] Come with an ETL Certified transformer and operate at low voltage (30 V DC, 120 mA). This ensures they are safe to touch and use. Just remember to use the provided adapter or a reputable manufacturer's adapter with the same voltage.
[Convenient Memory Function] Feature a convenient memory function that remembers your preferred lighting settings, saving you time and effort.
Last update on 2023-11-17 / Affiliate links / Images from Amazon Product Advertising API
Okay, so, these light curtains aren't exactly the most practical of all porch curtains. They won't block light or harmful UV rays (so you should probably wear sunscreen), they won't protect your furniture, and they won't give you very much privacy – in fact, they'll probably attract more attention to your property, and they're technically not even curtains by definition.
All of that aside, these light curtains are still a trendy style that's been going around recently. They're inexpensive, suitable for outdoor use, great for evening gatherings, and they just look really cute.
These curtain lights, in particular, are soft white fairy lights that have 7 different light modes for whatever mood you're in. They're easy to hang, won't overheat, and can even be placed behind semi-transparent outdoor curtains for a gorgeous effect.
What We Like Best:
The pretty changing light effects
Unique style compared to your regular old porch curtains
Affordable
Soft white light
Won't overheat
Can be put behind sheer curtains
Okay for outdoor use
Check Price and Reviews on Amazon
---
9. Durable Weatherproof Curtains
PONY DANCE White Curtain 95 Inches Long - Grommet Thermal Insulated Curtain Room Darkening Curtain for Living Room Sliding Door, 52 x 95 inch, 1 Panel
Ready Made - 1 panel include, measures W52" x L95", 8 silver grommets(1.6" inner diameter) fit most standard rods. For proper fullness, panel should measure 1.5-2.6 times the width of your window
High Quality - This classic curtain is made of blackout fabric, thick and heavy duty make the draperies more durable and long lasting, bring graceful look to your window and room
Multi-Function - This heavy panel can block out sunlight to control the light and balance the temperature in your rooms, high performance on thermal insulated, room darkening, energy efficient. Noise-reducing and privacy protection ensures you a good night's sleep
Good Material - 100% soft polyester fabric, waterproof, triple weave blackout fabric balances room temperature by insulating against summer heat and winter chill, reducing air conditioning costs. Protect your furniture, floors and artwork from the ravages of the sun
More Else - Machine washable, use only non-chlorine bleach, Warm iron as needed. Different styles of curtains & drapes are available to match with, providing a more harmonious and elegant window dressing
Last update on 2023-11-17 / Affiliate links / Images from Amazon Product Advertising API
These curtains are really just your average outdoor curtains. Although, they are incredibly durable and made specifically to endure bleaching rays from the sun, rain, sleet, and snow. They're amazing at resisting wetness and heat, making your porch far cooler than if it were just baking in the sun. These curtains are available in 8 natural colors that are sure to suit any porch and blend in perfectly with a variety of decor.
What We Like Best:
Affordable
Made specifically to endure harsh conditions
Great for cooling down a porch
Resist water very well
Made of heavy duty materials
Check Price and Reviews on Amazon
---
10. Ombre Outdoor Curtains
ChadMade Indoor Outdoor Gradient Ombre Sheer Curtain Nickel Grommet Pink 84" W X 102" L Tulle Gradual Drapes (1 Panel)
Sold per panel. Each panel has 12 grommets, 1.6 inches inner diameter, 2.7 inch out rim diameter, easy to slide on rod.
MEASUREMENT: If you cover window 80" wide, add 16" for rod installed. Add fullness 1.5X (suggested), ordder single curtain width size 72"((80+16)*1.5/2).
Perfect for indoor and outdoor front porch, pergola, cabana, covered patio, gazebo and beach home, also can be used as a door curtain, window curtain or a background for a shop window display.
Smooth, soft, comfortable, breathable, durable, full of romantic falling feeling, and drapable. Non-water-proof. Strong, long-lasting and less likely to rip or tear, exquisite workmanship.
Washing Care: Machine Wash in cold water, gentle cycle, do not bleach, tumble dry.
Last update on 2023-11-17 / Affiliate links / Images from Amazon Product Advertising API
Most of us are familiar with ombre: ombre hair, ombre clothing, ombre home decor. The appearance of light and dark tones fading into one another has been adored by people since the late 19th century and it's still in style.
These pretty ombre curtains are sure to give your porch an artsy, bohemian feel. They come in 12 lively colors and 15 sizes to fit your outdoor space perfectly. They're also pleasantly lightweight and antibacterial.
What We Like Best:
12 colors to choose from
A variety of sizes for the best match
Lightweight
Antibacterial
Check Price and Reviews on Amazon
---
11. Knotted Rope Porch Curtain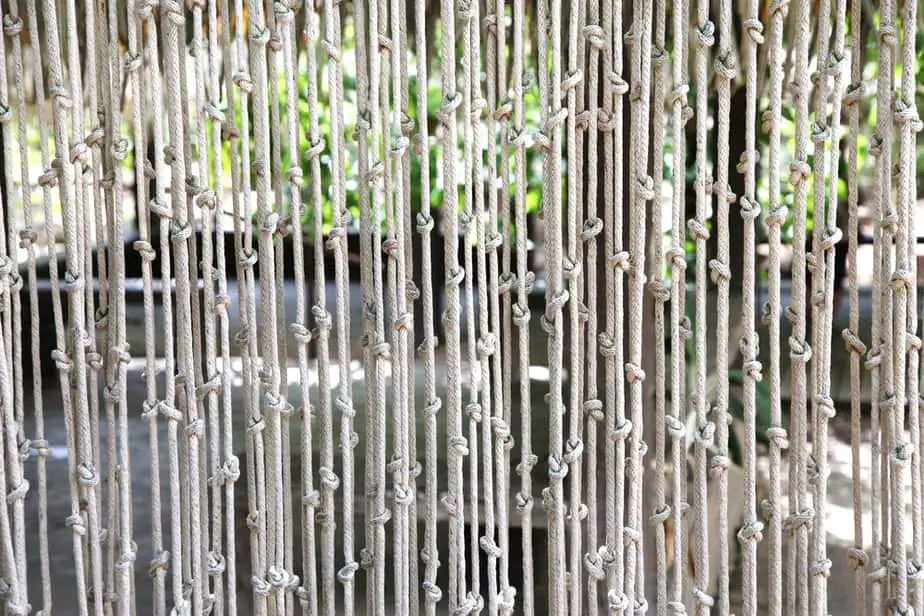 Popular on islands, knotted rope curtains are simple to make, create a uniquely tropics-native appearance, and can add a bit of extra privacy to a porch. Of course, they aren't great for keeping out heat or UV rays. However, they're awesome for those who welcome lots of natural light and are into the indigenous tropical culture.
12. Chevron Curtains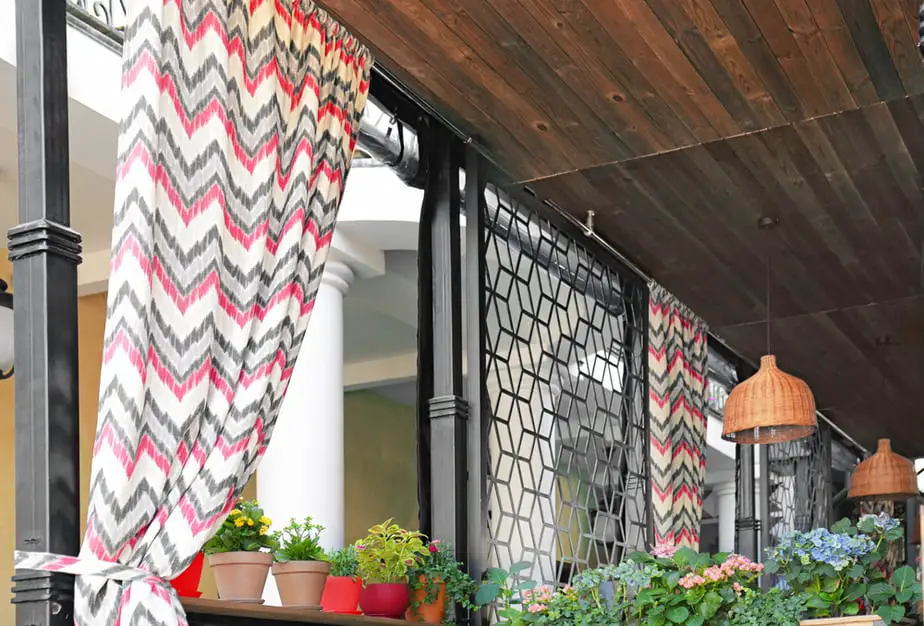 The chevron pattern has definitely made a comeback in recent years. It's popularly used in modern throw pillows, rugs, and (of course) curtains. These chevron curtains add color and a busy pattern to this porch. Chevron is wonderful for outdoor areas that don't have a lot of texture or busy decoration. It looks great when used as a focal point and can really draw the eye to certain places on a porch.
13. Living Curtains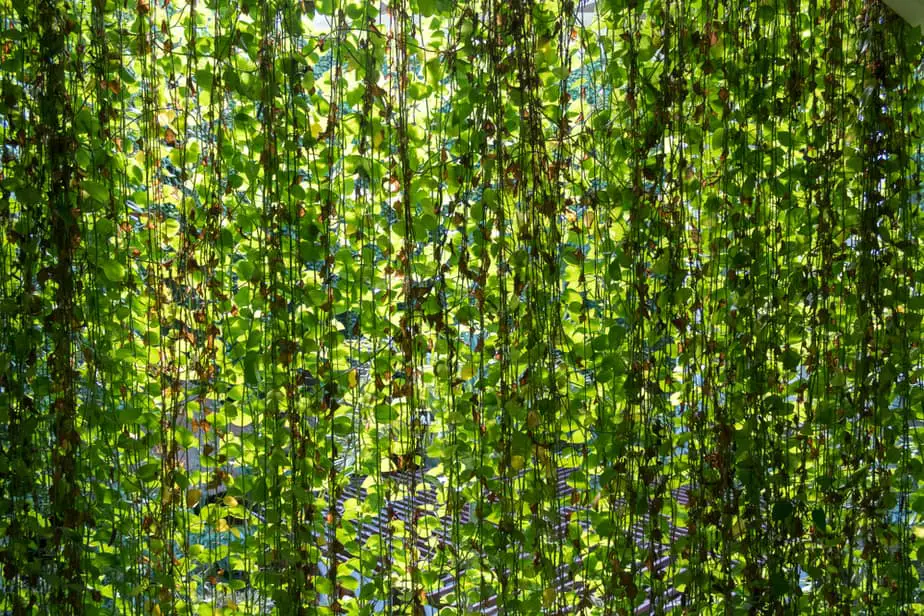 These hanging vines are definitely not actual curtains – we know – but they are a natural means to shade and protect your porch. If you have a pergola or arbors next to your porch, allowing vines to grow down or over them can create a curtain of leaves. Unlike manmade curtains, a living curtain rejuvenates itself, doesn't need washing if it gets dirty (although it may need watering), and its color won't fade in the sun.
A living curtain would be a lovely addition to any garden patio or porch.
14. Alternating Curtain Colors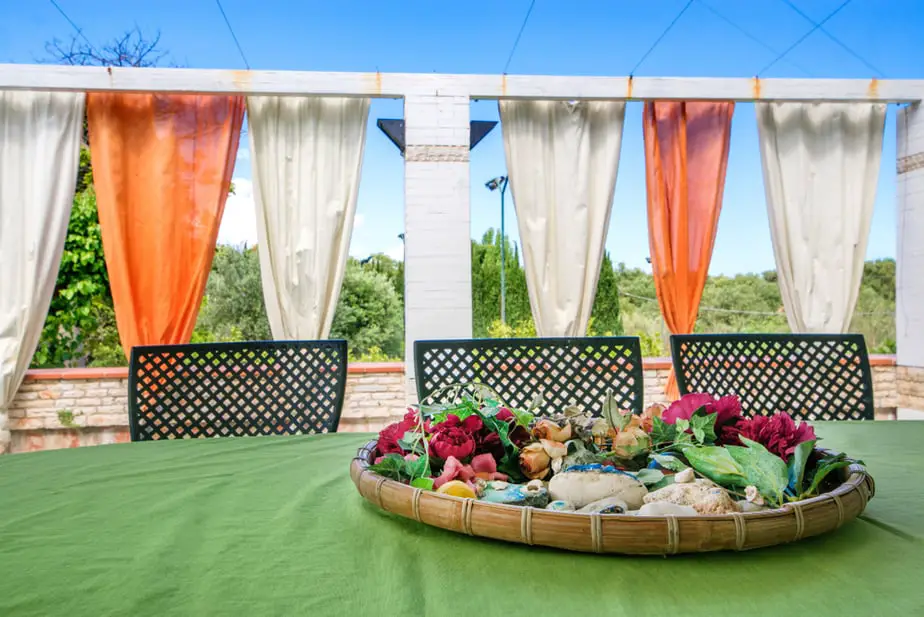 If ombre, complex patterns, and monochromatic colors aren't your cup of tea, making your own personalized alternating curtain color pattern may be – your cup of tea, that is.
15. Beaded Curtain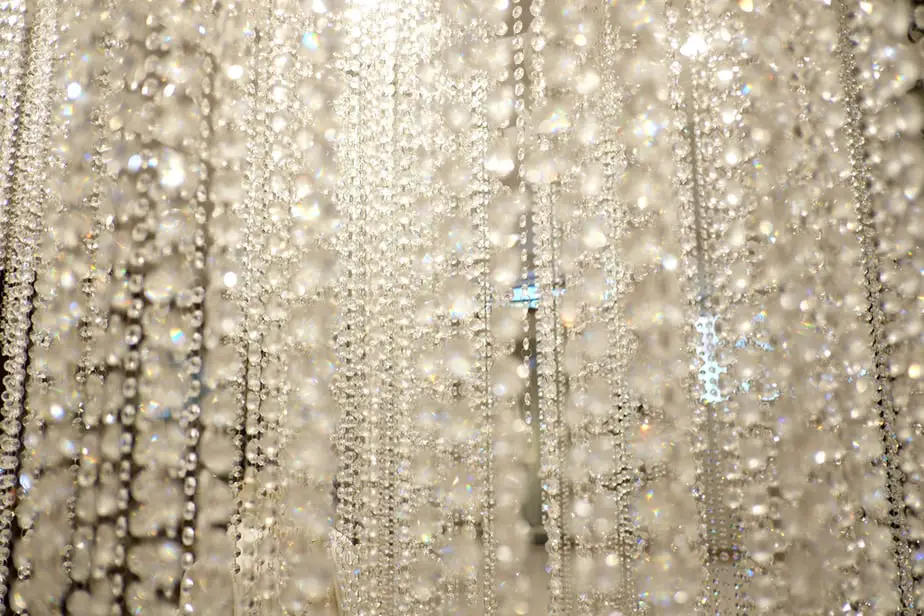 If you ever go into one of those really sassy, definitely-not-name-brand women's shoe stores that sit on the corner of a downtown street, you'll probably see a beaded curtain like this one somewhere inside. (Ladies, you know exactly what we're talking about).
These curtains are the epitome of sass and frass. They twinkle, they sparkle, and they look great next to a couch with cheetah print pillows. What could possibly be a better fit for the home of a diva than beaded curtains? Come on, they would literally make it look like diamonds are raining from the top of your porch.
16. Weave Print Porch Curtains
Parasol Outdoor Curtains for Patio-Key Largo 52" x 84" Thermal Insulated Darkening Single Panel Drape Blinds Backyard, 52 in x 84 in, Caramel
PREMIUM QUALITY - Masterly crafted 100% Olefin Indoor/Outdoor curtains.
STYLE & PRIVACY - Bring the ambiance of indoor elegance outdoors. Fade and weather resistant fabric makes them perfect for the patio, sunroom, or gazebo providing a real sense of separation and privacy while enjoying the comfort of the outdoors.
LIGHT BLOCKING - Thermaweave technology blocks intense sunglight while providing sound insulation.
EASY SET UP - Easy to slide decorative rust proof grommets can have you enjoy these curtains in minutes!
CARE INSTRUCTIONS - Machine washable in gentle cycle and cold water, do not bleach. Warm iron and tumble dry at low temperatures.
Last update on 2023-11-17 / Affiliate links / Images from Amazon Product Advertising API
The appearance of these lovely porch curtains is reminiscent of a woven basket. They come in four natural toned colors, are weather and light resistant and are made of quality, lightweight material. The fabric doesn't fade easily in the sun and the curtains are machine washable for effortless maintenance.
What We Like Best:
Four vibrant, natural colors to choose from
Fade and weather resistant quality fabric
Pretty woven pattern
Machine washable
Check Price and Reviews on Amazon
---
17. Tropical Leaf Curtains
No products found.
If you have a tropical pool or seaside porch, these palm leaf curtains would make an awesome decoration piece. They're made of a thicker, high-quality material but are still incredibly silky and luxurious. These curtains are waterproof, fade resistant, and easy to maintain by washing by machine. The colors are bold and beautiful and while the pattern is busy, most of the reviewers have mentioned how great it looks outdoors!
What We Like Best:
The tropical pattern is perfect for a waterside porch
Easy to maintain – machine washable
Fabric is heavy, durable and excellent quality
Curtains are waterproof and fade resistant
Brightly colored
Check Price and Reviews on Amazon
---
18. Windproof Porch Curtains
Macochico Windproof Sun Block Privacy Protection Noise Buffer Wheat Outdoor Curtains Panels Grommet at Top and Bottom Water Resistant Drapes for Patio Gazebo Garden 100Wx 84L (1 Panel)
✅ MATERIAL: Special treatment of materials, with waterproof effect. Same color front and back, blackout 90-95% (Darker color works better in blocking light) of sunlight and UV rays, it is efficient in noise-reducing, insulating against heat.
✅ MULTIPLE FUNCTIONS: Widely used for Outdoor, Patio, Pergola, yard or garden, functional and still durable, provide a real sense of separation & privacy which benefits both yours and your neighbors.
✅ DESIGN: Sold per panel(Rod not included), the rust-proof grommet interior diameter is 1.6 inches and exterior diameter is 2.4 inches. Fits easily with standard curtain rods.
✅ MEASUREMENT: Suggest 1.5-2X times wider of the rod or pole for proper look and fullness. If rod length 100", add 2x fullness for folds and overlap, then order 2 panels of each 100" wide. Measure from top of upper rod to the bottom of lower rod.
✅ CUSTOM-MADE: Offer CUSTOM-MADE for heading type and size. Provide samples to avoid misunderstanding and ensure the correctness of the material, size, and color.
Last update on 2023-11-17 / Affiliate links / Images from Amazon Product Advertising API
Though these are more contemporary, plain outdoor curtains, what's special about them is that they're completely windproof. So, no more scattering to tie down the ends of your porch curtains! These windproof curtains come with an upper and lower grommet to hold both the top and bottoms of the curtains in place.
This is wonderful for keeping your porch consistently shaded and protected from the sun, without the worry of a gust blowing your curtains around. They also come in 12 neutral and bright colors so you can choose the shade that suits your outdoor space the best! These curtains block light and harmful UV rays, insulate against heat and block rain and other weather elements from making contact with porches and porch furniture.
They're made of extremely heavy and sturdy material that can withstand higher winds and hold their position incredibly well, also.
What We Like Best:
Made of heavy, high-quality materials
Come in a variety of colors
Block light, harmful UV rays, and heat
Wind and weather resistant
Fade resistant
Check Price and Reviews on Amazon
---
19. Moroccan Trellis Curtains
MIUCO Moroccan Embroidered Semi-Sheer Curtains Faux Linen Grommet Curtains for Living Room 52 x 84 Inch 2 Panels Set, Teal
Sold as pair. Each panel measures 52 inch wide by 84 inch long. 8 metal grommets per panel with 1.6 inch inner diameter fit up to a 1.5" rod.
Miuco semi sheer curtains have a linen texture, allow natural light in while provide enough privacy than ordinary sheers.
Miuco embroidered Moroccan trellis design add style and elegance to your room, make a pretty soft and natural look to your windows.
Quality workmanship and beautiful embroidery on faux linen texture make your room have a more luxurious look.
Easy care, machine wash cold, gentle cycle, do not bleach, tumble dry low, light iron as needed.
Last update on 2023-11-17 / Affiliate links / Images from Amazon Product Advertising API
These Moroccan style curtains are more sheer, allowing light to beautifully shine through. Though they're made of a thinner fabric, they aren't completely see-through. Looking from the outside in, you'll be able to see vague shapes but other than that, these still provide a good deal of privacy.
They're made of a light, flowy fabric and the pattern adds elegance to any space the curtains are placed in. These curtains are available in 14 neutral and soft tones that would look well with virtually any outdoor furniture and decor. Not to mention they're extremely easy to care for – simply machine wash in cold water.
These are excellent quality curtains, but don't just take our word for it! You can check out over 500 positive reviews on the Amazon listing.
What We Like Best:
Elegant Moroccan embroidery
Available in over a dozen luxurious colors
Easy to care for and machine washable
Made of excellent quality materials
Lightweight and flowy
Somewhat sheer, yet still dense enough for privacy
Check Price and Reviews on Amazon
---
20. Cutesy Branch and Leaf Curtains
Eamior Indoor Outdoor Sheer Curtain Set - Faux Linen Sheer Voile Drapes for Pergola/Balcony/Verandah (2 Pcs Per Package, W52 x L108, Off White)
Extra Wide Curtains: 2 panels per package, each sheer curtain measures 52 inch wide with total width of 104", enough to cover any window and decorate the proper part of a wall. Available in your choice of 6 different length size (63", 72", 84", 96", 108" and 120" ).
Wavy Leaf Design: The drapes feature an embroidery pattern of wavy leaves over a off-white background, adding a touch of Natural and Classical Sophistication to your home decor with this stylish and practical faux linen sheer curtain panel.
Matte Silver Grommet: The grommet top fits up to 1.5 inches diameter curtain rod, easy to install and slide. Perfect for bedroom, living room, sitting room, dining room, kitchen, hall, villa, parlor, school, hotel and more to bring your windows and room a timeless appeal
Super Durable Material: The panel is crafted from polyester for durability and can last for years to come. Breezy voile curtain diffuses light beautifully and brighten your space softly to create a subtle accent that will lend timeless elegance to your home.
Easy To Care: Machine wash cold in gentle cycle. No bleaching. Tumble dry low. Light iron as needed. The Draperies enjoy 60-Day Money Back and 2-Year Warranty! Measure your pole and window size before you choosing curtains.
Last update on 2023-11-17 / Affiliate links / Images from Amazon Product Advertising API
These cute branch and leaf curtains are available in eight color variations and six different links for the perfect fit for your porch. They're very sheer, letting in a large amount of light and creating an airy feeling. These curtains are easy to care for and machine washable, however, they weren't made specifically to endure outdoor weather elements such as rain and snow – so take care to bring these indoors during rainy and cold seasons.
They're lightweight but made of incredible and durable quality that is guaranteed to last your porch years.
What We Like Best:
The dainty leaf and branch pattern
Variety of colors and lengths to choose from
Sheer, lightweight fabric
Easy to care for and machine washable
Check Price and Reviews on Amazon
---
21. Partly Transparent Netted Curtains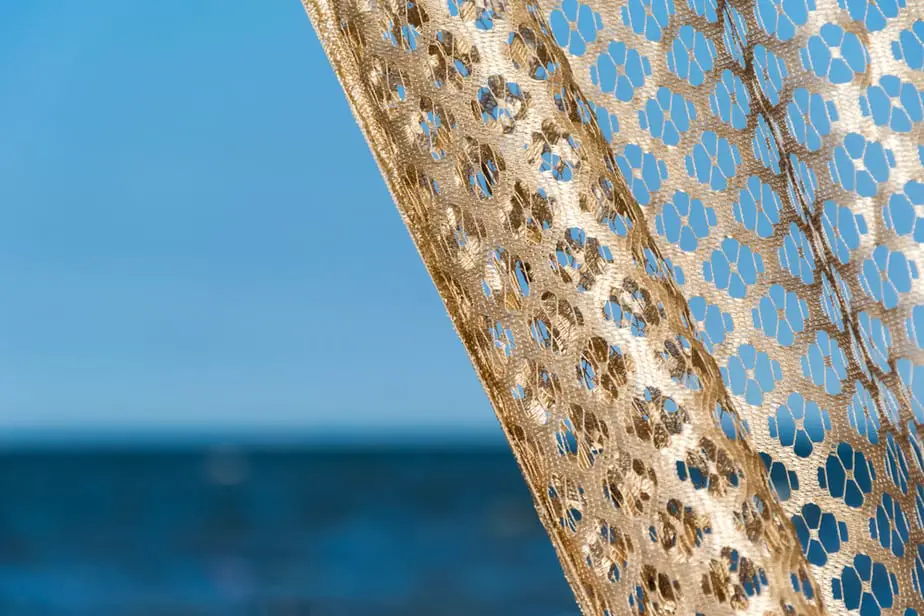 Last but not least, these partly transparent netted curtains would make any porch look like a luxurious beachfront. Although these curtains won't provide much – if any – shade, privacy or protection from the heat; the shimmery, golden fabric and delicate netted details are just too gorgeous to pass up.
In Conclusion
Porch curtains can be insanely practical. They add privacy, intrigue, and character to any space they're placed in; they can protect you from harmful UV rays and heat and keep the sun from fading your nice outdoor furniture.
There are tons of eye-catching options to choose from, and we've provided you with some of our favorites, but keep in mind that the best porch curtains for you truly depend on your needs and design preferences. We hope you enjoyed our article covering the best porch curtain ideas!