Here are 37 pergola ideas to help with designing your custom outdoor space. The Latin word pergula means a projecting eave. The English pronunciation of pergola has been in use since the 1600s. Even though pergolas have been around for a long time, most of the people who had them lived in castles, manors, or elaborate luxury homes.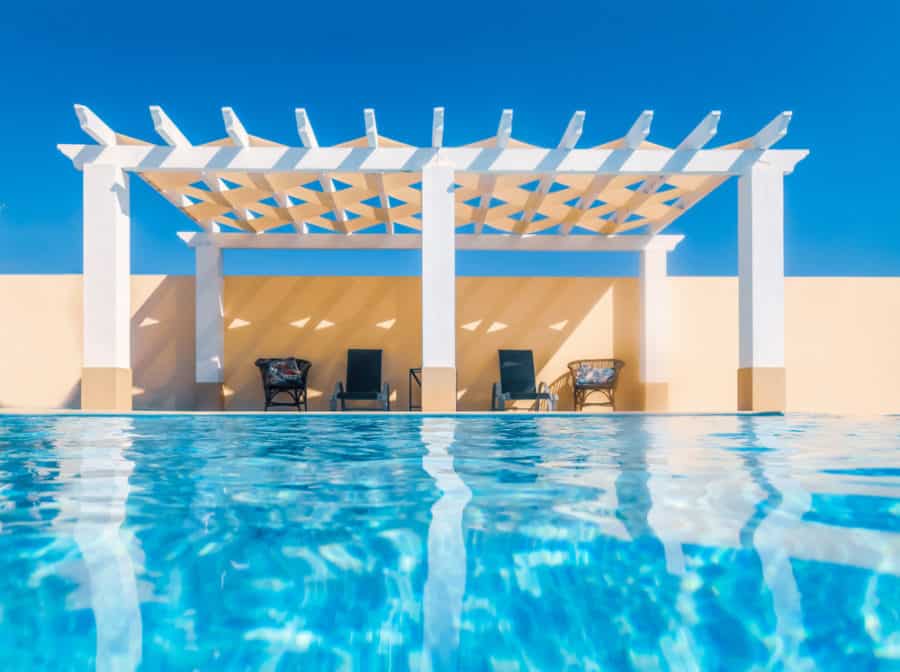 Recently, more and more people are creating outdoor spaces as an extension of their home living spaces. Most newer homes and patio renovations usually consist of some type of covered patio or pergola. Whether your home is old or new, you can create shade and separation in your outdoor living space with the addition of a pergola.
There are kits that come with all of the pieces so that all you have to do is assemble the new pergola or pay someone to do so. You can also get plans and build your own with lumber that you buy yourself. There are even brace and support kits for building square 4 x 4 pergola structures.
Modern pergolas are usually made of wood, vinyl, fiberglass, aluminum, or some form of polyvinyl. As you will see with the pergola design ideas below, you can use any materials you want. Traditional materials include brick, stone, and wood. Having a pergola is a fun way to dress up your yard and enjoy lounging around outside.
White Pergolas
Luxury White Dining Pergola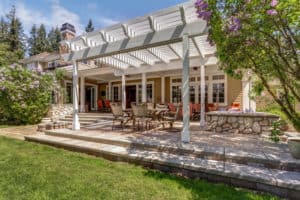 This classic white Pergola adds shade and a distinctive look to the patio of this upscale home. This is the perfect addition for outdoor dining and enjoying nature with your family. This is a traditional style pergola with square posts running from the footings to the support beams.
It also consists of what appears to be large 4 x 6 rafters with custom cut tails. Then they are topped with smaller purlins for added shade and design. There are kits available, and something like this could be made in wood or vinyl…but with the large heavy beams and rafters building this one might be best left to the pros.
White Infinity Pool Pergola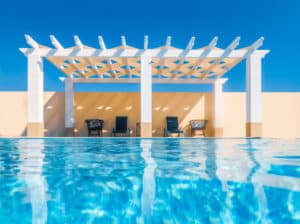 This white pergola has large square posts with smaller beams and rafters. The top has a criss-cross lattice design that sets it apart from other pergolas. The footings match the color of the wall behind it and the edge of the infinity pool goes right up to the edge of the pergola. This looks like a lovely way to avoid too much sun while living it up by the poolside.
White Canvas Shade Pergola
Here is a simpler white wooden pergola that has seen its share of time in the sun. It is made new and exciting by adding strips of fresh white canvas for the shade and visual appeal. This pergola also has a string of lights for nighttime appeal. Wood never goes out of style, and thanks to shows like Fixer Upper, weathered and distressed paint jobs are in fashion. This is a simple design that is functional and looks great too.
Wood Pergolas
Stained Wood Pergola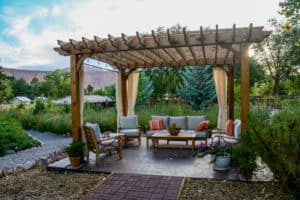 Here is a beautifully stained wood pergola. It has square posts with extra supports and custom design rafter tails. It's topped with slatted purlins for extra shade and sits on a stamped cement pad out in the garden. This is the perfect outdoor hideaway for reading, relaxing, and intimate conversations. There are also lights for nighttime use, and curtains for added shade or privacy.
Terrace Pergola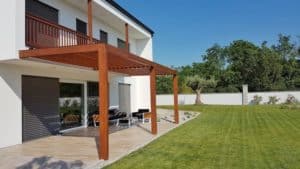 Here is a contemporary terrace pergola. It's made with simple posts, beams, and rafters to form a rectangle with one side anchored to the side of the overhanging terrace. This creates a dramatic look and increases the amount of downstairs shade, which makes a perfect patio for lounging in the perfectly manicured yard.
This design is simple enough that many DIYers could make something similar. Something like a ledger board could run across the length of the structure to attach to one side of the pergola.
Slanted Terrace Pergola
Here is another wooden terrace pergola. This one is angled and also attaches to the existing structure. The lighting and the landscaping make this small yard seem bigger with all of the nice touches. During the day, this would be a great place to stay out of the sun while reading or relaxing. At night, it becomes a garden paradise with lights and candles, illuminating the already-brilliant pergola.
Angled Slat Pergola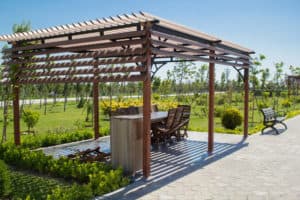 Here is a simple six-post pergola with angled slats on the top and part of the sides to keep the sun in check. This one appears to be a dining pergola in a park with extra nice furniture, but this could be a good choice for any backyard or garden.
You could choose your location and the angle of the slats depending on where you need the shade the most. Are you trying to block afternoon sun or morning sun? The nice thing about designing your own pergola is that you can customize it to fit your needs.
Attached Pergola on Wooden Deck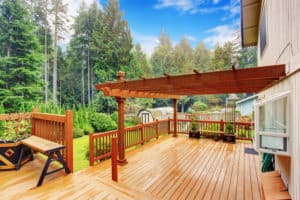 Here is an attached pergola on a wooden deck. This might make installing the footings easier depending on whether you need to pour cement or not. This one is angled and has decorative posts and beams. It has a few purlins over the rafters. The wood is stained to match the fence around the deck. This is a very nice design that gives the deck character and added shade with only two posts required.
Weathered Pergola
Here is a weathered pergola that is still standing. It has a unique design element because it has custom cut rafter tails on the side to the main beams. They look like they are part of the rafters even though the actual rafters are made with much smaller lumber. This is a fairly simple design with posts, beams, brackets, and rafters.
Vintage Pergola with Lights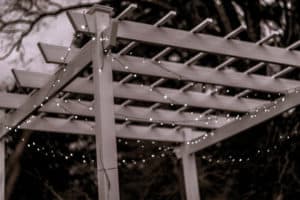 It's funny how something as simple as lights can really dress things up. This pergola has square posts with fancy end caps, angle cut beams and rafters, along with a few widely-spaced purlins on top. The lights give it an almost magical look, like being in a fantasy fairy garden. This is a simple design that looks great and is easy to make prettier with something simple like strings of lights.
Solid Roof Pergola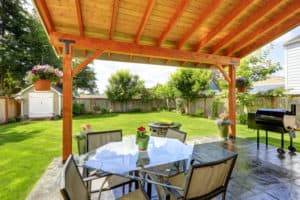 Here is a pergola with a solid roof that's probably attached to an existing structure on one side. The other side is supported by two posts reinforced with braces and t-shaped plate brackets where they attach to the beam.
Advantages to the solid roof are that you still get to enjoy the benefits of being outside, but are protected against sun and rain. This pergola would make a cool, shady spot to sit under in the morning or a fun dry spot to watch a rainstorm. The light finish completes the look.
English Garden Pergola with Lattice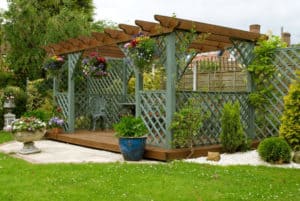 This lovely pergola sits on the edge of a garden near a fence, placed on top of wooden decking. The simple design of posts, beams, and rafters is offset by fancy lattice siding and arches. It's all tastefully done in green paint for the posts, lattice, and railings. Wood stain is used for the deck, beams, and rafters.
Add some furniture, plants, and string lights, and you have the perfect garden hideaway for making plans or discovering your dreams or just taking some time for yourself.
Large Outdoor Pavillion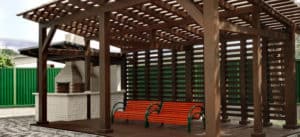 Here is a pergola design that uses heavy timber as posts, beams, and braces. The entire backside and roof are slatted close together for optimum shade and privacy.
It's almost like an outdoor room (or one of the world's nicest bus stops). There are a lot of creative design elements that can be borrowed from this example, even if what you're making isn't quite as robust.
Romantic Column Pergola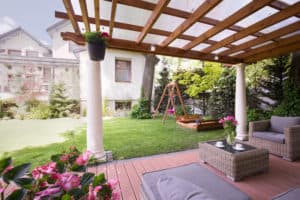 Add a romantic touch to your pergola design by using white columns for your posts. Once the posts and beams are attached, there is a very simple rafter and purlin design. It does look like there's some type of opaque covering on top of the purlins to let in the light, but to keep moisture out. Some hanging plants or hanging tea lights would certainly dress up the area before adding your lounge furniture.
Metal Pergolas
Round Pole and Metal Slat Pergola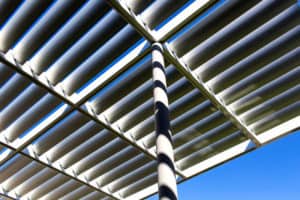 If you want your pergola to last forever,  make it out of metal. Here is a close up of a pergola made with metal poles and metal rafters that hold up angled metal slats. The louvered effect creates ultimate shade while still allowing light to peer through. This design is more industrial and would be best for stadiums, parks, or parking areas. This look could work if you had an ultra-modern industrial style home as well.
Cable Sail Shade Pergola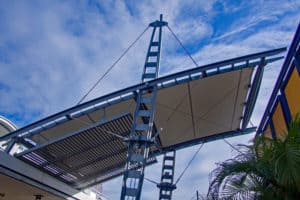 This fancy sail shade pergola has an elaborate cable system attached to ladder-style posts. It's possible that the cables are somehow used to raise or lower the angle of the shade depending on the position of the sun. It's also possible that it's just a really cool modern design effect. Either way, this looks like more of a commercial type product than a home or DIY type pergola, but the unique design is worth mentioning.
Sail Shade and Galvanized Steel Pergola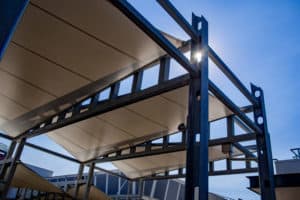 This galvanized steel pergola with sail shades is the ultimate in beauty and durability. The sail shades create shade and protection from rain while the design leaves plenty of room for light to get through. The frame should last a very long time with proper sail shade replacement, allow it to always look new. This is a great design for a walkway or public area.
Metal Park Pergola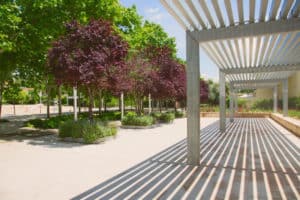 Here is another long-lasting pergola adding just the right protection from the sun on the edge of a park walkway. The simple metal design consists of L-shaped posts and beams with flat metal rafters equally spaced across the top. This is a long-lasting addition to this park that will be used for years to come. This is the perfect use of strong materials and simple construction.
Garden & Walkway Pergolas
Green Pergola Walkway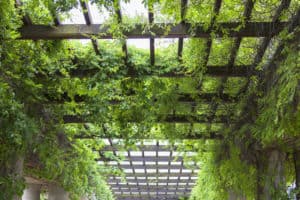 This is a beautiful example of what a simple walkway pergola design and the natural beauty of plants can create. This stunning garden pergola features wooden rafters crossed by wooden slats, but the magic happens when the vines start to grow within the spaces. Walking through this can transport you to another world where everything is green and beautiful, and take your mind off of your day-to-day problems for a while.
Pergola Tunnel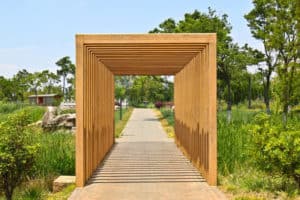 This cleverly designed pergola tunnel has a three-dimensional effect as you look and walk through it. Simple square posts spaced equally apart create an outdoor tunnel that is as mesmerizing as it is beautiful.
This clever design concept can be used in many home applications from pergola tunnels to dress up that unsightly side yard to a mini pergola tunnel in your gnome or fairy garden. It's amazing how something so simple can also be so clever.
Garden Walkway Pergola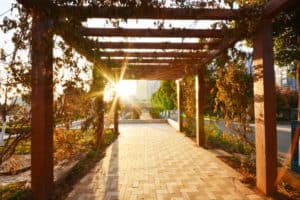 This garden walkway pergola consists of posts and beams and widely spaced rafters. It follows a brick pathway and is adorned with vines. Depending on the season and the time of day, this walkway can change appearance as easily as we can change moods. This is another simple walkway pergola design that can be used to add natural beauty and charm to any path or walkway area.
Rustic Pergola with Vines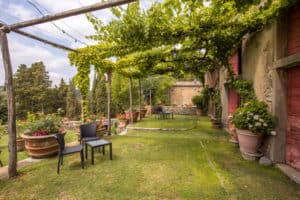 You don't have to be in Tuscany to enjoy the beauty and simplicity of this pergola. Simple natural wood posts and vines make the perfect rustic shade pergola whether you are in wine country or your own backyard. There are many traditional pergola designs, but you can really make your own design depending on your decor, taste, and style.
Blarney Castle Pergola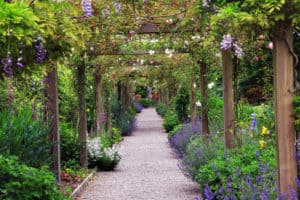 You don't have to live in a medieval fortress to show off the beauty of your garden, but it doesn't hurt. These simple three-dimensional posts and beams are anything but dull when they are adorned with beautiful flowers and vines. This concept could be used anywhere you have a long space and a green thumb.
Garden Tunnel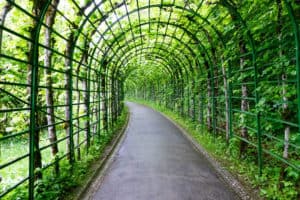 Years of careful pruning and tending have created a dramatic effect over this garden tunnel covering a pathway. An arched frame is built over a pathway and then vines, trees, and wisteria are carefully tended until this garden tunnel effect is achieved. Walking through this is a dramatic way to commune with nature (unless you happen to be claustrophobic). Although, a walk through this cage-like tunnel might be worth it.
Wisteria Covered Passageway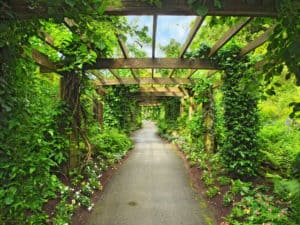 Here is yet another passageway pergola made with posts, beams, and slats covered in wisteria. This simple design could be used to turn an ordinary walkway into a magical secret passageway. Enjoy the beauty of nature while walking to your next destination. This concept could be used at home or at a business.
Scenic Coastal Walkway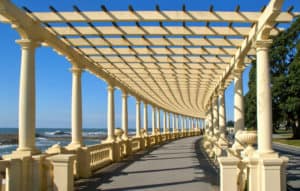 When walking along the coast, it really doesn't matter what type of path you are on. The views are usually breathtaking and awe-inspiring, but just in case you need a little more here is a scenic coastal pergola design that's located in Portugal.
It has rails along the path with columns setting on top that steady the beams that hold up the rafters. There are also small boards running across the top in the same direction as the path. This is a fancy design that compliments an already picturesque view.
Unique & Modern Pergolas
Garden Bed Pergola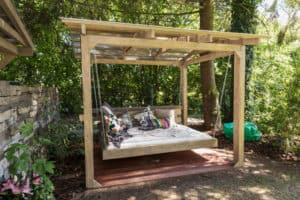 When you want to relax but don't want the same old thing, try a garden bed pergola. It's a garden pergola, swing, and bed all in one. Who needs a hammock when you can rest away your afternoon swinging on an outdoor bed? You can read, rest, talk, or just enjoy being surrounded by this awesome addition to any yard or garden.
It looks like they began with a square frame and added a floor then added slanted rafters and a roof for a sort of gable effect. The swinging bed is fastened with chains to sturdy posts. It also has a built-in headboard, so you can sit up and read or relax while using it. This would add a touch of fun to any outdoor space.
Terrace Lounge
This terrace lounge will make any outdoor space more desirable. Posts, beams, and rafters let in the sunlight and if it is too bright there is a retractable shade sail to block out those bright afternoon sun rays. This would be the perfect addition to an outdoor meeting area or a home BBQ area on a smaller scale.
Beach Pergola with White Curtain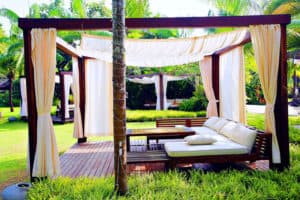 This is almost as cool as the bed swing – almost. Anybody would be happy to have this beach pergola with a privacy curtain. It's a square frame with a wooden deck floor. It has curtains for privacy and lots of soft, comfy lounge furniture. For home use, this concept could be made to fit many yards, styles, and tastes.
Wavy Pergola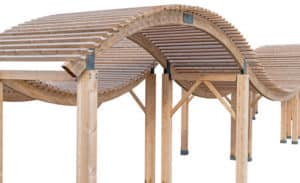 Who said pergolas have to be flat? This unique design could add a touch of whimsy to your shaded area. This unique and complicated type of construction is best left to the professionals. Even though this isn't the most practical pergola design, it looks intriguing and we felt it should be included on our list.
Dome Pergola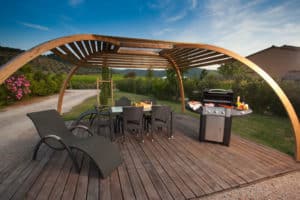 It might look like something from outer space but this dome pergola adds dimension, depth, and shade to any outdoor area. This unique design can section off an area for sitting while adding ambiance and some shade.
The beams and rafters are also the perfect thing to hang string lights, wind chimes, and other outdoor accessories to really customize your space. This unique design has a square skylight in the middle and would set any space apart.
Modern Terrace Pergola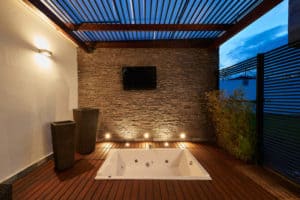 This modern terrace pergola adds the perfect touch of privacy to your outdoor jetted tub. Simple slats across rafters on the ceiling and the sides of the space let the moonlight in while still blocking the area off from the rest of the world. If hanging out in the lap of luxury is for you, and you just happen to have a beautiful outdoor jetted tub, this design may be the perfect answer to your pergola needs.
Triangular Pergolas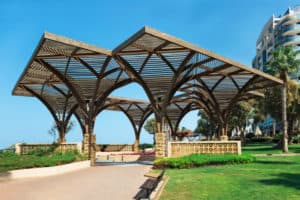 This group of triangular pergolas really make a statement as you enter this area. These are located on the promenade of Netanya in Israel. Variations of this complex design could be used for smaller home pergolas, but this design is probably best left to the pros for large public areas.
Zig Zag Pergola with Vines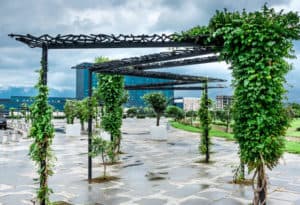 Here is another unique design with ornate iron in a zig-zag pattern covered with vines. This is in a park in Georgia, and it really is a unique design element. This isn't your grandfather's pergola, but it is a very unique design that we wanted to include in our collection.
Modern Pergola with Tin Siding Roof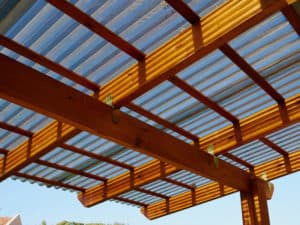 This modern design can be made with tin siding or clear plastic siding. Either way, it creates great shade and protection from the rain, while still providing an exciting twist on the old to make this modern creation. Large timber is used for the posts, beams, and rafters then the siding or roofing material of your choice is used to top off the pergola.
Bamboo Pergola
Not everything has to be an amazing feat of architecture. This bamboo pergola is tied together with cords and then covered with growing vines. It's a simple and elegant shady solution that won't break the bank. This would be a nice element for a side yard or an additional sitting area.
Small Backyard Seating Area Pergola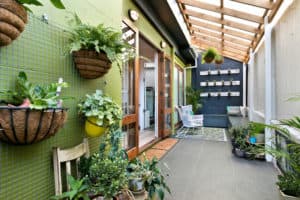 This is an author favorite. By creating a small pergola between the roof of the building and the back fence, a small almost non-existent backyard is turned into a ready to use backyard sitting area. Instead of being a cramped yard, it's more like a long, thin room with an open ceiling. This is a brilliant idea and many small spaces can be made exceptional with just a little imagination and effort.
Wrapping Up
When building a pergola anything goes. You can go the traditional route or create something uniquely your own. Your design decisions will depend on your space, budget, and design preferences.
Hopefully, some of the above pergola ideas will give you something to think about when designing your own pergola. Maybe you've been inspired to create something dramatic and new. Either way, having a pergola will effectively increase your outdoor ambiance.
Need more inspiration for your backyard? Check out our 70 Backyard Design Ideas, Wood Fence Ideas, Bird Bath Ideas, Dry River Bed Ideas, and Unique Fence Gate Ideas articles!