Pergolas and pergola covers are an outdoor shade structure designed to give shade and a place to chill under the patio cover. It's usually the focal point of a garden, a fancy entrance, or a covered walkway. In all cases its function is to keep the sun at bay, not to block it completely, that's why it's usual to find that some pergola cover ideas are only partial, and in a way ornamental.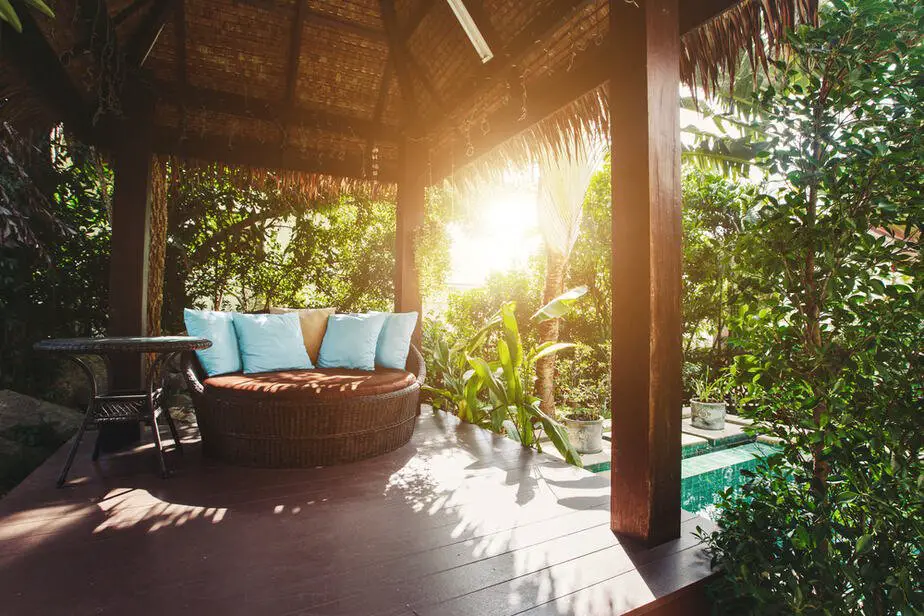 A covered pergola comes in as many varieties as there are tastes and design styles. They can be plants, fabric, straw, plastic tiles, wood, metal, bamboo, or any other material that would look good on your pergola, and give some reprieve from the sun. You can also remodel an existing pergola by adding a new cover. If you already have a wooden pergola, but the spaces between the slats are too large, and it feels too sunny, you can weave in roller shades, or grow a creeper.
Each cover material will naturally have pros and cons, some are easy to install and maintain, some require professional work. Some are very durable, and others will need to be changed every other season. Each one of these choices will also come with a price tag.
Design is about good taste, common sense, and a lot of creativity. Pergola covers are part and parcel of the way a pergola ultimately looks. They need the same attention and proper design. It all starts with what you need and what you like.
Here are some of our favorite pergola covers ideas, hopefully, they would give you some inspiration!
Our Favorite Pergola Cover Ideas
1. Wooden Rib Panels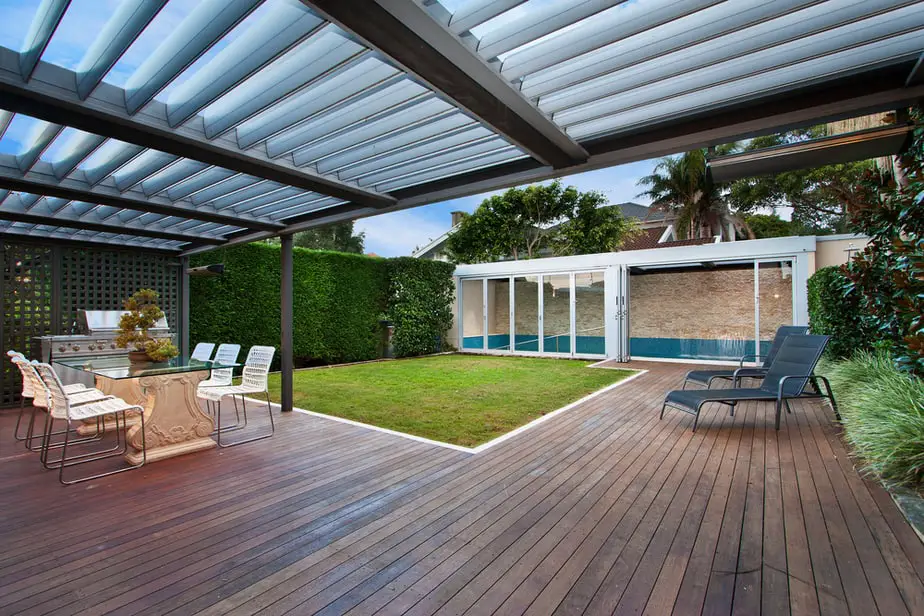 This modern house calls for a straight-lined pergola, and it can only be covered by a rigid material. A simple geometric shape is the best approach.
The whole area is intended to be a summer spot, so only slight shading is needed.
2. Juxtaposed Wood Panels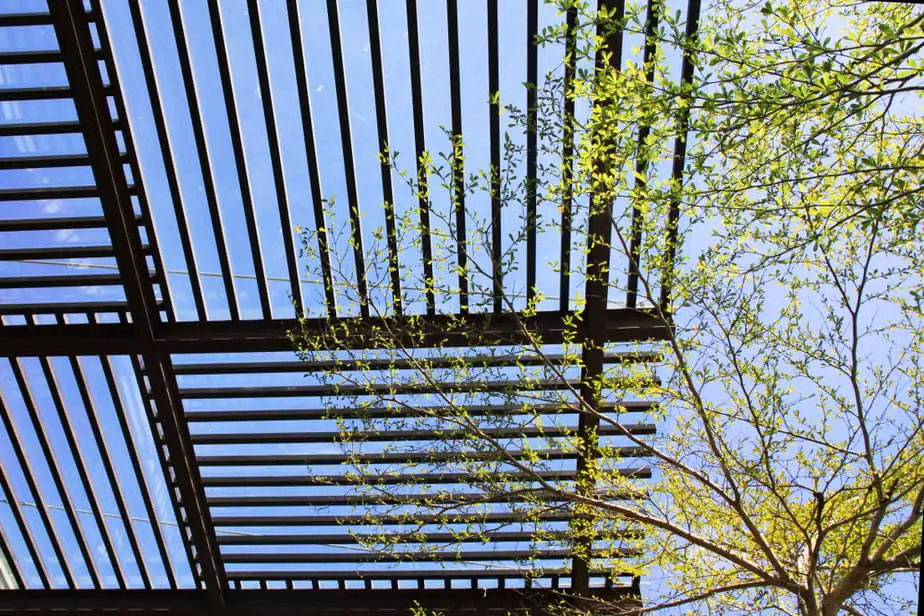 This is another modern style pergola covering. It's very decorative, and while you sit under its shade, you will often lift your head up and let your eyes enjoy the pattern.
3. Plant Cover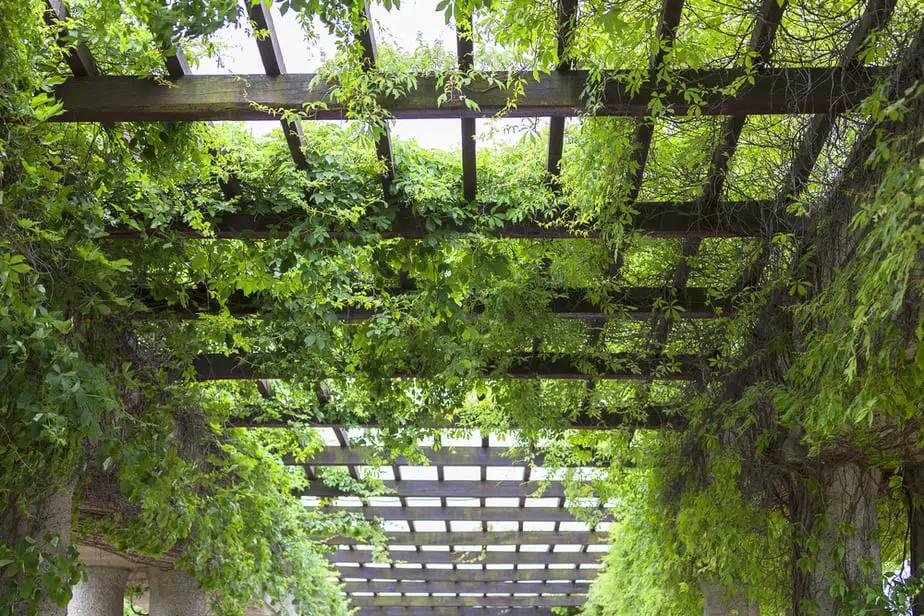 Plants love climbing over structures such as this walkway pergola, and they seem to be benefiting from each other. The pergola gives the plant airy and sunny support, and the plant gives it shade in a lush, vibrant manner.
It's always a pleasure to take a stroll under such beautiful pergolas.
4. Sheet Wood Covering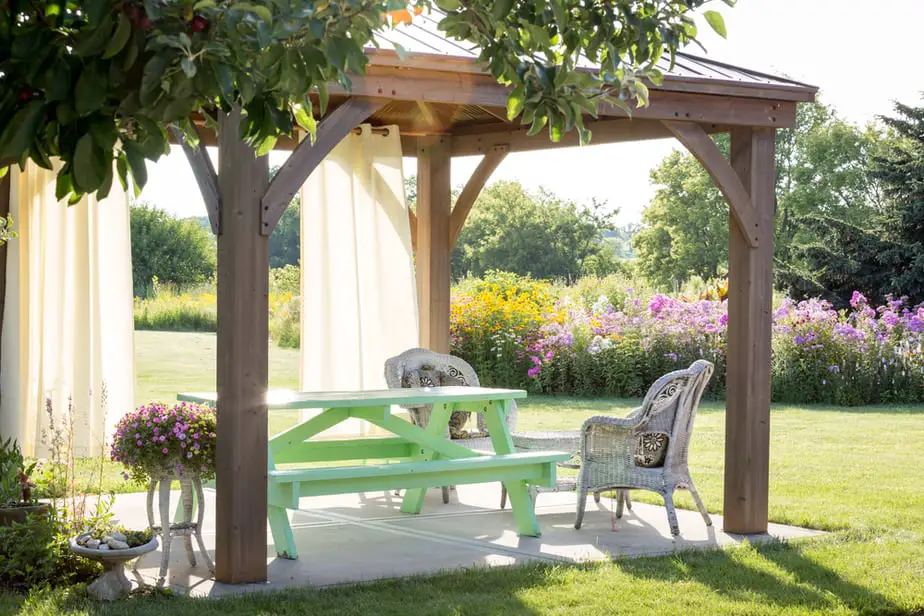 If a more efficient shade is needed, then the covering has to be a bit tighter like this pergola, here. Thin wood sheets tightly fitted to the top will give the most shade.
They will also protect the pergola from the rain or frost. It can thus be used in more than just the mellow seasons.
5. A Tiled Roof Covering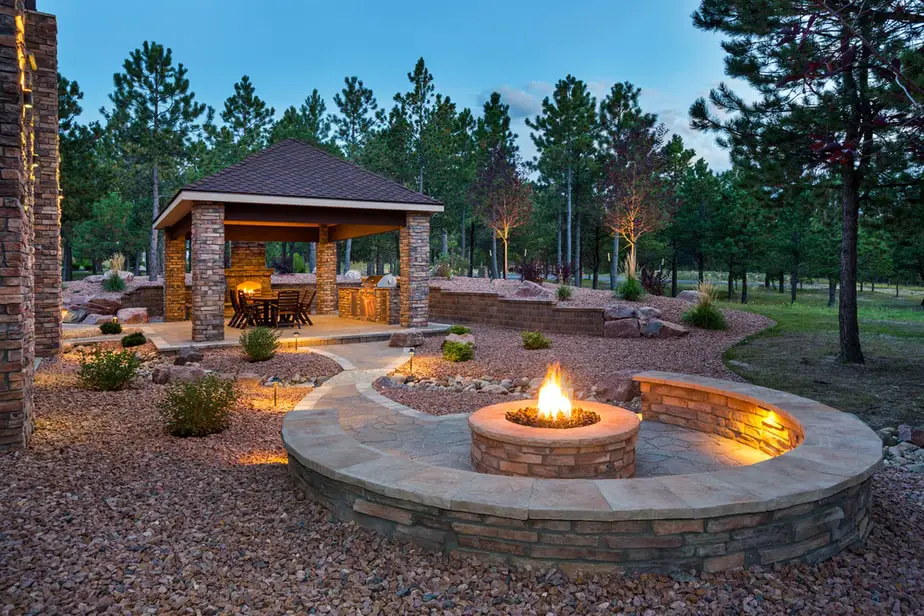 This pergola is designed for the winter. We know that from the fireplace and the fire pit. It's thus necessary to put a sturdy cover on its top.
A tiled roof is of course as sturdy as they get, and so this nice pergola can be used even in the toughest weather.
6. Decorative Wood Pergola Cover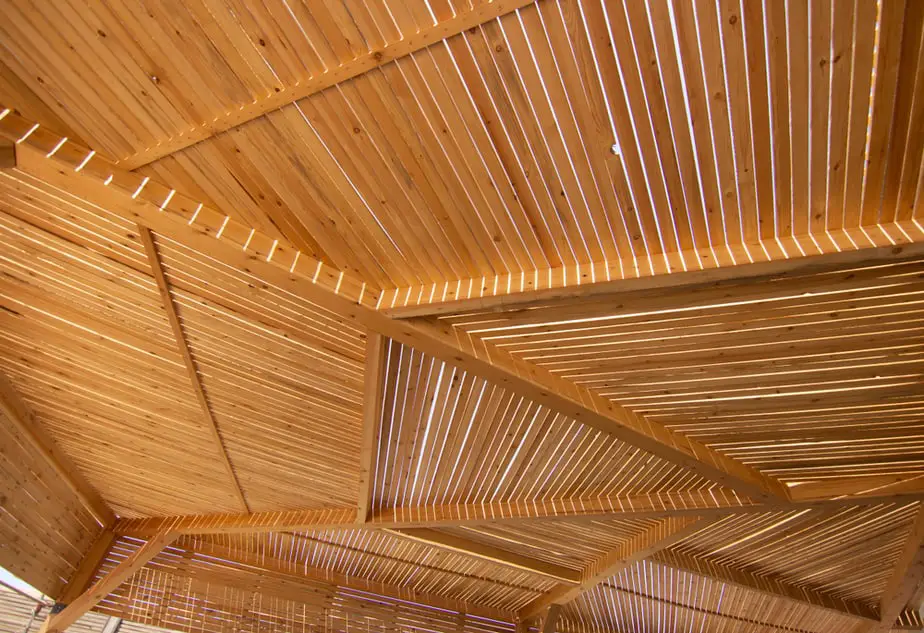 This is a cover that provides shade, but lets the light filter in playful patterns. These shadows change throughout the day as the sun changes its position. It's not very costly to install, and if you are a bit into tinkering, you can easily acquire the needed materials and do it on your own.
You might want to add a protective layer to the wood or buy a synthetic kind that resists water and humidity. You wouldn't want to change it every other season.
7. Creeping Berry Cover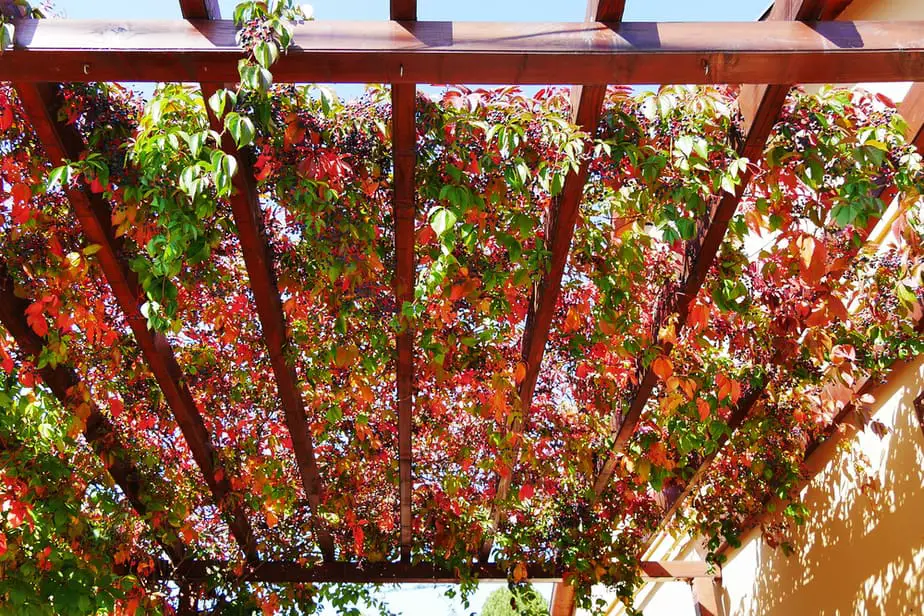 There's something so sweet and romantic about having fruits right above your head, or beside you, as you take a walk. There's also the shade, of course. I think that this is one of the nicest and tastiest ways to filter out the sun!
It also comes with the added task of constantly taking care of your plant, and cleaning the walkway from the leaves. But if you are into gardening it would be a pleasure.
8. Wood Covering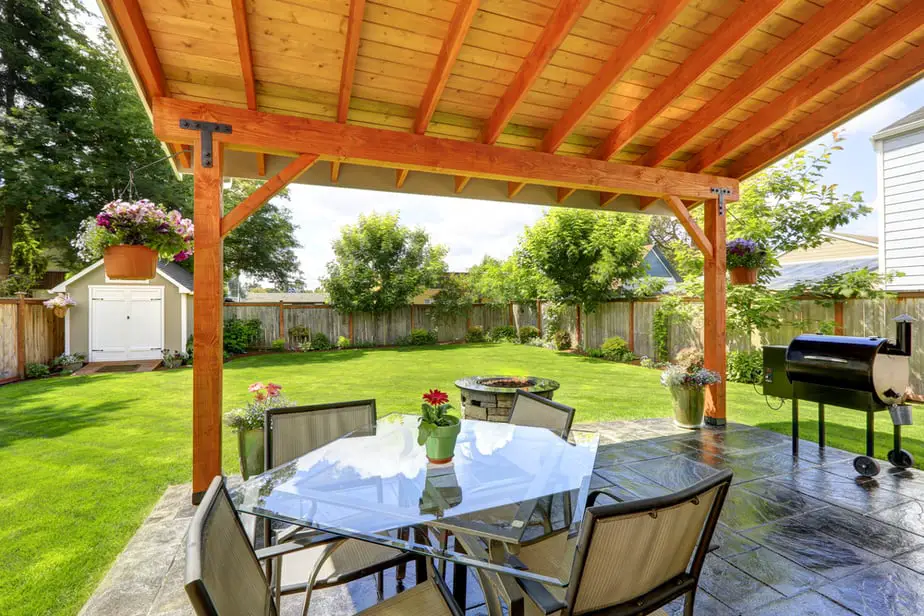 Your pergola is sometimes more than a shaded area, it has an actual function as a dining area or an entertainment space. In that case, you wouldn't want the rain or any seasonal effects to interfere with your activities.
Having a solid covering is occasionally necessary, and there are many options to do so. Wood is a good choice, as long as you add a protective coating to it, and from that point on it's totally hassle-free, and keeps looking good for several years.
9. Drop Cloth Cover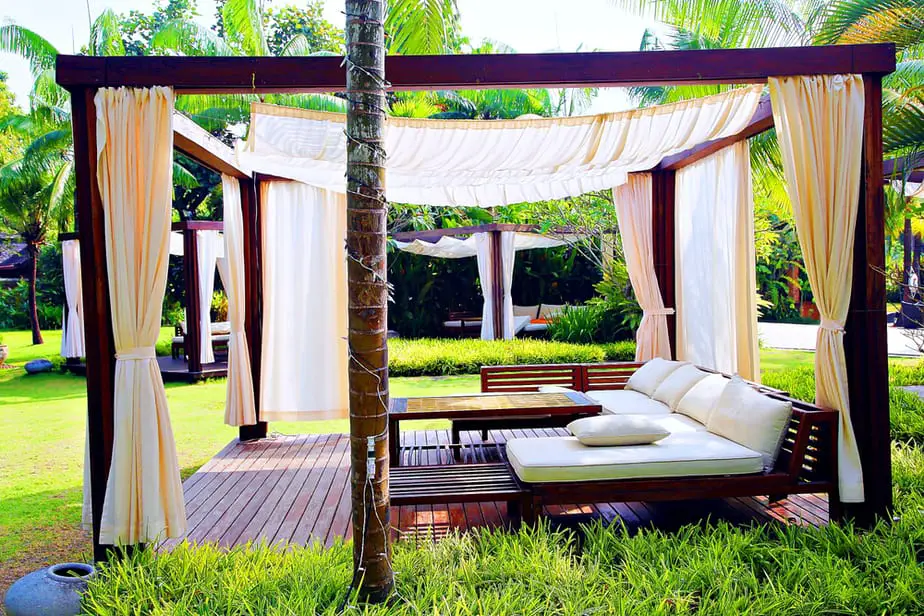 This backyard pergola uses shade cloth to recreate the beach cabana vibe, and so the covering has to go in the same direction. The airy cloth covering on top and on the sides is a perfect choice. It wouldn't keep the sun away completely, and that's really the point; enjoying summertime lounging, even when the beach is too far away.
The cloth covering would need to be taken down and stored during the winter season, or you can use a water-resistant fabric instead if you want your outdoor living space shaded all year round.
10. Vinyl Covering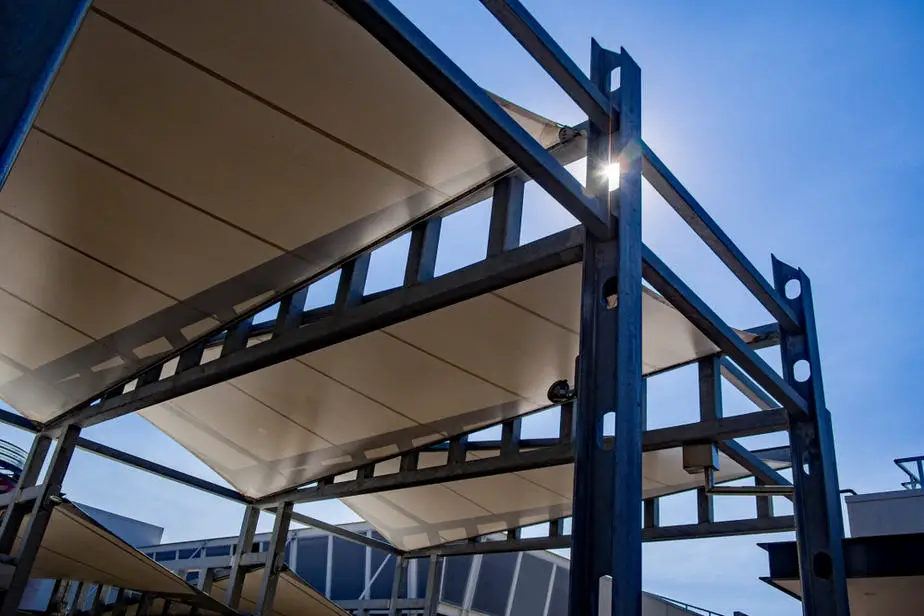 This is a very durable vinyl pergola covering, and it would keep the sun out of your outdoor space efficiently. It's great if the weather around you is harsh, or if you'd like to have a cover installed once and then forget about it. It would need cleaning from time to time of course, but it's not a big deal, usually, a hose down will get it sparkling and as good as new.
It comes in several colors and can be cut to size, so it's versatile that way, too. It looks quite modern, so if you have a classically styled pergola, vinyl might be a bit of a stretch for it. It looks its best with a straight-lined structure.
11. The Straw Cover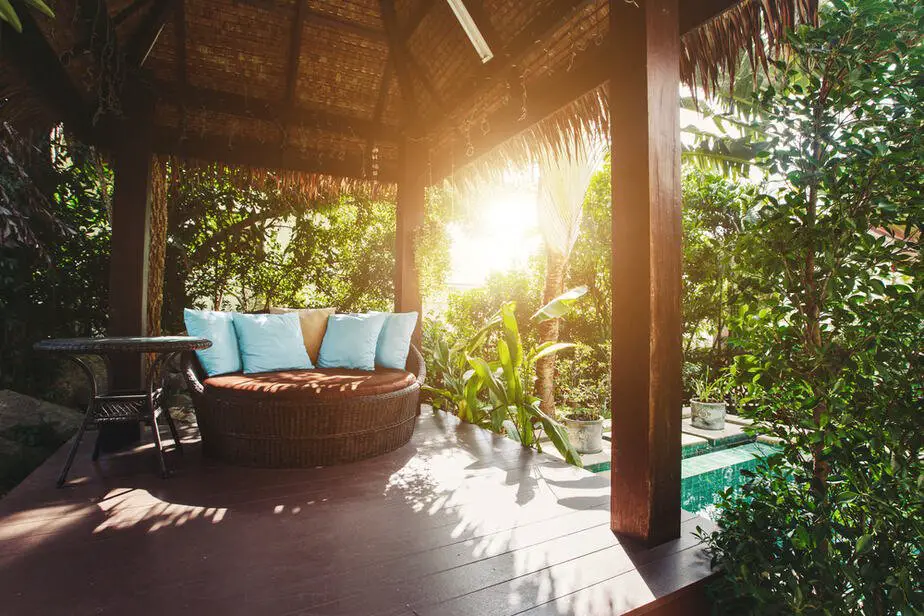 Weaved straw is one of the prettiest and simplest covers for pergolas. It's airy, light, natural, and it has such a lovely texture. It also brings out an exotic quality from the pergola and gives the whole space a leisurely vibe.
It's not very easy to install and maintain though, but if you live in a mostly dry area, it would be a breeze, and almost maintenance-free. This cover would be great if you have your pergola beside a pool or surrounded by greenery. Woven straw chairs and tables would complement this look a lot.
12. Wood and Metal Covering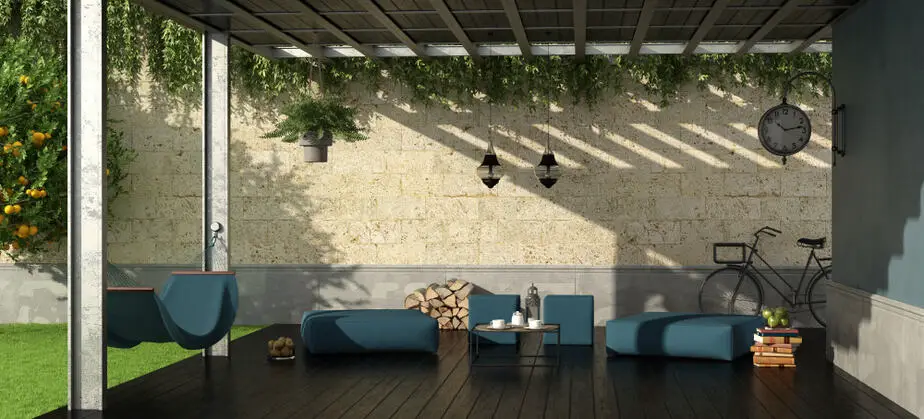 Wood and metal stripes prove a sturdy and weatherproof covering to your metal pergola. Being open on either side will let you enjoy your surroundings and the loveliness of nature.
It's a little costly to install, and would probably require the services of a professional, but the neat modern look, and sturdy structure, are worth it. Once installed, it just needs an occasional clean up to stay in good shape and sparkly condition.
13. Roller Shade Covering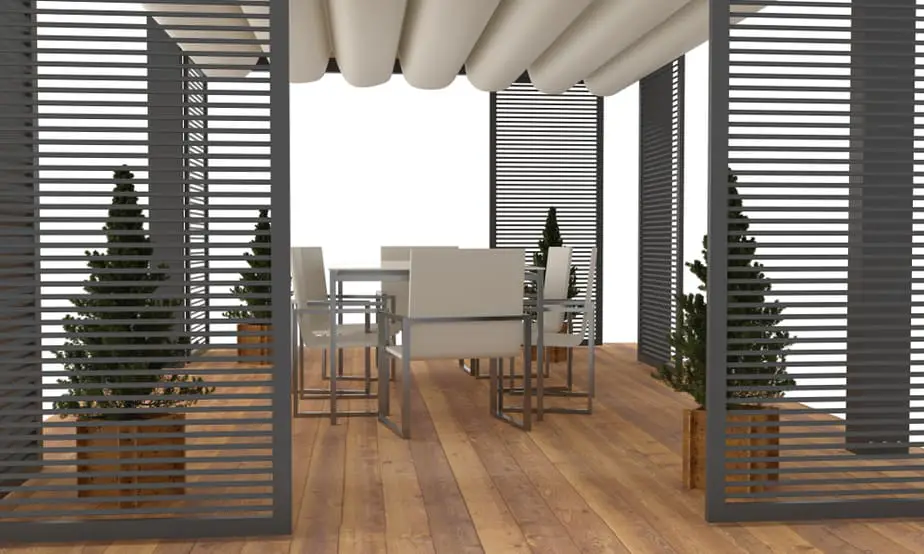 This modern pergola looks its best with roller shade covering. The fabric is sturdy and very easy to work with. Also, the curving contours contrast very nicely with the straight lines in the pergola and chairs. It's always nice to play a little with your design elements. It adds interest to any outdoor area and the result is pleasing to the eye.
The shading and protection from the sun and rain are also pretty efficient with this covering. It would need cleaning from time to time, and after a few years would probably need replacement. But it will serve you well.
14. Fabric Sail Covering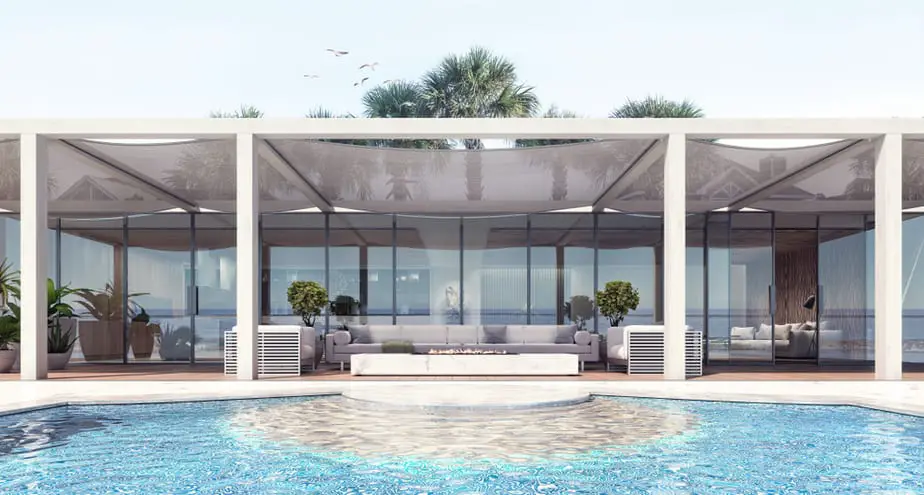 The great thing about shade sail coverings is the large spans of cloth you can have, and the way it spreads over the pergola. It's durable and lightweight, so you can install it yourself, and it's also a budget-friendly choice.
The sailcloth will keep most of the harshness of the sun away, but some of the sunlight will filter in to let you enjoy a beach cabana vibe. You might have to remove it for the winter, but that shouldn't be too difficult. It's very suitable for most pergola styles but would look best on a simple modern pergola.
15. Patterned Wood Panels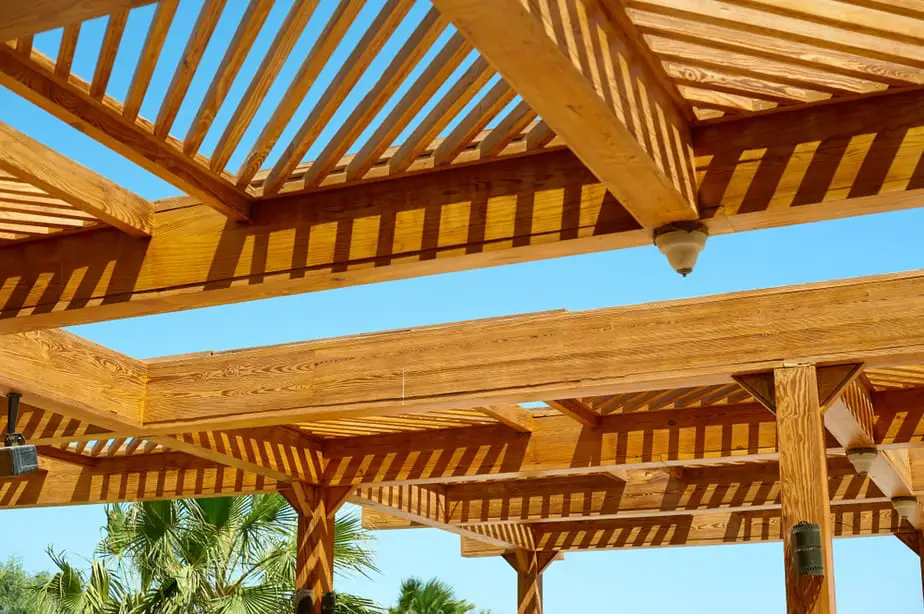 Wood is rich material; its texture and color add so much value to any structure it's used on — and it can look even more interesting if you style it into geometric patterns. Each panel is oriented as a mirror to the next, and the light that passes through inside the pergola is absolutely stunning.
It doesn't provide total sun and rain protection, though, so it's a pergola roof best for mellow weather. You just look up and enjoy all the sun and sky from where you are!
16. Grapevine Covering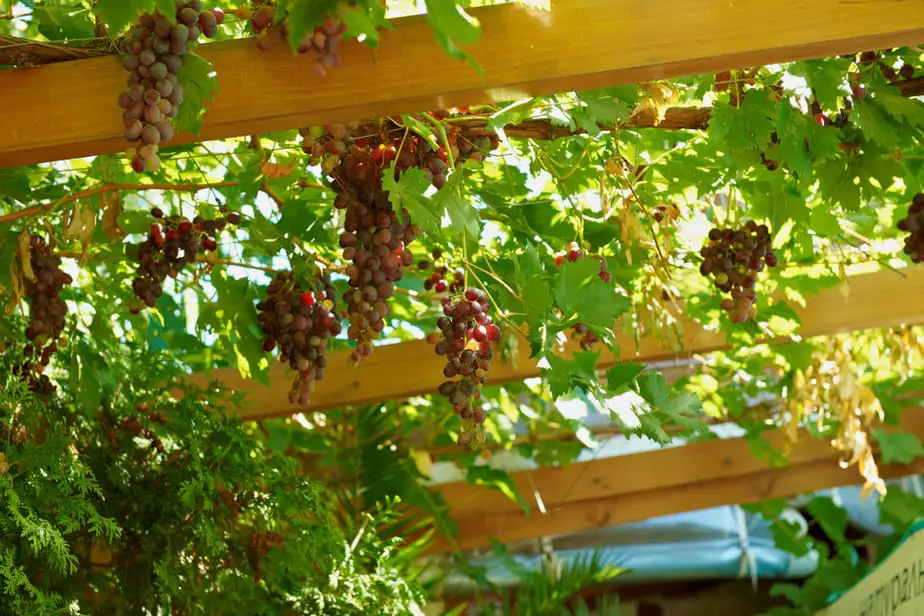 Plant coverings on a classic pergola are a truly lovely idea to provide shade and tasty fruit at your fingertips! And even before you get the grapes, the fragrance of the leaves and the blossoms are so refreshing.
A grapevine covering needs some pre-planning. Gardening is a process, and plants take time to grow. They also need constant tending. Do this if it's part of your gardening routine. It would be a lovely fit, and you wouldn't feel it's any extra work.
17. Curved Wood Covering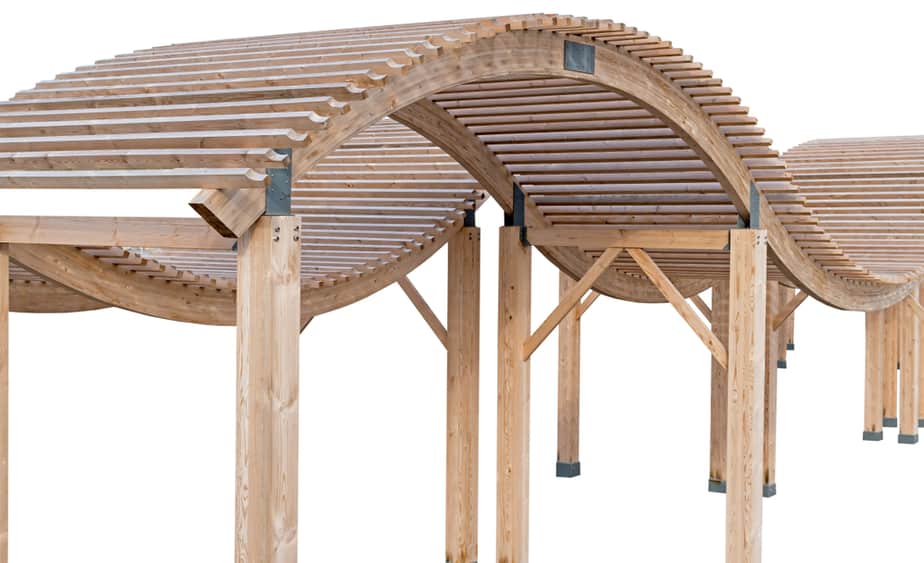 Working wood into a pavilion, or any other curved shape is much easier than it looks. It gives your pergola a graceful appearance with just a little extra effort.
Wood always needs a protective veneer, it doesn't weather the rains that much. The woodwork covering is so pretty, you would naturally want to keep it in good shape for as long as possible.
18. Branch, Wire, and Creeper covering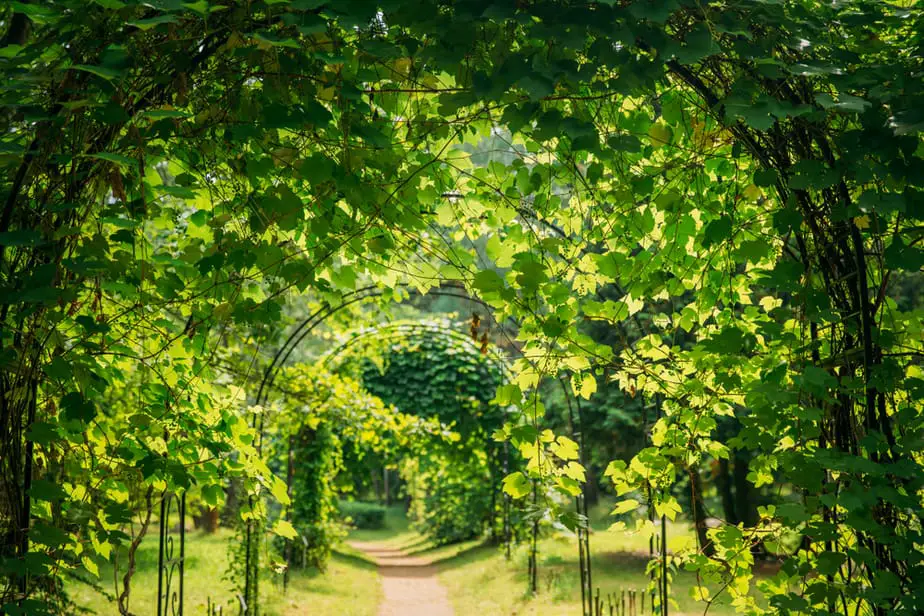 You don't need a very solid wood or metal structure to grow a creeper. That's why this diy pergola could be a very economical solution for a budget-friendly pergola. The effect you get from the climbing vine, however, is fantastic and fairytale-like.
This solution is obviously seasonal, it takes time to grow the creeper, and it needs constant gardening. I have to say though that each and every one of these tasks is a lot of fun, and watching your plant as it grows day by day is total bliss.
This shading choice is lovely in every way!
19. Straw and Creeper Covering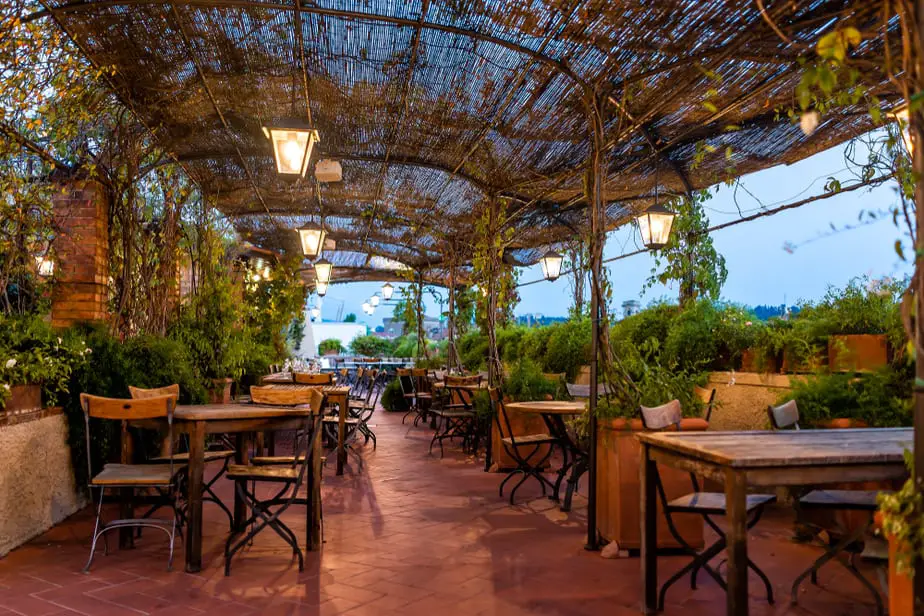 Using natural materials in your projects is always lovely and eco-friendly. This pergola covers idea automatically gives the vibe of vacations and leisure! It will let in the sun and the air but in a filtered and enjoyable manner.
This covering is easy to construct, and it's easy on your wallet, too. It's not going to suffer too much in winter, so it's going to stay with you for a good while. It would also need very little maintenance, just the watering, and tending of the creepers.
20. Interlaced Fabric Covering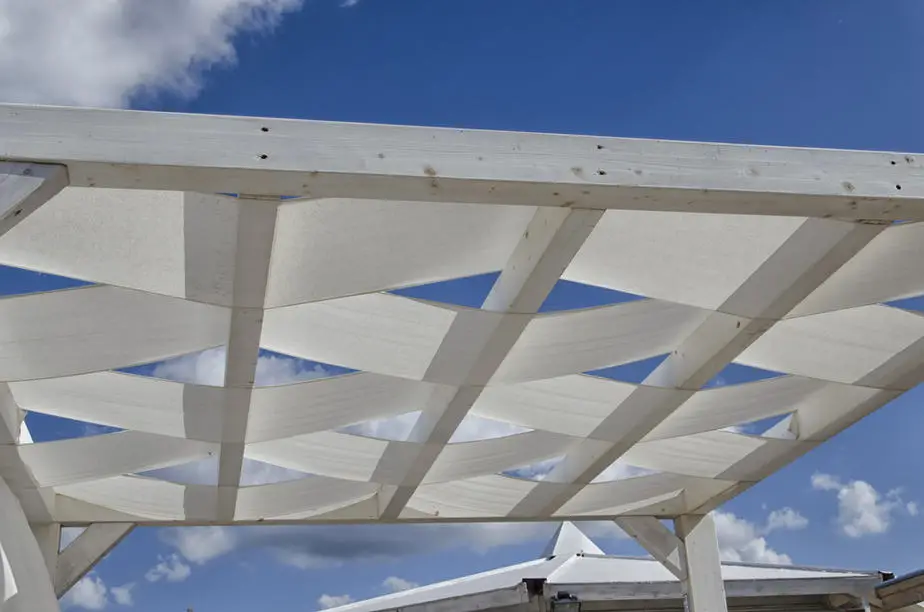 This fancy and pretty covering is so easy to construct and set up! It gives shade to any outdoor living area in a lovely and ethereal way. The interlacing of this pergola covers idea is very elegant and aesthetically pleasing. And it would fit almost any design style from the very classic to the very modern.
It's not a winter choice, though, and would need cleaning at the beginning of the season. In the meantime, you have the whole summer to enjoy its beauty.
21. Polycarbonate Cover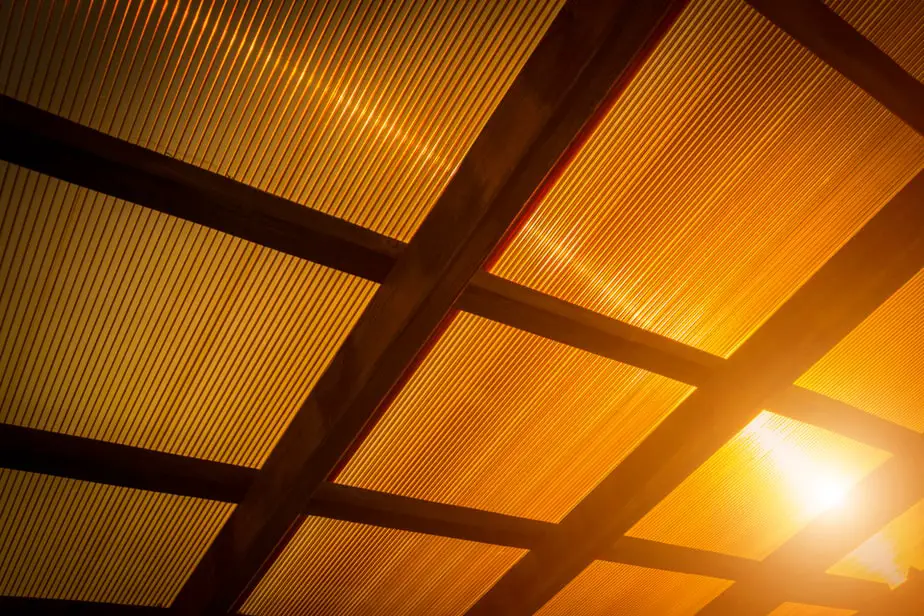 Polycarbonate pergola covers are sturdy, solid, and would keep all the harsh weather conditions at bay. It's not too costly, but it might need some professional assistance to install. After you set it up, there's very little you have to do to keep it in good shape. Just a routine clean up and it's good to go!
22. Decorative Wood Covering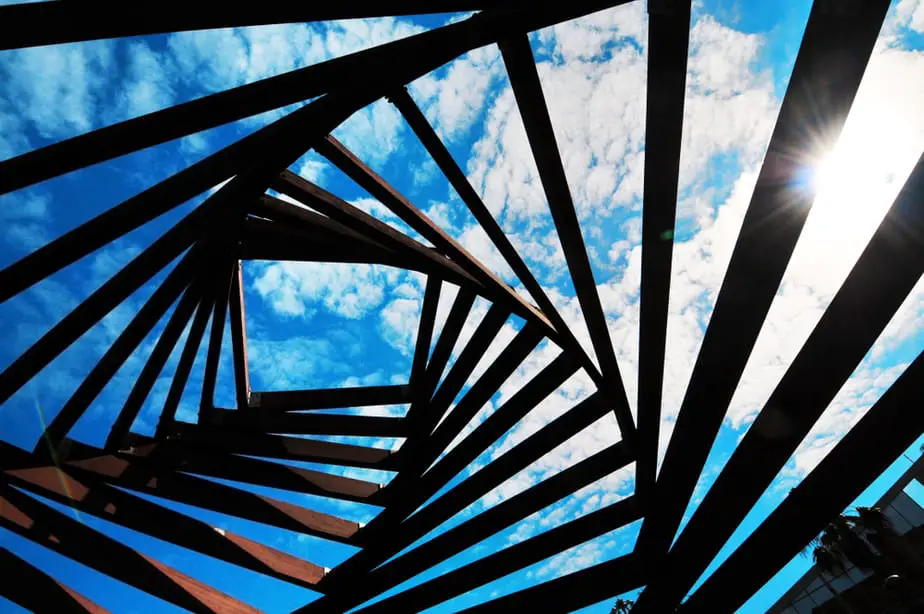 This is another variation of how decorative wood can be shaped and applied. With this pergola covers idea, the covering is not flat, it's literally spiraling to the blue sky! When you look up, it's amazing to see something interesting, right?
23. Flower Covering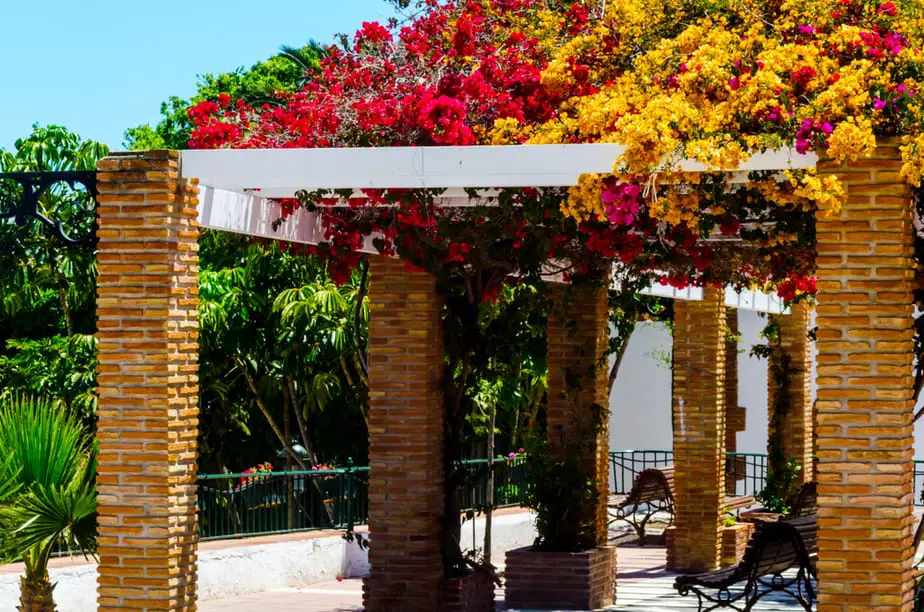 Creeping plants are pretty, but these flowers are absolutely gorgeous! And they look stunning on this brick and wood pergola.
Benefits of Having a Pergola
Now that we've shared our favorite pergola covers ideas with you, let's take a look at why adding a pergola to your outdoor space would be a beneficial and worthwhile investment:
Pergolas are beautiful structures. The most obvious benefit of having a pergola is that they add extra design points to your backyard and increase the overall value of your home, should you ever decide to sell. As we've seen throughout this article, there are endless ways to customize your ideal pergola to match the theme of your home.
They take up a good deal of space. If you have a large backyard that feels empty, a pergola is an excellent way to fill in dead space. They're generally quite large structures and will draw the eye of your guests and make your backyard feel more complete.
They're great as an outdoor lounge area. If you don't have a deck or your patio isn't covered, a pergola makes an ideal outdoor lounge space. They're visually appealing, provide protection from the elements, and are just cool in general to sit under.
They provide shade. If your backyard doesn't have much shade, a pergola will give you a place to sit during hot summer days to get out of the sun. They're also great for providing shade for potted plants and pets who like to spend a lot of time outdoors.
Pergolas are great for vined plants. Vined plants are beautiful and great for filling in voids in your garden, but they require a structure to help them spread out in a non-invasive way. A pergola is a perfect structure for this, as they're very tall and will give your vined plants optimal exposure to the sun and more than enough space to spread out.
Pergolas provide additional privacy. We've all had trouble with nosey neighbors at one point or another. A covered pergola will give you that extra little bit of privacy when your neighbors are too close for comfort, especially when you cover your pergola with curtains or plants.
When it comes down to it, if you have the funds, a pergola and pergola covers is one backyard design idea that you won't want to pass up.
To Wrap it All Up
When you make your pergola plan, the pergola covers and the overall pergola design should reflect not only the extra sun but also your style, and match the overall vibe of your home and its surroundings. There are so many pergola covers to choose from, but after going through our gallery, we hope you found the one you like best!