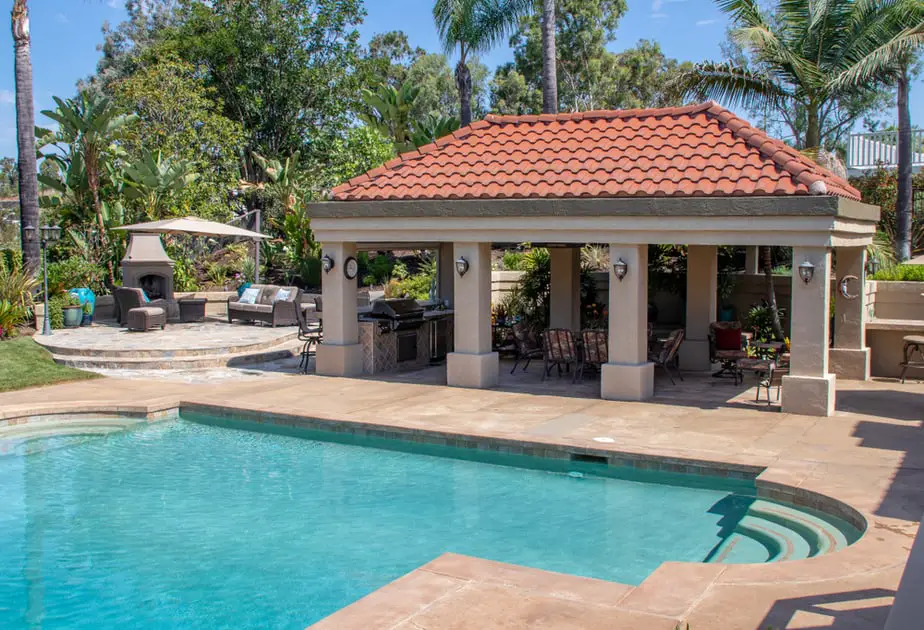 Few structures add flair to your house more than these backyard cabana ideas. Just imagine that open space you use to store old stuff turned into this simple but magical structure. It instantly calls to mind vacations, entertainment, and relaxation.
Building a cabana in your backyard is not necessarily a big, costly project requiring plenty of space and cash. It could be very simple, or as stylish as you'd like it to be.
You can have a wooden pergola with a few comfortable chairs, or a stone structure with a barbeque grill, a granite bar, a huge TV screen, a backroom or a guest suite, and a fireplace to warm it all up.
The cabana is an integral part of your house, so it needs to be well matched to its design. This doesn't mean that it has to be a mini-me or younger replica of the house. Contrast is always sweet, you can certainly mix and match.
Changing designs on paper is easy, but once you build something, these changes become costly and difficult. Take your time in planning your cabana, think about your needs, and consider the construction requirements. Then, go ahead and build it.
It helps to take a look at various ideas, and in time the perfect cabana ideas will materialize in your imagination, and then in your backyard!
Here are some of our favorite backyard cabana ideas.
Our Favorite Backyard Cabana Ideas
Poolside cabana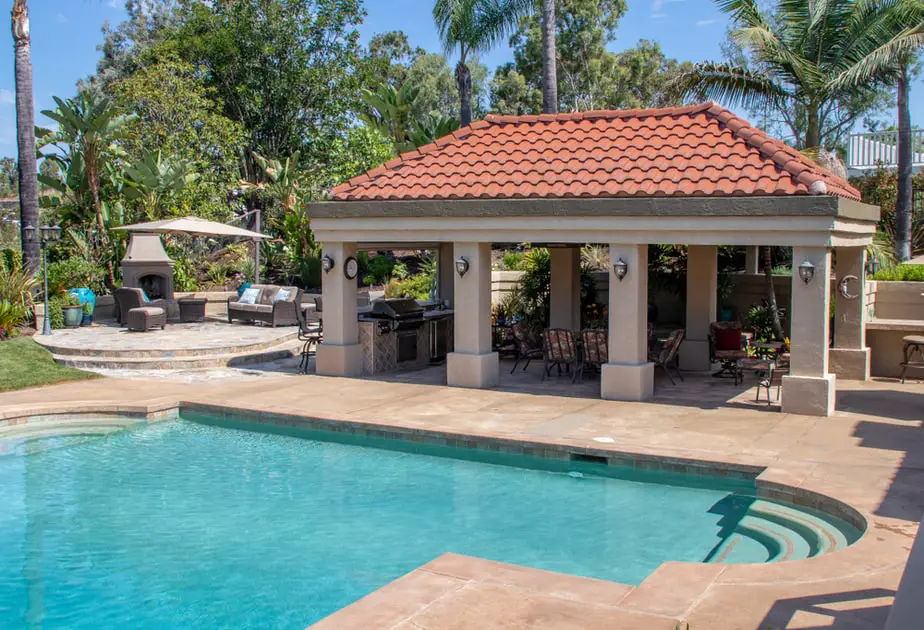 If you live where the weather is sunny most of the year, and you have a swimming pool, the best cabana would probably be a poolside shady space, open from all sides with only the simple columns holding it together. The slanting tiled roof and glass lanterns hanging on the columns give the cabana a homey but elegant style.
The cabana has a barbeque grill and a cheerful dining set. I imagine it would be great for snacks, refreshments, and a shared meal after all the swimming and playing.
There's another space to the left, it's not roofed, and much simpler, but it adds variety, more options, and seating arrangements.
Simple garden cabana with fireplace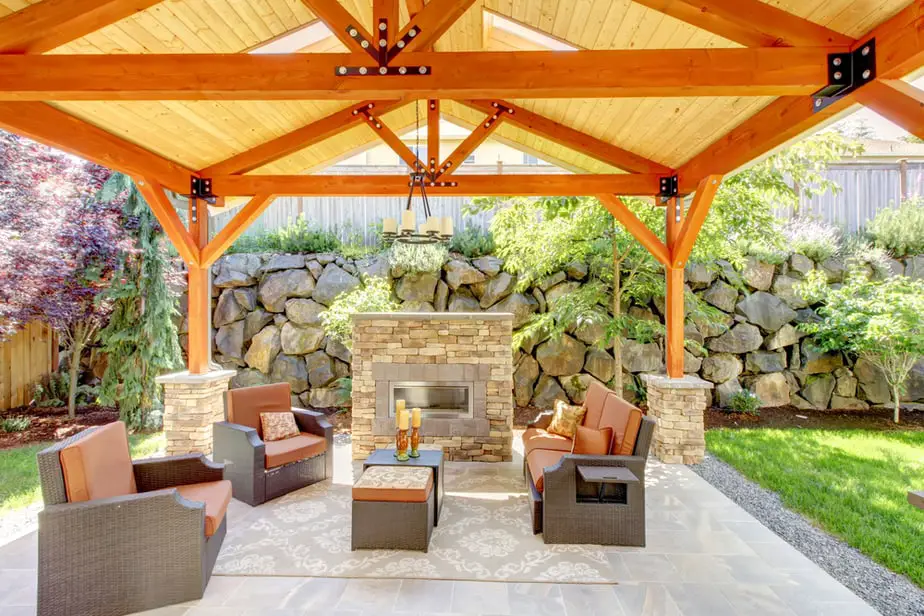 This smartly designed cabana is sweet and warm all year around, it's good for summertime get-togethers for your close friends, and just as cozy in winter mornings for a quiet cup of coffee, or late night catching up with a friendly neighbor.
The chairs and love seat are very functional, and the cushions add interesting accents. The fireplace is the centerpiece, and the reason why it's going to be your favorite spot in the house even on those cold nights.
Cabana with outdoor patio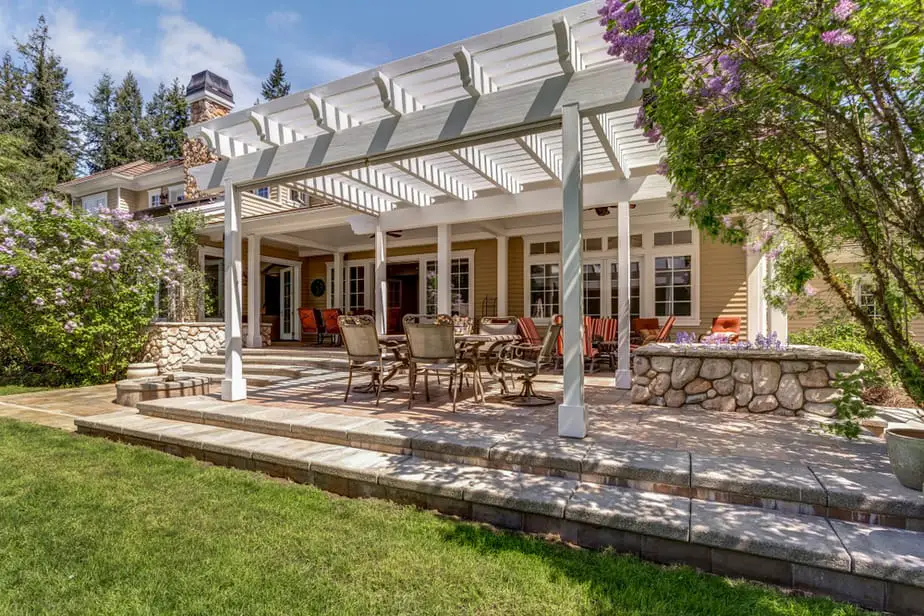 This cabana has two parts: a closed guest house, and a patio. It would be amazing in spring with the garden in full bloom. The guest house would naturally have a minibar and a kitchenette, so you can spend time over there entertaining friends or chilling alone.
The white pergola is the main attraction here. It goes so well with the accents in the walls of the guest house, the stone fountain, the floor tiles, and the rest of the garden.
TV-corner cabana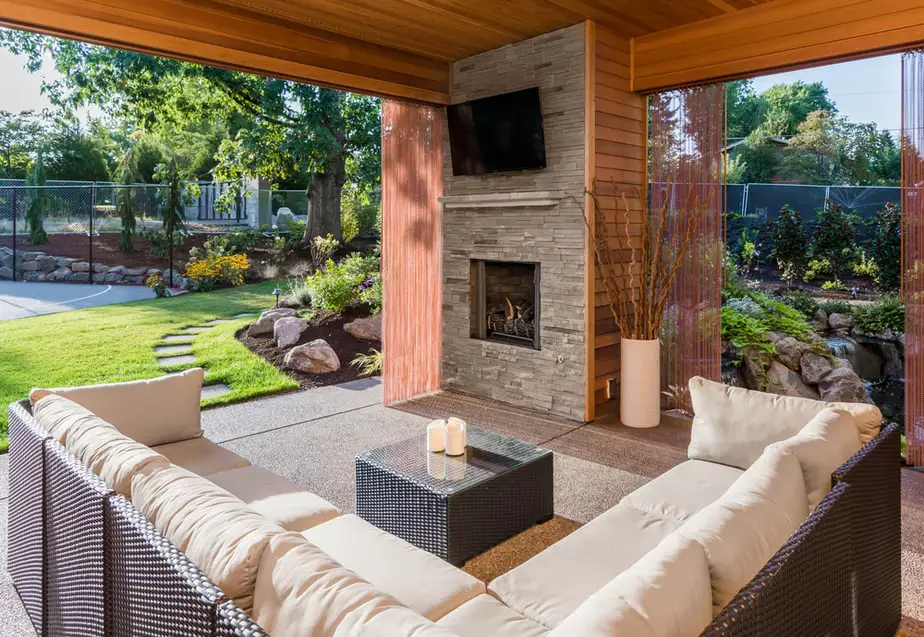 This design is so basic and focused. You can have a space that caters to your whims. That's really the whole point of adding a cabana in your house!
The TV is clearly what is required here, and the rest is just a support system. The L-shaped sofa lets you share the fun with your close friends, and the fireplace ensures that it's always toasty and warm in there!
There's a sliding curtain on all sides to adjust the scene as you please. You can keep it airy and cool, or warm and secluded. Flexibility is always good.
Modern style cabana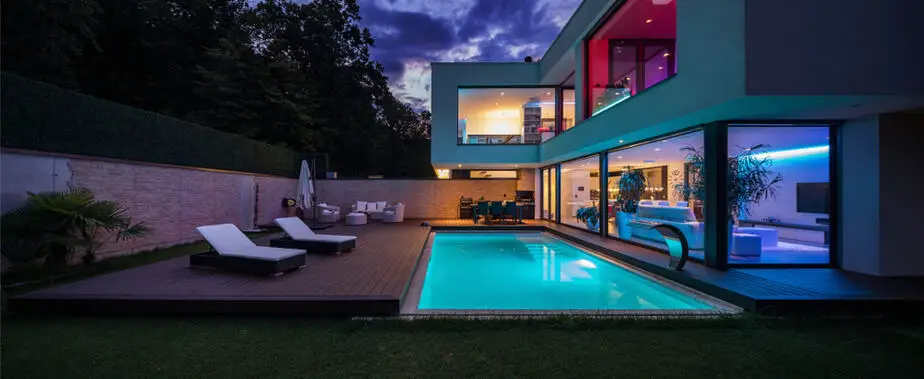 This part of the house can be adapted as a separate poolside cabana. I found the design irresistible.
A two-story, sharp-lined cabana in your backyard can be a haven, not just a shed for refreshments. The balcony and all the glass walls are so slick and elegant. The bold colors and statement lights keep it welcoming and vibrant.
It can easily become a guest house or the place where the best cocktails parties happen!
Chillout cabana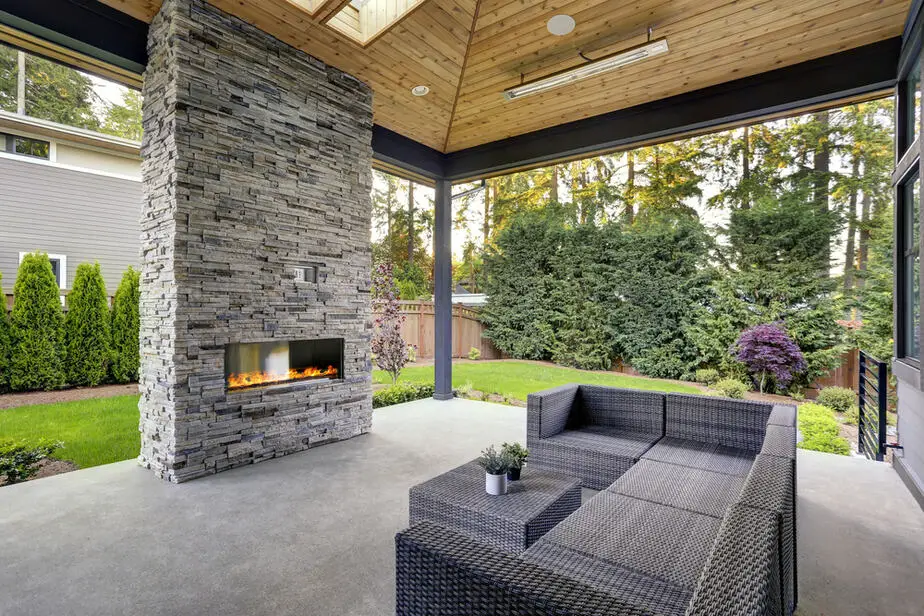 Sometimes all what you need is a shaded place in the middle of a garden. A fireplace and a comfortable sofa would be everything.
That's exactly what we have here. This cabana doesn't distract from the scenery around it, in fact, the colors are so neutral and in tune with the garden.
Snacks on a game night cabana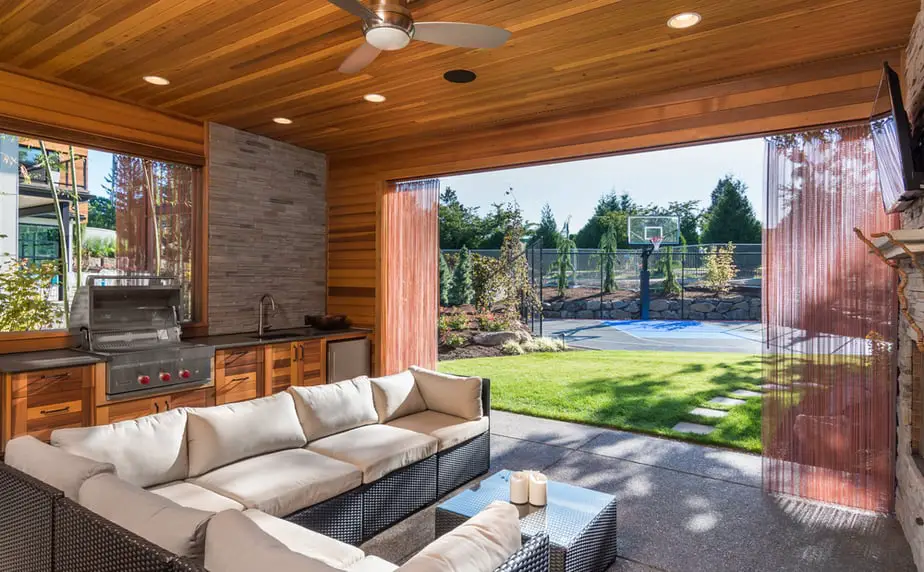 Chilling with snacks in front of the TV is a well-earned break after a long day at work, and you can have it at your backyard. The ceiling fan and fireplace make the ambiance as pleasant as possible. It's all about comfort here.
Vacation cabana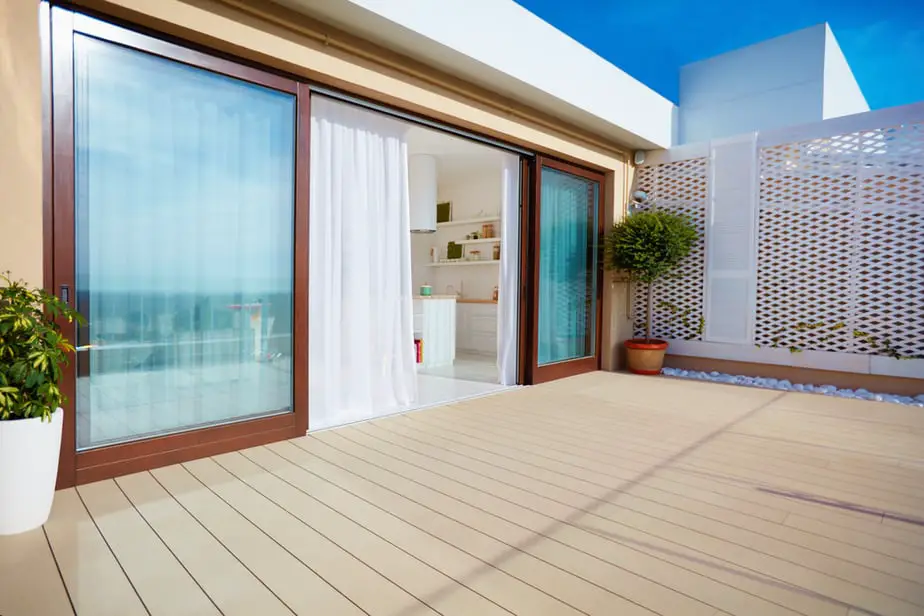 This cabana is inspired by the design of vacation cabins in a beach resort. It has an extended open space that can be used as a patio, with a barbecue grill, minibar, and all the little gadgets that would recreate the seaside fun times right at your backyard.
Stone cabana with fire pit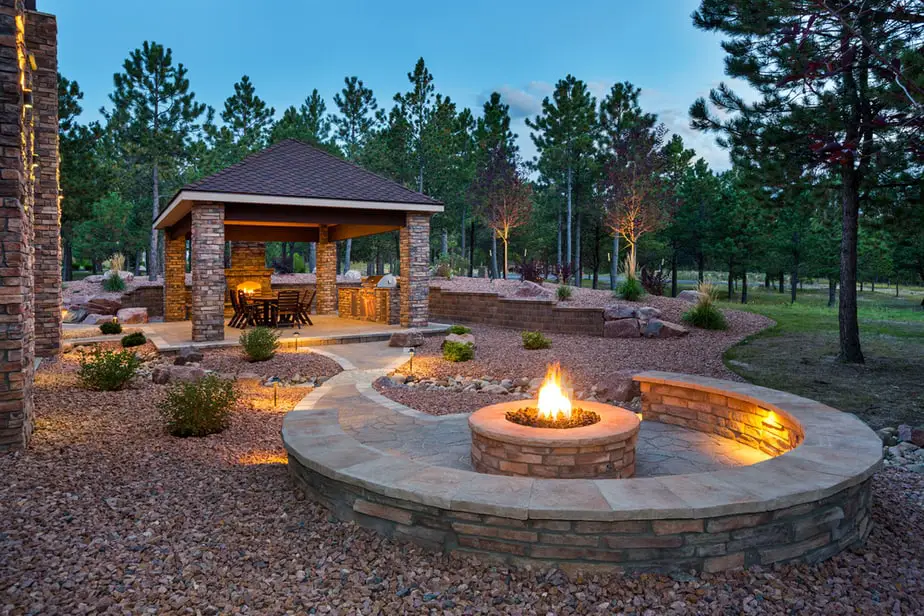 This cabana is very simple to build, it's just four columns, a tiled roof, and a fireplace. The circular fire pit is a lovely centerpiece that leads into the cabana. It also gives a bonfire ambiance to your gathering.
Tent cabana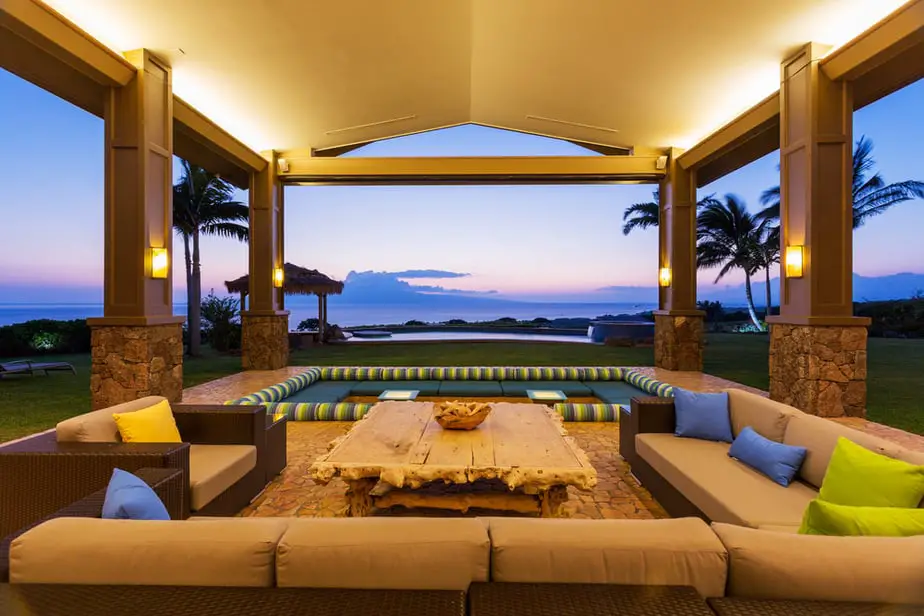 This cabana is constructed along the lines of a tent, but it's in fact way more solid than the canvas of tents. It uses the roughness of wood and stone to further convey the exotic trip atmosphere.
It's open from all sides, so it would be most pleasant if the weather is mellow. A picturesque view would be great too.
Colored glass cabana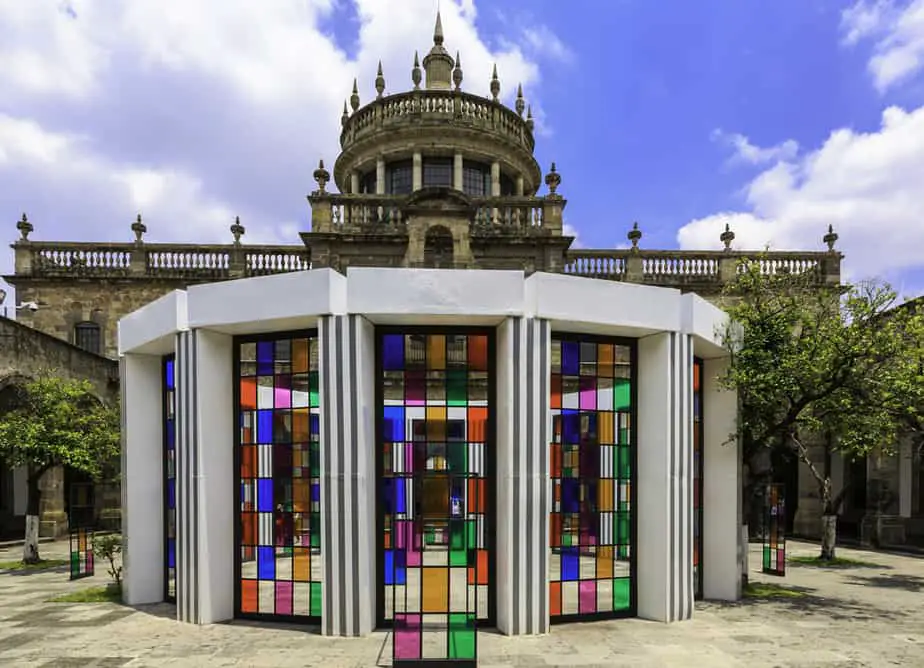 Everything about this structure is original and eye-catching. The circular cabana, white striped columns, and geometric patterned stained glass all come together in a fascinating timeless piece.
It's probably best suited for the avant-garde artistic home, or if you feel that your backyard could use a bit of color to revive it.
It's a winter room you can have your guests in, or just a pretty place where you can have some me time whenever you feel like it.
Garden cabana with blue sofas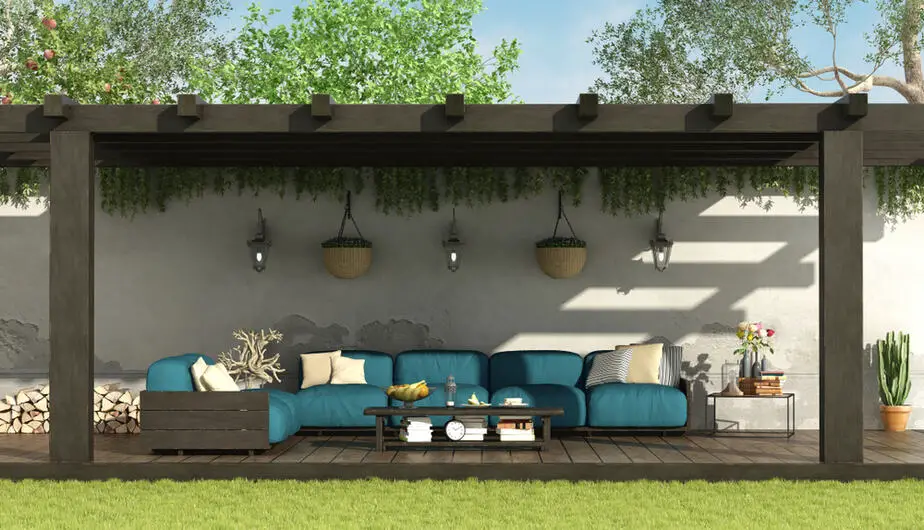 The big effect here comes from two design elements: the unity of color of the pergola and floor, and the complementary blue color of the sofas. This is a strong statement design, and it's always a pleasure to be around such beautiful places.
It's great for mellow weather, as it's open from three sides. It would be best to set up the cabana at a close distance from the main house, that would make getting refreshments much easier. Having friends here would be such a treat.
Wrought iron cabana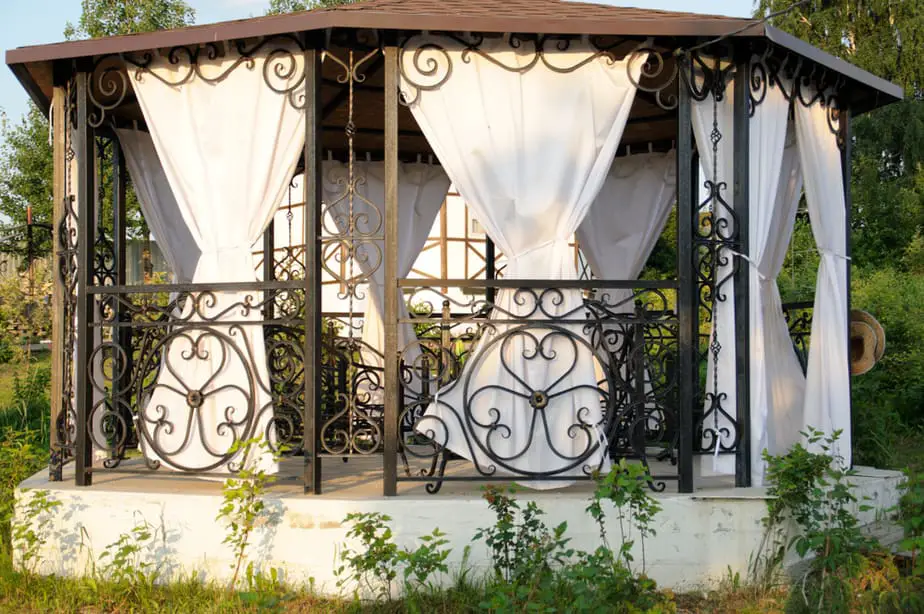 I'm a big fan of wrought iron and wood in anything, so furniture, decorative artworks, doors, or cabanas, I'm all for it!
The hexagonal shape and elevated stone base give this cabana a small town gazeebo look. The white curtains soften the effect of the iron and contrast beautifully with it.
You can add a matching wrought iron set of chairs and tea table, for a country club-like ambiance.
If your garden has fragrant flowers that would be amazing, if not, plant some around this dreamy cabana. I personally suggest jasmine, carnation, and an orange tree.
Colored brick cabana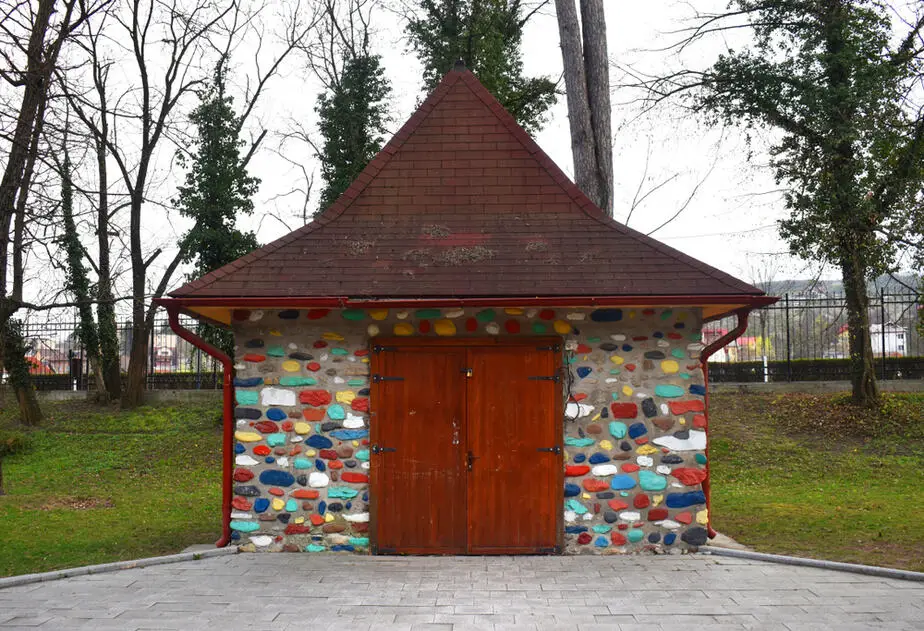 This fairytale-like cabana is quite original and cheery. The colored bricks and little house structure make it part of a modern day fairytale.
It's clearly very suitable for a house that has little ones running around, but it's also great as a reminder of your own childhood days. Joy and innocence can be recreated in a backyard cabana.
Terrace cabana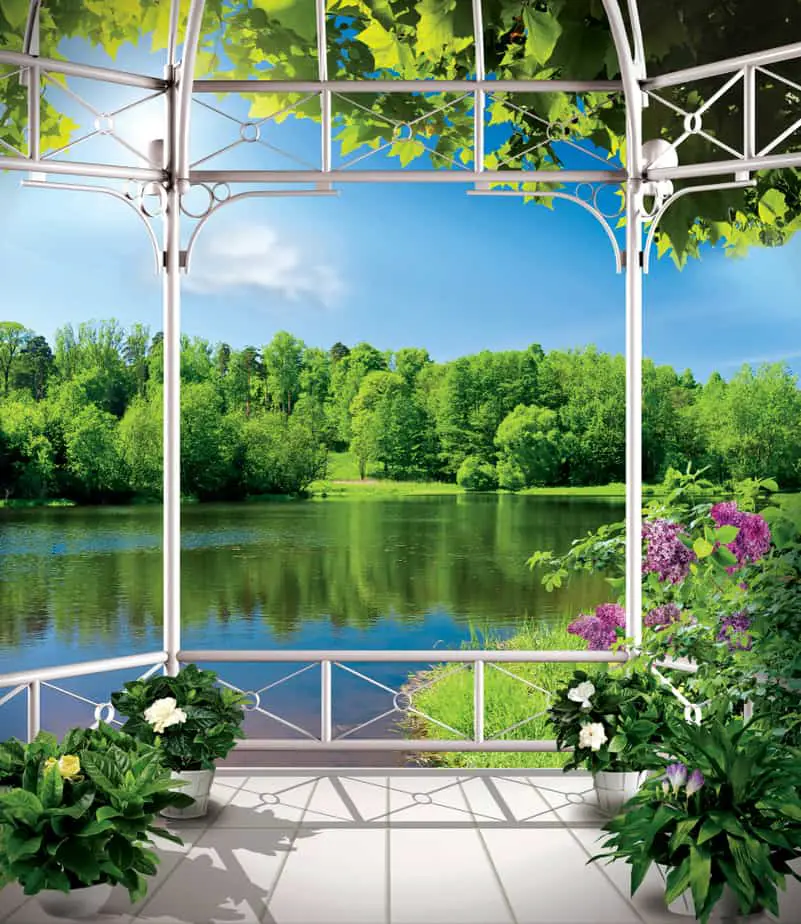 If you have a stunning view like this, you might want to have an open structured cabana. The smooth lines of the metal panels and distribution of potted plants make the cabana feel as picturesque as a classical painting.
The beauty of this cabana isn't just inspired by its surroundings, it actually blends seamlessly and adds flair to all that serenity.
Pagoda style cabana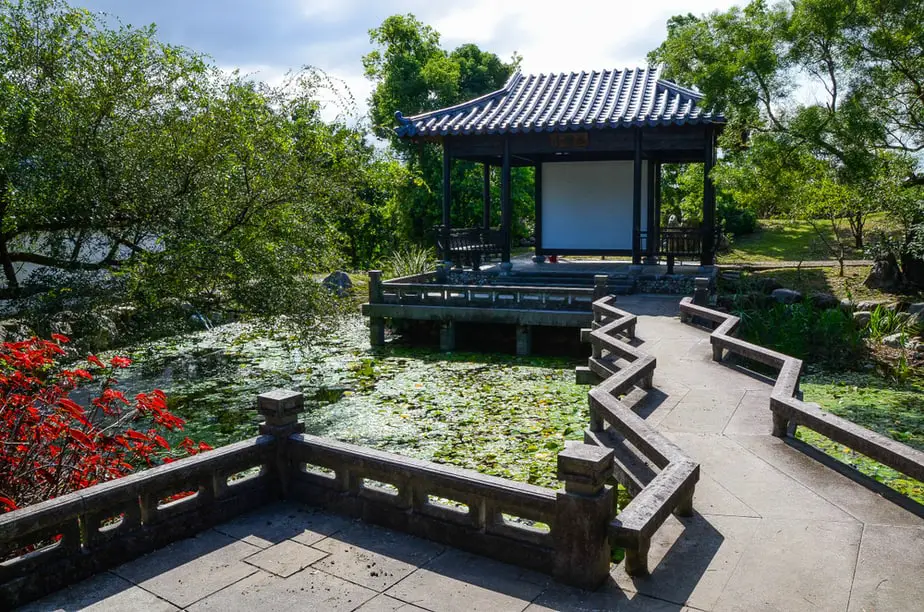 Many design elements make this cabana original, interesting, and very easy on the eye. The Asian architecture is a direct inspiration for this structure. It's very cozy and would be a wonderful addition to your garden or backyard.
The zigzag entrance and asymmetric tiles also add interest and make this design so unique. It's very welcoming and leads you and your friends right in.
If your garden is pretty and rich with flowers and blossoms, then this cabana would be an amazing retreat.
The cottage cabana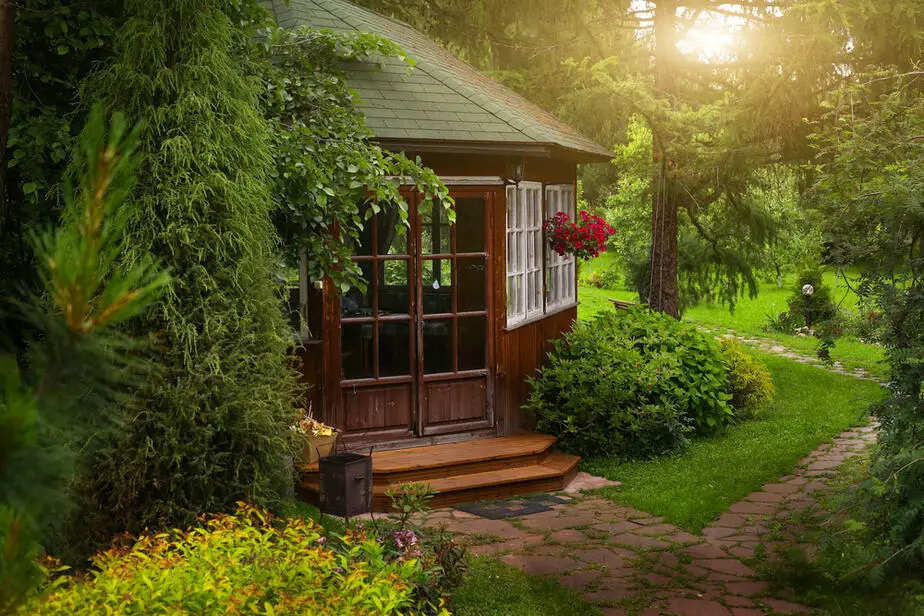 This cabana has a lovely serene mood. It's amazing if the weather is mostly cold, and you'd like to enjoy your garden but still stay warm.
It can easily serve as a guest house, or if you have a garden party, it could be the perfect spot for preparing refreshments and snacks.
The curved wrought iron cabana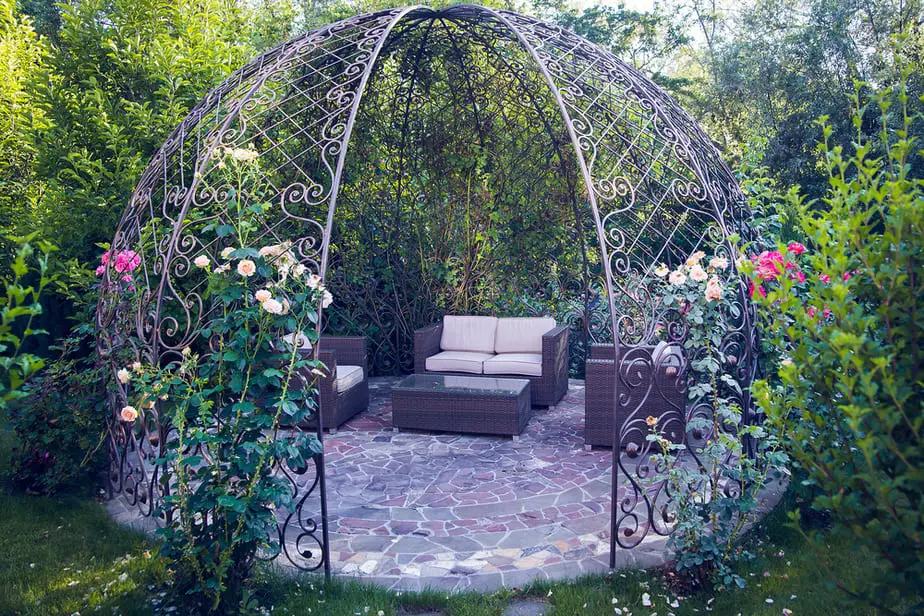 Not many materials can be worked into that shape, luckily, wrought iron lends itself well to curves, and also all the intricate patterns adorning the structure.
This cabana is a brand new idea so it would be a one of a kind work of art in your backyard!
The simple chairs and tea table set are made from a matching natural material and solid color. There's already a lot of work in the iron, so you don't need to add much more in the interiors. Just enjoy the view and the stunning structure!
The oriental cabana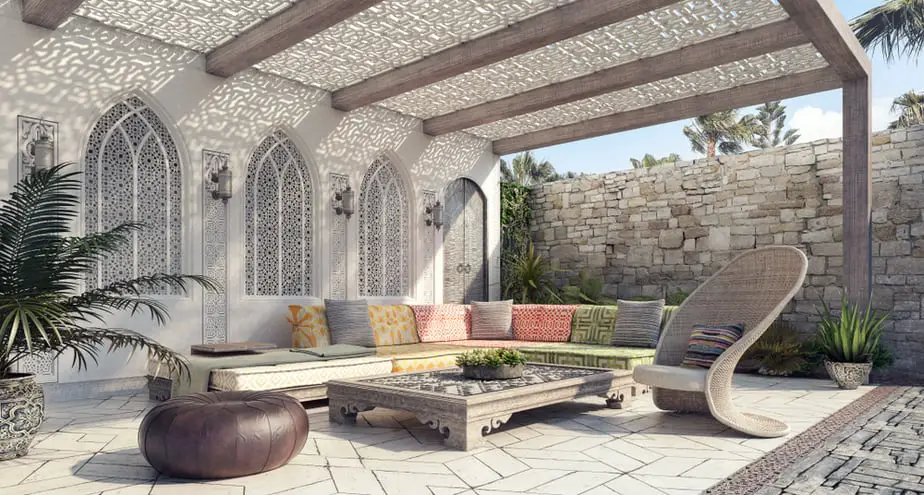 The oriental elements aren't overpowering in this cabana, just enough touches to add interest. The prettiest one is the patterned canvas covering of the pergola. It takes the sunlight and filters it through the arabesque patterns, letting the seating area have cool shade, and projecting playful shadows on the walls and floor.
The windows, floor tiles, table, and cushions add to the same mood. This might be hard to integrate if your house has a distinct style that's very different, but if you have an opportunity to mix and match, having an oriental vacation cabana in your backyard would be your daily escapade from the grind!
The main part can be used as a guest house, you can supply it with a kitchenette, minibar, TV, or any number of recreational additions. And of course, you would enjoy the amazing patio and share it with all the people you love.
To Wrap it All Up
A backyard cabana is not like the dining room or living room, it doesn't have to serve a certain function, but it has to be a dream come true. It's a mood, a fantasy, and a place designed for sheer pleasure.
Get creative and be free-spirited when you choose the cabana of your dreams.