Improving the appeal of an outdoor space is easy with a final touch that blends beauty and functionality – like a solar hanging lantern. Overall, solar lighting fixtures provide the most eco-friendly way of illuminating gardens, patios, driveways and more.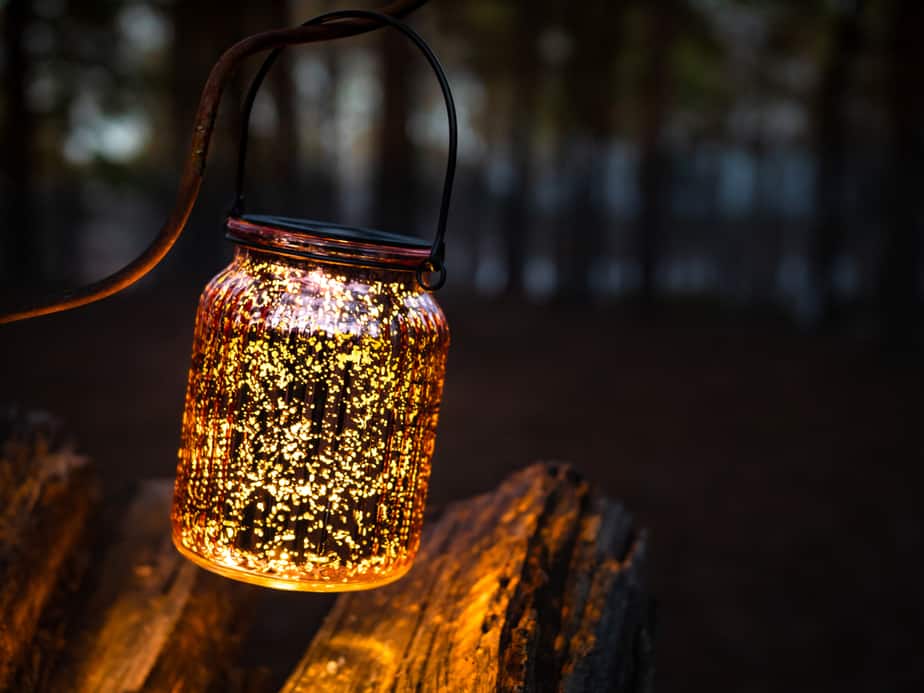 With the best solar hanging lanterns, you can add some warm, subtle accent illumination to your space. In this article, we've recommended top-rated hanging solar fixtures and provided a guide to help you find one that meets your needs.
In a Hurry? Here's Our Top Picks…
Features to Consider When Buying Solar Hanging Lanterns
Purpose
Every buyer will have specific needs. If you're purchasing this fixture to take to a camping trip, then you'll have different requirements from someone who's purchasing it to decorate their patio.
Generally, the applications for solar hanging lanterns are:
Decorating
Camping
Illuminating areas like patios and gardens
Emergencies
If you're planning to hang it in your camping tent or use it for extreme sports like climbing, then you should look for one that's durable but also light enough to carry around.
Nonetheless, if you intend to use it only for emergency situations, you may want to find a solar lantern that has unique features. These include capabilities like power bank, USB ports or backup batteries that can be used as a source of power when there's little sunshine.
Environment
In addition to considering the intended purpose, you also need to think about the kind of conditions it will be subjected to – these include wind, dust, water, snow or frost. Each of these elements will have a different impact on your hanging lantern and could affect its performance.
Good news is: a good number of hanging lanterns are designed for the rugged conditions of outdoor settings. By this we mean they can handle small splashes of water, rain, and dust. That said, this doesn't necessarily imply that they can survive a flood or frequent tumbles.
So if you're planning to take your solar hanging lanterns outdoors, ensure it's certified waterproof. Also, a hard plastic/vinyl construction is better suited to tolerate extreme climatic conditions compared to glass.
On the other hand, if you'll only use it in your backyard for summer barbecuing, you'll probably not need the water-resistance capability. Thus, you can save a few bucks by choosing a non-waterproof model.
Battery Life
With the exception of a few models, the majority of solar hanging lanterns rely solely on solar energy. This is not the kind of lighting fixture that you can plug into a wall socket and charge whenever it runs low.
While this saves you money on utility bills, it also leaves you in a bit of a pickle. If the weather is cloudy for an entire week or even a couple of days, your solar-powered battery may run out of juice.
The batteries of most solar hanging lanterns are designed to last for 8 to 10 hours. Only a few fixtures are advertised as being able to illuminate for up to 24 hours. Overall, a quality fixture should be capable of staying on for one whole night and then charge to the maximum the following day.
Lumens
Lumens are a measurement of how bright the solar hanging lanterns are. The majority of these fixtures come equipped with LED bulbs, which naturally illuminate brightly.
Nonetheless, you could be looking for a soft decorative accent to use in a setting that doesn't require the overly bright light. If you look through our options, you'll find several lanterns that provide either white light or warm light.
As a rule of thumb, opt for lanterns with at least 5 lumens for decorative applications and 40 lumens for the main lighting. Here's a simple guide that compares lumens relative to the bulbs' wattage:
5 lumens = 0.08 watts
15 lumens = 0.25 watts
30 lumens = 0.5 watts
50 lumens = 0.8 watts
Top 10 Solar Hanging Lanterns
1. Maggift Retro Star Hanging Solar Landscape Lantern: Best All-Round
Maggift 2 Pack Star Solar Lantern Solar Powered Decorative Hanging lights for Indoor Outdoor Halloween Christmas Garden Patio Yard Holiday Party
Retro Star Solar Lantern: Powered by solar, made of iron, the ambient glow fills the area with brilliant and beauty, rustic looking style hanging solar lights can be as a fine landscape accessory. Magical and beautiful make bright stars projected all across to your porch yard landscape garden. Perfect for Halloween, Christmas.
Extremely Wide Application: These Solar Lantern can be hung on porches, trees, pergolas with the hang ring or rested on a table top, ledge. Add warm color to your patio, porch or outdoor space with this beautifully crafted solar powered lantern.
Premium Quality: 2 Pack, the warm white LED is 6 lumens for added brightness. Measures: 6.3x 6.3x 6.9 inches. Each lantern includes 1 x AAA 400mAh NI-MH battery, High quality solar panel, when getting enough sunlight, the lantern will be turned on automatically and can last for 8 hours or more at night.
Weather Proof: The decorative solar lights are made of high quality plastic and metal with rust protection. Waterproof solar panel is suitable for outdoor use, no worries about rain, snow, frost, or sleet.
Warm prompt: When you receive solar lights, please press ON button then place the light cover upside down at the table to keep them in the darkness to check whether the lights will light up or not. Please slide the top off, there is ON/OFF button inside the light lid, make sure you press ON button before charging.
Last update on 2023-11-21 / Affiliate links / Images from Amazon Product Advertising API
Manufactured using iron, the 2-Pack Retro Solar Hanging Lantern offers a good balance of features and pricing.
The dimensions of each lantern are 6.3 x 6.3 x 6.9 inches, and it uses a white LED bulb that churns out about 5 lumens. Thus, it's bright enough to illuminate a standard outdoor space.
Another pleasant feature of the Maggift lantern is its energy efficiency. This fixture is designed to automatically switch itself off at dawn and then back on at dusk. This is a handy mechanism for those homeowners who forget to turn the lights off in the morning.
While it's advertised as a hanging lantern, the Retro Star offers a great deal of versatility when it comes to mounting. You can suspend it from trees, porches, and pergolas as well as place it on a flat surface like a tabletop or ledge.
Every lantern comes with 1 solar-driven AA 400mAh NI-MH battery. When this gets enough sunlight, it can operate for 8 hours straight.
Pros:
Backed by a 3-month warranty
Flexible mounting: can be hung or rested on a horizontal surface
When fully charged, it can last for 8 hours
Automatic on/off system to save on energy
Cons:
Check Price and Reviews on Amazon
---
2. Hanging Solar Lanterns by SHANNA: Runner-Up
Hanging Solar Lights, Outdoor Hanging Lanterns Lights Solar Fairy String Lights Outdoor Dusk to Dawn Auto On/Off for Garden Patio Yard, Warm White - Christmas Decorations (2Pack)
【Solar Deacorative Lighting Outdoor】it is a decorative landscape light,the warm white fairy string lights Christmas Day, 5.5" x 3.5" x 3.5", with a metal clamp and ring, the solar lantern lights creates a warm, joyful, and festive ambience to decorate your party, holiday or wedding outdoor umbrella, tent, tree.
【Solar Powered Dusk to Dawn Auto On/Off】Turn the bottom switch to "AUTO", the solar lanterns lights will automatically charge itself during the day and light up at night, no wires needed.
【10Hrs Long Working Time】With high efficient solar panel, after being fully charged under the direct sunlight, the umbrella lanterns solar lights can last 10 hours. Charging time: 6 hours. Note: working time and charging time will be influenced by weather condition, season.
【Two Installation Ways】Equipped with a durable hanging lamp and a circular ring, this solar lantern light can be hung or clip on anywhere you want. Also, it will automatically turns on at dusk and off at dawn.
【Waterproof & Guaranteed】Made of durable and waterproof ABS plastic, no more worries about raining, snowing and frosting, perfect for outdoor use. Also, we provide 45 days money back and 12 months warranty.
Last update on 2023-11-21 / Affiliate links / Images from Amazon Product Advertising API
If you're looking for a brighter option, the Hanging Solar Lanterns by Shanna are a great choice. These produce at least 7 lumens, making them suitable for decorating holiday parties, weddings, camps and more.
This particular set consists of 2 lanterns, each of which measures 5.5 x 3.5 x 3.5 inches. But if you want more illumination or lanterns to use in different rooms, these are also available in a 6-pack and 8-pack.
The key highlight of the Hanging Solar Lanterns is their long run time. While other fixtures work for a maximum of 8 hours, this one boasts a 10-hour run time. As long as they're fully charged – and this takes about 6 hours – they will remain lit throughout the night.
Another aspect that sets this hanging lantern unit apart is the versatility of installing. The fixtures use a clip-based hanging mechanism, giving you many options for mounting. You can connect them to a string of lights to increase illumination or you can use them on their own by hanging on a tree.
Pros:
Waterproof construction
Comes with auto on/off
10-hour long run time
Two ways of mounting
45-day money-back guarantee and 1-year warranty
Cons:
Not bright enough for some people's liking
Check Price and Reviews on Amazon
---
3. CHBKT 4-Pack Mason Jar Solar Hanging Lantern: Best Mason Jar Lanterns
CHBKT 4-Pack Solar-powered Mason Jar Lights (Mason Jar / Handle Included),20 Bulbs Jar Hanging Light,Garden Outdoor Solar / Hanging Lantern,Decor Solar Light,Table Light,Patio Path Light,Warm White
Creative Design:This scales pattern glass jar with metal carrying ring is made of premium thick glass. Round base with square body makes it attractive and special. Creative Solar Mason Jar Pendant Lights Firefly Lights with 30 warm white Micro LEDs, makes your surroundings romantic and fairy. Long lasting LED bulbs, little heat, safe to handle even after long-time use.
Specifications:Standard-size Mason jar with regular mouth, 2 3⁄8 in (60 mm) inner and 2 3⁄4 in (70 mm) outer diameter and height 5 1/9 in (130 mm).Magnificent copper wire with 30 LED bulbs. An On/Off switch underneath the lid, generally charge in the sun 5-8h will light up 8-12h (slide the switch to the "ON" position).Smooth base and bottle edge with no notches.Metal handle on the neck to provide high stress for load when hang it on.
Environmental Protection and Energy Saving:A solar panel on the top, 100% solar powered, no external wiring needed, easy set up. All you have to do is expose the jar to sunlight and let it recharge itself. A built-in light sensor ensure that it turns on at dusk and turn off by dawn automatically. When no enough sunshine, one piece AAA rechargeable baterry included can be a back-up.
Integrated Design & Better Waterproof Rank: IP65 waterproof.Integrated design won't let moisture percolate through the solar panels and O-shape seal ring won't let moisture get into the jars. Good idea for DIY outdoor garden patio deck wedding party Christmas decorations.
Versatility:A magic jar with warm white fireflies' glow is ideal for both indoor and outdoor use, providing you with countless possibilities. Specially for modern Wedding, kids room, bathrooms, dinner table, parties, cafe, showcase, birthdays, holiday, festivals, anniversaries, courtyard, camping and daily ornamentation. Easily hang on walls or in the air, also can put it on shelves, tables, porches, trees, patios and pergolas. Great gift to children, lovers, family and friends.
Last update on 2023-11-21 / Affiliate links / Images from Amazon Product Advertising API
Perfect for enhancing the mood or improving illumination in a space, CHBKT Mason Jars will add a touch of homemade, natural-looking charm to any setting.
They come as a set of 4 mason jars, all of which are filled with 20 LED warm white fairy lights. The fact that the manufacturer has opted for LED lighting confers several benefits. For one, you don't have to worry about the bulbs emitting heat. Secondly, these bulbs are long-lasting and safe to handle even if they've been on for a long time.
Another thing we love about this mason jar hanging lantern set is their waterproof capability. According to the manufacturer, the whole kit features a waterproof rating of IP65. This means you can comfortably leave it outdoors even when it's raining.
The mason jar fixtures operate for between 8 and 12 hours when they're fully charged, after a minimum of 5 hours in direct sunlight.
What's unique about this set is that even if they're not charged, perhaps because of insufficient sunlight, they can still function. The lights come with one piece AAA rechargeable battery for these situations.
Pros:
IP65 waterproof construction
The mason jars lighting design is chic
Built-in light sensor to automatically turn on/off
Suitable for indoor and outdoor use
1 AAA rechargeable battery included for backup
Comes with a 1-year warranty
Cons:
Perfect for ambiance but not that good for illumination purposes
Check Price and Reviews on Amazon
---
4. ANDEFINE Solar Hanging Lanterns: Best Value
Solar Lights Outdoor Hanging Lanterns, ANDEFINE Solar Lanterns Outdoor Waterproof Led Umbrella Lights Candle Lamps Hang on Patio Umbrella Shepherd's Hooks Tree (Yellow Light, 4 Pack)
Cute & Portable - LED solar lantern lights size: 3.46"x3.46"x5.5", with a metal clamp and ring. Easy to hang these solar candle lantern lights to anywhere you want. Lighting and decoration your environment. Perfect Christmas gift!
Auto Sensor - Slide the bottom switch to "AUTO",outdoor hanging lantern lights will automatically charge itself during the day and light up at night. Solar powered LED lanterns emit a faint yellow light and keep flashing, like the wind blows over the candle lanterns, create a romantic and comfortable space.
Weatherproof & Sturdy - Solar umbrella lights made of high quality ABS plastic and metal, withstand sun-scorched and rain-drenched, perfect suitable for outdoor use. Replaceable battery design let the solar lights provide longer service.
Widely Used - Solar garden lights with a cute clamp, very durable and powerful. Patio umbrella lights decorative lanterns can hung on umbrella, tent, tree and elsewhere. Decorate your environment when you are partying, camping, fishing and so on.
100% Satisfaction Guarantee - ANDEFINE solar lights outdoor lantern with 90 Days quality assurance service. Any problem please message us, and we will send new solar candle lights or refund to make you satisfied.
Last update on 2023-11-21 / Affiliate links / Images from Amazon Product Advertising API
At first glance, it may seem like this lantern set is pricier than our top pick. But the fact that you'll be getting 4 solar lanterns, makes the ANDEFINE Lights Set one of the most economical options.
Each of the lights is LED and measures 3.46 x 3.46 x 5.5 inches. Plus, they each come with a metal clamp and ring for a quick and easy installation. The umbrella lanterns can be hung anywhere; be it trees, tents or driveways.
The good thing about these lights is that they're weatherproof. Constructed using premium-quality ABS and metal, they're able to withstand extreme heat and downpours, making them suitable for outdoor applications.
Better yet, these fixtures use replaceable batteries. This means you can substitute with another set of batteries without having to purchase the entire lantern set.
ANDEFINE provides a 90-day guarantee for this product. So if any of them has a defect or malfunctions before this period elapses, you can ask for a refund or get it replaced free of charge.
Pros:
Sturdy, weatherproof construction
Replaceable battery design for maximum durability
Includes 4 quality solar lanterns
Stylish umbrella design makes them suitable for decorating
Cons:
Too small for some applications
Check Price and Reviews on Amazon
---
5. Yard Island Solar Hanging Cage Lantern: Best Design
Yard Island Solar Led Edison Bulb Large Hanging Outdoor Porch Garden Decorative Cage Lantern Light
Decorative - Beautiful, unique, and artistic steel cage design perfect for any yard, deck, patio, or outdoor venue. A unique high brightness LED edison bulb and hemp rope completes the modern retro look.
Fully Automatic - Senses daylight. Turns on automatically at night and turns off during the day while charging.
Solar - 100% solar powered and self operating. No wires. No headaches. Absorbs sunlight in the day and emits beautiful ambiance at night.
Reliable Battery - Large capacity 3.7V 1500mah Lithium Ion battery with no memory effect. Can charge partially on cloudy days without reducing battery endurance.
Guaranteed Performance - Yard Island products are manufactured by Joe Knows, Inc., an American owned company. Excellent products and customer service since 2010.
Last update on 2023-11-21 / Affiliate links / Images from Amazon Product Advertising API
If you don't mind splurging on a beautifully-crafted light fixture, this Solar Lantern by Yard Island is a fantastic option.
Made up of 1 Edison bulb wrapped in a geometric cage of wiring, this lantern looks exquisite and very artistic. This is the kind of fixture that you'd only expect to find in high-end establishments.
Looks aside, this solar hanging lantern delivers a superb performance. The lithium-ion battery is 100% solar-powered, enabling it to produce warm white LEDs. But what makes this unit unique is the large 1500mAh battery capacity. Thanks to this feature, the lantern can illuminate for up to 8 hours.
However, it should be left to charge for at least a full day. This means that you should strategically position the fixture in an area where it receives direct sunlight.
That said, the Yard Island lantern is completely weatherproof. It also comes with an automatic setting that switches it on at dusk and turns it off at dawn to conserve energy.
Pros:
Perfect for decorative purposes
Fully automatic
Reliable 3.7V 1500mAh battery
Weatherproof construction
Cons:
Check Price and Reviews on Amazon
---
6. Homeimpro Solar Big Hanging Lantern: Ideal for Larger Spaces
Sale
Homeimpro Solar Big Lantern Hanging Garden Outdoor Waterproof Decorative Lights Metal Table Lamp for Patio, Yard, Christmas Gift, 2023 New Updated Bottom Pattern (1Pack, Teal Blue)
2023 Fall Updated New Bottom Pattern,whispers from the lantern. Auto turn ON/OF:This solar powered garden light charges during day (ensure the switch is in "ON" position) and turn on automatically at night for up to 8 hours when full charged.
Large Size Measure:7.9"x7.9"x7".Made of durable metal.Great for decorating your pathway,garden,lawn or courtyard.
Durable construction and weather resistant feature of the garden solar lights ensures long lasting performance under most weather conditions.
10 Lumens Updated bright LED.The reflection of the pattern is beautiful enough to create a romantic atmosphere.
Simply Contact Homeimpro to get Replacement if any issue. When you receive the solar lights, Please turn the switch On, Then keeps the solar panel in the darkness to check whether the light light up or not.
Last update on 2023-11-21 / Affiliate links / Images from Amazon Product Advertising API
Metal lanterns are made in a variety of shapes and sizes, but the Homeimpro Solar Big is our favorite pick if you're looking for a large-sized unit. Measuring 7.9 x 7.9 x 7 inches, this is certainly the biggest hanging lantern in our review. Even better, the fixture has such an intricate globe design with unique perforations. This enables it to cast beautiful beams of light on the surrounding area.
The lantern is moderately bright, producing at least 7 lumens. Thus, it provides a decent amount of illumination for large spaces like pathways, courtyards, and gardens. Another noteworthy feature of the lantern is that it's available in white or blue. It also has an automatic on/off feature for seamless use.
This lantern features a waterproof rating of IP44, meaning it can withstand water splashing. However, this is not a very high level of protection so you might want to store it indoors when it's not in use.
Additionally, Homeimpro offers excellent customer support in case you experience any issues with the fixture. If you want to replace the light or get a refund, be sure to contact them within 180 days of your purchase.
Pros:
Beautiful design
Big enough to install in large spaces
Auto turn on/off for energy efficiency
Comes with battery
Weather-resistant; IP44 protection level
Cons:
Check Price and Reviews on Amazon
---
7. Obell 2 Pack Retro Solar Hanging Lanterns: For a Vintage Look
pearlstar Solar Lanterns Outdoor Hanging Solar Lights with Handle for Pathway Yard Patio Garden Decoration, Waterproof Outside Solar Table Lamp,2 Pack 5.5"H (White Lights)
【Solar Powered Lanterns】-- Powered by a solar panel and no electricity required, automatically turns the lamp on at dusk and off at dawn, saves energy. There's an ON/OFF switch on the light cover, make sure you TURN ON switch before charging.Measures: 3.5"W x3.5"Lx5.5"H. SET of 2.
【Beautiful Sun Pattern】-- It is a outdoor decorative light so the light is soft, Warm light through the transparent shade presents a beautiful sun-shaped pattern in the ground. As a night light is a good choice, enough to illuminate and decorative the dark surroundings. Unique retro style, 5.5inch little size.IF YOU MIND,PLZ SELECT OUR 8.3" BIG LANTERN-WARM LIGHT
【Easy Installation】-- Wide range of applications. Hanging solar lantern, can be hung on porches, trees, pergolas with the hang ring; Solar table lamp, rested on a table top, ledge, beach, pavilion. Add elegance and color to your patio, porch, garden, front yard or outdoor space with this beautifully solar powered lantern. Perfect for Christmas.
【Waterproof Design】-- The solar lanterns are made of high-impact ABS plastic proven to withstand in bad weather.IP44 waterproof grade, no more worries about raining, snowing, perfect for outdoor use.
【100% SATISFACTION GUARANTEE】 -- We will provide lifetime quality assurance to our solar pathway lights.If there is any issue during using our solar patway lights,please contact us through Amazon Platform.We will refund the amount equal to the purchase of driveway lights or send you a new driveway lights to ensure that you are 100% satisfied.
Last update on 2023-11-21 / Affiliate links / Images from Amazon Product Advertising API
A warm lighting fixture is one that provides that traditional yellow color light. Not only does this feel natural but it also helps you to relax. If you're looking to install such fixtures in areas like your bedroom, the Obell Retro Lanterns are a great choice.
Relying exclusively on solar energy, these lanterns emit warm lights which help to set an airy mood in your home.
Each lantern measures 3.5 x 3.5 x 5.5 inches and is bright enough to illuminate dark spaces at night. However, if you don't want the soft light, the lanterns are also available in a white light version.
Like the majority of the products in our review, this set comes with an automatic switch on/off setting. Also, the lanterns have a highly-durable build that consists of hard iron and plastic with a copper finish.
Every lantern uses 1 AA 600mAh NI-MH battery, which upon charging fully, lasts for 8 hours or more.
Also worth noting is that this lantern set comes with a lifetime warranty. Thus, if you experience any issue when using the fixtures, you can contact the manufacturer through the Amazon platform.
Pros:
Multifunctional: can be used in a variety of places ranging from patios to gardens and porches
Decent run time of 8 hours
Comes with a lifetime warranty
Cons:
Not bright enough for some applications
Check Price and Reviews on Amazon
---
8. TomCare Dancing Flame Hanging Lanterns: Best for Decoration
TomCare Solar Lights Flickering Flame Upgraded Metal Solar Lantern Outdoor Hanging Decorative Lanterns Heavy Duty Solar Powered Waterproof Outdoor Lighting for Patio Garden Christmas, 2 Pack (Bronze)
All Metal Frame: This solar lantern is constructed from high quality metal with rustproof finish, so it is durable for year round use outside. Its four clear side faces is convenient for you to enjoy the beautiful flickering flames effect. It is entertaining when the lantern emits warm glow at night.
Elegant Design: The retro-style finish makes it look more unique with aesthetic sense. These solar outdoor lights are equipped with a durable hook, so you can not only put them on the tabletop, but also hang them on the shepherd hook. The best outdoor decoration to your patio, garden, walkway, backyard and deck.
Beautiful Dancing Flames: Special flickering flame design, which looks like real flame, making this outdoor lantern more attractive; The warm yellow glow creates a welcoming ambience. These flickering flame effect outdoor solar lights will be the best choice for decorating home, party, barbecue, wedding, Christmas and Halloween, which will make it different and impressive.
Waterproof & Solar-powered: This hanging solar light is solar powered, simply place it at a location with good direct sunlight for charging. It is really energy-saving which helps you save money. IP65 waterproof grade, no more worries about raining, snowing, perfect for outdoor use.
Outstanding Quality Assured: After you have received the product, please use your hand cover the solar panel, and press the switch button to see if it lights up. We always stand behind our products. If you have any questions, please do not hesitate to contact us, we would be more than happy to assist with a satisfactory solution.
Last update on 2023-11-21 / Affiliate links / Images from Amazon Product Advertising API
This solar hanging fixture blends stylish design with fair pricing. The TomCare 2-Pack Lantern appears to be producing flickering flames, which though a bit peculiar, gives it an attractive look. Plus, they offer the benefit of being practical when you're hosting parties in your backyard.
These solar-powered lanterns are versatile enough to be used both outdoors and indoors to add ambiance. That said, you'll still need to find a way of charging them under direct sunlight.
Another feature that makes this fixture unit stand out is its long working time. With enough juice, the lantern can work for about 10 hours. It takes at least 6 hours for this unit to charge fully. However, both the charge and run time depend on the weather conditions and season.
When it comes to installation, you have two options to pick from: you can either hang or clip it on anything you want.
Dancing Flame solar lights are also waterproof thanks to the ABS plastic build. As a result, they don't get damaged by rain, snow or frost. Besides, the manufacturer provides a 1-year warranty along with a 45-day money-back guarantee.
Pros:
They emit a warm glow which is great for setting a relaxing mood
Comes with a built-in sensor for automatic operation
ABS plastic build is completely waterproof
Comes with an alligator clip for easy installation
Includes a user-manual
Cons:
Does not come with a battery
Check Price and Reviews on Amazon
---
9. GIGALUMI 4 Pack Hanging Solar Lanterns: A Budget-Friendly Option
GIGALUMI 4 Pack Hanging Solar Lights Christmas Yard Decoration, White LED Solar Crackle Globe Hanging Lights Waterproof Outdoor Solar Lanterns with Handle for Garden, Yard, Patio, Lawn
【Best wishes on holiday season!】Don't forget to hang up the festival decoration and Gigalumi solar hanging lights , solar outdoor light hanging is a practical holiday gift and decoration, which can decorate the courtyard, garden, add festive atmosphere and create a happy atmosphere for Christmas/ Halloween/ Thanksgiving day/ Easter,.May joy and health be with you always.
【Energy Saving】solar globe lights are powered by the sun. They are automatically charged during the day and turned on automatically at night. Charge for 6-8 hours during the day and provide 8-10 hours of lighting at night.
【High-Quality】Outdoor solar hanging lights are made of stainless steel, glass and high-strength ABS plastic. IP44's waterproof rating enables it to work well in severe weather, including rainy days and light snow days.
【Wide Application】Decorative hanging solar light as a perfect gift suitable for garden, patio, lawn, front yard, backyard, fence, balcony, tree, Halloween, Christmas and so on.
【Easy to Install】No need wiring. Solar hanging decoration lights installation is very simple, you only need to follow the instructions to install steps, a few minutes can be completed.
Last update on 2023-11-21 / Affiliate links / Images from Amazon Product Advertising API
For homeowners who are on a tight budget but would still love to give solar hanging lanterns a try, this 4 Pack Globe Set by GIGALUMI is an economical option.
These fixtures cast a bright white light from the interior of a grey-transparent "cracked" glass case. Take note that the glass housing isn't really cracked. The manufacturer uses this term lightly to refer to the light's glass patterns that produce unique shadows once it's switched on.
Most people would assume that the glass housing is fragile. Contrary to this belief, the glass is pretty thick and tough, which makes for durable construction.
We also like how user-friendly this solar lantern is. All you need to do is turn the "on" switch located near the top. Once you do this, the fixture will automatically activate in the evening and disable in the morning.
The only area where GIGALUMI Lanterns fall short is their running time. While most of the fixtures we've reviewed provide a solid 8 hour run time, this set averages between 6 and 8 hours.
Pros:
Sturdy glass and stainless steel build
Simple installation
Easy to use
Cons:
Running time can be improved
Check Price and Reviews on Amazon
---
10. SUNWIND Hanging Solar Lanterns: Most Colorful
SUNWIND Hanging Solar Ball Lights Outdoor - 8 Pack Auto Color Changing Cracked Glass Decorative Garden Lights Hanging Solar Lanterns for Yard, Patio, Fence, Tree, or Holiday Decoration(Multi-Color)
New Style: These solar outdoor hanging lights are specially equipped with clips. You can hang them and fix them outdoor in safety. They provide multi-color lighting for decorations and add a special atmosphere to your garden, yard, patio, tree, fence or wedding. (Product size: 2.4*2.4*6.5 inches)
Weatherproof: The cracked glass ball Lights are made of sturdy glass and stainless steel, which is weatherproof and can withstand extreme temperatures and sunny or rainy days.
Eco-friendly & Energy Saving: This solar lamp adopts LED as light source, low power consumption and durable. They can stay lighting about 6-10 hours if fully charged. (Kindly note: Please put these solar lights exposed under direct sunlight during the day)
Easy Installation: You don't need to be tech savvy to be able to operate these decorative lights, just slide the switch to the "ON" position before hanging the lamp on somewhere that can absorb full and direct sunlight.
100% Service: We are a developing Amazon seller that committed to provide each customer with better products and best service, just contact us directly if any problems with the lights you received.
Last update on 2023-11-21 / Affiliate links / Images from Amazon Product Advertising API
If you've gone through all the products in our review and thought, "Are there any lanterns that come in vibrant colors?" Well, these Decorative Solar Lanterns by SUNWIND are the ultimate solution.
They actually come in two color variations: white and multi-color; hence suitable for different consumer tastes.
This set of lighting fixtures also offers excellent value. You'll be getting 8 solar-powered lanterns for the same price that you'd pay for a package of one or two similar fixtures.
Also important to note is that the lights are easy to use. You don't need to have any tech expertise or knowledge to operate them. Simply rotate the switch to "ON" and mount them in your preferred location. Advisably, this should be an area with direct access to sunlight.
Depending on the amount of sunlight they're exposed to during the day, these lanterns can last anywhere between 6 and 10 hours.
Pros:
Weatherproof construction
Hassle-free installation
Multi-color design which is perfect for decorating yards, patios, gardens and more
Cons:
Check Price and Reviews on Amazon
---
FAQs
Q: What is the standard lifespan of a solar hanging lantern?
A: If the case or housing of the fixture is solid, then it should be able to work for a couple of years. On average, these lights last for at least 2 years. If you're looking to extend the life of the solar panel, the secret is to clean it properly and store it indoors whenever there's inclement weather.
Even better is the fact that most of these lanterns use LED bulbs, which have an even longer lifespan of at least 30 years. What this means is that you'll only need to replace your hanging lanterns if they become defective.
Q: Can the lanterns run on regular batteries too?
A: Ideally, every solar lantern ought to be powered using solar energy. These fixtures almost always come with solar panels attached to their roofs, which serve to absorb sunlight and convert it into electrical energy.
Owing to this environmentally-friendly way of producing electrical energy, there's no need for any external power sources.
However, a few advanced models go a notch higher by providing alternate charging options like backup batteries, AC adapters and USB ports. With these alternatives, companies are able to meet a variety of needs.
Q: What happens if a solar hanging lantern gets wet?
A: The benefit of most solar hanging lanterns is that they're designed for indoor and outdoor applications. Thus, they'll often come with a weatherproof or waterproof rating.
The majority of these fixtures cannot get damaged by light rain, pool splashes, garden watering or morning dew. Still, very few of these can withstand heavy water exposure like a flood, submersion or a storm.
Unless your lanterns are completely waterproof, you should always bring your lanterns indoors when the weather takes a turn for the worst.
Q: Can the lanterns charge when it's cloudy or when they're under a shade?
A: Solar hanging lanterns rely primarily on sunlight to charge. This means that whenever there's a low UV index, they won't charge adequately.
If you live in an area that receives little sunshine, you'll want to choose models that are capable of charging even if there are only a few rays coming through. The one thing you'll need to do is charge these lanterns for a longer period.
Keep in mind that the size of the solar panels on these fixtures also matters. The bigger the panel, the more capable it is to tackle cloudy weather or shady conditions.
Conclusion
The best solar hanging lanterns offer a versatile lighting mechanism. Not only can they be mounted in a variety of places but they're also energy-efficient and cost-effective since they operate on an unlimited supply of free, clean energy.
If you're looking to buy one of these lights, we recommend the Maggift Retro Star Hanging Solar Landscape Lantern.
The 2-Pack Lanterns are reasonably big, enabling them to illuminate a sizeable area. Also, they have an automatic on/off switch, which saves you time while also helping to conserve energy. Lastly, they give you a variety of installation options.