Water sustains all life on earth, including plants. It provides them with structural support, aids in distributing minerals to different parts and it cools them down. However, too little or too much water can be detrimental to plants' health. Question is: how do you determine the moisture level in plants?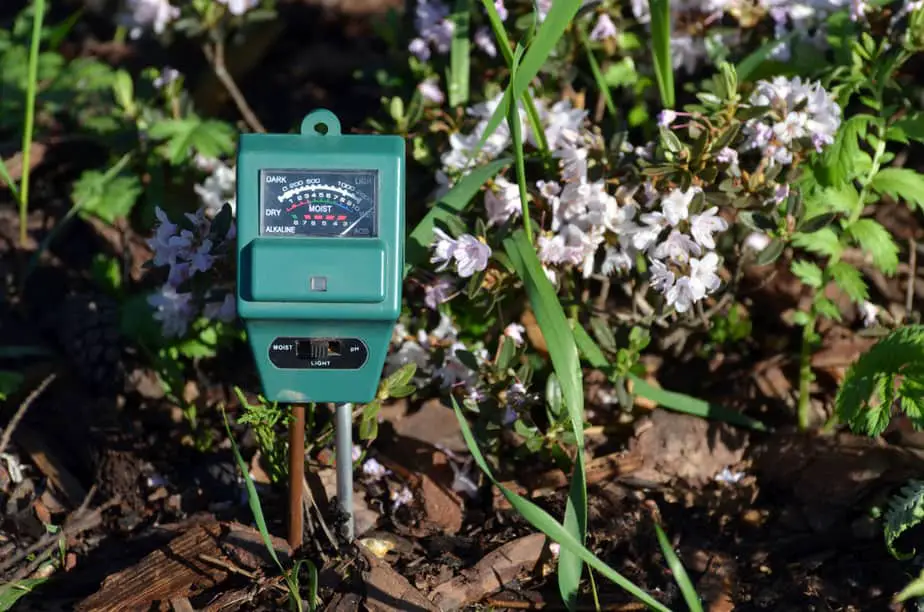 Enter soil moisture meters. These are gadgets designed to gauge the level of moisture in the soil. In this article, we'll highlight the best soil moisture meters and explain how they work.
In a Hurry? Here's Our Top Picks…
How to Use a Soil Moisture Meter
Regardless of whether you grow houseplants or engage in full-scale outdoor gardening, soil moisture meters are very useful gadgets. They prevent you from underwatering or overwatering your plants, which could have detrimental effects.
Usually, moisture sensors have scales of 1 to 10 – 1 represents most dry while 10 represents most wet. Most of these devices will also have a color range, which is comprised of red, green and blue.
Though inexpensive, these tools are very beneficial when it comes to ensuring the proper growth of plants, flowers, and trees. Here's a guide on how to use a soil moisture meter:
Step 1
Pick your poison. Some devices are designed to detect moisture content only while others are multifunctional.
The latter can also be used to check light, soil acidity among other aspects. If you're only interested in knowing the moisture level, then pick a basic unit. It should be user-friendly and able to do quick plant checks without relying on batteries.
Step 2
Start by checking your indoor plants. To achieve this, hold the device from the head or gauge end. The pointed end is the probe, and this is what you'll insert into the soil.
Step 3
Check and evaluate the value on the screen based on the respective plant species. With plants like cactus and snake plant, excess amounts of water can wreak havoc on them. Thus for such plants, the scale should be in the red zone or ranging between 1 and 3.
Conversely, there are other plants that need moderate moisture content. These include begonias, ficus, azaleas, and philodendrons.
In this case, the meter's reading ought to be in the green zone or between 4 and 8. If it's in the red zone, this is an indication that they need more water. But if the meter is in the blue zone, you might want to hold off on adding more water.
Step 4
A few plant species require more water than others. For plants like ferns, the correct reading should be more in the green-blue zone and not the red-green zone.
Step 5
Once you've gotten proper readings for your houseplants, you can proceed to check the outdoor plants.
Follow the same procedure to test moisture content in these plants and determine whether they need more or less water. Continue monitoring your indoor and outdoor plants on a regular basis.
How to Get the Best Readings from Soil Moisture Meters
Be sure to clean the probe of the meter before inserting it in the soil surface. Use steel wool or a soft piece of fabric
Keep magnetic and metallic objects away from the soil moisture meter
Do not hold the meter from the end with the probe. Oils and sweat from your hands can compromise the accuracy of the readings
Check whether the metallic tip is tight before placing it in the soil. If it's not, tighten it to prevent breakage
How to Choose a Soil Moisture Meter
Digital vs. Analog
The primary difference between the two types is that analog soil moisture meters don't use battery power while digital models do. This offers two benefits. One, it reduces the price of analog moisture sensors. Secondly, it eliminates the additional cost that arises from replacing batteries from time to time.
The most common types of batteries used in digital units are AA or AAA. The advantage of these battery-powered meters is that they're more sensitive and provide more precise readings.
Outdoor/Indoor Application
The majority of these meters – whether they're meant for outdoor use or not – come with compact, lightweight designs for easy portability.
Still, it's not advisable to leave the soil moisture meter outdoors for an extended period. If you're looking to leave your device outdoors, be sure to choose one with a sturdy build. This way, it will be able to withstand any climatic conditions it's subjected to.
Probes
Probes are to soil moisture meters the way central processing units are to computers. Given their significance, it's advisable to look for a unit that has a replaceable or detachable probe. This way, you can easily substitute a damaged probe with a new one instead of having to buy an entirely new meter.
3-in-1 Design
Here, you need to consider the intended application of the moisture meter. Do you want to use it only to check moisture levels? Or would you like a unit that can also detect pH level and intensity of sunlight?
If these other metrics are equally important, you should look for meters with 3-in-1 designs. These double up as moisture sensors, pH detectors, and light intensity testers. The good thing is that the majority of the products in our review offer multiple functions.
Accuracy
The whole reason for investing in these sensors is so that you can accurately determine the moisture content of the soil. Thus, it would be impractical to choose a soil moisture meter that's not accurate.
The challenging bit is the difficulty involved in assessing the precision level of a particular gadget. Often, the only way to know if it provides accurate readings is to use it.
If you want to get a rough idea of how a particular moisture meter performs, read online reviews. Also, purchasing your device from a reputable brand provides a level of certainty that the products are reliable.
Ease of Use
Some people are not tech-savvy, and complicated gadgets would only make an already-difficult gardening activity harder for them. Thus, you should look for a soil moisture meter with intuitive controls and an easy-to-read gauge. Models that come with color-coded gauges are usually best.
How to Maintain a Soil Moisture Meter
If you don't want to keep spending money on new soil moisture meters, you should take proper care of the model you have. This entails:
Removing the meter from the soil after use (as opposed to leaving it plugged)
Not inserting the meter's probes into hard blocks of soil or rocky areas
If you're using a battery-driven unit, remove cells if you won't be using the meter for a while
Top 10 Soil Moisture Meters
1. XLUX T10 Soil Moisture Meter
XLUX T10 Soil Moisture Sensor Meter - Soil Water Monitor, Hydrometer for Gardening, Farming, No Batteries Required
Reliable and accurate: Sensing probe ensures accurate and instant testing results, matching for both indoor or outdoor use.
Easy to read: Large and clear dial, including ten scales, plug and read.
How to use: Simply insert the moisture meter into soil and you'll get the test result instantly. Help your plants grow healthy and strong.
Less hurts: Single probe, less hurts to the roots, doesn't dig up too much soil after test.
Important tips: 1. Do not use it to test very hard soil 2. Never use it to test water or other liquid. Designed for testing soil only. 3. After use, please wipe clean the probe.
Last update on 2023-09-25 / Affiliate links / Images from Amazon Product Advertising API
With one of the simplest designs on the market, it's not surprising that the XLUX T10 Soil Moisture Meter is our top pick. The ergonomic plastic handle makes it comfortable to hold while the gauge design makes it easy to read.
This moisture detector is equipped with a regular solar battery that will keep the unit working long after the warranty period elapses.
If you've been struggling to come up with a watering schedule for all your crops, the T10 can also help with that. It comes with a long 7-inch shaft, which is enough to reach the root level of most plants. It then determines the right amount of water that your flowers, houseplants or small trees need.
The only thing you have to be cautious about is the tip of the tester, which is rather delicate. As such, it's better suited for soft to wet soil types.
Pros
Includes a plant watering guide
Backed by 18-months warranty
Solar-powered; hence no need for batteries
Cons
Initial measurement might be inaccurate; hence the need to gauge the moisture level a second time
Check Price and Reviews on Amazon
---
2. Alotpower Soil Moisture Sensor Meter
Sale
Last update on 2023-09-25 / Affiliate links / Images from Amazon Product Advertising API
Planning to grow a variety of plants in your garden? If you are, the Alotpower Soil Moisture Meter makes the perfect companion. This device is designed to detect the soil moisture regardless of the species of plants being grown.
What's more, this sensor is incredibly easy to use; all you need to do is push it through the soil and you'll get a reading on the moisture content.
Another thing we love about this moisture meter is that it's also available in a 2-pack, which is surprisingly affordable. You can buy one as a gift for the gardening enthusiast in your life; and another for your houseplants.
Pros
Does not use batteries
Proven to be scientifically accurate
Simple to use
Cons
Can only measure moisture
Check Price and Reviews on Amazon
---
3. Longruner Indoor/Outdoor Soil Moisture Sensor Meter
Longruner LKP02-VC, Green
★【SIMPLE & EFFECTIVE】No batteries needed, plug and read. Easy to read moisture levels, including ten scales. Simply insert the probes into the soil about 3-5 inches, 10 cm above the probe to be inserted, the most accurate measured.
★【INDOOR & OURDOOR USE】Soil moisture meter let you know when to water. It's a necessary tool for outdoor & indoor plants, gardens, lawn, vegetables, etc. Compact and portable, convenient for indoor/outdoor use.
★【Highly accurate】 our soil meter is a combination of precision, accuracy and durability. Easy to read moisture, get the reading quickly, promotes healthy plants; color coded reading system, from Red, Green to blue.
★【Important tips】 1, Do not touch the stone or hard rock soil, if the soil is too hard and dry, easy to damage the probes; 2. Design for testing soil only not for water test; 3, after using, need to clean and wipe the probes.
★【LIFETIME 】 - We believe in the quality of our soil test kit. If you have any problems, contact us freely and we support replacement and forever with 24 hours friendly customer service.
Last update on 2023-09-25 / Affiliate links / Images from Amazon Product Advertising API
Houseplants have different water requirements from outdoor plants. Keeping up with watering both types of plants can prove tricky if you don't have the right tools like the Longruner Moisture Meter.
Equipped with a scale that runs from 1 to 10, this device is designed for indoor and outdoor applications. It's also color-coded, which makes it much easier to read. Simply insert the meter's probe into the soil to determine its moisture content.
Another feature that sets Longruner apart is its accuracy. It's able to provide readings of the moisture levels in a precise and quick manner.
Even better is the fact that it's backed by a lifetime guarantee. In case you experience any issues with the device, you have access to round-the-clock support and a free replacement where deemed necessary.
Pros
Provides accuracy and durability
Suitable for indoor and outdoor applications
Highly accurate
Comes with a lifetime guarantee
Cons
Not the most durable unit
Check Price and Reviews on Amazon
---
4. Atree 3-in-1 Soil Tester Kits with Moisture Test
Atree Soil pH Meter, 3-in-1 Soil Tester Kits with Moisture,Light and PH Test for Garden, Farm, Lawn, Indoor & Outdoor (No Battery Needed)
3-IN-1 FUNCTIONS: You can measure soil moisture, pH value and sunlight intensity. It's helpful for you to plant flowers, plants and make them grow healthy and strong(This soil tester CAN ONLY be used in soil, it CANNOT be used to test any liquids)
EASY TO USE: Simply insert the probes into the soil about 4-6 inches (2/3 of the probes), and you'll get your reading
COMPACT FOR INDOOR & OUTDOOR USE: Know when to water, adjust pH, or change lighting for your flowers, plants both indoor and outdoor
NO BATTERY NEEDED: No batteries or electricity needed, plug and read
SCIENTIFICALLY ACCURATE: Sensitive probe could sense changes of the soil and transfer details to the conductor, displaying the accurate values for you
Last update on 2023-09-16 / Affiliate links / Images from Amazon Product Advertising API
Between the costs you incur when purchasing, and the time required to plant and weed out critters, gardening can quickly turn into an expensive affair. One of the ways you can cut back on costs is to choose multifunctional tools, specifically, Atree Soil Tester Kit.
This device is a moisture meter, light tester, and pH tester all in one. Considering that light, pH, and moisture are some of the most important factors for proper germination and growth, this all-inclusive kit really comes in handy.
That said, the manufacturer recommends using this tester only with soil. It should not be used to test liquids or construction materials like concrete and drywall.
Moreover, using this moisture meter is a breeze. All you need to do is place the probe into the soil to about 4 inches – or deeper if you can't get a reading. You should be able to get a reading if ⅔ of the probe is inserted in the soil.
Since it's highly sensitive, it will detect changes instantly and send corresponding details to the conductor; showing accurate values.
Pros
Versatile: used for testing moisture, pH and light intensity
Made using sturdy materials
Can give a reading even when it's inserted at 2 inches
Compact design for portability
Available in green, black and yellow colors
Cons
Takes a long time before giving a reading
Check Price and Reviews on Amazon
---
5. yoyomax Soil Test Kit Moisture Meter
yoyomax CG-ACEZ-5BUR Soil-Meters, Green
Cut the guess work altogether and make your plants much happier. You will know what your plant need when and why; your plants will be healthier and growing.
3 in 1 design (Moisture/pH/Light Tester) provides you a comprehensive idea about the soil condition of your garden and lawn. With a quick check, you can tell if you need to adjust the plant food/water and if your plants get enough sunlight.
No batteries or electricity needed, ready to use out of box. Plug and read, making gardening easier than ever.
Compact and portable for indoor/outdoor use. A necessity for anyone who gardens or has houseplants, it will come in handy whenever you grow an interest in gardening.
100% SATISFACTION GUARANTEE: We take pride in delivering top quality products and offering our friendly 12 Months Warranty PLUS 30 days money back guarantee for any reason. You can contact us through clicking "Sold by Garden Tools Direct" on the product detail page or your Amazon order page and you will be directed to "Ask a question" to send us message.
Last update on 2023-09-25 / Affiliate links / Images from Amazon Product Advertising API
Although the Atree Soil Tester Kit gets the job done, it can be a tad pricey for some consumers. If you're looking for a cheaper alternative, the yoyomax Moisture Meter is your best bet.
You'll pay as much as you would have for one moisture meter. But other than determining the moisture level in soil, you'll also be able to test for pH and light intensity.
Even better is the fact that the meter probe doesn't need alkaline batteries or an electrical connection to operate. Instead, it comes with a solar battery, which is self-charging. Ensure the device gets enough exposure to direct sunlight and you'll be able to use it at any time.
The only area where the yoyomax soil tester falls short is that it comes with only one pointer/probe to measure all three parameters. Fortunately, it's also equipped with a push switch, making it easier to choose the appropriate meter.
Pros
Blends 3 meters into 1 unit
Fairly-priced
Sturdy casing made of heavy-duty plastic
Backed by a 1-year warranty
Cons
Not that accurate when recording pH
Check Price and Reviews on Amazon
---
6. Blumat 50205 Digital Moisture Level Meter
Last update on 2023-09-25 / Affiliate links / Images from Amazon Product Advertising API
Most of these sensors can be used to detect moisture level on the surface but not deep in the roots. However, it's very important that you figure out the level of moisture in those sections.
Very dry roots will cause the plants to wither. On the other hand, if the soil is too wet, the roots won't have enough air pockets to breathe properly. Eliminate guesswork in determining the amount of water the roots need by investing in Blumat Moisture Level Sensor.
This is actually a wicking type of moisture meter. What this means is that it detects moisture content by way of absorption.
Unlike other meters, this one has a sophisticated design consisting of an interior chamber, which you'll need to fill with water. Thanks to this feature, you'll get so many more details than just the typical color changes.
Pros
Easy to use
Provides accurate reading
Detects moisture in the roots
Cons
Does not include a protective cap as advertised
Check Price and Reviews on Amazon
---
7. Sonkir MS-X1 Upgraded Soil Moisture Meter
Sale
SONKIR Soil pH Meter, MS-X1 Upgraded 3-in-1 Soil Moisture/Light/pH Tester Gardening Tool Kits for Plant Care, Great for Garden, Lawn, Farm (Black)
Kindly NOTE: This soil tester can not be applied to test pH value of any other liquid. If the soil is too dry the indicator will not move, and water it before testing
3-IN-1 FUNCTION: Test soil moisture, pH value and sunlight level of plant with our soil meter, helps you specialize in grasping when you need to water your plant
UPGRADED & IMPROVED: Our professional research team spent two years researching the upgraded mold. Improved probes and upgraded detection technology ensure quicker, more accurate readings
LARGE SCREEN: The large display makes readings clearer and more convenient than ever. Expanded screen space improves reading experience and accuracy
INDOOR & OUTDOOR USE: Design to be lightweight and portable, easy to carry around for outdoor use, ideal soil test tool kit for home plants, garden, lawn and farm
Last update on 2023-09-25 / Affiliate links / Images from Amazon Product Advertising API
If you're looking for a soil moisture sensor that features cutting-edge technology, the Sonkir MS-X1 is for you.
According to the manufacturer, the company spent up to two years, researching and refining each element of this 3-in-1 device. Thus, the MS-X1 has better probes and exceptional detection technology.
The probes can now efficiently detect changes in the soil, transmit these details to the conductor, and subsequently, display accurate readings. The light-sensing receiver has also been redesigned to increase its sensitivity.
While there are only a few manufacturers who insure their soil tester kits, Sonkir has gone a step further by providing 1-year money back guarantee. If you receive a defective product, you can have it replaced or ask for a full refund.
Furthermore, this equipment is equipped with a big-sized screen. The purpose of this is to make readings vivid and more convenient to read, especially for individuals who have visual problems.
Pros
Excellent customer support and 12-month warranty
3-in-1 design
Superior detection technology and probes
Larger display
Cons
Slightly more expensive than other moisture meters
Check Price and Reviews on Amazon
---
8. REOTEMP Garden and Compost Moisture Meter
Last update on 2023-09-25 / Affiliate links / Images from Amazon Product Advertising API
From first glance, you can tell that the REOTEMP soil moisture meter is unique. In fact, it's advertised as being one of the most durable models. Since it has an all-stainless-steel housing, you don't have to worry about the sensor breaking as easily as others.
The meter we're reviewing here comes with a 15-inch stem. This gives you enough length to work with whether you're performing the test on your vegetable garden or flower pot. If you want a longer probe, you have the option of choosing between a 36- and 48-inch. However, be ready to shell out a few more bucks.
This moisture sensor can be used with a variety of soil types, delivering highly-precise measurements each time.
Despite being a battery-operated meter, this device is incredibly easy to use. All you need to do is replace the AAA battery when it runs flat, and then calibrate the tester depending on the type of soil you're about to test.
That said, the REOTEMP has one major limitation: it tends to go through the battery fast. So even if the kit comes with 1 battery, you might have to replace it sooner than you think.
Pros
Long: equipped with a 15-inch stem
Rugged stainless steel build for durability
Easy to use
Comes with 1 AAA battery
Cons
Drains batteries quickly
Expensive
Check Price and Reviews on Amazon
---
9. Dr.meter S10 Soil Moisture Sensor Meter
Sale
Dr.meter Soil Moisture Meter, Plant Water Meter for Garden Lawn Farm Indoor & Outdoor Use, Soil Tester Hygrometer Sensor for House Plants, Gardening Gifts, No Battery Needed
▶ 【Compact & Portable】 Have you been sticking your finger in the soil hoping to feel when it's time to water? Why not eliminate the guesswork and keep your hands clean when you use the Dr.meter Soil Moisture Sensor Meter! Know the right time to water your garden, farm, lawn and plants, anytime.
▶ 【Easy to Read】No experience required--while this machine is sophisticated, it's not complicated! With an interface using ten scales and a color-coded reading system from red, green to blue, it's never been more straightforward reading your soil moisture.
▶ 【No Batteries Required】Who needs batteries or electricity? Just plug stick it into the ground and get a reading in no time!
▶ 【Gentle to Plant Roots】Keep roots intact when you do readings thanks to the single probe design. You won't have to dig up too much soil or disturb sensitive roots when you take readings so your plants can stay perfectly healthy.
▶ 【Helpful Tips】The Dr.meter Soil Moisture Sensor Meter is designed only for soil testing and should not be used in liquids. Keep it away from rocks and extremely hard soil to avoid damaging it. Make sure to clean the probe after each use.
Last update on 2023-09-25 / Affiliate links / Images from Amazon Product Advertising API
Despite its odd shape, S10 Soil Moisture Meter has a lot to offer. For starters, it uses a scale 0-10, which estimates just how wet or dry the soil being tested is. To achieve this, it's fitted with a sturdy metallic stem with a highly-sensitive probe.
For such a reasonably-priced unit, this soil moisture sensor delivers very precise measurements. The best part is: it only takes a couple of seconds for the device to register readings. But even then, you should not attempt to use it on hard or very dry soils as this may damage it.
Another noteworthy feature of this tool is its sturdy housing. This is where you'll find all the electronics and a solar battery that's manufactured using plastic.
We also like the easy-to-read gauge of the S10 Moisture Sensor. This feature is color coded, making it all the easier to determine the moisture content.
One area that needs slight improvement is the meter's manual. Sadly, it lacks vital details that could be very useful for first-time and inexperienced users. Apart from this, it does a good job of determining moisture levels.
Pros
Color-coded scale for an easy read
Compact design for portability
Durable
Cons
Manual should include more information
Check Price and Reviews on Amazon
---
10. VIVOSUN Soil Tester, 3-in-1 Plant Moisture Meter
Sale
VIVOSUN Soil Tester, 3-in-1 Plant Moisture Meter Light and PH Tester for Home, Garden, Lawn, Farm, Indoor and Outdoor Use, Promote Plants Healthy Growth
3-in-1 Soil Tester: This meter can test soil moisture, light and pH value; You can switch modes with one button; It makes gardening and plantng more efficient
Compact size: With a length of 10.8 inches, you can carry it around easily; it is convenient for both indoor and outdoor gardening
Testing Range: It has moisture range of 1-10 (dry to moist), light intensity of 0-2000 (low light to strong light) and pH level of 3.5-8 (acidic to 8 basic)
Easy to Use: Durable and easy to use, plug and read, no battery needed; Design for testing soil only; Do not be used to test pure water or other liquid
Support for Gardeners: Let you know your soil well with specific values so that you will know when to water, control pH level and determine if plants are getting adequate light
Last update on 2023-09-25 / Affiliate links / Images from Amazon Product Advertising API
Of course, not everyone is a veteran gardener or horticulturist. If you're just getting started on this journey, you probably want a simple, budget-friendly model that won't have you worrying about batteries and durability.
A good option that provides great value for money is the VIVOSUN Soil Tester. The first thing you'll notice about this device is its 3-in-1 design. Despite having such a basic and user-friendly interface, it can still be used to determine the light intensity and pH level like the majority of products in our review.
The scales on this soil moisture meter are pretty easy to comprehend, thanks to the color-coding. Moisture content is measured on a scale that ranges between 1 and 10, light is measured using the 0 to 2000 scale while pH is determined starting from 3.5 to 8.
But there's one aspect where VIVOSUN fails to meet our expectations, that is, it's not as fast as other models. Once you stick the probe in the soil, you might have to wait for a while to get values.
Pros
Offers excellent value
Simple interface; hence, suitable for beginners
3-in-1 design
Cons
Check Price and Reviews on Amazon
---
FAQs
Q: Can soil moisture meters be used on all plant species?
A: Yes, these gadgets are designed to test moisture content in vegetable gardens, flower pots, shrubs even the grass in your lawn. What's important is that you stick the probe deep enough till you reach the root level. This way, you can get credible results.
Q: Can 3-way soil moisture meters be used to detect pH level of fluids?
A: No, they cannot. All the moisture sensors we've reviewed here should strictly be used to test the pH level of the soil.
Q: Can they work in dry soil?
A: If you're testing moisture in very dry soil, a battery-operated meter is better. If you opt for a non-battery operated unit, there won't be any needle movement meaning you won't get any readings.
Q: Can you leave the moisture meters plugged in flower pots?
A: No. The meter's probe is made of metal, and this can start corroding when left in the soil for a long period. Once you get your readings, remove it from the soil and clean it before storing.
Q: How long does the meter take to gauge moisture content in soil?
A: This will depend on the specific model of moisture meter you're using. Some take just a few seconds to register readings while others take several seconds.
Conclusion
The best soil moisture meters are indispensable tools for novice and professional gardeners alike. By investing in these gadgets, you're able to eliminate the guesswork out of measurement tasks. Essentially, you'll be able to determine when and how often you should water your plants.
If you're planning to purchase a soil moisture sensor, there are a couple of things you should consider. These include design, accuracy, ease of use, and intended application.
One tool that checks most of these boxes is the XLUX T10 Moisture Sensor Meter. It has an ergonomic handle that makes it easy to hold. It also employs solar technology meaning you don't have to rely on batteries. Lastly, it can be used for indoor and outdoor applications and it's backed by an 18-month warranty.