There's nothing quite like kicking back on your beautiful patio enjoying the shade of your outdoor umbrella. Whether you're reading a book, sipping on drinks with friends, or having that special someone over for a date, you just can't beat some good time out in the breeze!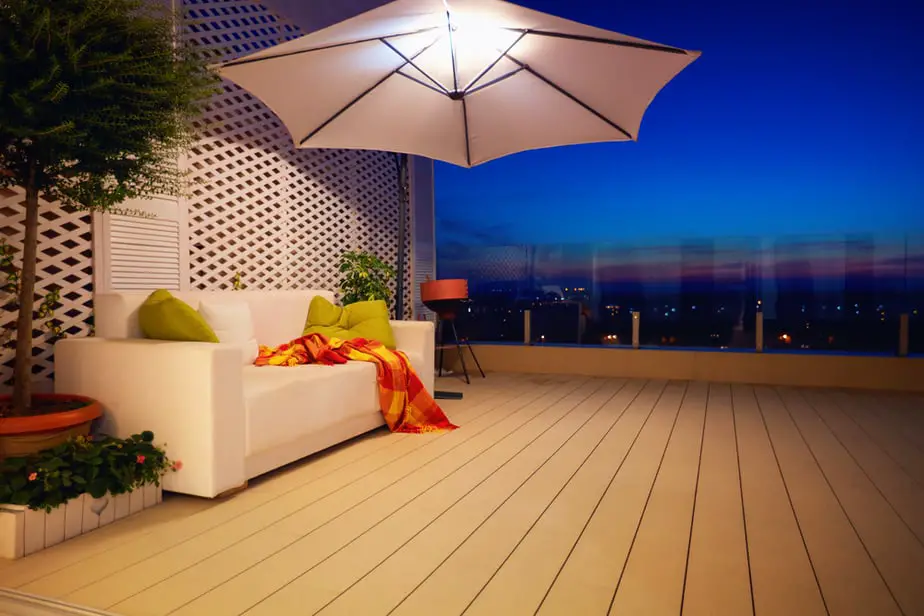 But what happens when the sun goes down? Do you just up and leave it all behind? No, you use the best patio umbrella lights of course!
Patio umbrella lights are a wonderful idea to keep the fun going throughout the night. However, with all the different lighting types, brands, and features, the choice can get pretty confusing!
This is where we come in, presenting you with a detailed buying guide and a list of the top 5 patio umbrella lights to help you make the best purchase possible. So let's not waste any time and hop right in!
In a Hurry? Here's Our Top Picks…
5 Best Patio Umbrella Lights
1. OYOCO Outdoor Patio Umbrella Light
Sale
OYOCO Patio Umbrella Light 3 Brightness Modes Cordless 28 LED Lights-4 x AA Battery Operated,Umbrella Pole Light for Patio Umbrellas,Camping Tents or Outdoor Use
1.3 brightness Mode--press once for 4 LED lights(Dim),press twice for 24 LED lights(Bright), or press three times for 28 LED lights(Super Bright).Suit your need for different brightness on different occasions.
2.Convenient--No need for extra tools,easy to clamp to your umbrella with the built-in auto adjustable strong clamp,also can be hung anywhere using the two hooks,pole mounted,fit poles with a diameter of approximately 0.86'' to 1.81''.
3.Energy-saving and Bright--With 28 energy-saving LED bulbs,led energy saving and environmental friendly.
4.Multiple functions--Suitable for camping,BBQ,playing CARDS,or lying on your leisure chair in the evening with your families or friends.
5.Available electrical source--Requires 4*AA batteries (NOT INCLUDED),which can be easily purchased in common shops. Easy to carry and prepare for batteries backup.
Last update on 2023-09-21 / Affiliate links / Images from Amazon Product Advertising API
Kicking off our list with a widely popular product, this patio umbrella light from OYOCO is a unique and innovative gadget that built itself a rather impressive reputation – and we can definitely see why!
This disc-shaped lighting comes with 3 different modes of brightness using a total of 28 LEDs for you to adjust according to the occasion at hand, producing a maximum of 220 lumens. The Dim setting is achieved by working only the inner 4 LEDs when you press once. If you press twice, the outer 24 LED lights will deliver the bright option. If it's still not enough, you can go full power with the Super Bright mode when you press the button 3 times.
Installing this umbrella light is super easy, you don't need any extra tools, wires, or electric sources. All you need to do is open the disc, clamp it to your umbrella's pole, turn it on, and you're good to go. The strong built-in clamp is auto adjustable, fitting a minimum pole size of 0.86 inches all the way to 1.81 inches in diameter. Moreover, you can hang this disc just about anywhere you want thanks to the 2 hooks integrated into its structure. You can even mount it facing down for direct illumination, or facing up for faint, indirect lighting.
This multifunctional disc with 28 energy-saving LED bulbs is powered by 4 AA batteries (not included). Being made of plastic, this umbrella light weighs less than 0.5 pounds which makes it highly portable.
The OYOCO patio umbrella light is a solid choice for those looking for versatility at a low price, with a 1-year warranty to fall back on should any problem arise.
Pros
3 brightness modes
2 hanging hooks
Scalable range
Energy-saving
Very affordable
Great customer service
Cons
Pole range can be wider
Complaints of non-uniform quality
Not exactly waterproof
Check Price and Reviews on Amazon
---
2. AMIR Patio Umbrella Light
Sale
AMIR Upgraded Patio Umbrella Light, Cordless 20 LED(Outer) + 4 LED(Inter) Night Lights, 12,000 lux Umbrella LED Light, Battery Operated Umbrella Pole Light for Umbrellas, Camping Tents or Outdoor Use
Premium Umbrella Light - Made of high quality durable ABS material with 24 powerful built-in large LED lights, it emits 12,000 lumens of light and is bright enough for you to gather on the patio for a party or chat with neighbors and friends.
3 Modes - 3 brightness modes: low (4 LED bulbs), medium (external 20 LED bulbs), high (all 24 LED bulbs).
Cordless & Easy to Install - Cordless design, no tools required. Easily clip your umbrella with the built-in automatic adjustable clip.
Size - Product diameter is 7.87 inches (20 cm). Fits most umbrellas with a 0.9" (2.3 cm) to 1.8" (4.6 cm) diameter pole.
Battery Operated - Requires 3 AA batteries (not included). LED lamp life of over 50,000 hours
Last update on 2023-09-21 / Affiliate links / Images from Amazon Product Advertising API
Receiving hundreds of positive reviews, this cordless patio umbrella light courtesy of AMIR is an example of supreme quality combined with great practicality. This gadget is made of premium-grade ABS material, offering high durability for a long lifespan of 50,000 working hours. It comes equipped with 24 big and powerful LED bulbs, giving off its light at 12000 lumens flux.
You get to choose between 3 modes of brightness to better suit your lighting needs. The Low setting utilizes only the 4 inner LED bulbs, while the Medium option lights up the outer 20 LED bulbs separately. If you got a lot of company over, you might need to turn the brightness all the way to High mode, switching on all the 24 LEDs at once.
These modes are adjusted via 2 individual ON/OFF buttons to give you complete freedom when it comes to the level of illumination you want. The black switch controls the outer 20 LEDs, and the white switch is in charge of the inter 4 LED bulbs.
As for installation, it's a real piece of cake that barely requires you to be handy. Using no tools, simply open the disc and pop it onto the umbrella's pole. The clamp is sturdy and tight, fitting most umbrellas with pole diameters ranging from 0.9 inches to 1.9 inches.
This light disc is battery-operated, requiring 3 standard AA batteries (not included). AMIR offers 24/7 customer service and lifetime support. If you're not happy with what you get, the 45-day money-back guarantee, as well as the 20-month replacement policy, will surely please you.
Pros
Very bright Light at 12,000 lux
Extended LED lifetime
3 modes with 2 independent switches
Good heat dissipation
Durable material
Cons
Not water-resistant
Switches are a bit hard to locate in the dark
Check Price and Reviews on Amazon
---
3. Totobay 28 LEDs Patio Umbrella Pole Light
No products found.
Another well-received patio umbrella light, this pole light designed by Totobay is a reliable, widely applicable gadget built to provide you with a long-lasting performance.
Made of high-quality ABS & plastic, this sturdy disc weighs less than 1 pound, so you can carry and handle it with ease. Once again, the installation is quite simple as you'd expect from such a pole light. You just need to clamp the cordless disc to your umbrella, no need of tools whatsoever.
This upgraded version is equipped with 28 environment-friendly and energy-efficient LEDs, producing light at a maximum of 400 lumens and a minimum of 120 lumens, which is enough to serve all your outdoor night needs.
The Totobay umbrella light offers 2 levels of brightness controlled by a single switch. Flipping it to the left toggles the High mode working all 28 LED bulbs. If you move it to the left, only the 8 inner LEDs will light up indicating the Dim mode. The middle position of the switch will shut down all the bulbs.
Powering this LED light, there are 2 built-in batteries that you can recharge using a power bank or a notebook power adapter. A full charge takes about 8 hours to complete, offering run time of 18 hours at high light or 54 hours at dim light. The batteries are well-shielded, and you don't need to change them.
The Totobay umbrella LED comes with a compatible USB charging cable, but the adapter isn't included. The built-in flexible adjustable clamp fits pole sizes ranging from 0.78 inches up to 2.04 inches.
Delivering 50,000 hours of usage time, this patio umbrella light is undeniably a worthy contender.
Pros
Produces decent brightness at 400 lumens
Built-in batteries
Includes USB cable
Wide pole diameter range
Long runtime
Good water resistance
Cons
More expensive than its counterparts
No charging level indicator
Check Price and Reviews on Amazon
---
4. Sunlitec Solar String Lights Dual Charge
Sunlitec Solar String Lights Waterproof LED Indoor/Outdoor Hanging Umbrella Lights with 25 Bulbs - 27 Ft Patio Lights for Deckyard Tents Market Cafe Gazebo Porch Party Decor
DURABLE INDOOR/ OUTDOOR STRING LIGHTS: Adorned with 25 high quality LED balls to protect the light from rain water and breakage, with a 50,000 hours bulb lifetime.
AMAZING LIGHTENING MODES: Get livelier with the fabulous variety of lightening modes designed to sooth you in every mood. Prepare for a fun filled evening! When shopping for string lights, go for the best.
DUAL CHARGING OPTIONS: With a premium 3w/5v solar panel and a USB charging port, nothing can go wrong! Giving you two cool options to choose from, 8 hours charging time for solar panel and 4 hours for USB charger.
PERFECT GIFT OPTION: Put a genuine smile in the face of your loved ones with the beautiful solar string lights as gifts, you will be glad that you did! Basic features, 8200mm string length, 25pcs bulb quantity, and the 2000mAh/3.7v Li-ion battery and much more, you will have no regrets.
SATISFACTION: 1-Year. Backed by a 100% satisfaction (except bulbs). Please contact the seller directly if you have any quality problems.
Last update on 2023-09-21 / Affiliate links / Images from Amazon Product Advertising API
Moving on to string lights, these highly praised LEDs made by Sunlitec will give you that warm, nostalgic glow you've been searching for. It can be the perfect addition to your outdoor umbrella all year round, using advanced technology for extra durability and sturdiness.
Sunlitec string lights carry 25 top-quality G40 LED bulbs spaced 10 inches apart from each other. They're specially designed to withstand rainwater and resist breakage, guaranteeing customers longevity with at least 50,000 hours of bulb lifetime.
They offer quite a variety of lighting modes, aiming to transform your patio into a more lively sanctuary. You can select one of 4 patterns: quick flash, steady light, slow flash, and pulsating light. This means you get to adjust your string lights to match whatever mood you're in.
What really stands out about these lights has got to be the dual charging option which makes it that much more convenient. You can either let the premium 3W/5V solar panel do its magic, or take advantage of the USB charging port to get the job done. Either way, you'll have it up and working!
The 4500 mAH battery fully charges over the course of 5 hours using sunlight or 4 hours via USB charging. The LED lights will continue to shine for 8 hours on a single charge.
Sunlitec offers a 1-year warranty, backed up by a 100% satisfaction guarantee. The setup process of this 27-foot strand is fairly simple, but, of course, you need to make sure the panel is placed where it receives plenty of sunlight.
Pros
4 lighting modes
Long-lasting performance
Dual charging options by solar energy or batteries
Decent runtime
Big solar panel
Waterproof
Cons
The glass part of the bulbs can be thicker
Only turns on when it's dark
Check Price and Reviews on Amazon
---
5. Giantex 10ft Solar Patio Umbrella Sunbrella
Giantex 10ft Outdoor Patio umbrella with Solar Lights, Table Market Umbrella with Crank and Push-button Tilt System, Solar LED Lighted Patio Umbrella for Backyard Deck Pool Beach (Burgundy)
【Double the Romance in Gardens】: 3 solar-powered bulbs on each rib, 24 LED lights will light up your patio umbrella after night falls. Though not much bright but romantic enough to spark the atmosphere. Solar energy is much clean and friendly to environment. Especially suitable for sunny areas.
【Premier Operation System】: Handy crank lift makes it pretty simple to open or close the patio umbrella even for teens. Want to tilt the umbrella for wider shade? No problem! Only push the tilt button. And in the evening, switch on solar powered lights, enjoy this tranquil summer night outside.
【Better at Blocking Sun Rays】 The diameter of our patio umbrella is 10 ft, which can shade the table with 4 to 6 chairs. The fabric is 100% solution-dyed polyester, durable and sun rays blocking. This umbrella can protect your skin well.
【Easy to Use】 Our garden umbrella is easy to put up. Only need to assemble the solar panel on it. Then you can open or close the umbrella just through the crank handle. The 1.5 in diameter steel pole with more weight stands still to keep the umbrella a good balance.
【For Plenty of Occasions】(NOTE: Umbrella base NOT Included). You really need one patio umbrella at least. It can lessen most of harm from strong sunshine and create romantic atmosphere at night. Suitable for almost everywhere from family to business like parties, hotel, park, barbecue bar, western restaurant, beauty salon.
Last update on 2023-09-21 / Affiliate links / Images from Amazon Product Advertising API
If you just can't be bothered with installing light disks or hanging up string lights, we hear you! This Sunbrella from Giantex could be the winning card for you, offering both the lighting as well as the actual umbrella.
Taking a look at its construction, we first noticed the sturdy powder-coated pole measuring a diameter of 1.5 inches, allowing the umbrella to bear heavier weight better and stand its ground against wind.
The top part of the Sunbrella consists of 8 solid ribs, each one is equipped with 3 bulbs powered by solar energy that's much cleaner and more friendly to the environment than conventional lights running on electricity. The produced light isn't very bright, but enough for those searching to add a romantic glow and spark up the atmosphere.
The umbrella opens and closes swiftly thanks to a handy crank lift which is easy to figure out. The tilt button lets you bend the umbrella at an angle if you decide you want a wider shade. Once the sun retires, you can switch on the solar-powered lights to extend your fun through the night.
At the upper part of the umbrella, you'll see a large round shape covered in fabric made of 100% 180G polyester. This material has an impressive waterproof and fade-resistant quality, which means you can depend on it against various weather conditions.
Additionally, this fabric handles heat like a champ as it blocks out the majority of intense sun rays. The vented canopy allows air to pass through for cooling, along with just enough warmth to keep you nice and cozy.
Setting up the Sunbrella is a hassle-free task since it requires no wires, batteries, or any other external source of light. However, you should note that the umbrella base isn't included with the product, so you'll most likely need to purchase one.
Moreover, storing the Sunbrella is a breeze. When you don't need it, you can simply close it with the help of the detachable pole and crank handle. We do wish there was some kind of tie to keep it tucked in place, but you can definitely improvise and use one anyway.
The Giantex Sunbrella is available in 3 color options: burgundy, tan, and beige. It's an ideal choice if you don't already own a patio umbrella or you're thinking about upgrading the scene. The unit price is admittedly expensive, not to mention having to buy a base, but given that it's a piece of furniture, not just light bulbs, we believe the money is justified.
Pros
Stylish umbrella design
Handy crank handle for simple adjustment
Detachable pole and crank handle
100% 180G polyester fabric
Sturdy build
Good deal
Cons
Doesn't include umbrella base
Light can be brighter
Occasional flickering
Check Price and Reviews on Amazon
---
What Should I Consider Before Buying Patio Umbrella Lights?
Before you spend hard-earned money on lighting, you need to carefully consider the following aspects. Make the choice based on what suits your needs, and you'll definitely end up with the best patio umbrella lights!
Type of Lighting
Right off the bat, you should take some time to really think about what use you expect to get out of the lighting prior to actually buying one of the products on our list. So what's the purpose of purchasing patio umbrella lights?
If your answer is to add some accent lighting as part of your landscape project, or create a warm ambiance to relax and chat with loved ones in the evening, then you'll probably enjoy setting up string style lights more than others.
On the other hand, if you need the lighting to help you achieve certain tasks such as reading a book, serving food, or crushing your friends in a card game, you'll want to have brighter more concentrated illumination provided by disc-style umbrella lights.
Lighting Style
After browsing the internet for available options of umbrella lights and putting together a top 5 list, it's pretty obvious there are basically 2 lighting styles: Strand lights and Disc lights.
To make things simpler, let's break down each style to better compare the advantages and disadvantages of each.
Strand Lights
Do you know how a fountain looks as water goes up in one jet stream then branches out at the top? Well, that's very similar to how strand lights look on an umbrella. In fact, the concept of their operation isn't far off from each other.
Strand lights have a central trunk line that usually makes its way inside the shaft of the umbrella and then spreads out into a number of individual strands matching how many ribs your umbrella bears. This means you'll see light covering the whole umbrella.
This style is an excellent choice for mood lighting and soothing effects, but to set it up properly, there are a couple of factors you should take into account:
The Shape of the Umbrella
If you're looking at a standard patio or market umbrella, you'll be happy to know that just about any strand light system is going to be compatible with it. However, if you're working with an offset or cantilever umbrella, you'll need to look for a strand lighting system that has been specifically designed to accommodate such styles.
Number of Ribs
If you own a patio umbrella, now would be the time for you to count its ribs. Typically, such an umbrella sports 8 ribs, but nowadays, there are multiple variations of patio umbrellas having 6 ribs, 9 ribs, or a different number.
When you're shopping for strand lights, make sure the number of stands offered by the system matches the number of ribs on your umbrella.
Umbrella Diameter
Lastly, you'll need to accurately measure the diameter of the umbrella to calculate the suitable length of each strand. This is crucial as it can make or break your experience.
Take the diameter of your umbrella and divide it by 2 to get its radius. This value corresponds to the maximum length of each light strand.
Disc Lights
Disc lights look like hockey pucks or a mini spaceship. They're designed in a manner that lets them latch onto the umbrella's main shaft, emitting light downwards from above.
The resulting light is more intense and, of course, focused around the umbrella's shaft to illuminate objects below. This sort of lighting is best for practical aspects of activities such as eating and reading. It won't be very pretty to the eye, so probably not what you should go for if that's a concern of yours.
When it comes to purchasing a disc light, there's only one parameter to look out for which is the diameter of the pole of your umbrella. Generally, these poles fall somewhere between 1.5 inches and 2 inches. You'll find almost all disc lights out there featuring an adjustable diameter to fit whatever size your umbrella is.
If the shaft of your umbrella has an unusual pole diameter or a non-conventional design, be sure to check for a more specialized disc light.
Source of Power
One thing you shouldn't overlook is the source of power which will be running your lights. Currently, there are 4 different power sources: Regular batteries, Rechargeable batteries, Solar power, and electric plugs. Here's what you need to know about each one:
Regular Batteries
These are simple and straight to the point. Regular batteries are the typical option to opt for since everyone already knows how to handle the system. You won't need to worry about the whole recharging thing, and they're initially cheap.
However, they're not exactly environmentally friendly and they'll cost you more in the long run. Also, if you forget to stock up, you have no other way of powering your lights.
Rechargeable Batteries
Rechargeable batteries are quite a functional and energy-efficient way to power patio umbrella lights. Some of these systems utilize old school AA rechargeable batteries, while others have built-in batteries that can be recharged via solar panels, a plug, or a USB cable.
Rechargeable batteries are more friendly to the environment than regular batteries as well as cheaper over time.
Solar Power
Solar energy is a nice, green, and environmentally-conscious method of providing power to light up your patio. Most of the time, you can find a small solar cell located at the top of your umbrella. This cell absorbs sun rays during daylight to charge up the integrated battery system.
Once darkness falls, the lights will automatically turn on and continue to glow and illuminate your night for several hours until they slowly fade out, indicating they've run out of power.
There's no doubt about solar energy being an awesome alternative way of powering umbrella lights, but consider this:
If you live in a place where cloudy days are more frequent to have, or you're looking for a lighting performance that lasts through longer periods, solar power may not be the best route for you to take. Moreover, if you're one to use a cover for your umbrella, chances are you'll run into compatibility issues with solar lights.
Electric Plugs
You might have seen a couple of patio umbrella lights using a standard electric plug that's connected to the mains electricity supply. This means you're going to have a power cord running from the outlet to your umbrella.
The major trip hazard along with the unattractive look of such an out-of-place cord usually steers people away from the idea. However, it's the least expensive option of lighting, so some users don't really mind the catch.
Installation
Having a quick and smooth installation process is the key to an overall enjoyable experience. Luckily, all models included in our list are cordless, so you won't have to endure the pain of untangling cables and finding an outlet close enough to use.
For disc lights, make sure the clamp is tight, sturdy, and automatically adjustable to fit the umbrella you currently own or any upgrades you decide to have in the future.
Additionally, don't forget to check the diameter of your umbrella's pole so that you pick a compatible product.
Runtime
Some models offer 8 hours of usage, others go as long as 18 hours. Anything between the two is sufficient for good performance. However, you should keep in mind that whatever runtime you choose will still heavily depend on the source of power and how often you plan on charging your lights.
Water Resistance
Whether you place your umbrella out on a patio or a backyard, we can't even begin to stress how important it is to have your lights resist water. An umbrella is bound to encounter some rain action, so when this happens you want to be prepared, and not to mention, safe.
Consequently, you should choose a lighting system that offers decent water resistance, or better yet, are waterproof. Thus, ensuring the working state of your umbrella lights, all the while avoiding any dangerous situations resulting from faulty electric gear.
Wrap Up
Setting up an umbrella in your outdoor area is already a wonderful idea, but throwing in some lighting makes it that much better. The best patio umbrella lights offer just the right amount of brightness, style, and long-lasting performance.
If you're searching for a bright disc light to deliver focused illumination, withstand water damage, as well as provide serious runtime, the Totobay 28 LEDs Patio Umbrella Pole Light should be right up your alley!
However, if string lights are calling your name with their warm cozy atmosphere and beautiful look, you should definitely check out Sunlite Solar String Lights Dual Charge.
We hope your were able to gain some insight on the best umbrella lights for style and convenience!