A patio can totally flip your life over, in a good way of course. This outdoor haven can be quite the addition you're looking for in order to make your day that much brighter. And if you have a smaller space, we've got some great small patio ideas for you.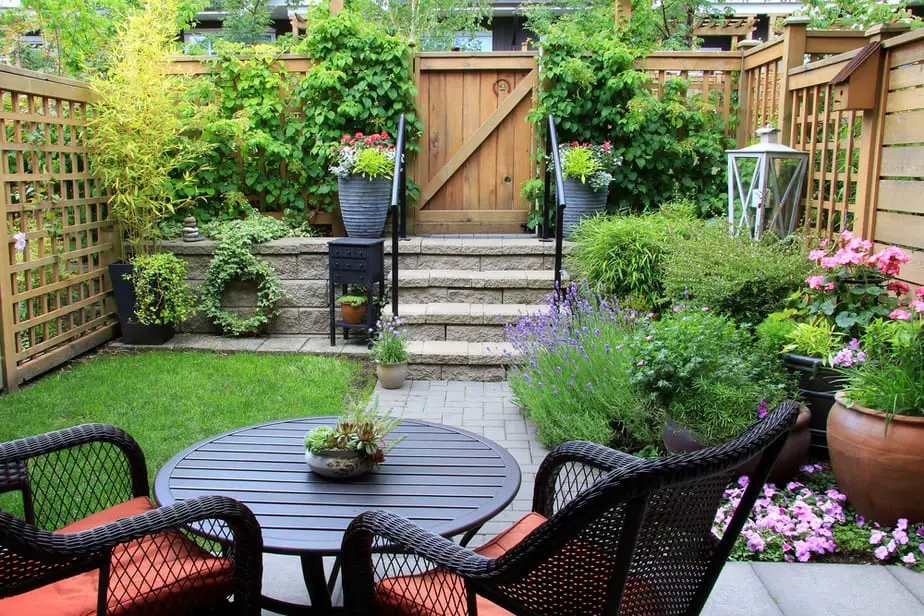 Having the girls over for a much-needed ladies night?
The guys are dropping by for drinks and some poker?
Hosting a fun get-together for your family members?
Got a kid, or a few, and want to make sure they're safe but still let them be outside?
Need a place to work and be productive while enjoying the fresh air?
Just want to kick back and relax?
Looking to renovate and add extra space to your home?
All that and more is simply covered when you have your patio ready for action. And don't worry, size doesn't matter this time. You can have a gorgeous style for your patio even if it isn't exactly huge. A small patio can be just as gorgeous or practical as a big one!
Yes, you read that correctly and I'm here to help you turn your outdoor oasis dream into a reality! With a collection of dazzling small patio ideas that were selected carefully to appeal to all the different tastes and interests, you might have.
So spark off your creativity fire, and without any further ado, let's get this party started!
Plant Pots with a twist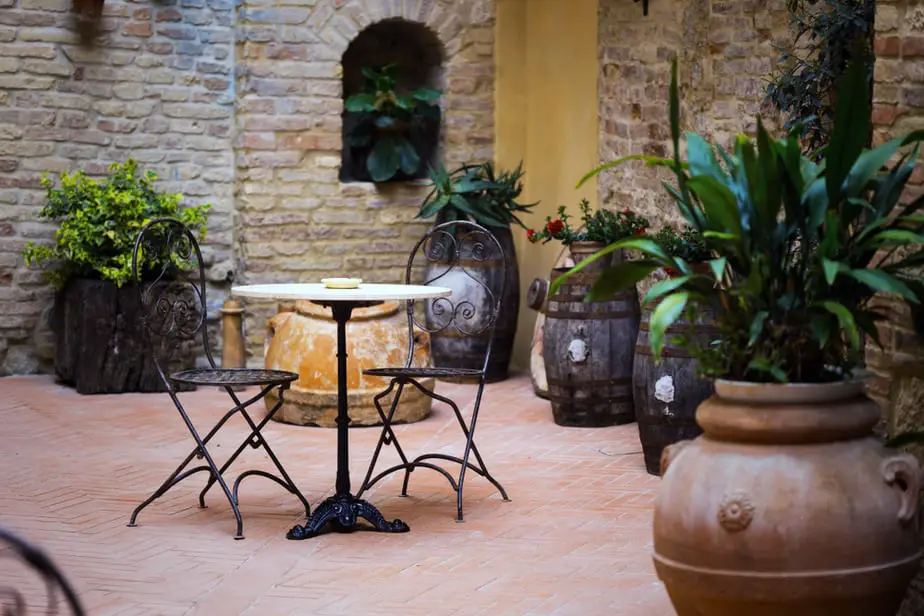 Making use of whatever containers you got is a great way to add a special crafty feel to your patio. Turning things like barrels, vases, and boxes into plant pots will give you exactly that, along with a sense of accomplishment.
Let's Hang!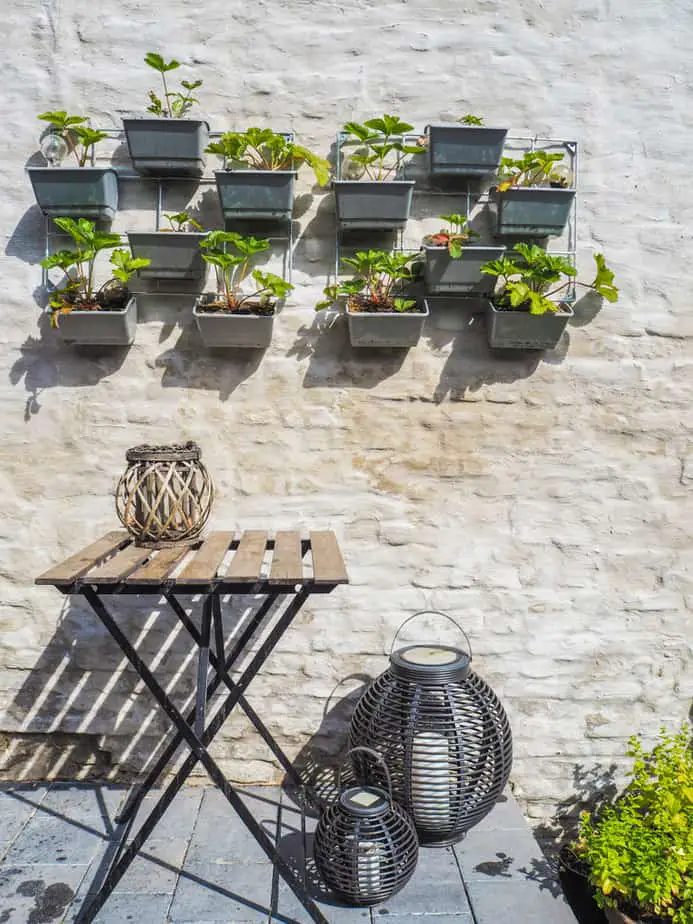 Having a limited space can't stop you from enjoying some gardening action! You can hang plant pots on your patio wall as an alternative to the conventional ground placement.
Work With Any Material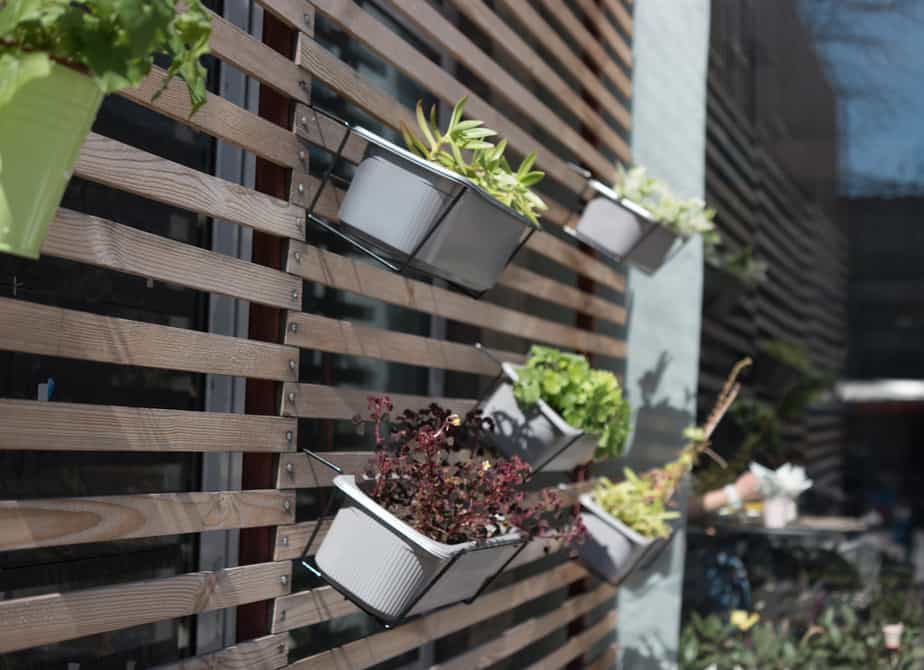 As an extension to the previous hanging approach, we suggest hooking your pots on a wooden fence if you don't have a cement wall to mount nails onto. It's a really simple solution when you're out of surfaces to put your flowers on.
Unwind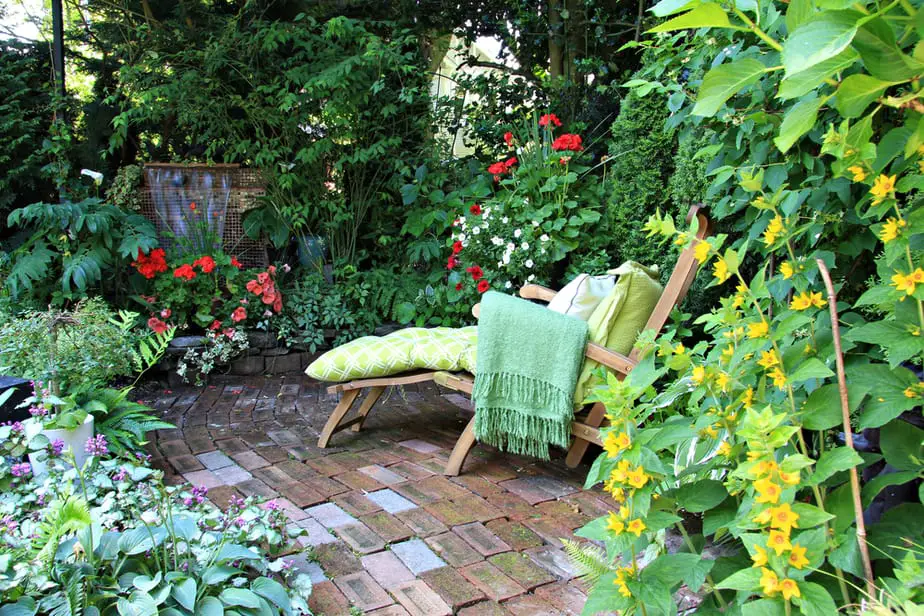 What's the point of a small patio if you don't get to tune out and chill? There's none. That's why a lounge chair is one of the most popular pieces of furniture in the outdoors genre. You'll be able to sit back, read a book or listen to some music comfortably looking at a beautiful view.
Smart Storing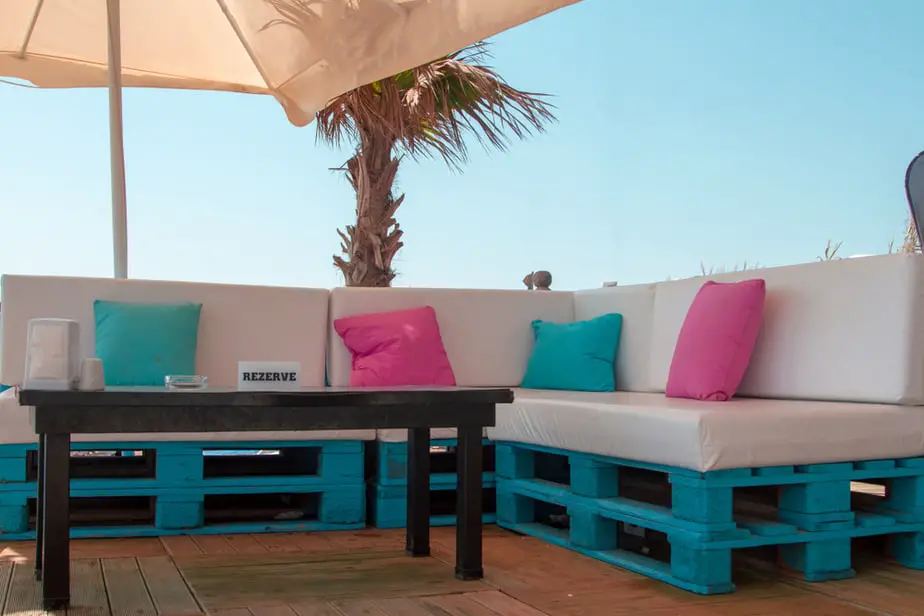 When you have a small patio, you gotta think about making the most out of every inch. One way to do that is getting furniture that doubles as storage units. Here, we can see a rather handy example of such a useful piece, where the couch is hollowed out to make shelve-like space for whatever stuff you wanna keep away.
Green corner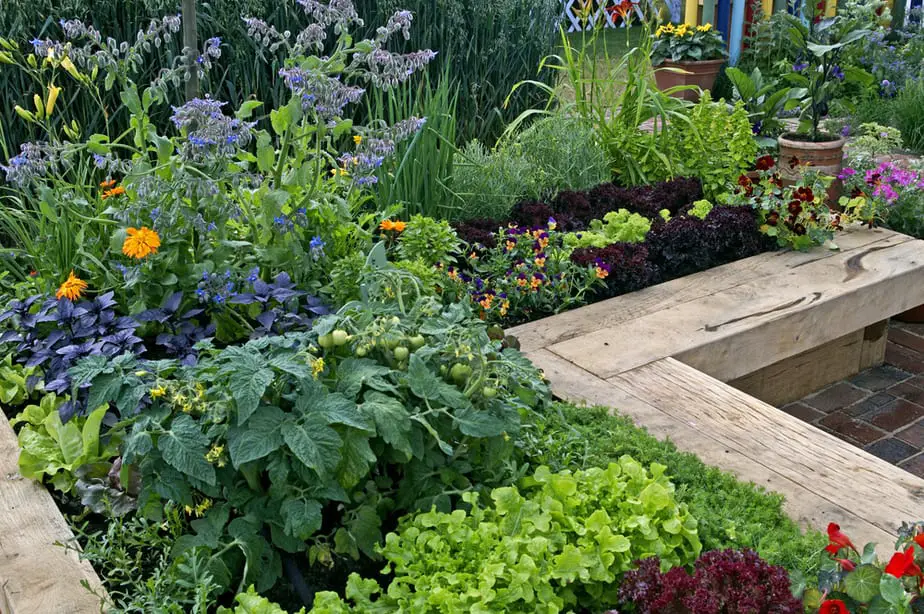 Got a corner that you just can't seem to make something good out of? Well, why not grow your own veggies or fruits? That way, you add some green life to your home, take full advantage of abandoned corners, and eat healthily. A triple threat I would say!
Sky High!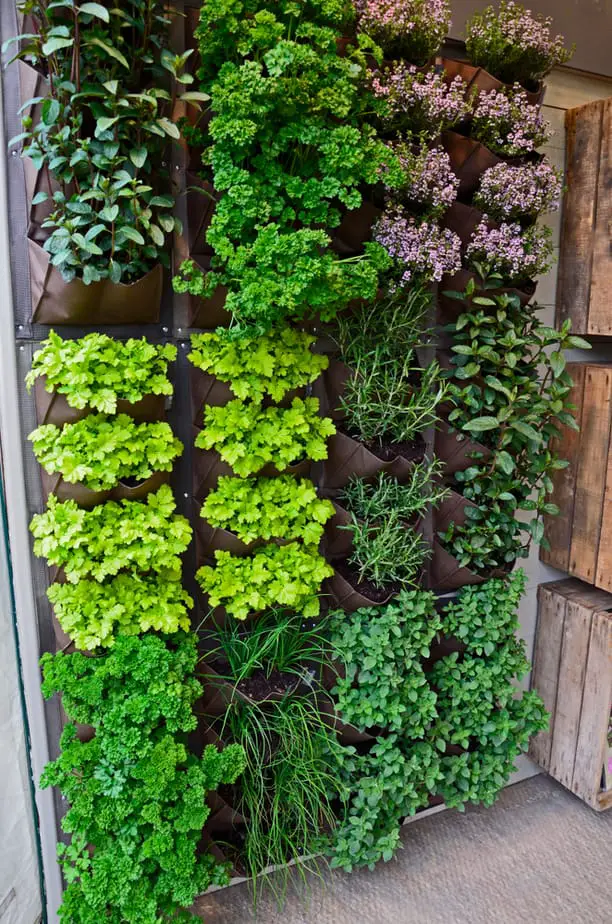 Another amazing addition you should definitely consider, especially if you're into growing your own plants, is the vertical garden. Not only does it look stunning, but it will serve as a decoration as well as a space saver. The sky is literally the limit this time!
Full Of Life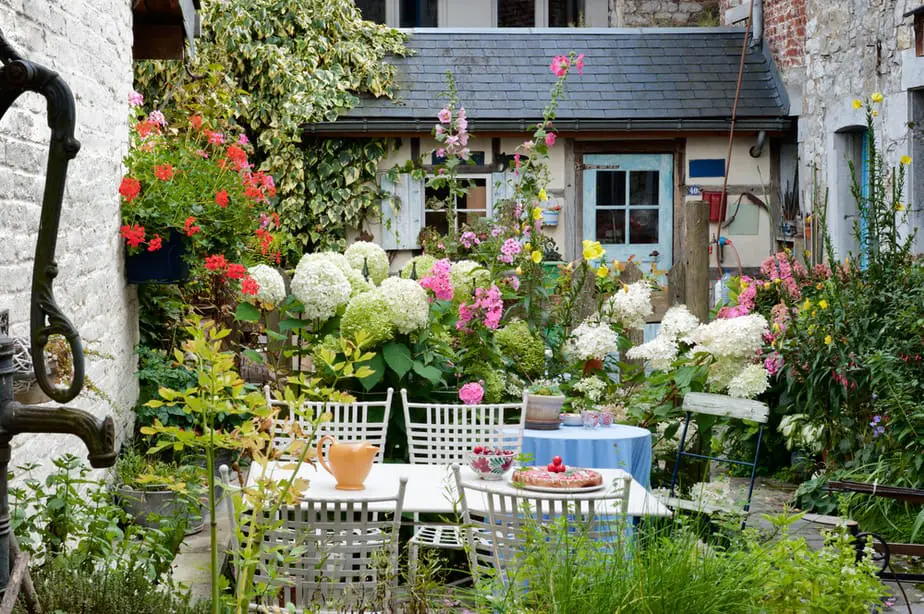 Just because your patio is small, doesn't mean it has to be plain and dull. Lots of colorful flowers and plants as you can see in this design really warms up the place and lets you sit in a cozy pretty surrounding. Spend time out there with good company, and you'd be pretty much set.
Throwing Shade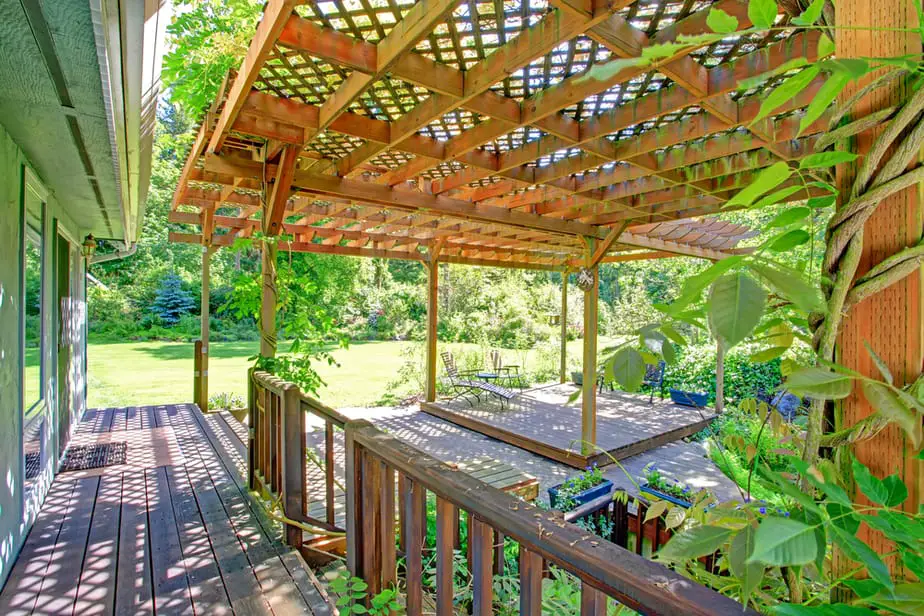 No, not in the passive-aggressive sense, but rather in the "it's too sunny, wouldn't it be awesome if we could have some shade?" sense. A pergola roof is an easy and equally stylish way to cover a certain portion of your patio so it becomes your sanctuary when the sun decides to be a little too friendly.
Let it Drape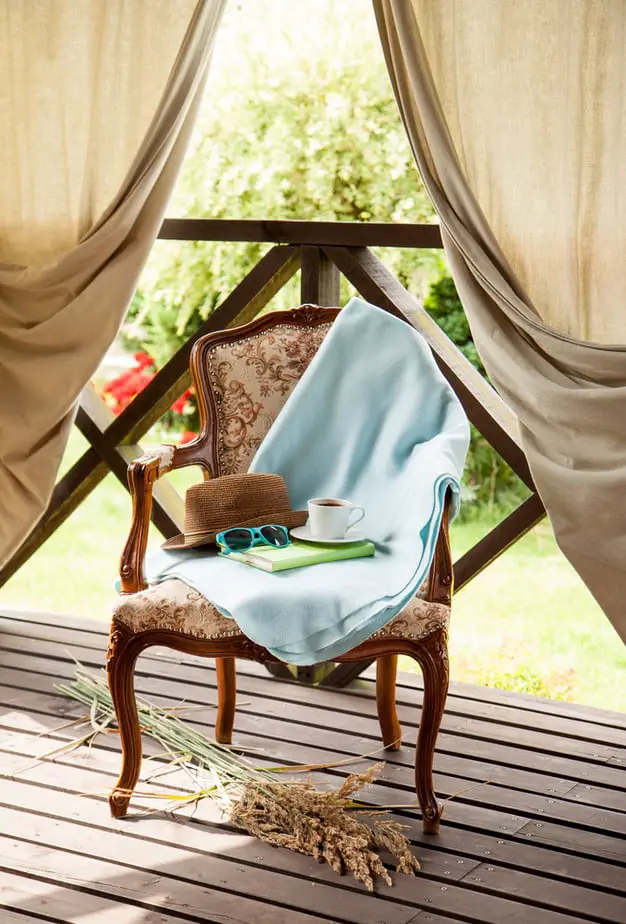 Using curtains outdoors will forever be a trendy path that you can always take. Apart from the chic beach vibes they deliver, they can give you the privacy you seek without being confined in by doors.
Back and Forth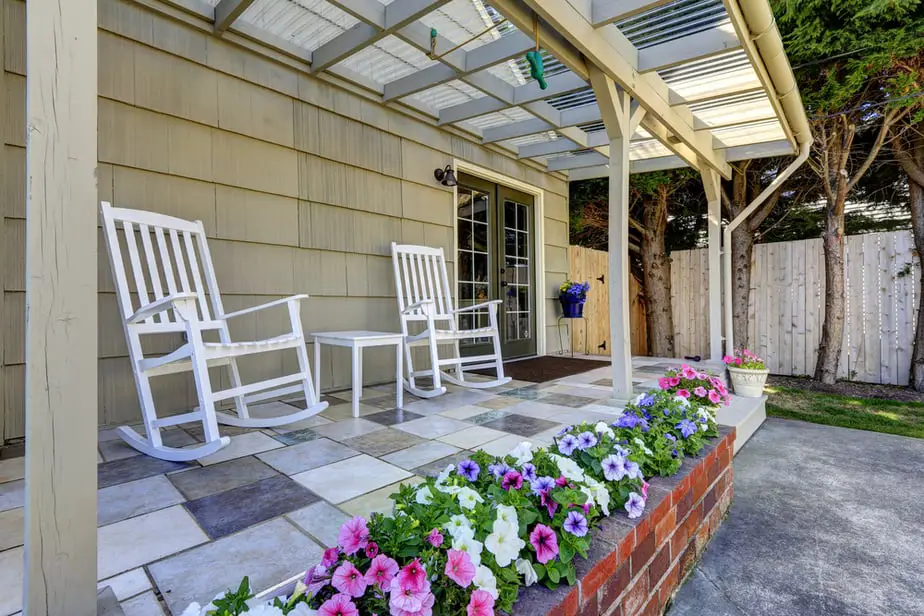 Who hasn't dreamed of owning a rocking chair that you hop on and relax anytime you just feel like it? I know I have! Well, I and tons of other people share the same desire, and probably you too, which is why you'll find a rocking chair to be a fast, hassle-free way to both decorate and kick back on your patio.
Look, No Hands!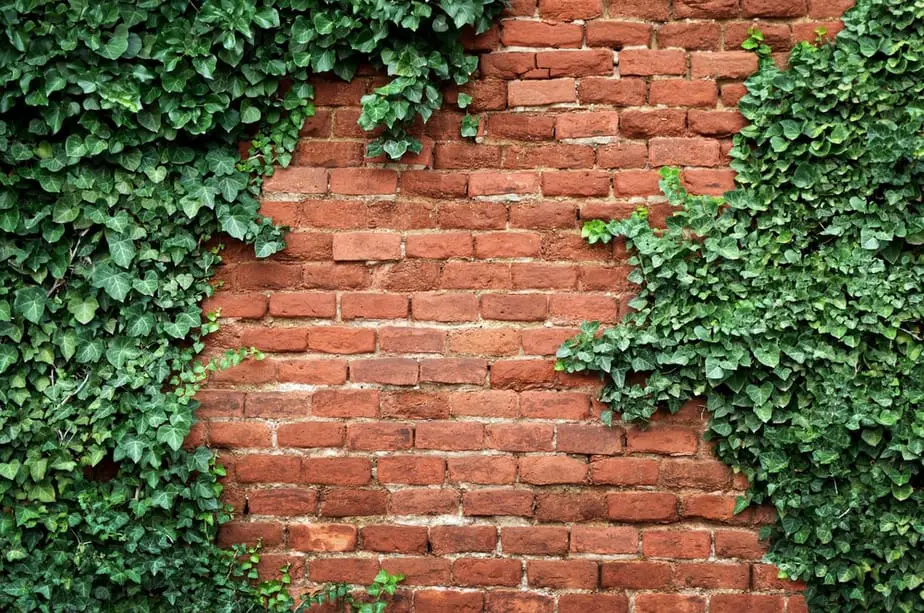 No room for pots but you can't let go of the idea of splashing some green on your patio? Don't you worry! Plants don't belong solely in pots, some types like ferns can climb walls looking dang fly while they're at it.
Flame On!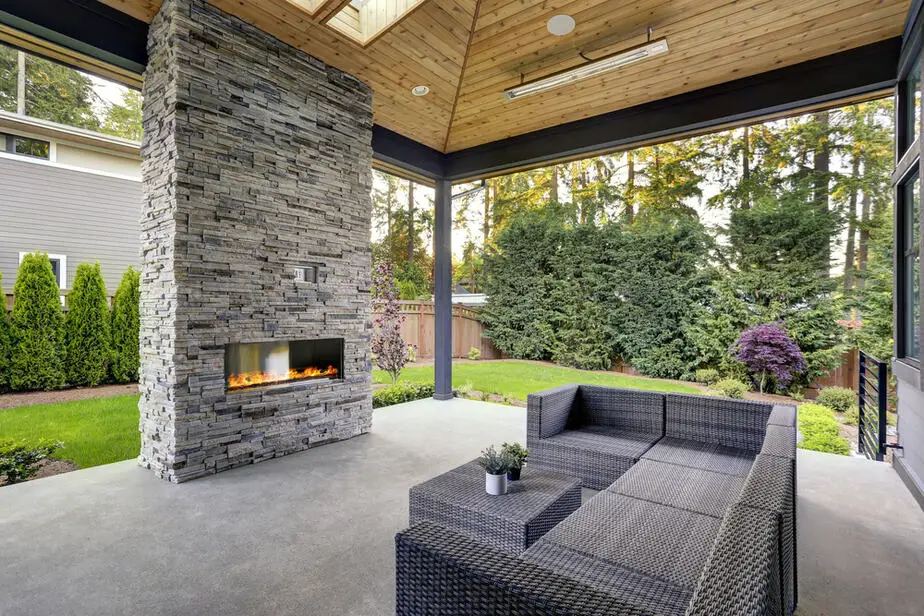 A humble size doesn't mean you should lose elegance and cut down on modernity. A stone accented fireplace can really work no matter where you place it, adding a beautiful touch of class.
Really Out there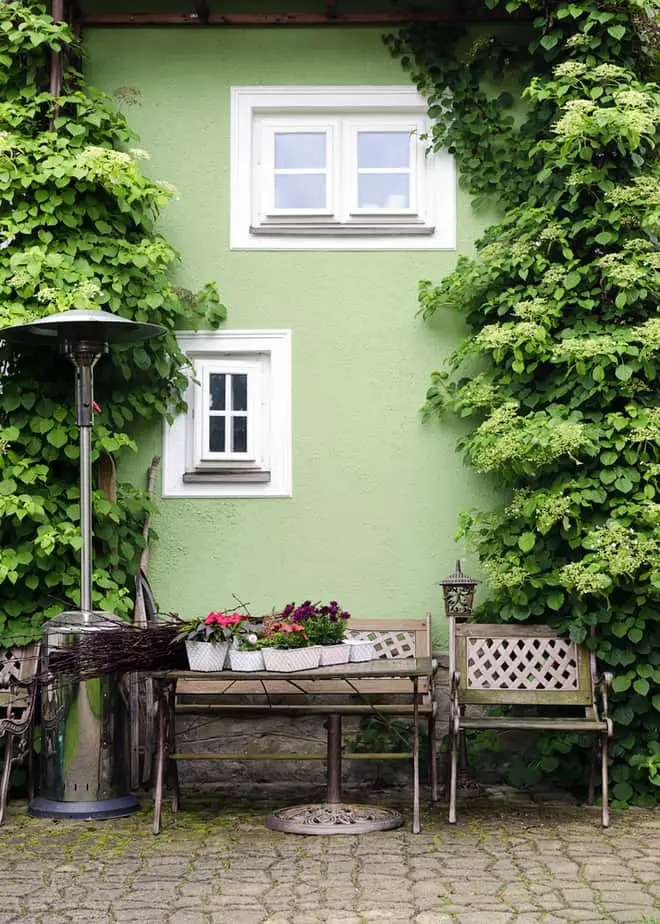 What do you do if you don't have a patio area inside your house premises? You take a couple of chairs or a bench up to the front, some shrubs, a small table, and voilà! You got yourself a small front porch or street porch. Now, it may not be the most relaxing scene, but it absolutely will never get boring!
Craftsmanship Lovers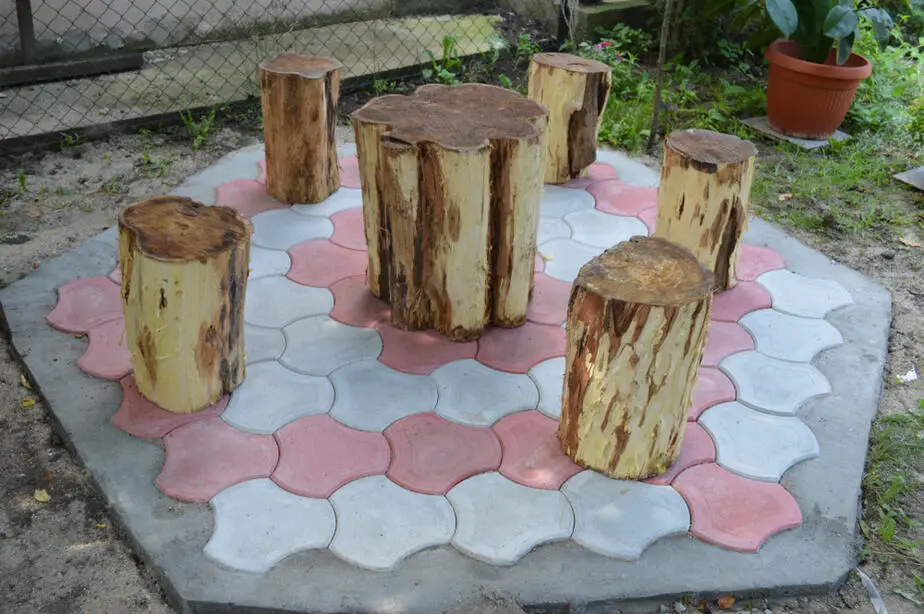 Sometimes you want to turn up your designing game with what we call: a conversation starter piece. When it comes to outdoor settings, a crafty-type of furniture will do the trick. Just like you see, having a sitting area made out of logs, will certainly get people talking as well as add an earthy seasonal feel to your patio.
Keeping it Simple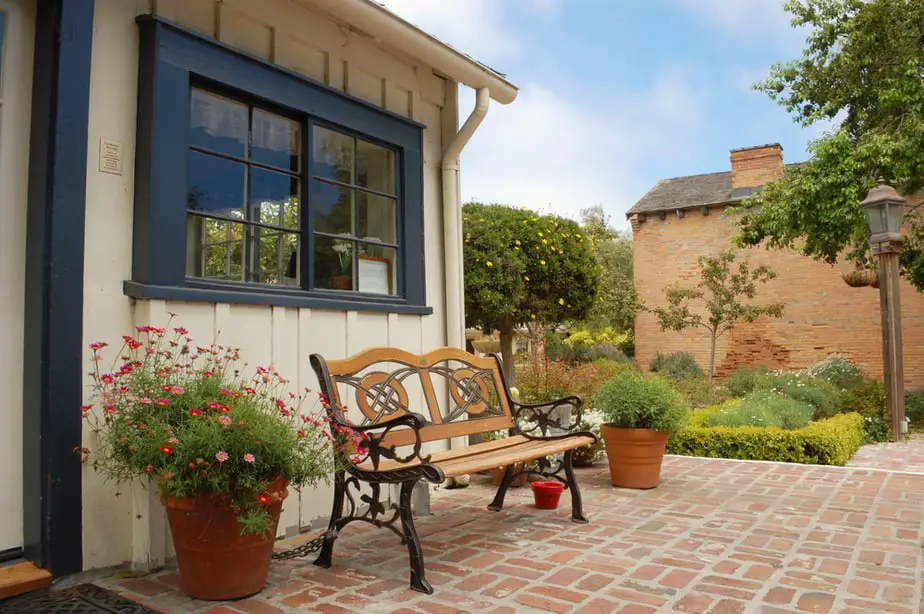 Again and again, simplicity proves to be a key to both charm and efficiency. There nothing that proves this better than a good old bench that combines both lovely fine details and an adequate room to sit and chat.
Bigger is Better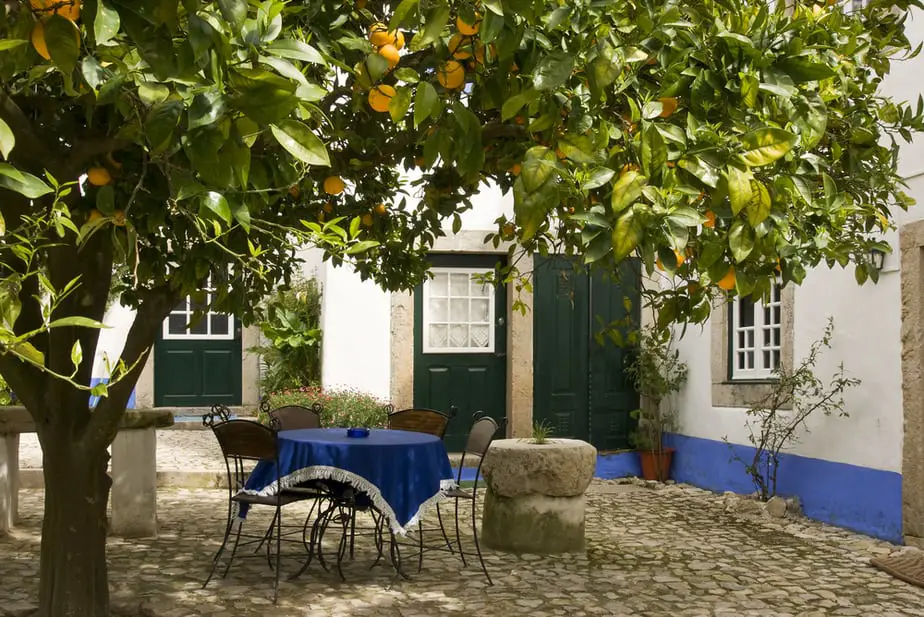 You don't have to fill your patio with flowers and bushes to the rim to make it look pretty. Sometimes, all it takes is a single tree, a huge one that is. The magnificent sight is enough to brighten your day whenever you need it while providing shade. The possibility of it being a fruit tree? Well, that's just a bonus.
Playground time!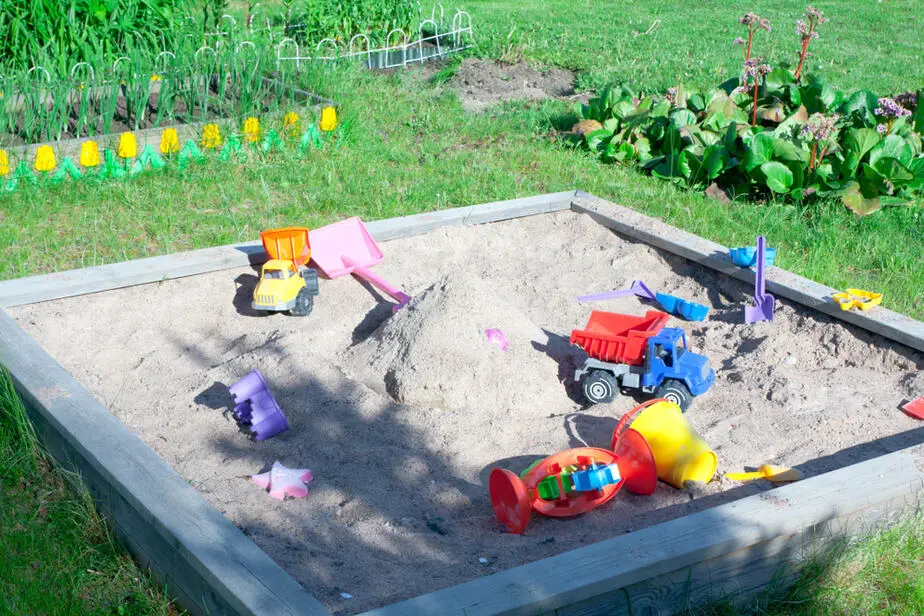 A small patio isn't only for adults to hang out, it can be a place fit for kids as well. Setting up a sandpit is an innovative way to let your kid, or kids, be active and play around without having to drive all the way to the nearest playground or constantly worry for their safety. Bring the fun home with this cool idea.
Private Patio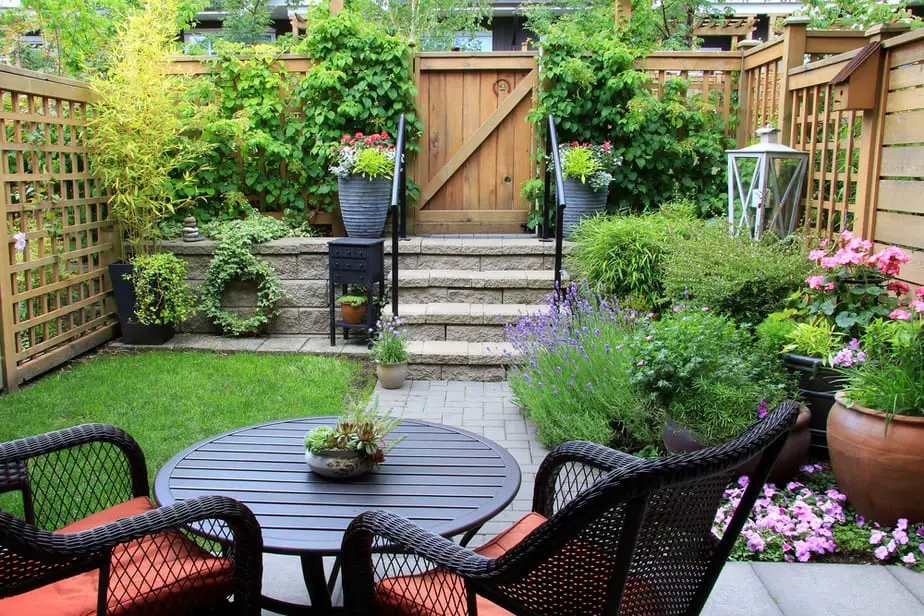 If you're planning to have your patio as a getaway place which doesn't necessarily adjoin your home, then you might wanna stay away from walk out patios. Instead, a fenced patio with some kind of a door, really makes you feel like you stepped on to a separate area where you can drop your worries, just breathe and enjoy some alone time.
Express Yourself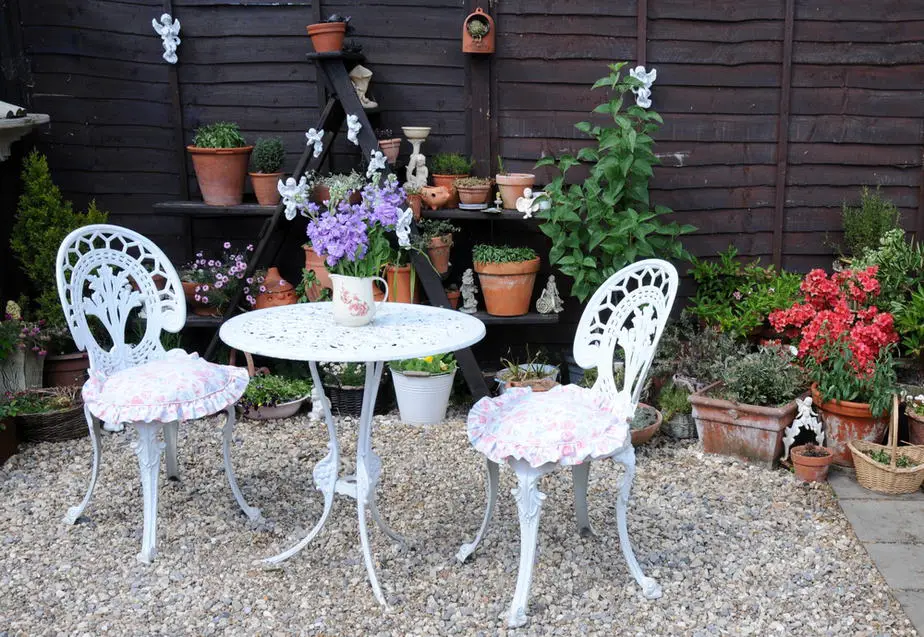 There's no rule that says you can't go against conventional furniture choices and show some personality with your patio design, even if it's on the smaller end of the spectrum. Have some fun with it, give those unusual or fancy pieces their time under the spotlight and live your life to the fullest. Remember to express yourself, it's your property after all.
Give Bricks a Try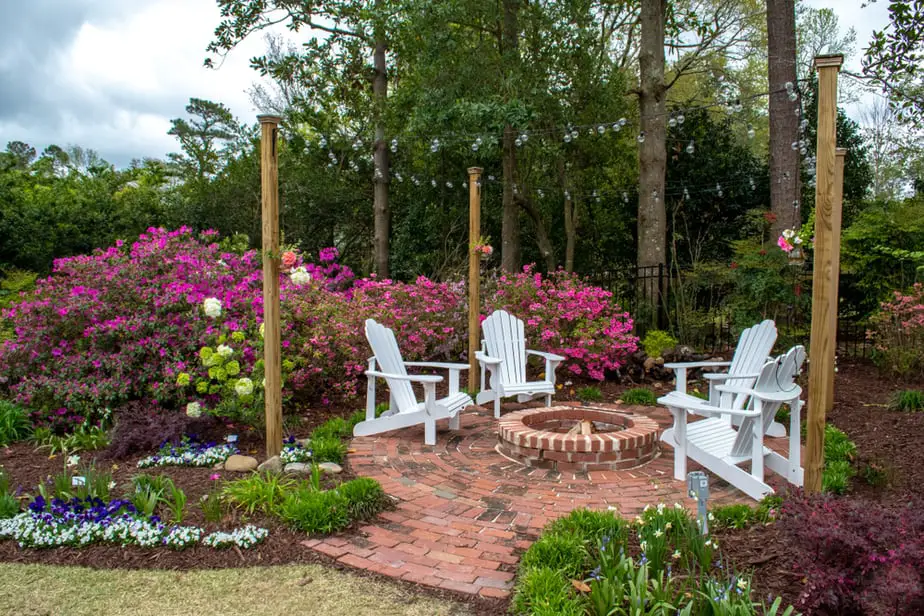 Bricks are something that you may not think of right away when building your patio. This design here is ideal for entertainment purposes, all the while being rustic and sturdy. The inviting spring vibes is another reason many people tend to lean towards such a setting.
Vacation Mood
The ultimate symbol for letting loose and chilling out is, no doubt, the hammock. So why not take it out of those resort commercials and move it right into the comfort of your own home? Sounds tempting? You can safely bet it would be as fabulous as it sounds, and it doesn't even take up that much room.
A Pool is a Pool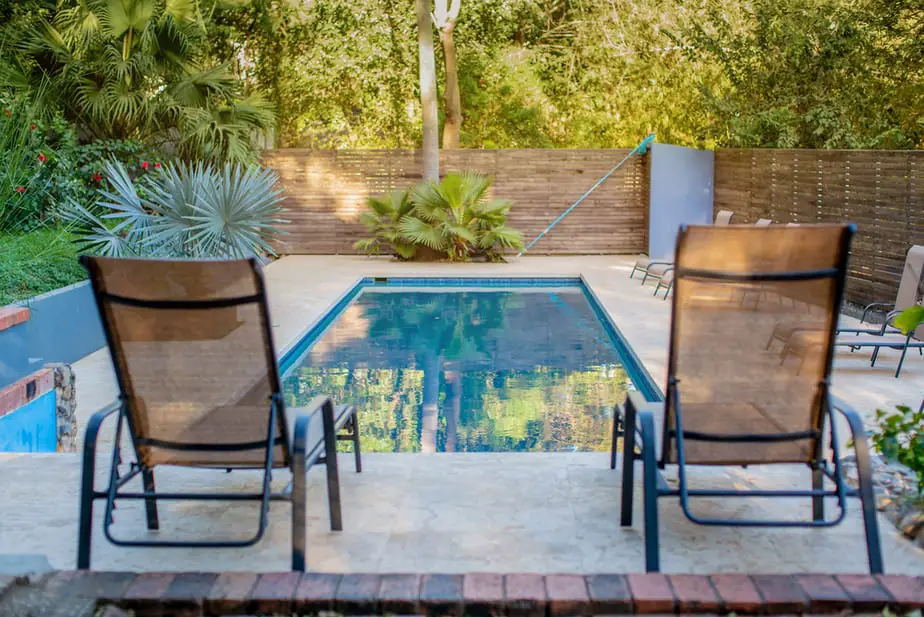 Yep, that's right. Your eyes aren't playing tricks on you, you can indeed have a pool in your small patio. It's all about correct sizing and fitting, then you'll be able to finally break out those swimming suits once again. To top it off, I got two words for you, Pool Party. Need I say anymore?
Starry Nights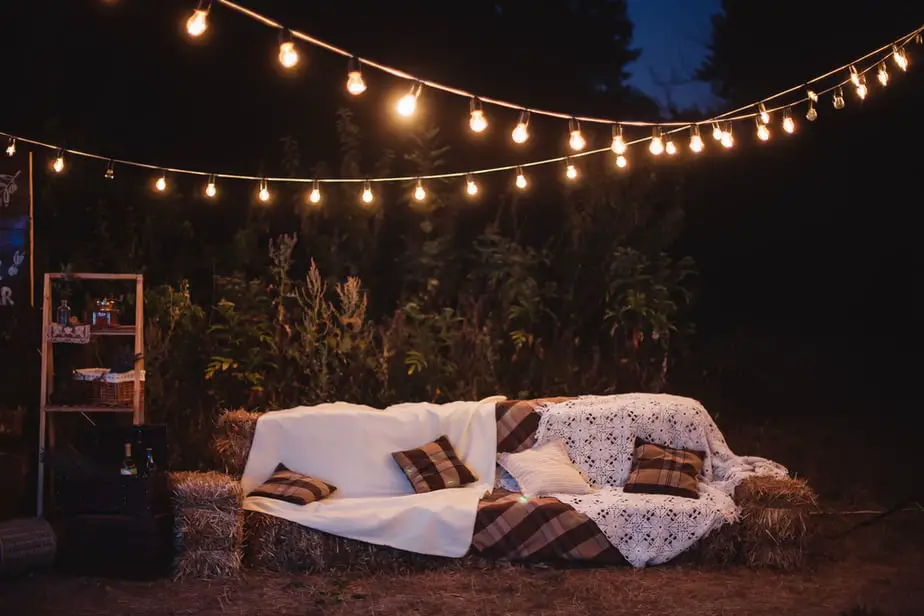 Lighting can majorly change the whole aesthetic of your small patio. It's not a place to enjoy only at day, night times are rather precious too. Lights bring a festive cheerful vibe to the table, and once you have a taste, you won't be able to let go.
Details are Everything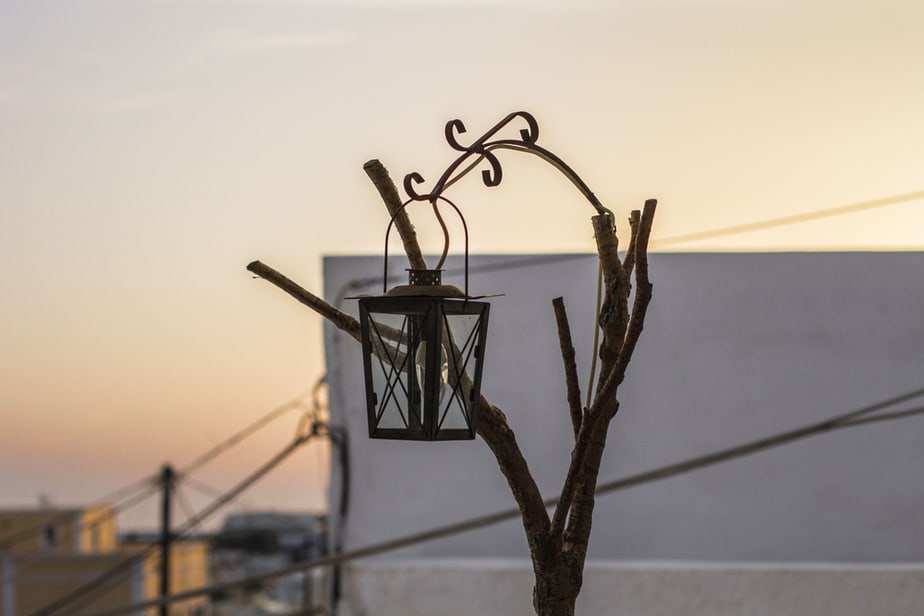 Paying attention to the smallest details can make all the difference to your overall patio experience. For example, lighting details. Lanterns have a certain magical feel unmatched by any other ornament. It's almost as if you took it right out of a fairytale.
When in doubt, Add a Swing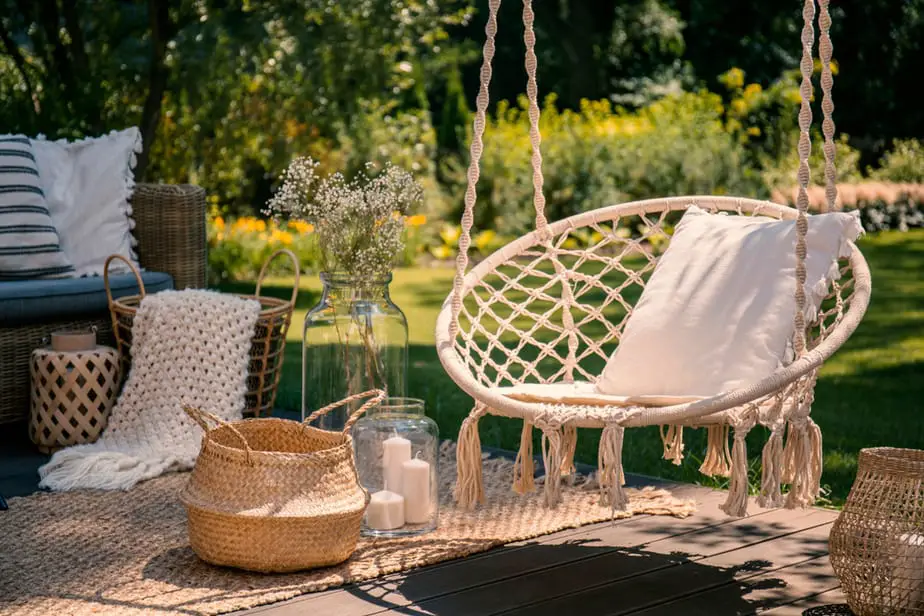 There's literally nothing that could go wrong with throwing a swing out there. Coziness and tranquility are what this must-have piece of furniture is all about. And let's face it, your inner kid is probably screaming at you to buy one right now!
A Rug can go a long way

One of the quickest, cheapest and easiest ways to decorate your patio is a rug. With plenty of patterns and colors to choose from, you'll surely find something that strikes your fancy.
Mirror, Mirror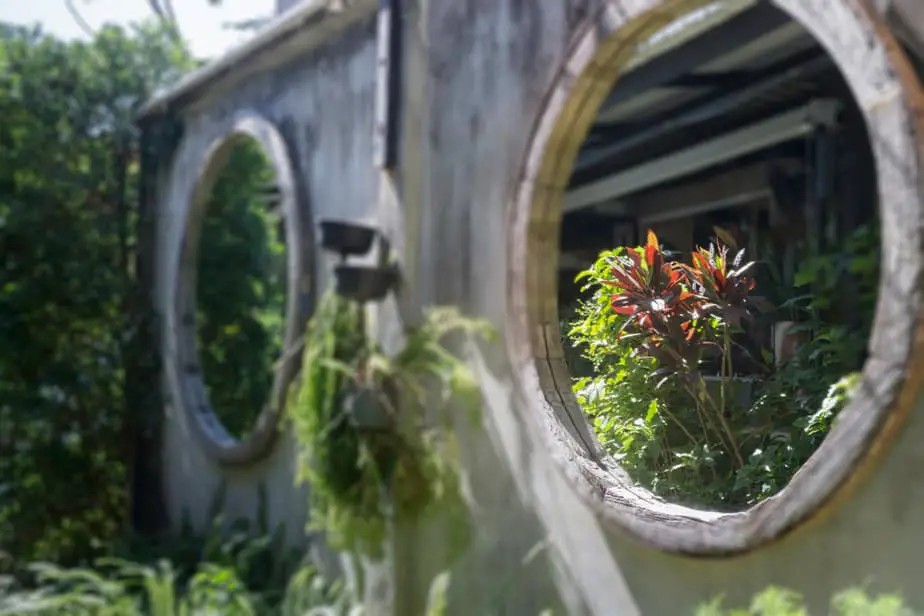 A basic trick to make your patio seen bigger is using a mirror. Hanging a mirror will give an illusion of a wider space, not to mention, it's a quite unique decoration piece.
Color it Up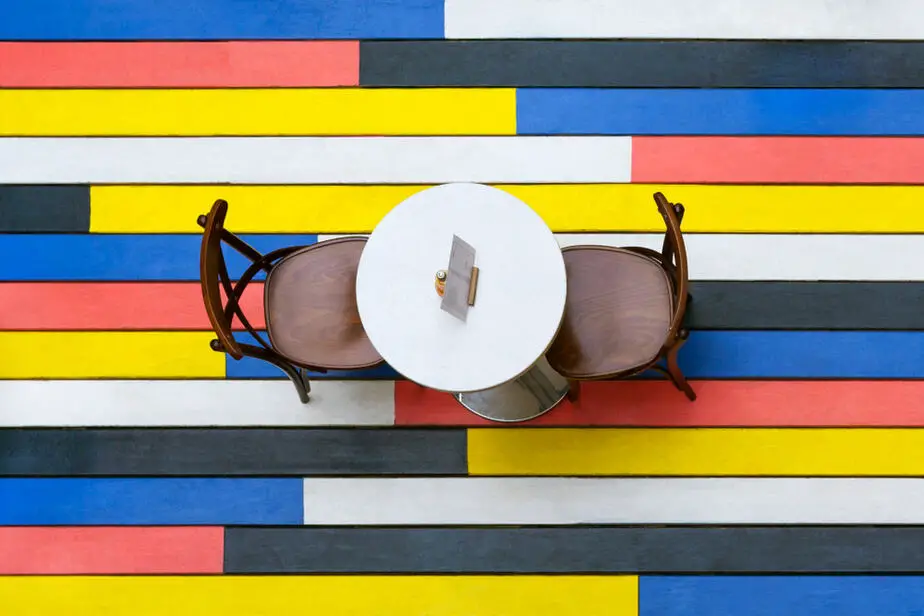 No one said you gotta stick to old school color schemes when it comes to patio designs. While traditional flooring colors such as brown, beige and white are a safe bet, they can very much be boring. Spice things up with daring different colors like the ones we see here and watch as your porch comes to life. Believe me, taking the risk is so worth it.
Wrap Up
There you go, a variety of wonderful small patio ideas where you can find an outlet to show your personality, make use of your small patio ideas, and still have it look stunning.