Spending time outdoors in beautiful weather is one of the true joys of life, especially when it's right outside your home door. If you're looking to turn for paver patio ideas or to turn your backyard into a gorgeous haven, you've come to the right place.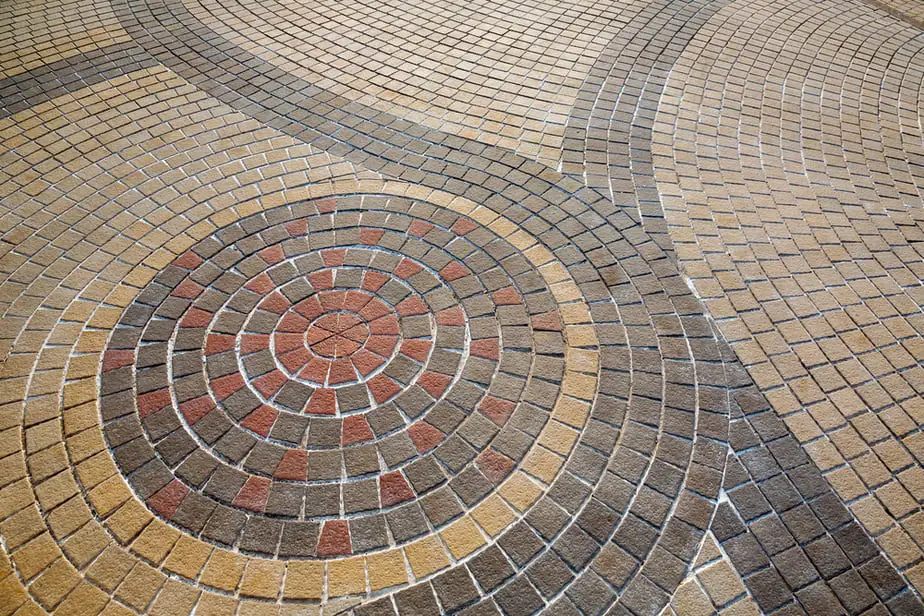 We can't really think of anything more exciting than reviving your patio to get ready for summer nights and gatherings of loved ones!
Since revamping a patio isn't something you do frequently, choosing sturdy and durable material is key. That's when paver stones jump right in!
While paver flooring may be more costly when compared to other options, you'll definitely be saving money and effort in the long run. Once installed properly, pavers will last for many years to come and you can enjoy an amazing patio or backyard with minimum maintenance. It's also quite easy to install with a few instructions.
Paver is a popular choice for patios for several other reasons. Not only do pavers look dazzling, but it also comes in a wide array of shapes and sizes making it very convenient.
Whether you're a fan of modern or old-fashioned style, there's a paver patio idea for every taste.
Read on if you need a little inspiration to help you pick one of these paver patio ideas that suits you!
Pond Or Pool
Stone Side Stream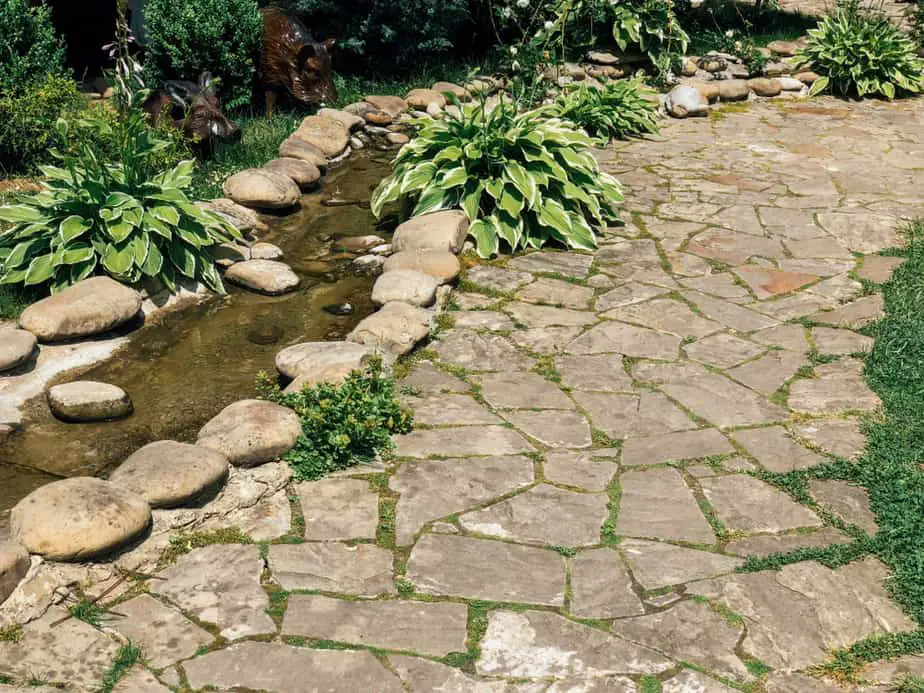 Irregular shaped flagstone pavers with beige tones hug a bank of water on the side of the patio. Between the paver stones, hints of green from the grass show for some contrast.
If you're looking to pull-off a nature-inspired wild look, then this is the one. Large pebble stones are placed along the side of the pond with a few green shrubs for some color.
Fresh Backyard Waterfall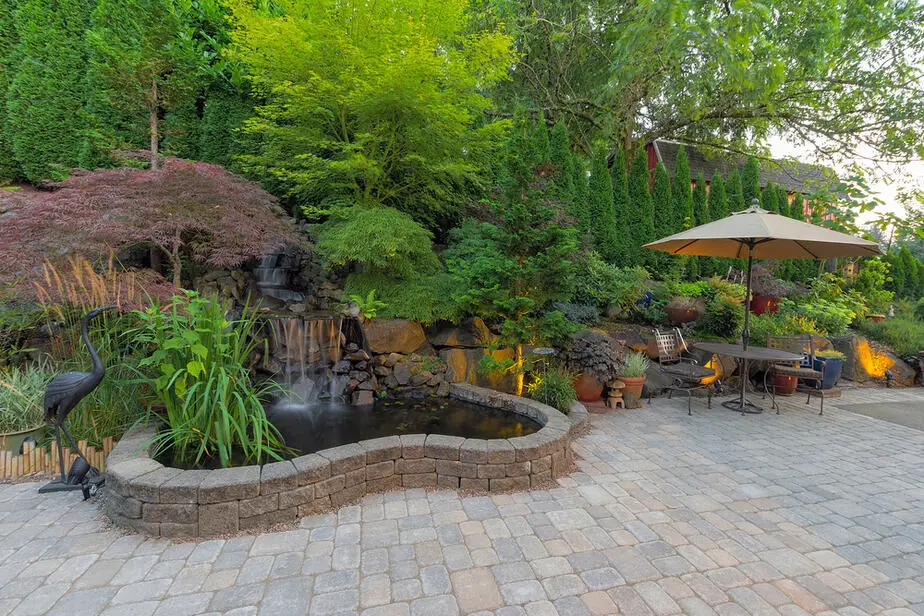 For this patio layout, neutral-colored pavers are perfectly laid out around a brick pond. Adding a waterfall surrounded by stones gives the patio a dazzling, natural feel to it. The patio is encircled by tall forest trees. Scattering a few spotlights here and there will give you a perfect night scene and a dramatic, warm effect.
Beautiful Blue Lagoon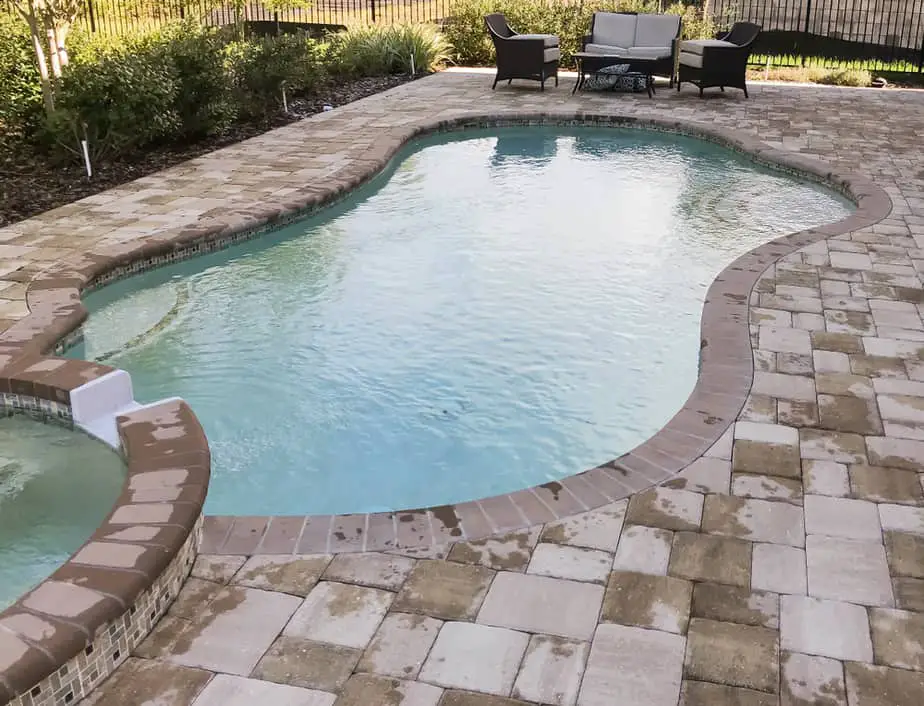 If your backyard is rather large, creating a simple swimming pool is a great way to add life to it. This irregular-shaped pool is surrounded with paver stones of various sizes of the same color. The patio is encircled by mulch and some plants. Don't forget a seating area to relax too!
Multi-level Waterfall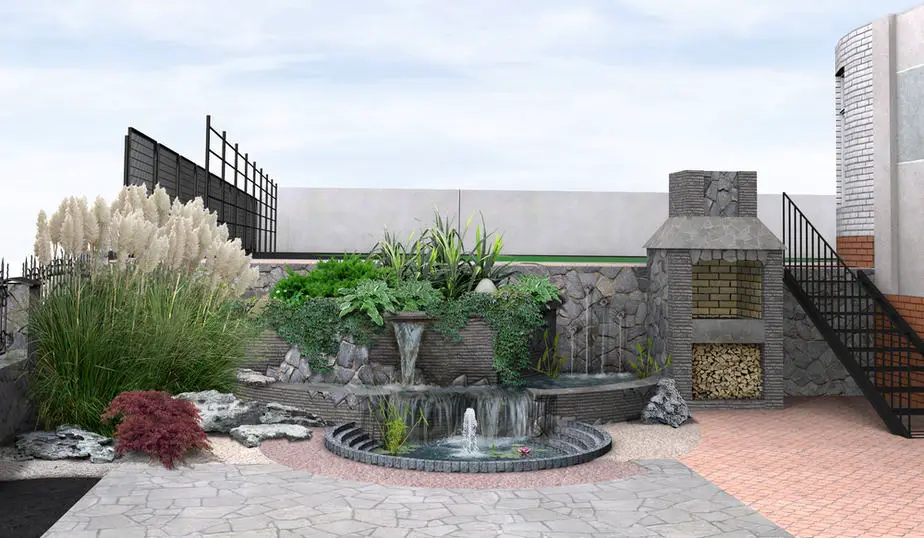 This contemporary modern patio design is best achieved using different paver stones. The multi-level waterfall goes all the way down to a small rounded pond with a few small plants. Around the waterfall are some green bushes of different types for a fresh look.
Pool View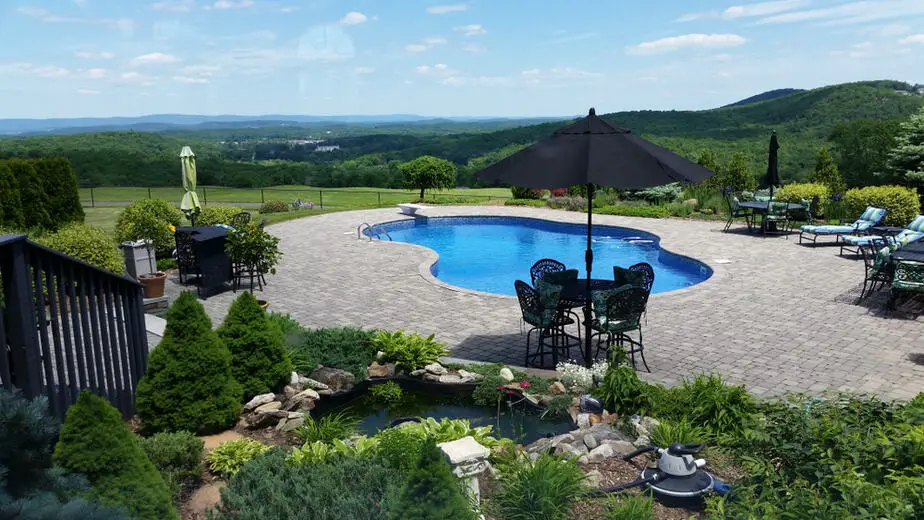 If your patio overlooks gorgeous scenery like this one, lose the fence to enjoy the beautiful view. A swimming pool always compliments large areas and is perfect for parties! Surrounding the swimming pool, are paver stones laid out flawlessly for a perfect finish. Now, a few chaise lounges and chairs are all you need for a day in the sun.
Fancy Fountains
Stone Stream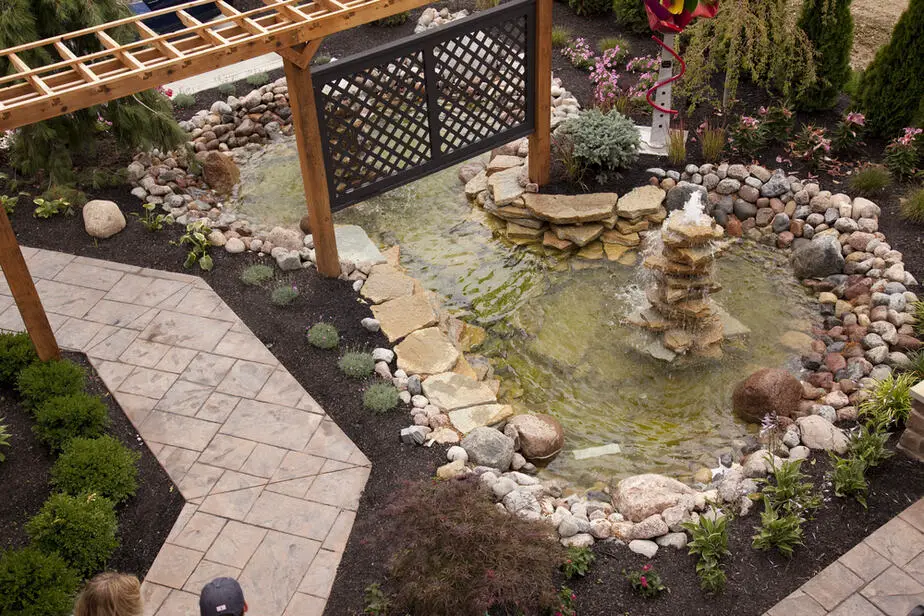 This patio is for you if you're looking for a budget-friendly raw landscape. A faux lake lined up with stones and pebbles holds a unique fountain made of stacked stones. A few bushes are placed around the lake and of course, most importantly, a neat paver walkway.
Ornamental Fountain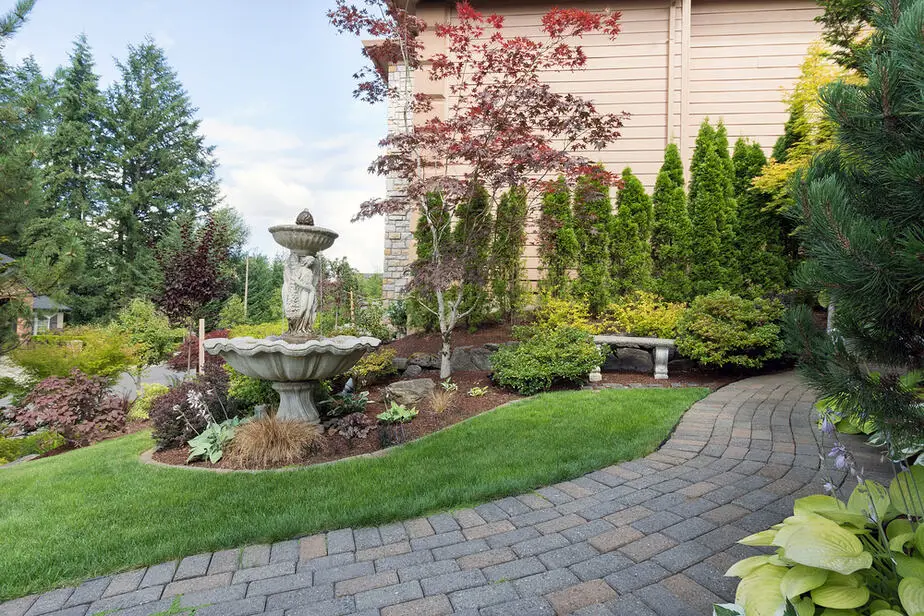 This landscape will turn your patio to a fascinating garden. The highlight here is the shabby chic fountain that sits gracefully in the middle of the garden. The fountain is surrounded by many tones of green plants and dark-colored mulch with a little bench on the side. The sidewalk is sleek and elegant, constructed using gray and beige paver stones.
Blossoms All The Way
Vibrant Petals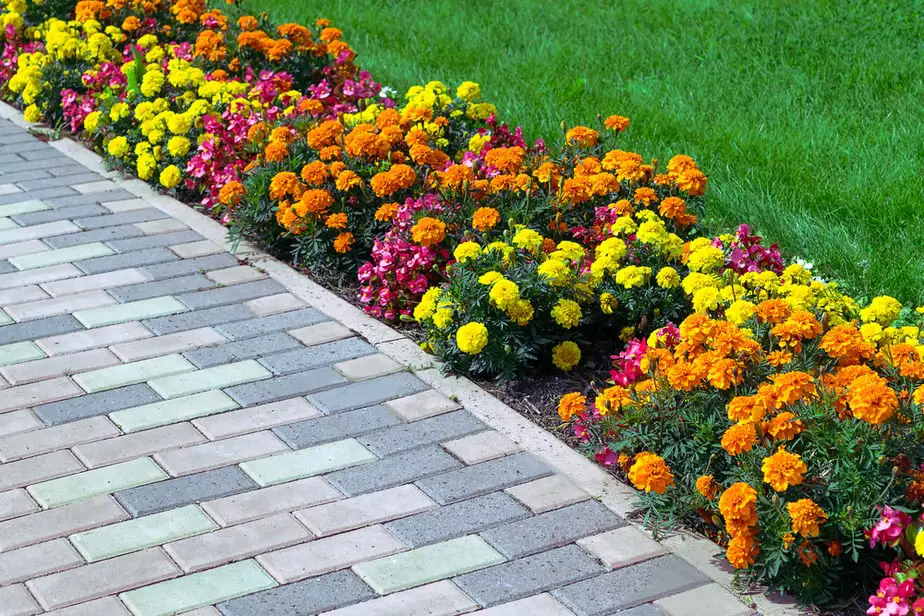 Is there anything more admirable than colorful flowers? We doubt it! This landscape is so easy to create. All you have to do is construct paver paths using neutral colored stones and simply line it up with beds of your favorite blossoms or plants. The flowers add an amazing pop of color to the patio.
Purple Steps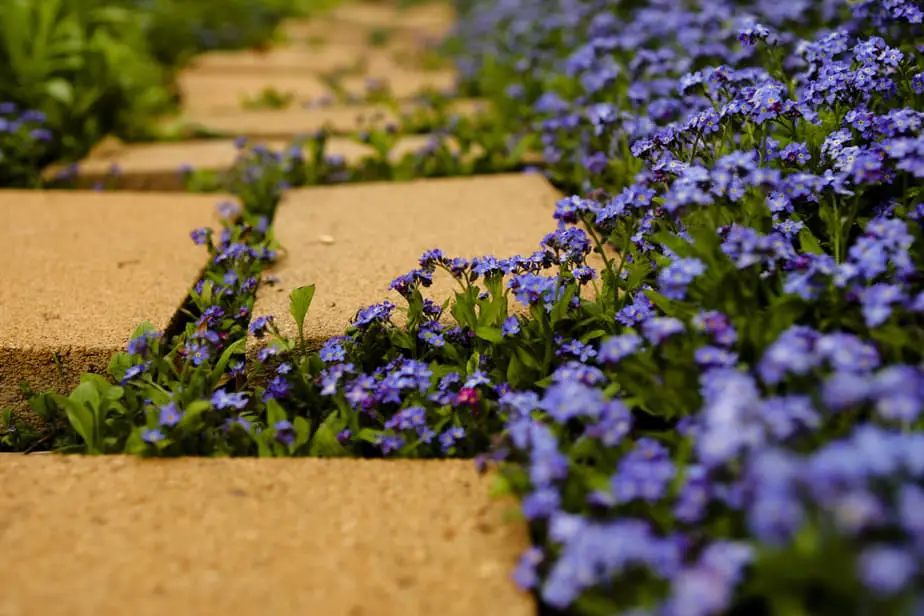 How about a stunning garden pathway all the way to your doorstep? For this landscape, use large paver stones of a warm color then plant small purple flowers (or any color you prefer) around the path for a breathtaking patio. The warm beige of the stones and the cold purple color contrast beautifully!
Flagstone Walkway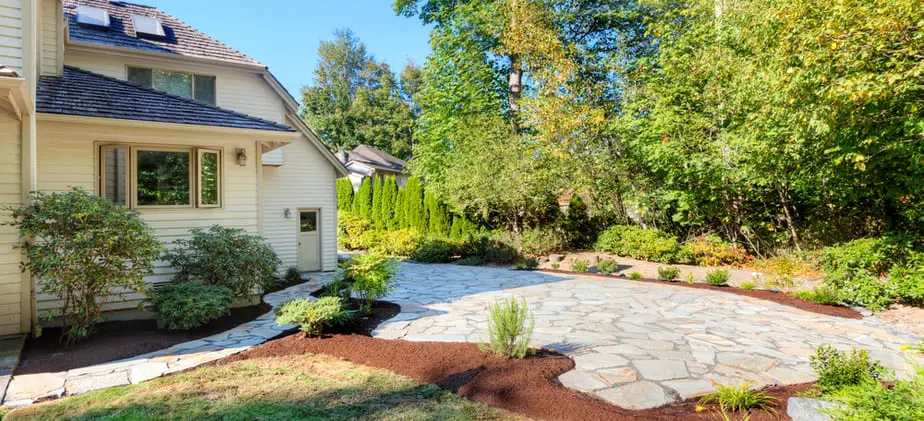 Using flagstone paver will transform your patio into a delightful countryside space. This yard features gray and beige pavers for a sitting area that is surrounded by graceful greenery. There's always room for a paver pathway to lead you wherever you want to go!
Rocks And Stones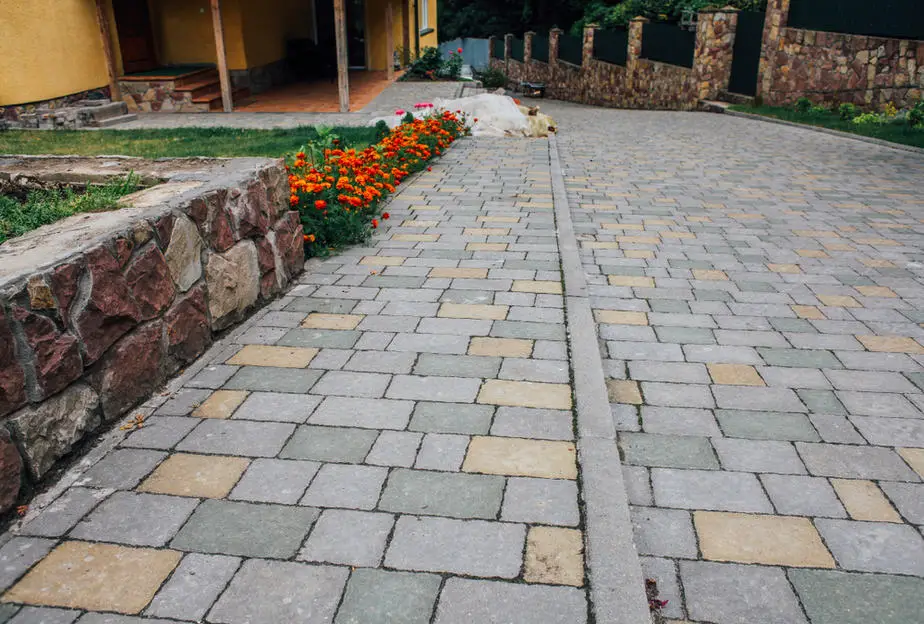 Hardscape rock stones and brick pavers are precisely arranged to cover most of the patio. Afterward, you can add a few bursts of colors with green grass and vibrant flower beds. This patio also features a grass box lined with wild stones.
Chic Courtyard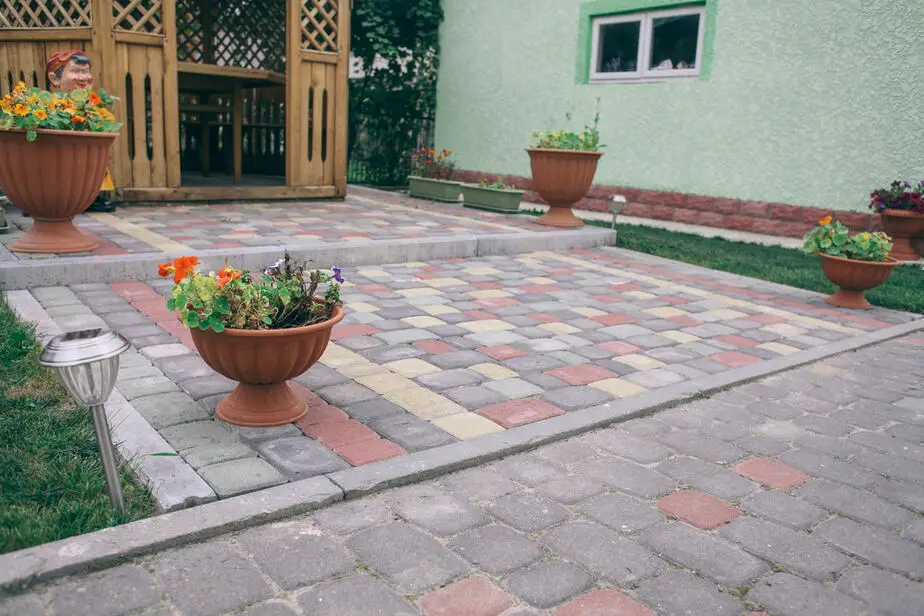 For this design, pavers of different colors like red, gray, and yellow are randomly nested on two levels. On the sides, green areas complement the patio's look. Large pots of plants are placed on the sides to create a beautiful path. At the far end of the patio, you can construct this wooden gazebo for some relaxing time out.
Green Lush
Modern Stone Patio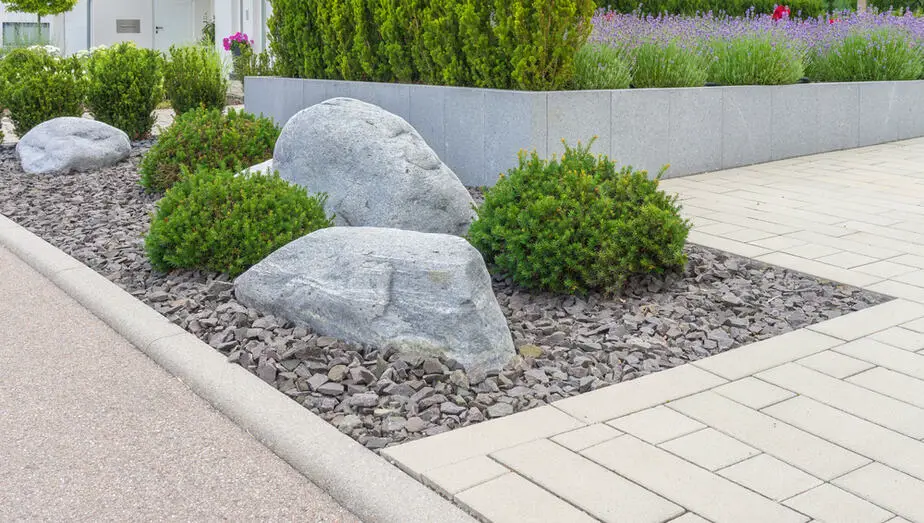 The paving paths in this idea are neatly organized for a contemporary look. You can cut out some areas and fill them up with small stones and two or three smooth larger stones. To liven up the patio, don't forget to plant green bushes around the stones.
Urban Asian Garden
If you have a medium or large-sized patio, consider this Asian-inspired urban garden landscape. Start off by placing a wooden slat wall diagonally in the corner. Line it up with simple plants for bountiful texture and throw in some beach pebbles.
Use square cut flagstones and arrange them for the seating area flooring. For the walkways, use large paver stones and fill the gaps with crushed pebbles.
Park Pathway
If you prefer a simple, all-green patio, then this may be a good option for you to consider. Simply plant your entire garden first. The fresh green grass is then lined up with a few paver stones creating a dazzling walkway. Use warm-toned paver stones for a lively contrast.
Eco-friendly Patio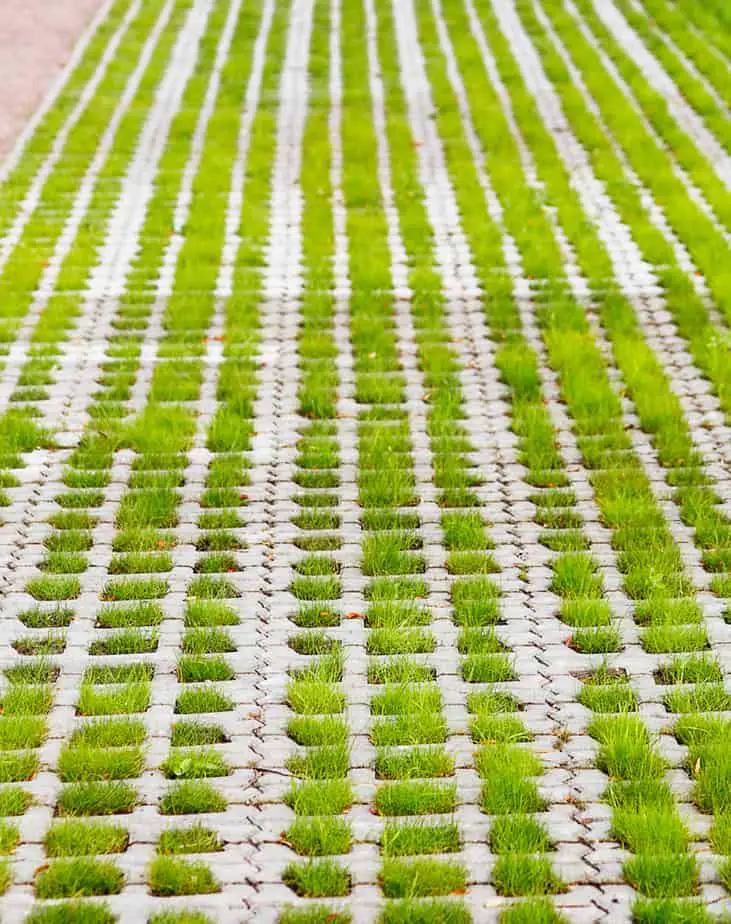 This patio idea is for you if you're environmentally conscious. The type of paver stones utilized in this idea is called porous paver. The porous paver is really trending in the outdoor landscape and there's a good reason why.
Fill it up with grass for an amazing look and an extra environmental benefit. With this landscape, you'll save water and prevent pooling of water.
Smooth Stone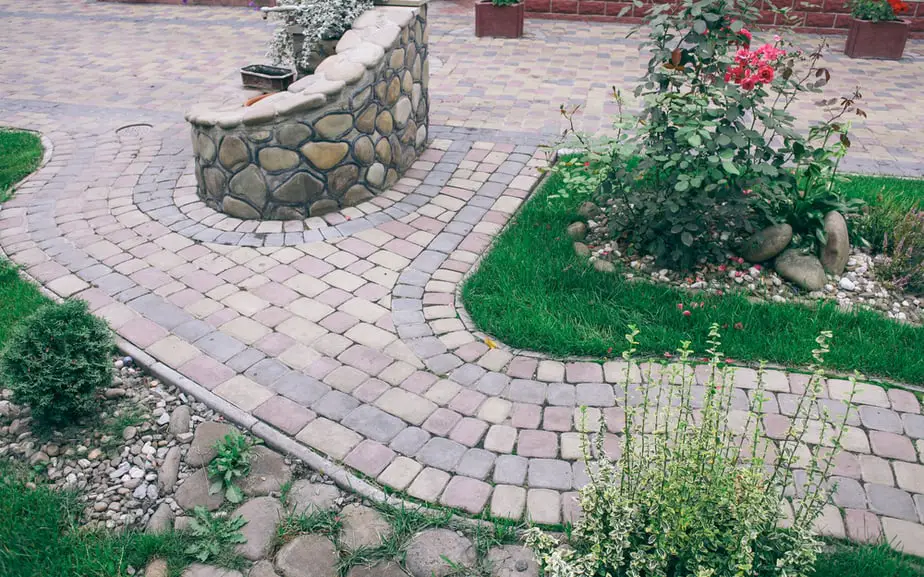 This patio features various colors of paver stones. Most of the patio is covered with yellow and red paver stones and lined up with gray ones. In the middle, an area is cut out for some grass and plants that are surrounded by other large stones. The paver ground is encircled with a mix of stones and green plants.
Chess Garden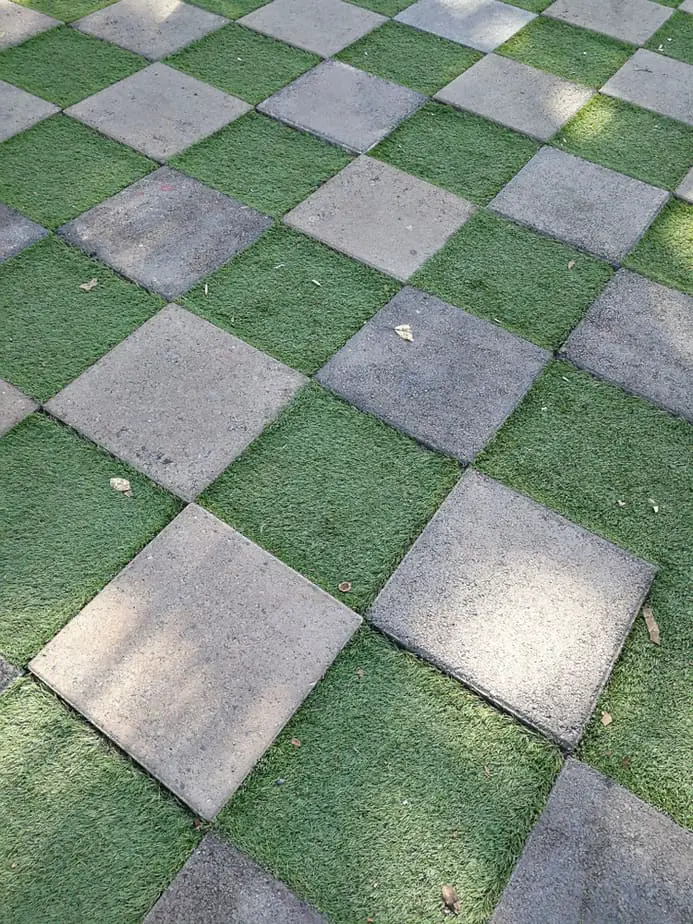 If you want to pull off this look, imagine a chess board first, and start off from there. This design uses regular, square-shaped, gray paver stones that are placed apart from each other. Between the permeable paver blocks, green grass will grow for an enchanting patio.
Garden Serenity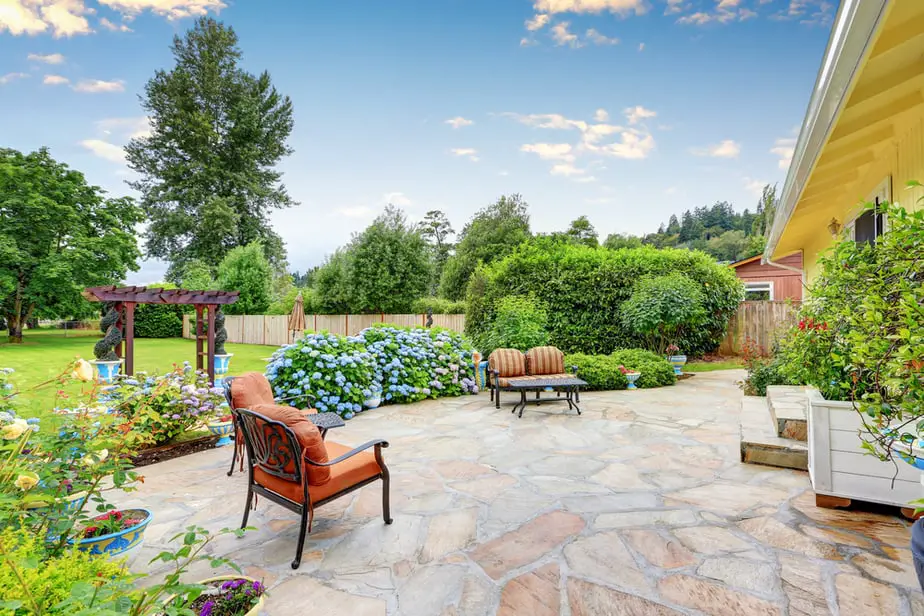 This well-designed patio is a joy to have. Flagstone pavers are used to create a flat surface with warm tones. Flagstone is very smooth and barefoot friendly. Around the paver patio is a gorgeous garden with hydrangea flowers and green bushes. For an elegant touch, use comfortable and chic furniture to finish the look.
Campfire Patio
Circular Fire Pit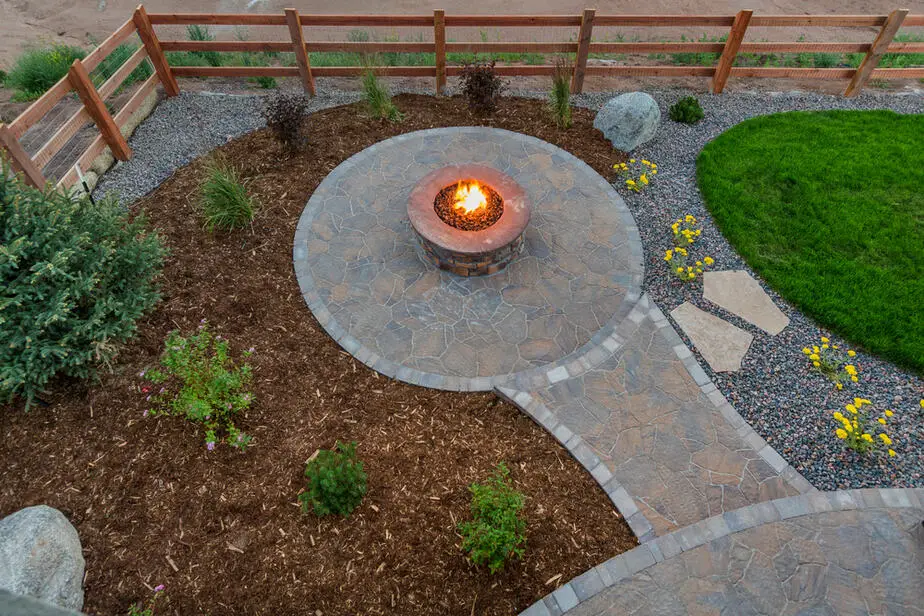 Have your paver pathway take you all the way to a fire pit for warm winter nights! This patio features flagstone paver that has a circle-shaped end, where you can construct a stone fire pit.
The gray and reddish tones of the paver tune in together with the dark mulch and brown wooden fence. The green grass and yellow flowers add hints of colors to make the patio lively.
Grand Pergola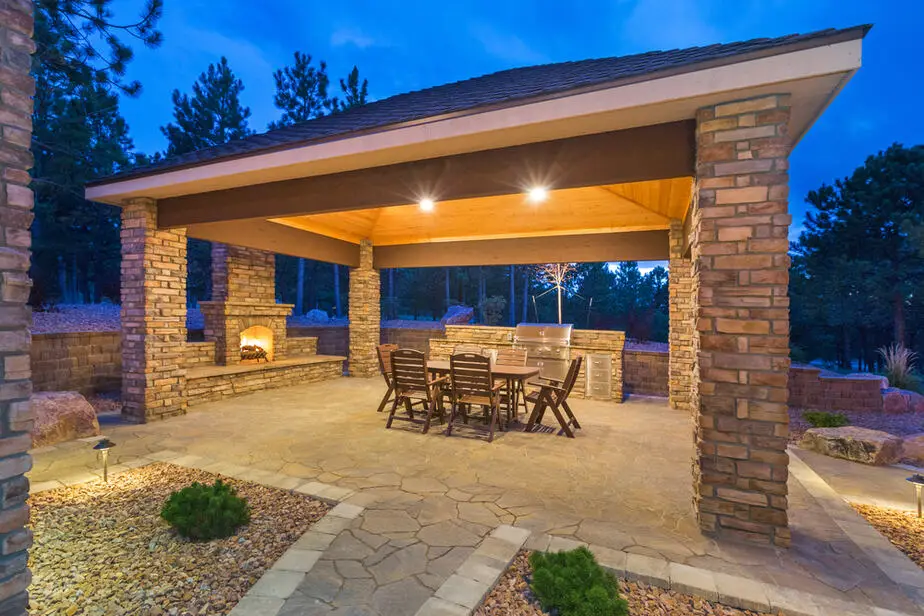 Stay protected from the hot summer sun with this polished pergola and stay warm in winter with this matching fireplace! For this landscape design, flagstone paver is used for the pergola ground. The pillars of the pergola and the fireplace are both made of stone.
The wooden furniture is comfortable and matches the bricks and pavers perfectly. For extra seating, you can construct benches on the side with the same stones of the pergola and surround the pergola with pebbles.
Traditional Small Space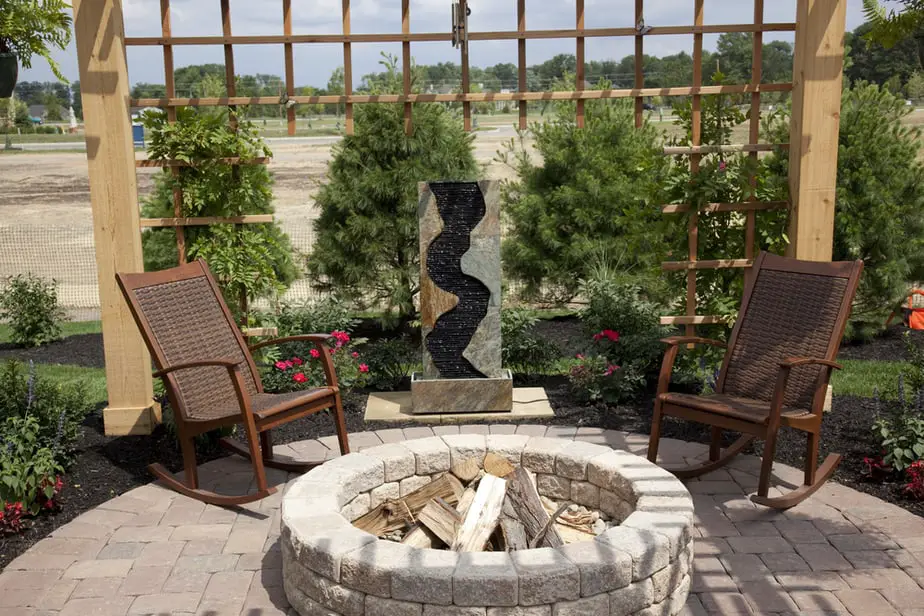 Don't have much space at hand? No worries! Check this patio idea with a small fire pit in the middle made of stones of matching color with the paver bricks. Around the circular paver ground, add some shrubs and flowers.
If you'd like to step it up even further, placing a small water fountain on the side between chairs will add serenity and relaxing sounds in your patio.
Glorious Steps
Lavender Love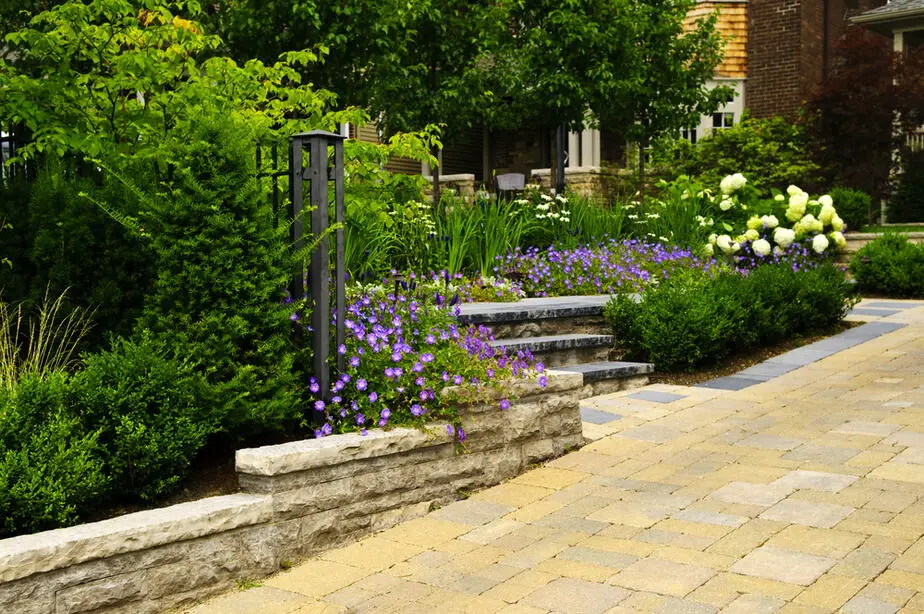 If you have a spacious patio or backyard, consider designing one with steps that take you to the seating area. This patio features yellowish paver stones and some glossy marble steps. The key to achieving this layout is to fill your patio with lots of greenery and some flowers.
Patio Platform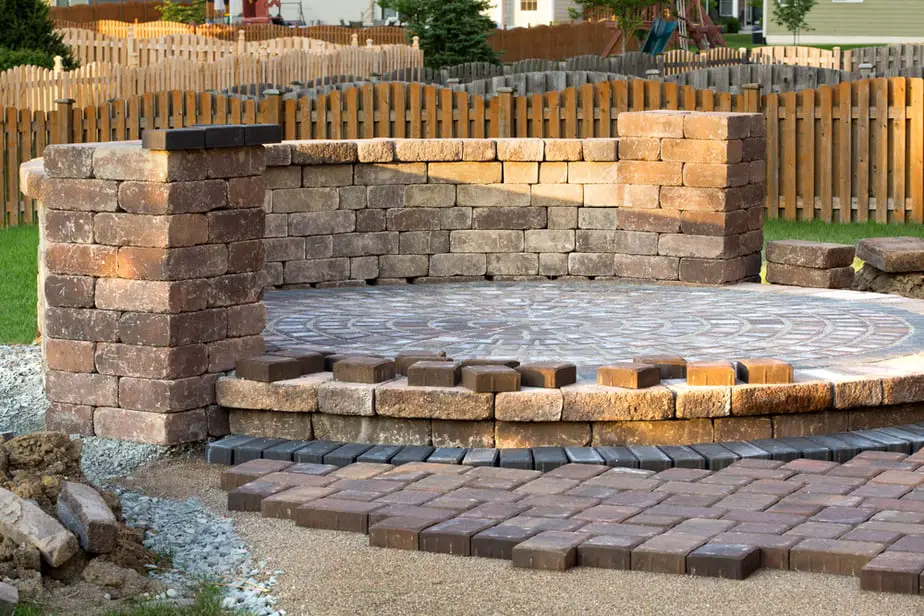 This idea is great for small or large patios alike. Constructing a circular platform with paver stones will give you a separate seating area. This platform is made of different colored paver stones and a fence made of bricks. You can surround the platform with pebbles, grass or mulch.
Summer Retreat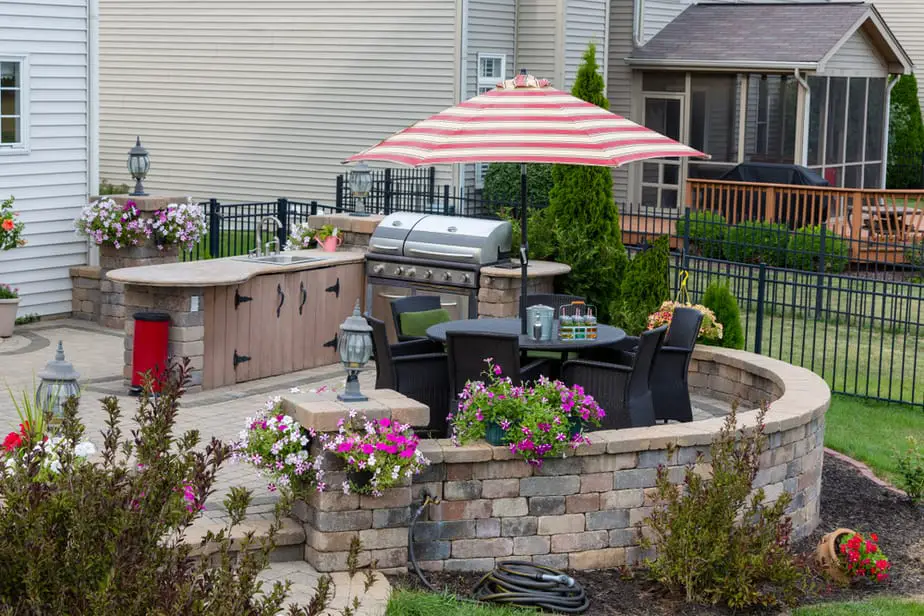 Turn your patio into a perfect place for parties and family gatherings. If your garden is rather large, consider raising your seating area a little above ground level. Use gray paver to keep it simple and step things up with comfy chairs, a kitchenette, and a barbecue station.
Flawless Arrangements
Secret Garden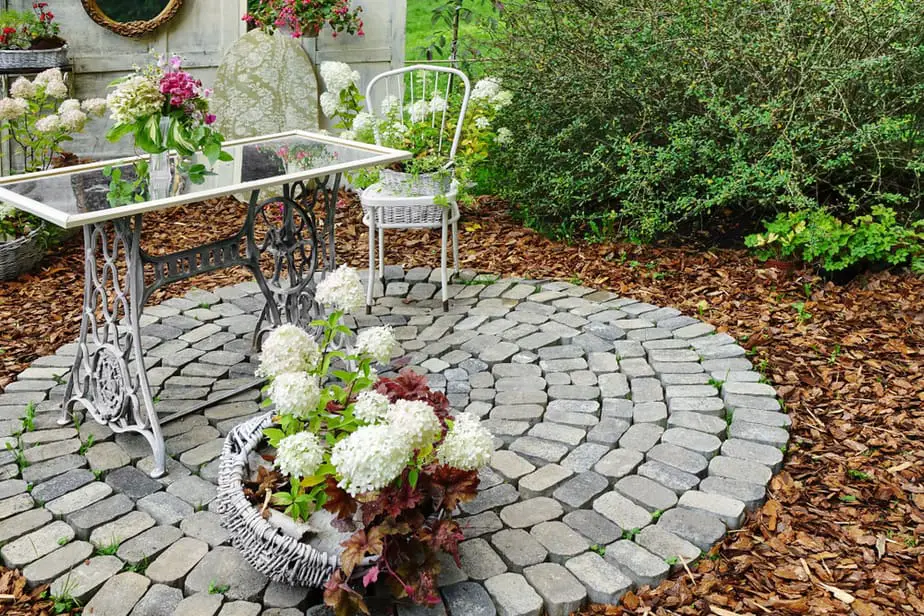 This decorative patio idea is enchanting and can be customized for both large and small patios. Gray paver stones are perfectly arranged into a circle. The iron table and chair are painted white for an elegant feel.
Complement this look with lots of flower pots and ornaments. You can use a wooden caravan at the side so you can hang accessories like a chic mirror or a rustic frame.
London Patio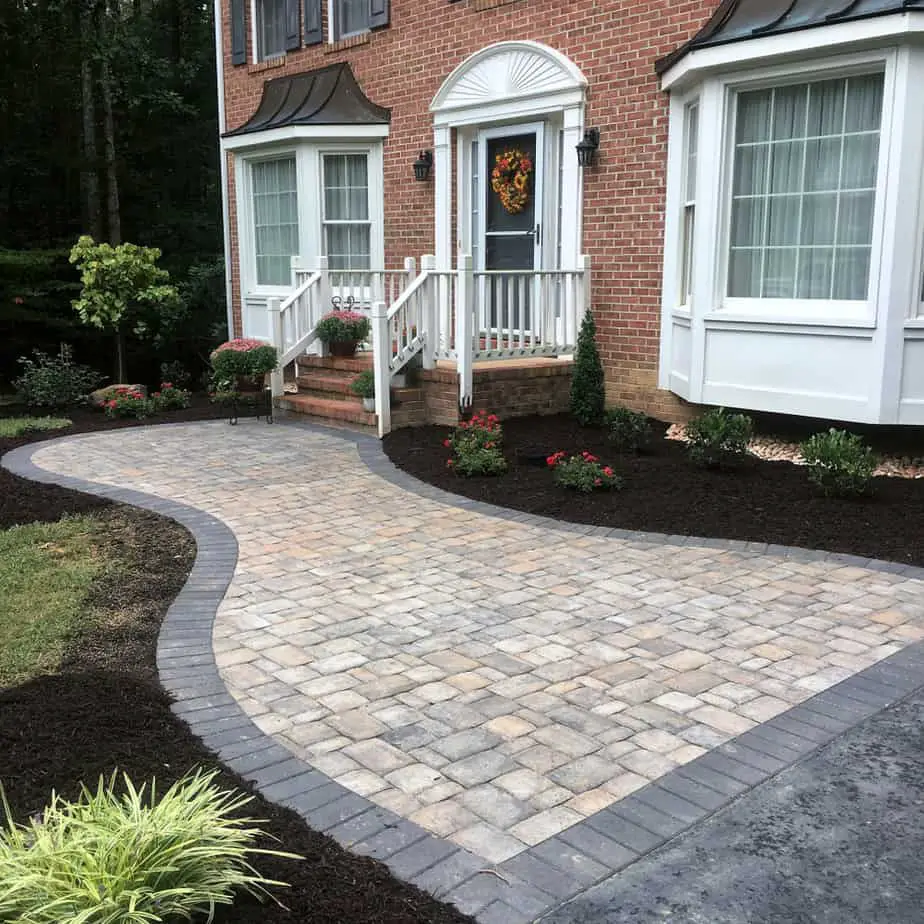 You can get this European inspired patio look with minimal effort. The door entry stairs are made of red bricks with a white fence for a perfect contrast. The walkway to the doorsteps is made of light-toned paver stones with a dark gray border. Mulch surrounds the walkway where a few shrubs and bushes are planted.
Picture Perfect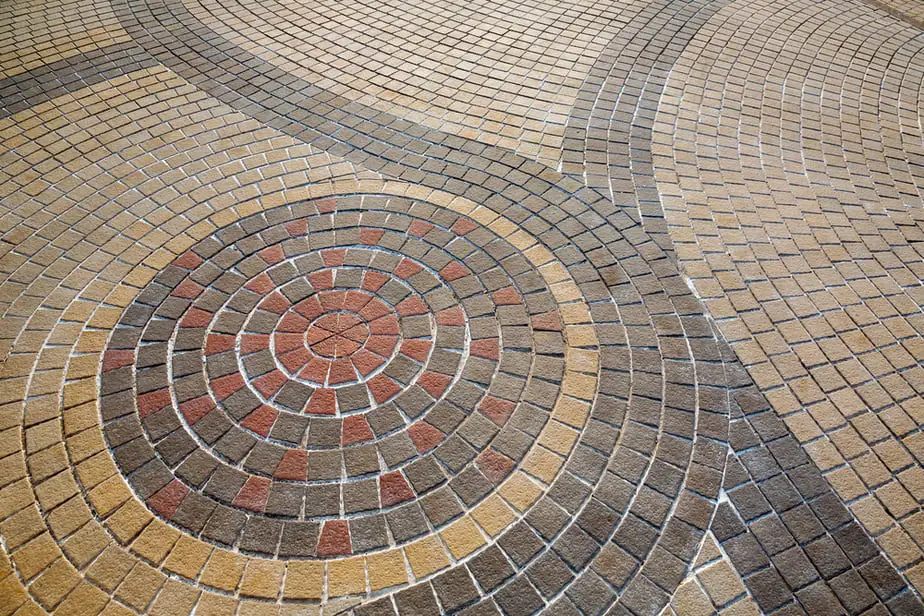 The thing we love about paver is that it's so versatile and you can use it to achieve different shapes and patterns. This paver idea can get you inspired to create your own sketch in the patio by utilizing various colors of stone.
For this design, gray, beige, and red square stones are used to create intriguing curvy lines and a circle that could be in the center of your patio.
Cozy Patio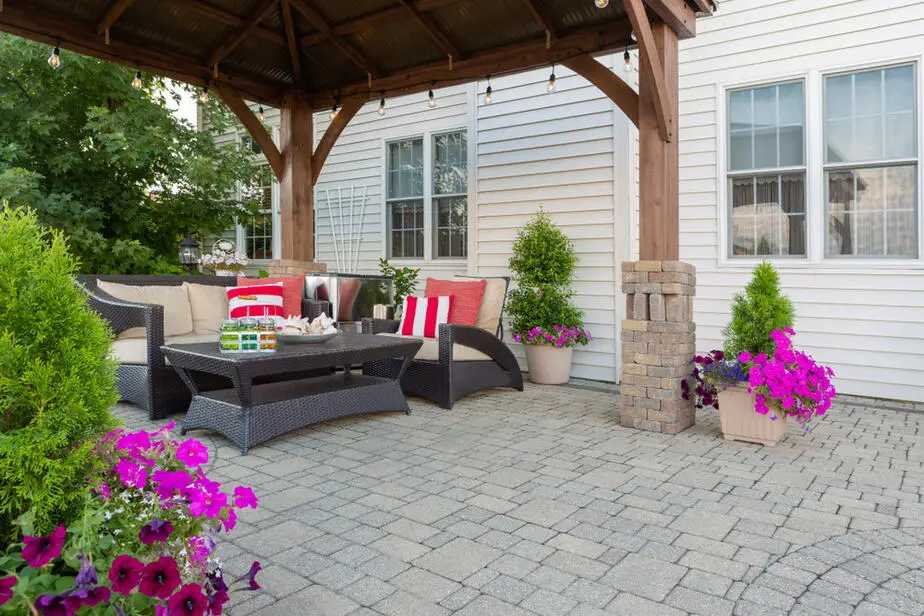 Who said you can't take your living room outside? The ground is made of interlocking, light gray paver stones. A wooden pergola is a perfect addition for sunny days along with dark gray outdoor furniture to contrast with the paver stones.
Of course, there's always room for colorful petunias and some vibrant cushions to make the seating even more comfortable.
Final Thoughts
Whether you prefer a modern, contemporary, or traditional style, paver stones are an amazing option for patios that can be customized to suit any taste.
With paver, a little can go a long way! We hope we've helped you get a little inspiration with these paver patio ideas for your next project.