A fire pit can easily be one of the most convenient and fun additions to your house. On top of adding a decorative touch to any space, it serves a wide array of practical purposes. Whether you want to host a summer outdoor cookout or just have a drink with friends around it, a simple fire pit can become the centerpiece of your backyard. In this article, we'll help you pick the right option for your yard by sharing some of the most original and inventive outside fire pits ideas we could find.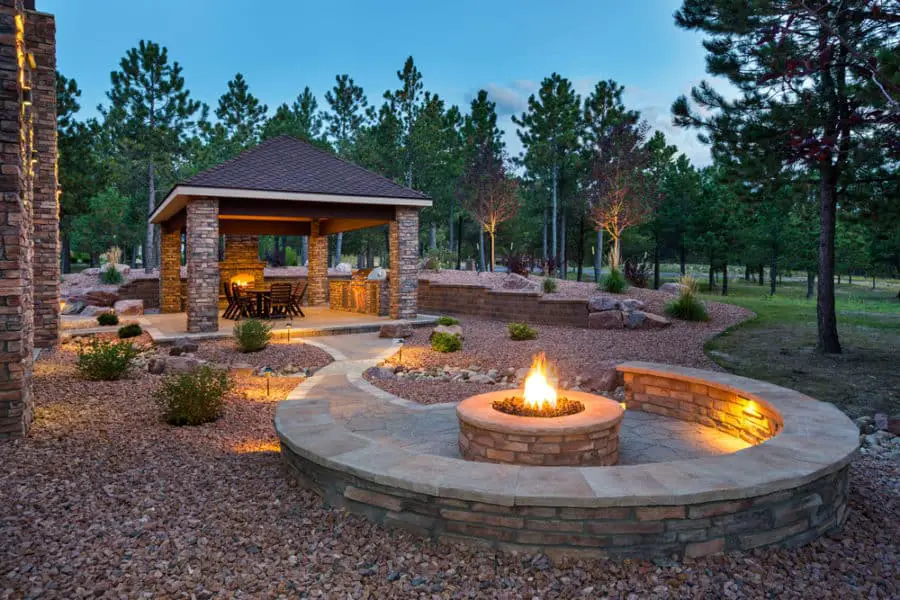 1. Square Fire Pit with Colored Glass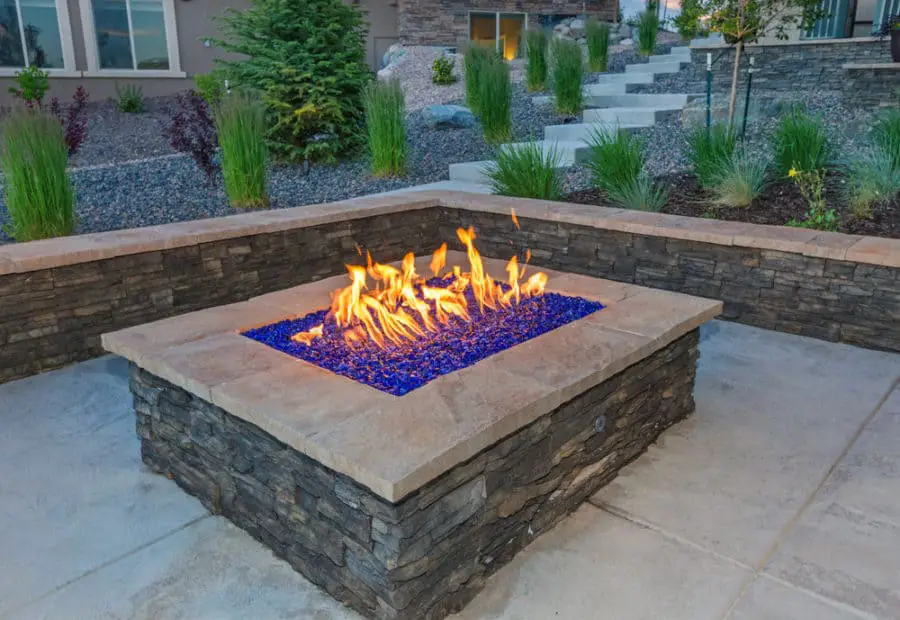 The first in our best outside fire pits ideas list, square fire pits constitute an original departure from the standard circular design. They're built using a combination of concrete blocks and concrete mix. Furthermore, the colored glass adds a new dimension and glow to the fire pit and gives it a unique and stylish feel.
2. Stone Fire Pit Surrounded by a Circular Half-Wall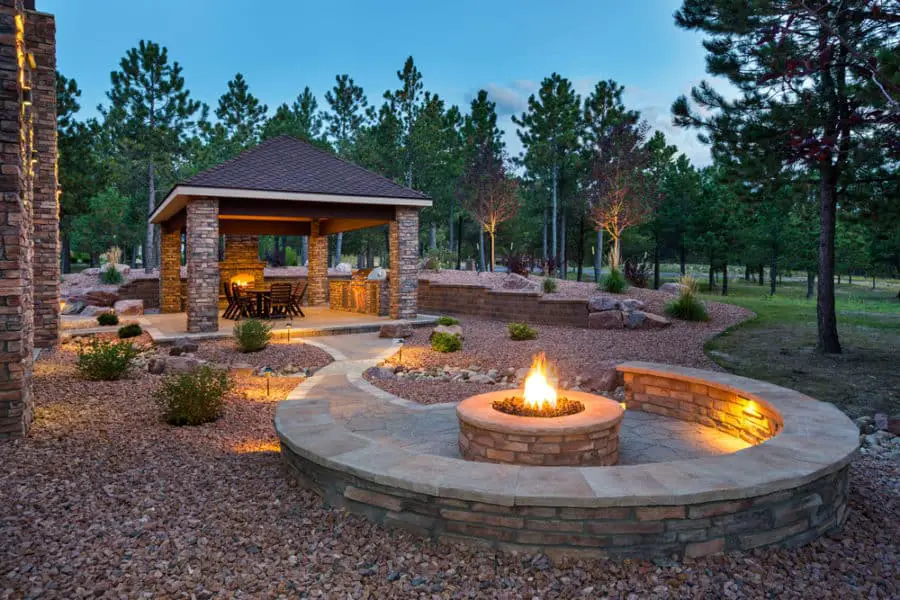 Stone fire pits with a stone seating area boast a seamless design that fits well in any type of backyard. More importantly, they're easy to build if you're planning to go the DIY route. You simply need to outline the area where you want to build the fire pit, lay some stone bricks, and use industrial-grade glue or cement to bind everything together.
(By the way, we think the fireplace-firepit combination is a fantastic option for cold climates!)
3. Base-Level Outdoor Fire Pits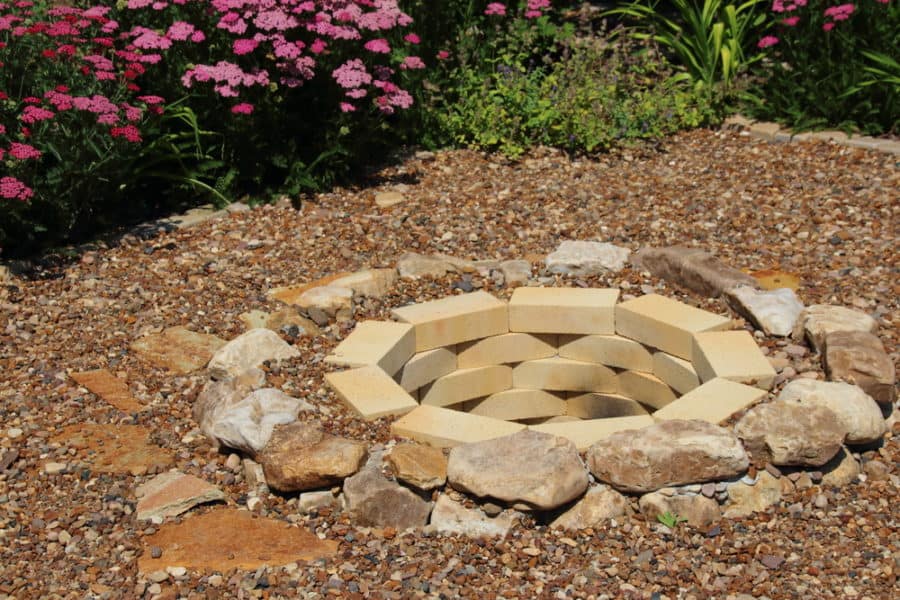 Base level (also known as in-ground) fire pits look absolutely stunning when they're built properly. These outside fire pits ideas easily blend in with the surrounding landscape and decor without distracting too much from other areas of the backyard. They're built by digging a deep base into the ground, which is why it's imperative that you assess the quality of the soil before beginning the project.
If you like this paver base level fire pit idea, take a look at our In-Ground Fire Pits article!
4. Simple Bowl-Shaped Fire Pit on the Patio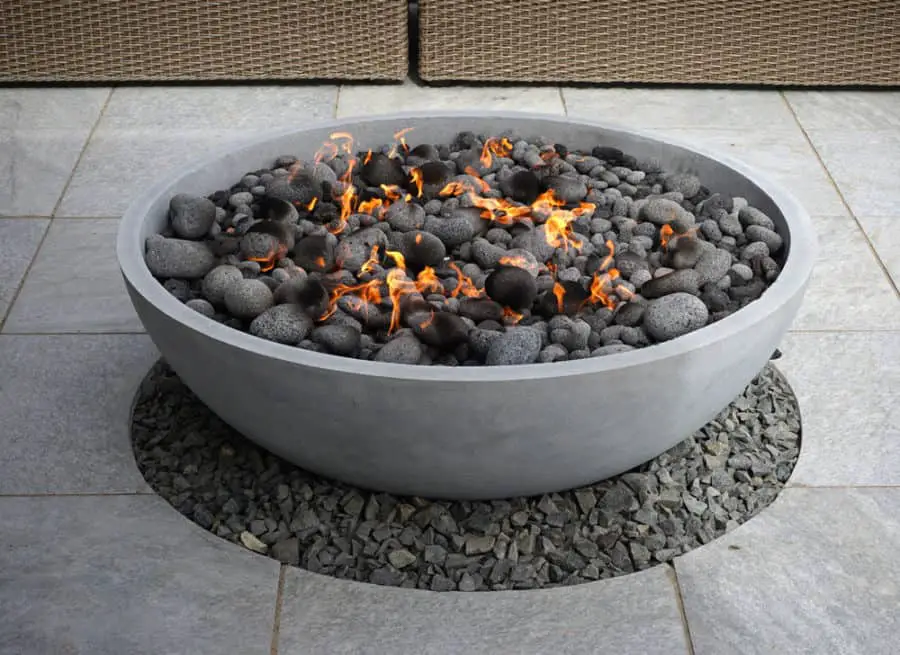 This is one of the simplest outside fire pits ideas that you can build in your backyard. This fire bowl creates a warm and inviting atmosphere and is ideal for small gatherings with friends. It's usually made from reinforced concrete and features a natural cement finish.
5. Custom Fire Pit with a Rock Circle
This style of fire pit perfectly simulates the experience of being at a hot spring. On top of being extremely easy to build, it's perfect for a romantic evening with your significant other. Artificial landscape rocks are a great option if you don't want to use excessively heavy natural rocks.
6. Minimalistic Concrete Fire Pit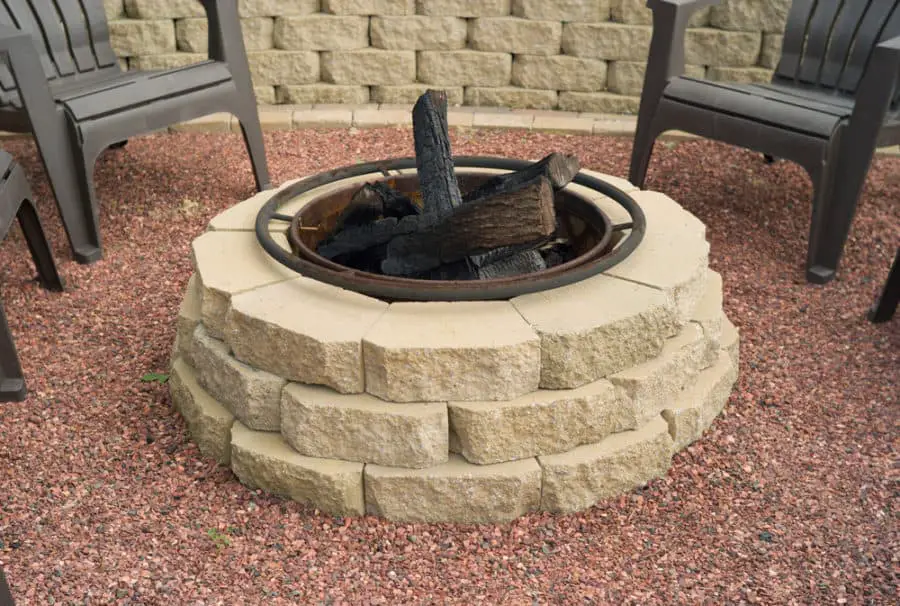 It doesn't get more straightforward than minimalist-style outside fire pits ideas. Building it is simply predicated on tracing out the shape of the pit and stacking up concrete blocks on top of each other. The simple construction is tailored for people on a tight budget.
7. Decorative Iron Fire Pit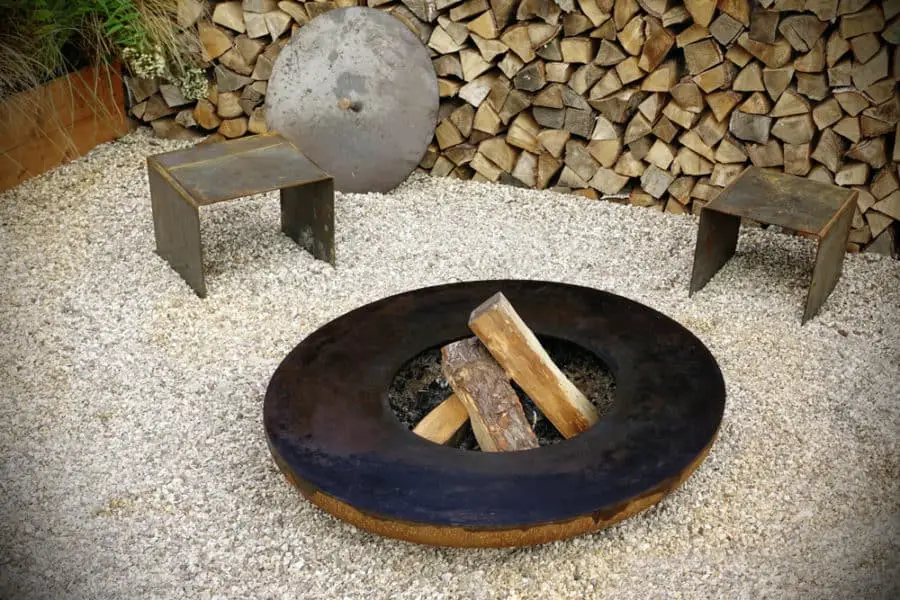 Decorative outside fire pits ideas are good if you're more concerned about aesthetics than actual functionality. They bring a camping ambiance to your garden and enhance the overall décor of your backyard. They're typically set on a stone or on a gravel area where chairs and benches are also placed.
8. Washing Machine Drum Fire Pit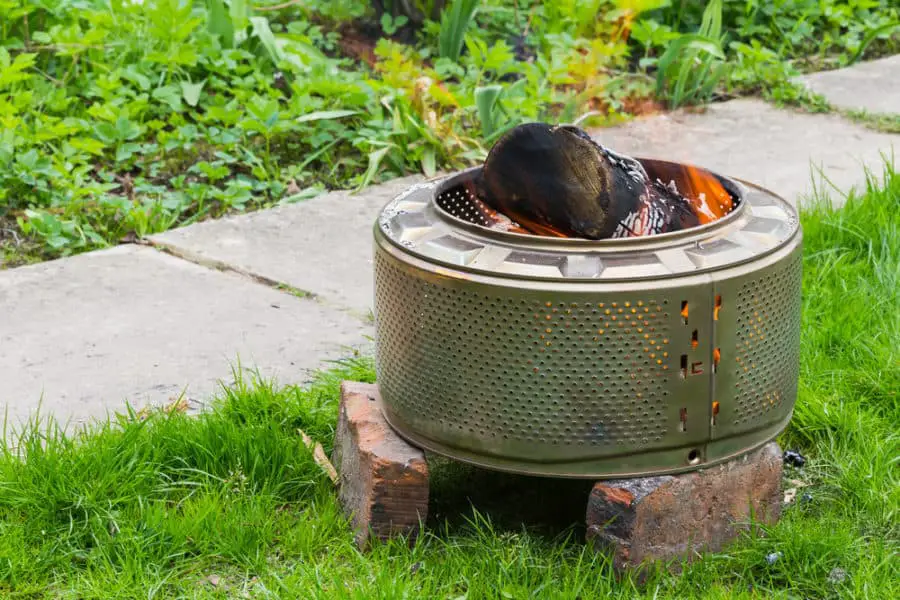 As the name suggests, this DIY fire pit is made from the drum of a washing machine. They're extremely simple to make and are a cost-effective way to experience the fun of sitting around a fire pit in your backyard.
9. Circular Fire Pit with a Wood Bench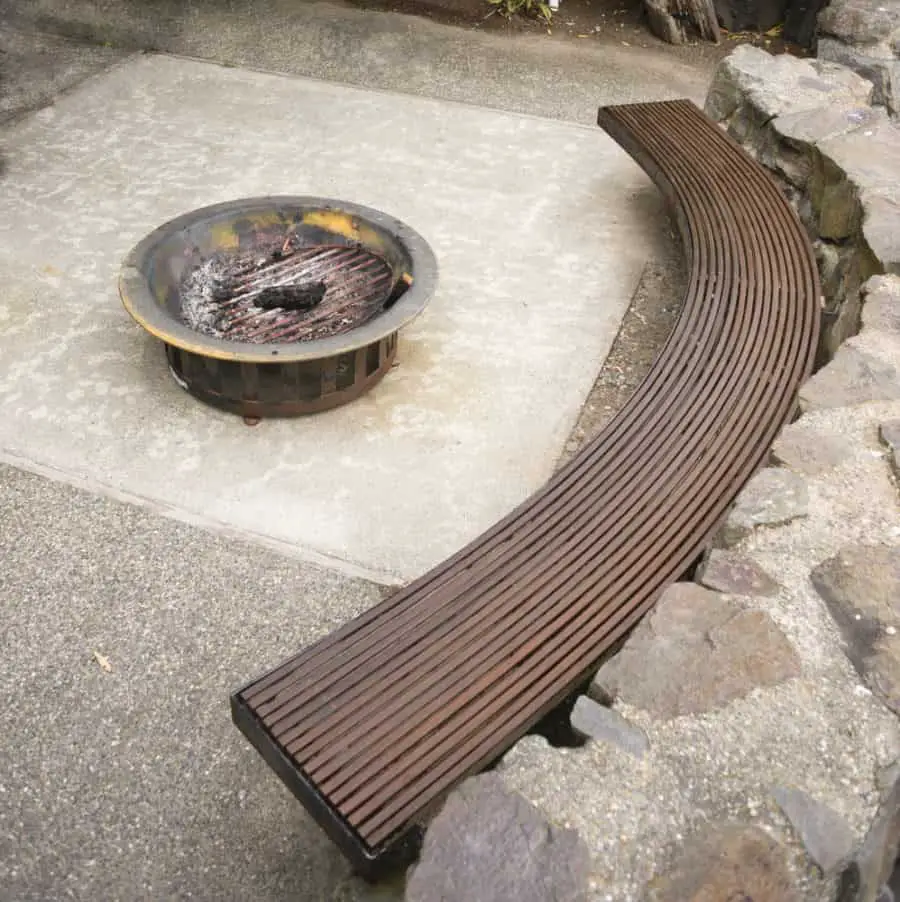 This backyard fire pit is one of the most popular fire pit setups. The wide wood bench allows you to sit with your close friends and family members in a cozy and warm atmosphere. The biggest advantage of these outside fire pits ideas is that all its components are pre-made.
10. Stone-Trimmed Fire Pit on a Tile Floor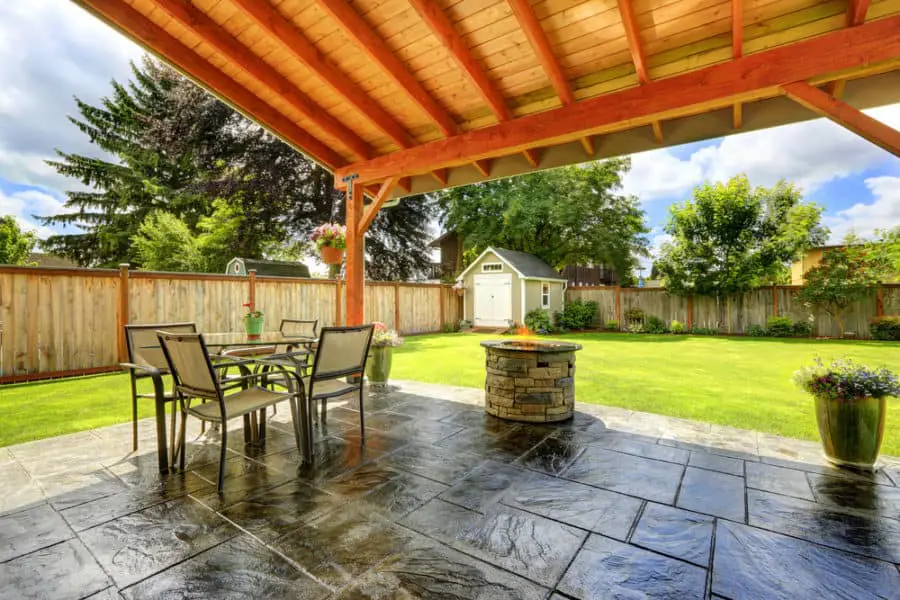 These are probably the most eye-pleasing outside fire pits ideas on this list. The combination of the well-crafted stone fire pit and the matching floor tile results in a visually-pleasing setting that feels warm and inviting. You can further enhance this setup by getting a table and set of chairs that complement the color patterns of the tile.
11. Porcelain Fire Pit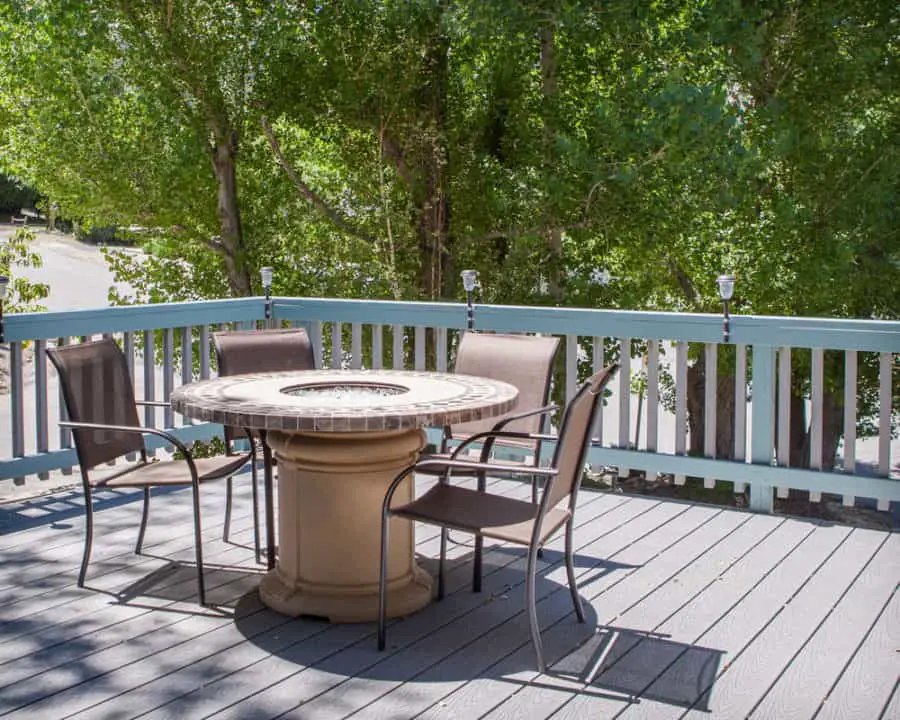 This outside fire pits idea is ideal for having an intimate one-on-one conversation with someone close to you. Its exquisite porcelain tile is reminiscent of luxurious furniture and the atmosphere that it creates in your patio is both intimate and elegant.
12. Backyard Stone Fire Pit with Rustic Chairs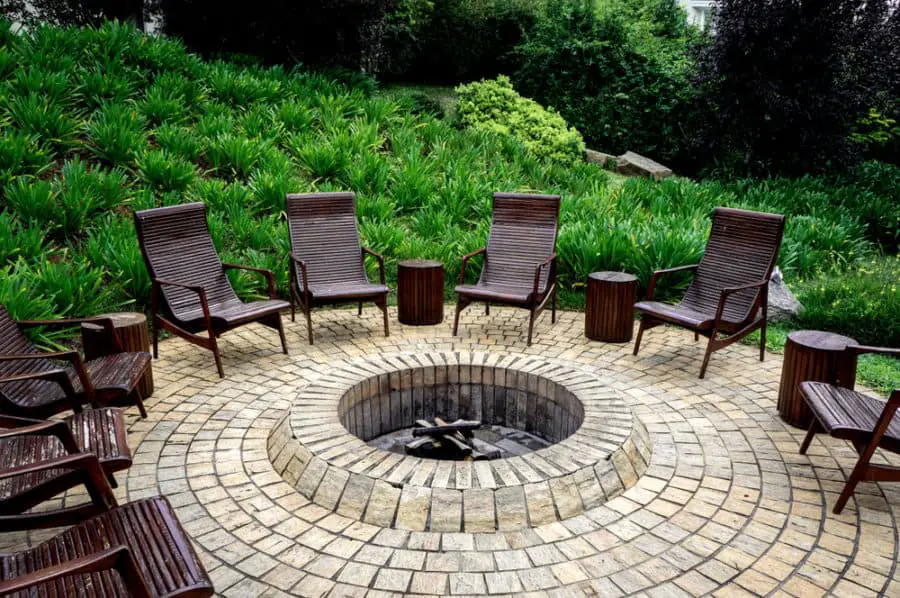 This elaborate setting evokes an unmistakable high-end vibe. The way the ground fire pit seamlessly blends with the stone floor results in a beautiful layout that's quite unique and distinct. The rustic chairs are light, remarkably comfortable, and are a perfect fit with the overall setup.
13. Black Fire Pit with a Circle of White Chairs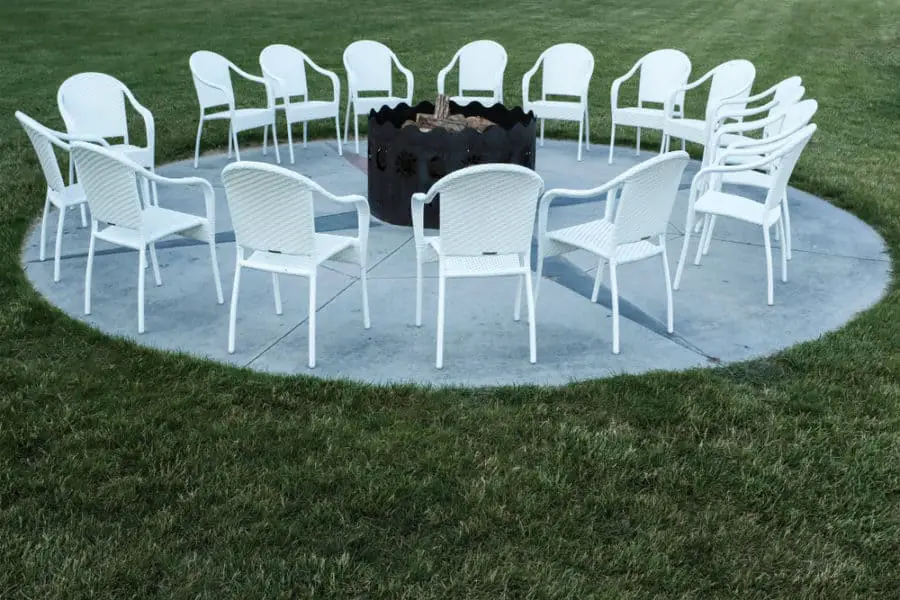 The secret to this metal fire pit design effectiveness lies in the perfect color contrast between the fire pit, the chairs, and the floor. Gatherings around the fire with a large group of friends can be very enjoyable when you're in the midst of this serene space.
14. Old-School Fire Pit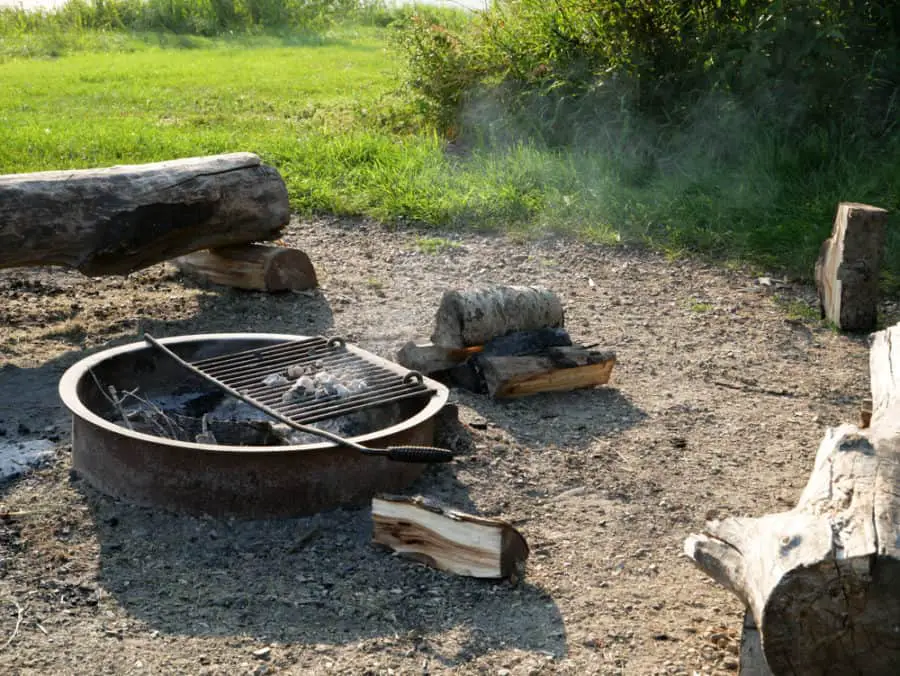 If you don't feel like bothering with elaborate settings and complex floor designs, you always have the option of going completely old-school. A small iron fire pit coupled with a few logs and a cooking grate for visual effect is all you need to create the ideal retro setting.
15. Fire Pit with a Large Iron Hood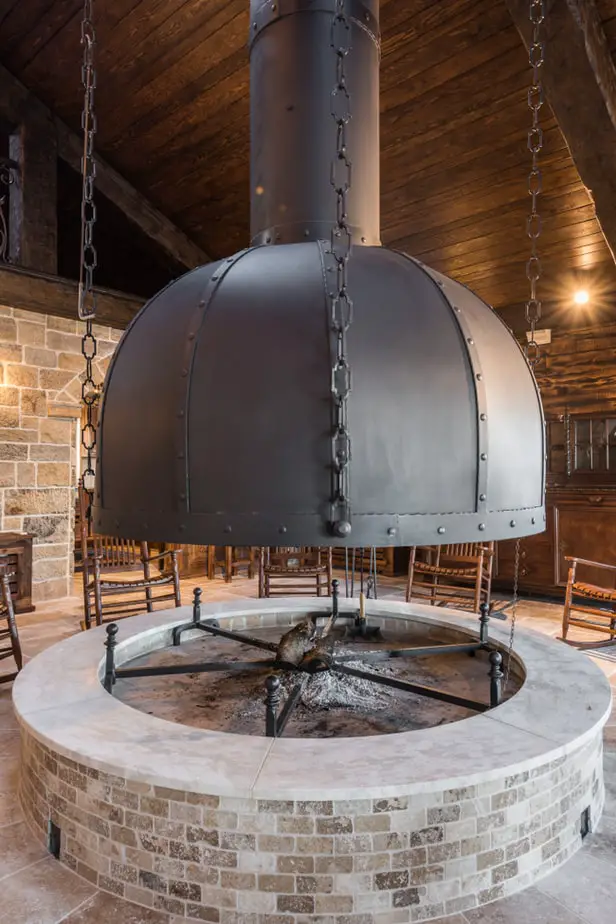 Fire pits that feature big cast iron hoods aren't just aesthetically pleasing; they're also quite convenient when it comes to regulating the amount of smoke in your backyard. This is especially valuable if you don't have a lot of outdoor space and are worried about the smoke getting inside the house.
16. Campfire Fire Pit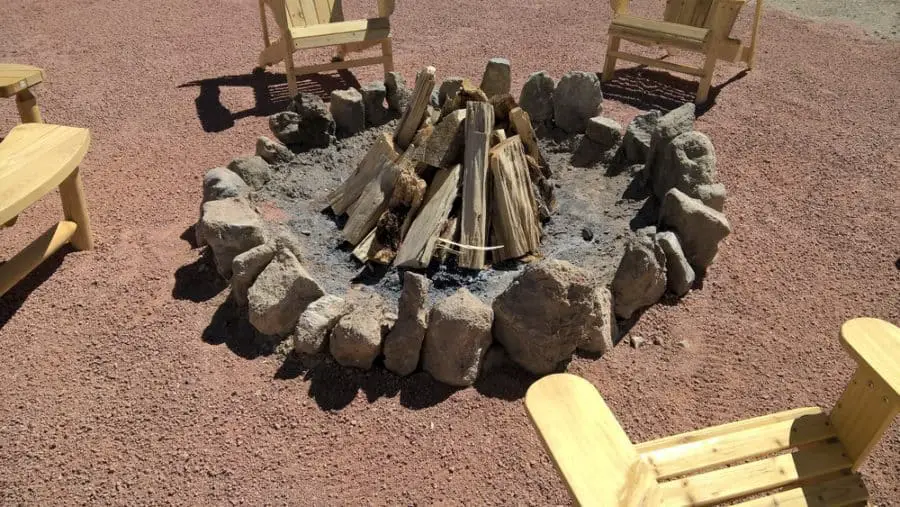 This is yet another simple wood burning fire pit that draws inspiration from outdoor campfires. The fire is made using a bundle of wood and a circle of rocks is placed around the pit. This is a great option if you want to recreate a camping vibe in the comfort of your own home.
17. Large Fire Pit Surrounded by Colorful Chairs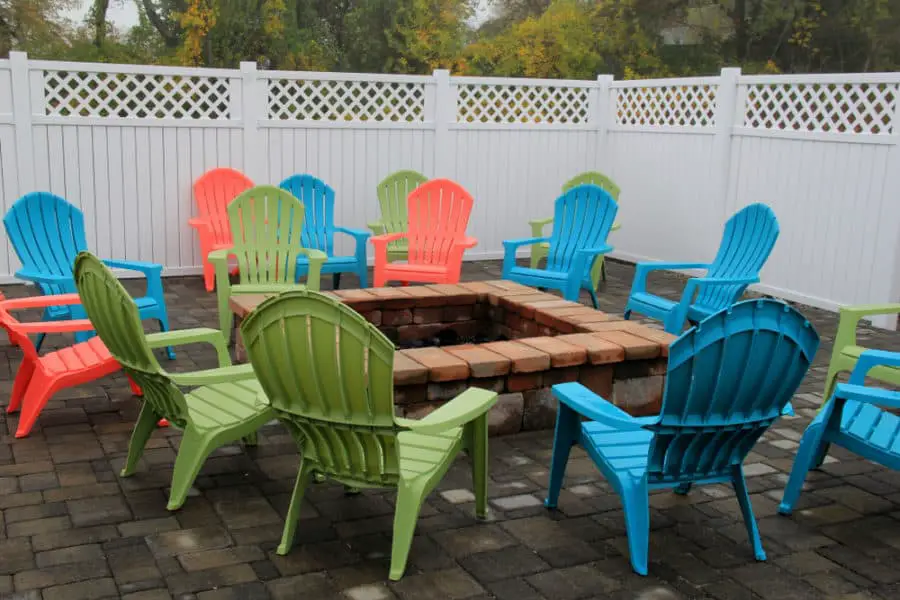 Just because you live in a cold climate, doesn't mean that you can't enjoy an outdoor living space with your friends. A large patio fire pit can provide ample heat, even in extremely cold weather.
18. Fire Pit Made of Yellow, Aluminous Bricks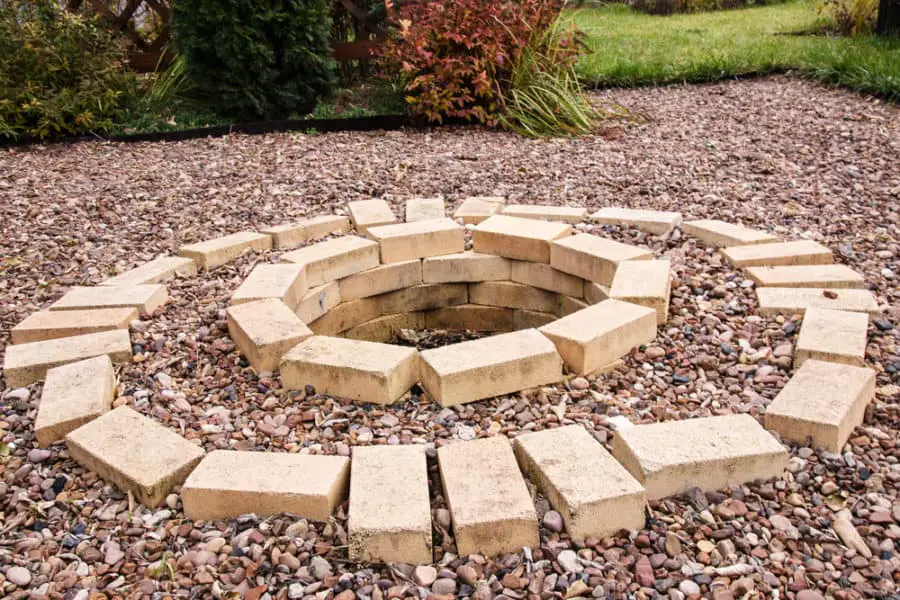 The visual quality of this fire feature is simply immaculate. The mixture of the yellow aluminous bricks and natural pebble floor creates an autumn-themed area in your backyard.
19. Brick Fire Pit with Rustic Chairs and Log Stools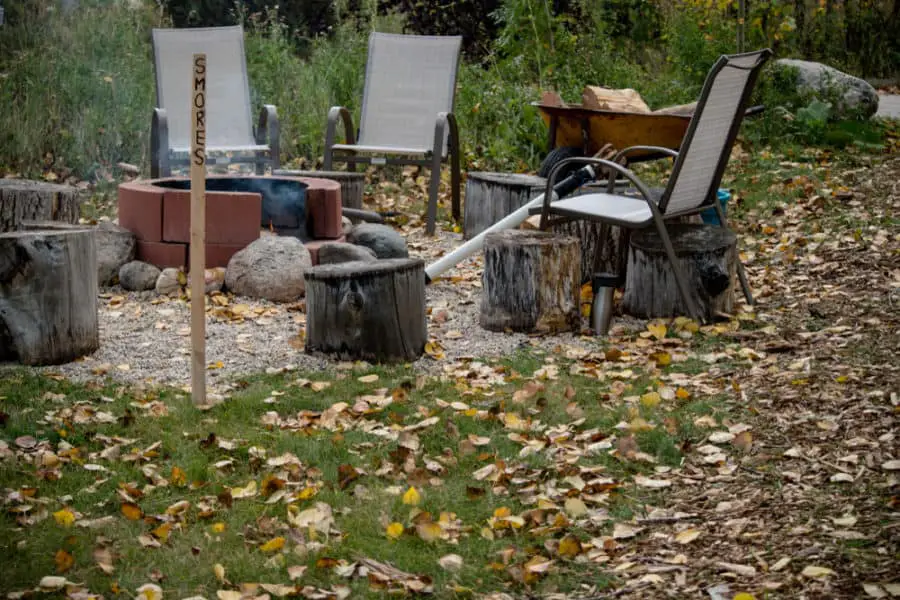 This is a nice mixture of natural and man-made components. The log stools and leaf-covered floor perfectly replicate the setting of an outdoor camp in this fire pit design.
20. Gas-Powered Fire Pit with Glass Pebble Linings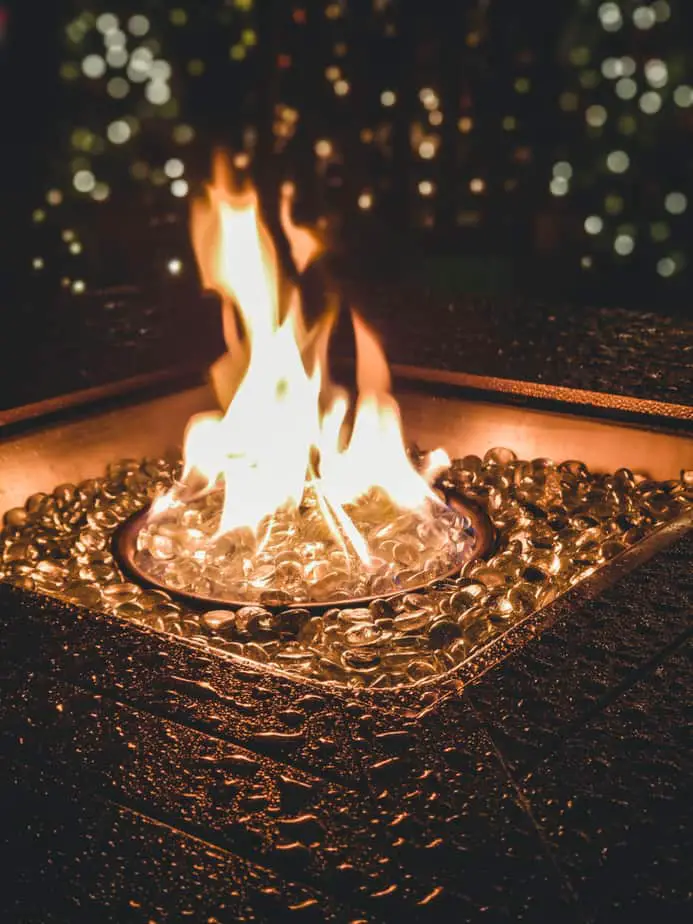 The exquisite design of this fire table is for anyone that favors convenience and practicality over everything else. This style of fire pit is easy to use, energy-efficient, and doesn't occupy a lot of space in the backyard.
21. Fire Pit/Grill Combo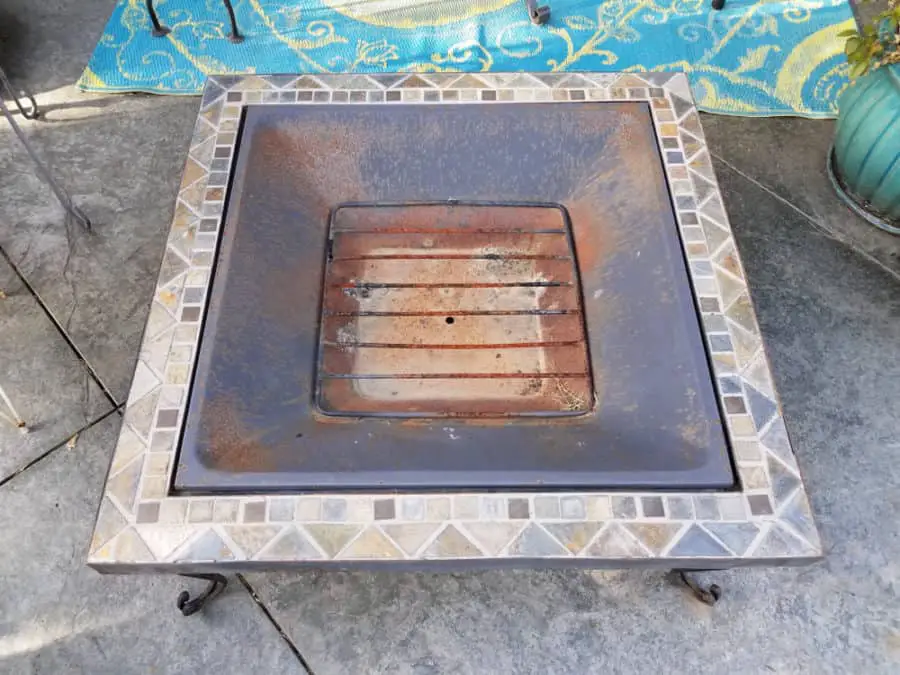 If you're thinking of getting a fire pit, you'd probably like to occasionally use it as a grill. A fire pit/grill combo, like this outside fire pits idea, is the perfect pick for beginners who don't know how to operate complex fire pits.
Benefits of Having a Fire Pit
There are several advantages to having a fire pit in your yard. Besides the decorative and practical components of outside fire pits ideas, it can provide several intangible benefits. For example, an outdoor fire pit will undoubtedly increase the quality time that you spend with your family and friends. This, in turn, can contribute to reinforcing your bond with the people that you care for.
Precautions
Using an outdoor fire pit does require some precautions. For instance, having pets or children necessitates taking a number of measures in order to ensure their safety at all times. Several cases of serious injuries occur every year, so you can never be too safe when you're securing the area around your fire pit.
Outdoor fire pits pose other risks that can compromise air quality and the impact extends outside the confines of your own home. In fact, the U.S. Environmental Protection Agency has stated that poorly-constructed fire pits emit small particles that embed themselves into the respiratory system, leading to various health issues such as bronchitis and allergy attacks. To minimize these effects, it's advisable that you get your fire pit installed by an experienced and trusted professional.
Fire Pit Styles
When you're on the market for outside fire pits ideas, there are several factors that you have to keep in mind. The first thing that you should be aware of is the space that is available in your yard. A lot of people make the mistake of getting a fire pit that doesn't quite fit the area. For example, a small one in a large yard will not be able to provide adequate function, whereas a larger one would occupy a disproportionate space in the yard.
As far as the different styles of fire pits go, the options are almost endless. They come in different shapes, sizes, and styles; and regardless of your preferences or available outdoor space, you are bound to find an option that suits your needs. More importantly, the majority of DIY fire pits exudes an air of genuineness and the price is often budget-friendly.
Best Fire Pit Accessories
You can't have a fire pit and not have the accessories needed to use and maintain it! In this section, we'll be reviewing some of our favorite fire pit accessories.
1.
Marshmallow Roasting Sticks Set of 8
KEKU Marshmallow Grill Sticks 8 Piece Set For Roasting spits for cooking ovens and Hot Dog Forks Kids Camping Campfire Accessories
FUN WITH FAMILY & FRIENDS: Enjoy the best of times with our premium, telescopic roasting sticks.
HIGH QUALITY & LIGHTWEIGHT: Set of 8 non-rust stainless steel sticks with double prongs guaranteed to provide long-lasting fun. The BPA free wooden handles are easy for any child to hold safely.
SAFETY FIRST: 32 inch extendable forks ensure that children will remain a safe distance from the flames. While our roasting forks are dual pronged, they don't have sharpened ends
8 different colors for the forks of the cooking oven, the best choice for every barbecue lover
Last update on 2023-11-16 / Affiliate links / Images from Amazon Product Advertising API
What's the point in even having a fire pit if you're not gonna use it to roast marshmallows and hot dogs? These highly affordable, colorful, and durable set of 8 roasting sticks are perfect for a large family or group of friends. They're made of BPA-free wooden handles and 32-inch extendable metal forks so that you and your family can sit at a safe distance from the flames while roasting food simultaneously.
Each roasting stick has a different color so that if your kids are picky about which stick they use, they'll know which is theirs.
What We Like:
Set of 8
Super affordable
Made of wood and metal
Each roasting stick has a different color
BPA-free
32-inch extendable metal forks
---
2.
Rocky Mountain Goods Firewood Tongs
Last update on 2023-11-16 / Affiliate links / Images from Amazon Product Advertising API
Whether you need to add a new log to the dwindling flames of your fire pit or reposition firey wood, these Rocky Mountain Goods Firewood Tongs will do the trick. These tongs are super affordable, even for those who may be on a tighter budget, and are constructed with reinforced wrought iron for exceptional quality that is sure to last you years of use.
The Rocky Mountain Tongs can grasp and hold up to 12-inch thick logs and will withstand even the heaviest of wood. The finish of these tongs is rust-resistant, making this ideal for outdoor use. The only downside to these tongs is that the handles don't have anything to prevent them from heating up from the fire. Be sure that when you use these, you don't leave them in the fire longer than necessary.
What We Like:
Affordable
Can grab and hold up to 12-inch thick logs
Made of reinforced wrought iron — build to last you years of use
Rust-resistant finish
Great for indoor or outdoor use
Elegant design
---
3.
Porch Shield Fire Pit Cover
Porch Shield Fire Pit Cover - Waterproof 600D Heavy Duty Round Patio Fire Bowl Cover Black - 50 inch
Dimensions & Warranty - Fits round fire pit or fire table 50 inch diameter x 24 inch height. 3 YEARS WARRANTY.
Made of 600D Polyester fabric with an added waterproof laminated undercoating. High-level double stitching sewn, all seams sealing taped can prevent tearing, fight wind and leaks.
Full coverage to give your fire table all around protection to against rain, wind, dust and dirt.
Air vents at two sides have extra ventilation feature. Heavy duty ribbon weaving as handles on air vents make removal easily.
Elastic hem cord and straps allow for a custom secure fit. Buckles at bottom keep cover securely fastened especially in severe weather. TIPS: Make the top of the cover higher is recommended to prevent rain water collection.
Last update on 2023-11-16 / Affiliate links / Images from Amazon Product Advertising API
If you want to prevent rain, leaves, dust, dirt, and other debris from getting inside your fire pit when you're not using it, this Porch Shield Fire Pit Cover is the perfect preventative. It's available for purchase in two shapes, round or square, and comes in 5 sizes in each shape to perfectly fit your fire pit. This fire pit cover also comes in two colors (black and tan) to blend in with your outdoor decor.
This is a full-coverage fire pit cover made of durable polyester fabric and a laminated, water-resistant undercoating. The elastic hem cord and the bottom strap of the fire pit cover allow you to tightly seal the fire pit, preventing wind from lifting and carrying the cover away and securing the cover in place.
For the quality of this product, it's highly affordable, and can even be considered a budget buy when compared to similar fire pit covers on the market.
What We Like:
Very affordable
High-quality fire pit cover
Made of durable polyester fabric and water-resistant undercoating
The bottom strap and elastic hem create a tight fit around the fire pit
Comes in 2 shapes, round, and square
Comes in 2 colors, black or tan
Available in 5 sizes in both the round and square options
Protects against all weather conditions
---
4. Rocky Mountain Goods Long Fireplace Poker
Last update on 2023-11-16 / Affiliate links / Images from Amazon Product Advertising API
If you don't need to pick up fire pit logs but are just looking for something to stoke them in the fire, this Rocky Mountain Goods Long Fireplace Poker is your best bet.
It's pleasantly cost-effective and made of high-quality, durable steel to give you a product that will last you for years to come. This fire pit poker has a rust-resistant finish for use both indoors and outdoors as well as a decorative appearance.
It has a long length of 27 inches to keep your hands at a safe distance from the fire, and though the handle isn't protected to prevent overheating, it does keep the handle at a further position to prevent quick overheating and burning your hand.
What We Like:
Affordable fire poker
Made of decorative steel
Has a rust-resistant finish for outdoor use
Will last users years
27 inches long to keep your hands at a safe distance from the flames
Great for stoking a fire
---
5.
Magical Flames Rainbow Colored Flames
Sale
Magical Flames Fire Color Changing Packets for Campfires, Fire Pit, Outdoor Fireplaces - Camping Essentials for Kids & Adults - 12 Pack
Take your camping trip from 'meh' to 'marvelous' in seconds with our colorful solution for bored kids everywhere. Use 1-3 of these magic fire packets for instant rainbow flames
Perfect for fireplaces, fire pits, bonfires, or just a casual campfire, our fire changing color packets are safe to use both inside and outside. Great for camping games and adventures
You will get up to a full hour of campfire color flames before the vibrancy fades. Just add another packet or two to keep the good times rolling. The ultimate in camping essentials that bring fun in no time
Just put 1-3 packets in your fire to enjoy instant, magic flames. Safety note: Packets cannot be used in propane or artificial gas log pits. Do not open the packet before throwing it into the fire
The vibrant hues dancing in the flames of a campfire or fire pit offer a breathtaking spectacle cherished by people of all ages. Everyone enjoys witnessing the enchanting blaze brought to life by Magical Flame's color-changing fire packets
Last update on 2023-11-16 / Affiliate links / Images from Amazon Product Advertising API
This fire pit accessory is more for the kids (but don't be embarrassed if it's fun for you, too!).
The Magical Flames Rainbow Colored Flames turns your average orange fire into flames of dark and light blue, purple, green, yellow, and red! You can use it both indoors and outdoors and you simply toss the unopened package into your wood-burning fire to get the array of vibrant, eye-catching colors.
This 12-pack is super affordable and would be great for a campfire, the holidays, or for whenever you're having a cookout with your family. You can expect to have colorful flames for up to an hour with each pouch.
What We Like:
Affordable and fun
Turns flames into vibrant shades of reds, blues, purples, greens, and yellow shades
Colors last for an hour (each pouch)
Comes in a 12-pack
Color intensity increases with the addition of more pouches to the fire (up to 3 at a time)
---
6. 5.15 Gallon Galvanized Iron Ash Bucket with Lid and Shovel
F2C Ash Bucket with Lid and Shovel 5.15 Gallon Large Galvanized Metal Coal and Hot Ash Pail for Fireplace, Fire Pits, Wood Burning Stoves, Grill, Outdoor, Black
『High Quality』This sturdy ash bucket and shovel are made of high quality galvanized iron material with black powder coating to ensure it is fireproof and durable for long-term using; Comes with a lid to keep ashes from spilling onto the floor
『Easy to Carry』Featured a special pocket on bucket to hold the shovel; So you can simply and conveniently carry the ash bucket with the shovel by its sturdy metal handle
『Large Capacity』12.2 inches bucket inner diameter allows the bucket can hold plently of ashes from past fires, load capacity up to 19.5 liter/5.15 gallon
『Dimensions』Ash Bucket dimension is 12.8inches Diameter by 13inches width; Shovel dimension is 14.4inches length by 4.5inches width; Net weight is 4.3 pounds
『Ideal Hearth Accessory』Perfect ash bucket set for home and outdoor use; Suitable for fireplaces, fire pits, wood burning stoves and more to hold ashes
Last update on 2023-11-16 / Affiliate links / Images from Amazon Product Advertising API
Nobody wants ashes blown all over their yard and shoveling ashes into a flimsy trash bag can be a hassle. Make fire pit clean up a breeze with this 5.15 gallon Iron Ash Bucket.
This affordable ash bucket comes with a lid to lock ashes in place and a shovel to make scooping out old ashes an effortless affair. Every aspect of this ash bucket and accessories is made with galvanized iron to give you a product that is sure to last you for years to come.
It's easy to carry thanks to its sturdy metal and wooden handle and the side of the ash bucket has a little slit to hold the shovel when it's not in use.
What We Like:
Affordable
Made of galvanized iron
Comes with a lid and a shovel
Shovel holder on the side of the ash bucket
Has a total capacity of 5.15 gallons worth of ashes
Makes cleaning fire pits easy
---
7. Sunnydaze Fire Pit Spark Screen Cover
Sunnydaze Easy-Opening, Heavy-Duty Fire Pit Spark Screen Cover with Hinged Door - 22-Inch Diameter
Outdoor firepit screen dimensions:: This fire pit measures 22" D x 21" W x 11" H and weighs 5 lbs (Due to the hinged nature of the screen the diameter is shorter one way than the other which allows the shorter screen to easily rotate open inside the larger half of the screen).
Measure the fire pit for the best fit: Make sure to check your fire pit to ensure a 22" diameter mesh spark cover is the right size.
Durable well-made design: The spark screen protector is made from a sturdy 0.7 mm thick steel to ensure longevity. It is for use on fire pits, bowls, rings, and rims.
Easy to use: The easy access lid includes handles for adding wood throughout the night. The tall design allows more room to stack firewood.
Worry-free purchasing: Sunnydaze Decor backs its products with a 1-year manufacturer's warranty for worry-free purchasing.
Last update on 2023-11-16 / Affiliate links / Images from Amazon Product Advertising API
Prevent little hands or paws from wandering where they shouldn't go with this Sunnydaze Fire Pit Spark Screen Cover.
This rounded fire pit screen cover comes in 5 different sizes and is made of high-quality metal mesh. This fire pit screen cover protects children, pets, and adults from sparks flying at them and prevents other potential hazards. It features easy-lift handles so that you can effortlessly place the cover over the pit and remove it from the pit after the fire is put out. Be sure to allow the metal screen cover to cool before touching it.
While this fire pit accessory is a tad on the pricey side, it's a worthwhile investment, especially for young families and households with pets. It's easy to assemble, looks great, and would make an excellent addition to your fire pit.
What We Like:
Protects children, pets, and adults from being hit by stray sparks
Made of high-quality metal mesh materials
Available in 5 different sizes
A worthwhile investment for young families and pet owners
Easy-lift handles
Easy to assemble
---
Frequently Asked Fire Pit Questions
In this section of the article, we'll be answering some of the most common questions regarding fire pits.
Q: How Do I Put Out My Fire Pit Safely?
A: To safely put out a fire pit, it's best to wait until the logs have burned to ashes completely before beginning the process. You don't want to put out a fire when it's at its hottest and has high flames. Instead, wait until the wood is burned up and there is only a slight glow coming from the ashes and very little — if no — flames present.
Then, take a hose or a bucket of water and add the water to the ashes until the glow is extinguished. Take a metal shovel and turn the ashes in the water until all of the ashes are soaked and cooled down. Once the ashes are completely cooled, you can scoop them up and throw them away in your ash bucket.
Q: Should I Put Sand at the Bottom of My Fire Pit?
Yes, it's recommended that you put sand in the bottom of your fire pit. Putting sand in the bottom of your fire pit will help to absorb some of the heat and protect the bottom of the pit from coming in direct contact with the fire and hot ashes. This can prolong the life of your fire pit.
However, there are some fire pits that may not allow you to place a layer of sand at the bottom. Some fire pits have holes in the bottom of the base to encourage oxygen flow (to keep the flames going).
Q: Can I Repurpose My Fire Pit Ashes?
Yes! Ash from fire pits can be used in compost to help fertilize gardens. Sprinkling a bit of ash in the compost will add nutrients such as calcium. This is especially useful if you have a tomato garden, as tomatoes thrive in calcium-rich soils.
You can also use fire pit ashes to de-ice driveways and walkways as a replacement for salt. And, if you'd rather not make a watery mess putting out your next fire, save the ashes from the previous fire to smolder new flames.
Q: What's the Best Fire Pit Starter?
Sale
Pine Mountain StarterLogg Select-A-Size Firestarting Blocks, 24 Starts Firestarter Wood Fire Log for Campfire, Fireplace, Wood Stove, Fire Pit, Indoor & Outdoor Use, Red
Quick and Easy Lighting: The StarterLogg ignites quickly and easily with no kindling, rolled up newspaper or dried grass needed; Simply place it in your fireplace, fire pit, or chiminea and light it, then relax and enjoy your fire with friends and family
Natural and Versatile: The StarterLogg is made from real hardwoods and can be easily split into different sized portions depending on your need; It's ideal for indoor and outdoor fires and ready to transport, making it ideal for camping, fishing and hunting trips
Clean and Green: Our fire logs burn cleaner than cordwood, producing up to 80% less carbon monoxide and 75% less particulate matter; Nearly all the materials in our products are made from renewable resources so you can be sure that your choice is a clean one
Easy and Authentic: We're dedicated to bringing you only the finest quality, American made, nature inspired products that make it easy for you and your family to cozy up in front of the fireplace or gather around the campfire, with a simple strike of a match
Compare and See The Quality: Compare our line of fire starters, fire logs, and fire safety accessories to similar products by manufacturers like Duraflame, Blackwood Charcoal, Earth log, Lightning Nuggets, Better Wood Products, Enviro Log, Ignite O, or Western
Last update on 2023-11-16 / Affiliate links / Images from Amazon Product Advertising API
You can take your chances with a rolled-up newspaper, but if you want to quickly start your fire pit, the Pine Mountain StarterLogg is the best way to do it. It's a super affordable option, ignites quickly with no kindling needed, and is made of natural hardwood materials.
The log can also be broken into smaller pieces, depending on the size of your fire pit, and are cleaner than most fire pit starters on the market. Actually, these fire pit starters produce 80% less carbon monoxide and 75% less particulate matter than other fire pit starters available today.
Q: How Can My Family Keep Safe Around Our Fire Pit?
Before you should even consider implementing any of our outside fire pits ideas, knowing about proper fire safety is a must. It goes without saying that fire is a hazardous element and, if precautions aren't taken when using it, can result in severe burns, and even death. To keep your family safe around the fire pit, consider these safety tips:
Consider buying a metal mesh fire pit cover to block sparks and conceal open flames
Never leave pets and children unattended next to a lit fire pit
Keep flammable or explosive items away from a fire pit at all times
Never leave a fire pit unattended while ashes are still glowing or flames are still present
Always use tools to move logs. Never attempt to move a burning log with your hand
Sit at a safe distance from the fire to avoid overheating or burns
Avoid wearing nylon and other flammable clothing. Also, avoid wearing loose-fitting clothing
Don't use flammable fluids to light or relight fires such as gasoline or kerosine
Keep a hose or a fire extinguisher close by in case of an emergency
Keep an eye on the wind direction and avoid sitting in the path of blown ashes and sparks
Final Thoughts
This list of outside fire pits ideas is by no means comprehensive. Think outside the box and apply your own twists to these concepts in order to get a more personalized setup.