Lava rock is created naturally when volcanic magma rises to the surface, cools, and releases gases. This produces the rocks' coarse appearance.  They're naturally tolerant of high temperatures, making them great for use in gas fire pits. In this article, we'll be discussing how to use lava rocks for a fire pit!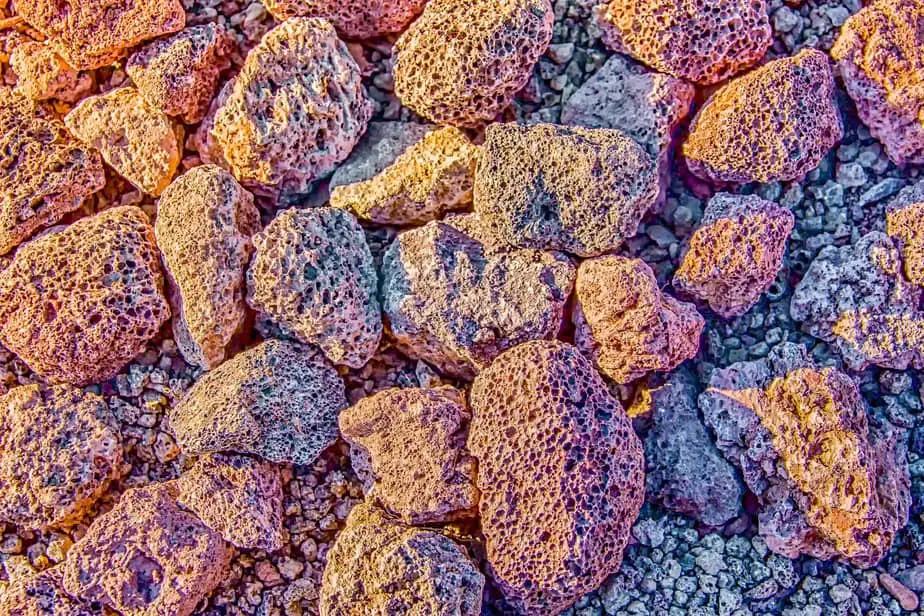 Why Use Lava Rocks?
With their rustic appearance, lava rocks for natural gas fire pits are a popular choice and can also be used in an indoor gas fire. Sandstone, river rocks, natural rocks, and gravel are not ideal for gas fire pits because they are more likely to crack or explode under high heat. Lava rock is a much safer option and has many advantages:
Heat Retention
Lava rocks excel at this and distribute heat evenly and for an extended period. This is very useful for gas fire pits, providing all-round long-lasting heat with no cold spots.
Weatherproofing
A layer of lava rock in your fire pit (about three to four inches) can protect the fire pit's burner during all types of weather. As lava rock is water-resistant, it can help move water to your fire pit's drainage system.
Protect the Burner
When you light your gas fire pit, the gas moves through gaps in the lava rock and keeps the flame burning on the top. The flame and the heat are at the top of the fire pit. The lava rock protects the burner from that extreme heat because it has excellent insulating properties. This helps the burner perform better, and extends its life.
Long-Lasting
Due to its volcanic origin, lava rock can withstand extremely high temperatures and will not crumble or become damaged. It needs very little maintenance and is highly durable, so it can be used repeatedly. It is eco-friendly, lightweight has no additives or chemicals, and keeps its color well over time. Lava rock is also relatively inexpensive. If your lava rock is exposed to the sun for long periods, it is a good idea to cover your fire pit when not in use.
How To Arrange Lava Rocks On A Gas Fire Pit
Before you start arranging lava rock on your fire pit, there are a few steps to take.
When you get your bag of fire pit rocks from the supplier, be aware that there may be dust in the bag, because of how the rocks are sourced – they are collected from a lava field and tumbled.
Many people put a layer of pea gravel or sand on the bottom of the fire pit first (about an inch) as a foundation, and then lay the lava rock on top.
Most fire pits need between two and four inches of lava rock. Each fire pit is different, and yours will have instructions about the quantity required.
It is a good idea to use small lava rocks for your first layer of rock on the gas fire pit. Fill the pit to just above the burner element. The small fire rocks, which fit tightly together, will give you a good foundation for your subsequent layer which could be lava rock, or fire glass, as an alternative, if you can afford this.
You will need to figure out how much fire pit rock you need to buy. This will depend on the shape of your fire pit and the required depth of lava rock.
Lava rocks for fire pits are available in different sizes (usually between ¼ inch and 6 inches, and a few colors – typically red or black/gray. Lava rock that is 1 to 3 inches in diameter is the most common choice for fire pit use.
Only use genuine lava rock in gas fire pits; do not use synthetic lava rock designed for use in planters or gardens.
When you light the gas burner, you can move the rocks around carefully with a poker, which can help you get the flames into a shape you are happy with. The first time you use your lava rock, do not approach the fire pit for about 30 minutes after lighting it. New lava rock can contain small amounts of moisture, which will need to burn away. The lava rock will emit a "popping" sound. Stand well clear of the fire pit until that sound does not occur any more.
As a general rule, never use wet lava rock in your fire pit as this can explode or fly out of the pit, and cause injuries to people or pets nearby.
You can put some ceramic logs on top of red lava rock if you like. This creates the look of a natural log fire as the lava rocks allow the flames to flicker up around the logs.
What Are The Alternatives to Lava Rock?
While lava rock has many advantages, some people do not like its look, perhaps thinking it is too rustic in appearance. There is not a wide variety of colors or sizes available, so you may want to look at other options.
Fire Glass
This is not glass, as you know it since normal glass will become too hot in a fire pit and explode.
These fire glass crystals have been through a tempering process to make them fire safe, and heat resistant to withstand high temperatures. Fire glass beads do not melt, burn, or discolor. Fire glass is also smokeless and emits no soot or ash.
Firepit glass beads have a different appearance to lava rock as they have smooth polished surfaces, and are sparkly. This intensifies the fire from your firepit. It makes the flames flicker, shimmer, and shine brightly, even more so on very dark nights. This can be very atmospheric. Fire glass beads are generally smaller than lava rock and have a more consistent shape, which allows them to disperse heat evenly.
Once lava glass heats up, it produces an intense and effective heat source due to its reflective nature. Like lava rock, fire glass is a good heat conductor.
Fire pit glass comes in a wide range of colors and sizes, allowing you to mix and match.
The most common shape for the fire glass in your outdoor fire pit is a mound that is slightly higher in the middle.
Many people chose to put fire glass on top of the lava rock they have already laid in the fire pit. This is perfectly acceptable and is cost-effective since fire glass costs more than lava rock. If you have the budget to do this, lava rock and fire glass go together well – ensuring heat is distributed effectively, key fire pit elements are protected, and you get a wider range of design options for your fire pit. If you chose this layering option, aim for your fire pit to contain about 20-25% fire glass.
If you use fire glass as the top layer, with lava rock on the bottom, arrange the fire glass thickly enough, so the lava rock becomes mostly invisible. If you use darker colored fire glass this will hide the lava rock more effectively
Fire glass has a long life but may lose some of its sparkle over time. The fire glass beads do sometimes chip as well.
Fire glass will show dirt and soot more than lava rock, and you will need to clean the fire glass beads occasionally. You will have to remove the fire glass beads and wash (you can use dish soap) thoroughly rinse and dry them. This is an opportunity to remove any debris from the fire pit at the same time and clean the burner pan.
Tumbled Lava Rock
This is a lava stone that has had the rough edges removed, so they are more rounded and uniform in shape than traditional lava rock. Use this as a base, if you wish, or fill your fire pit completely with it.
Sand
Sand is another option for filling your gas fire pit. It can be used with lava rock and/or fire glass, or on its own. It will not have as attractive an appearance but is very cost-effective if you are on a budget and is easy to install. It also is good at heat distribution. Ash can get mixed up in the sand, however, creating a mess, especially if it gets wet when it will need to be replaced.
Dirt
This is a very cheap, heat resistant, and easy to install option for your fire pit. But there are many disadvantages. The ash from your fire can get mixed up in the dirt and make a mess, which is tiresome to clean up if it gets wet. You would need to shovel it out and replace it. So this is a relatively high maintenance option.
The Best Lava Rocks for Gas Fire Pits
Now that we've gone over why lava rock is a great choice for gas fire pits, and other alternatives that you can consider, let's take a look at our favorite lava rock options for your fire pit:
1. Venetian Princess Lava Rocks
KAYSO INC Lava Rocks - Decorative Landscaping Rocks or Gas Fire Pits Rocks, 3/4" (.75") (10 Lbs, Red Lava Rock)
Lava Rocks size ranges from 1/2" to 1-1/2" - Available in Black or Red - 10 Pounds or 40 Pounds
Lava rocks can be used with Fire Pits, Fireplaces, or Decoratively
Lava Rocks is heat proof and ideal usage in Indoor and Outdoor Gas Fire Pits and Fireplaces
Calculating How Much Lava Rocks You Need - Circular/Round Fire Pit - To calculate how many pounds of Lava Rocks you'll be needing for your project, simply: Radius (Inches) x Radius (Inches) x 3.14 = Square Inches / Then Divide the Square Inches you have by 16 = Number of Pounds you'll be needing (This is calculated for the optimal depth for Lava Rocks of 2" Deep)
Calculating How Much Lava Rocks You Need - Square/Rectangular Fire Pit - Width (Left & Right) x Depth (Front to Back) = Square Inches / Then Divide the Square Inches you have by 16 = Number of Pounds you'll be needing to get how many pounds of Lava Rocks you'll be needing (This is calculated for the optimal depth for Lava Rocks of 2" Deep)
Last update on 2023-09-19 / Affiliate links / Images from Amazon Product Advertising API
With hundreds of positive reviews, this Venetian Princess Lava Rock is clearly an excellent choice for gas fire pits. This listing comes in a pack of 10 pounds of lava rock at less than $20, making it an affordable option. If you have multiple gas fire pits on your property, or a very large gas fire pit, this option is also available in a 40-pound bag.
This lava rock is available for purchase in a rustic red color, or in black to best match your outdoor decor.
What We Like:
Available in a 10 and 40-pound bag to meet your needs
Comes in a rustic red color or black
Hundreds of positive reviews
Affordable
---
2. Dragon Glass Lava Pebbles
Margo Garden Products DFBLP2-20 Dragon Glass Lava Pebbles, 20 lb, Black
Sourced from lava fields in Asia
Pebble size 3/4" - 1 1/2". Recommended Uses - Walkways, Outdoor gardens, Fountains, Planters, or other creative interior/exterior design
Tumbled to create a more uniform shape and unique look
Rectangular fireplace/fire pit, (length x width x Height)/ 21 = pebbles (lbs. )
Round fireplace/fire pit-(diameter x diameter x Pebble Height)/ 26 = pebbles (lbs. )
Last update on 2023-09-19 / Affiliate links / Images from Amazon Product Advertising API
These decorative lava pebbles are sourced from Asia and have a beautiful gray, oval appearance. They're surprisingly affordable and come in bags of 20-pounds of rock. You can purchase these lave pebbles in a single bag, 2 bags, 3 bags, up to 4 bags (a total of 80 pounds of rock) to suit your needs best.
What We Like:
Beautiful appearance
Strong enough for use in gas fire pits
Gathered from natural sources
Affordable
Comes in 20-pound packs of 1, 2, 3, or 4 (up to 80 pounds of rock)
---
Firepit Safety
Fire pits bring ambiance and beauty to your backyard. For some people, they are reminiscent of wonderful evenings spent around a campfire in the countryside. Bear in mind that safety is an important consideration because fire is involved. There are some key things to remember to ensure your firepit experience is a safe one:
Keep a fire extinguisher nearby and make sure it is in good working order
Use safety gloves when handling your firepit
Make sure you are familiar with any local regulations about fire pit use
Read the manual provided with your fire pit, and follow the instructions
Locate the firepit at a safe distance from your house, garage or outhouse and away from overhanging branches, power cables, or a power source. It should be placed in a well-ventilated area
Do not leave the fire unattended and keep children away from fire pits
Do not use your firepit on very windy days
Only use recommended fire starters and keep your flame size small, to begin with
Be sure to put out the fire completely when you have finished with it
If you have a lid, cover the firepit once the fire is out
Clean up debris around your firepit regularly
Do not leave anything combustible near your firepit
Clean the fire pit and the burners regularly to prevent any blockages
If you smell gas near your firepit, do not use it. Check for gas leaks, and call the gas company or fire department if you cannot shut off the leak
Fire safety is the most important aspect of owning a gas fire pit, so if you have small children and pets, or are new to controlling fires, be sure that you take extra precautions to prevent accidental injury or death.
Final Thoughts
When it comes to how to use lava rocks for a fire pit, lava rocks have a few advantages over other decorative methods for gas fire pits. Lava rocks are formed from lava, which means that they have high heat tolerance, making them perfect for using right in a fire, and especially in flames lit with gas. Having a layer of lava rocks in your gas fire pit also acts as a bit of protection for the fire pit's lighter components.
Overall, lava rocks are a safe and rustic decorative choice for gas fire pits! We hope our guide to how to use lava rocks for a fire pit has been helpful!