Outdoor living is increasingly popular, and for those not wishing to gather wood or constantly stoke the fire for a wood-burning fire pit, then the option to build a natural gas fire pit provides a great alternative. The gas fire pit offers electronic ignition and flame control adjustments.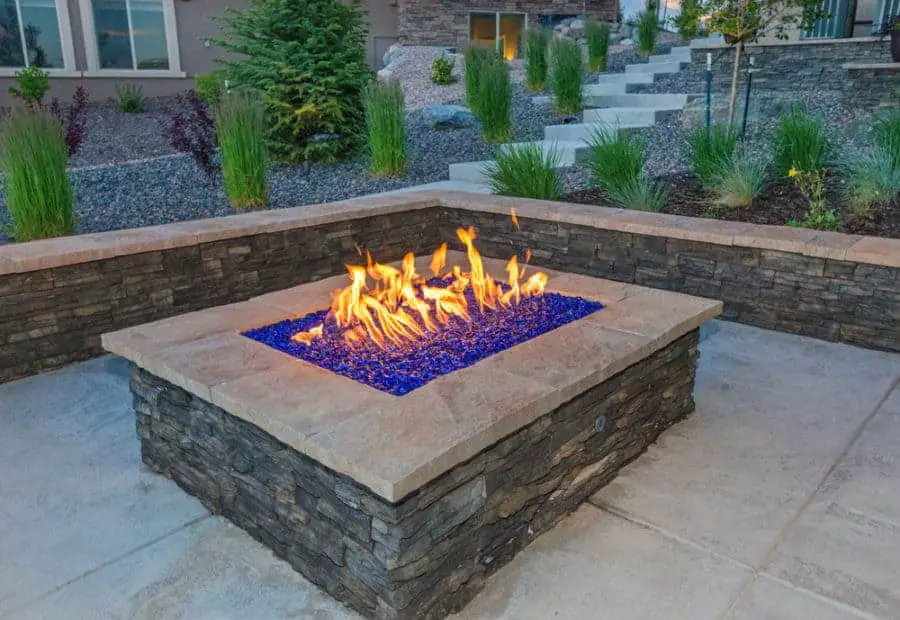 Furthermore, you won't have to deal with messes left behind on your patio by coal or coal dust. Similarly, you won't be left with piles of ash to clean up, or you won't need to scrub the pit to maintain a clean look. You can build a gas fire pit outdoor to create an existing 'patio with firepit' scenario or build a gas fire as part of a total DIY project.
Safety Precautions
A gas fire pit must be located at a safe distance from your house or garage. Never install a gas fire pit close to a power source or overhanging power cables. Before you decide on the installation spot, make sure that there are no electric cables underground.
While gas flames don't generate sparks or flying embers, you do need to consider heat production. You also need to be very sure that the gas supplies are correctly fitted to your gasoline fire pit. Gas leaks can be treacherous, especially if the gas accumulates in the pit. One thing to be very careful about is that all fire pit burners require adequate ventilation to create proper airflow.
Design Factors
Location
Before getting too far in with your proposal for a gas fire pit, carefully consider the location you want to build and decide how you will supply gas to the location. Depending on the location, it may be easy to have a natural gas line installed by a certified technician. Check any city ordinances to ensure your new fire pit will be legally built to code. To accommodate your' gas firepit outdoor build,' you may feel comfortable placing it on an existing concrete patio as long as the surface is level. Firepit patios provide a little more flexibility in design.
Other Features
Size   The size of your fire pit will be influenced by the space available and whether you opt for a gas fire pit table or a more simple regular fire pit. A fire pit table has a base and a top design, while the fire pit just has a simple base surrounded by pavers. With a burner cover, the gas fire pit table can act as an outdoor coffee table when the burner is not in use.
Shape Again, the shape you choose for your gas fire pit or fire pit table is related to the space you have available and your desired location. Attractive contemporary and industrial themed designs come in circular, rectangular, square and oval shapes.
Material Fire pits are made of different materials and finishes. Many outdoor designs are made of concrete hardscape blocks. A circular shape uses a combination of trapezoid shape blocks interspersed with rectangular blocks placed on their side. Other popular choices for outdoor fire pits and fire pit tables are stainless steel, copper, cast iron, and aluminum. Each material choice will offer strength, hardness, and weight options. For example, because of its hardness, steel won't scratch as easily as copper. On the other hand, steel is very prone to rust.
Burner system Your DIY, gas burner kit will come with a control panel which is inserted on one side at the second level of the outside construction. Make sure the pit burner is easily accessible to the natural gas pipeline.
Fire media It is best to use a base of lava rock or other filler rated for use with gas. You may also cover the base with fire glass. A maximum of 2″ – 4″ of media (lava rock or fire glass) should cover your burner and pan. Fire glass, an accessory that comes specifically with gas fire pits, provides a unique look for your outdoor patio space. You can see flames leaping from the glass of different colors and sizes, which offers beautiful refractions of light, especially in the dark. As opposed to wood as a medium, the visual appeal of gas is one of its ultimate benefits.
Operations Assembly
A complete gas fire pit kit represents two systems. First, you will have to build the exterior support construction, which becomes the fire pit surround. Then you will have to assemble the inside gas-ignition, and flame-related components called the fire pit insert.
The easiest way to build a DIY gas fire pit is to purchase a manufactured drop-in fire pit kit. The kits usually feature a bowl shape and come ready to install into the fire pit enclosure of your choice.
Tools Needed For Block Assembly
Level
Shovel (if building on grass)
Rake (if building on grass)
Mallet
Caulk gun
Exterior grade concrete adhesive
Vapor barrier
AAA battery for burner ignition
Tools Needed For Burner Assembly
Two adjustable wrenches
7/16″ wrench
Power drill with Phillips bit
Vent block
Assembling The Gas Fire Pit Insert
The quality and type of your gas fire pit insert will vary according to your needs. You will have three parts to assemble – the burner (for flame output), the burner pan (to support the burner), and plumbing components (to control the gas fuel and to ignite the gas flame).
Exterior Support Construction
If putting your fire pit on grass, mark your desired shape and remove all grass, sod, and roots. Remove 2″ of soil and level the area then add 1-2″ of paver base. Pack the paver base and continue to check that it is level. Once the paver base is level and compacted, or if putting your gas fire pit directly onto a paver patio, you can install the vapor barrier. This will prevent moisture from the ground and will protect your gas burner kit.
Lay your first ring of hardscape blocks in a circle to the desired diameter. Use a rubber mallet to level. Place the next ring of concrete block, leaving space for the control panel and optional vent block. If you don't use a vent block, allow sufficient space between the blocks to allow for airflow underneath the burner. Your gas burner kit will have specific instructions to assist here.
Once you are happy with the layout, carefully remove the second layer of blocks one at a time and apply concrete adhesive and put each block back as you apply firm pressure.
Assemble the burner and place it on top of the concrete block ring. Ensure there is at least 1″ overlap to secure the burner ring. Consult the gas burner kit manual for proper assembly instructions, clearance to combustible ratios, and gas connection instructions.
Once the burner is secure, lay the third layer of concrete blocks and repeat the previous adhesive process used when laying the second layer.
Once the concrete adhesive has had time to cure, add lava rock until the burner area is covered with approximately 2″ of rock.
Can A Natural Gas Pit Be Converted To A Propane One?
Propane is more energy-efficient than natural gas, and hooking up a portable tank is easier than installing a gas line. Flame strength can also be controlled easily by adjusting the gas pressure when using a propane tank. You can convert a natural gas fire pit to a propane fire pit by using a special conversion kit.
Final Advice
If you opt to build a gas fire pit, whether you decide on a patio base or one in your home's outdoor area, you will not be disappointed. Follow all the industry codes, get advice before you start, read your building instructions carefully, and make sure you get help when needed. If you have small children or pets, you can control your gas pit's flame level just as you would with a stove or other apparatus.
Of course, you will still need to observe basic fire safety as you would when dealing with any fire. You can purchase your gas fire pit online at a variety of retailers at quite affordable prices. The range of designs means you can shop around so that you can mix and match with your other outdoor furnishings.
Now go build a gas fire with confidence!