While we love our lawns to be green and well-tended, several conditions and events will hinder our ambitions. A portable fire pit on the grass in your backyard is a quick and easy way to spoil the grass through heat stress. Unless you have a purpose-built firepit outdoors, specially set up in its area, your fire's ideal placement may be on the grass. It is crucial to create a no-burn zone beneath and around your fire pit.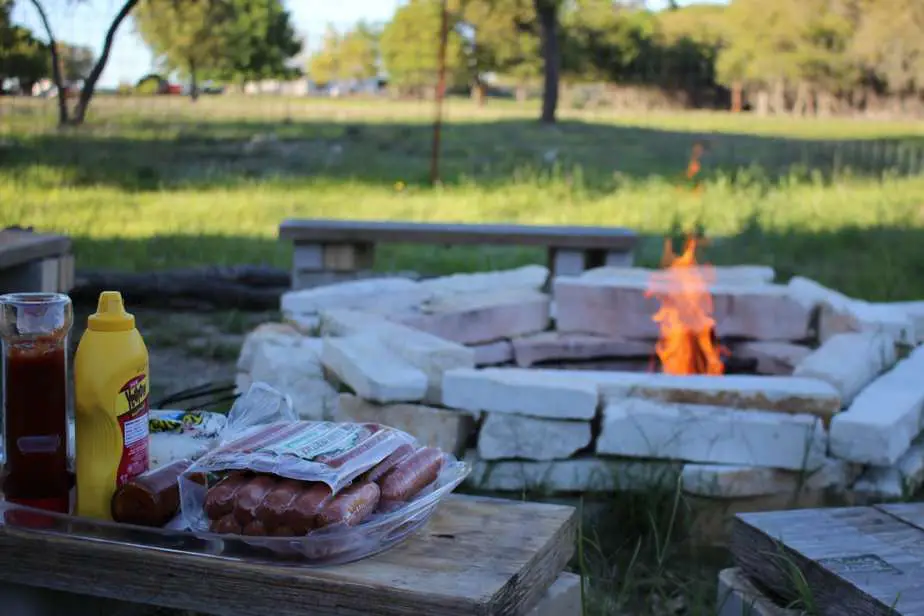 What to put under a fire pit on grass is a worthy consideration. The floor surface under your firepit can be damaged by the intense heat generated by your fire pit if it is placed directly over the grass. To prevent the grass under your fire pit from getting burnt, you need to take measures to protect surfaces by insulating them from direct heat contact using a protective heat resistant barrier.
Best Fire Pits to Use On Grass
If you are on the market for a new fire pit or are just considering purchasing one, consider the many new types of fire pits available that are raised and adaptable to smaller backyards. It is worth shopping to find one that is perfect for your grass area to enjoy your fire outdoors. Choosing a sturdy stand is very important. Steel-coated stands with a powder coating treatment can provide heat resistance up to 50 degrees.
In this section, we'll be taking a look at the best fire pits to use on grass!
1. KINGSO Fire Pit
No products found.
With nearly 6,000 positive reviews, the KINGSO Fire Pit Bowl is safer and easier to control than traditional outdoor fire pits. It's surprisingly affordable, and stands on 4 sturdy legs, away from direct contact with the ground and fire bowl. It also comes with a spark guard to keep the fire contained.
What We Like:
Nearly 6,000 positive reviews
Affordable
The fire bowl is elevated above the ground
Fire bowl sits on 4 sturdy, metal legs
Comes with a spark guard
---
2. Landmann Big Sky Stars and Moons Fire Pit
No products found.
This fire pit for use on the grass is also elevated and is made with sturdy steel material. It comes with a spark guard to protect you and your grass from the fire and this set also include a cooking grate for the nights when you want a fire-cooked meal.
What We Like:
Made with steel
Elevated fire pit
Comes with a spark guard
Cute design
Full circle handle and safety ring
Comes with cooking grate
---
3. Sunnydaze Crossweave Outdoor Fire Pit – 36 Inch Large Firepit
Sale
Sunnydaze Black Crossweave Heavy-Duty Steel Outdoor Fire Pit - Includes Spark Screen, Poker and Cover - 36-Inch Round
Great for large gatherings: This large fire pit is ideal for gathering friends and family for a bonfire in the yard or on the patio. This fire pit measures 36" in diameter x 24" H overall. The fire bowl measures 31" in diameter x 11" H. This crossweave fire pit is 16" H without the spark screen and weighs 29 lbs.
Heavy-duty, rust-resistant design: This heavy-duty fire pit is made from durable 1.7-millimeter gauge steel. Finished with black high-temperature paint, this fire pit is made for long-lasting use and resistance to rust. The portable function allows this fireplace to be moved anywhere. This fire pit also features a decorative crossweave pattern that complements any outdoor decor style.
Full set included: The black crossweave fire pit set includes a metal spark screen for added safety from flying sparks, a weather-resistant round cover, a built-in wood-burning grate for better airflow, and a poker tool to easily control the flame.
Easy to set up: Quick and easy assembly allows this 36" fire pit to be assembled in no time. Simply attach the three legs and outer rim and it's ready to create cozy memories in the backyard or while camping.
Worry-free purchasing: Sunnydaze Decor backs its products with a 1-year manufacturer's warranty.
Last update on 2023-11-19 / Affiliate links / Images from Amazon Product Advertising API
This large fire pit has a beautiful cross-weave design and a built-in wood grate for increased air circulation to keep the fire burning hotter and longer. This is a complete set at an affordable price and comes with a fire poker, spark guard for additional safety around the fire, and a weather cover to protect your fire pit when it's not in use.
Due to the unique woven design, the sides of this elevated fire pit are more open than the other two options reviewed above. When placing this fire pit on grass, ensure you have a fire pit mat or sand underneath the fire pit to protect your lawn.
What We Like:
Beautiful cross-weave design
Comes with a spark guard
Great for large yards
Heavy-duty design and rust-resistant
Comes with a fire poker and weather cover
Built-in wood grate
---
Safety Tips
Before you set up your firepit and the firepit accessories, find out if your community allows open fires, and if so, what the rules are about the minimum distance from structures and other objects? If you have a choice between a wood fire and a gas fire, keep in mind that wood puts out more heat. Talk to your insurance agent about whether you must declare your fire pit on your homeowner's policy.
Because fire safety is the most important aspect, make sure you have a hose or fire extinguisher nearby. A multi-purpose fire extinguisher is best. It can deal with timber, paper, plastic, trash gasoline, oil, and electrical equipment fires. Make sure you keep your burning fire to a manageable size where you don't lose control. Rake out any debris and dead grass that might light if an ember manages to escape, and in that way, you reduce potential fuel for any fire.
Try not to use lighter fluid or other fuels that create scorching flames. It is better if the wood catches fire naturally and slowly, building hot coals at its base. There are several other fire starter products available. You could opt for an electrical fire starter that can efficiently light up your charcoal in seconds. This fire starter provides a flameless and eco-friendly option and gives you better control of the fire in your fire bowl.
What to Put Under a Fire Pit on Grass
There are many reasons for putting something under a fire pit, which is being used on grass, with one of the main reasons being the safety of those who are going to be near the fire pit and the burning fire.
Place some sand in the bottom of the fire pit. Sand will act as an insulator and help to disperse the heat more evenly. Another option is to place some lava rocks in the bottom of your fire pit. These rocks, made out of obsidian, created by lava, are very conducive to heat. Keep the grass under the fire pit wet. Place a spark screen on top of the fire pit once the flames are established. This allows you to see and enjoy the fire while capturing the sparks, keeping them from floating into the air, and possibly landing on the grass and burning it.
Above all, don't be tempted to use unsuitable materials under your portable fire pits such as wood or a picnic blanket, which could be the very fuel for the fire on your grass, which you are trying to protect.
General Tips For Protecting Your Artificial Grass
Environmental concerns, drought, the improved look and feel of synthetic grass, pet friendliness, and the lack of maintenance required have combined to produce a take-up of artificial grass in backyards. You can still use your firepit on the artificial grass area, but you need to take some precautions. Most synthetic grass is made from high-quality, non-toxic, non-flammable synthetic fibers. This grass won't catch fire or burn. In the situation of an open fire or extreme heat, artificial blades will melt. By melting, the grass creates a barrier that prevents the fire from spreading.
While it is nice to know that your faux grass is not flammable, be aware that a spark or ember or a piece of hot food could melt the grass in that area. Don't put your fire pit directly on the fake grass. Perhaps create an island patio area next to or within the grass area. You could use natural stone or brick pavers or another non-flammable material that blends in with the existing landscape. Make your island large enough to hold the fire pit and some comfortable seating around it.
Be sure to consult with artificial grass safety experts before you plan any activity that could expose your grass to open flames.
Heat Resistant Surfaces
Brick Pavers
One way of protecting your grass from the heat of the firepit is by raising the pit onto a platform of bricks pavers. These will create some extra distance, and they will act as a heat shield. The platform provides a very flat and stable area to place the fire pit on. The brick pavers should create an area slightly larger than the fire pit. If you place pavers in a grid formation under the firepit, they can provide an inexpensive, but robust, temporary barrier between your fire pit bowl and your grass. Place the portable fire pit in the middle of the patio block platform.
Remember to remove the fire pit and the brick pavers afterward so they don't suffocate the grass. If you or your guests smoke, make sure an ash-tray is on hand to put out cigarettes and dispose of cigarette butts safely.
Fire Pit Pads
To ensure safety and protection as you burn your fire pit on the grass or your wood deck, consider using a protective fire mat or a deck protector. Protective fire mats are specifically designed for fire pits for ground use or as a deck protector. The fire pit mat will catch any hot drippings that may spill or splatter when cooking. They are made with heat resistant materials such as carbon fiber or volcanic rock fiber. Some are made of a combination of materials. Technology has increased the efficiency of design and protection offered. Some fire pit pads are made from the same material used in military aircraft to protect them from heat and fire.
The fire pit pad may also come with a reflective surface that provides extra protection. For extra sophistication and durability, you could purchase a hand-crafted all-metal fire pad designed to protect against extreme heat. These extra protective pads are constructed with multiple layers of metals with air space between them, creating a natural insulating effect. The heavy grade aluminum used in these sturdy fire pit mat designs is also rust-resistant.
The material it is made of will determine how much protection for your grass you will get from your mat and what it is made of will also determine the price you will pay. The mat will not burn, melt, or allow heat to penetrate when exposed to direct flame. As an extra precaution to ensure durability and long-term usage, place the fire pit pad at least an inch away from the bottom of the fire pit bowl. These firepit mats are available in many sizes and in different shapes designed to suit your firepit size and budget. Some are rectangular while others are circular. The size of the mat, concerning the size of your fire pit, is essential.
Sale
Campfire Defender Protect Preserve The Original Ember Mat | 67" x 60" | USA Based | Fire Pit Mat | Grill Mat | Protect Your Deck, Patio, Lawn or Campsite from Popping Embers
The Fireside Outdoor Fire Ember Mat stands as a reliable guardian against the unpredictable dance of flames, designed to enhance your outdoor experience by ensuring safety and protecting your surfaces from potential hazards. Crafted with precision and engineered for durability, this outdoor fire mat combines functionality with aesthetic appeal, offering a robust solution for those who revel in the warmth of a crackling fire or the sizzle of an outdoor grill.
At the heart of its design lies a commitment to safety, making it an indispensable accessory for anyone who enjoys outdoor fires or grilling. The mat is meticulously constructed using fire-resistant materials, providing a protective barrier that helps contain sparks and embers. This key feature not only ensures the safety of your surroundings but also minimizes the risk of accidental fires, allowing you to relax and enjoy the ambiance without worry.
High reflective edging for visibility at night - 8 stainless steel edge grommets allow the mat to be staked to the ground in windy conditions
WARNING: Extinguish any fallen or burning ember within 30-Minuntes of landing on the Ember Mat. The Ember Mat will not stop heat transfer to the ground surface when used with fire pits with less than 10-inches of airspace between the mat and the bottom of the fire pit. Always Use A Heat Shield Such As Pavers When Burning On Grass or Heat Sensitive Decking.
Meets all USFS & BLM fire blanket regulations - 1 Year Limited Warranty
Last update on 2023-11-19 / Affiliate links / Images from Amazon Product Advertising API
---
Fire Pit Heat Shields
An alternative to a fire pit mat is a fire pit heat shield. A fire pit heat shield is straightforward to use, especially since you don't need to assemble anything. Check the maximum heat capacity of the heat shield and make sure that you aim to keep to the recommended heat capacity. A good quality heat shield will be able to reflect over 90% of the radiant heat. This generally means that the heat shield can withstand about 1,100 degrees Fahrenheit of continuous radiant heat and about 500 degrees Fahrenheit of direct contact to heat. The firepit heat shield protects your grass or acts as a deck defender, but it will also help your firepit work more efficiently by radiating the heat upwards and outwards.
These products are made from a quarter-inch ceramic inner pad that is placed between two heavy-duty foils. It is then combined with a stainless steel mesh around the edges.
Fire heat shields are generally very flexible and will mold into any shape. The stainless steel edges add to this maneuverability and hence its versatility. Fire heat shields are made of high-quality materials. These shields would also be suitable as a protective heat barrier for your deck's outdoor pit fire.
Best Practice
Fire pits can be great for gathering friends and family, however, the use of a fire pit requires serious attention to safety. When making the final decision to install a fire pit potentially in your grass backyard or on the patio consider the following precautions:
Don't build a fire pit without approval from local authorities
Consider accessibility when choosing a fire pit size
Place the fire pit on a stable, steady surface and in an open area
Station your fire pit on a level stone, concrete, or brick surface at least 10 feet from your house, trees, and anything flammable
If you choose a grass surface for your fire pit, consider how you will protect the grass
If you want a wooden deck for your fire pit, find an effective deck defender
Consider fuel supply equipment and emissions when determining fuel type
Invest in fire safety gear to keep you and your home protected
With these safety tips, you and your family can have peace of mind when using your fire pit on a chilly day!
Final Thoughts
When it comes to putting a fire pit on the grass, there are many risks involved if you don't take the proper precautions. One spark on a lawn of dry grass could engulf the entire yard in flames in a matter of moments if you're not careful. By putting the right materials in and underneath your fire pit, you can prevent a disaster and protect your lawn from being scorched by the high heat of the flames.
Firepit pads, heat shields, or placing your fire pit on top of pavers in your yard can help to protect the grass from flames, heat, and scorching. By placing sand or lava rocks in the bottom of your fire pit, you could help the heat to distribute more evenly, away from the grass, and rather to the sides of the fire pit. Keep in mind that you should always wet the grass that is directly underneath and nearby the fire pit as an additional safety measure.
We hope our guide helped you to understand what to put under a fire pit on grass for the best and safest results!