When you're thinking about appropriate landscape design, there are lots of factors that you need to consider. First, you should think about your priorities and the purposes you want your outdoor area to serve. You should also think about the difficulty of implementation, the climate, and the amount of effort and money you want to devote to maintenance.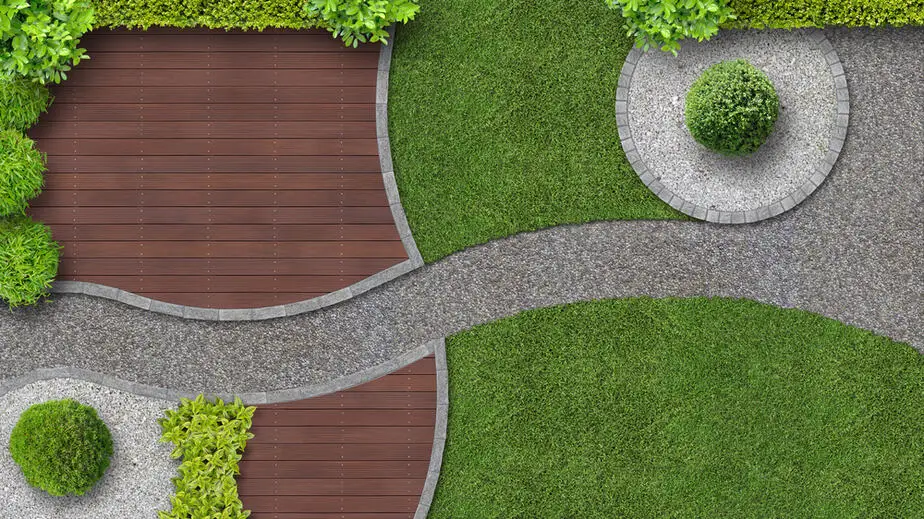 Modern landscaping ideas depend on creating a balance between softscape and hardscape elements in a unique and functional design. Softscape elements like shrubs, trees, and grass represent the living part of your outdoor area, while the hardscape elements like gravel, rocks, and built structures will stay the same for years. A smart design would combine and incorporate various elements and textures in complete harmony.
In this article, you'll find some amazing modern landscaping ideas that you can consider for your next backyard, garden or patio renovation project.
Impressive Modern Landscaping Ideas
Contemporary landscaping designs represent the most popular trends. It's all about going for minimalist yet functional ideas that connect your outdoor area to the inside of your house. Here are some of the most popular modern landscaping ideas.
1. Modern Landscaping Ideas for Small Areas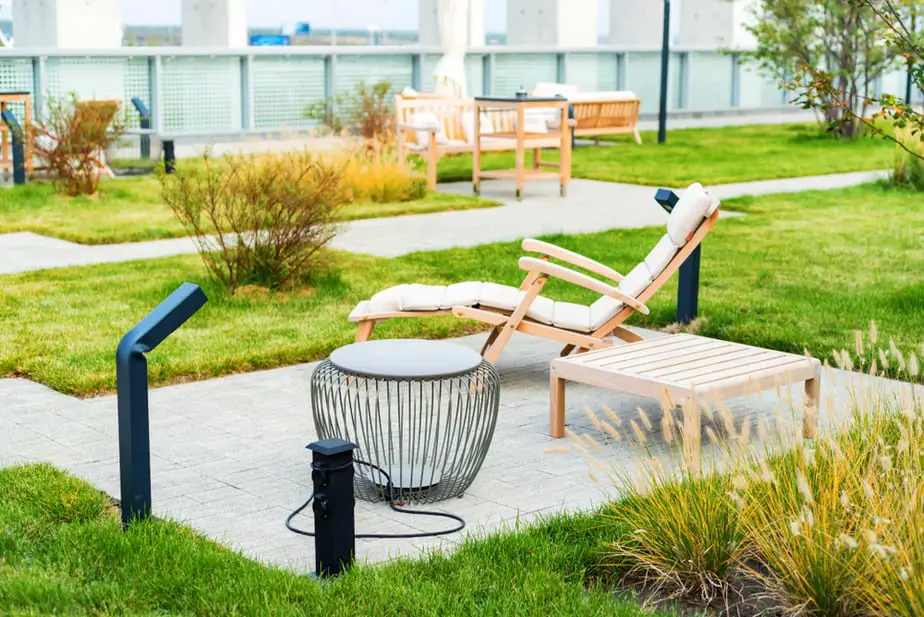 This is a simple minimalist design that can be executed in the backyard, rooftop, or patio. The rectangles of grass and tiles represent a balanced representation of softscape and hardscape with practical paths for walking and seating. Their number and size can be customized to suit the area you have available.
Here, there's a simple seating area with an armchair and a table so you can have a relaxing spot for reading or enjoying a cool drink in the afternoon. With the help of some simple lighting elements, you'll be able to enjoy this spot in the day or at night.
2. Minimalist Outdoor Plan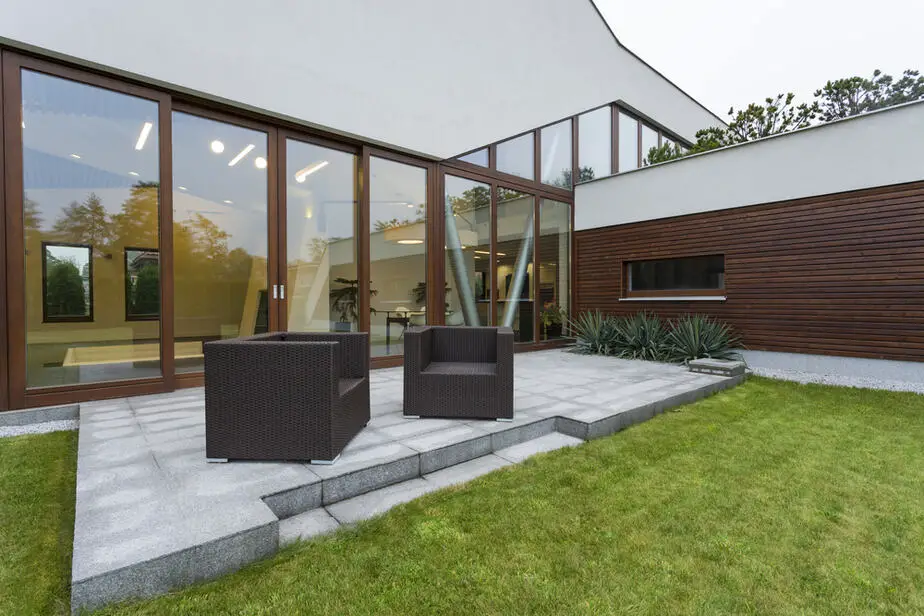 A platform made of tiles or stone is the right choice for people who have no time to take care of trees and shrubs. This minimalist landscaping design features low-maintenance grass so you won't spend much effort or money to keep your backyard in shape. It's an excellent choice for households with pets and kids thanks to the wide play area. At the same time, choosing armchairs provides comfy outdoor living space.
3. Concrete Boxes For Modern Backyard and Front Garden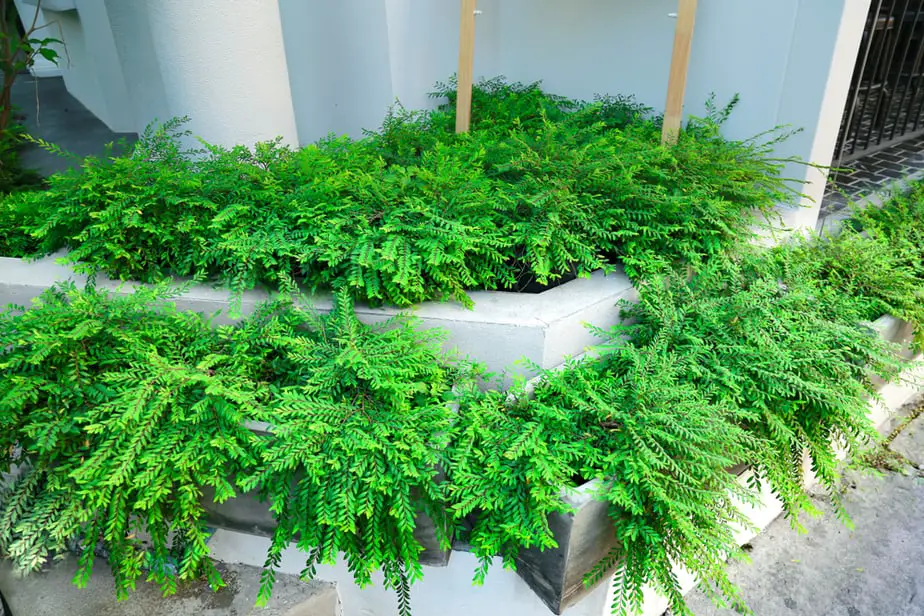 When you don't have enough space, you need to find a smart idea to make use of every corner. In this landscaping design, grass and plants are kept in concrete boxes. Maintenance cost and time are minimized while the rest of the space serves as a practical walkway. You can execute this idea in a small rooftop or in the front garden.
4. Trendy Pond in Backyard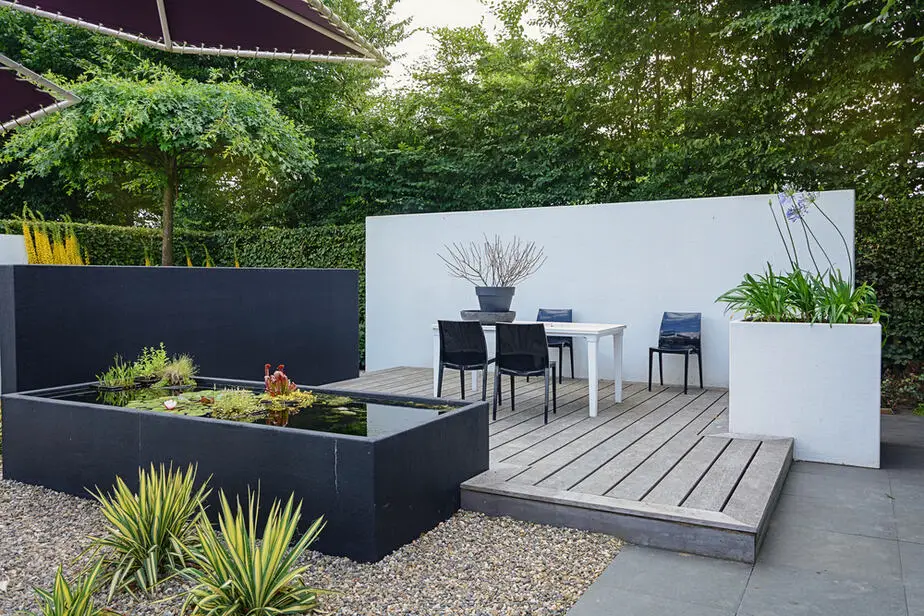 It's always a challenge to come up with an appropriate landscaping design for a small backyard space like this one. Here, the black and white walls serve as partitions, while there's a small space for planting in a box that's quite easy to maintain.
Gravel and wood are more durable and require less maintenance than grass so you can incorporate both if you want a cheap modern landscaping design. Unlike a traditional water fountain, you'll enjoy a Zen concept by adding this structured pond, surrounded by short shrubs.
5. Using Light and Shadow in a Modern Landscaping Design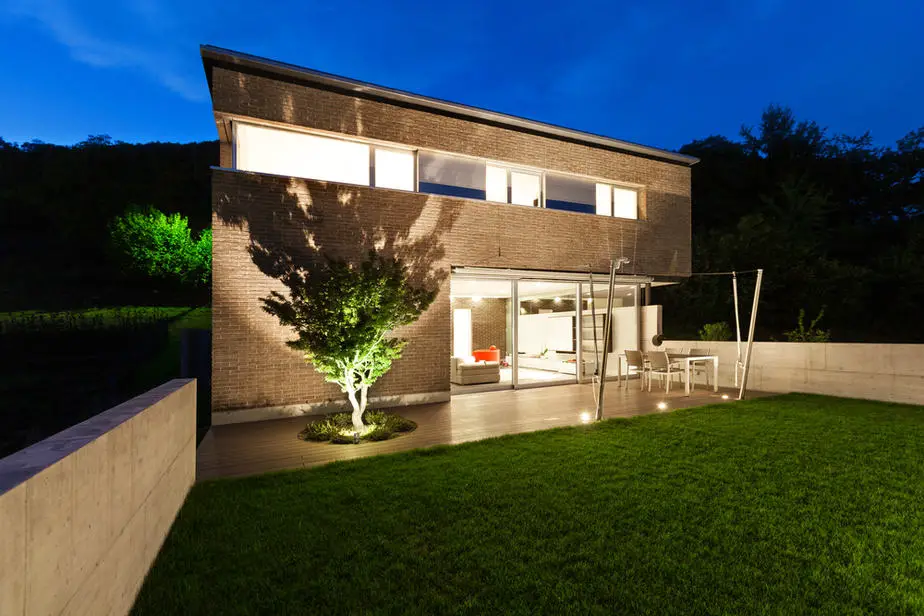 In this modern design, one tree will do the trick. A tall tree doesn't look odd because the light makes it stand out as the centerpiece in your outdoor area. Contemporary landscaping focuses on creating comfortable seating areas, like the one you can see in this patio.
6. Cheap Modern Landscaping Ideas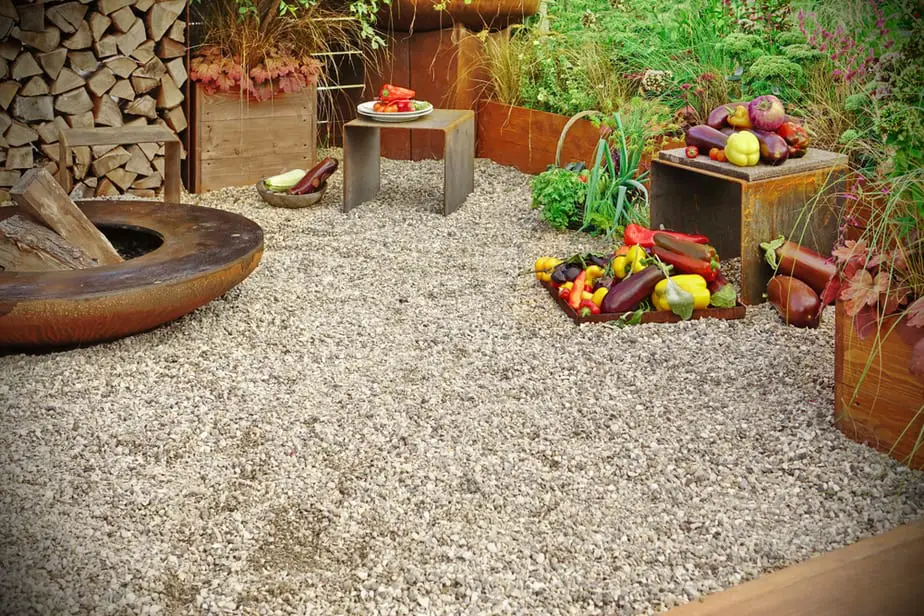 Gravel is drought-resistant, unlike grass which requires continuous maintenance. This contemporary design combines a few earthy elements like wood and gravel to create an outdoor kitchen or dining area.
The wooden furniture and the fireplace complement the look of a small outdoor area where every piece serves a purpose and blends beautifully with the surroundings. Moreover, there are a few wooden boxes where you can plant your favorite herbs, veggies, or flowers for a functional and practical backyard.
7. Innovative Path in the Backyard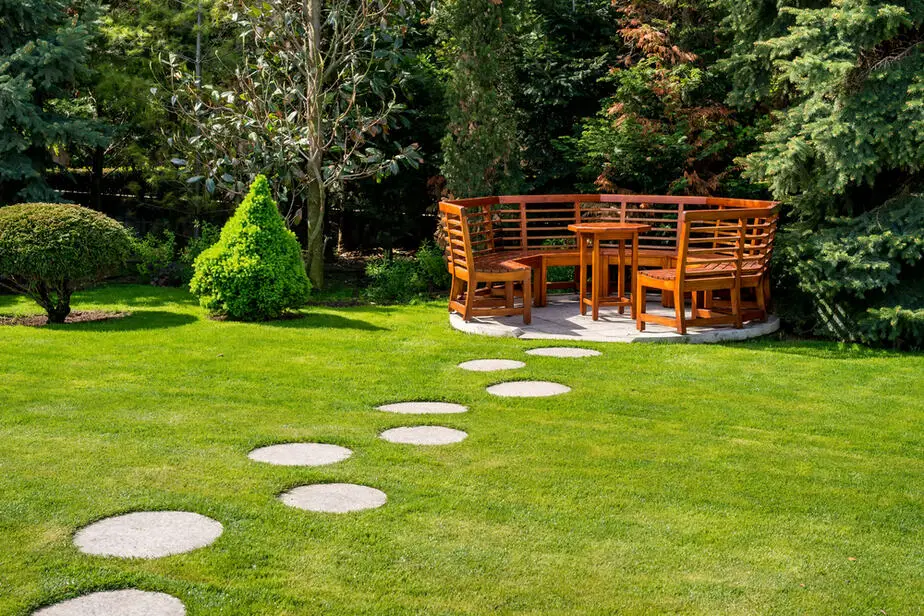 The circle is the dominating shape in this landscaping plan. The circles create a definite footpath that leads from the interior of your house to a circular seating area in a cozy setting. The rest of the backyard or garden contains a few shrubs that can be customized according to the available area, leaving enough space for kids and pets to roam freely.
8. Creating Balance with Contrasting Elements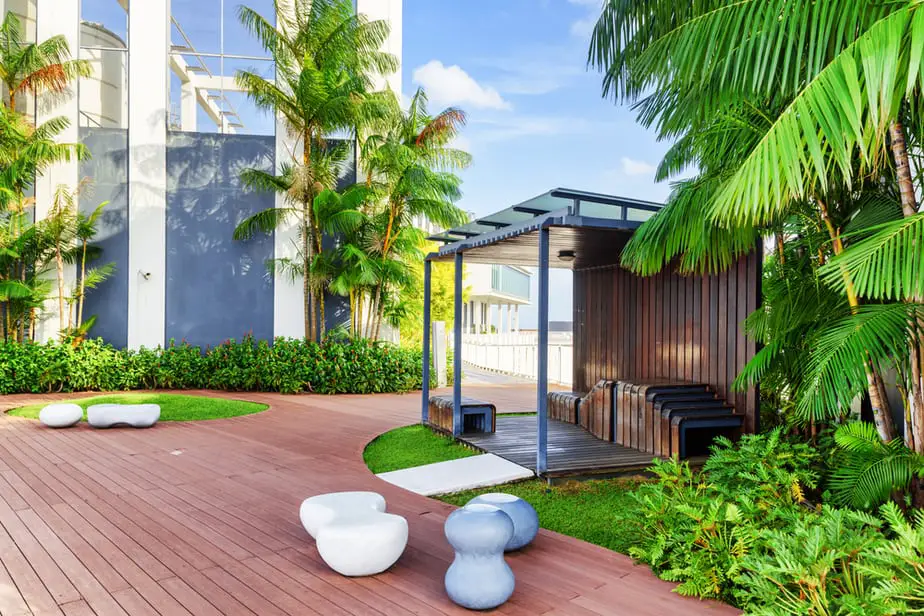 This plan is so versatile that it can be executed in a rooftop or in the backyard. It features minimal grass patches with contrasting taller trees that require little maintenance. At the same time, there is a shaded seating spot where you can later place a bench or a chair.
The main key element in this design is wood, although it's used in a novel and non-conventional way. The wooden planks in the flooring and on the wall are balanced and arranged for a special aesthetic value combined with metal bars and rocks.
9. Water Fountain in a Modern Backyard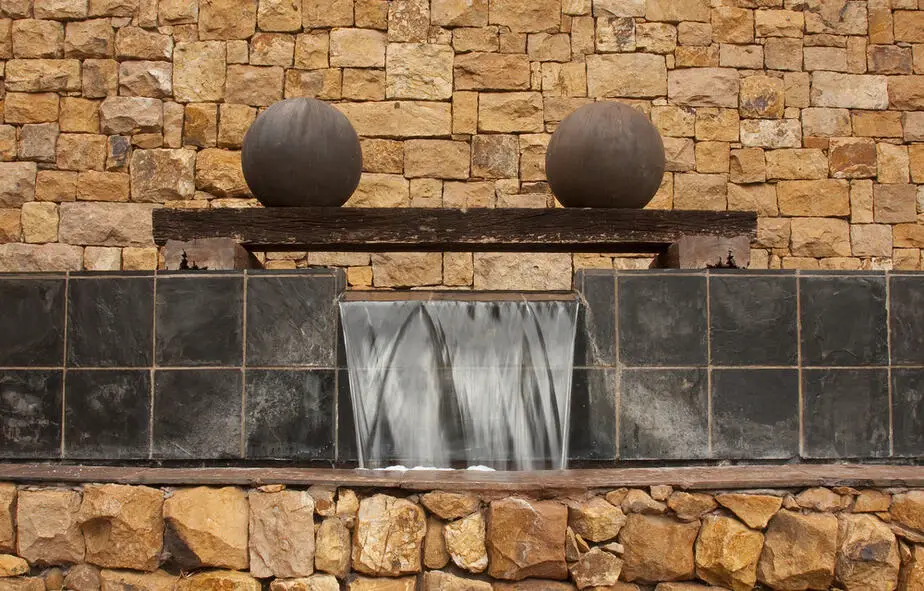 Even if you don't have a big space in your garden or backyard, you can still install a simple and modern water fountain like this one. Water adds balance in your outdoor area when combined with earthy elements like rocks and wood. In this design, spheres and straight wooden planks give harmony to this structure.
10. Zen Home Landscaping

A Zen home is meant to be relaxing, balanced, and visually appealing. Picking different colors for your plants is the main element of this Zen home landscaping design. The tile and stone steps lead to colorful plant beds that will change color throughout the year.
11. Vertical Landscaping for Small Areas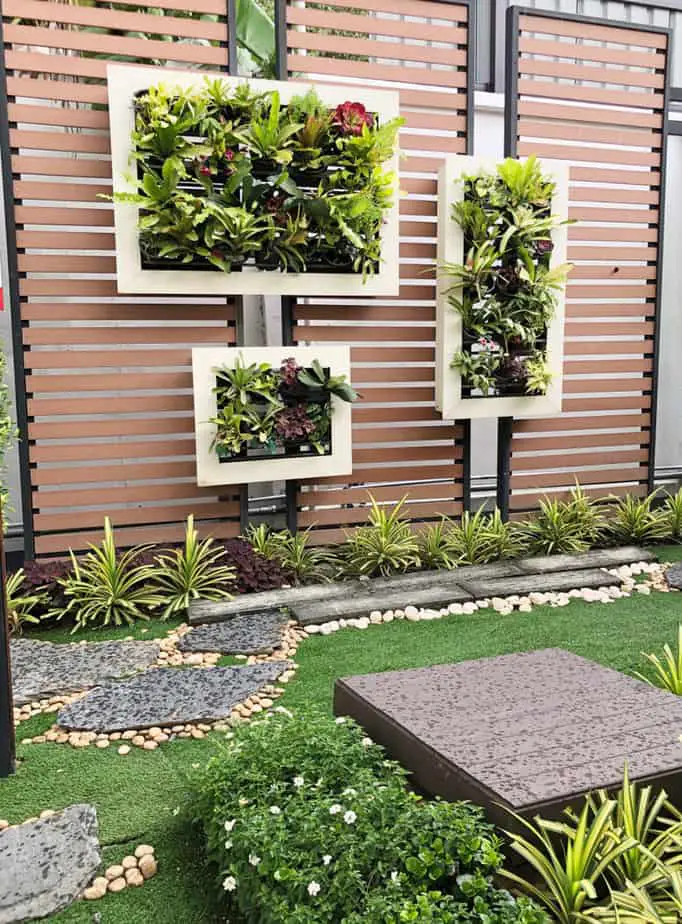 Finding an adequate landscaping design is always a challenge when you have a small backyard. In this design, the vertical garden represents the most practical solution. The ground features marble tiles for comfortable walking space, keeping the plants in hanging frames to make use of every inch.
12. Contemporary Landscape Design Elements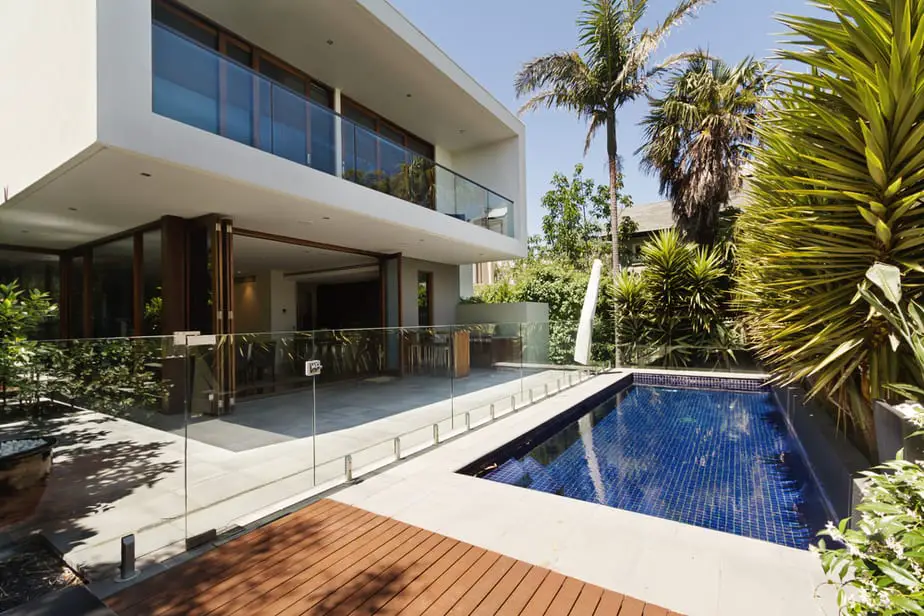 In this backyard, water, wood, tiles, and glass are all used in a contemporary design. Wherever you look, you'll see how the various textures and colors complement each other. At the same time, there is enough space to add a few chairs in the shaded area or in the sun, right in front of the pond.
13. Modern Landscape Design Front of House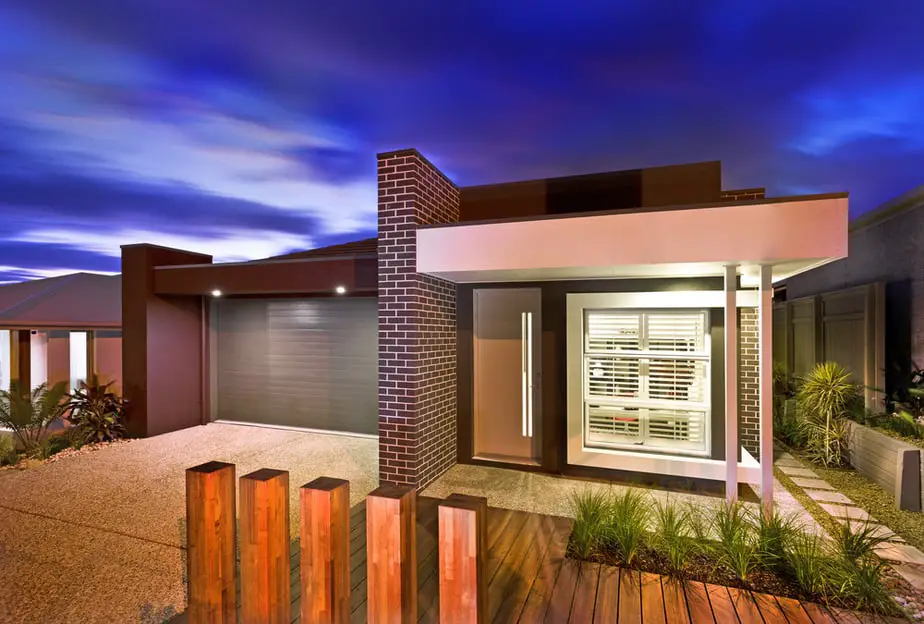 Only a minimalist front garden landscape would work with the overall design of the building. Here, the wooden floor and gravel add different textures to make this simple area look more sophisticated. Moreover, it highlights the function every area serves; wood in the walk path and gravel in the driveway that leads to the garage. A few green shrubs and shorter plants enhance that lively color that you will enjoy as you approach the front door.
14. LED Lights in Avant-Garde Patio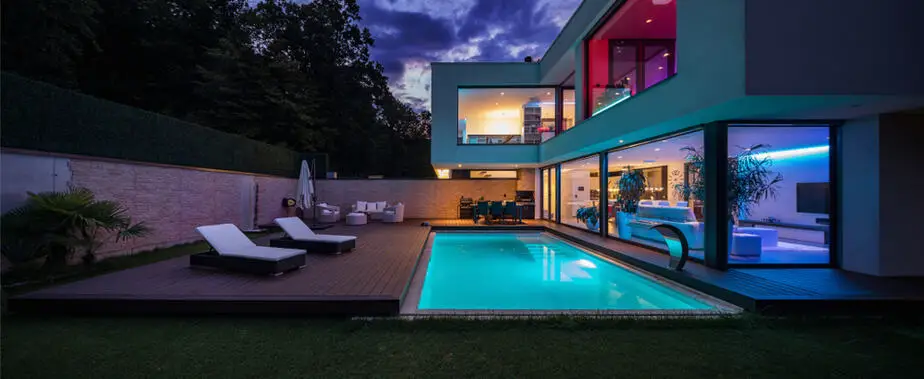 The smart use of LED lights will transform your minimalist patio to the perfect party spot at night. Remaining space is left clean so you can add chairs, high tables, sofas or whatever you see fit right in front of the pond. There are unlimited options depending on the occasion and the mood.
15. Concrete Furniture in a Small Patio
The concrete furniture and floor combine with the grass to create the perfect softscape and hardscape balance. This small patio landscaping design provides an excellent seating area that can also be used as an outdoor dining area, while the plants offer the needed shade and relaxing effect.
16. Modern Landscaping with a Bench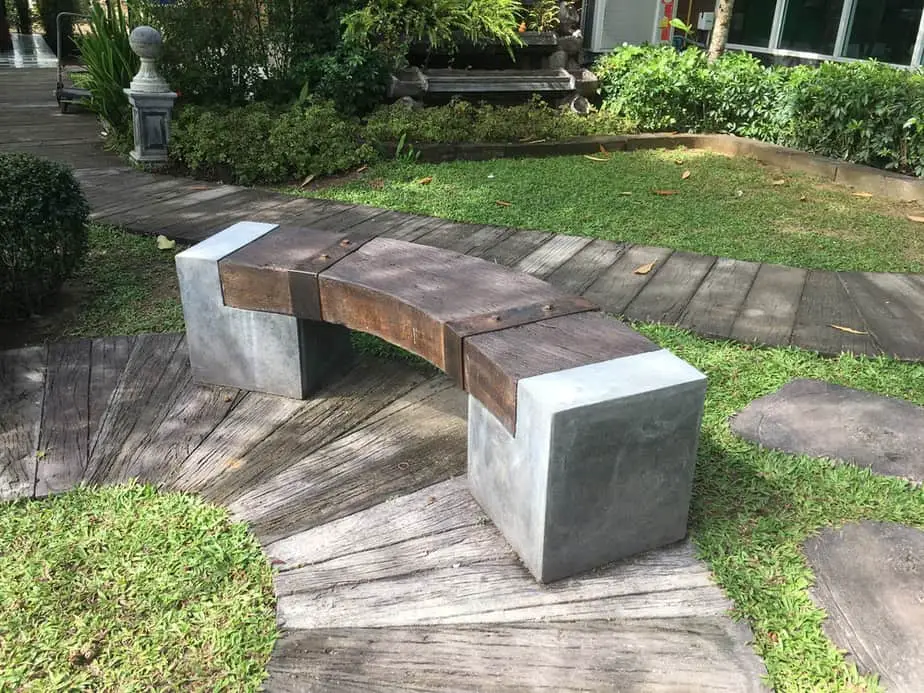 Straight lines combine with curves to create an innovative landscape. Wooden planks are arranged in a circular fashion, with a semi-circle wooden bench. At the same time, there is a footpath made of planks arranged in a straight line that leads to the house. There is little stress on trees with more emphasis on walking areas.
17. State-of-the-Art Landscape with Rocks and Shrubs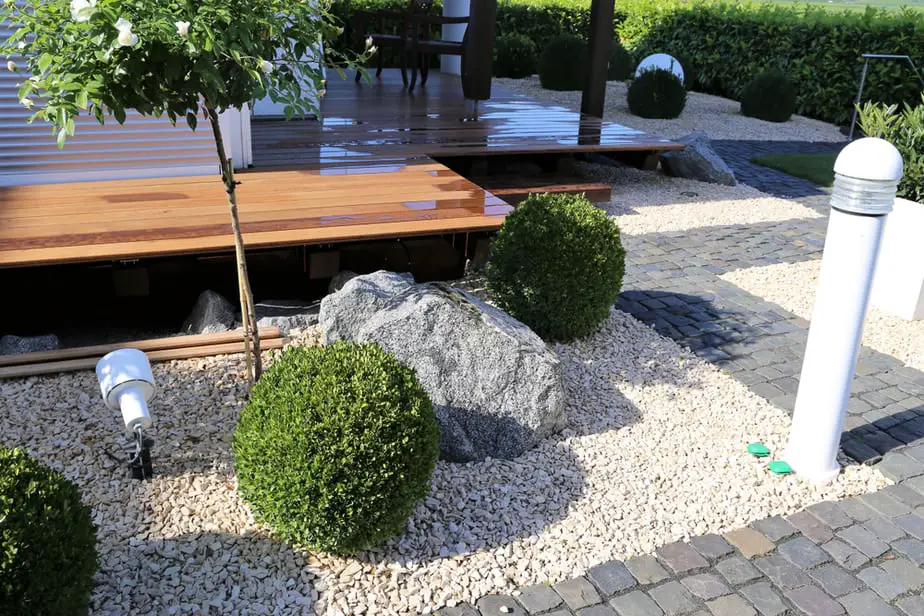 This plan combines several natural and man-made elements for a concept landscape. There is no grass; instead, gravel is the main key player. Balanced formations of rocks and shrubs are arranged to give a statement with a single tree that acts a centerpiece. To complement the design, the light is arranged to attract attention at night.
18. Modern Design for Small Spaces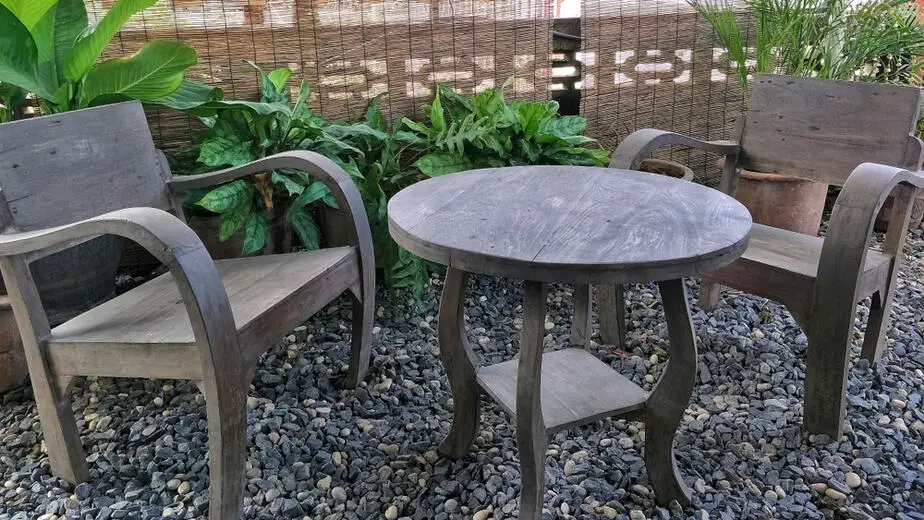 It's always challenging to come up with an appropriate design if you have small space available. This novel idea will bring life to your small backyard using a few affordable options. Gravel blends beautifully with the wooden furniture in a cozy seating area. The short shrubs at the back add the needed balance when they're placed in front of a screen or trellis. You can also add a few flower pots for more vibrant colors.
19. Curves Combined in Softscape and Hardscape Harmony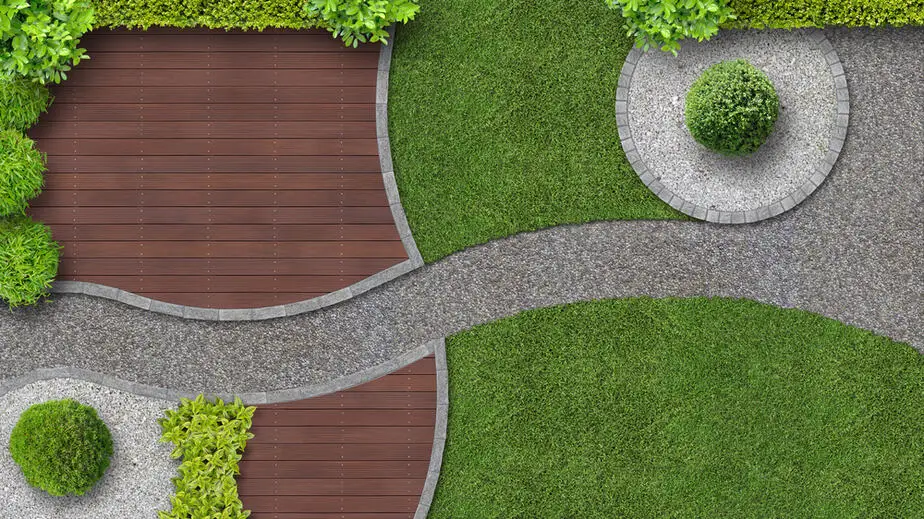 Having definite structures makes it possible to customize an outdoor area according to your priorities. There's a balanced mixture between softscape and hardscape to provide a green spot, seating area, and a walking path. The shrubs need continuous maintenance to stay in shape, keeping the landscape simple yet purposeful.
20. Marble and Stone Landscaping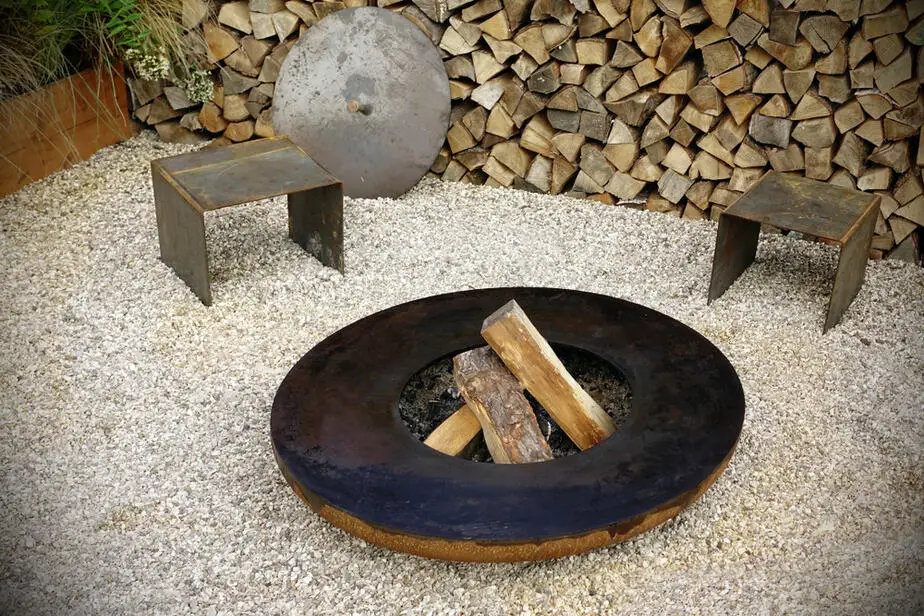 Plants don't play a big role in this contemporary landscaping concept. Here, gravel, iron, and stone are the main earthy elements that steal the show, keeping greens in a wooden box.
There is a big iron fireplace that can be used on those chilly nights to provide warmth and light when you're relaxing on the minimalist seats. Instead of an ordinary fence, there is a stone wall that matches the color of the firewood. Plants are kept in a box for easy maintenance, which makes this an excellent idea for people who don't have much time for gardening and landscaping.
21. Structured Garden Idea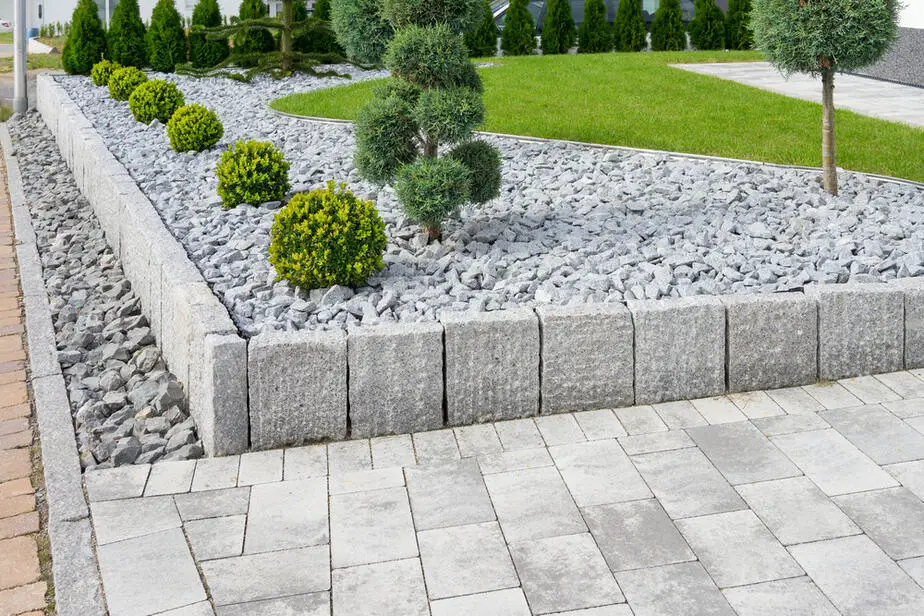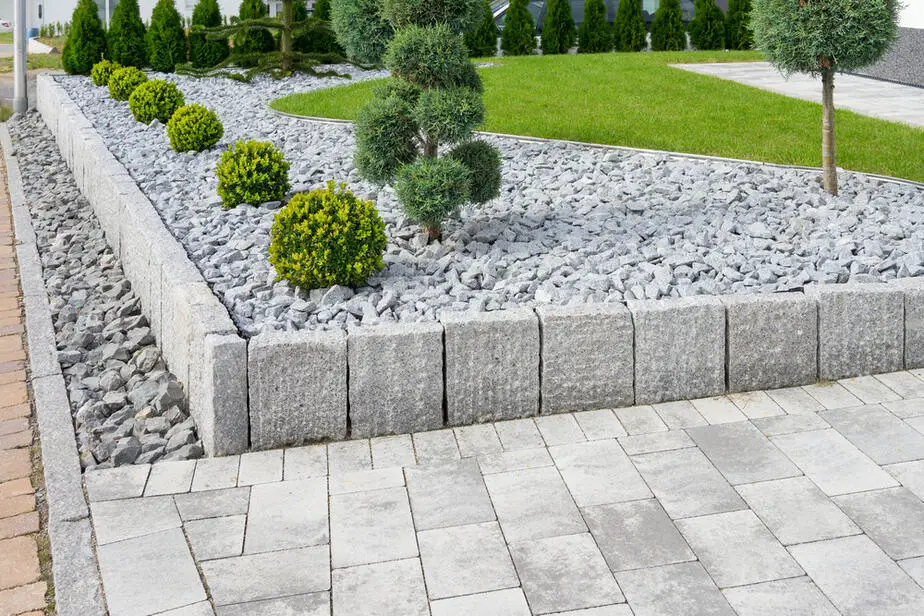 The main feature of modern-day landscaping is relying on definite structures. In this plan, the gravel and stone bed is home to small shrubs that add life to your outdoor area. These can be combined with taller trees, but you'll need a professional gardener to maintain their circular shape.
22. Contemporary Water Fountain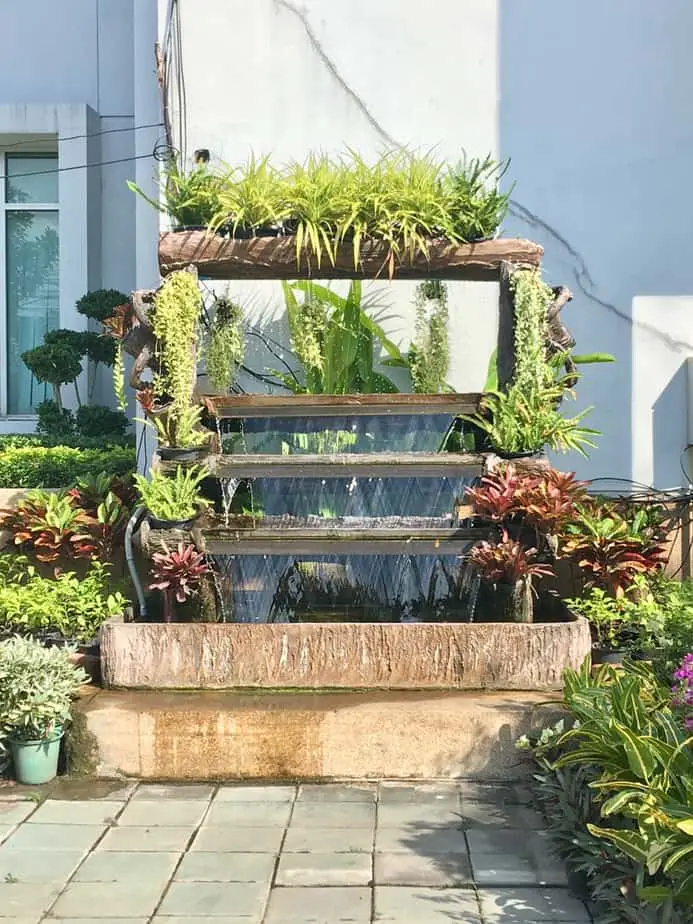 This waterfall fountain adds a cool effect to your outdoor area while providing space for plants to grow. It's suitable for small backyards and gardens, so you can keep the rest of your outdoor space covered in tiles for more functionality and less maintenance. At the same time, the plants growing in pots and on the arch of the fountain will add the needed aesthetic value.
23. Contrasting Textures in Landscaping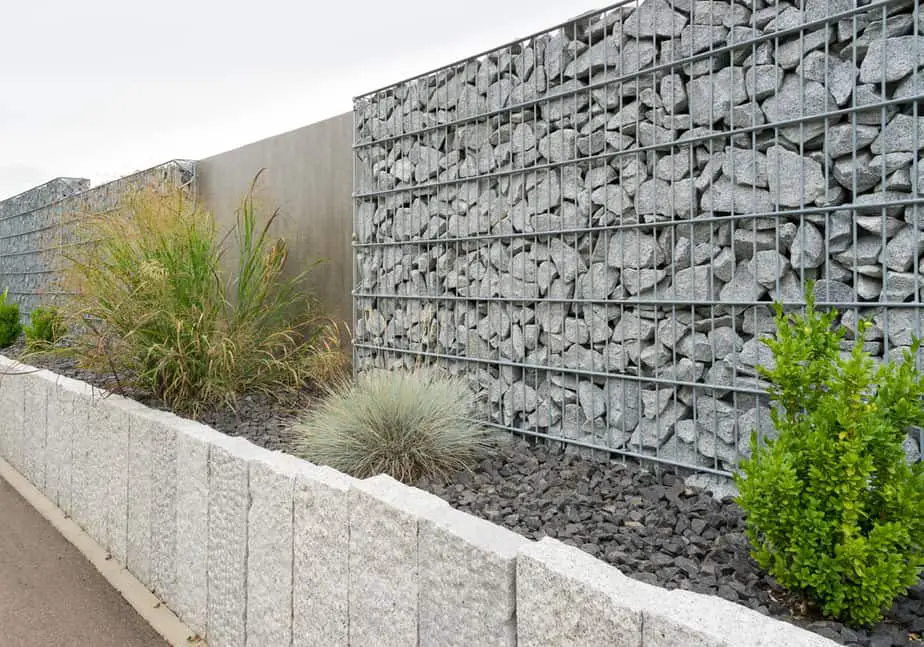 Diversity in textures is one of the most prominent features of modern landscaping. Shrubs are combined with gravel, rocks, and metal to create contrast in this backyard. The combination of earthy and industrial elements delivers balance and adds unique aesthetics.
24. Hedge and Fireplace in a Modern Backyard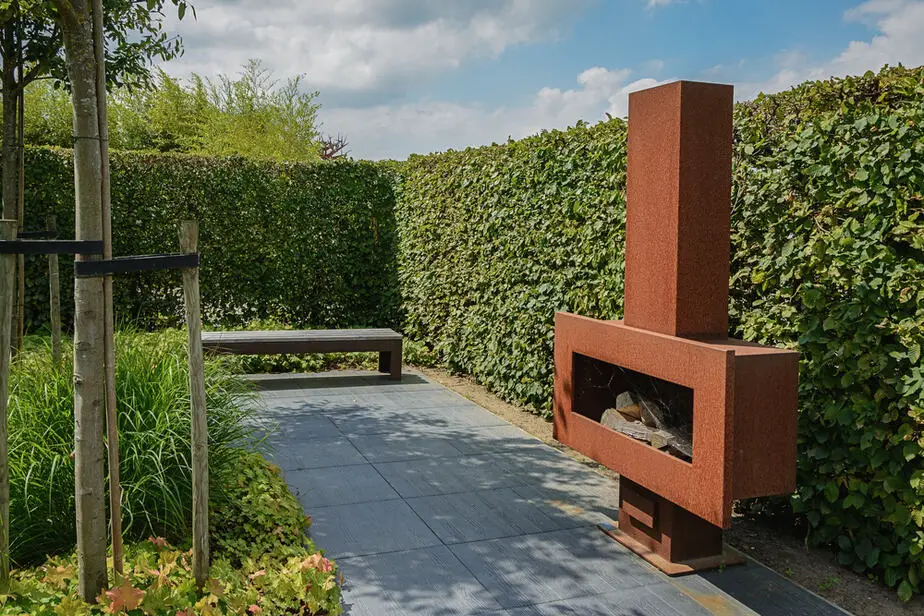 In a modern backyard, creating functional areas is just as important as arranging plants. This is a must, especially if you have a small space like this one.
The green element is kept to the hedge, leaving a tile path that leads to a relaxing bench. The brick fireplace can be used at night for extra warmth and as a natural light source that complements the overall design.
25. Gravel Landscape Ideas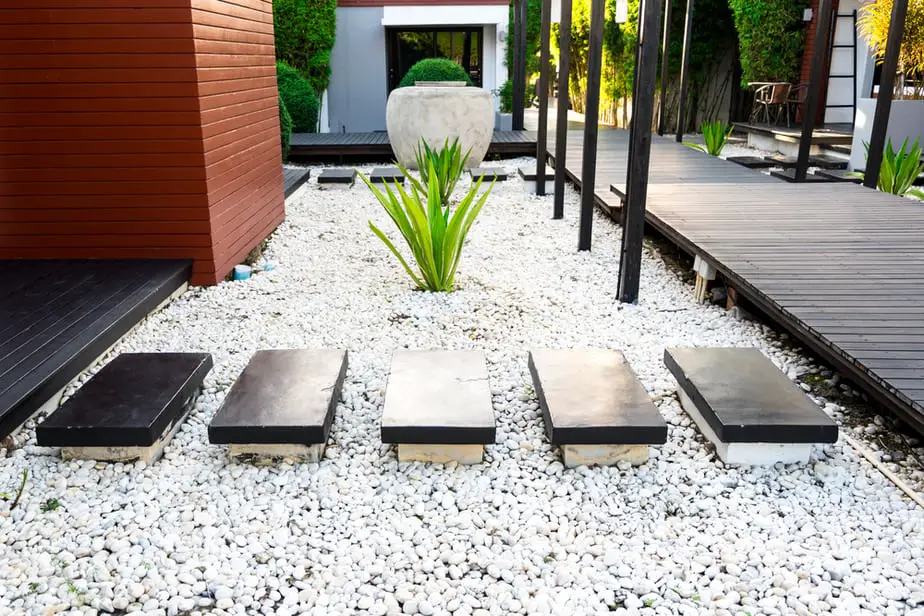 For those who don't want to spend much time or money to maintain their outdoor area, hardscape-based designs represent the best option. Gravel is the main element when combined with rocky steps that lead to the wood floor. There is still a hint of green in two centerpieces that bring life to a small patio or backyard.
Wrap Up
These modern landscaping ideas combine several elements and techniques in contemporary and practical designs. Several elements create an adequate softscape-to-hardscape ratio for the best texture, look, and function.
Moving from the indoor to the outdoor area should feel effortless, with flexible pieces that provide several functions, as well as an aesthetic value without feeling too cold or artificial. A contemporary outdoor area can be a number of styles, so you just need to think of your favorite personal style, and you'll find a landscaping idea that fits.