Summer is the most fun time of the year, and with the days getting longer and warmer, getting together with your friends and family becomes easier to do. Cookouts are a staple during this season, and if you love cooking out, then you know how useful an outdoor kitchen would be!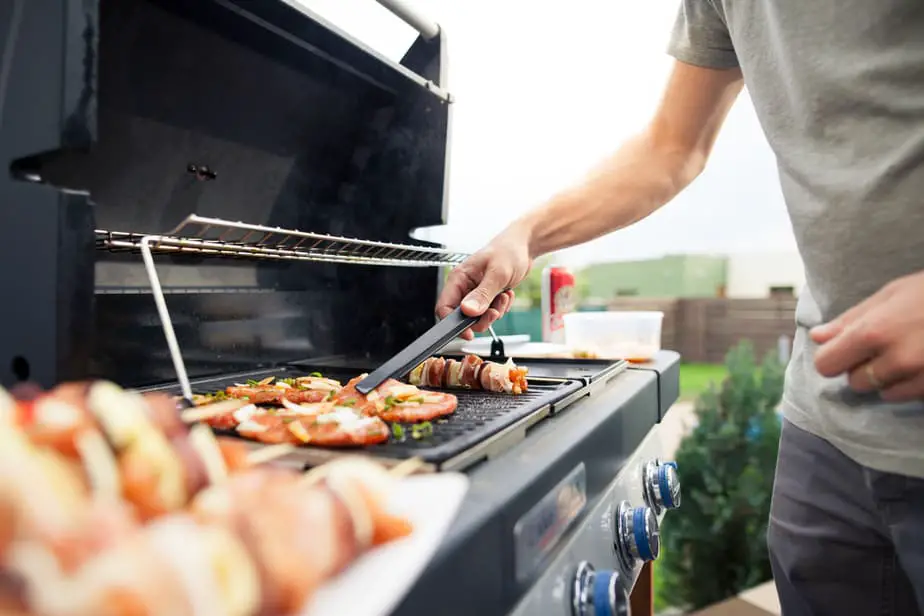 Having a kitchen outdoors would take away the cramped, stressful atmosphere of having everyone shoved inside your home as you prepare and serve meals. They expand your living space, create a place for guests to gather around, and give you additional cooking utensils for when you have huge amounts of food to cook.
Not to mention, they add to the value of your home, giving your property a unique feature that many homes lack. Outdoor kitchens are also great for "filling in" a spacious property, turning an otherwise barren backyard into a place where your family can feel welcome to comfortably lounge around.
Now that we've covered the basic benefits of a kitchen outside the walls of your home, we'll go over 19 of our favorite outdoor kitchen ideas to really amp up your lifestyle!
Must-Have Outdoor Home Kitchen Ideas for a Luxurious Backyard
1. Blue Tile Kitchen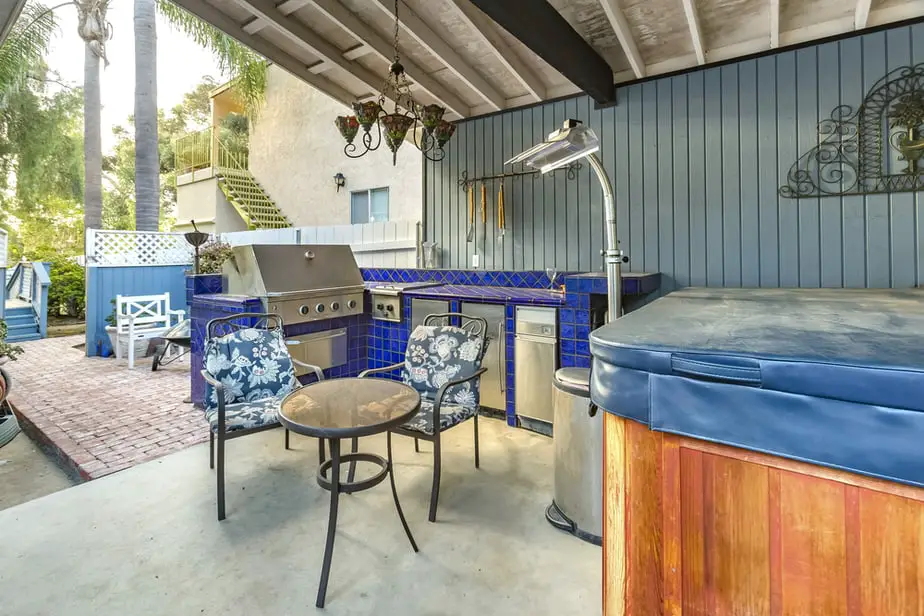 One of the more interesting outdoor kitchens on our list, this kitchen made entirely with uniform dark blue tiles is perfect for the colorful homeowner. It seems that this snug corner kitchen is complete with a grill, small stovetop area, mini fridge, and wine fridge.
This set up not only has a decent amount of storage and plenty of appliances to work with (including a hanger for utensils), but there's also a decent amount of countertop space for preparing meals! Because the kitchen is more petite and sat in a corner, there's also enough room for a small dining area and patio heater.
2. Covered Outdoor Stone Kitchen with Patio Dining Area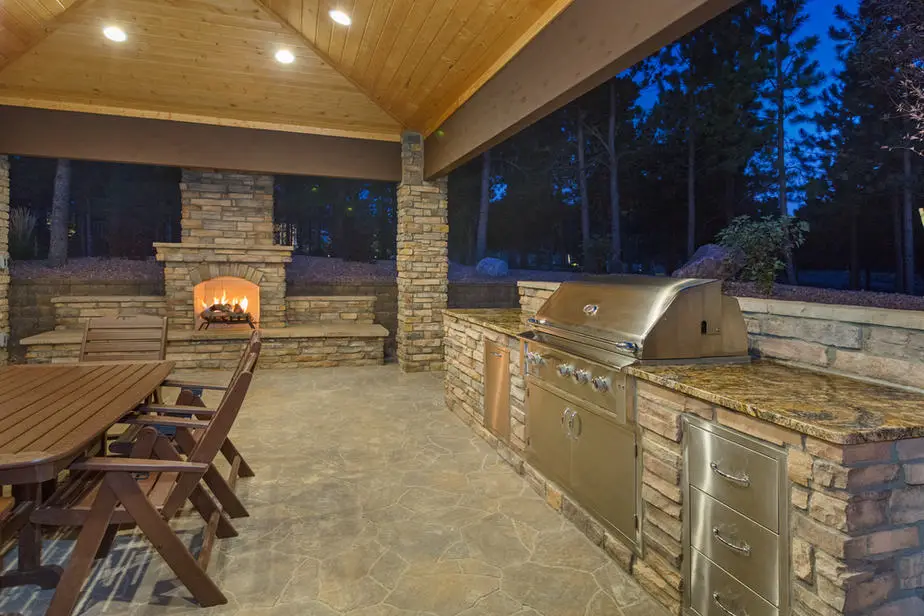 If you have a lot of guests that you entertain often (or a big, happy family), this massive outdoor kitchen with a large stone fireplace may be just the space you've been dreaming of.
The entire patio and kitchen combination is covered by an illuminated, pyramid-shaped roof sat upon multi-colored stone pillars, and surrounded by a stone wall. There's a gorgeous stone fireplace to warm up by when the days are chilly, and a weather-resistant dining table with chairs in the middle of the space.
The kitchen area itself is made with stainless steel drawers, grill, possible built-in trash container (to the far left). The countertop is made of easy-to-clean, various earth-colored marble.
3. Modern Contemporary Kitchen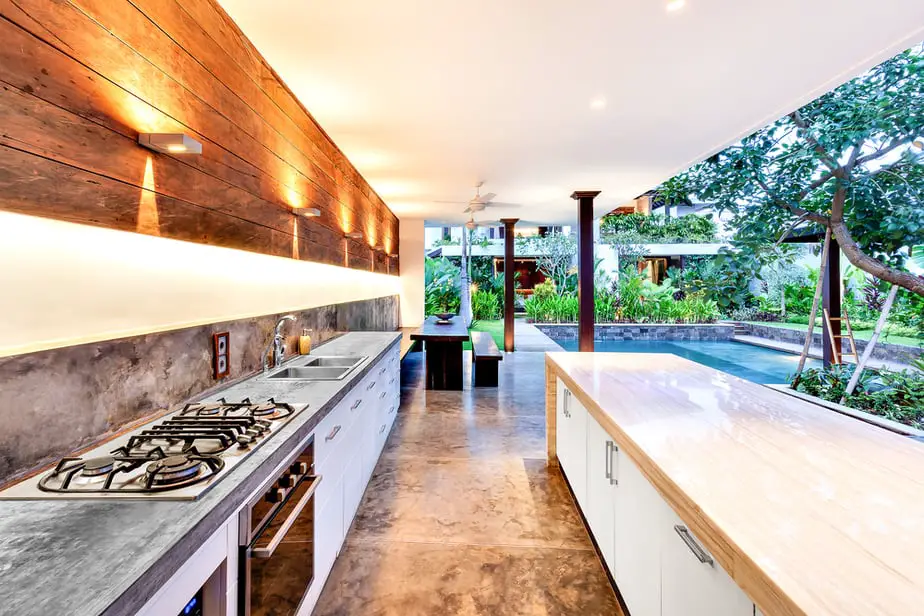 This beautiful contemporary outdoor kitchen positioned next to the pool and only a short walk away from the main house is great for those who enjoy the finer things in life. This set up is complete with a stainless steel sink, microwave (barely visible in the left-hand lower corner), high-end oven and stove top, and plenty of drawers and storage space.
There's also a plethora of counter space (with a gray marble backdrop) for preparing meals, an island for additional seating space, and a dining table with wooden benches on the far end of the outdoor kitchen. The kitchen area is also completely covered and is well-lit by uplighting, and in-ceiling bulbs – and no worries, if it's hot out, there are two fans to cool you off as you enjoy your meal.
4. Open Paver Patio with Outdoor Kitchen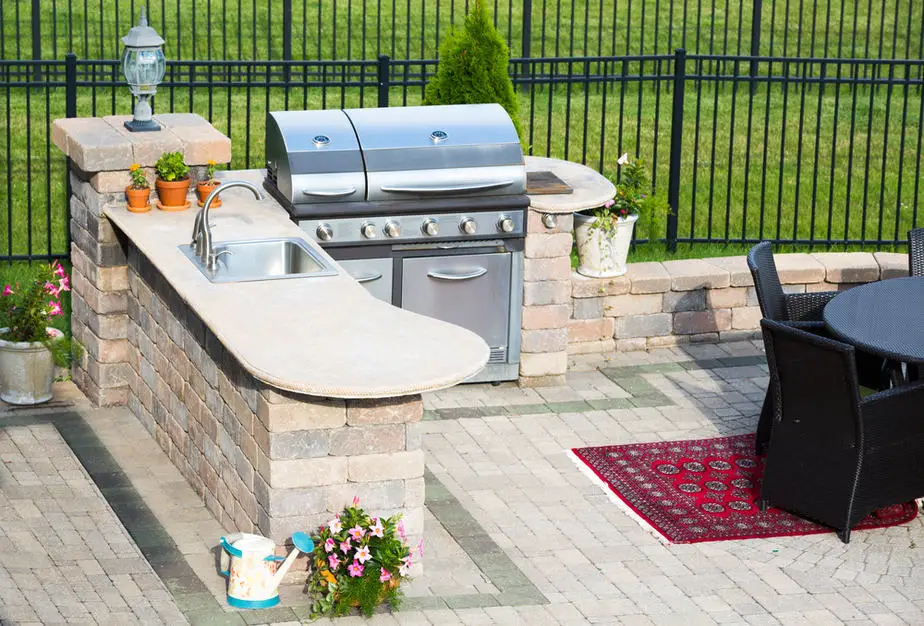 Paver patios (and brick patios, in general) are one of the most durable outdoor design options, and this stone outdoor kitchen made with lasting appliances are sure to be of use to your family for years to come. Though this is a small set up – only having a sink, grill, and flat hot plate burner (to the right of the grill) – it would still be ideal for those who enjoy cooking out every now and then.
Because everything is made with stone or stainless steel, the weather elements won't have any short-term effects on this outdoor kitchen. Although, there are grill covers that you can purchase if you live in a particularly wet area.
Off to the side is a little black wicker seating area that you and your loved ones can sit and talk around as you eat the meal you prepared on the countertop only a few steps away.
5. Metallic Futuristic Outdoor Kitchen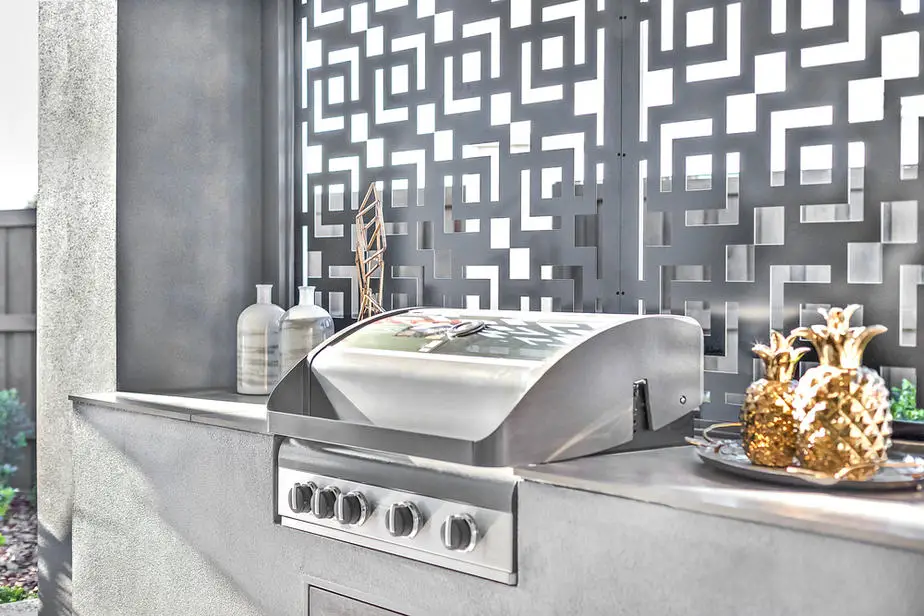 If you're fond of the odd, futuristic styles, this outdoor kitchen made completely with gray stone, stainless steel and metals should definitely strike your fancy. Although this is a more modest outdoor kitchen with only a grill and counter space, what really draws in the attention is the abstract backdrop and consistent color pattern.
This outdoor kitchen would be best suited for those who only cook out occasionally, but it will still look great all year round to catch your guest's eye.
6. Rustic Red Brick and Wood Kitchen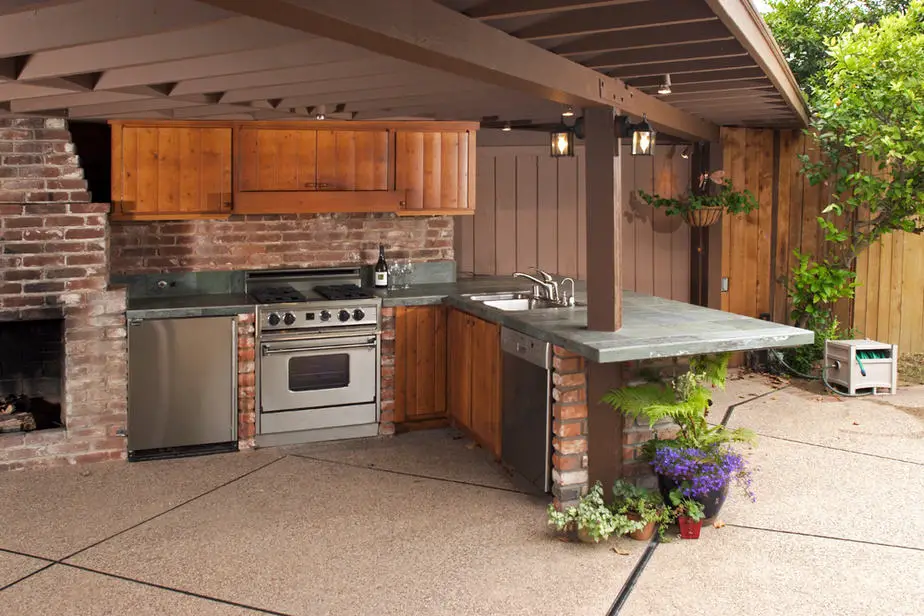 Getting back to the full-time use kitchens, this rustic-style red brick kitchen with wooden cabinets is the ideal mix between a countryside aura and fancy grandeur. It's made up of many useful appliances; a dishwasher, oven (with stove top), sink, mini fridge, and a fireplace that could also double as a meat smoker.
There's enough storage space for drinking glasses, silverware, and plates in the upper cabinets, and pots, cooking sheets and pans in the lower cabinets. Lights are set in the stained wood pergola and one of the posts, providing a soft illumination at night.
Though the pergola itself won't provide complete coverage for your outdoor kitchen, it will still provide shade and minimal protection from the elements. However, a great option to consider is structuring the top of the pergola with a flat roof to completely protect the kitchen from above while not negotiating the unique pergola appearance in the process.
7. Chic Stainless Steel Outdoor Kitchen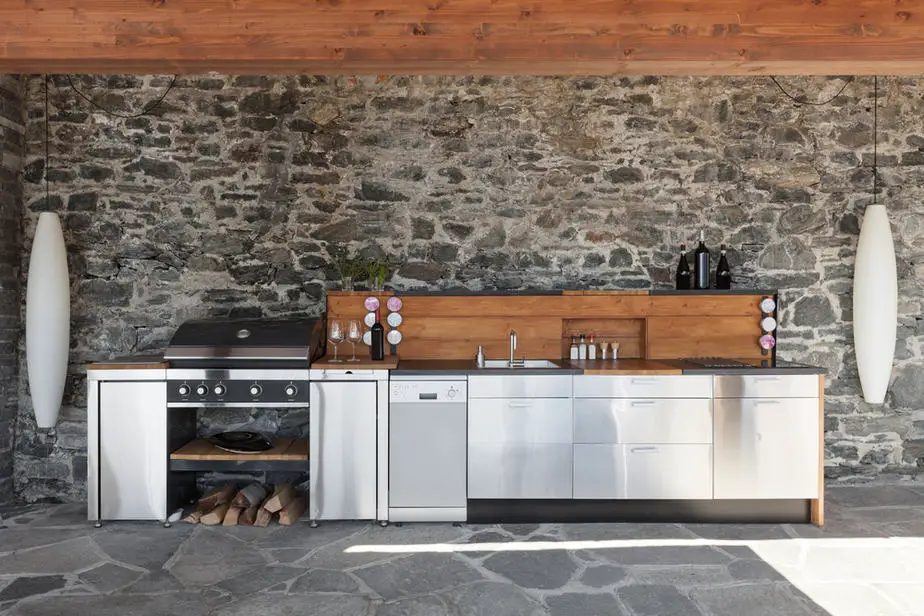 This contemporary-style outdoor kitchen is made entirely out of stainless steel appliances and a gorgeous, lightly-colored wood (or wood mimic). It's complete with a grill, cutting board (barely visible to the left of the grill), drawers, a sink, stove top (at the far right), and seemingly a wine cooler or dishwasher.
To the right of the sink is an indention in the wood, creating a nice little nook for condiments, various spices, and salt and pepper. The modern elongated teardrop light fixtures to either side of the outdoor kitchen are great for illuminating the area at night and giving the space an up to date feel.
8. Outdoor Barbeque Area with Bench Seating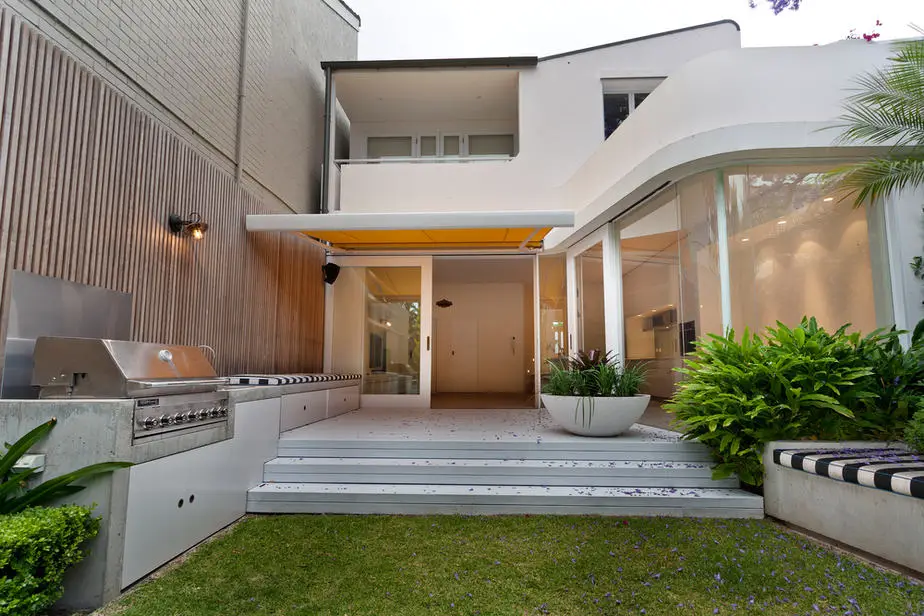 Although the kitchen itself is rather minimalistic, with only a grill and sink (barely visible to the right), what really makes it so great is the seamless design of the large stone bench seating. The adorable, striped cushions create a contrast between the muted colors of the home and appliances, as well as with the uniform natural color of the greenery.
This outdoor kitchen would be great for those who only cook out occasionally and won't need a dining area outdoors.
9. Luxurious Patio Kitchen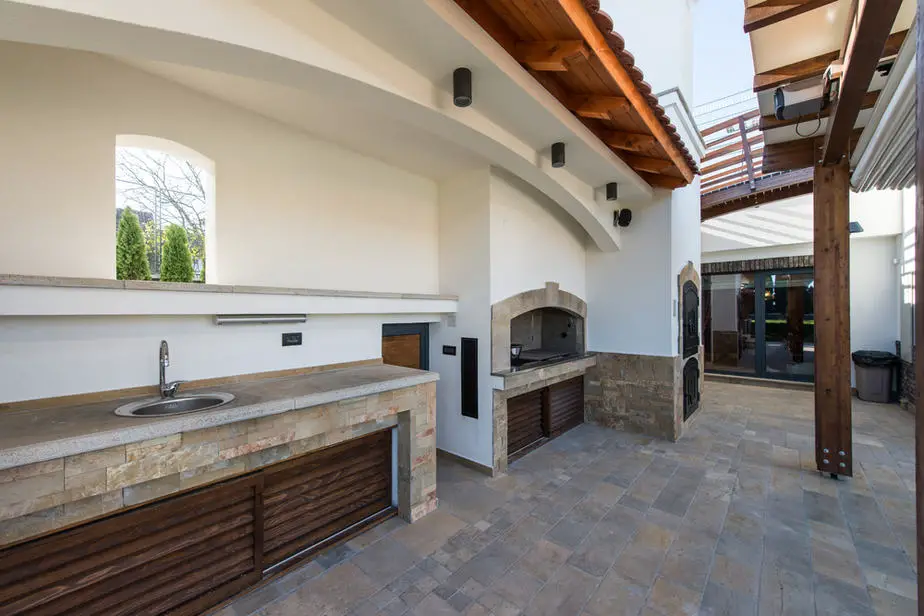 This kitchen is perfectly suited for cooking large meals. The outdoor kitchen is made up of a sink with substantial counter space for preparing meals, a huge, open pizza oven or meat smoker, and two massive cast iron ovens.
The dark wood and stone appearance, along with the white intricate walls with overhang gives an aura of old-school Italian design.
10. Corner Outdoor Kitchen with Island Seating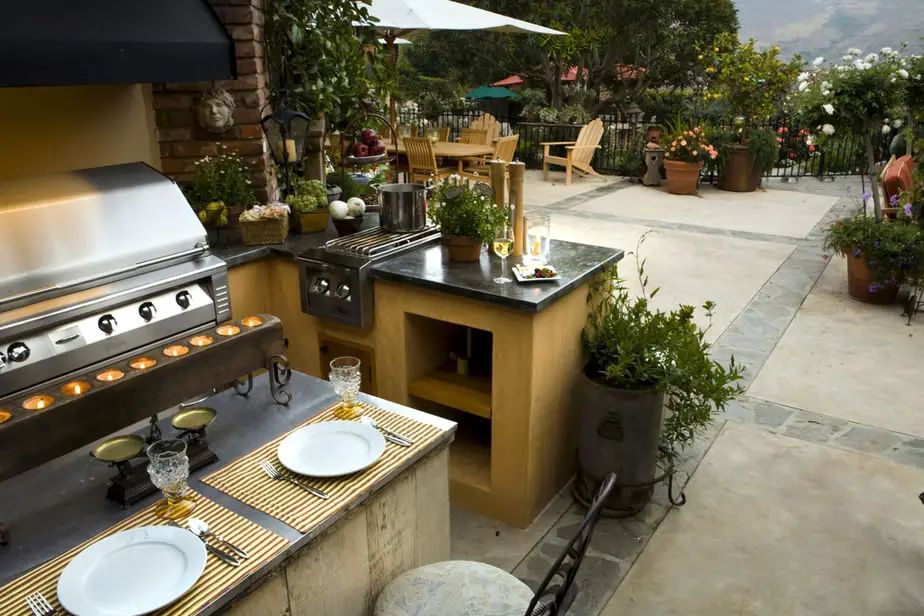 This outdoor kitchen is a petite, gorgeous space, giving off hints of the Grecian, Spanish, and Italian styles. This outdoor kitchen comes with a stainless steel grill, small stove top area, open lower shelving, and an island seating area.
The dull, yellow hard clay appearance of the counter and wall (behind the grill) compliment the dark gray and black marble countertops, and the faded wood of the island truly ties the whole look together.
11. Outdoor Kitchen with Wood Burning Oven

If your favorite thing to cook is smoked meats or vegetables, this open, wood-burning oven and sink outdoor kitchen could be your next big thing. Because it's made entirely out of brick and hard stone, this is an extremely durable outdoor kitchen that won't be fading or requiring upkeep anytime soon. The oven itself is completely unique with the gabled stone roof and will undoubtedly catch your guest's eye.
Below the oven are two unenclosed wood storage areas to keep the logs out of the way as you prepare and cook your meals. Below the sink and behind the green doors is (albeit small) storage area for a few utensils, soaps, or whatever else you may need.
12. Petite Porch Kitchen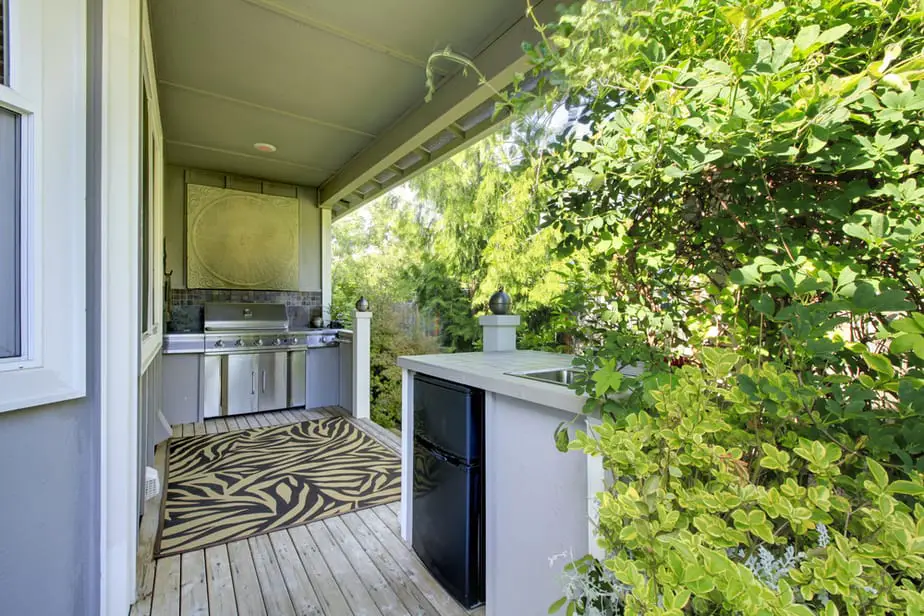 If you're limited on space, this tiny porch kitchen may be the outdoor kitchen you've been looking for. Though pressed for room, this outdoor kitchen still manages to include a gas grill, stove top area, sink, and mini-fridge! The countertop is quite limited, although still roomy enough for seasoning meats or vegetables (or various other preparations).
The deck was already covered, which is perfect for protecting the appliances from harsh weather and the wooden flooring is extremely simple to care for (especially if there are weather-resistant coatings on the wood).
13. Outdoor Kitchen on a Terrace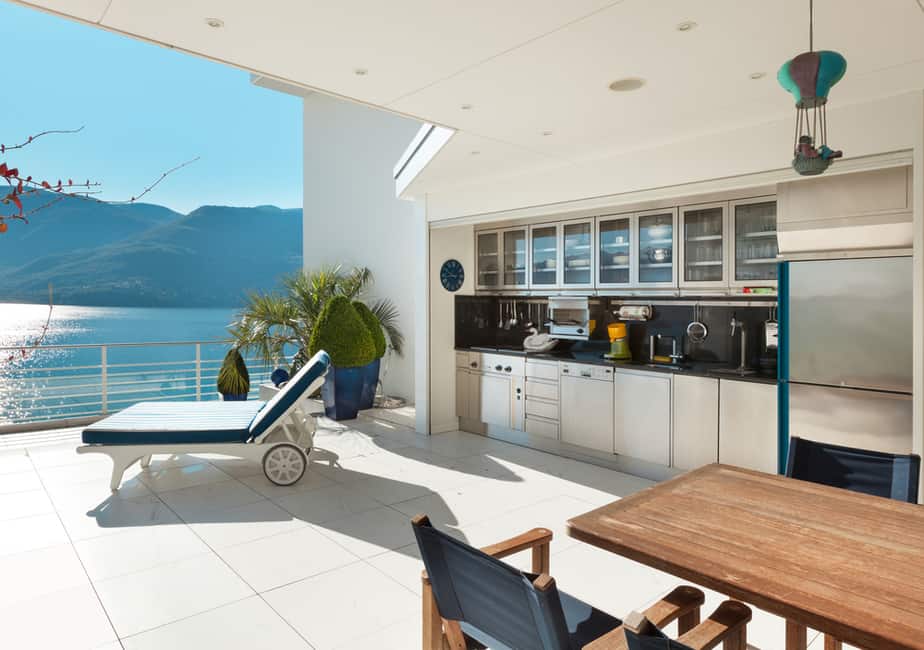 This extravagant outdoor kitchen is situated on a terrace overlooking a vast body of water (not all of us have this setting, but that's okay, it's not required for the outdoor kitchen). Every appliance you would virtually need is featured in this kitchen: a full-sized fridge, cabinets for your dinnerware, hangers for utensils, a dishwasher, stovetop, sink, drawers, paper towel holder… it really has it all.
There's also a decent amount of countertop space and a dining table with comfortable chairs, which is nice, too.
14. Pizza Preparation Kitchen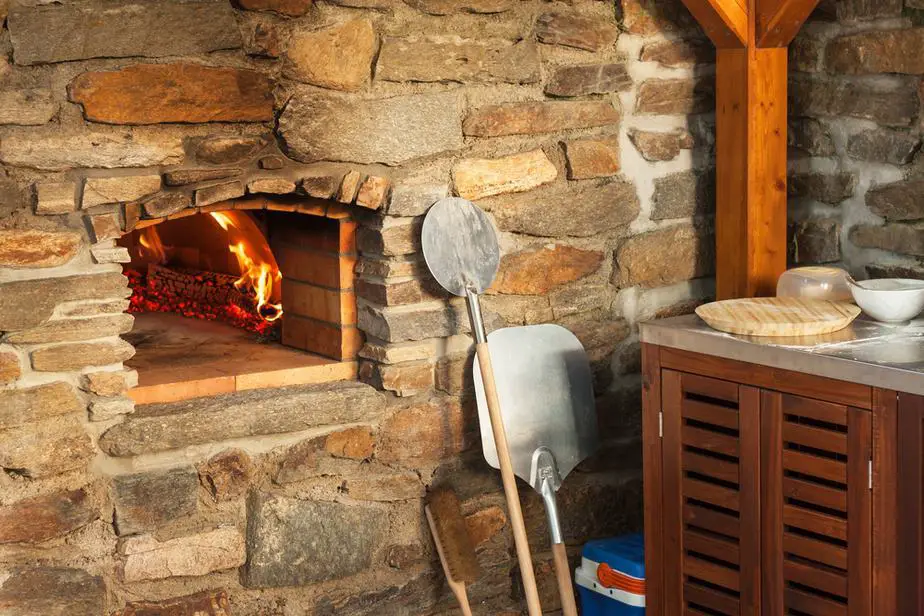 This one is for the pizza aficionados. This outdoor kitchen is specifically for pizza-making. The wood counter with a stainless steel top is great for fresh dough and is easy to clean and the large brick and stone pizza oven is sure to cook any pizza to perfection.
15. Smoked Barbeque Veranda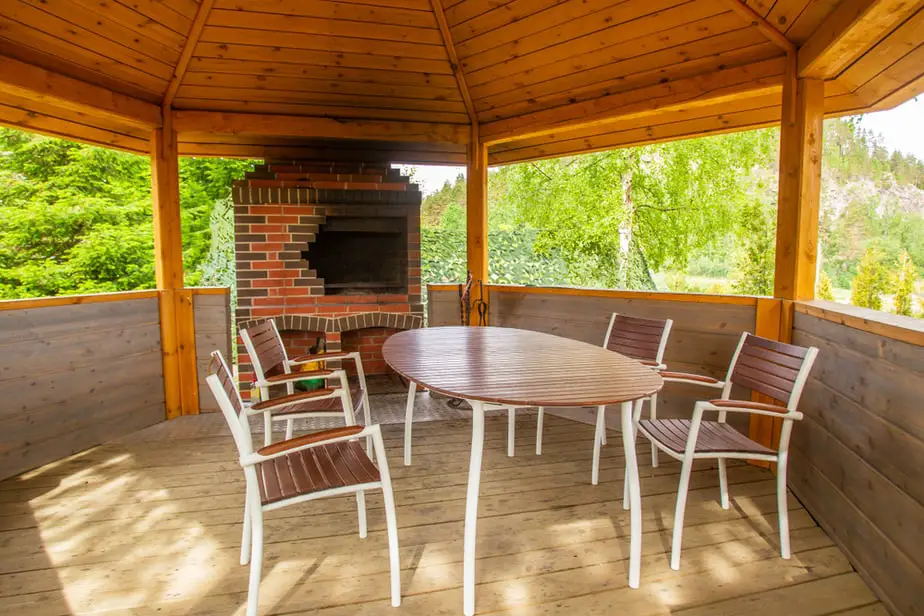 Building a veranda is a great way to create a seating area that's large enough for the whole family. Their shapes are unique and they're primarily covered for protection from the elements and sun.
This veranda with a built-in barbeque oven would be a wonderful addition to a barren backyard. Not only would this set up give you a comfortable outdoor living space, but it also would give easy access to deliciously smoked home-cooked barbeque no matter the weather.
16. Spanish-Style Outdoor Kitchen with Stone Benches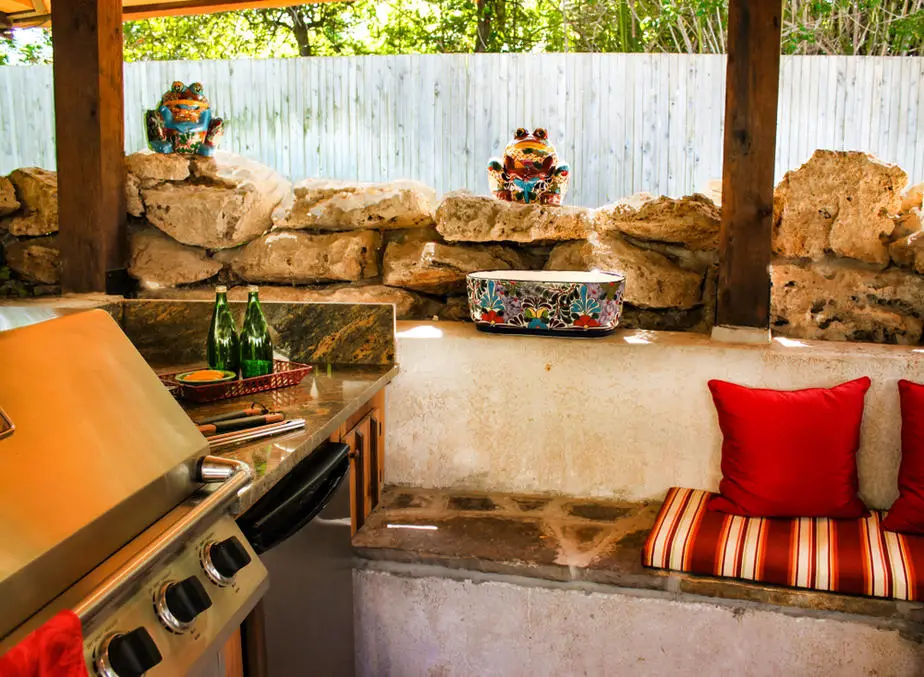 Spanish architecture is filled with gorgeous sand-colored stones, clays, and brightly-colored patterns. And this outdoor kitchen is a wonderful representation of the Spanish style.
This outdoor kitchen consists of a grill, mini-fridge, decent counter space, and gorgeous built-in stone benches with the traditional bright colors and striped patterns of Spanish culture – and of course the colorful and interestingly patterned frogs and vase.
17. Wood and Gray Stone Outdoor Kitchen with Fireplace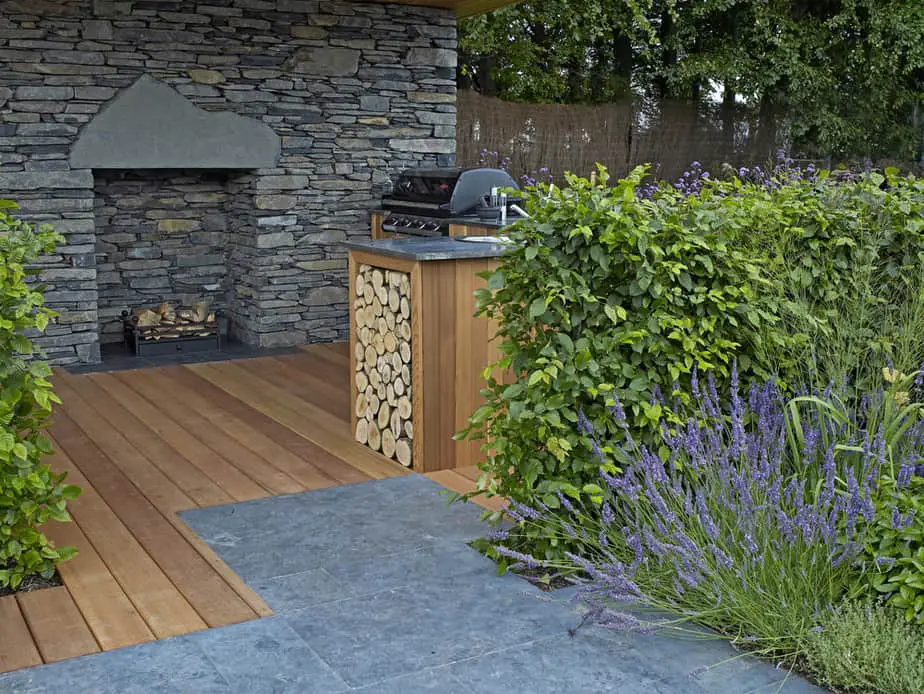 This outdoor kitchen is unique in that it not only has a cooking area with a grill, sink, and decently-sized countertops, but there's also an area for a small dining table and chairs right next to the fireplace.
The fireplace is made with gorgeous layered stones that almost look like a dry river bed, and really catches your attention with the flat centerpiece right above the entrance.
The kitchen area has storage on the side for the fireplace logs, as well, which is great if you don't want them exposed to weather or taking up additional room on the deck.
18. Raised Sink in Sleek Outdoor Kitchen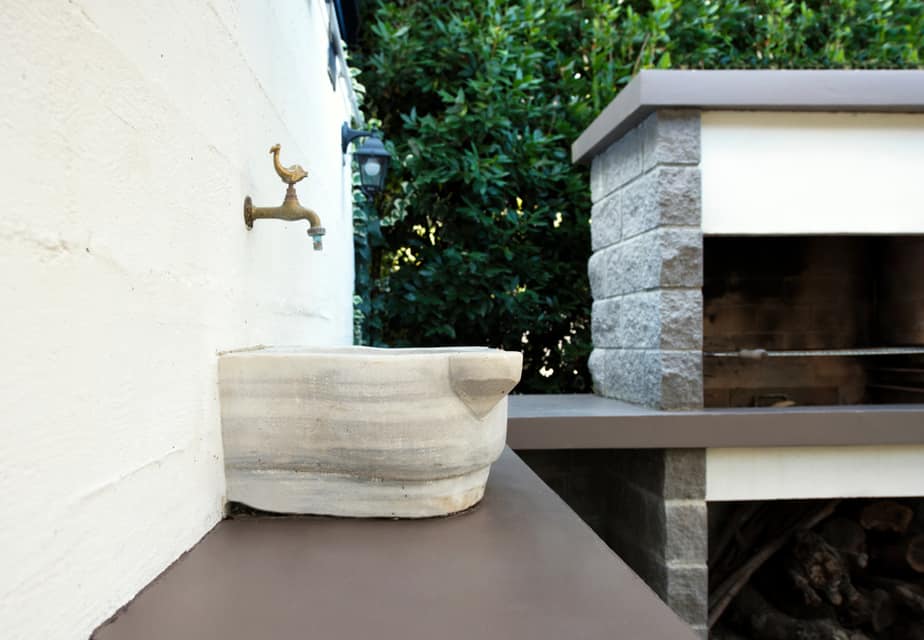 This is quite the basic outdoor kitchen, but what really stood out to us was the sleek look of the raised stone basin sink and the eye-catching, antique spout. The sink is extremely unusual and would make a great piece for any backyard space.
As you can see, this outdoor kitchen has ample counter space for preparing meats for smoking in the wood-burning oven to the right of the photo. Underneath the open oven is a large area for firewood storage to keep the logs out of the way and kept out of direct contact with rain.
19. Minimalistic Outdoor Cooking Area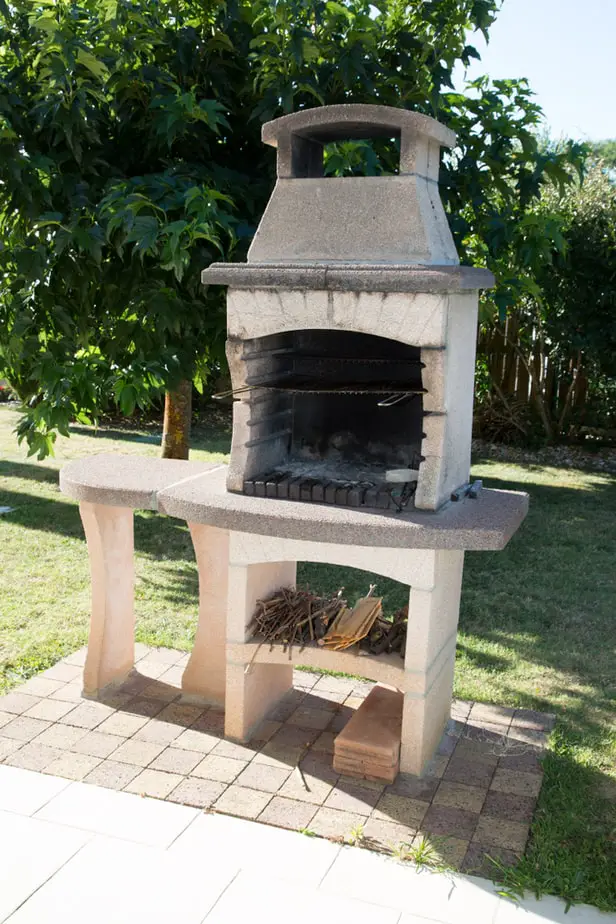 For those on a tight budget, limited outdoor space, or those who simply have no need of a complete outdoor kitchen, this minimalistic outdoor kitchen space with a countertop and wood-burning oven may work just fine.
It's sat upon a stone base and made entirely out of stone itself, which means it's likely to last you and your family decades. This outdoor kitchen isn't the prettiest thing, but it'll sure get the job done.
In Conclusion
Outdoor kitchens are a great addition to the home of food-lovers. They add to the value of homes, expand living space, and provide the opportunity to cook meals for a large group of people faster and easier. They can completely transform and barren backyard into a personalized, luxurious lounge area or fill in an area that's not quite up to par.
Hopefully, these outdoor kitchen ideas inspired you to get to work on your own!