Everybody loves pizza and portable pizza ovens are becoming extremely popular for good reason. They're portable, versatile, easy to set up and use, affordable, and they can cook pizzas in as little as one minute. It's not just how quick and easy it is to cook pizzas that make them desirable, but how they cook the pizzas.
Some pizza ovens will heat up to about 900 degrees Fahrenheit which enables them to quickly cook the crust to make it nice and crispy while leaving the inside of the dough soft and chewy.
This article will give you an in-depth review of some of the best portable pizza ovens on the market. Any of these ovens will make a great addition to your backyard kitchen or tailgate party. Here's a quick overview of the different ovens.
Best Overall Portable Pizza Oven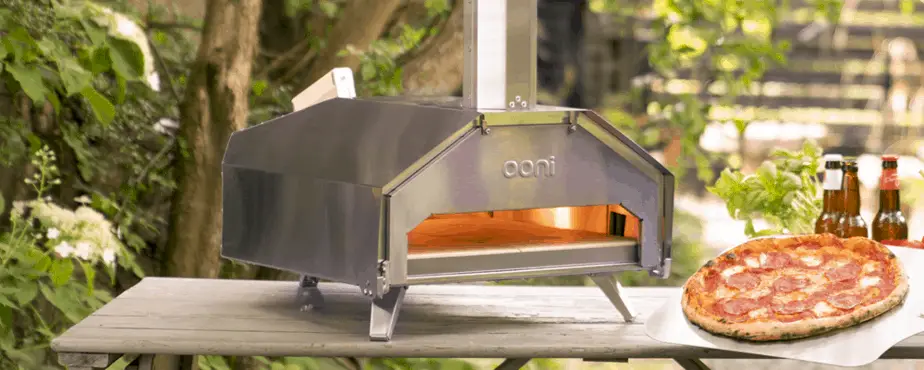 The Ooni Pro is the flagship oven from Ooni (originally spelled Uuni) which has been making pizza ovens since they launched their Kickstarter campaign in 2012. It comes with 2 separate doors (an oven door with a thermometer and a pizza door), a charcoal/wood tray, 4 pizza stones that make up the floor, and pizza oven gloves. The Ooni Pro comes ready to cook with wood and/or charcoal, with a setup that takes less than 5 minutes and is very intuitive.
Like any oven, you'll need to preheat the Pro which takes about 15 minutes. This oven has a cooking surface that is 17.7" by 17.7", which technically is big enough to cook 2 small pizzas, though we recommend sticking with one. At 48.5 pounds, it's not extremely light, but light enough for an adult or two to lift fairly easily.
You can purchase a pellet or propane gas burner attachment separately. We definitely recommend adding the gas burner as it makes for an extremely easy cooking experience. The size of the Pro also makes it very versatile, as you can cook on a skillet or baking dish. With the high temperatures and the ability to cook with wood, you can cook a mean steak. When coupled with the gas burner this is the best of those tested for catering or cooking for a big group.
What I Liked:
Easy to assemble
The larger set-up allows for cooking larger pizzas and other dishes
Multiple fuel options
Easiest oven to use out of those tested
Cooks pizzas fast and evenly
Best pizza oven for catering or large pizza parties (with gas burner)
What I Didn't Like:
A little heavy and bulky for transporting
---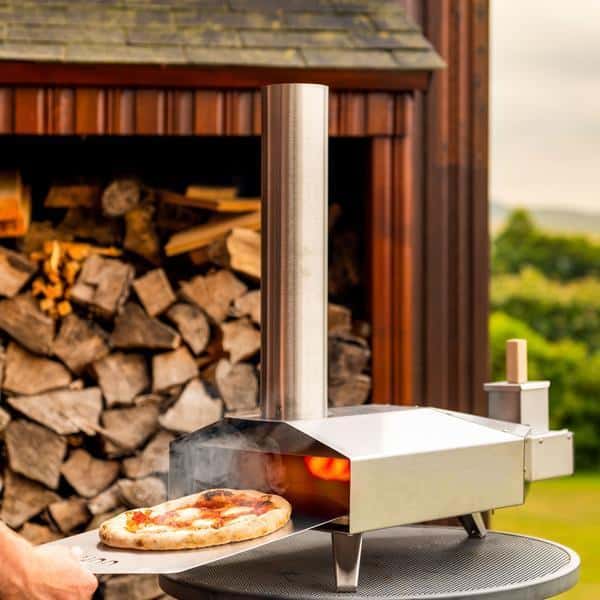 The Ooni 3 pizza oven is the little brother of the Ooni Pro. This is the third generation of the original Ooni (Uuni) wood pellet-fired pizza oven which has garnered quite a following since its inception. The Ooni 3 comes with a pellet burner, pizza stone, and door. At a weight of just over 24 pounds, just about anyone can lift this oven with ease, making it super portable.
It also has the option of adding a gas burner (sold separately) for super easy cooking on the go. Like its big brother, the Ooni 3 can cook at temperatures up to 900 degrees so pizzas cook in as little as 60 seconds. At less than half the price of the Ooni Pro, the Ooni 3 is a great option for those looking to get started on a budget.
What I Liked:

Assembly is quick and easy
Pizzas take about 1 minute to cook and taste great
Great user community
Improved flame deflector
Budget-friendly price
What I Didn't like:

---
The Koda is the newest oven in the Ooni lineup. Similar in size to the Ooni 3, at 20.4 pounds the Koda is made for ultra-portability. The beauty of the Ooni Koda is the simple setup that allows you to cook with gas easily. You can take this oven out of the box and be cooking pizzas in about 15 minutes.
It's really as simple as pulling it out of the box, unfolding the legs, setting the stone in the oven, connecting your propane tank, and starting it with the built-in electronic ignitor. The Koda is not as versatile as the Pro or the 3 because it only uses gas, but if you're not planning on using anything else, this may be the oven for you. There is a cover sold separately that doubles as a carrying case which makes it very easy to protect and carry around.
What I Liked:
Setup was super simple
Easy operation
Reaches high temperatures for cooking pizza in 1 minute
Ultra-compact and light for maximum portability
Well-built and stylish
Convenient gas-fired cooking
What I Didn't Like:
Ignitor stopped working (Ooni's customer service is excellent and they replaced the oven right away)
---
Best Overall Value
Napoli Pizza Oven
Bertello Wood Fire and Gas Outdoor Pizza Oven
Authentic Gas, Charcoal, and Wood Fired Portable Outdoor Pizza Oven cooker
Cook at over 930 degrees Fahrenheit (500 Celsius) with the Bertello Outdoor Pizza Oven
Use Charcoal, Wood, Pellets or our Gas Burner Attachment(sold separately) for authentic wood fire and gas brick oven pizza
12.5" wide x 13.5" deep cooking surface for authentic wood fire and gas brick oven pizza
Cordierite stone, wood chip/pellet scoop, and wood/charcoal/pellet tray included
Last update on 2020-01-15 / Affiliate links / Images from Amazon Product Advertising API
The Napoli Pizza Oven also got its start through a Kickstarter campaign, and right now seems to be the popular new kid on the block. Like the Ooni Pro, this oven can cook with wood, charcoal, pellets or gas (optional), but it has the size, portability and price point more in line with the Ooni 3.
For how small it is, it's a little on the heavy side at 29 pounds, but still easily lifted. The one drawback is that if you opt to get the gas burner (sold separately) it's very big and bulky and makes the oven nearly a foot longer.
What I Liked:
Multiple fuel choices
Great build quality
Easy to use
Large fuel tray
Best Value for the money
What I Didn't Like:
Gas burner (sold separately) is very bulky
A little narrower than the other ovens
Check Price and Reviews on Amazon
---
Roccbox
ROCCBOX Portable Outdoor Pizza Oven - Gas or Wood Fired, Dual-Fuel, Fire & Stone Outdoor Pizza Oven
A PREMIUM, PORTABLE FIRE AND STONE PIZZA OVEN - reaching high temperatures of over 932ºF to give you the ideal balance of thin base and perfectly puffed up, charred artisan crust - in just 60 seconds.
READY TO GO - with inbuilt thermometer, retractable legs and detachable dual-fuel burners Roccbox is easy to transport and set up- just click the switch and start cooking!
SUPPLIED WITH BOTH WOOD & GAS BURNERS - allowing you the option of traditional pizza, or convenience.
SAFE TOUCH - body insulation and the outer silicone skin make Roccbox the family friendly option, reducing the danger of skin burns that is a feature of metal bodied ovens.
RATED NO. 1 OUTDOOR STAND-ALONE PIZZA OVEN by Serious Eats - highly regarded by Forbes, GQ and The Times.
Last update on 2020-01-15 / Affiliate links / Images from Amazon Product Advertising API
The Roccbox is made by Gozney which has been making large precast stone pizza ovens for years and finally decided to take on the portable pizza oven market. This is the first portable pizza oven to have an insulated body which helps it get to temperature faster and stay at a high temperature for longer.
It's also covered in a silicone skin that's safe to the touch which is nice when you're dealing with an oven that gets to 930 degrees Fahrenheit. The Roccbox comes with a dense pizza stone, a wood burner, a gas burner with a hose and regulator, a pizza peel and a built-in thermometer. At 44 pounds it's on the heavier side of the spectrum, but still manageable. Roccbox also has a great case (sold separately) with a handle for easy carrying.
What I Liked:
Easy setup
Well-Built
Insulated to keep heat inside
Exterior won't burn hands
Comes with gas burner
Hot temperatures cook pizza fast
Comes with a pizza peel
What I Didn't Like:
Heavy for its size
A bit on the pricey side
Check Price and Reviews on Amazon
---
Best Priced Pizza Oven
Pizzacraft PC6000 Pizzeria Pronto
Pizzacraft Pronto Outdoor Pizza Oven with Brush and Peel. eBook Included!
Includes bonus grill brush and Peeler and pizza eBook. A 35 dollar value
Impress your guests with your fantastic pizza! Eboook includes more than 100 pages of pure training. Designed to provide a clear and simple method, to learn how to make pizza professionally. Make sure you use jmsourcing at checkout
Reaches cooking temperatures of 700F. Preheats in only 10 minutes.
Cooks a pizza in 5 minutes and is immediately ready for ANOTHER pizza
Incredibly portable and perfect for Tailgating, camping and picnics
Last update on 2020-01-15 / Affiliate links / Images from Amazon Product Advertising API
The Pizzacraft PC6000 Pizzeria Pronto is another oven that only operates on liquid propane. It comes with a stone, hose and regulator, built-in thermometer, and a matchless starter. As a bonus, it comes with an adaptor to use a 1 pound propane tank so you don't need to lug around a big tank.
At 26 pounds, it's easy to pick up and take on the road. The biggest difference between this oven and the others reviewed in this article is that the flame comes from the bottom, directly heating the stone, permeating to the rest of the oven. The PC6000 only gets up to 600 degrees, so it takes 5 to 10 minutes to cook a pizza, which is quite a bit longer than the other ovens.
What I Liked:
Very simple setup and operation
Cooks from the bottom keeping the stone hot
Comes with 1 pound propane tank adapter
Least expensive
What I Didn't Like:
Takes 5 minutes or more to cook a pizza
 Check Price and Reviews on Amazon
---
Pro Tips
There is somewhat of a learning curve to baking with a pizza oven. Part of the difficulty is learning to deal with raw dough and getting a feel for how it cooks. I've cooked enough with pizza ovens, including a meal for 160 people at a family reunion, to learn a few tricks that I can pass on to you.
Working with Dough
The first thing you need to do is find yourself a good dough recipe. If the dough doesn't taste good or cook well in a pizza oven, you'll find the experience very frustrating. But don't give up! If you don't like the dough, there are plenty of good, easy recipes out there. Or you can even buy pre-made dough. I like Trader Joe's brand because it's cheap, tastes good, and is easy to use.
When working with raw dough, the one thing you need to remember is that it sticks to everything. You can keep the dough from sticking to a surface by spreading cornmeal under the dough. Flour can work too, but you need to act faster than you do when using cornmeal. The more times you move it from one surface to another, the more you need to spread cornmeal. Be conservative with the cornmeal because if you get too much of it in the oven, the cornmeal will catch fire. Don't worry, your oven isn't going to go up in flames, but it will make a mess of your pizza and gunk up the stone.
Working with a Pizza Peel
To limit the number of moves, I found it best to make your pizza on a wooden peel. The wooden peel is important because even with cornmeal, the dough is more likely to stick to a metal peel. You still want to build the pizza and get it in the oven as fast as you can to limit the amount of time your pizza has to stick to the peel. Once you've made your pizza, launch it into the oven as soon as possible. Keep it from sticking to the peel by shaking the peel every so often to make sure it's still loose.
Launching the pizza into the oven is the hardest part so don't get too anxious. If your dough is sticking to the peel it won't slide in and you could end up with a mess of dough and ingredients all over the place. While the peel is horizontal, give it a little shake to see if it moves freely about the peel. If it doesn't shift at all you may not have enough cornmeal or maybe it sat too long on the peel.
Give it a few tries and if it still doesn't work you may have to use a metal spatula to peel it off. It's tricky at first, but keep trying and you'll get the hang of it. If your pizza shifts around on the peel, that means you should be able to easily slide it into the oven.
Cooking Your Pizza
Now that your pizza is in the oven, you're done, right? Wrong! All of the ultra-fast cooking pizza ovens have a heat source coming from the back of the oven which means the pizza will burn at the back if you don't turn it. After 20 seconds in the oven, pull it out with a metal peel or spatula and rotate it a third of a turn.
Note: if the pizza is sticking to the stone this may be an indication that your pizza stone isn't hot enough. It's a good idea to use an infrared thermometer to make sure the pizza stone is hot enough. The stone should be at 700-750 degrees Fahrenheit.
A metal pizza peel is much thinner which makes it easier to slide under a pizza than a wooden peel. Repeat 2 more times and you should have a perfectly cooked pizza in 60 seconds. If you really want to make it easy, you can use a pizza turner which is basically a pole with prongs on the end. You stick the prongs into the oven, snag an edge of your pizza, and turn it while it's in the oven.
Final Thoughts
If you're cooking a lot of pizzas, you want to make sure your oven stays clean, otherwise, future pizzas thrown in the oven will be tossed in a space with discarded ingredients or messy cornmeal. I recommend getting an oven brush to clear out your oven from time to time.
With these basic tips, you're now ready to start baking in a pizza oven.
Now all you need to do is find yourself some tasty recipes and get started. I hope you enjoyed reading about the best portable pizza ovens available today! Happy baking!