A beautiful deck completes your home. Over the years, a wooden deck has become an American tradition, and the key to any good deck is maintenance. Maintain your deck well and it will look good as new even after years of wear and tear. Ignore it and within a couple of years, you begin to see damaged & rotting wood. In this article, we are going to review some of the best Kilz deck paint, and other deck paints, available.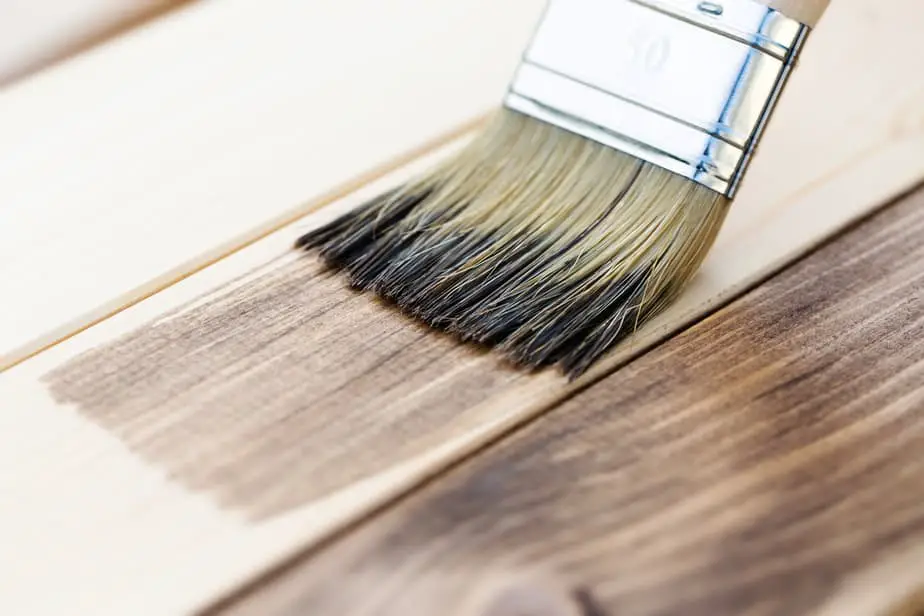 These paints will help protect your deck from weather damage, as well as keep it looking just a fresh as the day it was made.
Best Kilz (+ More) Deck Paint For The Money
Depending on the situation, you will be looking for different things in a patio paint. If your deck has gotten very old, you might be looking for a solution that can camouflage any cracks and inconsistencies in the wooden panels. Others might be looking for something to suppress any bad odors from their decks.
Finally, you have those who are just looking for outdoor paint that will keep their deck looking fresh for as long as possible. In this article, we have something for each of you!
Looking for ideas to design your deck? Check out our article for 21 Stunning Deck Design Ideas for some inspiration.
1. KILZ Interior/Exterior Latex Floor Paint – Our Top Pick
KILZ Low-Lustre Enamel Porch & Patio Latex Floor Paint, Interior/Exterior, Silver Gray, 1 Gallon
PORCH & PATIO PAINT: KILZ Porch and Patio Floor Paint is a 100% acrylic latex product providing a durable, long-lasting finish that is ideal for both interior and exterior applications.
ADVANCED FORMULA: This Acrylic paint offers a low-lustre enamel surface that is formulated to endure on deck, porch, and patio siding and floors through variable weather conditions. This product will create a moisture resistant finish that resists scuffing, fading, cracking and peeling.
MULTIPLE USES: Ideal for porches, floors, decks, basements, patios, siding, trim, furniture and trellises. May be applied over properly prepared, previously-painted or primed surfaces. Not for use on areas subject to automotive tires. For residential applications only. CAUTION! Sealed surfaces may become slippery when wet. Use caution when walking on surface when moisture is present.
SUPERIOR COVERAGE: This 1 Gallon can of KILZ Enamel Porch and Patio latex paint covers 300-400 square feet on smooth surfaces and 200-300 square feet on rough surfaces. Dries to touch in 1 hour and can be recoated in 4-6 hours.
KILZ has been making premium primers and paints for 40 years and leverage this experience in every gallon of KILZ Paint. Named Paint Brand of the Year in 2015 in the Harris Poll EquiTrend  Rankings. Lifetime Limited Warranty (see label for details).
Last update on 2023-09-23 / Affiliate links / Images from Amazon Product Advertising API
This product is one of the most popular deck paints in America. In many, ways it is the paint of choice for most homeowners. KILZ offer 2 color choices for their paint – Silver Grey and Slate Grey. Silver Grey is a lot lighter than Slate grey with an almost ashy hue. On the other hand, Slate Grey comes with a slightly blueish tint.
But there are no other differences between the colors. Both paints also have the same odor and longevity. This is great news as most paints have problems with consistency across different colors. The colors looks stunning when applied. It is one of those purchases that will only look smarter with time.
Constituents
The problem with oil-based paints is that they take forever to dry. Different manufacturers and paints have their own solutions to reduce the amount of time it takes for the paint to dry. The Kilz Latex paint uses a combination of Enamel and Latex to shorten the drying period. The Latex helps reduce the amount of time it takes for the paint to air-dry while the enamel gives it a nice glossy finish.
Using a blend of enamel and latex also has other benefits. Paints tend to get damaged quickly in places where weather conditions change frequently. Using a composite of enamel and latex we create a paint solution that is less likely to suffer from scuffing, fading, cracking and peeling. Additionally, Kilz has also added a thin mildew resistant film on top of the Latex-Enamel layer.  As the name suggests, this films helps the paint become more resistant to dew that may collect at dawn.
Dry Time
The paint completely dries up within an hour of coating it.  One reviewer has claimed that it took an hour for his 250sq.ft deck to dry up.  This makes it the fastest drying deck paint we have ever seen. You can then re-coat the paint(for an added layer of security) after another 4-6 hours.
The Kilz Latex Floor paint is our favorite choice out of all the other paints we have reviewed so far. The paint is self-priming which makes it very easy and quick to apply. Simply apply one coat of this paint you have essentially completed the painting and priming at once. Additionally, the paint is weatherproof and skid resistant. This makes it a great choice for those living in remote places where the weather can get a bit extreme.
What We Like:
Self-priming means you don't have to prime the deck before applying the paint coating
Extremely weatherproof with a mildew-resistant coating and enamel layer.
Very quick to dry. The entire layer of paint should dry up within an hour of applying it
What We Don't Like:
You don't have to worry about applying a primer as the paint is self-priming. Many professional painters hate this and would rather use a separate primer.
The paint tends to get somewhat transparent as it dries
Check Price and Reviews on Amazon
---
2. KILZ Stain and Odor Blocking Primer – To Get Rid Of Bad Odors
KILZ L200201 Restoration Maximum Stain and Odor Blocking Interior Latex Primer/Sealer, White, 1-gallon, 1 Gallon (Pack of 1), 128 Fl Oz
PRIMER | SEALER | STAINBLOCKER: KILZ RESTORATION Primer (Formerly KILZ MAX) is a new generation water-based primer, sealer and stainblocker offering performance of traditional oil and shellac-based primers. It blocks tough stains and odors and provides superior adhesion. Ideal for restoration and disaster recovery painting jobs.
ADVANCED FORMULA: The innovative modified acrylic epoxy formula provides superior adhesion and the performance of oil-based and shellac primers with the easy clean-up, low odor and low VOC of water-based. This formula also dries hard and sands easily which makes for a great enamel undercoater.
MULTIPLE SURFACES: Use on most interior surfaces including drywall, wood, plaster, masonry, brick, painted metal, ceramic tile, glass and most other glossy surfaces. Surfaces should be free of dust, grease, chalk, rust and peeling paint prior to application. Use as a subcoat for flooring and carpets to block pet odors. Works with oil, alkyd and water-based paints.
SUPERIOR COVERAGE: This 1-gallon can of KILZ RESTORATION interior latex primer covers approximately 300-400 square feet per gallon. Dries to touch in 30 minutes and can be recoated or topcoated after one hour.
KILZ primers have been trusted by pros for nearly 50 years! Famous for providing high quality primer products that provide solutions to a wide variety of painting problems, KILZ is consistently ranked as one of the most trustworthy brands in the architectural coatings market. Lifetime Limited Warranty (see label for details).
Last update on 2023-09-23 / Affiliate links / Images from Amazon Product Advertising API
Another top of the line product from Kilz – The Maximum Stain and Oder Blocker. Although it may not be the kilz deck paint available it works well for a specific purpose – getting rid of bad odor. If you've ever had guests over then you understand that spilled alcohol and barbeque residue are things you have to live with. They stains remain long after the party is over and you have to accept them as a part of your decor.  That's where this primer comes in.
Odor Removal
It helps eliminate all the bad odor from your deck as well as protects it against any such stains in the future. Pet stains and nicotine stains will become things of the past. The paint also actively works to protect your deck from any weather damage. The manufacturer claims that using this sealant will make your deck completely immune to water damage, rusting or any such stains.
Additionally, many reviewers have noticed their decks have gotten a lot lighter after applying a coating. So if your deck has gotten a very dark shade, you can use this primer to lighten it. The super adhesion resin content on the product helps whisk away moisture and protects your deck from any moisture damage.
Application
The deck paint works with both hardwood and softwood. Making it an extremely versatile solution. A single 1 gallon can of deck paint can cover an area of 300-400 sq.ft. This should be more than enough for even the largest decks.
But despite all these benefits, the Stain and Odor Blocker is still just a primer. This means you will need to add an extra top coating of latex or oil-based paint on top of it. Doing so will keep your deck protected for much longer.
Another point to note, while the manufacturer claims the product is designed for indoor use we have found that it works much better as an outdoor deck paint.
Dry Time
Since this deck paint is not oil based, it dries off fairly quick. 1 gallon of this paint takes about 30 minutes to dry off completely. Additionally, you don't have to wait to long before applying the recoat. In fact, you can add a second layer within an hour or so after the first layer has been applied
What We Like:
It is quick to dry.  1 gallon of this stuff dries up completely in 30 minutes
Works fantastically at concealing any unflattering odors on your deck
Great at getting rid of stains that may have formed on the wood.
What We Don't Like:
This is just a primer so you will need to apply a second layer of paint on top of this
Many users have found that their decks got much lighter after using this stuff. This may not be something you want
Check Price and Reviews on Amazon
---
3. Anvil Deck-A-New Resurfacer Paint – For Old Decks
In The Swim Patio and Deck Paint White - 1 Gallon
Excellent for restoration of concrete surfaces
Leaves a Non-Slip Finish when dry
Can be applied to a damp surface
Two coats required on initial application
Coverage: 90 - 125 sq ft per gallon depending on surface porosity
Last update on 2023-09-23 / Affiliate links / Images from Amazon Product Advertising API
If you are looking to repair the damage on your old weathered deck, then you should check out the Anvil Deck Paint.  This paint is intended to help fix any damaged wood and conceal any cracks that may have formed with age. Thus making it the best option for old wooden and composite decks.
Repair Old Decks
Apply a single coating of this stuff and you're immediately going to see the difference. It can rejuvenate the damaged wood and help you save a ton of replacement costs. To get the best results, we recommend properly pressure washing your deck first. This will help up clean of any dust and dirt collected on and between the wood plates. Once that is done, you want to apply a layer or primer as a base. This will help your deck paint last much longer and better. And finally, once the primer has set. you can add the paint.
We recommend you use a waterproof bonding primer such as the odor blocking primer we reviewed earlier
Pro Tip: You can also use this deck paint to conceal and cracks in your deck. However, we should note that it only works for cracks less than 0.25 inches in depth.
Application
If you decide to go with a single coating, then a single gallon of paint will only cover an area of 120-160sq.ft. However, if you want to apply a double coating then you will find that the paint only covers up about 60-80sq.ft. A lot of this depends on the porosity. This is not great as you might have to buy multiple cans to paint your deck.
But once applied, this product works like magic. The coating covers splinters and fills cracks delivering a beautiful slip-resistant finish. Additionally, the quality of the finish is top notch with the manufacturer claiming that it is scuff, peel and chip resistant.
We also love the color options provided. This product comes in 5 colors: Walnut, Cedar, Redwood, Driftwood, and Butternut. Making it a complete package for revitalizing any old deck and give it a fresh new look.
Dry Time
The anvil deck paint takes a long time to dry up. So if you are looking for the quickest possible solution then this may not be for you. The paint takes about 6 hours to dry completely. You will also have to wait an entire day before you can recoat it. Many reviewers have claimed that you should not apply a second layer in hot weather as it takes a long time to dry.
What We Like:
Can make any old deck look brand new
It's unreal how well this paint works to hide cracks and scuffs on the wooden floor of the deck
Looks great once the paint has dried up. Additionally, it available in a ton of different colors so you will certainly find a finish you love
What We Don't Like
The paint takes a really long time to dry up. Additionally, you need to wait for an entire day before you can recoat
Application of the paint is a bit difficult and it depends a lot on the porosity of your deck. This is because bubbles may form as you are coating
The paint only covers a really small area. Compared to other products which cover 300sq.ft per gallon. You only get a coverage of 120-160sq.ft per gallon which is disappointing.
Check Price and Reviews on Amazon
---
4. RTG Deck Paint – For Those With Pools
RTG Deck, Porch, & Patio Anti-Slip Paint (Quart, Sand)
Fast-drying, textured paint provides an attractive finish & secure footing on exterior surfaces that become slippery when wet. Great for decks, porches, patios, stairs, ramps, and much more. Traction additive is not abrasive like other anti-slip coatings.
Easy to apply by brush or roller (1/4"-3/8" foam or nap roller cover for surfaces with a smoother texture; ½"-3/4" foam or nap roller covers for masonry with deeper texture).
Durable coating withstands heavy foot traffic and harsh weather without fading.
Eco-friendly, low-odor, low-VOC, water-based polyurethane formula can be applied to properly prepared sealed concrete, masonry, and wood. No priming necessary. Cleans up quickly with soap & water.
Choose from 4 neutral colors: White, Light Gray, Sand & Clear/Amber. One quart covers 80-100 sq. ft.
Last update on 2023-09-23 / Affiliate links / Images from Amazon Product Advertising API
If you are one of the lucky few to own a pool then you understand how difficult maintaining a beautiful deck can get. A deck by the pool is an accident waiting to happen. You already know that moisture and wood don't go well together. Additionally, there are a lot more wet feet which further increases the wear and tear on your deck. Many owners find that the wood on their deck begins to rot a couple of years after building a pool.
The wet floor also makes the deck very dangerous as it becomes easier to slip and hurt yourself. This is where the niche anti-slip deck paints come in.
Anti-Slip Coating
The RTG deck paint is specifically made for decks with a pool or water body nearby. This is why it comes with a patented anti-slip coating. This film works helps you grip the floor better(even when wet) and keeps the number of slips to a minimum.
In fact, a common problem with anti-slip paints is that they are very abrasive. But that's not the case here. Unlike other paints available, the RTG anti-slip coating uses a unique traction additive that isn't abrasive. This gives it a gentle touch to bare feet and tender paws.
The film is made from durable water-based polyurethane. The coating is designed to stand up to the hot sun, strong winds, and even snow without peeling, flaking, or fading.
Pro Tip: We recommend you apply a coating of an oil-based primer before applying the RTG anti-slip coating. This will help keep the coating active much longer and help it perform better.
Application
You can get this paint in shades of sand, light gray & white. The white color has a subtle bluish-gray undertone which makes your deck look more pleasant. This fast-drying, DIY-friendly paint is very easy to apply with a brush or roller and cleans up easily with soap & water. The low-VOC formula makes sure that there is no obnoxious solvent odor. If you are using 1/4″-3/8″ foam or nap roller then one quart covers 80-100 sq. ft.
Dry Time
The paint dries up very quickly. Allowing you to complete the entire process of preparing your deck within a couple of hours. In fact, many reviewers claim that the paint dries about 15-30 minutes to dry up. Additionally, if you want to add a second layer, you can recoat it in an hour or so. This means you will have a prepared deck that you can walk on in 2-3 hours
If you are planning to build a pool and are looking for some inspiration then check out our article 21 Swimming Pool Ideas for Summer Fun
What We Like:
Dries up very quickly
The anti-slip coating works great and is not at all abrasive
It leaves no solvent odor after the coating has been put on
What We Didn't Like:
It is a bit pricier than some other options
The RTG deck paint does not last as long as other paints we have reviewed in this article.
---
Best Brands For Deck Paints
KILZ
The Kilz brand is a part of the Masterchem group of companies. Melvin Caldwell, the founder Masterchem introduced the Kilz Brand in 1974 at the National Paint Show. The company's flagship product – KILZ primer was introduced soon after becoming one of the best primers in America at the time. In fact, it was this extreme success helped this company grow into the industrial giant it is today
Behr
Behr is a supplier of architectural paint and exterior wood care products in the US and Canadian markets. They are also responsible for manufacturing countless interior house paints, primers, stains, and other decorative finishes. However, we should note that all Behr products are sold exclusively at The Home Depot.
Frequently Asked Questions
Q: Should I paint my deck or should I just stain it?
A: With all the solid- wood hype, there is a temptation to brag about the wooden grain. In that case, Staining is an option as it retains the natural beauty of the wood. But there are many downsides to it. Stains have a very short life span. It does not last long if not properly coated. Since it has a thin coating, it can't be used as repair material to fill cracks, voids, and splinters. If you want a solid color with little variation, a stain may not be the right choice for you. However, darker color stains can be fairly uniform.
So we suggest the new deck can be kept bare for a few months and then a coat of paint can be added to extend its longevity.
Q: What Material Should I Pick For My Deck??
A: The built-up patio can be made from concrete, brick pavers, and even synthetic deck boards. But a wooden deck will always be a classic. The three most popular choices when it comes to wooden decks are
Redwood
Cedar
Pressure-treated wood.
Redwood and cedar are both naturally resistant to insect and rot. As the owner of Alter Eagle says "It's naturally stable, so it resists warping". Redwood contains little or no resins which allow it to retain finishes.  On the other hand, cedar is softwood. It has been used for decking for a really long time. In fact, many vintage homes only use cedar as a wood material.
Finally, we come to pressure-treated lumbers. This is going to be cost-friendly and much more easily available than Cedar or Redwood
Pressure Treated Woods
Cumaru is widely regarded as one of the hardest woods on the planet and ranges in color from a rich, reddish-brown to tawny, brown color. Many users have reported that their Cumaru decks have darkened over time. This is because Cumaru wood is known to "tan" when it is exposed to sunlight.
Time can ruin even the most beautiful things in the world if it is not cared for properly. This stands true for your deck. Even if you have the most durable wood in the world, you will still have to maintain your deck. Using expensive and durable wood is no excuse to skimp on maintenance. In fact, the opposite is true. If you want your premium wood to look as good as new(even after many years of use) then you better put some effort to protect it.
Pro Tip: Make sure your wooden deck is not built over concrete as there is a risk of improper leveling due to winter frost. Landscape fabric underneath the deck is a must.
Conclusion
Hopefully, by now you know which deck paint is the right option for you. Our personal favorite is the Kilz Latex floor paint. Its quick dry time and quality make it a "must choose" option for us. We also love that the paint is self-priming. This means we don't have to worry about adding a layer of primer. Thus making it easy to maintain a deck all your friends will be jealous of. Have some other deck paints you would like to recommend. Drop your thoughts in the comments below?