It's easy to overlook the importance of a shovel when you survey your tool shed, but having the best shovel for digging when the time comes will make your life much easier and save your back some pain as well! Whether you're digging for treasure, defensive trenches, or just working in your garden, choosing the best shovel will make a huge difference. Here's our handy guide to picking the best shovel for digging.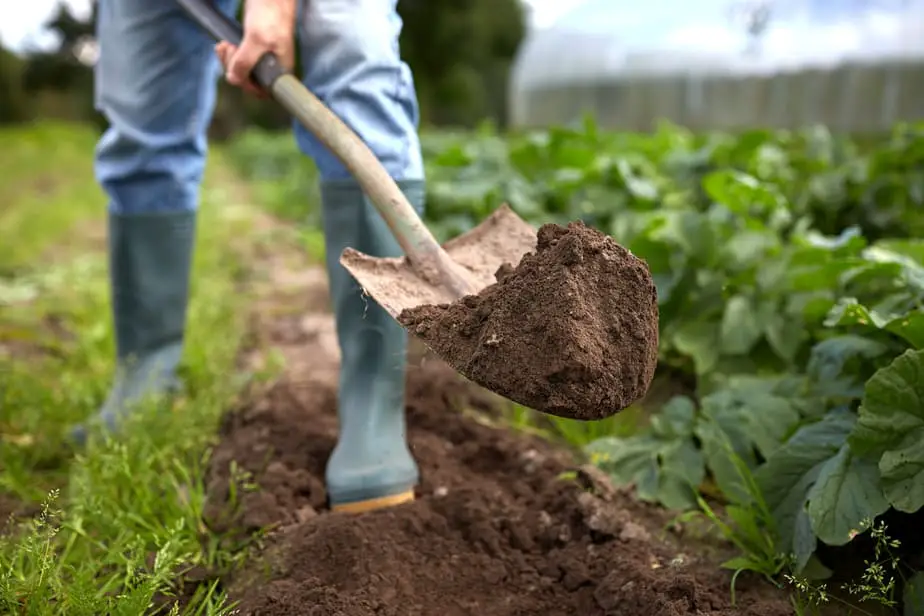 Root Assassin OS-002 One Shot Garden Shovel
Last update on 2023-09-27 / Affiliate links / Images from Amazon Product Advertising API
This versatile round point shovel is designed to be the best, no matter what digging tasks you're asking of it. With innovative features, it boasts that it can tackle any outdoor task in half the time of a traditional shovel.
The long, aluminum handle is heavy-duty and lightweight. Even with the steel blade, this shovel weighs only 6 pounds. It's designed to be sturdy and minimize flex as you're dealing with even the toughest terrain. With grip at the top of the shovel and at the middle, it's designed to be comfortable on both of your hands as you dig.
One of the best features of this blade is its innovative and patented wing design. The wings come up on either side and let you carry more in a single scoop while reducing the amount that spills as you're moving it. The wings increase the foot platform, creating an extra-large step that lets you comfortably shovel deeper without having to work harder.
This tool is an especially great choice if you need to transport large amounts of dirt or gravel from one place to another, since the wings keep it in place on the blade.
Things We Like
Extra-wide foot platform is comfortable to use and maximizes the force of your digging
Winged sides prevent you from dropping dirt as you carry it
Long handle is ergonomically designed to cause minimal strain on your back
Check Price and Reviews on Amazon
---
Spear Head Spade – Reinforced Fiberglass Gardening Shovel with Cushioned D-Grip
Last update on 2023-09-27 / Affiliate links / Images from Amazon Product Advertising API
This hybrid shovel-and-spade combo is a versatile tool that will make an excellent addition to your garden. In fact, it won the "Best of the Best" in garden shovels in 2018 from BestReviews! It is designed to reduce digging efforts by up to 80%, making it a tool that can be used by everyone, from the young to the old, with relative ease.
The specially reinforced pultruded fiberglass handle is 60% higher than traditional shovel standards. It's lightweight and super durable, making it easy to use even when dealing with difficult projects. The fiberglass handle is also weather resistant and low maintenance, plus non-conductive – though you should still be cautious if you think there may be electric lines and utilities in the space you're working.
This garden spade features a large, cushioned D-grip, that is comfortable to use and much less likely to leave you with blisters than a typical metal grip. The cushioned grip has innovative UV inhibitors which protect it from harsh elements if you leave it outdoors. For taller gardeners, this is also available in a long handle model, which has padding at the top but no D-grip.
The blade is made from high carbon manganese steel. It's 33% thicker and 25% harder than most other shovels and pre-sharpened all along its length at a 35-degree angle which makes the shovel better at navigating through debris and hard soil when digging. The Spear Head Blade arrives with a unique epoxy powder coating that wears off on the edges first, which means that your shovel is continuously getting sharper as you use it!
Things We Like
Epoxy powder coating wears off from the edges to leave you with an essentially self-sharpening and durable blade
High carbon manganese steel blade is thicker and stronger than other blades, making this tool great for dealing with difficult terrain.
Cushioned D-grip makes your work easier and more comfortable
Check Price and Reviews on Amazon
---
Radius Garden 22011 Root Slayer Shovel
Sale
Radius Garden 22011 Root Slayer Shovel, Red
Serrated shovel designed for reducing stress on your hands and wrist
Digging shovel with V-shaped cutting tip to easily rip roots and dirt
Garden digging shovel with durable powder-coated carbon steel tip
Sturdy tip suitable for any garden task- not meant for prying
Lifetime manufacturer warranty (continental US only)
Last update on 2023-09-27 / Affiliate links / Images from Amazon Product Advertising API
This shovel looks as mean as it is. It's clearly designed to tackle the toughest digging projects you can throw at it. If your digging projects are taking you through difficult terrain, with roots and sod to deal with, this is the tool for you. There is nothing this blade can't handle, which is why it won the DGA 2017 Green Thumb Award for Most Innovative Garden Tool.
The Root Slayer Shovel is designed and certified to be 150% percent stronger than its competitors. Just looking at this blade you'll understand the reason it won an award for being the most innovative tool on the market. This shovel reduces your need to bring other specialized tools along.
The unique blade has an inverted V design, rather than the traditional pointed tip, which easily cuts through smaller roots and obstacles to your digging. With ripsaw teeth lining either side of the blade, you won't need to bring along a saw to take care of difficult roots. Your shovel has one already!
The patented Natural Radius O-Handle Grip has four times the surface of traditional D-handle grips and gives you more leverage with less hand and wrist stress. It's a game changer for digging in tough spots. The grip is made from a non-latex thermoplastic elastomer molded onto polypropylene.
If you do encounter something that this tool can't handle that manages to break your shovel, it comes with a lifetime guarantee.
Things We Like
Patented Natural Radius O-Handle Grip is designed to be easier to use and safer on your hands and wrists
Unique blade design can tackle roots on its own, without the need for additional tools
Lifetime guarantee protects your purchase and demonstrates Radius Garden's faith in their product
Check Price and Reviews on Amazon
---
Fiskars 96685935J Long Handle Digging Shovel
Sale
Fiskars Digging Shovel - Heavy Duty Gardening Tool with Straight Handle - Lawn and Yard Tools - Black
GARDENING ESSENTIAL: Heavy duty, ergonomic shovel ideal for a variety of gardening tasks like digging in tough soil, digging all holes, turning soil, and more to encourage overall plant health and appearance
MAXIMUM POWER AND PRECISION: Welded 14-gauge hardened steel blade and 18-gauge steel shaft boost power for digging in tough soil and enhances rust resistance; Steel shaft handle allows for more control of shovel and withstands tough digging without bending
LONG-LASTING AND RELIABLE: Sharpened steel blade penetrates tough soil with ease and stays sharp through heavy use, providing excellent durability for lasting value; Fiskars shovels and garden tools are built to last
QUALITY GARDEN TOOLS: Designed to help you cultivate a better garden, Fiskars garden and yard tools are equipped with smart technologies and award-winning, ergonomic features that make it easier and more enjoyable to transform your outdoor space
INCLUDES: 1 Fiskars Digging Shovel; Full lifetime warranty
Last update on 2023-09-27 / Affiliate links / Images from Amazon Product Advertising API
If you're on the lookout for a no-frills shovel that'll last a lifetime, you've found it. The Fiskars Long Handle Digging Shovel is an efficient and add-on free tool designed for digging and nothing else. It's one of the most durable options on the market.
What sets this shovel apart from the competition is its all-steel design. The steel blade is welded to a steel handle, so you don't have to worry about it breaking or flexing. You can fearlessly put your full weight into this shovel to get through difficult terrain. The Fiskars Long Handle Digging Shovel also has an extra-large foot platform which lets you get more leverage and comfortably put more force into your shoveling.
The long handle on this shovel is great for doing all sorts of garden tasks without putting any additional strain on your back. It's designed to give you maximum leverage with minimum effort to eliminate sore backs and sore knees. Nearly everyone who uses this shovel recommends it to fellow gardeners, both amateur and professional.
The Fiskars Long Handle Digging Shovel comes with a lifetime guarantee and their customer service is legendarily great, so if you do manage to break this hardy tool, they'll send you a replacement with no questions asked.
Things We Like
Full-steel design makes this shovel super durable and nearly impossible to break
Extra-wide foot platform is comfortable to use and maximizes the force of your digging
Long handle is ergonomically designed to cause minimal strain on your back
Lifetime guarantee protects your purchase and demonstrates Fiskars' faith in their product
Check Price and Reviews on Amazon
---
Choosing the Best Shovel for Digging
While you may not usually think too much about shovels, there's a fair bit to consider if you want to get the best tool for the job and, if you're reading this, that job is digging. When you're shopping around for shovels, it's important to think about what kind of terrain you're going to be digging in. Is it easy soil? Rougher terrain? Will you be encountering a lot of roots?
Shovels vs Spades
The first thing you may need to sort out on your shovel search is the difference between shovels and spades, which are designed to tackle different landscaping tasks.
Shovels
Shovels are for digging. Whether you're digging in the dirt or digging in the snow, that's their calling. They tend to have rounded, concave blades that end in a point and that point is for digging. They're exclusively a digging tool.
Spades
Spades, on the other hand, are not ideal for digging. With a flat blade, instead of a rounded one, these are great for edging your lawn, moving loose material, and cutting through sod. They're a super useful tool and you could use them for digging, but they're not suited to it as well as a shovel is.
Handle Material
Most handles on the market are made from either wood or fiberglass, and each one has different strengths and weaknesses.
Wood handles are the classic go to. They're strong, durable, and easy to replace. On the other hand, they're heavy and subject to weathering.
Fiberglass handles are typically more durable than wood, with fewer instances of the handles breaking on impact, and you don't have to worry about them rotting or weathering. They're lighter weight, which makes them easier to use for extended periods of time. They're trickier to replace if they do break, however, and replacement fiberglass handles are harder to come by.
Handle Length
Shovels with long handles tend to be better suited to many garden tasks. They require you to bend less and give you more leverage, which protects your back from unnecessary strain.
Shovels with shorter handles are generally better for working in confined spaces, or if they're designed to deal with roots. You can recognize a shorter handled shovel because they will usually have a D-grip, or some other grip type, rather than terminating in simply the end of the pole.
Maintaining Your Shovel
Like any tool, there are steps you can take to get the most out of your shovel. The simplest thing you can do is make sure you don't leave it out in the elements for prolonged periods of time.
Whenever you finish using your shovel, clean off any lingering or caked dirt from the blade
Never store it blade down, as that will dull your shovel quicker. You always want to store it with the handle on the ground
Give it a once over with some rust-preventative spray every now and again to keep your blade healthier, longer.
Sharpening Your Shovel
If you're using your shovel in the dirt a lot – and if you're reading this article that's probably exactly what you're using it in – then you may find your shovel occasionally needs to be sharpened. Don't panic and don't rush to pay someone else to do it for you. It's easy to sharpen your shovel at home. Here's a handy video guide to keeping your shovel sharp.
Start by cleaning off any dirt with a wire brush
Use a clamp or vise to hold your shovel firmly in place with the blade facing up
Using the angle of your shovel as your guide, sharpen the inside edge with a file, abrasive stone, or handheld grinder
If you can't find the edge because your shovel is so dull, using a 45-degree angle is typically a safe bet
Once you see a shiny beveled edge begin to appear and feel a slight burr on the backside of your shovel, you're nearly done. Give the back a few light strokes to get rid of the burr and then give the cutting edge a couple of final strokes and voila! You've sharpened your shovel!
If you're using a file or stone, make even passes forward along the full length, always sharpening away from the edge for safety. With a handheld grinder, run it along the entire length of the sharpened blade but be sure not to rest it for long in any one place.
Best Brands
Spear Head Spade
This small company is spearheaded by an 85-year old who wanted to create a more accessible gardening tool so that he could tend to his plants. Spear Head Spade produces a small variety of shovels based on his model.
Radius Garden
With a passion for creating tools that are genuinely ergonomic and accessible for gardeners of all abilities and bodies, Radius Garden is the brain behind some promising innovations in the garden tool world.
Fiskars
If the name sounds familiar, you probably know Fiskars from their scissor empire. You may not know that they're also a serious contender in the world of garden tools and manufacture some really high quality choices.
Root Assassin
Root Assassin is a relatively new company whose aim is to create innovative and effective garden tools that are durable and affordable.
FAQ
Q: What is the difference between a shovel and a spade?
A: If you're skimming for answers, the main difference between a shovel and a blade is that a shovel has a rounded blade and is designed for digging. Spades have straight edges, tend to be less concave, and are designed for edging and cutting more than for digging.
Q: How can I shovel without hurting my back?
A: Back pain is a common problem when you're doing a lot of shoveling and the best way to avoid it is to get the right shovel to start with. If back strain is your concern, you want to get a shovel that has a long handle, so you don't have to bend over to use it. Bend from your hips and knees instead of your back and try not to twist when you're shoveling. This guide has more tips for safe shoveling!
Q: My shovel handle broke! Can I replace it or do I need to buy a whole new shovel?
A: This depends a little bit on what kind of shovel you have. If your shovel was wood, then almost definitely yes you can replace it and the replacement handles will be easily available. There are plenty of guides out there (like this one) to walk you through the process. If you have a fiberglass handle, the replacement materials may be a little trickier to get ahold of. Assuming you can find a replacement, there are guides available to help you too!
Wrap Up
While there are many contenders, ranging from the very simple to the highly specialized, these are our choices for the best shovel for digging. The important thing is to choose a shovel that you'll be able to use comfortably and that can stand up to your gardening needs, whatever they may be.
If you're dealing with some seriously rough terrain, then your best bet is definitely the Radius Garden 22011 Root Slayer Shovel. No matter what you come up against, this will take care of it with less effort and stress than any other shovel.
If your gardening needs don't involve waging war with root systems, then we recommend the Spear Head Spade. You can get it with either a D-grip handle or a long handle, and it's designed to be easy to use and effective for all your digging tasks. It was, after all, designed by an 85-year old who wanted agency in his garden.
If you're looking for the best folding shovels for some more compact gardening, check out our buying guide for folding shovels!