The big task of staining your deck either for the first time or maintaining the quality of your existing deck should be a planned venture. The weather is one thing we cannot control, but it does pay to listen to the forecasts and perhaps err on the side of caution when undertaking to stain your deck. A perfect forecast for staining would be 24-48 hours with no chance of rain. But, what happens if it rains on a freshly stained deck?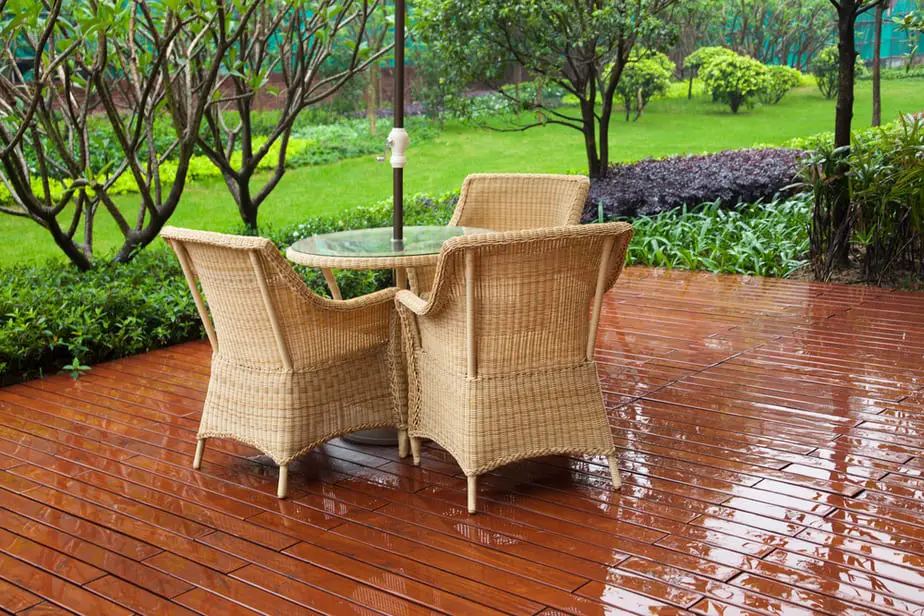 How Long Does Stain Take To Dry?
The length of time needed to ensure a stain is dry before using the area cannot be easily answered without first outlining the number of variables in the equation. Not all stains and not all woods respond in the same way.
From a purely technical perspective, the process that occurs through staining is more of a curing process than an actual drying process. Curing is the time taken for the stain to settle into the surface of the wood, dry fully, and set its final color. Wood stain essentially cures itself. Stain cured under wet or otherwise unsuitable conditions may become contaminated, discolored, or develop mold.
Additionally, before staining, the wood should be allowed to air dry for 24-48 hours after it has been cleaned. It also pays to factor in the drying time between a first and second coat and of course, how long it is likely to take to apply the stain. This will no doubt depend on your experience, the size of the deck, and the tools you have available for use.
Where The Deck Is Located
Undercover decks will take longer to dry in certain conditions, so allow for this when planning the project and when to use your deck after staining.
The kind of weather the outdoor deck will be exposed to also plays a factor in determining the best stain-base for your project. An oil-based stain is the best choice if the deck is going to be directly exposed to wind, rain, and sunlight.
What You Need To Know About Stain
Deck stains are generally used for preserving and protecting exterior wood. They provide water repellency, UV protection, reduce fungal growth, and enhance the natural beauty of the wood.
If the deck you intend to stain is covered in a previous coating of paint or stain, certain steps should be taken to achieve a new protective, even layer. Although it may be challenging to establish what the previous layer is, it will help decide whether to choose an oil-based or water-based stain.
Decking stain differs from paint in a significant way: Stain soaks into the bare wood's pores to become part of the top layers of wood. Stain, therefore, lasts for a long time if it is appropriately applied. Rain on a newly stained deck can ruin it or, at best, create a lot of extra work.
Stain penetrates the wood best when the wood is cool and dry. The key to coating new timber is ensuring the tannins and oils have been removed. This is called leaching. This can be done through a natural weathering process or by applying commercial timber preparations. This will ensure the final finish of your coating will look amazing and last longer. Tannins can cause the timber's appearance to look patchy and discolored once coated.
It is not a good idea to apply deck stain in full sun but wait until the sun has passed over your deck. Wait for the deck slats to cool down before applying the stain.
Types of Wood Stain
There are a number of other factors to consider when considering the best type of stain for a particular deck. The deck's location and its exposure to environmental and weather conditions will be a significant influence on the type of deck stain most likely to suit that area. The age of the wood and type of timber being stained will also be a consideration. Some woods like Cedar, Cypress, and Redwood have a natural resistance to rotting and therefore are better suited to a water-based stain.
The choice of stain will also be influenced by the preference for an oil-based or water-based stain. These different options will provide different results and will require variations in handling. Some stains cannot be sold legally because of varying state laws. When possible, test the stain on an inconspicuous section of the decking. Be careful not to use a light stain if your deck was previously covered with a dark stain.
Oil stains are easier to apply, penetrate the wood grain, and require less work when you reapply them. Because they penetrate the wood deeper, they are extremely durable and provide a thicker seal for the deck. Oil-based stains take longer to cure and cause problems if the newly-stained deck is rained on in the first 12-24 hours of stain application.
Water-based stains dry quickly and generally last four to six years, but they'll eventually peel and require more prep work before recoating. An advantage of water-based stains is that they do not contain harmful odors or fumes and are not flammable. They are also quite mildewing and mold resistant. Opaque latex stains generally last longer than semi-transparent versions.
Applying A Second Coat
When you apply stain to any outdoor structure, you will need to add a second coat. Although it seems obvious, remember that this second coat will be the one that stands out the most, so you want to have a smooth finish. Make sure you use a clean brush and the same stain, both by style and manufacturer. How long does wood stain take to dry?
Applying a second coat requires some precision in the time that elapses between the first and second. Much will depend on the outside temperature, the stain being used, and decking material. A good rule of thumb is to lightly touch the portion that has been stained. If it feels tacky to the touch (a little sticky but not wet), then you can apply the second coat.
Dealing With Different Types Of Wood
Decks can be built out of a variety of different materials. The nature of wood, when exposed to water and humidity, is to swell and expand. The choice between hardwood and softwood is the first thing to consider.
Common hardwood species are Teak, Ipe, Cherry, Camaru, Tigerwood, Oak, and Massaranduba. These woods create a stunning, luxurious appearance, but they are expensive and are sometimes hard to source. Generally, hardwoods outperform softwood decks when it comes to weather-resistance and overall longevity.
Softwood is a category of faster-growing species, often including evergreens and conifers such as Pine, Fir, Spruce, and Cedar. Softwoods are typically treated with preservative chemicals and are a more economical choice initially though they will need annual maintenance to maximize the life of a softwood deck.
Some of the most popular choices for decking boards are pressure treated woods or modified wood. These woods provide the look of real timber but also offer superior durability and have low maintenance requirements. Most pressure-treated decking is milled from southern yellow pine and then chemically treated to resist rot, fungus, and wood-boring bugs. Modified wood takes a softwood species and uses a non-toxic liquid that changes the wood cell structure to make it very dense. Insects and other pests are not attracted to modified wood, and this material does well in any climate.
Tropical hardwood decking is so dense that it doesn't accept stain very well, but a penetrating option specifically formulated for use on hardwood decking could be considered.
It Rained Shortly After Staining my Deck
So, finally, what happens if it rains on a freshly stained deck?
When considering what happens if it rains on a freshly stained deck, you will have to keep in mind that there may be some reparations to make. Rain will damage the finish of any wet sealer with linseed oil or mineral oil in it. Because it forms a coating, it takes several hours to dry, and during that time, the sealer is vulnerable. After the rain has passed and the deck has dried, take a closer look. It depends on how hard it rained and for how long.
If the surface dried enough to touch and the rain was gentle, you may not have too much of a problem, but a good downpour can spoil your handiwork. The type and brand of stain used can make a difference as well. Some stains can handle rain shortly after being applied better than others.
Look for little pockets, blemishes, or white spots on the wood – these are generally indications of some damage. It may be possible to fix some of these blemishes with a second coat. Try applying stain in an inconspicuous spot to see if it fixes the rain damage. If a light recoat does not fix the problem, try using a mix of wood cleaner and a pressure washer to see if you can wash the spots without harming the stain.
You could also try lightly sanding the spots and recoating. Flaking and peeling may occur if over-application of the stain occurs. If washing or sanding and recoating doesn't fix the problem, it will be necessary to strip off the stain with a stain stripper and start over again.
Other Factors To Consider When Dodging Weather Conditions
If you are located in a high rainfall area, it is sometimes a matter of taking the opportunity to stain in a shorter dry period than would be ideally expected or preferred.
One way to measure if the deck is dry enough for staining is by using a moisture meter to measure the amount of moisture in the wood. There are one or two probes on the meter that stick into the wood to give you a reading. If using this method, be sure to check the moisture level in several spots. With a moisture meter, you are looking for a reading between 12-15% or less. If you are getting higher readings, the deck needs further air drying before applying the stain.
Some preparations for deck staining also require you to clean the area, so naturally, you will have a wet deck after washing as the best cleaning occurs with the use of a power-wash. Normally, waiting 1-2 days after cleaning is adequate but can vary depending on sun exposure, climate, wood type, and age. Look for any swelling or puffiness in the wood or softness to the surface.
If you do not let the deck dry sufficiently before staining, you will trap moisture in the wood underneath the new coat of stain. Then the wood is prone to mold and mildew problems, which could lead to rot and decay. Staining a wet deck may also result in an uneven finish.
If you are staining a newly-installed deck, you probably don't need to power wash it. You could use a cleaning solution that will help to remove the gray fibers, dirt, mold, mildew, and other impurities deep in the wood. When a surface is not clean, stains and other finishes have trouble sticking and may end up peeling.
Degree Of Foot Traffic In The Area
If the deck is in a high traffic area or provides an access point to the interior of the house, consider how you and others will access the house while the newly-stained deck is drying. It is best to leave the deck for as long as you can, but at least wait 12-24 hours and test the deck with bare feet first.
It is best to wait the full 24 hours before moving light furniture back on the deck. Bulky items such as umbrella stands, grills, or planters should really stay off the deck for a week as if the stain is not fully cured, heavy furniture may stick to the stain and peel the stain away if moved.
Final Reminders
Plan your project to take account of optimal weather conditions (preferably in the dryer months of the year)
Do your homework regarding the qualities of wood you like and the look you are trying to achieve – consider the durability of different woods, and their reaction to staining
Bear in mind the maintenance required for each wood-type you are considering
Consider taking home some stain samples and trying them out on samples of your timber preference
Shop around to get the best deals without compromising on quality
Make sure you have all the materials that you need before you commence your project
Have help on the day so that if it looks like rain, you can speed up the process
Allow more time than is necessary so that you can take account of any unexpected contingencies
Be patient and allow sufficient drying time before applying the second coat
Take time to enjoy your beautiful new or revamped deck
Final Thoughts
When it comes to what happens if it rains on a freshly stained deck, it's really best not to find out to avoid having to correct the potential damage. However, if rain was unexpected or purely unavoidable, there are ways you can manage the effects.
We hope our guide to what happens if it rains on a freshly stained deck has been helpful! Happy decorating!