Decks are built with timber. Patios are tiled or paved. In summer, these areas have replaced the kitchen as the central hub of the home. This is where the family gathers to share food, talk, enjoy the garden, and drink coffee or wine. It's where guests can be entertained and share a barbeque.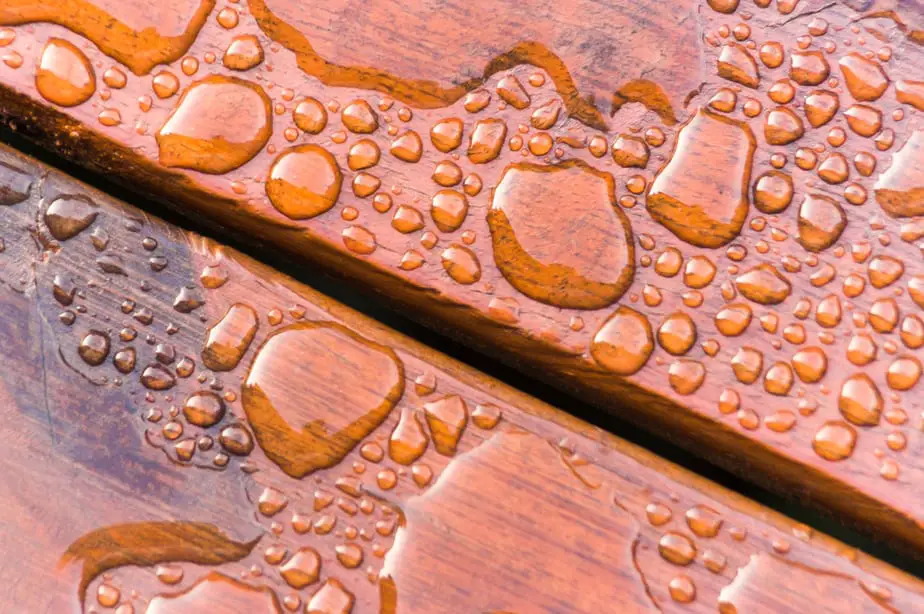 The deck is often a high traffic area. Although it may be sheltered, it can be a victim of the weather. Timber is warm and earthy, and the neutral brown tones blend well with many different styles. But when it's weathered, it can appear grey and drab.
Decking Timbers
When building a deck, the first thought must be what kind of timber? Different decking timbers will perform differently, and more importantly, will look different when treated. There are hardwoods and softwoods, and there is manufactured wood. This wood is modified by treatments that increase strength and durability. There are also decking products that are composites made of plastic. The most common decking wood is southern yellow pine that is pressure treated to make it more resistant to fungus and pests. Other popular choices are redwood, cedar, mahogany, and bamboo. If you are not a fan of painting, other materials can be used that don't need constant maintenance.
Some people have their decks stained every year. The frequency that you do your deck staining can depend on the deck's position relative to the prevailing weather. A lot of sunshine and rain will speed up the process of deterioration.
You have made your decision, and the deck is built. Or perhaps you have purchased the property, and the existing deck needs attention. Do you like the color? Do you wish it was lighter, darker, redder? All of these things can be achieved with a good stain.
Even with brand new decks, you have to pressure wash the deck first. This is to open up the grain of the wood and make it more absorbent. Older decks that have already been stained will need to have the old stain removed to allow the new stain to penetrate and to achieve a consistent color. Strip off any old stain with a wood stripper and pressure wash. You might also sand the deck lightly before washing. Sanding the deck before washing will help produce a more professional finish.
Three Main Types Of Deck Stain
Transparent Deck Stain
This does not color the timber. Instead, it allows the grain to show through. It waterproofs and protects the wood from rot. This type of deck stain needs to be reapplied more often. With most transparent deck stains, you only need to apply one coat; applying two coats will not make a difference to the finish.
Last update on 2023-09-05 / Affiliate links / Images from Amazon Product Advertising API
---
Semi-transparent Deck Stain
This deck stain imparts some color to the finish, while still allowing the grain to show through. This style allows you to use a bit of imagination if you want to alter the color of the wood slightly. Only one coat is needed.
Sale
#1 Deck Premium Semi-Transparent Wood Stain for Decks, Fences, & Siding - 1 Gallon (Light Walnut)
PROTECTS AGAINST COLOR FADE AND PREVENTS GRAYING - #1 Deck Protects Wood From Damage Caused By Exposure to the Elements. Can Be Used On Pressure Treated Pine, Cedar, Fir, Redwood, or Most Other Softwoods. Hardwoods Will Require More Frequent Maintenance Coats.
BOTH A DECK STAIN & DECK SEALANT IN ONE - #1 Deck Stain Is a Dual-Purpose Stain & Sealer. It Adds Color to Your Wood and Seals it, Preventing Damage Caused by Water Penetration.
ALLOWS THE WOOD GRAIN TO SHOW THROUGH - Available in 5 Beautiful, Semi-Transparent Deck Stain Colors That Dry to Flat, Natural Looking Finishes That Will Enhance the Beauty of Your Exterior Wood.
BETTER FOR THE PLANET, EASY SOAP & WATER CLEANUP - With Less Than 50 g/L VOC Content, #1 Deck Sealer Is a Better Choice For Our Planet. Clean Up is Super Easy - Just Use Soap and Water.
WORKS ON DAMP WOOD, MINIMIZING THE WAIT TIME BETWEEN CLEANING AND STAINING - Once Your Wood Deck Is Visibly Dry, It's Ready to Stain.
Last update on 2023-09-05 / Affiliate links / Images from Amazon Product Advertising API
---
Solid Deck Stain
This is like paint and is not absorbed but lies on top of the wood. This type of stain is better for disguising marks, flaws, and imperfections in the wood, but it is more inclined to crack and peel off over time. Two coats are needed with this product.
Make sure always to follow the manufacturer's instructions for the product you are using. There are a lot of different products on the market. It is advisable to select a well-known brand; you can be more confident that the product will live up to its promises. Be aware that the darker the stain, the better the UV protection. Some stains are oil-based, and some are water-soluble.
Sale
Ready Seal 512 5-Gallon Pail Natural Cedar Exterior Stain and Sealer for Wood
Requires no primer. Ready Seal is darkest when first applied. It reaches its true color in approximately 14 days. Do not apply Ready Seal over painted or newly stained surfaces. Sealed surfaces inhibit penetration.
May be applied using sprayer, roller or brush onto the woods surface.
Requires no back brushing and will nerver leave runs, laps, or streaks.
Requires no wet-line application, the product will blend itself and can be applied in any temperature range for proper application.
Requires no diluting or thinning prior to spray applications.
Last update on 2023-09-05 / Affiliate links / Images from Amazon Product Advertising API
---
Application
The stain can be applied to the deck using the old fashioned method; a brush and roller. Or you can use a deck stain sprayer. Keep pads and rags handy to mop up spills and drips as they happen. If you use an oil-based stain, make sure you dispose of these things thoughtfully as they can become a fire hazard. The advantage of using a spray unit to stain a deck is that it is quick and enables a more even spread of the deck stain. It will probably take one day to prepare the deck for staining, and one day to do the deck staining.
When you apply the stain with a brush, use a 4-inch brush or roller with natural bristles to help work the stain deeper into the wood. Use a heavy application on the open end grain of the boards and try to work it into the timber. Avoid the mistake of thinking more is better. Often too much will result in peeling or cracking.
Two Main Types Of Paint Sprayer
The first is an airless sprayer that fires the stain out at high pressure. The air sprayer will also do an excellent job. The stain is sprayed at a lower pressure. There are pros and cons to both types of devices. Airless sprayers do not need to be attached to a compressor. Air sprayers are limited by the reach of the air hose. Airless sprayers apply a more even, thicker coat and can force the paint into smaller gaps and holes.
Airless sprayers are a lot more expensive than air sprayers, and they are a lot more versatile. Airless sprayers operate at high pressure and are capable of damaging other surfaces, breaking glass, and penetrating human skin. You can buy an air sprayer relatively cheaply, or you may think about hiring an airless sprayer. Both types of devices require practice to develop the skill needed to achieve a professional result.
Final Thoughts
When you are staining decking, make sure you are very careful of walls, other fixtures, and shrubbery. Cover these things with drop cloths to protect them. To make certain of the color and result of the stain, it is a good idea to take the time to try a practice run on an obscure corner of the deck or a scrap piece of the same timber. Use a brush or the sprayer to apply the stain and allow it to dry. This is how you will discover early if there is a problem before you make an expensive mistake.
Apply the stain in sections, each about three or four boards wide. Start at one end of the deck and work towards the other side. Try not to stop in the middle of a section, or you'll leave a mark when you start again. Use a very liberal coat of stain on the wood. If it pools, brush it smooth with a long-handled brush.