Just the thought of red tape is enough to frustrate us, but the law is the law, and a permit to build a deck is generally a must.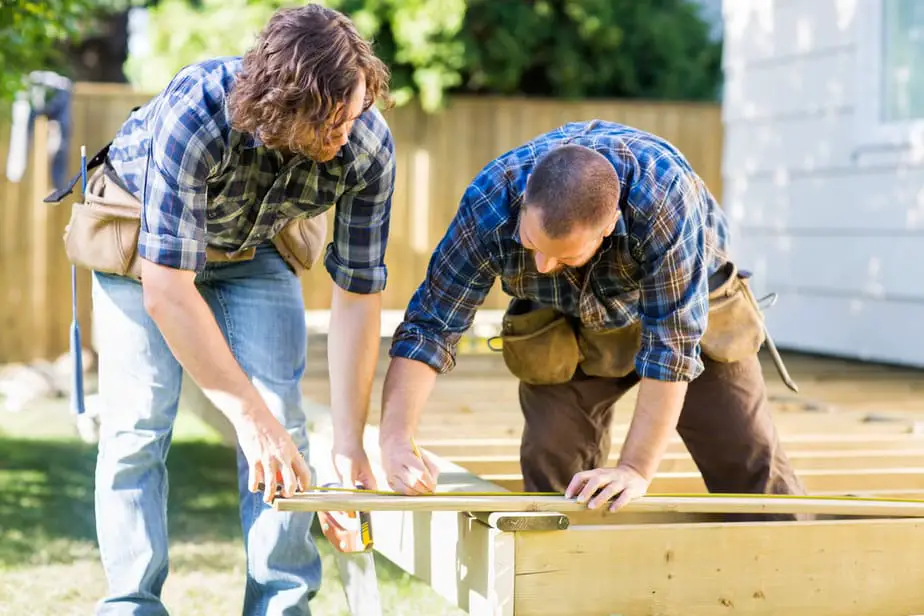 All deck projects must be reviewed by your local jurisdiction to ensure they comply with the current International Residential Code (IRC). The IRC sets out minimum regulations for construction projects related to residences, including provisions for building, plumbing, mechanical, fuel, gas, energy, and electrical. The goal is to ensure all construction is safe, built correctly, and up to current building standards.
Getting the permit is relatively straightforward. Even if you intend to do the work yourself, before making any decisions about design and materials, ask yourself, "Do I need a permit to build a deck?".
Why Do I Need A Building Permit For A Deck?
A building permit authorizes you to make home improvements according to a specific scope of work shown on approved architectural plans. By law, homeowners are required to procure a license for just about any construction project. Generally, any modification to the approved scope of work or plans must be re-approved, so make sure your plan is finalized before applying for permission.
What Is Required To Get A Permit For Your Deck?
There are two principal building codes to follow when obtaining permission to build a deck.
If you are building a deck attached to your home or other buildings on your property, you will need a permit.
If the deck is not connected to anything and is 30 inches or higher, it will also require a permit.
If the structure has free-standing deck footings, is 30 inches or less in height, and less than 200 square feet, a permit is not required. If you do your homework beforehand and take a drawing of your plan with you, most permits for basic-build decks can be issued while you wait. Your city and state code determine the exact requirements, but some pieces of information will always be required when applying for a deck permit.
Required information includes:
A detailed drawing of your proposed deck and where it attaches to your home.
Length, width, and height of the proposed deck and where beams will be placed.
Proposed joist thickness (2×6, 2×8, etc.) and spacing.
Where stairs will be placed and how wide they will be.
Guardrail height.
A material list.
Type of footing to be used – concrete piles, screw piles, deck blocks with posts.
Including scale measurements of your yard showing where the property lines are would be helpful.
By getting a deck permit, you can rest assured your deck is genuinely safe and up to current codes. You'll know it met and passed inspection from qualified professionals. It's a way to protect both your investment and your family. If your plans meet building codes, zoning bylaws, and structural requirements, you should be issued with a permit. You will also be expected to pay a fee.
What If I Go Ahead And Build Without A Permit?
If you go ahead without permission and are caught:
You'll find a stop-work order on your door ordering the immediate shut down of your project. The big orange Stop Work Order sign informs workers that they cannot continue the construction, or they will face fines and penalties. Your project will be left as it is until the issue is resolved.
Significant fines may need to be paid by you and your contractor. Depending on your area, the cost can be 3 to 10 times the cost of getting the permit.
In addition to the fines, you'll still need to pay the cost for the permit you should have got at the beginning. You may also have to pay for proper plans to be drawn up.
If you're using a construction contractor, they must be properly licensed with the municipality.
Someone will go out to ensure the work completed so far is up to code. If the inspectors can't see what they need to, like the framing behind drywall, you may be asked to take apart portions to give them the access they need. You'll likely face increased scrutiny as a result of your not acquiring a permit before work commencing.
If they find anything not up to current codes, you'll face the additional time and cost of making repairs, and, in some cases, you may even have to demolish all the work that was completed and start anew.
You could be ordered to remove the deck because it doesn't meet code and is a safety risk.
You could be made to pay back taxes for property tax.
Your insurance company wouldn't cover you if someone was seriously injured if you didn't get a permit.
If it was revealed that there was never a permit processed for a deck should you choose to sell your home, it could hurt you financially at the bargaining table. It may also hold up the sale of your home.
Can You Get Permission After Starting Work On Your Deck?
If you have a deck built without a permit, you won't get a retroactive deck permit, but you may still obtain permission. Simply measure out the existing deck and draw up plans as if starting from scratch. Take your drawings in and see if you can get a permit. Unfortunately, if the deck was built decades ago, building codes may have changed in that time. If they have, you might find yourself needing to do some work on the structure to bring it up to code.
The building inspector will come out to check and approve your permit or give instructions to remove, replace, or rebuild certain features of your deck before returning for a final inspection.
Depending on where the structure is to be placed on the lot, you might require a zoning permit instead of a building permit.
What If You Want To Repair Or Add A Roof To A Deck?
Depending on the extent of the repair, you may still require a permit. If you're just replacing some deck boards and some railing, a permit won't be needed. If you're replacing or adding structural features like joists or roofs, you should get a permit to ensure everything meets building code safety standards. You will also need the deck inspected when done.
Related Considerations When Building A Deck
Zoning requirements differ from state to state, county to county. Each will have its own regulations and permits.
Some codes may restrict you from building your deck on your home.
Zoning ordinances set down minimum requirements for details like:
How far from the property's boundary lines, you can build your deck.
Appropriate clearances from the septic system to be adhered to.