The way that Americans are using their outdoor space has evolved in recent years. Our backyards are smaller. However, we're still making excellent use of what we have. That's what makes trendy contemporary deck ideas such a hot topic.
Let's look at some numbers. The average US lot size is 8,560 square feet. Our house takes up 2,386 square feet or almost 30 percent of the land. Our tastes have changed too. Gone are the days of the swing set taking up the most real estate.
The most requested landscaping features emphasize low maintenance. We also want more outdoor space, according to the American Society of Landscape Architects. The US Census Bureau estimates that only 69,000 of the 840,000 single-family homes built in 2018 did not have something outd00r-related.
Let's take a look at what features are making an impression. What is getting us to spend more time outdoors enjoying our decks and backyards?
1. Blur the Line Between the House and Deck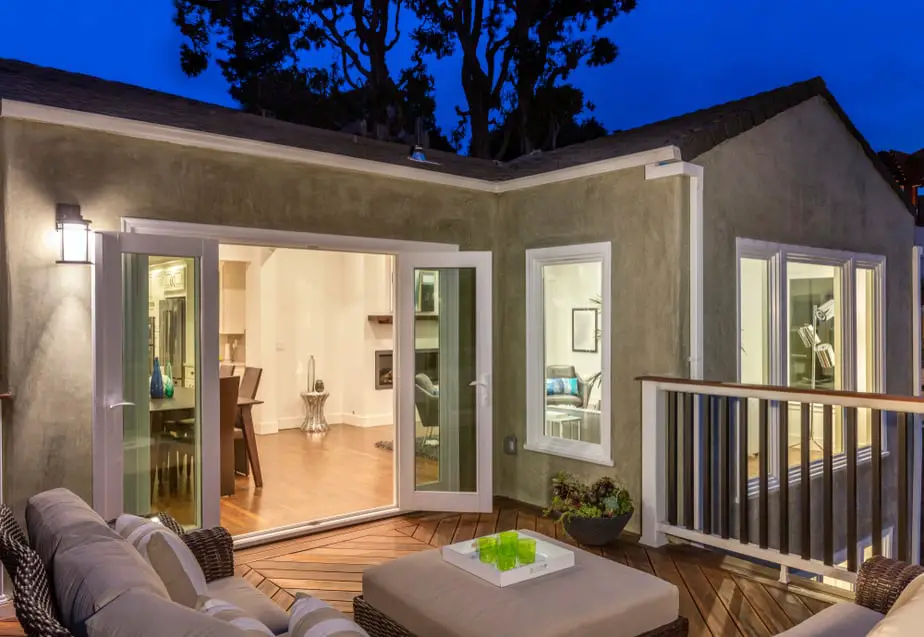 One of the most noticeable and compelling trends in contemporary deck ideas is how we are bringing the indoors outdoors and vice versa. Our outdoor space is an extension of our living quarters. We love it because it keeps us outside longer, enjoying the fresh air.
2. Use Color to Create the Right Mood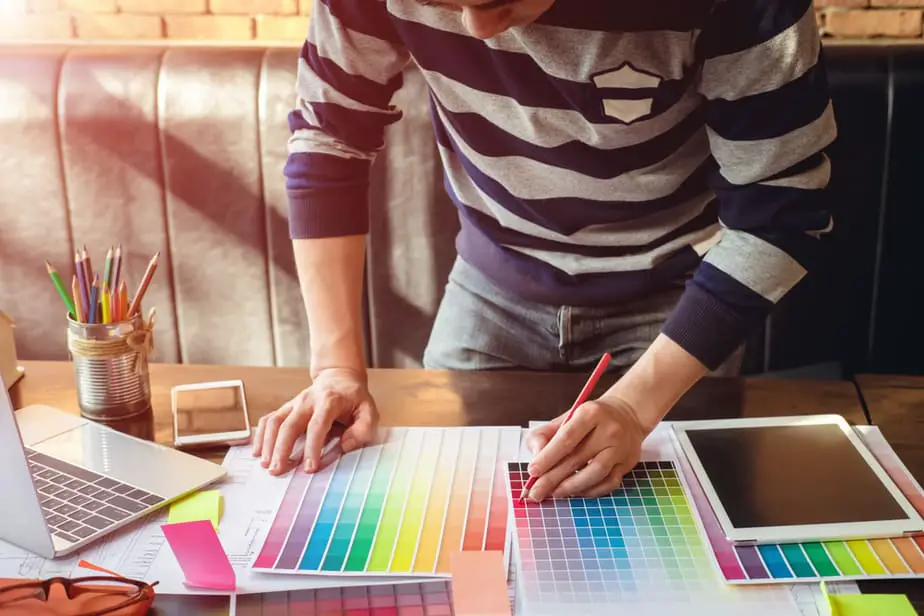 Color has a profound effect on our mood and well-being. Blue and green hues are excellent choices. They create an atmosphere that promotes peace and calm. When choosing outdoor furniture, pick ones that foster these positive feelings. It will make your time on your deck more enjoyable.
Last update on 2020-06-14 / Affiliate links / Images from Amazon Product Advertising API
---
3. Make Outdoor Features a Part of Y0ur Contemporary Deck Ideas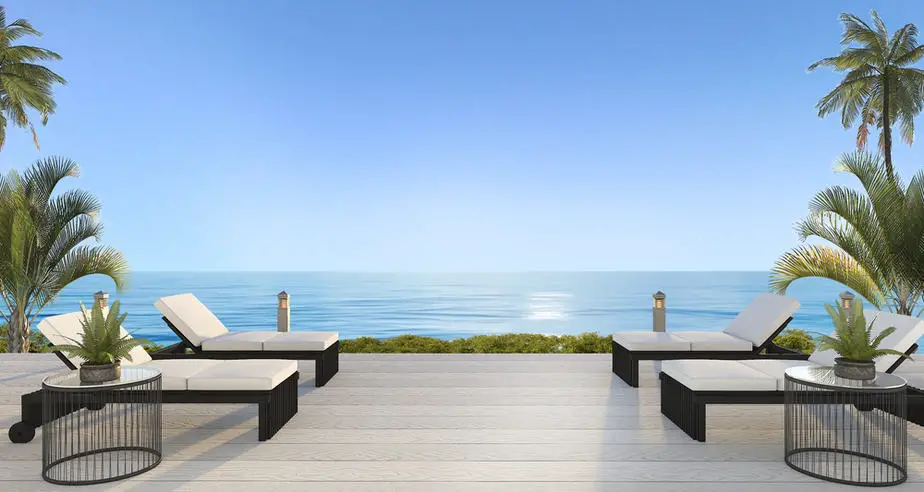 Take advantage of what the area around your yard offers. Make it a part of your landscaping. Open a space to the lake, forest, or grasslands near your property. Resist putting a visual barrier like a fence or hedge. That way, it will blend into your backyard. It'll make your yard seem larger.
4. Discover the Pleasures of Eating Alfresco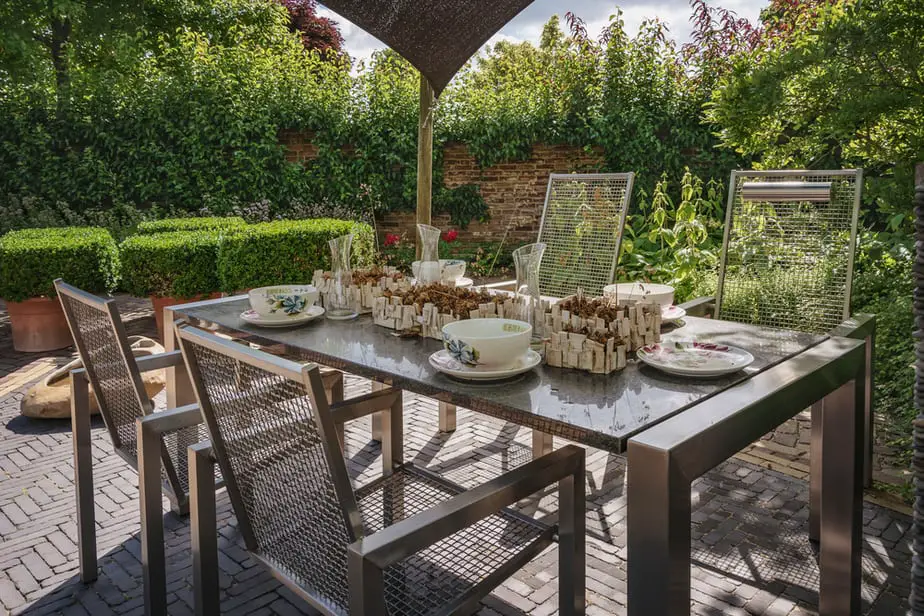 Dining on your deck is the ultimate in luxury. It's natural to go from the grill to the table with simply prepared food. Of course, that means plenty of fresh produce. And don't forget the flowers for decoration. You are buying all of them from the local farmers' market, naturally.
5. Use Natural Materials to Create an Outdoor Connection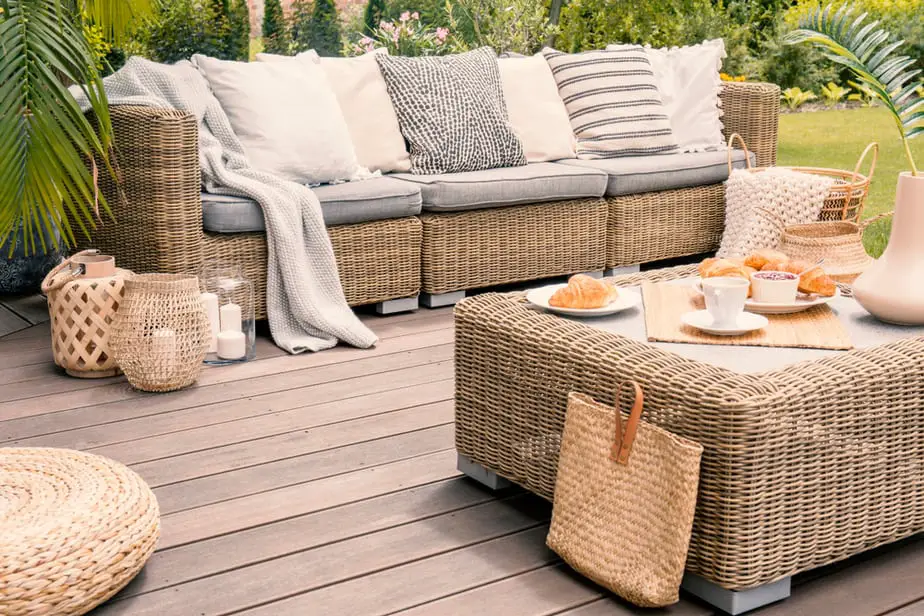 Earth tones are an excellent choice for contemporary deck ideas. That's because they promote a connection with the land. Take it to the next level. Use materials like wood, wicker, and cotton. That will keep the theme going strong. Bright colors distract from the feelings of relaxation. That is, after all, what we want our deck to inspire.
6. Opt for Warm-Colored Stains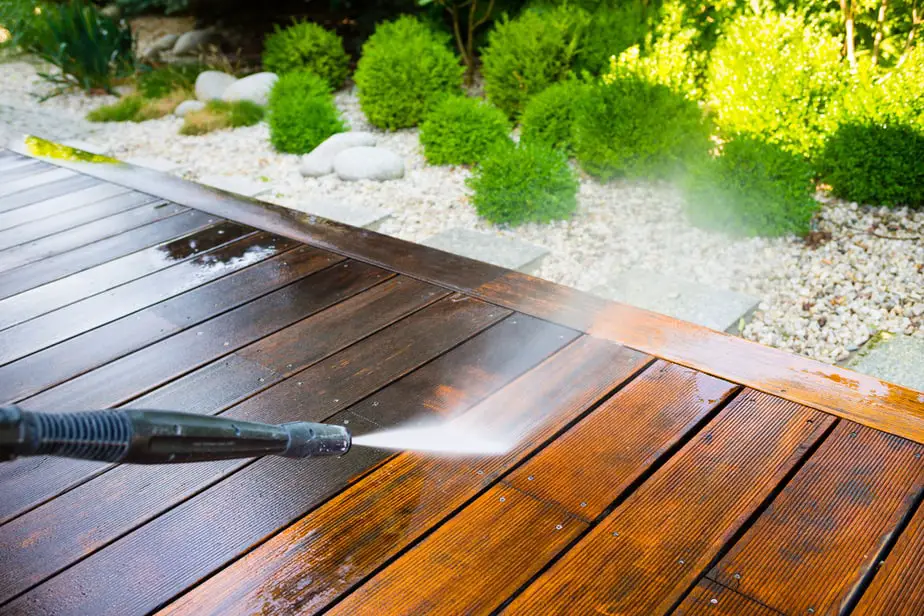 There is a stark contrast between the feelings and atmosphere that cool shades invoke versus warm ones. We prefer the latter. They set a more inviting tone. It encourages you and your guests to linger. More conversation and good times are what we want. After all, that is the purpose of contemporary deck ideas.
7. Shed Some Light on the Matter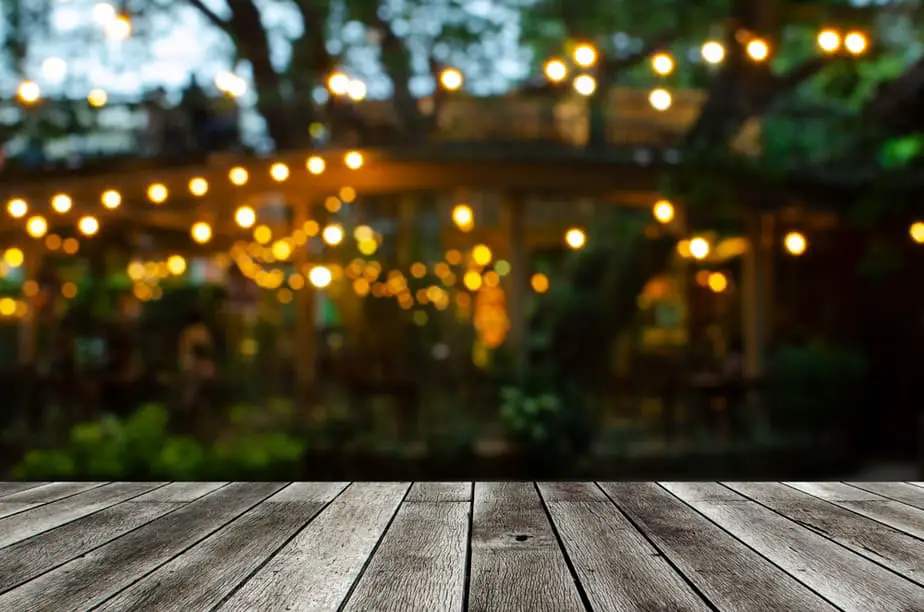 You have so many choices now with outdoor lighting. They go so far beyond the tiki torches of yore. Edison light bulbs, for example, strike the right balance between dimness and nostalgia. We find them irresistible. Solar lights are more affordable than ever. You'll find plenty of choices to light up your walkways too.
52FT Outdoor String Lights SUPERDANNY - Commercial Grade UL Weatherproof 30 Bulbs and 30pcs (6 for Spare) Edison Vintage Cable Ties for Patio Porch Garden Backyard Wedding Party
【BEST CHOICE FOR YOUR DECORATION】 This Outdoor String Lights emits warm and romantic ambience yellow light, that perfectly decorates your backyard and patio, brings your family relaxed and happy atmosphere.
【WITH UL APPROVAL & PURE COPPER CRAFT】With Commercial Grade UL Approval, the outdoor lights string's Sockets are using pure copper craft, fast conduction, low heat. Very safe for using.
【WEATHERPROOF】Our string lights for patio is Waterproof, Snowproof, Windproof, Sunproof Heat-Resistant. Safe and Durable.
【IDEAL BULB SPACE & EXTENSION CORD】 2Ft bulb space makes the decoration more charming, which will nether too bright nor too dark, brightness is most ideal. In particular, the string light is designed an Extension Cord at two ends, so that you can use it conveniently.
【WE WON'T LET YOU DOWN】Our patio lights string with high quality is very value for money. If it's not satisfied you, 60 days changing or refunding without reasons is guaranteed! Choose us, we won't let you down!
Last update on 2020-06-14 / Affiliate links / Images from Amazon Product Advertising API
---
8. Upgrade Your Grilling Game with an Outdoor Kitchen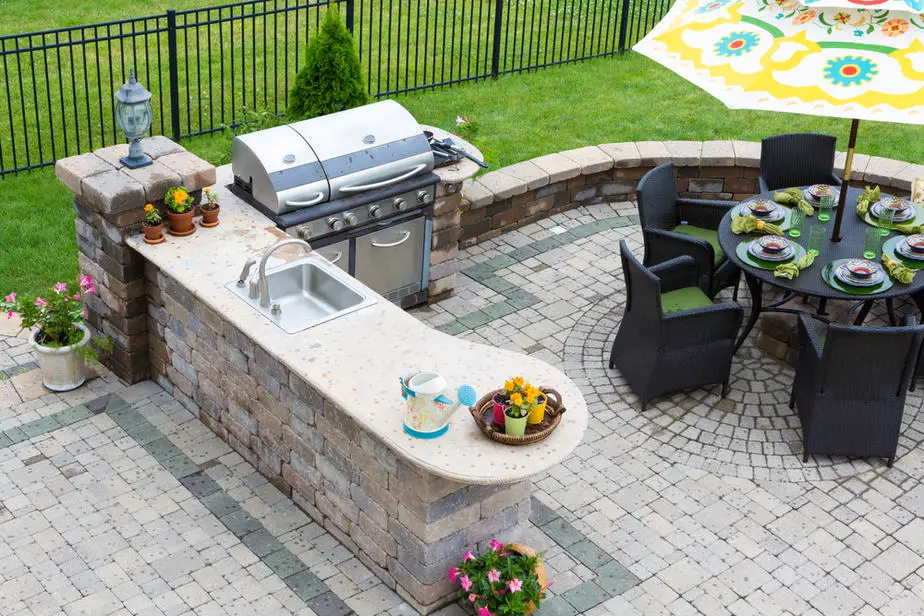 While we cherish our Weber grill. Yet, we love the possibilities that an outdoor kitchen brings to the table. Think of easier food prep. How about a greater repertoire of dishes to prepare, and more time with family and friends?
9. Make Your Deck an Outdoor Living Room

It used to be that we pulled out the lawn chairs or chaise lounge to sunbathe. Today, it's so much more. We want to get comfy and relax. Read a book. Share a cool beverage. We're all about whiling away an afternoon in style.
10. Keep Everything Open and User-Friendly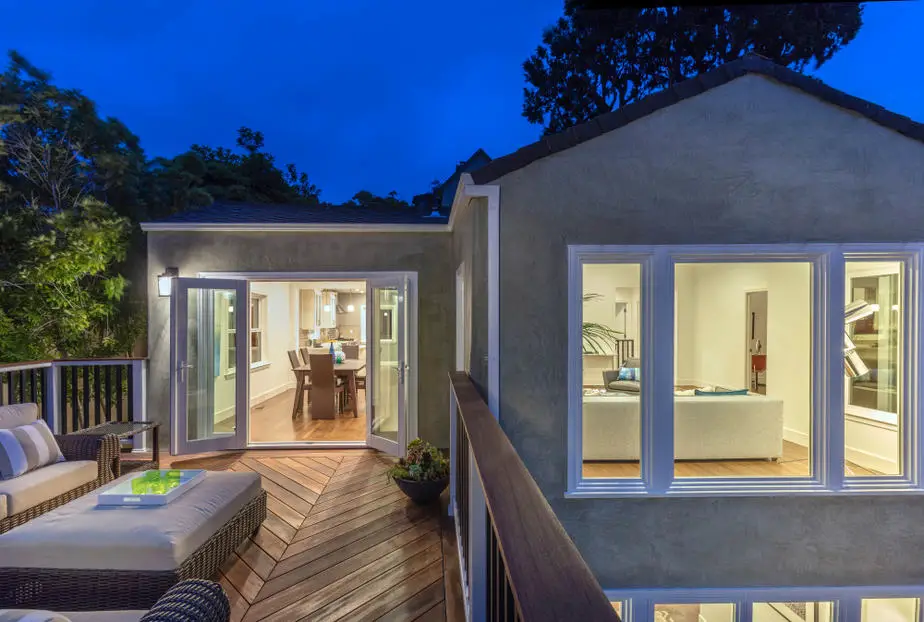 We love the idea of being able to wake up and walk right outside onto our deck to enjoy our morning cup of coffee. It probably explains why the patio and deck industry continues to grow. We are fast realizing the benefits of spending more time outdoors for our physical and mental health.
11. Bring the 2.0 Version of the Drive-in Theater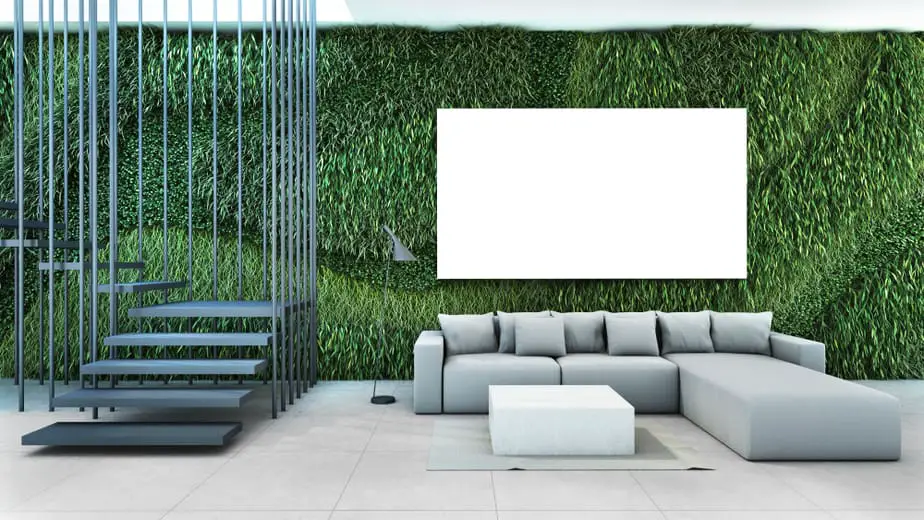 Some of our fondest childhood memories are the times we spent watching drive-in movies. We would lay on top of the family station wagon eating popcorn and drinking soda. Drive-ins are an endangered species. Yet, you can bring the experience home to your kids with an outdoor projection screen. After all, there are only 321 left in the country.
Outdoor Projector Screen – Inflatable Portable Movie Screens for Outside - Premium Grade 200 inch Diagonal (16ft) - Front + Rear Projection Package by Holiday Styling
🎬 EASY SET UP AND PACK DOWN FOR THE BEST BACKYARD MOVIE EXPERIENCE - we are the first, original, at-home, domestic movie screen family-owned business on Amazon for nearly four years. What is not to love about your very own huge inflatable movie screen in the garden to share with family, friends and neighbours? Think about school events too - how much fun! The Holiday Styling inflatable movie screens are built by hand and tested to give you years of movie and TV entertainment
🎥 MADE WITH STRONG MATERIALS FOR PARTIES CHRISTMAS BIRTHDAY FAMILY TIME - while other inflatable movie screens are loud, don't inflate properly, have seams down the middle and blow around in the wind, the Holiday Styling Inflatable Movie Screen inflates in seconds, is made with tough 600DD fabric, has a seam-free, theatre quality white viewing area and a very quiet yet powerful blower to ensure the screen stays inflated, which means you can enjoy family fun time without any worries or hassle
😃 FAMILY FUN TIME SET INCLUDES - huge black frame with sturdy, wide base to avoid any movement from wind, white screen viewing area without seams (perfect for Rear and Front projection), powerful electric blower plus pegs and ropes in case of wind but our screens rarely if ever, need these. This all means you can enjoy your movie without a loud sound and have piece of mind that this screen will reward you with years of fun as quality and premium product is our #1 priority
🎉 QUIETEST POWERFUL BLOWER FOR QUICK AND RELIABLE INFLATION - we say it takes two minutes but really it is more like one which means you can enjoy your friends and family oooo's and ahhhh's at the size and impact of this screen while you are enjoying the ease of set up. This means more time to set up your projector and speakers ready to tune into the latest movies, TV, Netflix, Amazon or Stan
🍿 OUR COMMITMENT FROM HOLIDAY STYLING - customer satisfaction is our priority and all our products come with quick friendly customer service, a guarantee of quality or your money back ….. order now to start enjoying
Last update on 2020-06-14 / Affiliate links / Images from Amazon Product Advertising API
---
12. Light the Home Fires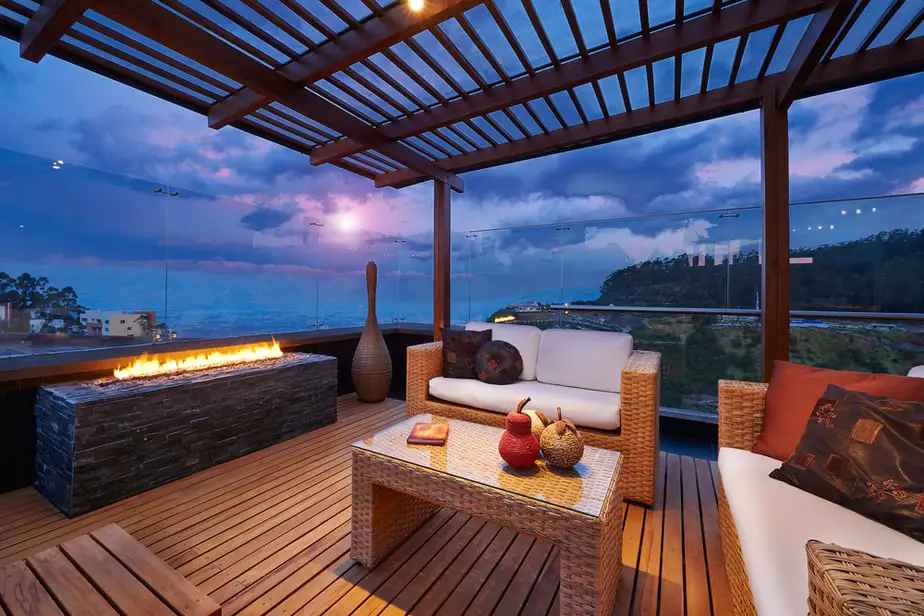 Fire, like water, taps into the core of our being. Grilling is enjoyable. However, there's something special about hanging out around a campfire. It draws us closer. Temporary spins on a fire pit make it safer. New products are more decorative too. Today, they are a necessary element to any contemporary landscaping.
13. Make it Private

They say that fences make good neighbors. But, they also send a negative message. A much kinder solution is shrubbery. You get your privacy without coming across as the neighborhood crouch. We love the natural option for that closer connection to nature.
14. Make it Romantic with a Hot Tub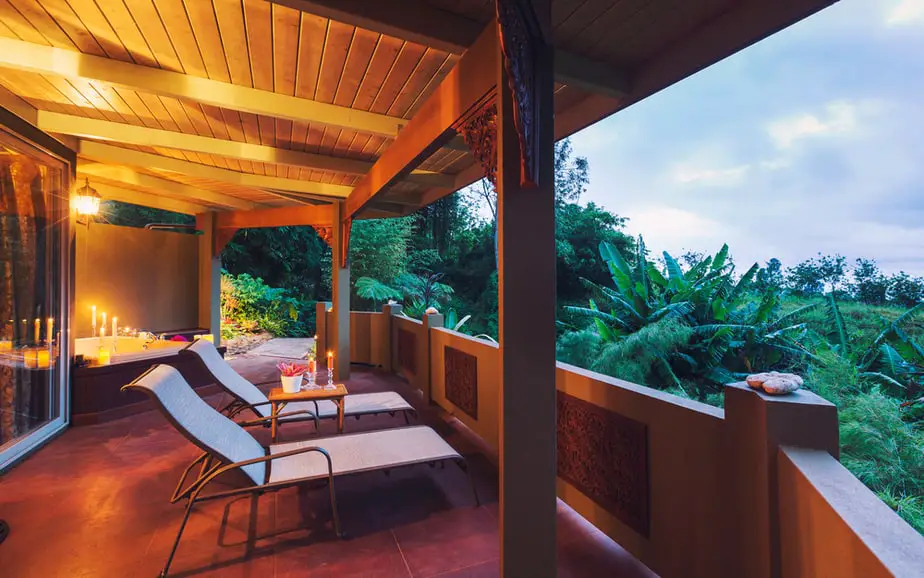 What better way to wind down after a long day at work than to slip into a hot tub? Let your worries melt away with the bubbles. Add some romantic lighting. Then, you'll have your private spa. Think of it as a place to retreat whenever you need a break from the hustle and bustle of everyday life. About 17 percent of millennials own a hot tub, and the numbers keep growing. There's a good reason why the industry continues to expand.
15. Look Up for Possibilities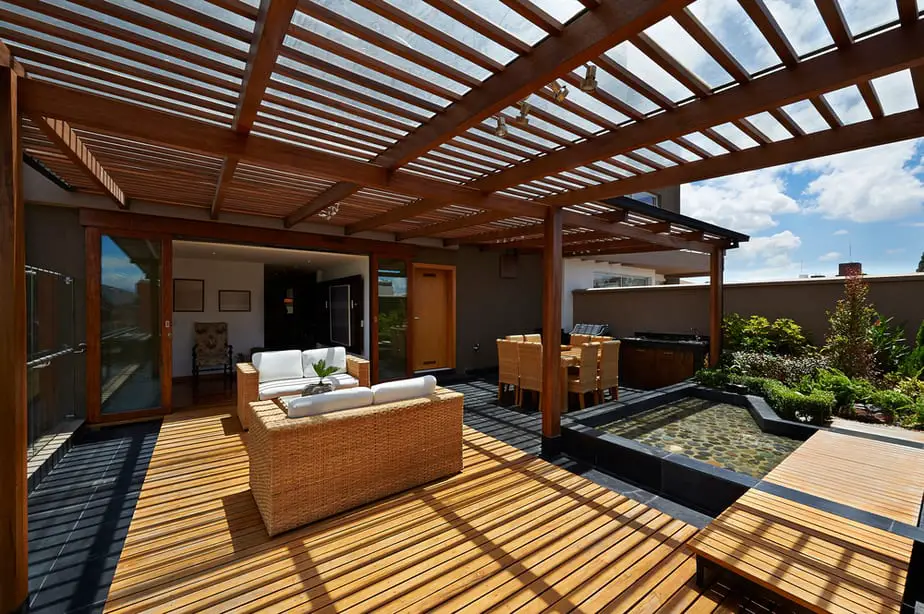 An arbor or pergola offers wonderful ways to add a focal point. We love the greenery they bring to a deck. They'll also provide shade to keep your cool on those hot summer days. Besides, they look stunning. They also add interest. They create multiple layers in your landscaping.
16. Make a Water Feature Part of Your Contemporary Deck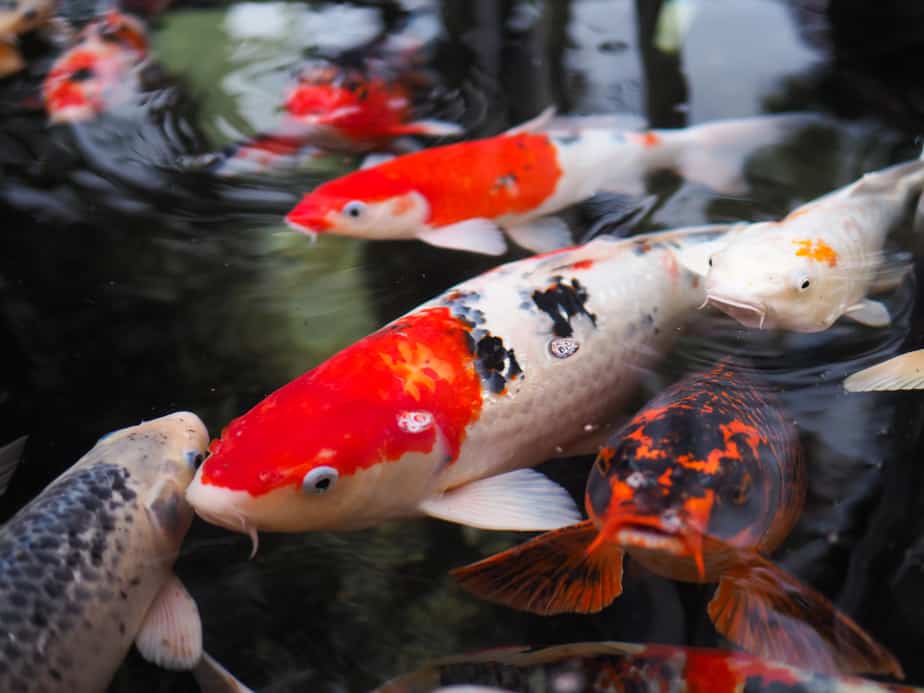 We are huge fans of water features. Humans have an affinity for water. It's like our mother calling us home. If you add a waterfall, you have an instant source of white noise. And there's nothing more relaxing than staring at a pool of koi swimming in a pond. A nap on a hammock anyone?
Patio Watcher 14 FT Quick Dry Hammock with Double Size Solid Wood Spreader Bar Outdoor Patio Yard Poolside Hammock with Chains, Waterproof and UV Resistance, 2 Person 450 Pound Capacity
Dimensions: Patio Watcher hammock is large enough to accommodate 2 person. The hammock bed size is 77 inch x 55 inch (195 cm x 140 cm), 11.25-foot from loop to loop, the total length is 14-feet with the steel chain link. This hammock is comfortable and high quality, it's designed to safely support a maximum capacity of 450 pounds.
Durable Fabric: This Hammock is made of Textilene material that is soft, breathable, comfortable, weatherproof and oil proof. The fabric is vinyl coated for easy clean up and dry quickly.
Easy to Use: There is a long wooden bar at each end with drilled out holes spaced throughout for the support ropes to go through. Each rope is super thick and braided for maximum durability and support. The 20 ropes collect together and weave into a very pretty triangle pattern, which attaches to a ring and the chain-link can be used for hanging the hammock.
Wide Use: This rope hammock can be hung indoor or outdoor, it's perfect for patio, garden, backyard, poolside or balcony when you reading, relaxing or sleeping. It offers many ways to lay or sit in it,with zero pressure on whole body. You can enjoy it with your family or your friends. It also makes an awesome gift for anyone.
Reliable customer service: Every purchase is backed with a 100% Satisfaction. PATIO WATCHER offers THE BEST VALUE. If for any reason you are unsatisfied, just let us know and we'll fix it. We are here to make sure that you are satisfied.
Last update on 2020-06-14 / Affiliate links / Images from Amazon Product Advertising API
---
17. Create Multiple Levels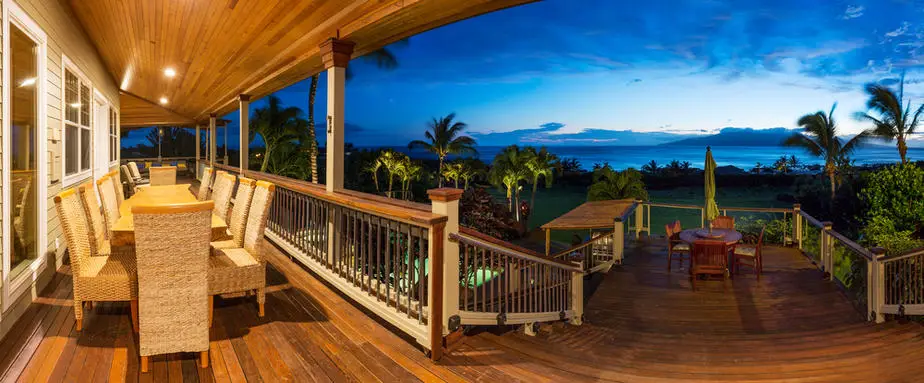 There's no rule that says a deck has to be only one level. Take advantage of the vertical and horizontal spaces. Create a few different landings for private gatherings and multiple uses. It'll make it more interesting and inviting.
18. Make Your Deck Your Private Bar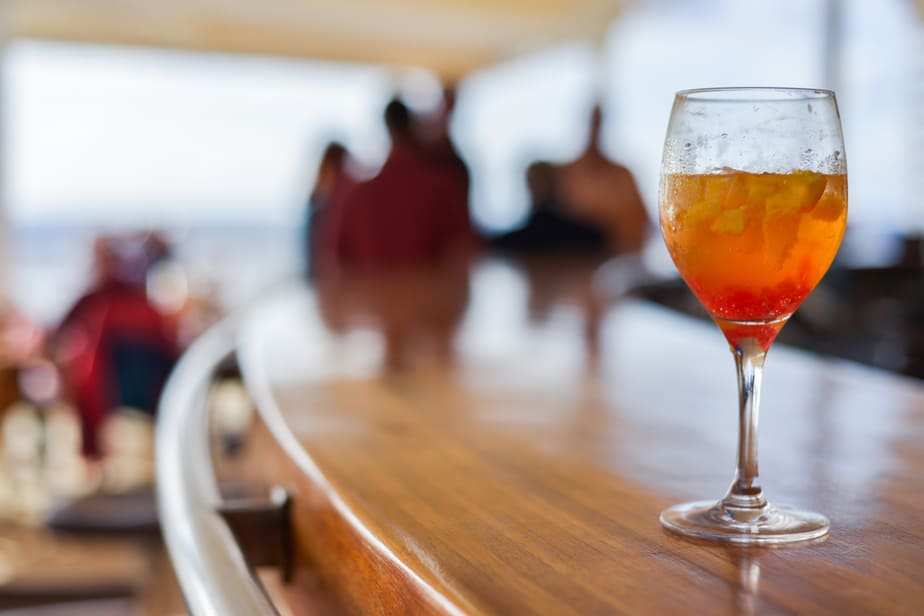 Putting an outdoor bar on your deck is an excellent way to extend your entertaining options. You can give a tiki theme for a tropical feel. Or stick with something more traditional. Add a refrigerator or wine cellar, and you're good to go!
NutriChef 15 Bottle Compressor Cooler Refrigerator Red and White Wine, Champagne Chiller, Counter Top Cellar, Quiet Operation
PERFECT WINE STORAGE With its 15 Bottle storage capacity this wine cooler unit is perfect for chilling and storing 15 bottles of red or white wine Equipped with an accurate precision compressor cooling technology adjustable temperature control integrated LED lights and built-in circulation fan and ventilation grill
COMPACT & DECORATIVE DESIGN With its reinforced glass door with air-tight seal this 15-bottle compressor beverage refrigerator gives you a compact and modern design perfect for your living room home office or kitchen It has a freestanding design for floor table or countertop placement
PERFECT IDEAL TEMPERATURE – Control the exact temperature of your compressor wine cabinet for short & long term in a consistent stable temp environment with an adjustable digital touch-button display for Celsius or Fahrenheit ( Temperature Range 54 - 64° )
ULTRA QUIET OPERATION Equipped with an advanced cooling system that will keep your beverages at the right temperature without making a noise Vertical and Horizontal Shelving
GET IT WITH CONFIDENCE This premium wine cooling unit is backed by a 1 year quality of complete satisfaction This way you can rest assured that your precious wine collection will remain safe and protected for years to come With nothing to lose order yours today and chill your wines in style!
Last update on 2020-06-14 / Affiliate links / Images from Amazon Product Advertising API
---
19. Bring Your Deck Alive with Plants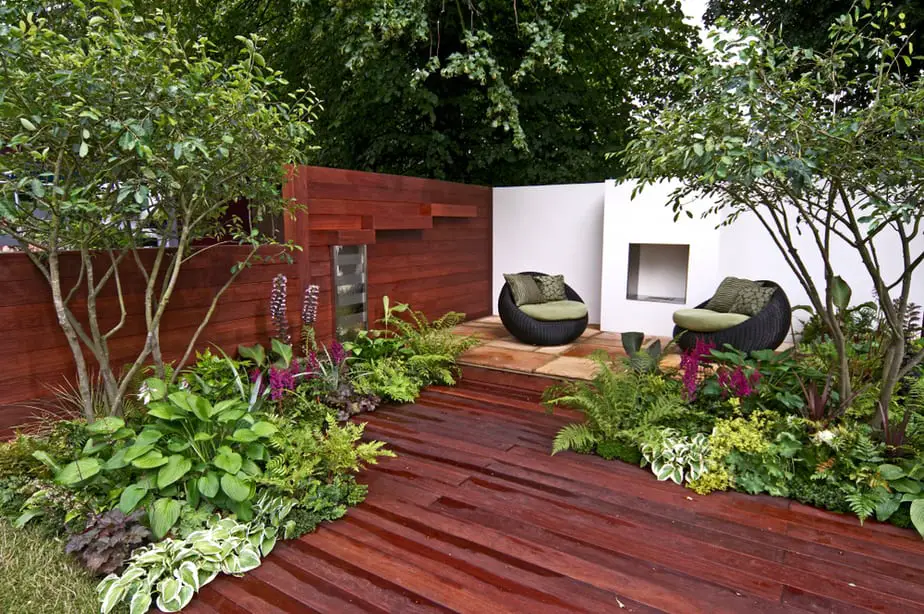 They say that paintings and plants make your home, home. They do the same for your deck too, at least when you add living things. We suggest that you choose native species. It is the hottest trend, according to the American Society of Landscape Architects. They are low maintenance. They can also handle whatever weather comes your way. We recommend using ones that you can bring inside to overwinter. That way, you have them for next year. 
20. Add a Swimming Pool to Your Contemporary Deck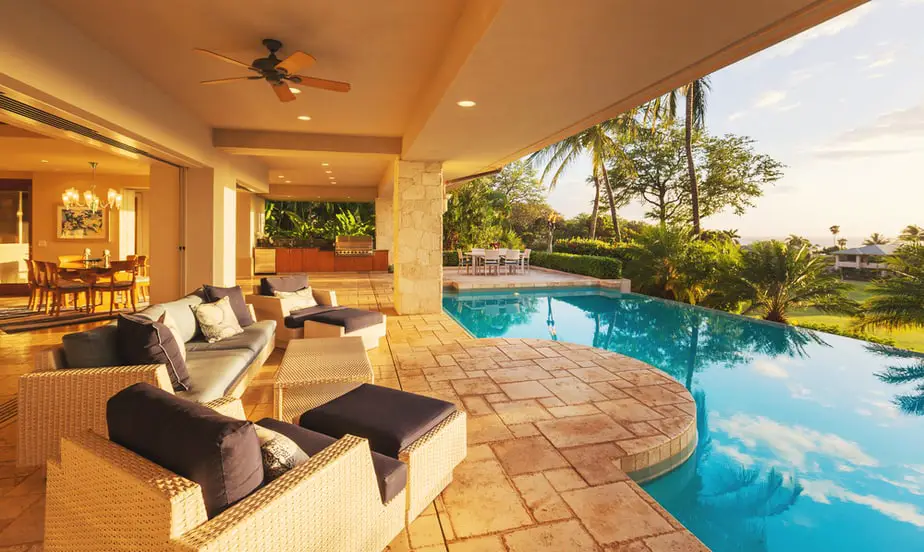 Make a swimming pool a part of your deck for a quick dip to cool off during those sultry summer nights. Experiment with different shapes. Curves add a relaxed feel, for example. Make it a focal point. You'll have good company too. There are over 5 million in-ground and 3 million above-ground pools in the United States, according to the Association of Pool & Spa Professionals.
21. Screen-in a Portion of Your Deck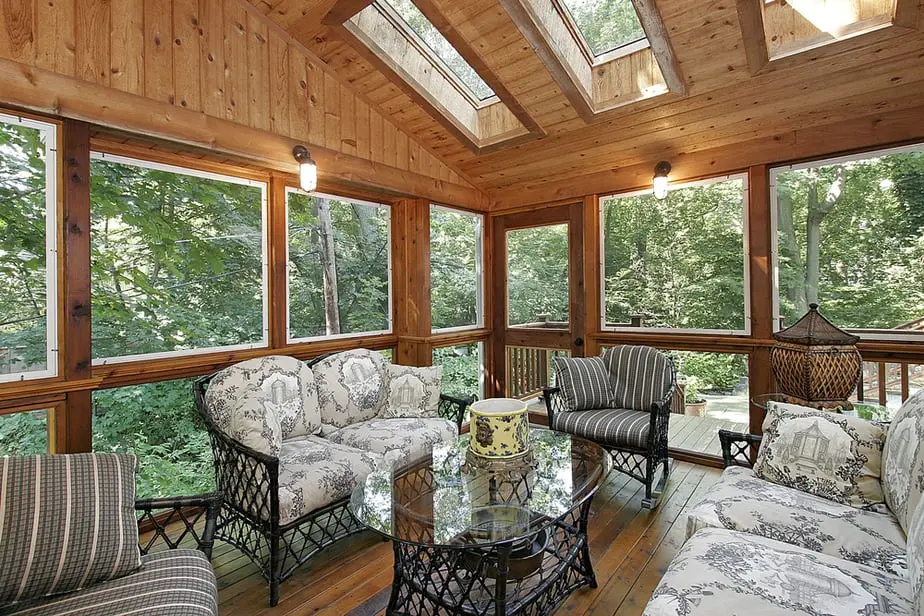 Don't limit your time enjoying your deck to the summer. Add a screen-in part so that you can use it all year. Who says you can't have grilled hotdogs and hamburgers for dinner in the middle of winter? Americans are warming up to the idea of grilling anytime. Nearly one-quarter barbeque for their tailgating celebrations for the Super Bowl.
22. Build a DIY Jungle Gym for Your Kids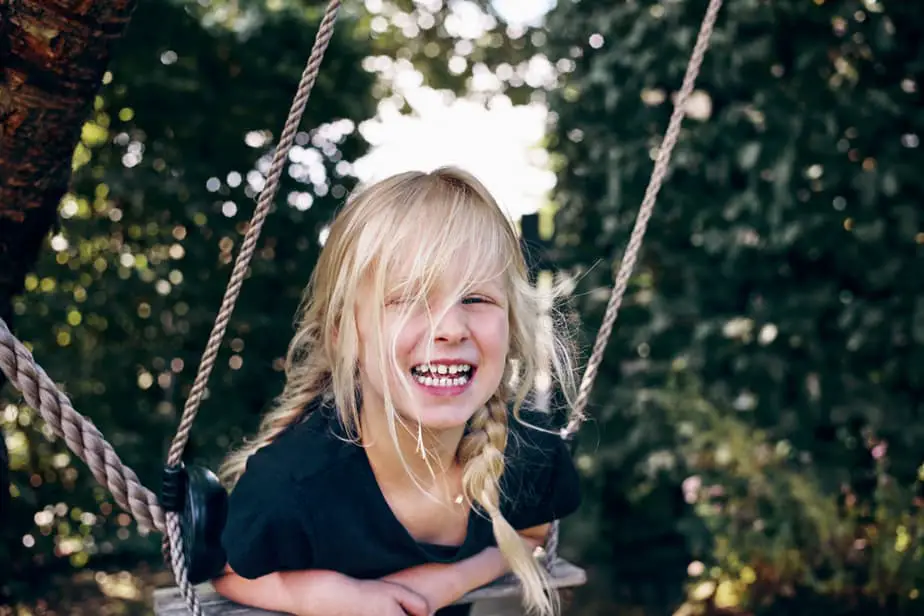 The store-bought ones are fine. However, nothing says love like a homemade jungle gym. Of course, there are all the necessary swings and toys. You can find free plans online or at your local home improvement center. You can put it in a designated kid area. That way, they have their own space too.
23. Opt for Composite Materials Instead of Wood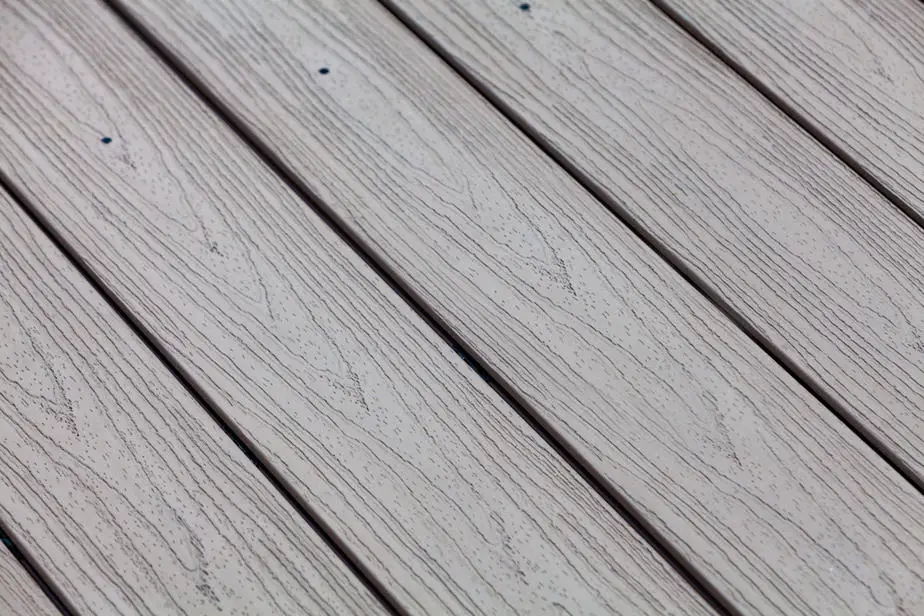 Wood, of course, is the classic choice for contemporary deck ideas. However, composite lumber has a lot to offer. It's low maintenance. That means that you don't have to stain it every year. It also won't splinter. Availability has increased in recent years. You'll find more kinds of materials too, making it one of the most popular trends in outdoor living spaces.
Final Thoughts
The way we use our outdoor spaces continues to evolve. No longer is it just the place where kids play. It's the domain of the entire family. There are new options to entertain and enjoy being outside in the fresh air. The most popular contemporary deck ideas reflect this change in our thinking. They show it in gorgeous and practical ways.