There's nothing quite like watching your favorite film or TV series under the stars. Having a movie party outside is a great way to get the whole family out of the house to enjoy some quality time in the fresh air. But you don't have to watch your favorite movie through the windows into your living room. The best outdoor movie screens can let you bring your media outside, and without a drop in quality. Combined with a great projector, you can make an epic home theater right in your backyard! Finding the best outdoor movie screen doesn't have to be a pain. In our comprehensive guide, we'll explain what the best screens are and how to find them.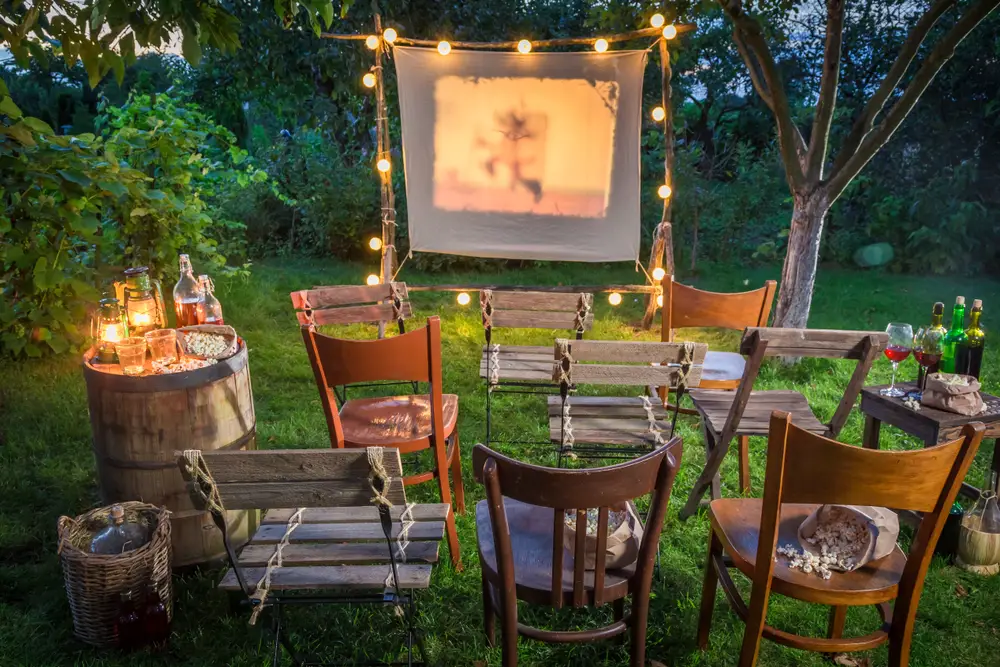 Let's get started.
In a Hurry? Here's Our Top Picks…
1. Elite Screens Yard Master 2
Sale
Elite Screens Yard Master 2, 120-INCH Outdoor Indoor Projector Screen 16:9, Fast Easy Snap On Set-up Freestanding Portable Movie Screen Foldable Front Projection, OMS120H2
【120 inch Freestanding Portable Projector Screen】 This projector Screen is 120-inch Diagonal, 16:9 Aspect Ratio. View Size: 59 inch H x 104.7 inch W Overall Assembled Size: 88.9 inch H x 109.8 inch W x 36.7 inch Leg Size. Silver Aluminum Frame
【Amazing Visual Feast】CineWhite UHD-B (Tensioned Matte White) 1.3 Gain.4K Ultra HD and Active 3D Projection Ready; Features 180 degree viewing angle with fully Black backed Front Projection. ISF, Accurate color points Dynamic Range Color Temperature
【Easy Set up& Clean】 Assembles in minutes without the use of tools Lightweight aluminum square tube construction easily transports included padded carrying bag; Easy clean with soap water; Compatible with short-throw and ultra-short-throw projectors
【Features & Includes】Features a fully tensioned snap button frame that ensures a flat projection. Includes single-piece aluminum frame with Detachable T-Legs could increases stability,carrying bag,ground stakes,rigging cord,and support rings
【US Based Company Warranty】 2-Year/3-Year ENR-G Manufacturer's Warranty by Elite Screens if purchased NEW, an ISO9001 manufacturer since 2004 and Lifetime Tech Support by Email or Phone Call by Elite Screens' Professional Service Team
Last update on 2023-09-25 / Affiliate links / Images from Amazon Product Advertising API
This giant screen has everything you need for a larger movie viewing party. At 120 inches across when measured diagonally, it's got plenty of room to depict your favorite movies in high resolution when combined with a capable projector.
The screen material is white with 1.1 gain. It's capable of reflecting light so vibrant that it will work during the day and nighttime alike. Its material is mildew resistant and it's easy to clean with soap and water if it becomes dirty overnight. All of this is great for film lovers who want to relax, not have to squint at their screen to see what's happening.
The screen features a 160° viewing angle, and the screen material is black-backed and durable. The screen is mounted on a sturdy frame made from lightweight aluminum square tubes. You can easily transport these from backyard to backyard with the included carrying bag.
Despite all the included pieces, you can assemble things in just minutes without needing extra tools. The main aluminum frame is made from a single piece of material and collapses down for storage purposes.
In this way, it combines the portability and convenience of an inflatable frame with the stability and durability of a fixed frame.
All in all, this outdoor movie screen has all the advantages you could want when viewing a film outdoors.
Pros:
Easy to clean and store
Easy to assemble
Great material and gain
Wide viewing angle
Cons:
Can blow over in high winds easily
Check Price and Reviews on Amazon
---
2. Mdbebbr 120-Inch Projection Screen
Sale
Mdbebbron 120 inch Projection Screen 16:9 Foldable Anti-Crease Portable Projector Movies Screens for Home Theater Outdoor Indoor Support Double Sided Projection
CONVENIENT TO STORAGE AND CARRY - Compact one-piece,lightweight and folding design. You can fold the screen in small size and put it in your backpack or suitcase
WIDE APPLICATION - Ideal choice for home theater movie,office,education, conference room presentation, public display, outdoor movie and more
ANTI-CREASE AND HIGH ABSORBANCE MATERIAL - Made with natural Polyester fabric that The projection is sharper and brighter than most other projection screens, The Projection Screen are thicken and smooth, no wrinkle when folded / crushed.
EASY TO SET UP – The Projection Screen can be fastened easily with hooks, ropes, bracket, nails, double side tape on the wall/mount.
FORMAT AND SIZE - 16:9 screen format, diagonal 120" offer 104" x 58" viewing area
Last update on 2023-09-25 / Affiliate links / Images from Amazon Product Advertising API
This is another fixed frame screen. But it doesn't feature a stand that elevates it above the ground. Instead, this screen is meant to be mounted on a wall or fastened to the ceiling using hooks or nails. As a result, the frame comes as a single piece of lightweight and folding material. It's not inflatable, but it's not as sturdy as a fixed frame screen, either.
Instead, the material is crease-averse and can absorb and reflect light capably. The material is an all-natural polyester fabric that provides a sharper and brighter light reflection than many other fabric screens. The anti-creasing design ensures that no wrinkles will be present as you view your movie. Even with these features, you can clean the fabric without damaging it, as well.
Set up is a breeze thanks to the evenly spaced hook holes strategically positioned along the border of the screen. The screen is prepared for 16:9 projectors and offers a 160° viewing angle. This superior angle makes it a great choice for larger movie parties. The black border around the edge of the screen makes it easy to set up your projector at the ideal projection distance, as well.
Pros:
Very easy to transport
Made of a single, washable piece of fabric
Comes with convenient hanging holes
Exceptionally wide viewing angle
Cons: 
Have to have a spot to hook or hang it
Gain is 1.0 at best
Check Price and Reviews on Amazon
---
3. Jumbo 20 Feet Inflatable Outdoor and Indoor Theater Projection Screen
Sale
KHOMO GEAR 20 ft Outdoor Projector Screen - Supports Front and Rear Projection - Includes Inflation Fan, Tie-Downs and Storage Bag - Inflatable Projector Screen
✅ Bigger Screen Size than Similar Products - The Screen Size is 13 feet by 8 feet with an aspect ratio of 16:9. Bigger than most competitors selling blow up projector screen for outdoor movies
✅ Front and Back Projection Capabilities - Stunning Front & Rear Projection Material Accommodates Placement of the Projector Behind or in Front of the Screen Allowing for Greater Flexibility
✅ Less 5 Minutes to Setup - This Outdoor Movie Screen Has the Quietest and Most Powerful Blower On the Market - No Screws or Tools Needed - Everything is Included Inside the Box
✅ Quick 5 Minutes to Store - Unzip the Zipper Located in the Black Frame and in a few Minutes it Will Deflate and be Ready to get Stored Inside a Convenient Included Storage Bag - The Black Frame can be Wiped Clean With any Cloth, While the White Screen is Held on by Velcro and it's Fully Detachable and Easy to Clean
✅ Awesome Inflatable Projector Screen for Outside - Bring your Family and Friends Together for a Night of endless Fun in your Backyard, Great for tailgates and camping adventures
Last update on 2023-09-25 / Affiliate links / Images from Amazon Product Advertising API
This inflatable outdoor movie screen takes less than five minutes to fully set up. It comes with the blowers you need to fill its whopping 20-foot across frame. This frame size provides you with plenty of space to view your favorite movies or shows. Do note, however, that the actual screen size is closer to 15.5 feet diagonally.
The included electric blower is quiet, so you won't be annoyed as you fill the screen with air. Once filled, it's fairly heavy. This means that you won't need to normally worry about the screen flying away, even with heavy winds. The frame comes with several ropes and plastic stakes to further secured to the ground. There's even a handy carrying bag with which you can store the accessories for organizational purposes.
However, the frame's construction is vulnerable to physical damage. Be sure to use the screen on a flat surface that is not filled with rocks or other sharp objects that could puncture the frame.
The screen is decently radiant and doesn't allow through ambient light from the back. As such, it's a great outdoor movie screen for watching films or TV shows in the brighter daylight hours.
Pros:
Easy to set up and store
Doesn't run the risk of falling down
Inflating fan is quiet
Doesn't allow ambient background light through
Cons:
Frame isn't that tough
Screen viewing angle isn't the best
Check Price and Reviews on Amazon
---
4. Abdtech 100-Inch Projector Screen with Stand
Abdtech 100 inch Projector Screen with Stand,Portable Wrinkle Free Outdoor Movie Screens 4K HD Rear Front Projections Movies Screen with Carry Bag for Indoor Home Theater Backyard Cinema Travel
Wrinkle Free Outdoor Movie Screen With 100-inch Diagonal, 160° Wide Viewing Angle, Gain 1. 1 and 16: 9 aspect ratio, 100inch projection screen has made of high-quality polyester & spandex material , thicker than other average screens. Foldable movie screen greatly ensure the image clear and sharp, more life-like, no blurry. Screen has soft and smooth touch feeling, which make you more pleasure not easy to mildew, Meanwhile, supporting front and rear projection.
Unique Screen Edge Design 3-side black border adopt hollow design convenient for posts insertion. Projector screen will be greatly maintained itself flatness, no waves and wrinkles. When any breeze blows over and the screen can't easily be deflected. This design will increase its the whole screen's stability and benefit for fast installation. No any complicated process of fixing outdoor movie screen.
High-Quality Accessory Portable Projection Screen comes with several Lightweight aluminum poles. It don't easily be rust or distorted. Deeper plastic joints can be perfectly insert into aluminum poles with a tight fit to avoid loose. Two oblong base with 4 fixed posts greatly make the stand very sturdy. Its base will take less rooms on its behind but meanwhile no lessen its stability.
Lightweight And Easy To Carry Rear projection screen with stand has weight of 5. 7 lbs. You can hold it on one hand or put travel bags on your shoulders, easy to carry in anywhere you want and pack away. It is very portable and takes less space. You can put it in the car trunks for travel. Better enjoy an exciting movie with 4k ultra HD home projector when at outdoor. Compatible indoor with outdoor use. Great gift ideas on Birthday, Fathers day, Valentine's Day, Christmas and so on.
Easy To Install Within 5 Mines No screws, no strings, only several kinds of accessory, enough to fatly and firmly set it up. You don't need to do research or buy for extra accessory. Two people work together can finish assembling within 5 mines. Great for rapidly transfer place with less time. If the foldable projector screens get dirty, you can wash it and then hang it up. ( Size of projector screen is 93. 7 X 55 inch, the whole height of screen from ground is 88. 1 inch )
Last update on 2023-09-25 / Affiliate links / Images from Amazon Product Advertising API
This projector screen offers 100 inches diagonal and an excellent 160° viewing angle. It's one of the best outdoor movie screens for larger parties or for setups that require the audience to be spread out. The screen is made from a polyester and spandex material. This material is thicker than most other screens and it allows for bright image quality.
The screen is further bolstered by a three-sided black border. This is perfect for setting up your projector and identifying the best distance at which to position it.
The screen is supported by lightweight aluminum poles that do not rest or distort very easily. However, these stands are not incredibly well supported. The movie screen stands a chance of tipping over under heavy winds or someone bumping into it. Keep this in mind when determining where you want to set it up.
When it's time to take the screen from place to place, you can fold it up since the frame and fabric are connected to a single piece. It's easy to carry and only weighs 5.7 pounds in total.
Pros:
Very good screen size
Wide viewing angle is good for large groups
Easy to transport from place to place
Durable screen material prevents it from breaking easily
Cons: 
Can be knocked over more easily than some other screens
Check Price and Reviews on Amazon
---
5. Camp Chef Outdoor Big Screen
No products found.
This outdoor movie screen is ideal for campers. It's set up by driving the border stakes into the ground rather than relying on unsteady platforms. This makes it ideal for positioning on uneven terrain or bumpy ground like the kind you might find at a typical campsite.
The movie screen has a black-backed design. This blocks out ambient light from the rear and improves the light reflective abilities of the main fabric. The screen reaches 144 inches diagonal when fully extended, so it's ideal for larger groups and smaller families alike.
Setup normally only takes a few minutes. The purchase also comes with several guiding lines for anchoring or stabilizing the frame. You can pack everything into the included carrying bag when it's time to transport it to a new location or store it.
Overall, the ability to position this screen virtually anywhere makes it the best choice for off-road movie watchers. It's not the best in terms of screen gain, but you'll be able to enjoy most movies well enough with its quality.
Things We Like
Excellent setup style
Can be positioned just about anywhere
Large viewing screen and angle size is good for groups
Comes with convenient carrying bag
Things We Don't Like
Screen gain could be better
Check Price and Reviews on Amazon
---
What You Should Look for in an Outdoor Movie Screen
When you're looking for the ideal outdoor movie screen for your next showing, keep these key aspects in mind to help you identify the perfect screen for your needs.
Viewing Angle
The viewing angle is of critical importance. This measures how far to the left or right a viewer can sit and still view a video properly. The wider the viewing angle is, the farther to the left or right someone can sit and still enjoy a film.
The viewing angle is partially dictated by the material of the movie screen and how light is reflected on the screen itself. Subpar movie screens may do a poor job of reflecting light to the sides, so only those sitting near the center of the viewing angle will get a good look at the movie. Try to avoid these screens if you plan to have large movie parties with tons of guests.
For larger parties, try to pick an outdoor movie screen that has a wide or high viewing angle. If your outdoor movie screen is only going to be used by a few people or is large enough that everyone can roughly sit "in the middle", then a lower viewing angle is acceptable.
Material
The fabric material for the movie screen can dictate how well light is reflected at various angles and can change the effectiveness of the movie screen. The fabric also affects the ultimate resolution of the movie that you project, regardless of its native resolution from the video file.
In addition, the material color of the screen can affect the contrast levels of the images depicted on its surface. White screens are ideal for most movies, as they provide decent contrast for most colors across the spectrum. But gray screens can also be a good choice if you plan to watch dimly lit movies or films with lots of darker tones.
Gray screens are also a good choice if you plan to use your outdoor movie screen during the daytime. White movie screens during daylight hours can be too bright and lead to a subpar movie image. But keep in mind that gray screens need more powerful movie projectors to depict white colors in their full vibrancy.
Find black-backed screens to avoid ambient light from shining through and ruining the intensity of your image. Black-backed is always better than not.
Gain
The "gain" of an outdoor movie screen is also essential to consider. The gain of a movie screen measures how reflective a movie screen fabric is.
A gain of 1.0 should reflect all light aimed at the surface of the fabric with the same intensity or brightness that it had starting out. Gains of higher values, of course, will reflect an image that is brighter than the initial light's brightness from the projector. Naturally, gains with lower values will reduce the overall brightness of the image.
This isn't to say that a higher gain rating is always better. It depends on the ambient light level at the time of your film showing. Daylight hours require higher gain ratings since the ambient sunlight will likely wash out the colors and intensity of a regular movie projector. But nighttime screens might be fine with a darker gain rating, and this is often more affordable.
Still, most outdoor movie screens have a gain rating of about 1.0 as a standard. Try to find a movie screen with this gain rating if you aren't sure when you'll use the screen or if you plan to use it both during daylight and nighttime hours.
Screen Size
Screen size is just as important for an outdoor movie screen as it is for a regular television. But keep in mind that bigger is not always better.
Larger outdoor movie screens have an advantage in that more people can sit within the optimal viewing angle and see the movie in the best way. But smaller outdoor movie screens can concentrate the projected image in more detail and with higher resolution.
Big outdoor movie screens must disperse the projected film images in order to fill the borders of the screen. This necessitates a lower resolution or fewer pixels per inch. The resulting movie will be blurrier than one projected on a smaller outdoor movie screen.
You should try to determine where to sit based on the size of your movie screen. 1080p movie projectors normally assume that the audience sits 1 to 1.5x the size of the screen away. In this case, you would measure the size of the outdoor movie screen by calculating its diagonal distance.
Alternatively, multiple the viewing height of the screen by three. Divide this by twelve to get the ideal viewing distance based on the screen size.
However, 4K Ultra HD movie projectors are so good at providing optimal imagery that you can sit the same distance from the screen as its size when measured diagonally.
Type: Fixed or Inflatable?
Finally, consider whether you want a fixed frame or inflatable outdoor movie screen.
Fixed frame outdoor movie screens are closer to regular televisions and are either hung on a wall or rest on a stand or legs. These are easy to keep steady but are usually heavier than inflatable screens and are often more vulnerable to sun or moisture damage. But fixed frame movie screens never run the risk of accidentally deflating throughout a film.
Inflatable movie screens are very convenient to use. Setting them up only takes a few minutes and you can deflate them for easy storage when they are not in use. Most inflatable movie screens come with the blowers required for inflation.
But while they are lightweight and easy to maneuver, they are easy to damage physically, especially if you set them in your yard. If even a tiny hole appears in the frame, the movie screen will deflate over time. You'll need to keep a sharp eye out for damages and repair them quickly if you use the screen frequently.
Setting Up Your Outdoor Movie Screen
Here are a few tips related to setting up your outdoor screen and projector.
When placing the outdoor movie screen, make sure that the screen doesn't face any direct light source (aside from the projector). This will improve the quality of the final image. You should also consider where the projector will be set up. Remember the most projectors require access to a power outlet, so this might limit your overall options.
Remember to set up the projector while leaving room for the audience. Calculate the ideal distance for viewing based on the screen size as we described above. Then place the projector once you have a rough idea of where your audience members will be sitting.
Finally, consider placing a cover of some kind over the movie screen if you expect light rain or sprinkling.
Best Outdoor Movie Screen Brands
Here are 5 of the best outdoor movie screen brands.
Elite Screen: Elite Screen has been in this business for some time. They make home and move projection systems, and quality screens to display them with.
Mdbebbr: Mdbebbr specializes in movie screens of all shapes and sizes. They're known for their variety in selection, as they have a screen for virtually any purpose.
Khomo Gear: Khomo Gear focuses on outdoor furniture and accessories. They offer several other inflatable accessories, such as chairs or swings.
Abdtech: Abdtech focuses on projectors more than screens, but that just means they know what to put in their own products.
Camp Chef: Camp Chef doesn't just make outdoor movie screens. They also provide camping materials for a variety of adventures, so they know exactly what it takes to make an outdoor-worthy piece of equipment.
FAQs
What else do you need to know about outdoor movie screens? Here are some answers to common questions.
Q: What Screen is Best for My Projector?
A: This depends on the aspect ratio that your projector operates with. HD TV movie projectors usually project with an aspect ratio of 16:9. This is extremely common for most forms of visual media. This projector requires a standard widescreen outdoor movie screen and most movie screens already support this aspect ratio out of the box.
Projectors with an aspect ratio of 4:3 are better for laptop or tablet-originated media. If your projector has native SXGA+, XGA, UXGA, or QXGA resolutions, find an outdoor movie screen that is more like a square presentation screen that you find in classrooms.
Q: How Far Should My Projector Be From My Screen?
A: This distance (also called the "throw distance") can usually be determined by trial and error. Before sitting your audience down for the movie, turn your projector on and run a few test clips. Feel free to maneuver the projector until you can balance the projector's image so that it is within the borders of your screen.
Keep in mind that your projector can't be too close, either. This will result in a blurry image or an image that doesn't cover the entire screen.
Q: Can I Use a Tripod Mount for my Screen?
A: Not generally. Most outdoor movie screens require dedicated mounts to remain stable.
Q: Can I Use My Outdoor Movie Screen During the Brightest Time of Day?
A: You can, but it may be difficult to achieve an optimal image during this timeframe. If you plan to use an outdoor movie screen during the brightest parts of the day frequently, we'd recommend going for a high lumen projector and a high gain screen.
Q: Where Should My Speakers Be?
A: Most speakers will deliver audio more effectively if they sit around or in front of your outdoor movie screen. Placing them behind the movie screen will result in muffled sound and a subpar audio experience.
Wrap Up
Overall, the Elite Screens Yard Master 2 is the best of the best. If you're having an outdoor movie party in a standard back yard, you can hardly go wrong with this pick. Its ease of use, excellent viewing angle, and high grain rating make it a prime choice for quality movie viewing.
Alternatively, campers will want to pick the Camp Chef Outdoor Big Screen since it's perfect for uneven terrain. If you're having your party on a patio, consider the Mdbebbr 120-Inch Projection Screen. This is a perfect choice if you already have a bare wall waiting to be put to good use.
The best outdoor movie screen all depends on you! Pick the one that's right and you'll have a great time. After you get your outdoor theater created, check out some more backyard landscaping ideas. Good luck!