If you are thinking about ways to make your backyard an epic retreat, then you should definitely consider investing in an outdoor projector. Whether you want to invite the neighborhood to a super bowl viewing party, or a host a movie night under the stars, owning an outdoor projector is a great way to liven up your backyard. If you think you may use your outdoor projector often, you may consider adding a customized staging area to display the video.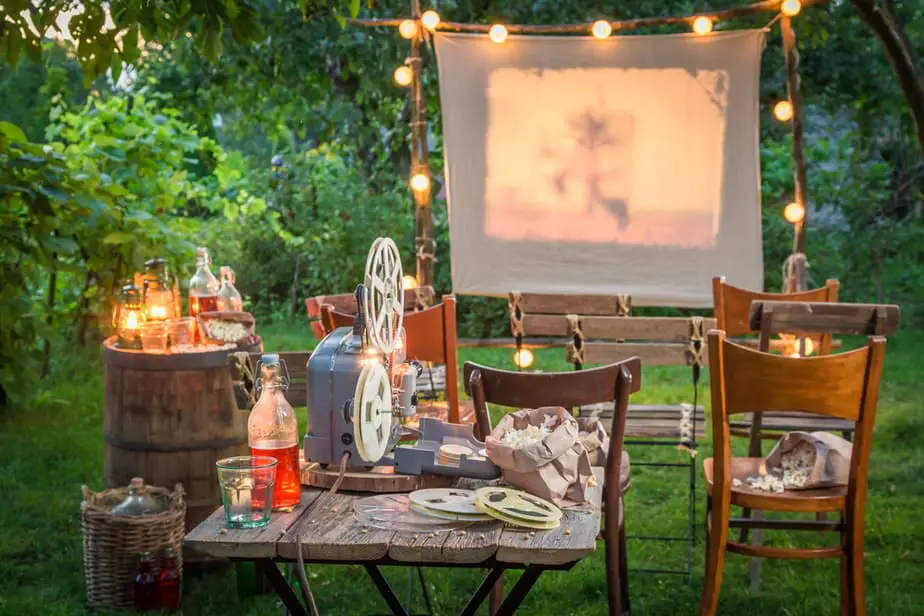 In a Hurry? Here's Our Top Picks…
1. WSKY Portable Outdoor Theatre Projector
Last update on 2023-11-24 / Affiliate links / Images from Amazon Product Advertising API
The WSKY projector is built for high-quality video and sound. It has Dolby speakers already equipped within the projector itself so there is no need to purchase additional sound equipment which is a great added benefit. This projector has the ability to project in a wide range of sizes (from 32 feet to 172 feet). Overwhelmingly, this projector is of great quality and comes with really good speculations in regard to picture quality.
This projector has an additional feature that can help to clear up size distortion due to the different screen sizes and to help focus the picture if the images are blurry. This is a great tool to help with picture issues and it is not a feature that can be found on every outdoor projector.
While most projectors claim to be able to support 1080p, the technology is usually not actually capable of supporting that high-quality of an image. The WSKY projector is not different. The company claims that it can support 1080p, however, in most accounts the projector actually runs at around 720p most of the time it is in use.
Overall, if you are looking to purchase a projector to use in your backyard then this is a great choice with a lot of really good qualities. It is important to remember, though, when purchasing any projector for outdoor use that these projectors are only able to be soon during darkness. So, outside projectors are not an option if you are wanting to use them for daytime football games or parties.
Things We Like
Built-in Dolby Sound System
Focus Ring Included
Things We Do Not Like
Does not support Advertised 1080p Image speed
Does not come with a carrying case
Check Price and Reviews on Amazon
---
2. Yaber Outdoor Projector
YABER Mini Projector with Screen, 2023 Upgraded WiFi Projector, 8000L 1080P Full HD Portable Projector, Max 250'' Outdoor Projector, Compatible with iOS/Android/TV Stick/PC/PS4, and HDMI/USB/AV/TF
➤【Smart Auto Focus & Auto 6D Keystone Correction】Effortlessly getting a clear and well-aligned image in 5 Seconds after powering on! YABER 2023 4k projector comes with auto-focus and 6D auto-keystone technology, saves the hassle of manually adjusting, easily set up for movies or games. With the built-in displacement gyroscope and sensor, this smart projector can automatically detect changes and movement in the environment, adjusting the picture accordingly to ensure it stays clear.
➤【4K Support & 500ANSI & 20000:1 Contrast Ratio】Light up your viewing!The wifi projector utilizes latest AI optical algorithms, paired with German high-transmittance lens, boasting an impressive 500 ANSI lumens of brightness. Features native 1080P resolution and support for 4K movie playback, the V9 delivers a 20000:1 high contrast ratio for perfect detailing. Also, our projector offers a wide color gamut, including 121% sRGB and 99% NTSC, ensuring the most precise color reproduction possible.
➤【Latest WiFi 6 Projector】Wi-Fi 6 is compatible with 2.4GHz and 5GHz networks, with the maximum rate up to 9.6G bps.Compared with the 5G network,it has three times faster speed, larger capacity for data transfer, and lower latency, which means our 4k projector with WiFi and Bluetooth can provide more stable and smoother transmission between devices and projector when used with a WiFi 6 router.Say goodbye to the lag and hello to uninterrupted wireless projection.
➤【Upgraded Bluetooth 5.2 & Hi-Fi Speaker】Yaber V9 home theater projector 4k has 12W built-in Hi-Fi Speakers, offering a 360 degree surrounding immersive experience, and bringing you a stunning and loud sound enjoyment for home theater.Besides, you can link to various external Bluetooth devices such as headphones and speakers. The upgraded Bluetooth 5.2 chip can transmit stable audio 60% more efficiently and minimize damage to sound quality.
➤【Fully-Sealed Engine & Wide Compatibility】V9 outdoor movie projector is designed base on fully-sealed optical concept, which means it will not easy to enter dust, effectively reducing black spots and image loss, and extending the lifespan of the projector.Equipped with AV/USB*2/HDMI*2/audio ports, it can easily connect to Phone/PC/TV Stick/Switch.Any problem pleasproblems, please be free to contact us(+18338802386).YABER will provide 6-Month back and 3-Year repair, lifetime technical support.:)
Last update on 2023-11-24 / Affiliate links / Images from Amazon Product Advertising API
If you are looking for an impressive outdoor projector from an honest company, then this option may be a good one for you. The Yaber outdoor projector is a mini-sized projector, its size allows it to be stored virtually anywhere which makes it an excellent choice for a family with storage concerns.
The Yaber projector does not lie to its customers by promising 1080p quality images. Rather, they are honest in their advertising and claim to provide 720p as long as the source (DVD or Streaming) that you are trying to play supports a 720p image.
Additionally, the Yaber projector boasts a 3w audio system built-in to the projector itself. This is a great feature to have, especially if you ever plan to travel with your projector and set it up in other locations. Having high-quality built-in speakers means having one less thing to pack up and take with you when you go.
This may be true of all screen projectors, but one notable downside is that the screen edge is not quite as clear as the middle of the screen. Although this is a small downside to the overall positive reviews this screen projector boasts.
Things We Like
Small Design
Excellent Speaker Quality
Things We Do Not Like
Less than Ideal Picture Quality
No Carrying Case Included
Check Price and Reviews on Amazon
---
3. Epson Home Cinema Indoor/Outdoor
Epson Home Cinema 660 3,300 lumens color brightness (color light output) 3,300 lumens white brightness (white light output) HDMI 3LCD projector
Images up to 300 Inches : life sized images up to 25x larger than a 60 Inches flat panel, on virtually any blank wall or screen
Bright : ideal for a variety of lighting conditions, the Projector has 3, 300 Lumens of equal color and White brightness (1)
All digital HDMI connectivity : Connect your cable/satellite box, Blu ray Disc player, gaming console or streaming device. Fan Noise: ECO mode: 28 decibel, Normal mode: 37 decibel
Innovative 3LCD technology : amazing action scenes with no rainbow effect. Operating distance: 19 feet
Pixel Number: 480,000 dots (800 x 600) x 3.Lamp type:210 W UHE; Throw Ratio Range: 1.45 – 1.96
Last update on 2023-11-24 / Affiliate links / Images from Amazon Product Advertising API
The Epson outdoor projection set-up comes from an extremely reputable brand and has a lot of selling features that we really love. Epson is a brand that has been noted for producing high-quality technology solutions for years. This projector is no exception to that high-quality standard that Epson has maintained.
This particular projector has the ability to project onto virtually any blank surface making it an extremely versatile purchase. The screen size capabilities are fairly standard in the world of projectors, with this model being able to reach up to 300 inches.
One notable difference between the Epson outdoor cinema projector and other brands is Epson's claim that the bulb is bright enough to conquer more lighting situations than other brands. Of course, no projector is ever going to be able to produce high-quality imaging at high noon, but the ability to project outdoors before sunset is an extremely beneficial selling point for this product.
One notable downside to this Epson projector is its lack of quality in the area of resolution. This model offers an SVGA resolution which is a significant downgrade from 1080p. There are other models of the same brand projector that offer different resolution packages. Be sure to think about all of your options before making a purchase.
Things We Like
Extremely Reputable Brand Name
Picture Brightness More Versatile
Things We Do Not Like
SVGA Resolution is Less Than Ideal
No Carrying Case Included
Check Price and Reviews on Amazon
---
4. Dr. J Professional Projector with Screen Included
No products found.
The Dr. J projector is a great choice for someone looking to spruce up their backyard on a budget, or even for someone looking to
give an outdoor tech gift
to a friend or family member. It is a lightweight, portable projector which is a great deal for someone looking to start out with some outdoor projection equipment.
Although the projector boasts the capacity to support 1080p resolution strength, it likely supports a 720p strength more often than not. The image quality is great for the budget-friendly projector and this is a great choice for a family looking to have a little fun watching movies under the night's sky.
Another thing that we love about the Dr. J projector, is that it comes with a 100" screen for free with the purchase of the projector! This saves you from having to figure out how you are going to display the awesome movies you intend to watch straight from your backyard.
This projector is compatible with virtually any device you may desire to connect. It can connect to your phone, tablet, computer, cable box, Apple TV, or pretty much any other streaming device on the market.
One major downside to the Dr. J projector is that it does not have a built-in sound system. So, when using the Dr. J projector, you will have to invest in purchasing sound equipment to make sure that your movies, videos, or sports announcers can be heard.
Thinks We Like
Comes with Screen
Compatible with Multiple Devices
Things We Do Not Like
Image Quality Low
No Built-In Sound
Check Price and Reviews on Amazon
---
5. GooDee Outdoor Movie Projector
Sale
GooDee Projector, 2023 Dolby Native 1080P Video Projector, 15000L Outdoor Movie Projector, 230" Supported Home Projector, Compatible with Fire TV Stick, PS4, HDMI, VGA, AV and USB, Black (YG600)
Upgraded Brightness: As GooDee best seller projector, we improved the brightness, added 80% brighter than other ordinary projectors. 3000: 1 contrast ratio provides a brighter image and wider viewing even in slight light or outdoor place such as Backyard, Garage and Camping.
Native 1080p Supported & Latest Cooling System: Supporting 1080P Full HD native resolution, offers a ultra accurate & vivid video quality. We adopt the newest cooling system, improved fan design and the application of innovative materials to reduce the noise, extend the bulb life time, create a quieter and warmer environment.
230" Max Screen & Internal Hi-Fi Stereo: Giant 230 inches display size with an aspect ratio of 16: 9/4: 3. The viewing screen is 44"-230" with distance 4. 9ft-18ft, 98" screen with distance 10ft is optimal. Complete your home theater equipment with 2 built-in 3W speakers. GooDee updated HI-FI Stereo with SRS sound system, provides fantastic powerful and crystal listening experience even without external speakers.
Easily Connecting Your Multimedia Devices: Comes with 2*HDMI/2*USB/VGA/AV ports, this video projector can easily connect with TV Box, Fire Stick TV, Chromecast, PC, laptop, tablet, external speakers, Xbox, DVD player, PS3, PS4, USB stick, media players, iPad, iPhone, Android smartphone and etc. Perfect for playing video, TV series, presentation, outdoor movie, gaming and etc.
5 Years Factory Support: GooDee provides 5 years for the projector, if there have any questions, please feel free to contact us, 7x24 online. Lifetime professional customer service & Technical. Absolutely risk-free purchase for you.
Last update on 2023-11-24 / Affiliate links / Images from Amazon Product Advertising API
We really have a lot to love about the GooDee brand outdoor projector. From its diverse compatibility to its upgraded brightness, there are a lot of really good reasons to fall in love with this brand.
This projector can range in size from 44 inches to 230 inches. That is well over the capabilities of most projectors on the online market today. GooDee claims compatibility with 1080p resolution, making it a really great option for playing video games or watching high-quality movies through the projector.
This projector does come with a built-in sound system which is a great bonus for any projector, especially if you plan to pack it up and go anywhere. The speaker's quality is fair enough that in most situations additional speakers would not be necessary. Further, the fan built into the projector is designed not to interfere with the quality of the sound projected from the projector's body.
Things We Like
Upgraded Brightness
Large Screen Compatibility
Things We Do Not Like
Less than ideal image quality
No Carrying case
Check Price and Reviews on Amazon
---
6. Vankyo Leisure 3 Outdoor Movie Projector
No products found.
The Vankyo Leisure 3 outdoor movie projector is another great option for the budget-conscious consumer who wants to begin small with an outdoor movie projector. This is a great option for the consumer who wants to try out whether or not this industry is worth investing in in the long run.
From 32 inches to 170 inches, the Vankyo has great capabilities for projecting large images for the average family movie night, sports event, or even for a fun home video viewing. The Vankyo also boasts a 60% upgrade in brightness from the last model they released. Using LED technology, Vankyo wants to make viewing in various lighting situations a bit easier for the consumer who buys this product.
The Vankyo, however, does not come equipped with the ability to play sound straight from the projector. Of course, this can be remedied by utilizing outside speakers, but that does require additional purchase and is something to think about before clicking purchase on this particular projector.
What We Like
Great Model for First Time Outdoor Buyer
Brightness Upgraded
What We Do Not Like
Speakers Not Included
Limited Screen Size
Check Price and Reviews on Amazon
---
Ideas for Using Your Outdoor Projector
If you decide to purchase an outdoor projector, then you should line up some fun ideas to put the projector to use in your backyard! Look no further, we have compiled a fun list of excuses for which to bust out your new projector and have fun with your friends and family. Your friends and family will thank you for providing them with endless outdoor fun.
Host an Outdoor Movie Night
This one might seem obvious, but it is something that we so often get too busy to do! Set up your projector, throw some lawn chair on the lawn, pop some popcorn and invite the neighborhood friends over for some outdoor fun.
This is also a great theme for a kid's birthday party. If your kid wants to have a party that is a little different from his/her friend's parties, then pull out the outdoor projector and set up their favorite flick for a viewing party. Your kid is sure to remember this party over all of the rest.
Host an Outdoor Video Game Party
If you enjoy playing video games, then you may occasionally find yourself tired of being glued to the couch or sitting on the floor in front of your TV. Gather some of your best gaming friends and invite them to your backyard for some in-person playing time. You will not regret the change of scenery.
This is a good reason to meet up with your video game friends in person. Many video game friends never get to see each other face to face, but having an outdoor video game party can be a good reason to invite some new friends over for a social event!
Have Sports Game Night at Your House
This may be our favorite idea of all of them. When you have a lot of friends, then your living room can quickly get packed as your friends all pile in to view the big sporting event you want to share with them. Setting up the viewing area outside can be a great way to alleviate some of the discomforts of pilling into a single living room.
The next time you decide to host the super bowl party, considering inviting everyone to bring their own lawn chair and set up the party on the lawn! If it is cold outside during your Superbowl party, consider buying some outdoor heaters to make it possible to have an outdoor party during the winter.
Use the Projector in a Murder Mystery Party
Hosting a Murder Mystery party at your house has become a major fad in our culture lately. But you can put a twist on yours by having guests view the intro video in your backyard before splitting up to solve the mystery. This is a fun idea for making your party stand out among the many parties your neighborhood may be forced to attend.
Display Home Videos at Family Gatherings
Whether Grandma and Grandpa are celebrating their wedding anniversary, or it is time for the big reunion, hosting family gatherings in an outdoor venue can be a fun way to change the scenery for the get-together. Consider playing footage from family home videos at your next big family gathering. Everyone will love the opportunity to look back on memories from all of the families at the event.
No Additional Purchase Screen Ideas
After purchasing an outdoor projector, your budget may be about spent on your new backyard adventure. If you are looking for budget-friendly screen ideas for your outdoor projector, we have a few different options for you.
Blank Wall
Since outdoor projectors can be used with virtually any plain surface, a blank outdoor wall is an excellent place to display your fabulous movie night production. The best part about this option is that it is absolutely free and requires no additional effort on your part!
Bed Sheets
Perhaps you do not have a blank wall on your home because you own a brick home or have siding up, then a bedsheet can do the trick just as easily. Simply stretch out a large white or light-colored bed sheet and voila! You now have a homemade screen on which to view your outdoor production.
Buyer's Guide
Making a large purchase like an outdoor projector can be fairly overwhelming. There are a large number of different products on the market and they all claim to be able to do the same things. We are here to share with you each of the most important factors you should consider when making the decision about which projector is best for your needs.
Read through our buyer's guide to help you make a decision that will change the way you use your backyard forever. Once you buy the right projector for your family, you will quite literally never watch TV the same way again.
Lumens
Each projector will have a unique rating called a 'lumen rating' that describes the amount of light that the projector is able to put out. So, projectors that are able to put out more light are also more readily able to combat daylight. Projectors that put out more light are also able to combat the light that you cannot predict, like light from the moon or street lamps.
In an ideal situation, you would need for your projector to have at least a 2,000-lumen rating. If you find a projector that has a higher rating, then you are purchasing an even more powerful projector. If your projector has a rating of 3,000 or higher then you are more likely to be able to project a movie in your backyard shortly after sunset instead of having to wait for the darkness to set in.
Different Inputs
Think for a second about all the various things that you need to be able to plug into your TV. That same amount of different things is the number of tools that you will want to be able to plug into your projector. If not, you may find yourself in a bind when you go to plug in your Apple TV on the movie night you have planned and you do not have the correct ports on the projector to do so.
Of course, you could theoretically purchase an audio-visual receiver to rectify any port issues you may have, but that seems like an unnecessary expense when you could simply buy the right projector for your needs, to begin with.
Take a look around your house at the types of devices you will want to connect to your projector. Your laptop, streaming devices, cable box, etc. Make a list of all of the connections that will be required and cross-check it against the projector you want to purchase. Be strategic when making a purchase like this one because it can save you a headache in the long run.
Keystone and Lens Shift
The angle of your projector is not always going to be the exact same. This will throw the image off causing it to distort in many cases. You want to make sure that you have control over troubleshooting these issues when purchasing your projector.
Maximum Size and Throw Distance
Many people decide to purchase their outdoor projector simply for the ability to make a really big image without having to buy a ridiculously large television. A TV that is 144' would not only be impossible to get through your door, but it would also almost definitely cost more than the price of your car (unless you own a Lamborghini).
So, it is important to decide how big you intend for your projection needs to be, and if you plan to buy a screen to go with your projector, then how big do you think that screen is going to be. You will want to make sure that your screen and projector sizes are compatible.
Further, you are going to want to make sure that you understand how far away from the surface the projector needs to be. This detail is going to work directly with how big you want your screen to project, and it is going to be different for each projector on the market.
Each projector you can purchase lists this information on the product description. Be sure to consider the space you have available, the size of your screen, and the time of day you want to show a movie before you decide to make an official purchase. Your space needs to be big enough for the projector to back up far enough away from the screen for it be the size that you want to project.
Fortunately, most outdoor set-ups are far more flexible than indoor set-ups (although most projectors you can buy are built for either indoor or outdoor use). Likely, the easiest way to get the optimal picture size in your outdoor set-up will be to make adjustments to the screen and projector by picking them up and moving them when necessary.
Resolution
Resolution is by far one of the most important factors when checking out which TV to purchase during Superbowl season, so many of us would assume that resolution is one of the most important factors when checking out your projector as well. However, we would wrong in making that assumption. Resolution is just not a priority when you are considering purchasing a projector for outdoor use in your home.
The reality is that in your backyard, sitting in a lawn chair, snacking on homemade nachos, you are not viewing your images in the same way as you are from the comfort of your couch. The conditions are not optimal, instead, they are meant for fun. Our brains almost always forgive the lesser quality in favor of the pleasurable conditions around us.
Further, the only way to truly view a projector in its most optimal conditions is to see it in absolute darkness. Unfortunately, this is a condition that we are not going to be able to achieve in an outdoor viewing situation. Getting rid of street lights or moonlight is just not an option unless you are secretly a character from Harry Potter.
These conditions mean that what matters most is the lumens over the actual resolution of the projector. The lumens are going to be able to produce a bright image that fights the lights around the viewing area. The resolution is important, too, but not at the expense of the brightness of the lamp within the projector.
Aspect Ratio
This is the least important of all of the considerations for choosing the right projector. That does not mean that you can simply throw this consideration out the window, but it should probably the least important in your focus.
Most projectors have an output ratio of 16:9. An output ratio of 16:9 is considered a widescreen format, and interesting to note, this is the ratio that movie theatres use to project on the big screen. In this event, there is no bleeding of light around the edges of the screen and no masking is required.
However, for the level of projector that you are likely purchasing (one that is not built for use in commercial properties like movie theatres). However, at 16:9 projection, it is able to do a sort of digital mask. The one negative aspect of this is that you will see a light bleed on the top and bottom of the screen. Unfortunately, the only way to combat this is to purchase a much more expensive projector.
Luckily, the average eye will not detect the light bleed. Further, this is another situation where the 'fun' of viewing a movie becomes a welcome distraction to the downfalls of personal-use projectors.
Sound System
Another thing you may want to consider is whether or not your projector comes with a built-in sound system, or if it is going to require additional purchase. It may be the case that you want to make an additional purchase regardless, depending on your goals for projecting movies outside.
For a simple family movie, many of the built-in sound systems that come with projectors will be just fine. However, for larger production, you may consider investing in speakers designed to be used with an outdoor projector.
Top Outdoor Projector Brands
Epson
Epson is a company founded in Japan that focuses on the technology industry, usually remaining in the business industry. However, Epson is one of the top companies producing high-quality projectors for outdoor use at home.
Dr. J
Dr. J is an upcoming brand in the technology industry that is committed to creating high-quality products built for the consumers' satisfaction. Recently, they made significant upgrades to their outdoor projector products.
FAQs
Q: What is the difference between an indoor and an outdoor projector?
A: There is not a major difference between indoor and outdoor projectors. In fact, most projectors on the market today are suitable for use in indoor and outdoor situations. Projectors purchased for outdoor use are not intended to be left outdoors when not in use.
Q: Where can I set up my outdoor projector?
A: Your outdoor projector can be set up in any space that has power, is relatively dark, and has a suitable surface on which to project. You can also purchase portable screens that can be set up in a variety of locations to add versatility to your ability to use your projector in multiple places beyond your backyard.
Q: Do I need to buy speakers to go with my outdoor projector?
A: This will depend on which projector you decide to purchase. Some projectors come equipped with built-in speakers, but you may still decide to purchase speakers depending on how loud you need the sound to be for your outdoor movie viewing.
Q: What kind of devices are compatible with my outdoor projector?
A: Again, this will depend on the projector you decide to purchase. Read carefully about the input options for the projector that you are viewing before you make a final decision. Most projectors are compatible with the types of devices that are popularly used to plug in to a projector.
Q: Do I need to replace the bulb in my outdoor projector?
A: Yes, projectors will have different life spans for the bulbs they use to project your movies onto the surface. Keep this in mind, just like any purchase you make a projector requires occasional maintenance.
Final Thoughts
Purchasing an outdoor projector can be an excellent investment in quality family time and outdoor fun. A simple task like watching a movie with the family is infinitely enhanced through the use of an outdoor projector. If you have been working on building the fun available right from your backyard, then purchasing a quality projector for your backyard might be just the right decision for your family.