There is something about the open air, ambiance, and movie magic of an outdoor movie night. We have put together the ultimate list of outdoor movie night ideas that will sweep your family and friends into the cinematic experience!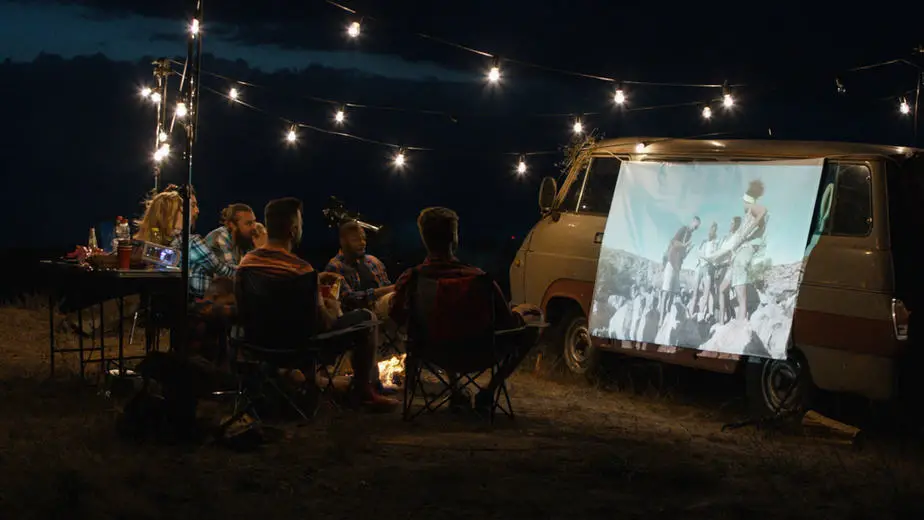 An outdoor movie night can be as simple or extravagant as you want to make it.  However, it is always a great alternative to the indoor movie night. When the nights are perfect, don't stay cooped up inside! Take the show outdoors!
Let us walk you through our ultimate list of outdoor movie night ideas that will get you from setup to end credits! Pop through this list and pick the best ideas for your perfect movie night including screens, projectors, sound, seating, décor, food, choosing the movie, and movie night themes!
1. Screens
A good movie image begins with a nice screen. No matter the projector you choose, the screen that you use will affect the final picture.
Borrow one from a friend: Check will friends and neighbors. You just may find someone that already has a screen that you can use!
Shine on the wall or existing structure: Another option is to use a wall or garage door. However, remember you will see texture and lines during your movie. A simple solution is to hang a sheet on a clothesline, wall, or fence.
Buy A Screen: There are also many outdoor movie screens available for purchase in a wide range of budgets. For your convenience, many outdoor screens have already been reviewed here.
Build A DIY Screen With Instructions: If you are not up for buying one yet, perhaps you would like to try a DIY version made from canvas.  Canvas is more durable than a sheet and will not ripple as easily in the wind. Here are some instructions from Better Homes and Gardens on how to make your own outdoor canvas movie screen.
Sale
Elite Screens Yard Master 2, 120-INCH Outdoor Indoor Projector Screen 16:9, Fast Easy Snap On Set-up Freestanding Portable Movie Screen Foldable Front Projection, OMS120H2
【120 inch Freestanding Portable Projector Screen】 This projector Screen is 120-inch Diagonal, 16:9 Aspect Ratio. View Size: 59 inch H x 104.7 inch W Overall Assembled Size: 88.9 inch H x 109.8 inch W x 36.7 inch Leg Size. Silver Aluminum Frame
【Amazing Visual Feast】CineWhite UHD-B (Tensioned Matte White) 1.3 Gain.4K Ultra HD and Active 3D Projection Ready; Features 180 degree viewing angle with fully Black backed Front Projection. ISF, Accurate color points Dynamic Range Color Temperature
【Easy Set up& Clean】 Assembles in minutes without the use of tools Lightweight aluminum square tube construction easily transports included padded carrying bag; Easy clean with soap water; Compatible with short-throw and ultra-short-throw projectors
【Features & Includes】Features a fully tensioned snap button frame that ensures a flat projection. Includes single-piece aluminum frame with Detachable T-Legs could increases stability,carrying bag,ground stakes,rigging cord,and support rings
【US Based Company Warranty】 2-Year/3-Year ENR-G Manufacturer's Warranty by Elite Screens if purchased NEW, an ISO9001 manufacturer since 2004 and Lifetime Tech Support by Email or Phone Call by Elite Screens' Professional Service Team
Last update on 2023-09-24 / Affiliate links / Images from Amazon Product Advertising API
---
2. Projector
It is difficult to have an outdoor movie night without a projector. Of course, you can drag out your big screen TV, but you will not have the same movie magic provided by a projector.
Borrow Projector From Friend Or Library: Don't fret if you don't already own an outdoor movie projector. Again, you can often borrow one from friends or family. Some libraries will also rent them out for a small daily fee.
DIY Shoebox Projector: Some people have successfully watched a movie using a homemade projector with a shoebox, magnifying glass, and a smartphone. See the instructions to make your own projector.
Buy A Projector: For those of you that may want to watch more than one movie outside this season, it makes sense to consider buying your own projector. Outdoor projectors are available for a wide range of budgets. Do your research and you are sure to find one right for you.
Crenova Home Video Projector, 6800 Lux Full HD Movie Projector, 200' Display LED Outdoor Projector 1080P Supported, Home Theater Projector Compatible with TV Stick, PS4, Phone, Laptop
UNMATCHED BRIGHTNESS EXPERIENCE: Crenova HD home theater projector with newly advanced pixel and LED tech gives remarkable 550 ANSI, 6800 Lux brightness, max-supported 1080P, compared to other led video projectors in its class. No matter if you're streaming Netflix, watching a movie, or playing your favorite PC/PS4/Xbox game, the images project with brightness and clarity.
STABLE WIRED PHONE CONNECTION: No need to install any app, this phone projector can easily realize the smartphone connection via an extra HDMI adapter(not included). It can bring you more stale game experience.
A TRULY CINEMATIC EXPERIENCE: Immerse yourself into big-screen bold colors and contrast in any scenes due to Crenova's ultra-wide color gamut, 1280*800p native resolution, 6000:1 contrast, 60"-200" display. This outdoor video projector is excellent for indoor or outdoor movie use or video games!
MULTIPLE INTERFACES: This 1080P supported movie projector with HDMI/VGA/USB/AV input. You can use a TV Stick to connect the projector to watch the video from Netflix, Hulu, and similar services. NOTE: Copyrighted content from Hulu, Netflix, and similar services CAN NOT be mirrored or screencast.
HI-FI STEREO SOUND: XPE660 movie projector for outdoor use the built-in powerful omnidirectional speaker with SRS sound system provides a great auditory sense experience without external speakers. Adopt the latest SmarEco tech to minimize lamp consumption to extend the lamp life to the max of 50000 hours.
Last update on 2023-09-24 / Affiliate links / Images from Amazon Product Advertising API
---
3. Lighting
When planning an outdoor movie, the first thing you want to consider is the sunset. You will not be able to see your movie screen very well until the sun goes down. Invite guests to arrive at sunset. This should give you about 30 minutes for guests to find snacks and a spot to watch the movie before the lighting is perfect for the screen.
During the movie, you will also want to have a little bit of light. This will make it easier for guests to get up and refill snacks without tripping on people.
If you don't already have backyard lighting, check out 20+ ideas for landscape lights. Many of these ideas would be perfect for your movie night. Choose something that is not too bright that it will drown out the movie image.
4. Sound: Bring the Music to Your Ears
When you are planning your setup keep sound in mind. Use the natural acoustics of your backyard to keep the sound both contained and at a good level for your group. There are many ways to get the job done and provide sound for your movie. Make sure to test them out before the night of your movie!
Stereo amplifier
Computer speakers: make sure they are a good set with a bass amplifier
A boombox with auxiliary outputs
Projector with built-in speaker: ensure that the sound level is adequate
If you want to bring out your surround sound, then you very well may. However, the setup and takedown will take a lot longer than if you choose one of the options above.
ION Audio Tailgater Plus - 50W Portable Outdoor Wireless Bluetooth Speaker with 50 Hour Battery, Microphone, Radio and USB Charging
This Bluetooth speaker packs a punch – powerful robust woofer, bass boost control and wide dispersion tweeter deliver deep, driving and vibrant sound, plus 50 watts of power pumps up the volume
Wireless Bluetooth connectivity – Seamlessly connect and send your music via NFC easy pair to Tailgater Plus from any Bluetooth enabled device
Don't stop the music – On board FM radio with 10 presets all controlled with a radiant display; A 1/8 inch (3.5 millimeter) aux input is also included for non Bluetooth devices
Your Karaoke Centerpiece – High quality microphone included, perfect for making annozments and professional sounding Karaoke
Made to move rechargeable battery with charge indicator provides up to 50 hours of pristine wireless sound
Last update on 2023-09-24 / Affiliate links / Images from Amazon Product Advertising API
---
5. No Bugging Allowed!
Keep interruptions and pests at bay with these outdoor movie night ideas. It is always a good idea to let your neighbors know that you will be having a movie night. This way they won't be shocked by the Star Wars theme music when it is playing at 9 pm. Better yet, invite your neighbors to the fun!  Then you will not be worried about them interrupting the movie night to ask you to turn down your sound!
If you are having your movie at a time of year when bugs are out, protect your guests! Lighting citronella candles around the yard will serve a dual purpose of ambient lighting and keeping pesky mosquitoes at bay.
Last update on 2023-09-24 / Affiliate links / Images from Amazon Product Advertising API
---
6. Seating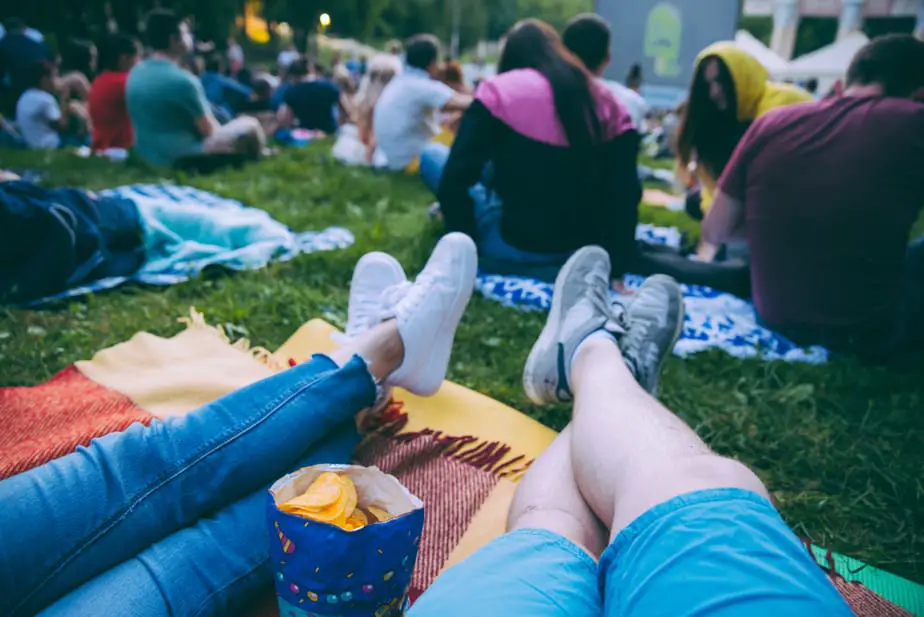 Providing comfortable seating will have your sweet buns thanking you after a night of movie watching! One of the many perks of an outdoor movie is the variety of seating options that create movie experience magic.
Blankets: Gather some large comfortable blankets and lay them down in front of your screen. Top the blankets with over-sized cushions and pillows.  Provide some throws in case your guests get a little chilly!
Chairs: If you already have comfortable outdoor seating, use that. Just move your lawn chairs in a comfortable viewing of the screen.
DIY Movie theatre seats: Another option for great seating is to make your own lounging movie theater seats. See how Stacy at Not Just A House Wife made her own movie theater seats from plywood and cushions.
Drive-in Cars: Create a fun theme with "drive-in" cars. Decorate cardboard boxes to look like little cars. If you are having a movie night with kids, this would be a great craft for them to make before the night of the movie. This is especially a fun idea if you are watching a car-related movie.
7. Décor
While not required for a movie night, decorations add to these outdoor movie ideas. Start with a chalkboard or marquee sign that points your guest to the location of the movie.  Drawing a red arrow with yellow circle "lights" will create a fun gesture of the old-time movie theatres.
Garlands: Grab some ticket rolls at your nearest party store and create some ticket garlands. Or, if you are feeling grand, use yellow and white balloons to create a popcorn balloon garland.
Movie Theme: Use your movie as inspiration and place objects, designs, and food that relate to the movie around the yard, tables, and seats.
Concession Stand: Place a "concessions" sign above your food table showing your moviegoers where to get some delicious snacks. Don't miss the snacks and drinks below that double for food and décor!
Last update on 2023-09-24 / Affiliate links / Images from Amazon Product Advertising API
---
8. Drinks
No list of outdoor movie ideas would be complete without a great compilation of movie snacks and drinks. Receive your inspiration from the classic movie snacks of soda, popcorn, and Red Vines. Your guest will keep coming back for more with these movie snack ideas.
Italian sodas: Italian soda is a fun party drink the whole family can enjoy. You will need crushed ice, club soda, half and half, and sweetened syrups like Torani. Some delicious combinations of flavors are raspberry and vanilla, cherry and lime, strawberry and coconut, or raspberry and peach.
First, fill your glass half full of crushed ice
Pour in club soda near to the top
Then, pump about 3 Tbs. of Torani syrup into the glass
Next measure about 1-2 tbs. of half and half
(Optional) Add whip cream and maraschino cherry
Finally, stir and enjoy!
Root beer floats: Root beer floats are a tasty and refreshing movie dessert and drink in one! Scoop ice cream in each cup and pour A&W root beer into each cup until the foam reaches the brim. Add a cute paper straw and a plastic spoon. Serve on a tray to your guest during the previews!
Soda-Licious: Bring the movie theater soda fountain to your backyard with these outdoor movie night ideas. Use a SodaStream to turn tap water into a soda bar.  If you don't have a SodaStream, you can also use a store-bought seltzer.  Next to your SodaStream have plenty of add-ins for your guests such as berries, lemons, limes, peaches, cherries, fruit purees, cream, coconut cream, and juices.  Include colorful paper straws. You can also create your own mixes and name them after movies just like the folks at parents.com. Check out a few of our favorites below:
Muppet Mix: 3 cups pureed watermelon + 2 cups apple-strawberry juice
Tangled Tonic: 2 cups pomegranate juice + 2 cups grape juice
Fantasia Fusion: 5 cups pineapple juice + 1/4 cup coconut cream
Strawberry Basil: Strawberry puree, basil leaves, lemon
No products found.
---
9. Snacks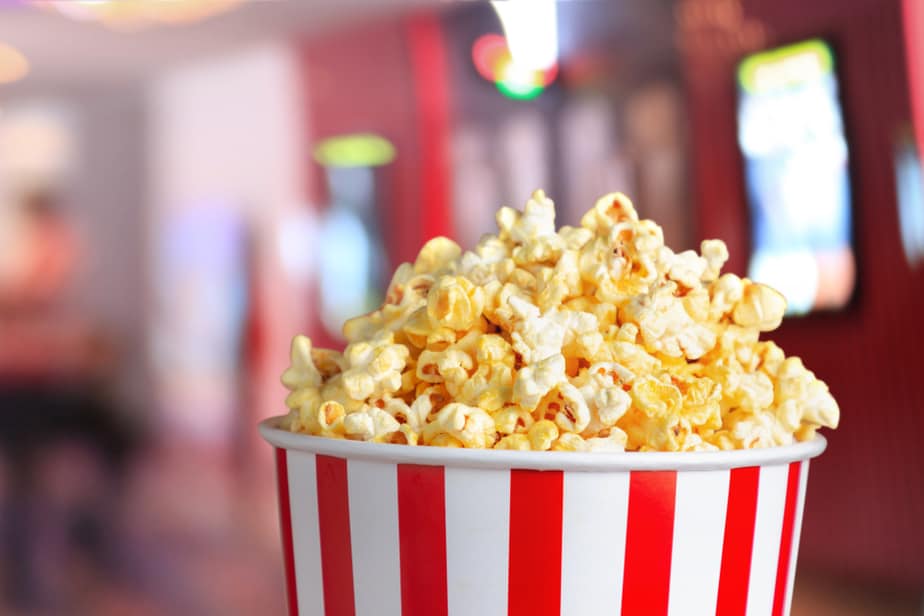 Create the perfect movie night with tantalizing movie snacks. These snacks take buttered popcorn and Red Vines to the next taste bud level!
Popcorn Machine: Rent, borrow, or buy a popcorn machine and make your guests feel like you transported a real movie theater right to your backyard.  Make sure to get the popcorn machine popping before your first attendees arrive!
Popcorn Bar: Whether it is with your popcorn machine, microwave popcorn, or a large bag of pre-popped popcorn, create a unique experience with a popcorn bar! Provide guests with paper bags or small popcorn boxes. Place your toppings out in short mason jars or cute candy dishes and make sure to have scoops for each ingredient.
Here are some ideas to include in a popcorn bar:
M&M candies
Chocolate covered raisins
Mini chocolate chips
Parmesan cheese
Ranch powder
Taco seasoning
Cookies and cream-crushed Oreos and white chocolate chips
Hot cocoa mix
Create a seasoning (See next outdoor movie night ideas)
Popcorn Seasoning Shakers: Take your popcorn bar a step further and create your own mixes to shake onto plain popcorn.  Have a container full of melted butter to add to the popcorn.  Then, mix up about three recipes for guests to put on their popcorn.  We suggest a sweet, salty, and cheesy shaker seasoning. Food Network has a great collection of recipes to get you started.
Popcorn Recipes: If you prefer to already have popcorn mixes already prepared for your crowd, Orville has amazing recipes you need to try!
BBQ:  Instead of having just a few snacks that may leave you wanting more, why not treat your moviegoers to a BBQ? Throw a few hot dogs and hamburger patties on the grill to create a perfect dine-in movie!
Snow Cones: Nothing says the perfect summer treat like an ice-cold snow cone! Have ice already shaved or use a snow cone machine. Place a few popular flavors for snow cones and sweetened condensed milk out for a delicious snow cone treat!
S'mores: A list of outdoor movie night ideas wouldn't be complete without embracing what the indoors cannot provide! Utilize your outdoor fire pit and have your guests roast up some S' mores while they wait for the feature film to begin.
Candy Bar: If you're not a cook, this is the perfect and easy solution for you.  Choose your favorite movie night candies and create a candy bar.  Have cups or bags and scoops to gather movie night candies. Place candy in large clear jars. Each person can create a candy bag to snack on throughout the movie.  Some ideas of candy include Swedish Fish, peanut M&Ms, sour watermelons, gummy bears, red vines, and mini chocolate bars.
West Bend Stir Crazy Movie Theater Popcorn Popper, Gourmet Popcorn Maker Machine with Nonstick Popcorn Kettle, Measuring Tool and Popcorn Scoop for Popcorn Machine , 4 Qt., Red
Popcorn Popper Machine: Enjoy movie theater style popcorn whether enjoying an at-home movie night or celebrating a special event; This movie popcorn maker makes up to 4 quarts of popcorn in minutes
Premium Popcorn Machine Popcorn Kettle: Made of non-stick stainless steel, the removable stir-style popcorn kettle is easy to use and clean; Magnetic kettle cover attaches to the top of the machine for easy filling and emptying
Convenient Features: A patented quick release lever tilts the kettle and empties popcorn into the serving area, where a tilt door makes serving simple; A motorized stirring rod ensures more pops per batch, while a kernel catcher tray catches unpopped kernels
Dimensions: 10.87 (W) x 10.27 (D) x 17.72 (H) inches
Last update on 2023-09-24 / Affiliate links / Images from Amazon Product Advertising API
---
10. Pre-Show Activities To Entertain Restless Guests
It is always a good idea to have something for your guests, especially kids, to do while they wait for the movie to begin.
Previews: Having a preview reel is a great way to help you make sure your sound and picture are all ready to go. Hopefully, it will prevent the repeatedly asked questions, "When is the movie going to start?" Previews can be as simple as the pre-show available on many DVDs/Blu-Rays or just a running reel of an aquarium from YouTube.
Games: Have a few backyard games for people to play while they wait for the show to begin.  If you don't already have some backyard games, check out these.
11. Movie Choice
An entertaining movie choice can make or break your movie night. There are a few things to keep in mind when you are choosing a movie for your outdoor movie night. First, think of your audience. A movie that you choose to show to adults will be different than one with families and kids.  However, keep in mind that whether you are showing to just adults or not, your movie should be family-friendly.
Save the nudity, foul language, and gore for your indoor movie nights. It is not polite to show inappropriate movies when next-door children may see into your movie night or hear something they shouldn't.
Don't be discouraged, there are many great movie options available. Think about classics, foreign, childhood, and family movies that are both appropriate and entertaining for your crowd. You are sure to find something on this list:
Top Family Movies
The Lion King (2019)
Hocus Pocus (1993)
Toy Story (1995)
Aladdin (2019)
Harry Potter and the Sorcerer's Stone (2001)
Jungle Cruise (2020)
Coco (2017)
The Goonies (1985)
Frozen (2013)
T. the Extra-Terrestrial (1982)
Sky High (2005)
The Karate Kid (1984)
Cinderella (2015)
A Shaun the Sheep Movie: Farmageddon (2019)
The Parent Trap (1998)
The Karate Kid (2010)
Moana (2016)
Home Alone (1990)
The Princess Bride (1987)
Charlie and the Chocolate Factory (2005)
Monsters Inc. (2001)
Classic Movies
Frankenstein (1934)
Roman Holiday (1953)
It's A Wonderful Life (1964)
King Kong (1933)
The Grapes of Wrath (1940)
The Gold Rush (1925)
2001: A Space Odyssey (1968)
Gone With the Wind (1939)
The Day the Earth Stood Still (1951)
Some Like It Hot (1959)
Anatomy of a Murder (1959)
Anne of Green Gables (1985)
Musicals
The Sound of Music (1965)
Hairspray (2007)
Singin' in the Rain (1952)
My Fair Lady (1964)
West Side Story (1961)
Willy Wonka & the Chocolate Factory (1971)
Beauty and the Beast (2017)
Seven Brides for Seven Brothers (1954)
The Muppet Movie (1979)
The Muppets (2011)
Enchanted (2007)
The Wizard of Oz (1939)
Mary Poppins (1964)
Sale
Last update on 2023-09-24 / Affiliate links / Images from Amazon Product Advertising API
---
12. Out of the Box Movie Night Ideas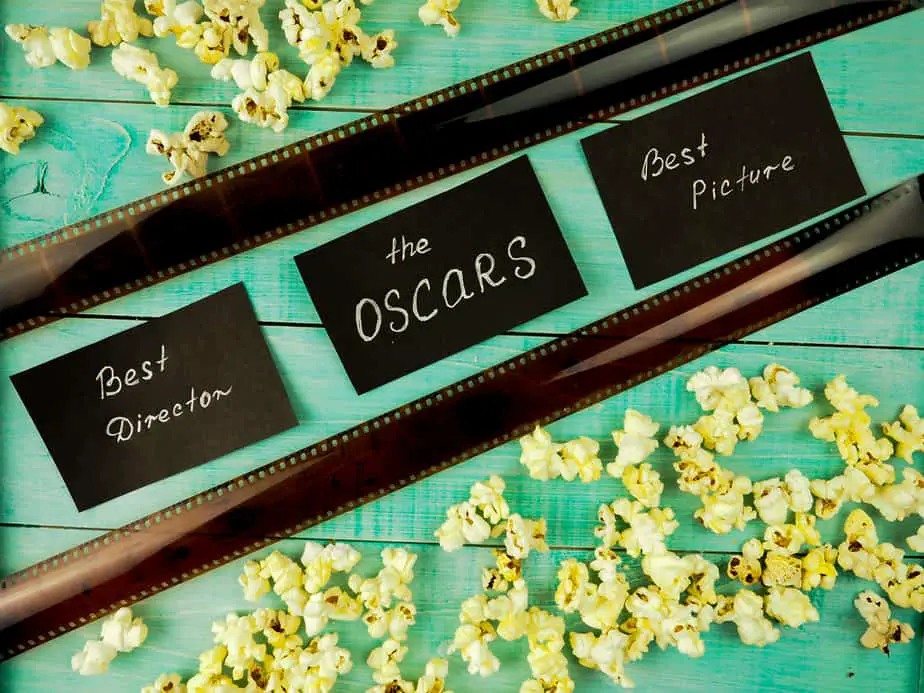 Why not create something even more magical with one of these out of the box outdoor movie night ideas?
Splash-in Movie Night: Skip the mundane blankets and lawn seating and go for a splash-in movie. Host your movie night by the pool! Either provide floats or have a bring your own floats for guests to watch the movie on. Play a movie that has a pool or water scene in it! Serve root beer floats as your dessert!
Movie Theme: Choose your movie, then center the seating, décor, and food around the movie. Create a total immersive experience by coordinating all your ideas with what is playing on the big screen! Just start by picking a movie from the lists above!
Family Home Movies:  Gather the family around and make them feel like real movie stars. Show your own family movies on the big screen!
Oscars Night: Have friends and families produce their own movies to debut as your special movie premiere night! Offer Oscar awards for the best movies in certain categories!
Drive-in: Ever been to an old-style drive-in theater? Why not create your own? If your backyard allows, backup trucks to your movie screen. Have cushions and blankets in the back for comfort. No room for real cars?  Make little cars out of cardboard boxes and create the feel of a drive-in. Watch a car-themed movie or one from the 50s or 60s, the era of drive-ins. Serve old-fashioned candy, soda, and popcorn.
That's A Wrap!
With these outdoor movie ideas, you are prepared for the ultimate movie party! The elements of an outdoor movie night include a screen, a projector, sound, seating, snacks, and a thrilling movie choice. We have given ideas that will create a night of cinematic magic in the open air of your backyard.
With this ultimate list of outdoor movie night ideas, you'll never want to go back to the regular movie theater! From set up to end credits your guest will be revealed in the movie magic of your outdoor home theater. What are you waiting for? Get outside, pop some popcorn and enjoy the show!