The outdoor stage is the focal point of your next big event. Whether for the backyard wedding, a battle of the bands or dance recital, the perfectly planned outdoor stage ideas will focus your audience's attention and thrill the audience.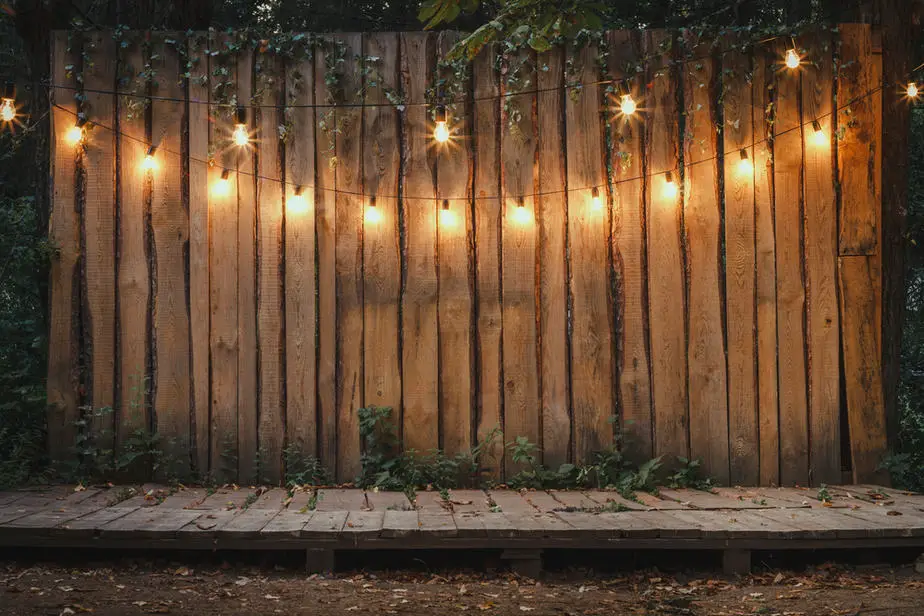 A lot of planning goes into any event. When you use an outdoor stage, you want to make the biggest impact and set the mood for the entire event. Stage design can wow your guests or clutter and otherwise wonderful event. Begin with your purpose in mind. Choose the type of stage right for your event, then browse this unique list of outdoor stage design ideas to create the perfect ambiance that will enrapture your audience.
Plan with Purpose
What you plan to use your outdoor stage for will largely determine your stage type and design. An outdoor stage that will be used for dancing, may look very different from the stage used for your garage band to perform.
Some uses may be better on a raised stage and some are fine on the ground. If your stage will be in front of a smaller and more intimate crowd, you do not need a raised stage. For larger crowds, raising the stage will help the viewer to see the performers better.  Another option is to have an amphitheater-style stage where the audience is raised and looking down at the stage.
The next step in your plan is to determine if you need a permanent or portable stage. Planning regular events outdoors that require a stage may signify that you should make it a permanent installation. Renting your space out on a regular basis for weddings or performances may be another case for a more permanent outdoor stage. For the rest of us, you will need a more portable solution.
Build, Rent, or Buy
There are many portable outdoor stage solutions. Professional rental stages are available in almost every major city. These same companies often have stages available for purchase. On the other hand, with a few tools and elbow grease, you can build one yourself. We have the article just for you on How to Build a Dance Floor which can double as a stage.
For those smaller gatherings, a porch or deck may be the perfect stage. Now, all you need to do is design and dress it for the part!
These outdoor stage ideas are sure to inspire the designer in you as you plan your stage for your next big event!
Outdoor Stage Backdrop Ideas
1. Existing Fence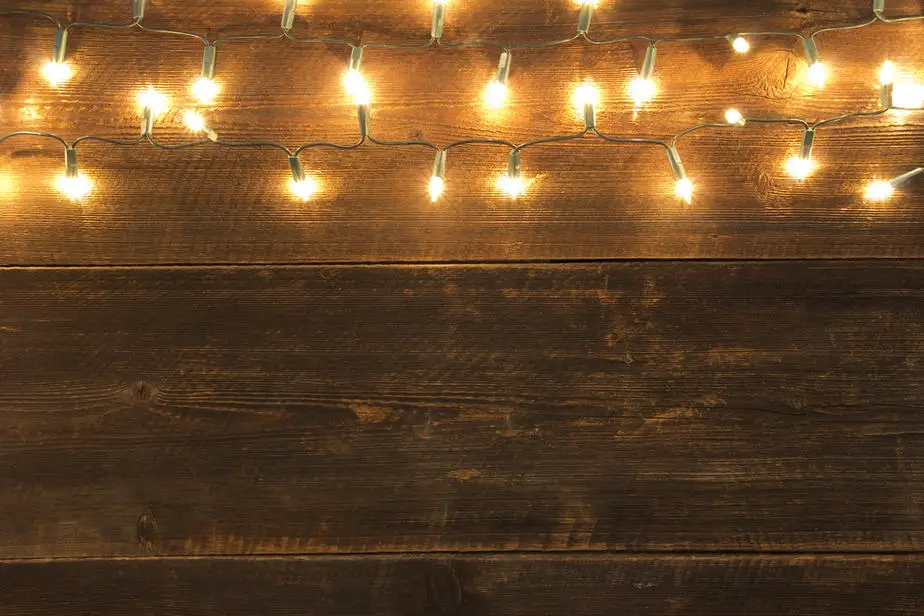 Dressing up an existing fence can create the perfect backdrop for any outdoor stage. These ideas are great for the backyard wedding, photo booth, or band! Any fence type can do. Dress up the existing fence with some of the other outdoor stage ideas in this article.
2. Wood Fence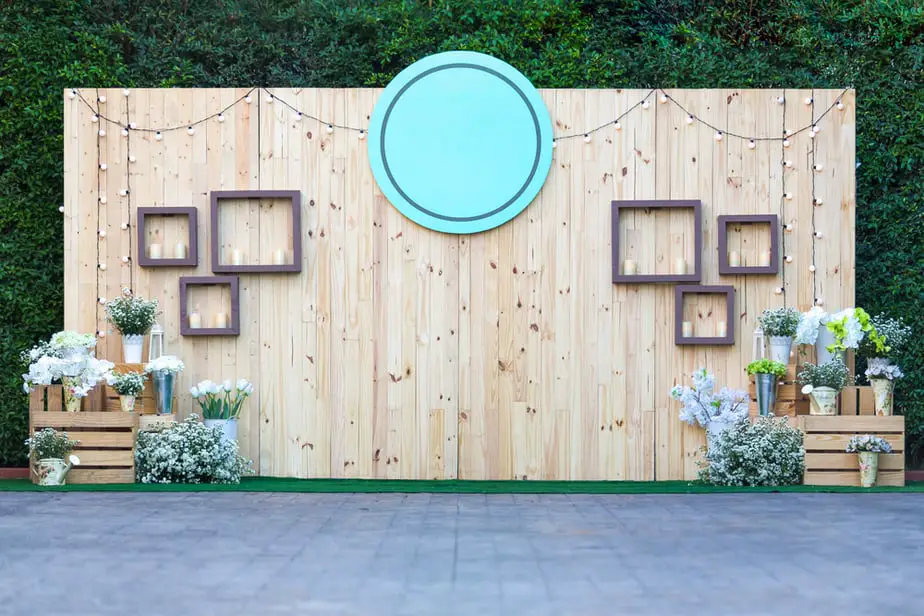 Wood fences have an inherent softness and chic quality such as we see in these wood fence ideas. Add some string lights (check out our favorites here) to draw attention to the main stage. Little details such as paper flowers, picture frames, or anything that goes with your theme can coordinate with a simple wood backdrop.
3. Solid Sheet
No beautiful fence? Consider hanging a sheet for another great backdrop idea. A plain color will focus the attention of the audience to the person on the stage. Pair will great lighting for a simple and cheap backdrop for your outdoor stage.
4. Greenery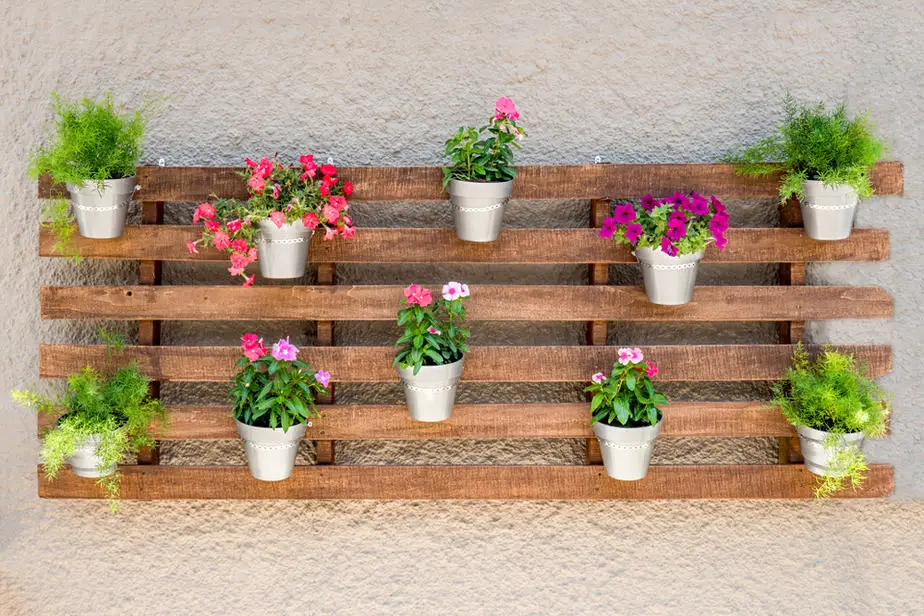 Plants can be a great asset and look beautiful as a backdrop to an outdoor stage. Do you have a hedge or existing shrub area that can be a great stage? Use it! If not, you can create a simple plant wall yourself.
5. Projection Wall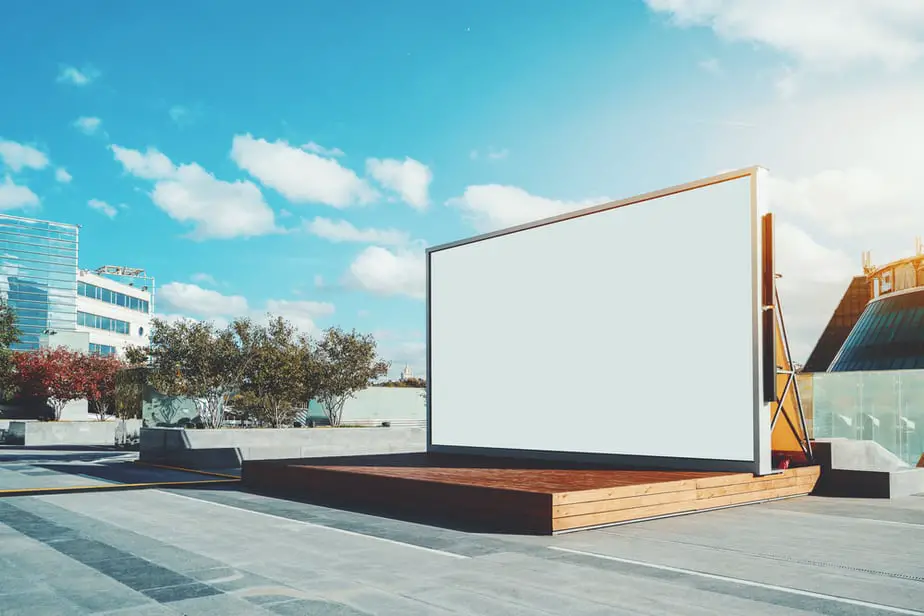 A backdrop doesn't have to be extravagant, but just help set the mood for what is happening on stage. A plain white background is also a great choice. This will allow you to use a movie projector to project your choice of images in the background. You can also use a white background and set the mood with various lighting shining on the wall.
6. Chalkboard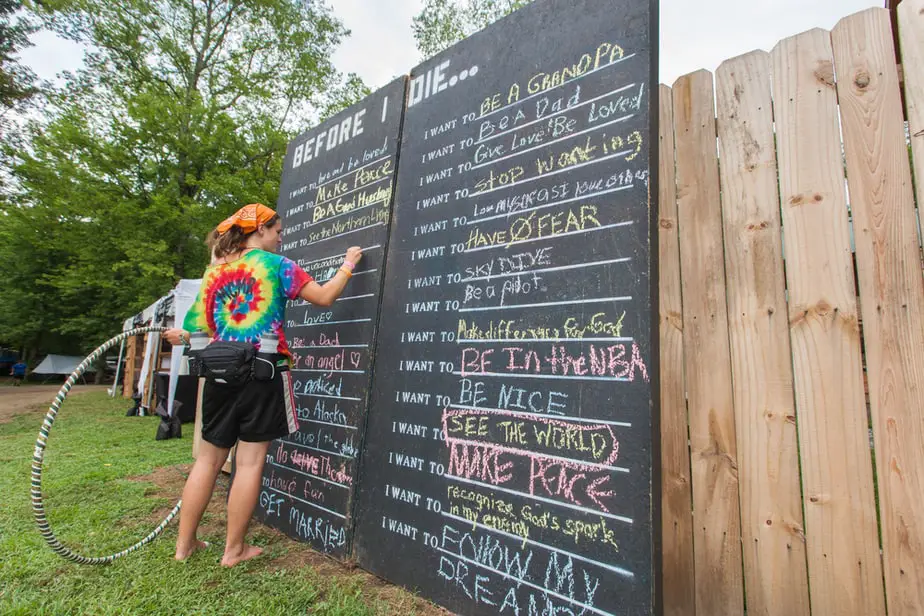 Chalkboards are probably one of the most versatile design elements. It is no wonder they are used anywhere from restaurants to the kids' playroom. A chalkboard is an excellent shabby chic choice for a stage backdrop. You can leave it blank or design it yourself. The title of the band, Mr. and Mrs., or a favorite Shakespeare quote can add just the right personal touch to your stage backdrop. We have already rounded up the list of the best chalkboards here!
Outdoor Stage Lighting ideas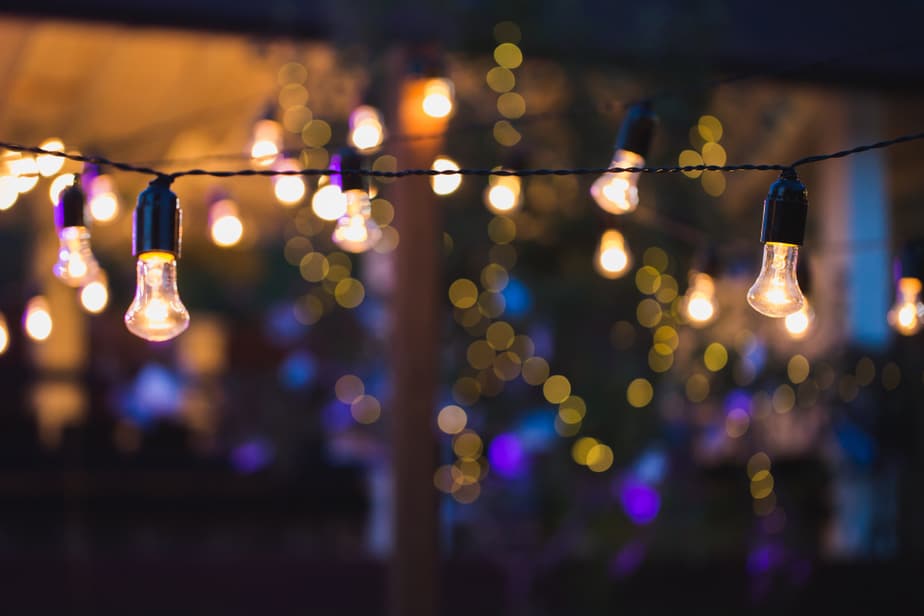 Outdoor stages transform into something new with the perfect lighting. Here are a few ideas to brighten your outdoor stage. Soft and subtle to party and loud, you are sure to find one that suits you.
1. String Lights
String lights are a simple and great ambient lighting that can be added to an outdoor stage. Check out our review of the 5 best string lights here. This is the perfect solution to a simple and elegant stage lighting. String lights pair well with a fence or plain background.
Stage Light Bar LaluceNatz 20" 25W 108 RGB LED Sound Activated DJ Party Light Professional DMX Controlled Wash Up Light for Wedding Birthday Christmas Gig Dance Music Show Church Theater
【25W 108 LED Stage Lights】108 LED stage light bar has low power, low energy consumption and long life. Sturdy Aluminum shell and durable tempered glass window prevent the stage lights from shock and keep it stable effectively. Beam angle 30° makes uplighting concentrated. Built-in fans is perfect for keeping longer life of stage lighting.
【Adjustable Colors & Various Modes】108 led dmx rgb light bar does not means it can only show R(Red), G(Green) and B(Blue), but can be also adjusted other colors by DMX or back up menu. Brightness and speed are adjustable. Free to adjust various modes-Static Color/ Auto Program/ Sound Activated/ Master-Slave/ DMX for your different needs.
【Easy Installation & Adjustable Brackets】Just plug and play, 108 led dmx wash lights bar doesn't need complicated operation. Easy to adjust the screws on both sides with knobs. With approx 3.41ft cable, dmx wash light bar is convenient for mounting on different places. The dj wash lights is safe to use with wide voltage 110V-240V AC, 50Hz.
【Perfect for Multi Use and Occasions】108 LED party light bar is perfect for stage lighting, dj lighting, wedding, clubs, church, birthday party, gigs, Christmas party, anniversary, festivals, events, bar, light show and more.
【What You Will Get】1 x 108 LED wash light bar(L*W*H approx 19.7*2.3*3.1inch), 2 x brackets, 2 x screws, 2 x knobs, 1 x manual, and after sale technical support, replacement, and friendly service. If you have any question during use or after use, feel free to contact us.
Last update on 2023-05-20 / Affiliate links / Images from Amazon Product Advertising API
---
2. LED Light Bar
If you are going for something with a little more color, then try a LED light bar. It will wash your stage in multi-colored light. You can choose a variety of colors or multiple for the perfect hue.
3. Marquee Letters
Marquee letters are another great lighting option. Choose a letter or word that goes right with your party theme. Name of the band, the word "love", or Mr. and Mrs. will add the perfect touch to your outdoor stage.
4. Rope Lights
Rope lights are some of the most versatile lighting options. Rope lights are lights that are in a clear plastic tube. They also come in many different colors. These lights can be arranged in almost any shape. Check out our page on rope light ideas!
5. Spotlight
Why not point out the star on the stage with spotlights? Add a couple of spotlights to your stage to really light it up! These spotlights come in four different colors: red, green, blue, and white.
Sale
Pinspot Light with Remote, JLPOW Super Bright Mirror Ball Spotlight, Mini 15W RGBW LED Beam Spot lights Stage Effect Lighting, Best for DJ Disco Party Bar Club Show Wedding Children's Theater
✔Brighter, More Colorful: Imported RGBW LED is Higher Brightness and Longer lifespan--up to 10000 hours. 4 Different colors (Red Green Blue White.) to meet the needs of different festivals and scenes
✔Remote Control, Easy to use: Compact and lightweight, easy to set up and operate with the RF remote control—ON/OFF, color and mode selection. Remote distance over 20ft, support any-angle remote.
✔Upgraded Design, More Durable: Thickened heat sink instead of noisy fan that give you temperature protection, runs all night and stays COOL. 74 inch Power Cord instead of other brand's 30 inch Short wire. You don't need an extension cord.
✔Multiple Modes, Party Essentials: Support Jump / Single Color / Breathe / Gradual 4 modes. The spotlight is easy to create dynamic and vibrant atmosphere. Great for Wedding /Birthdays/Halloween Parties DJ Band Club KTV Bar Show Disco ball.
✔100% No Risk: 30 days money back,12 months quality warranty and professional customer service ❤Note: Mini Size. No DMX. The spot size can only be adjusted by changing the installation distance.
Last update on 2023-05-20 / Affiliate links / Images from Amazon Product Advertising API
---
6. Disco Ball
Share some glamor on stage with a disco ball! If you chose to get a few spotlights, then add a disco ball. A disco ball will light up the stage and make your audience feel like they are at a five-star event!
NuLink 12" Disco Light Mirror Ball with Hanging Ring
TOP QUALITY MATERIAL: Plastic PVC made inner ball to secure mirror on the right place without moving.
SECURITY & SAFETY: Hanging ring is pre-installed on the mirror ball and it is more secure and prevent the ball fall off or damage. (DOESN'T COME WITH HOOK OR ROTATE MOTOR).
PREFECT FIT SPACE: Ideal for night clubs, house parties, bands, pubs, wedding and banquets.
NO ASSEMBLY: Simple hang it on the wall or ceiling, and you are good to go. Prefect for decoration or parties.
GUARANTEE: NuLink products guarantee defect free/ damaged & come with 1 Year warranty. Contact us for the warranty detail.
Last update on 2023-05-20 / Affiliate links / Images from Amazon Product Advertising API
Outdoor Stage Sound ideas
Depending on what you are using your stage for, there are many different sound options. From sounds systems for the next block party to simple stereos keep in mind what will work best for you. If you plan to set up a full PA system with mixers, make sure to learn all you can to get the most out of your sound. There are many articles that walk you through the process such as this Sweetwater article.
1. Bluetooth
A simple Bluetooth speaker will allow you to play simple music or audio. Perfect for a smaller and more intimate stage setting.
2. Block rocker
Block rocker is a versatile sound system. You can use the microphone for announcements, poetry readings, or karaoke. Block rockers can also be used as a quick set-up for outdoor movies. The volume levels of block rockers are great for outdoor events.
3. Microphone
If you and your guest will be speaking or singing on your stage, consider getting a great microphone set. Some microphones can be plugged into block rockers. Others are wireless to prevent tripping over any chords.
Outdoor Stage Décor Ideas
Most stage décor may be complete with the right backdrop and lighting, but a few final touches can really set your stage! Here are a few simple ideas of décor perfect for an outdoor stage.
Flower Planters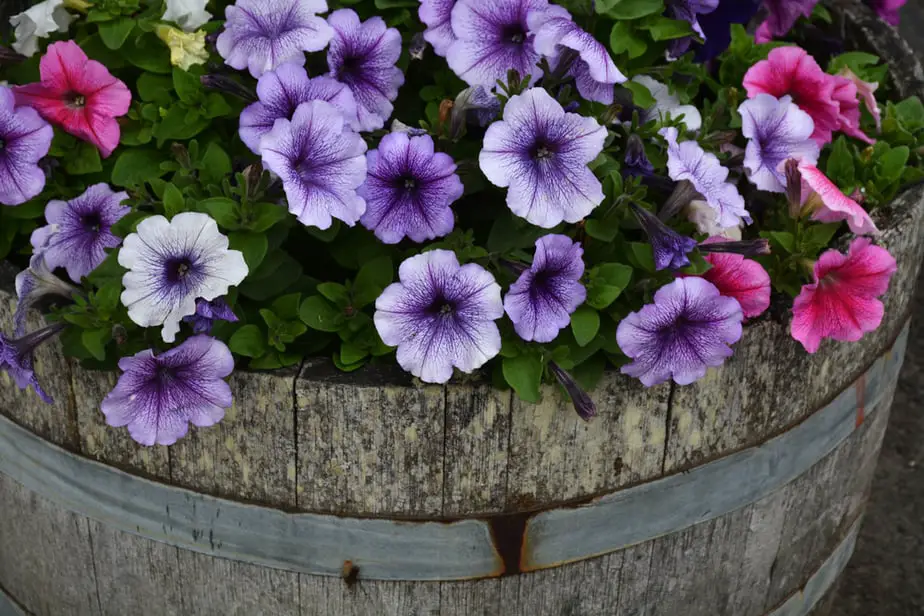 Flower planters bring a sweet, soft touch to these outdoor stage ideas. Grab a variety of pots in different sizes and place your favorite flowers that match your themes. These flower pots double as a great photo op too!
Geometric patterns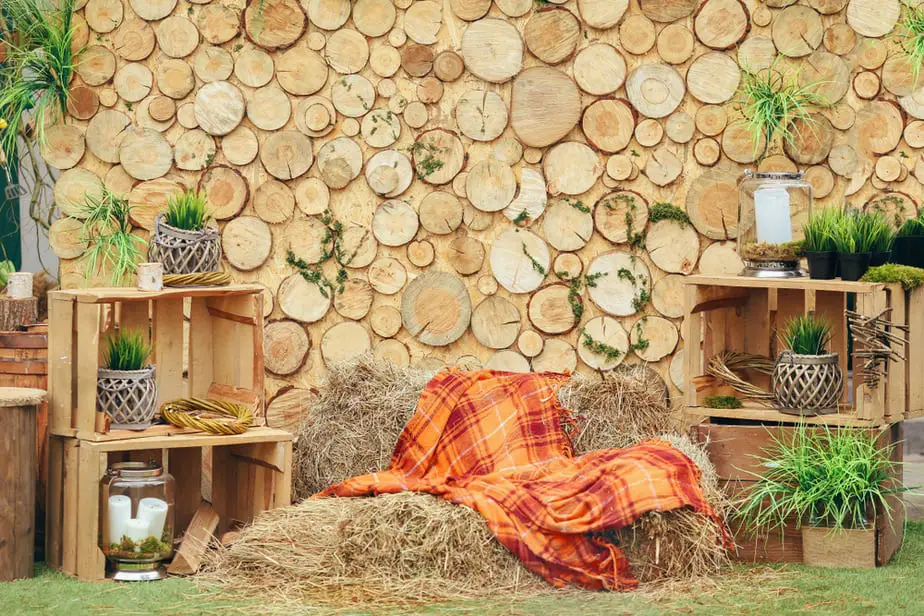 Choose a geometric shape and repeat it throughout your outdoor stage. Circles or rectangles are popular choices. To add a rectangular pattern, gather a few picture frames of varying sizes. You can paint them colors that will coordinate with your stage. Cluster the frames in groups around the backdrop of the outdoor stage.
Marquee Letters
Marquee letters are quite the rage right now. Marquee letters not only provide light but add to a simple décor to any outdoor stage. Whether you purchase or choose to do-it-yourself, these letters will add the perfect touch to your outdoor stage ideas.
Paper flowers
If you are looking for a stage that is soft, consider decorating with paper flowers. These flowers can be purchased or made. There are many do-it-yourself tutorials, but one of our favorites is by Abbi Kirsten.
Statement Chair
Sometimes a single chair with just the right vibe is all you need for an outdoor stage décor ideas. A wooden chair for a guitar solo would be minimalistic and rustic.
Props
In accordance with your outdoor event, props in the same theme will tie your stage into the rest of the décor. Flowers are great additions for weddings and more formal events. Movie posters and popcorn buckets are great props for a movie event.
Gazebo or Pergola
A gazebo or pergola decorated with lights, vines, and flowers can signify a stage in itself. Add a few of the other ideas in these outdoor stage ideas to create the perfect area for your event.
Banner
A banner can double as décor and advertisement. A banner is perfect to put a logo of a band or group that will be performing on your outdoor stage.
Conclusion
Whether your stage is for an outdoor wedding, band performance, poetry reading, or karaoke night, these outdoor stage ideas are sure to help you design the perfect space! Chose a simple backdrop such as a wooden fence or even a plain sheet. Add the perfect lighting by using string lights or a disco ball. A sound system whether small or large will make your guest think you have a professional stage. Stage décor brings the final touch to your stage creating the atmosphere for your event. You don't have to spend a lot to add the perfect stage to your outdoor event!