Are backyard weddings tacky? Not if you don't think they are.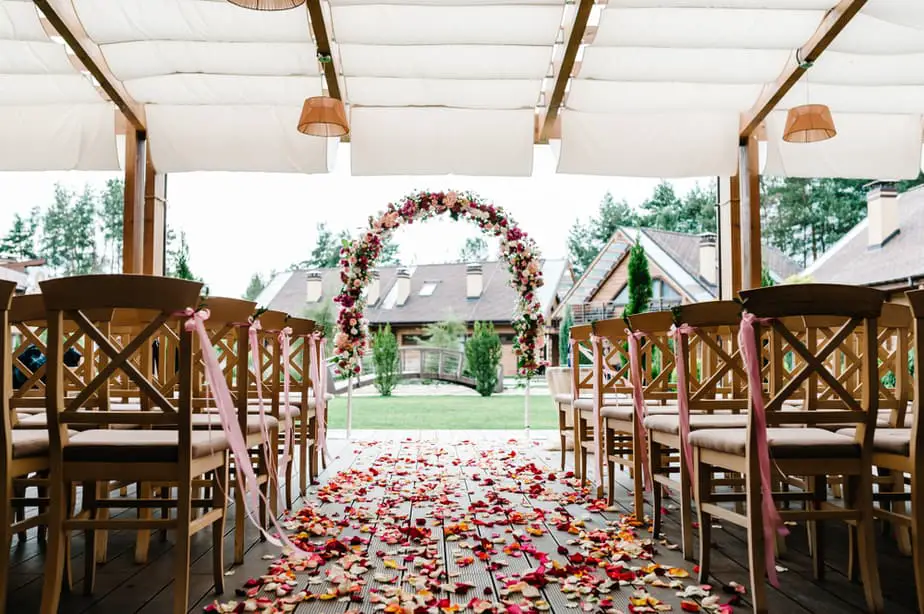 Backyard weddings can be fun, uniquely romantic and even quirky. As for tacky? Well, there will always be someone with an opinion on how things should be done. Nowadays, weddings have been liberated and the pomp and ceremony, although still there, are not as rigid. But, understand that you might end up paying more for many logistical things in a backyard wedding that people usually take for granted when arranging everything at a venue.
Every wedding is bound to face some scrutiny by picky guests, but there are a few things that you can do to make your backyard wedding as sophisticated as possible. In this article, we cover what you should keep in mind to avoid "tacky" and embrace "tasteful".
Plan in Advance
You and your bride or groom-to-be may have had visions of standing under a flowering arch in your yard to say 'I do' for years. But did you really all of the technicalities into consideration? Planning a backyard wedding is all good and well, but there are the logistics, from whether there's enough room for the guests to mingle and dance, to where to park cars, where to hang jackets or put babies and how many is enough when it comes to the loos?
The type of reception you're planning in your yard needs careful thought. Traditionally, you serve food and drink. Whether you go for a buffet or a full plated dinner, you'll need space to prepare the food and another place to put dirty dishes. You'll also need tables and seating, crockery and cutlery and lots of glasses, along with a myriad of other small items such as the cruets and napkins and corkscrews and ice – buckets and buckets of ice.
These sundries are usually provided by a venue but for a backyard wedding, you'll have to source them all yourself. How far you go is up to you and your budget.
Consider Going for a Theme Reception
Whatever you plan for your big day, be it elaborate or simple, what matters is that you pull it together in style. Most wedding planning is around some theme or another, even if it's the color of the bride's bouquet.
If you want to up the ante and go full out Star Trek, turn 18th century rustic for the day or jump out of a plane, there's nothing to stop you. It's your wedding. The important thing is to own it. If you're going for a look, don't do it in half measures or make apologies for it.
Choose Your Colors Carefully
Going for a backyard wedding, there are no limitations and that includes your color palette. Of course, you want it to be relevant to your theme. But when decorating spaces, it's not the colors you choose that are the problem, but how you put them together to enhance the space they're in.
For an earthy feel that matches any outdoor rustic or country-themed wedding, begin with colors and tones you see in the nearby environment for your table linens and chair covers. Add pops of color using table runners or napkins or bows and sashes on the chair backs. Pick up the color combination in the floral arrangements, table centerpieces, buttonholes, pocket handkerchiefs, the bridal bouquet or the bridal outfits.
Add Flowers in Your Backyard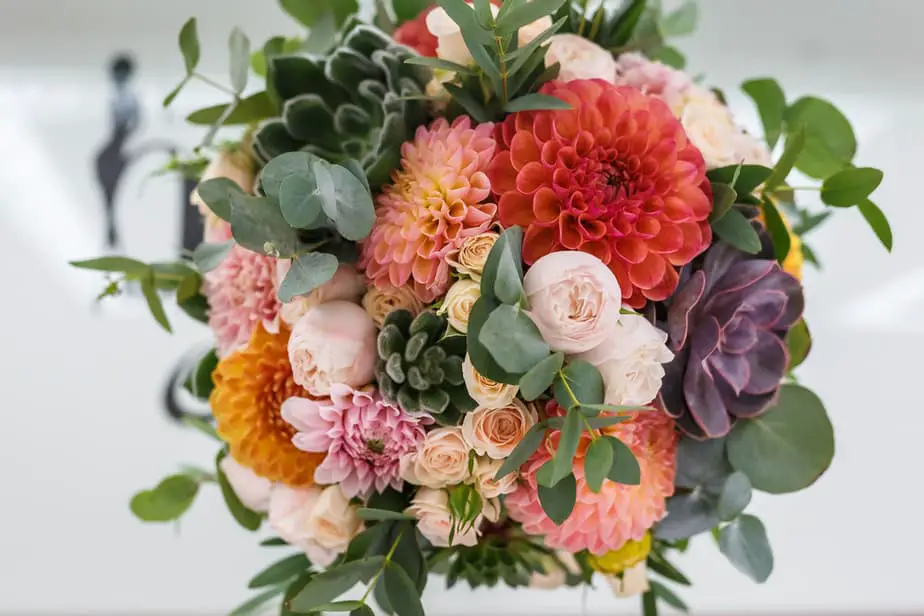 If you're not buying flowers but rather using them from your garden, you know to think about your florals well ahead of time. Of course, you'll remember to plant extra bulbs in autumn to have fresh spring daffodils and tulips in bloom in time for your spring wedding. Put a few in planters and pots to dot around, too.
For a summer wedding, it almost has to be roses, but there are many varieties of dahlias, as well. There's also the ever-cheerful gerbera around that's perfect with fern. Carnations with fantastical color combinations are complimented so well by gyp, also.
For fall, you can opt for chrysanthemums in big round blooms, bright Japanese anemones, or sprigs of a delicate deep blue salvia. Here's the main thing: there are no flowers that are wrong for a wedding.
However, there is preparation and cost if you want specific flowers and there's always a risk if you're growing your own. On the upside, you'll save a fortune growing your own flowers but you'll still have to budget for such things as vases and bowls, oases and wire. Also, be sure to invest in a good soil moisture meter when growing plants on your own.
Don't Underestimate the Need for a Tent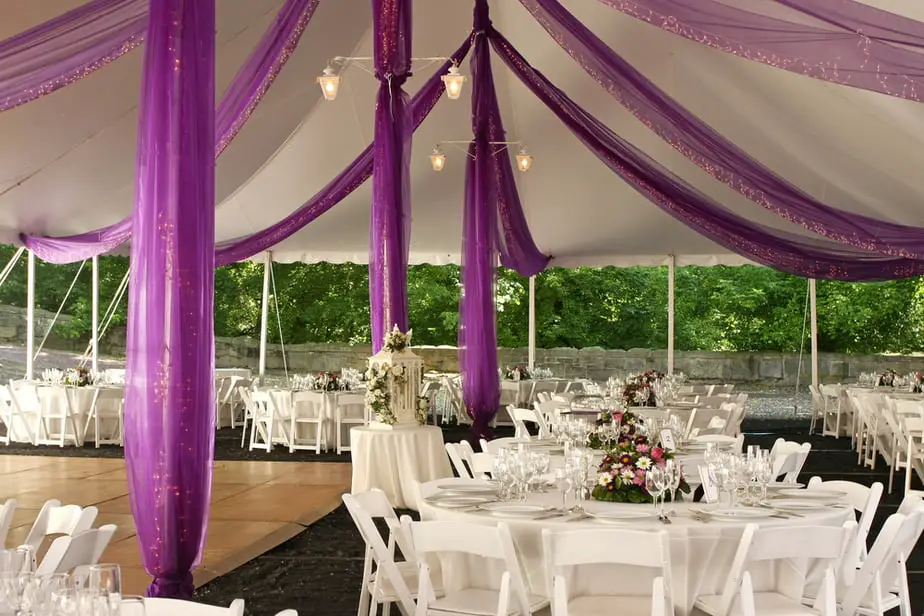 Even if you're on a tight budget for your backyard wedding, it may be a good idea to invest in renting a tent or a gazebo with drop-down sides. It can be a savior if it rains and provides shelter from the sun or a stiff breeze and it also acts as a social focus.
Decorate this area to make it a welcoming place where guests can sit comfortably and look on or chit chat away from the hubbub of things. It's especially important for guests like dear old Aunt Maudie.
Have a Dance Floor for Fun
Renting a dance floor can be pricey but not having one presents a dilemma. Can your designated dancing area cope with stiletto heels? Since no one wants to dance on a mud patch, it takes careful planning in advance to avoid renting flooring.
Like planning for your flowers, you may find you need to prepare the ground early. Make sure it's level, that it drains fast when it rains and that there are absolutely no trip hazards. You can save time and money if you double up the use of the best areas of your yard. The most obvious is using where you held the ceremony as the dance floor.
Get a Staff Together
Some may think it's tacky to have guests moving tables and chairs to make way for the dancing. But in the old days, that's how wedding receptions happened. Everyone mucked in with everything from the flowers to the food to make backyard weddings a day to remember for the bride and groom. Perhaps you don't have to ask your family to go that far, but do consider hiring in staff.
There are many catering agencies around that hire out professional staff at reasonable rates. You get their expertise at keeping guests happy and for the picky among your guests, having a waiter around may add to the sophistication and class of your backyard wedding.
Go for the Best Portable Bathrooms
The rule is generally 1 bathroom available for every 35 guests. Considering the number of guests you're expecting, it's important to take into account the bathroom facilities you have available. Your guests will need somewhere handy to go, so you may be tempted to opt for a neat row of the bog-standard port-a-potties – but don't. These are great for music festivals but definitely top-tacky for weddings.
Upgrade the port-a-loo idea and hire a couple of purpose-built luxury restrooms, instead. They're available to suit every budget and come with everything guests need to powder a nose or spend a penny.
Rent the Equipment
You could have the table linen you dreamed of and a centerpiece that's a work of art, both useless if you don't have enough tables. Chairs will be an issue, too. You could put the word out and borrow tables and chairs from the neighbors, but you're going to need a lot. If you get enough borrowed chairs, you could even decorate them to match your theme.
But be careful – chairs and tables that don't match is a tacky attack waiting to happen if you're having a sit-down dinner. It's just uncomfortable and would be hard to pull off with style.
Though borrowing chairs is an available option, it's usually better to rent out chairs and tables. Some churches and community halls are happy for the business. With a reputable company, though, you're guaranteed quality; and for a little more cash, they can include things such as wicker armchairs and coffee tables or sun loungers. All matching, of course.
Light up the Night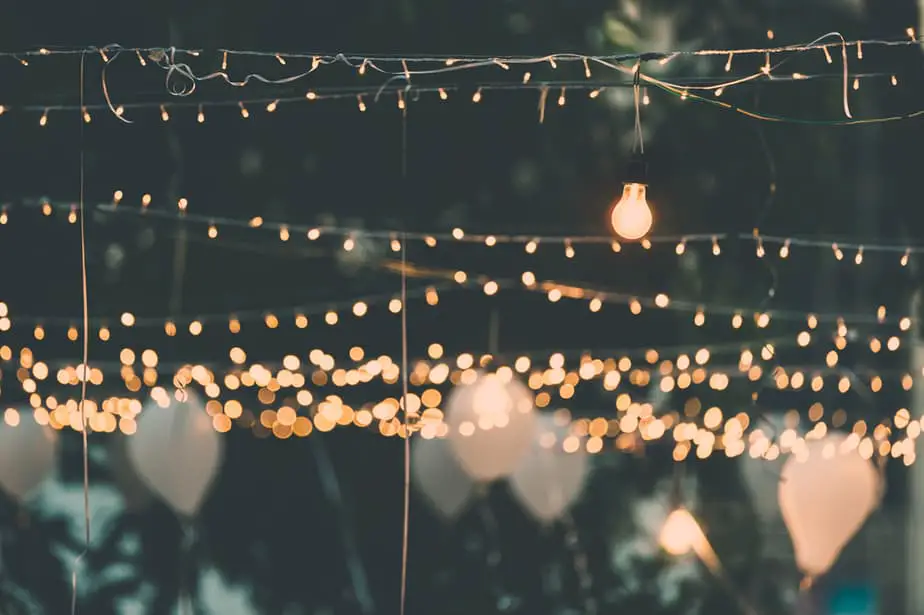 While you may face many challenges of making your wedding seem not tacky, holding a wedding ceremony at night under the stars can't fail to add romance. Your first married kiss is bound to bring a tear to more than one eye. But if you're going for a nighttime reception, you'll need more lighting than a few well-placed tea lights.
Putting up strings of café lights and uplighting a few trees creates a truly special atmosphere anywhere. There are so many solar-powered outdoor lights around the choice is endless: torches, chandeliers, marquee signs, lanterns of all shapes and sizes and even clusters of votives that can be put around your shrubs.
Yes, it will be an added expense if you go for the really fancy stuff but lighting up the night on your wedding day could easily take your backyard wedding from tacky to magical.
Conclusion
It all boils down to the fact that, if planned meticulously, backyard weddings are never tacky. These days, it's more about a couple showing everyone they're in love and enjoying the shared experience of their wedding. It's freedom couples are only just exploring; and deciding where, when, and how to hold your wedding is still new. But for a lot of couples, the choice is more obvious – the best place is where the heart is: at home, in the yard with your family and friends!