Whether you're decorating for the holidays or installing year-round lighting to bring your backyard to life after dark, nothing is quite as easy as installing string lights to radically enhance your outdoor living space! We've put together this complete buying guide to help you find the best waterproof outdoor string lights you can get.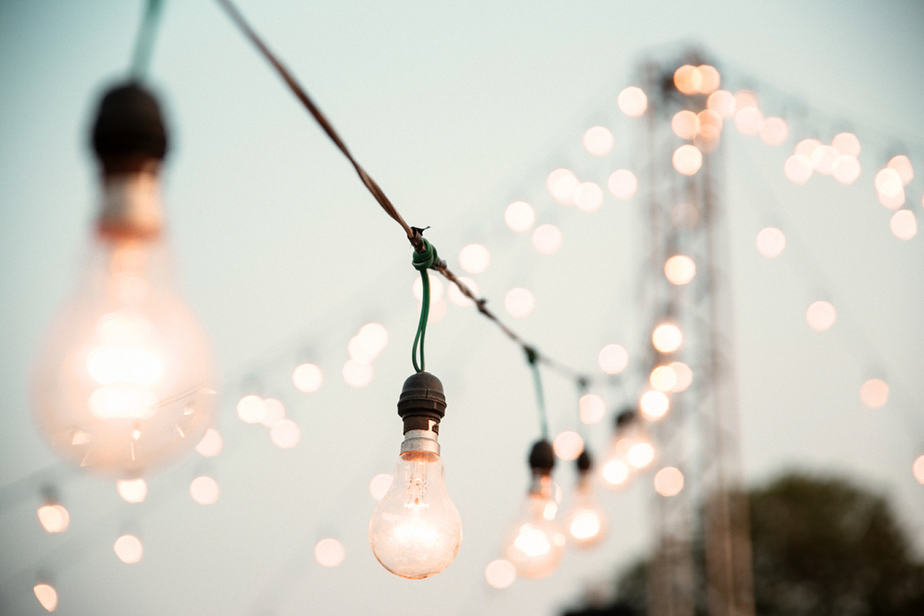 In a Hurry? Here's Our Top Picks…
Brightech Ambience Pro Waterproof LED Outdoor String Lights
Sale
Brightech Ambience Pro - Waterproof LED Outdoor String Lights - Hanging, Dimmable 2W Vintage Edison Bulbs - 48 Ft Commercial Grade Patio Lights Create Cafe Ambience in Your Backyard
Energy Saving Outdoor LED String Lights: 24 ft long string lights with 7 hanging 2 watt bulbs spaced 3 feet apart. Brightech porch string lights are approved for residential and commercial lighting and they never get hot even after being on for hours. Connect up to 20 strands end to end. 2700 K soft white LED string lights.(Please NOTE: Bulbs are made for use with 110v only.)
Commercial Grade Weatherproof Patio String Lights: Brightech's Ambience Pros hanging lights string has our own WeatherTite technology - withstood winds up to 50MPH, rain & snow. The rubberized flexible heavy-duty cord withstands the wear of indoor and outdoor use. The core is UL listed. Confidently leave these lights on display year round.
Flexible Installation & Widely Used LED Patio Lights: Brightech outdoor decorative yard lights are the perfect decoration for balcony terrace, garden, bistro, bedroom, living room, pergola, gazebo, tent, barbecue, city roof, market, cafe, umbrella, dinner, wedding, birthday, party etc. Brightech string lights are easy to assemble, plug to play. You can string them straight, or wrap them in trees for unique shapes.
Classic Cafe Ambience: Brightech indoor outdoor string lights use vintage Edison Bulbs. Install this hanging lights string with old-fashioned filaments to give off a warm, old-time glow so that you can come home after a busy day and enjoy your very own retreat. Make your pergola, porch or other space to be an enticing, relaxing and soothing retreat with Brightech LED outdoor lights.
THE WARRANTY: Our string lights are built to last, and we stand behind that. That's why we offer an industry-leading 3-year limited warranty on all purchases from Brightech USA, including any defects, malfunctions, or sudden failures to your lights. If you experience any trouble with this string light set, don't hesitate to reach out to our all-star customer support for help.
Last update on 2023-09-18 / Affiliate links / Images from Amazon Product Advertising API
These super popular string lights are designed to look like old fashioned Edison bulbs with exposed filaments, but they're actually energy-saving LEDs! They put out enough light to illuminate an area without other light sources, though you can dim them as needed if you have an LED-compatible dimmer. These versatile lights are some of the most highly-rated string lights on the market.
They feature WeatherTite technology, which gives them an added sturdiness and durability – not to mention waterproofing, making them perfect for outdoor use. They're UL listed and the rubberized cord is extra thick to protect the lights year-round while maintaining flexibility.
Each 24-foot light string includes 7 energy saving 2-watt LED standard base bulbs that will never get hot, even after hours of use. If that's not enough for you, you can connect up to 40 strands of these lights, or upgrade to the more expensive 48-foot strand.
As for Brightech, they offer a 100% guarantee and a 3-year warranty, so you can feel comfortable knowing that your purchase is protected and that the company will work with you if there are any problems. A glance through the review section on Amazon though, suggests that you won't have to worry about needing the warranty.
Things We Like:
Watertight WeatherTite technology keeps the rain out of your lights and guarantees them for year-round outdoor use
Aesthetically pleasing retro design fits in with many different outdoor styles and adds ambiance
Dimmable lights allow you to customize your lighting settings
Comes with a 3-year warranty
Check Price and Reviews on Amazon
---
Twinkle Star 200 LED Curtain String Lights
Sale
Twinkle Star 300 LED Window Curtain String Lights Wedding Party Home Garden Bedroom Outdoor Indoor Wall Decorations, Warm White
8 Modes settings: Includes an easy-to-understand adjustment of settings: combination, in waves, sequential, slogs, chasing/flash, slow fade, twinkle/flash, and steady on.
Excellent High Quality: 6.6ft*9.8ft(width*length), 300 WARM WHITE LED lights. UL Certificated Output and wire: 29V Voltage Safe Curtain Lights with UL certified, leads to 29V safe output by UL plug-in transformer.
Easy to Use: Directly plug in and unplug it for power on and off. US standard outlet, voltage 110V. Leading wire: 9.9 ft.
Perfect Decoration: WATERPROOF(IP44) Perfect for indoor and outdoor decorations. Christmas, party, Valentine's Day, wedding, home, window, bathroom, festival, Holiday, shows, restaurant, hotel, commercial building, shopping center etc.
This LED curtain lights will make your life lovely. NOTE: ONLY STRING LIGHTS, NOT COME WITH A CURTAIN, MAINLY USED FOR CURTAIN DECORATION.
Last update on 2023-09-18 / Affiliate links / Images from Amazon Product Advertising API
No matter what your vision for your outdoor living space is, these lights are a great option for adding atmosphere and ambiance to your space. They're curtain lights, so you have a bunch of strings of LED lights hanging down from a single top wire. These lights are super versatile and can be hung on walls, roofs, hung like curtains, or over plants to create a gently twinkling addition to your space.
These lights come with 300 warm white LEDs that feature IP44 waterproofing, so they can stand up to the rain. It's important to note that the waterproofing does not extend to the power supply or the remote, so those parts need to be kept someplace dry for your safety.
You can cycle through the eight modes – combination, in waves, sequential, slo-glo, chasing/flash, slow fade, twinkle, and steady on – to find the perfect choice for your outdoor occasion. Plus, if you need more length from your lights, you can connect multiple sets together to form a longer string light curtain.
If you need some ideas for how these lights could work for you, check out the Amazon reviews section, where buyers have shown off lots of cool examples of how they're using their lights. If you're not ultimately satisfied with your lights, in the end, the company offers a 100% satisfaction guarantee and will work with you to either send you new ones or provide a refund.
Things We Like:
Great design allows for versatile use in all sorts of backyard designs
IP44 waterproofing will keep your lights safe in the rain so you can keep them up all year
8 different settings to choose from so you can customize to fit your lighting needs
100% satisfaction guarantee means it's a no-risk buy
Check Price and Reviews on Amazon
---
INST Solar Powered LED String Light
INST Solar Powered Long Lasting LED String Light, Ambiance Lighting, 54.5ft 17m 100 LED Solar Fairy String Lights for Outdoor, Gardens, Homes, Christmas Party (Warm White)
LONG WORKING TIME:1800mah power capacity, making it lighting longer than the old 1200mah version.Average service life over 3 years.
100 LED 2 MODELS:100 LED lights STEADY and FLASH in a string, form a beautiful and fairy world.
IP65 WATERPROOF:Sealed process, with IP65 waterproof performance.
INDOOR&OUTDOOR:Suitable for indoor and outdoor decoration with trees, wreaths, etc.
EASY TO OPERATE&INSTALL:Great ambiance lighting for backyard, patio, garden, pathway, camping.
Last update on 2023-09-18 / Affiliate links / Images from Amazon Product Advertising API
These lights aren't the brightest and they're certainly not your classic Christmas lights, in spite of their appearance. They give off a gentle glow, like fairy lights. It makes them great for accent lighting rather than trying to fully illuminate your outdoor space with them.
One of the best things about this set of lights is that they're solar powered. That means that other than the initial cost of purchase, you don't have to pay to run them because they're getting their power from the sun. It's environmentally friendly and cost effective! That also means that you'll need to place them someplace where the solar panel gets enough sun to charge them during the day.
These lights, like many solar lights, have an automatic on/off system that detects the dark and activates and deactivates the lights when it detects dawn. You can set them to either steady or flashing mode to customize them a bit.
The INST Solar Powered String Light is weatherproof, so it can be placed outside without worrying about it breaking. Its low-power use and LED design mean that the bulbs never heat up and they're quite safe for use!
Things We Like:
The IP65 rating means the lights will stand up just fine even to heavy rains
Solar paneled power source is cost effective and reduces your carbon footprint
Automatic on/off system means you never have to worry about remembering to turn the lights on or off
Check Price and Reviews on Amazon
---
Solar LED Lanterns String Lights
Solar Lantern String LED Lights 13FT/4M 20 LEDS, ALED LIGHT LED String Lights Outdoor IP65 Waterproof for Garden,Patio,Party ,Wedding,Camping Decor(Warm White)
❤ SOLAR LANTERNS - These LED lanterns string lights are powered with SOLAR panel. It could charge automatically, set you free from charging with electricity. High power conversion rate make the lights work longer.
❤ HIGH WATERPROOF GRADE - These outdoor decorative lanterns are made of tarpaulin, which is a 100% waterproof, cloth-like material! The solar panel is IP65 waterproof grade, perfect for your garden party, outdoor celebration or decoration.
❤ ENOUGH LENGTH AND LED LANTERNS - These waterproof lanterns string lights is up to 4 meter/13.2 Feet, with 20 LED bulbs. There is 15 cm distance between two lanterns. Long string and 20 LED make decoration easier and brighter.
❤ EASY INSTALLATION - These globe lanterns lights are collapsible, you just need to expand the fabric lanterns and inset the holder and lights. Detachable ground rod help you to fix solar panel and your DIY decoration.
❤ TWO OPTIONAL MODES - These solar lanterns lights are designed with 2 different mode, steady mode and flash mode, bring you more rich experience and happiness.
Last update on 2023-09-18 / Affiliate links / Images from Amazon Product Advertising API
Get all of the cozy lantern vibes with none of the fire hazards of candles (or even traditional lights)! These LED lanterns are a great option for personalizing your outdoor space.
The Solar LED Lanterns String Lights come with 20 LED bulbs spread out over four meters of cord. They give off a warm white light, with options of keeping them on either a steady-on mode or a blinking mode.
Like the INST string lights above, these lights are solar powered. Once you set up the solar panel in a safe spot with lots of direct sunlight, they'll charge automatically during the day and come on automatically at night, easing both your mind and your wallet.
In terms of construction, these are surprisingly sound. They have an IP65 ranking, meaning they're entirely waterproof and safe for outdoor use. Rather than using paper, like many of the cheaper options you can pick up out there, these lanterns use tarpaulin, which is a waterproof cloth-like material. Plus, the lantern itself is collapsible for easy storage and transportation.
When you're ready to put these lanterns up, installation is easy: just expand the lanterns and attach them to the holders already connected to the string lights themselves. You'll be ready to chill out in your outdoor space with some cozy new lights in no time.
Things We Like:
Lanterns add a unique touch to your outdoor space
The solar-paneled power source is cost-effective and environmentally friendly
Automatic on/off system means you never have to worry about remembering to turn the lights on or off
IP65 rated electronic component coupled with waterproof lantern design can stand up to rain and inclement weather
Check Price and Reviews on Amazon
---
50 ft Black String Lights
50ft Black String Lights, 60 G40 Globe Bulbs (10 Extra), Connectable, Waterproof, Indoor-Outdoor Globe String Lights for Patios, Parties, Weddings, Backyards, Porches, Gazebos, Pergolas and More
10 EXTRA BULBS FOR ADDED VALUE & EASY REPLACEMENT: Even with premium set of globe string lights like ours, a bulb may occasionally burn out. That's why we include 10 spare bulbs with each set. 60 clear G40 globe bulbs in all. Each incandescent bulb is 1.5 inches (slightly smaller than a golf ball), has a candelabra (E12) socket base, and uses only 5 watts of power (250W per string). Plus, if one bulb goes out, the rest stay lit, so you won't have to replace the whole light string
INSTANTLY TRANSFORM ANY INDOOR OR OUTDOOR SPACE: Forget those harsh, glaring white lights. Our decorative string lights are bright but not intense, emitting a beautiful, warm white light. Use our globe lights to create a relaxing ambience, both indoors & outdoors. Decorate for the Holidays, or completely transform your wedding reception, party, garden, patio, yard, porch, pergola, deck, RV, bedroom, living room, and more
DECORATE YOUR SPACE WITHOUT ANNOYING HOLDUPS OR LOSSES: Your G40 globe string lights will arrive with the bulbs and cable securely packaged and in tact. In the box, you'll find 1 50ft black cable with 50 sockets, 60 clear glass G40 bulbs carefully packed in styrofoam to protect them in transit, and 100 black zip ties to help during installation
DURABLE & LONG LASTING WEATHERPROOF CABLE: Featuring 50 feet of the highest-quality 18 gauge SPT-1 cable with 12" spacing between bulbs, 6" lead with male plug, and 6" tail with female connector. End to end connectable, this premium cable is UL listed for safe indoor/outdoor use. Link a maximum of 2 light strands (100 ft total) to cover larger areas
VALUABLE HOW-TO GUIDE & EXTENSIVE TWO-YEAR WARRANTY: As soon as you order, you'll receive a comprehensive how-to guide filled with design tips & installation steps. Not thrilled with your bulb string lights? Return them for a full refund. Having problems? We offer a two-year warranty on the string of lights (excluding the bulbs) and will be happy to replace any broken set, free of charge. Need more G40 bulbs? Search for B073V5SXV6
Last update on 2023-09-18 / Affiliate links / Images from Amazon Product Advertising API
These lights are our favorite of all the options on this list. They're stylish in a timeless way that can fit in with any décor and they're also super heavy duty. With a warm glow, these lights are great for a whole variety of uses and will last you a long long time.
Each bulb is slightly smaller than a golf ball with an E12 socket base and uses only 5 watts of power. Since they're LED, you can rest assured that you're saving on costs and don't have to worry about these lights heating up to the point of being a danger. Even if one goes out, the rest of the string will continue to light.
The manufacturer really takes care of these lights. Each set ships with 60 G40 globe bulbs carefully packaged in Styrofoam for protection, includes 10 extra bulbs in case you have trouble with or break one, a UL listed 50-foot cable with 50 sockets, a spare fuse, 100 zip ties to help you with installation, and a comprehensive how-to and design guide they send you through email upon purchase.
The cable is a high-quality 18-gauge SPT-1 cable with bulbs spaced out per foot. It has six inches of tail on either side so you can plug it in or connect it to another string of lights. With this particular brand, you can link a maximum of two strings together to form a single 100-foot string to cover a larger area.
These string lights are weatherproof as well and reports of issues are rare even after leaving them outside in all kinds of storms. Since the set comes with an extra ten lights and a spare fuse in case of trouble, problems are quickly fixed and if you have an issue beyond that, the team behind these lights are super responsive, offering a two-year warranty and satisfaction guarantee.
Things We Like:
Comes with everything you could need to set up, including spare parts and a how-to guide, in careful pre-inspected packaging to ensure your set arrives without any broken bulbs
Weatherproof design is perfect for year-round outdoor use
Heavy duty design is durable and versatile
Super responsive customer service team provides warranty and assistance with any issues you may have
Check Price and Reviews on Amazon
---
Deciding Which Lights are Right for You
When you're designing your outdoor space, lighting may be one of the easiest ways to change the feel of it, but there's still a lot to consider when picking out what kind of lights are right for you.
It's important to think about what your lighting needs are exactly. Do you need lighting to provide all of the outdoor illuminations? Or are you just trying to change the mood? Do you want to draw attention to some piece of the landscaping?
What's the Difference Between String Lights and Rope Lights?
String lights, like the ones featured here, are long wires with bulbs of some kind hanging off at intervals. So on this list, we have some that have incandescent-style glass bulbs with LED lights inside, like the 50 ft Black String Lights, and others where the LED bulb is all that's attached, like the Twinkle Star 200 LED Curtain String Lights.
Rope lights, on the other hand, have the wire and the bulbs both contained within plastic tubing. While this tends to make them great for outdoor use, they don't follow the traditional and much-loved design of string lights. They also, along with strip lighting, tend to be used more often for DIY lighting projects and indoor designs. That said, we have a great guide here for the best outdoor rope lights as well!
What's the Best Power Source?
This is a classic question when it comes to outdoor lighting. What is the brightest and most cost-effective light source? Should you use solar or wire powered lights? What about battery-powered? We haven't included any battery-powered lights in this list, but they're still a good option for string lighting if you can find them. So, without further ado, let's go over the options:
Battery-Powered
Battery-powered lights, though none of them made our list this time around, are a super convenient power source for outdoor lighting because they don't require access to a wired power source or outlet. That makes them super portable too and you can place them anywhere on your property.
On the other hand, that means that they will require you to keep an eye on their battery level and replace the batteries when they run out. This can get pricy since the total run time tends to be about 8 hours per set of batteries. Of course, you can always get a set of rechargeable batteries and a charger, which lowers the cost dramatically and is more environmentally-friendly.
Solar Lights
Solar-powered lights are way up there on our list of the best outdoor lights you can use for many reasons – and we're not the only ones who think so! Solar lights require little maintenance: you only have to make sure to clean off the panels every now and again. They're also great for the environment and cost you very little. After the upfront cost of purchasing the lights, they run themselves off of power they gather from the sun, rather than adding on a cost to your electricity bill.
Wired Lights
Most lights tend to be wired because it's both convenient and traditional. Wired lighting relies on the electrical system that your home already has. As long as you have an accessible outlet that's reliably sheltered from the elements you're good to light up your backyard living space using wired lighting. A lot of the lights on our list rely on wired electricity. Since all the lights on our list are LEDs as well, you don't have to worry about the costs being excessive – LEDs are remarkably cheap to run!
UL Certification
UL certification, or Underwriters Laboratories certification, is basically another way of making sure that the products you buy are safe to use and that they've passed a rigorous round of testing from a third party. UL works with a whole range of products to add a level of accountability to manufacturers. If you're curious, there's more information here about what it means to be UL certified.
IP Ranking
You'll see many products declaring their IP ranking, whether you're buying lights or outdoor heaters. This is their way of saying, "our goods are waterproof and dustproof." When you're looking for outdoor fixtures this becomes, understandably, more important. You want to make sure that the lights you're putting outside won't short out at the first sign of rain or, worse, cause a fire because they've gotten wet. The IP ranking system gives you a way to make sure what you're purchasing is designed for what you'll use it for.
With IP rankings, the first number tells you how dustproof something is and the second number in the ranking is a description of how waterproof something is. This goes all the way from 'not waterproof at all' to 'submerge me and I'll be fine.' If you're still not sure what IP ranking is, check out this site for a great breakdown.
How to Set Up Outdoor Lights
We know that the best way to liven up your outdoor living space and extend its use past sundown is to add lighting. If you're not sure how to go about doing that, don't worry! We've got you covered.
When you're figuring out how many lights you need, make sure to order at least 4-6 feet longer than the total you come up with. That allows you to compensate for the wire length for the plugs, slack in the lines, and to make sure you definitely have enough lights total to light up your space adequately.
String lights are some of the easiest to install because all you'll need is access to an outlet, or perhaps an extension cord, and something to hang them with. Depending on your setup, you can hang the lights up with zip ties or hooks, or even just trees and posts to wrap the lights around.
If you're using lights like the 50 ft Black String Lights on our list, it's best to hang them up without the bulbs. That way you don't have to worry about accidentally damaging the bulbs in the process. Once the wire is hung, it's easy to screw the bulbs in safely.
There's a great breakdown here of how to add string lights to your yard if you're having a hard time.
Best Brands
Brightech
Brightech is a company focused on creating stylish lighting designs using LEDs to their fullest potential. Their aim is "to help you do you" and design your ideal living (and lighting) space.
Twinkle Star
Twinkle Star is a lighting company whose goal is to create cute lighting solutions that allow you to customize your living space with warm, and twinkly, lights.
INST
INST is a versatile company who specializes in many things, but they're well known for their string lights, as their lights are some of the highest rated options on Amazon.
ALED
ALED has spent over ten years in the LED field, incorporating research and experience into developing the best lights they can, for both indoor and outdoor use.
The Outdoor Lighting Store
The Outdoor Lighting Store is the brains behind several LED Amazon bestsellers and continues to innovate with great products and the service to back them up.
FAQ
Q: Can outdoor string lights get wet?
A: Generally yes, but it depends on the lights you buy. Look to the IP rating of the string lights before you purchase them. We've talked about it above, but you're looking for lights with a certified IP rating of five or six to make sure that your lights will be able to stand up to the rain – this doesn't include the power source itself typically, or any remote controls that are included. Those parts you'll need to ensure stay safe and dry.
Q: How do I hang outdoor string lights?
A: String lights are some of the easiest lights to hang up! You can hang them up easily using zip ties, easy-install hooks, or even just by wrapping them around a post or railing.
Wrap Up
No matter what your vision is for your outdoor living space, installing the proper lighting will go a long way towards helping you achieve it. There are lots of different kinds of lights out there, but none are quite as simple or as easy to install as string lights.
We feel that the Outdoor Lighting Store 50 ft Black String Lights are some of the best and most popular on the market, and would work great for whatever your ideal outdoor space is. They're lengthy, bright, and stylish. You can use them to change the vibe of any space and they're durable enough for outdoor use and even for indoor use. They're great options that we can't recommend enough.
We hope you enjoyed our article covering the best waterproof outdoor string lights for your backyard! Now, what are you waiting for? Get decorating!