The right grow lights will change the way you grow plants, optimizing your crops for maximum growth in a shorter amount of time. You can use them to grow leafy greens in the winter or to augment your plant growth in the summer. Whether you're growing them in your house or in a greenhouse, we've put together a budget-friendly list of the best cheap grow lights on the market right now.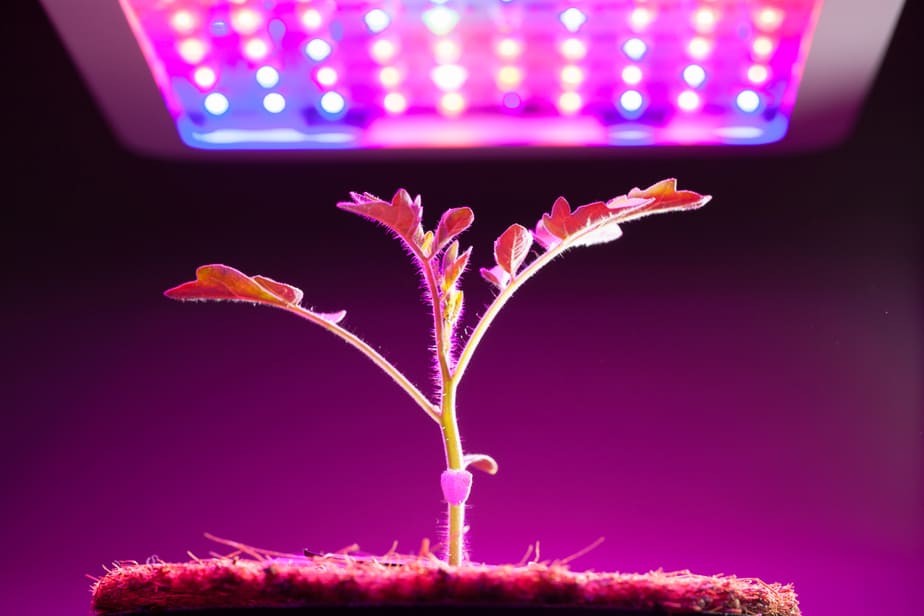 Our Top Picks…
TaoTronics Full Spectrum LED Grow Light Bulb
100W LED Grow Light Bulb - Full Spectrum Lamp for Indoor Plants, Garden, Flowers, Vegetables, Greenhouse & Hydroponic Growing | E27 Base 150 LEDs (AC85-265V) by Haus Bright
LED GROW LIGHT BULB – Full spectrum plant light by Haus Bright! The only indoor grow light LED for plants & greenhouse. Grow lamp acts as hydroponic growing system inside your indoor grow tent. Don't risk cheaper brands!
GROW LIGHTS FOR INDOOR PLANTS – Superior to small grow light fluorescents, tubes, CFL, T5, T8. Multiple grow light bulbs create same power as 300w, 600w, 1000w led grow light with more flexible arrangements. Best grow light value for money!
PLANT LIGHT – Hydroponics growing system with 365 days a year of sunlight, only draws 20W power, bulb stays cool, fits standard E26 bulb socket, full spectrum, 18 months warranty, e-book and video included. Exclusive to Haus Bright!
LED GROW LIGHT – for medicinal plants, indoor plants, greenhouse, seedlings, succulents, large house plants, seed starting, tomatoes, flowers, vegetables, garden, palms, cactus, herbs, orchids, aquarium, citrus, fish tank, aquaponics, office and winter.
ADD TO CART – to order now with our "no questions asked 30-day satisfaction guarantee". If you are not impressed with the results, please contact us and we will refund your money! Order more than three Haus Bright products for big savings!
Last update on 2023-09-20 / Affiliate links / Images from Amazon Product Advertising API
The TaoTronics Full Spectrum LED Grow Light Bulb provide everything your plant needs – on the light side of things anyway – with a selection of 12 evenly spaced LED bulbs you get all of the wavelengths that encourage your plant to grow in a single bulb.
You'll never need to worry about heat with this grow light. On top of being an already low output LED, it features an aircraft grade heat sink with aluminum fins which dissipate the heat 1.5 times better than its predecessors. Even after 24 hours of continuous use this lamp will be cool to the touch, which makes it super safe for your plants.
Now unlike the other options on this list, instead of being a full-fledged lamp, this is just a bulb. That means that it's super easy to install and doesn't require the sort of extra set up a lamp might require. It's designed to be compatible with standard E26 / E27 sockets and 100-240 AC, so you should be able to use it pretty much anywhere and it comes along with a free E26 socket to make things even easier.
Since it's just a bulb, you'll find that it has a smaller illumination area than some of the lamps. However, with a 60-degree beam angle you'll still be impressed by how respectable it is. One of the bonuses with this is that if you're looking to increase the lit area, you can easily (and super affordably) pick up a couple more bulbs.
Things We Like
Assorted bulbs use different wavelengths designed to actively support and increase plant growth and health
60-degree beam angle on bulb increases lit area
No extra set-up – screw it in and you're ready to go
Designed to be compatible with common socket types for added ease
Special heat sink design will keep this light cool to the touch after even extended use
Check Price and Reviews on Amazon
---
ColoFocus 1000W LED Grow Light
KingLED 2023 Newest 600w LED Grow Lights 10x Optical Condenser 2x2ft Coverage Full Spectrum Grow Lights for Indoor Hydroponic Plants Veg Bloom Greenhouse Growing Lamps
HIGH QUALITY LED GROW LIGHT: KingLED grow light has adopted the newest LM301B LEDs and 10 times Optical Condenser to provide high PAR output, high energy efficiency with 2.8 umol/J while improving light penetration. Perfect for 2'x2' vegetative coverage and 2'x2' flowering coverage
FULL SPECTRUM LED GROW LIGHT: The proportion of the spectrum has been adjusted in order to provide more matching spectrum for MJ, provides full spectrum lighting of natural light for plants, veg and bloom modes are designed to provide proper light for plants in different growth stages from seedling to flowering to greatly increase your harvest.
COST-EFFECTIVE LED GROW LIGHT: Different from the traditional HPS, Our KP600 LED light adopts a high-tech SMD LEDs and reflector technology , compares to traditional 400W HPS/MH while consuming only 80W! It provides brighter light and save more electricity which also can save a lot of money for you
DURABLE LED GROW LIGHT:Multiple high-speed mute fans and upgraded aluminum radiators enable the light bulb to work at 50°F to 60°F that is lower than other lamps. In a lower temperatures, your plant won't be burned which could increase your lighting time and promote plant growth, Super long use time, so that you do not have to change the light frequently
PROFESSIONAL SERVICE: 3 years Professional Service and free return for 90 days. KingLED Laboratory has more than seven years of sales with after-sale service team professional in design, sales and production for the best products and service for the majority of customers. If you have any questions, please contact us freely, and we will reply within 24 hours to provide you a satisfactory result
Last update on 2023-09-20 / Affiliate links / Images from Amazon Product Advertising API
The ColoFocus 1000W LED Grow Light is the most powerful light on this list. If you have a larger space to illuminate, it's definitely worth taking a look at.
Each individual light features two 5 watt light chips, amounting to an output of 10 watts each with a separate resistance so they work separately and a single bulb failing won't take the entire light out of commission. Combining red and blue lights with a handful of infrared and UV lights as well, this grow light is designed to seriously support your plant's natural growth and encourage higher yields and healthier plants.
Since this grow light uses LEDs, heat output isn't something you have to worry about too much. Just to be sure though, this unit includes an effective pair of built in fans that run whenever the lights are on. They're strong enough to promote airflow and keep condensation at bay while gentle enough to help your plants grow strong without knocking them down.
It's a bigger grow light than the rest on this list and can comfortably light an area of about 3.5 x 4 feet, though the exact number will vary by the height you place it at. It's not waterproof, so you'll want to make sure to use this product indoors and somewhere it's unlikely to get splashed.
Things We Like
Assorted bulbs use different wavelengths designed to actively support and increase plant growth and health
Dual LED chips increase output compared to competitors
Built-in fans regulate temperature, reduce condensation, and improve seedling strength
Check Price and Reviews on Amazon
---
Ankace Dual Head Grow Light
Grow Light, Ankace 5 Dimmable Levels Plant Grow Lights for Indoor Plants with Red Blue Spectrum, 3 Modes Timing Function
MULTIPLE USES - It is suitable for indoor plant seedlings grown in a hydroponic greenhouse at your home or you placed in your office. It helps to speed up the growth of potted plants, flowering plants, foliage, and succulent plants.
BEST RED/BLUE LED COMBINATION - This LED grow lights diverts targeted wavelengths for plants. The 12 Blue LED chips ensure plants take in more energy through the synthesis of chlorophyll to help in germination. 24 Red LED chip contributes to effective germination, flowering, and enhances photosynthesis for better results.
UPGRADED TIMER - it comes with three timer setting options which allows up to 3, 6, or 12 hours according to plant needs. This is a one-way timer whereby lights can automatically turn off after the stipulated time and you will need to turn it on manually.
5 DIMMABLE MODES & 3 SWITCH MODES - it has five dimmable modes to suit varied stages of plant growth. You can just switch the lights off or on to suit the plants need.
ADJUSTABLE DESIGN - It has a USB connector which makes it convenient to connect to your office or home. With its 360 degrees adjustable gooseneck, it is able to light a wider area and emit light in any direction to provide energy to more plants.
Last update on 2023-09-20 / Affiliate links / Images from Amazon Product Advertising API
Another high-quality affordable grow light, the Ankace Dual Head Grow Light is a popular choice that's perfect if you're trying to give some smaller plants a little extra love. It's especially good for starting seedlings, but if you're trying to grow larger crops you may need to upgrade to a larger grow light once they're out of the starting phase.
These lights are designed to help nurse your plants through all phases of life, with 12 blue LED chips helping your plants take in more energy and grow their leaves larger and 24 red LED trips to help them germinate and flower more effectively. They're designed to put out light at just the right wavelength to give you maximum growth.
With two light strips on easily adjustable posts that you can bend to get the best positioning, you're all set to go. It's easy to customize this light's functions to your exact needs, with five dimmable modes and three switch modes designed with specific stages in plant development in mind, in addition to an upgraded timer setting, which has three, six, or twelve-hour cycle options. You can set it to turn off after a predefined amount of time once you've turned it on.
In addition to the price, one of the great things about this grow light is how easy it is to use. You can charge it off a USB port, so it's easy to connect. With the gooseneck design you can point your light anywhere and it comes with a clip-bottom, so you can easily position it on the edge of a desk, table, or windowsill.
Things We Like
Assorted bulbs use different wavelengths designed to actively support and increase plant growth and health
Super easy to use and set-up!
Adjustable gooseneck design lets you point each light wherever it needs to be
Built-in dimmer and timer helps your plants get exactly the amount of light they need
Check Price and Reviews on Amazon
---
Juhefa LED Grow Light
Juhefa LED Grow Lights, Full Spectrum Grow Lamp with IR & UV LED Plant Lights for Indoor Plants,Micro Greens,Clones,Succulents,Seedlings,Panel Size 12x4.7 inch
Full Spectrum Growth Lights - equipped with 75 High-power LED chips: 47Red/19Blue/3UV/3IR/3White. NOTE:The UV & IR LEDs are particularly DIM, but it is normal. PANEL SIZE: 12.2x4.7x1.2 inch.
Highly Efficient LED Lamp - as for LED power draw this seedling light is highly efficient. Estimately monthly cost roughly $3 in electricity (12 hours a day). It is a great option for plants that in seedling, vegetative and flowering cycle.
Compact Size & Wide Uses - the best gift for gardening and planting enthusiast. Mainly used for small plants, mirco-greens, peppermint, herbs, african violets, tomatoes, potted plants. And perfect for you to add as a supplemental side panel during bloom.
Easy Set Up - adjustable hanging light kits make this fluorescent lights much more easy to assemble. With good heat dissipation and strength ABS material body ensures your panel more durable and long-lasting.
What Will You Get - we take pride in delivering top quality products and offering our friendly 12 Months Warranty plus 30 Days Money Back Guarantee for any reason. You can contact our 24 hours available customer service through clicking "Sold by" on the product detail page or your Amazon order page and you will be directed to "Ask a question" to send us message.
Last update on 2023-09-20 / Affiliate links / Images from Amazon Product Advertising API
If your budget is really tight, the Juhefa LED Grow Light is a quality product for an astoundingly low price. It's easy to assemble and set up and comes with a full spectrum of lights designed to help your small plants grow big and strong.
The rectangle panel comes with LEDs designed with five different wavelengths to make sure your crop is getting all the light it needs. It features 47 red, 19 blue, 3UV, 3IR, and 3 white beads, so your plants are covered through all different stages of growth. It makes an excellent side panel to help your plants bloom longer and stronger!
With a sleek ABS plastic body and heat control LED chips, you can keep this puppy running for hours without worrying. It's designed to have a minimal impact on your power, running it twelve hours a day, every day, will only cost you around $3 in electricity. It's designed to be useful for a whole variety of plants, from flowers to vegetables to algae! It makes a great addition to your hydroponic set up, but be careful to keep the water out, as it's not waterproof.
The easy hanging kit makes set-up simple. You can cover a maximum area of 1.2 feet x 3 feet at a height of around 2 feet. Depending on where in the grow cycle your plants are, you'll want to keep between 8-30 inches of space between the light and the top of your plants.
Things We Like
Assorted bulbs use different wavelengths designed to actively support and increase plant growth and health
Easy to set up hanging kit
Check Price and Reviews on Amazon
---
OxyLED Grow Light Strip
Sondiko LED Grow Light Strip, Auto On&Off Every Day Grow Light with Upgraded Controller, 48 LEDs, 4 Dimmable Levels for Indoor Plants
2021 Upgraded Controller: Compared to the old version of the quartz timer. Our new controller time control is more precise. One month's error is only a few seconds. With 3 buttons 2 indicator lights, you can recognize more easier.
Auto ON/Off & Timing Function: Sondiko grow light comes with the ON/Off & Timing Function switch. Never worry about forgetting to turn on the light for your beloved plants when you are on vacation or away for weekend.
4 Dimmable Levels: With 40 high quality(50,000 hours lifetime)LED bulbs(wavelength selection 420-800nm). Grow lights can provide any light of the your plant needed. More efficient than a simple red and blue light combination.You can adjust the brightness to 25%/50%/75%/100% of the light as plant needed.
Easy to Install&Multiple Uses: This grow light bar comes with screws, a double-sided tape as well as zip ties so that you could easily install it on your cabinet, shelf, wall and so on. The length of this grow light is 13.2inch. It can be used on fruits, vegetables and a wide variety of other plants. Suitable for all stage of plants.
Best Service: We are a professional LED light manufacturer with advanced R&D and Sales department. If you have any problems, please feel free to contact us. We will provide you with the best service.
Last update on 2023-09-20 / Affiliate links / Images from Amazon Product Advertising API
If you're looking to incorporate your lighting into your greenhouse or indoor garden, the OxyLED Grow Light Strip is perfect for you (and your wallet)! These strip lights are easy to mount and designed to be durable and environmentally friendly.
The 6-foot strip features 108 LED plant lights, arranged in a 1:3 proportion of blue: red lighting, perfect for plant growth. The external strip is made from food-grade silica gel that both protects your lights and their circuit boards and helps to diffuse the light even more effectively by creating a diaphanous effect.
Each strip is IP65 water-resistant, meaning it'll be perfectly safe in a humid greenhouse or hydroponic environment. They're protected against splashes, showers, and sprays, though you'll want to refrain from fully submerging them. They're also UL94-V0 fireproof, so you don't have to worry about them overheating and melting or causing other fire issues.
These lights are designed to be incredibly easy to set up. The flat back is covered with a 3M adhesive tape that will stick and stay on any smooth, flat surface. It also comes with a set of ten cable ties in case you prefer to use that method of hanging. These lights make it super easy to keep your plants thriving when sunlight is hard to come by.
Things We Like
Assorted bulbs use different wavelengths designed to actively support and increase plant growth and health
Waterproof and fireproof for safe use no matter what the environment is
Food-grade non-toxic silica casing protects your lights, your plants, and improves the lighting
Easy to set up with attached adhesive or included cable ties!
Check Price and Reviews on Amazon
---
Roleadro LED Grow Light 600W
Roleadro LED Grow Light, 600W Grow Light Galaxyhydro Series Plant Lightfor Indoor Plants with IR Adjustable Rope Switch Daisy Chain Outlet Plant Grow Lamp Veg and Flower(Big-Chip 10W LEDs 60Pcs)
Optimal Full Spectrum—All Kinds of Indoor Plants Will be Happy in all Growth Stage at Any Time and Any Where! The secret is our grow light extracted the most useful Blue Red IR UV and white light spectrum from natural sunlight to help plants perform photosynthesis better. Different from other full spectrum grow lights, we added more RED light to ensure the yield will be increase up to 35%-60%.
Daisy Chain Connection- Two or more 600W LED grow light can be connected together with the standard included power cord. The application of high-efficiency light source system to greenhouses, etc. Releadro 600w led grow light solves the disadvantages of lack of sunshine and causes the taste of tomatoes, cucumbers and other greenhouse vegetables to decline, so that winter greenhouse pea fruits and vegetables are listed before and after the Spring Festival, thus achieving the purpose of anti-seaso
Unique Big LED Bead and Zener Design—We adopted led bead and zener design instead of reflector to ensure if one led out won't affect others' leds. And test result shows that the plastic reflector surface can not stand the temperature over 70 degree and will burn out like melt.That is why Galaxhydro grow lights use led bead/zener and always insist on it. We hope growing will be more safely and eco-friendly.
Higher PAR Value and Energy Saving—Unique 90 degree optical lens and Eplieds 10w chips design, bring higher PAR value(540umol at 24") and Lumen output than others. Effectively reduce the light loss and ensure the utilization of light up to 98%.That make this growing light achieved the balance between efficient utilization and energy-saving.
Reliable Warranty and Professional Service/Support—We are not only the seller but also a professional manufacturer with 10 years R&D and production experience of led light.All our products were strictly through high temperature test and check before sent out, 12 months warranty is our promise. With our grow lights, you can enjoy kinds of plants,veg and flowers in anti-season.Any problem, you can just contact us, we will provide you the professional solution and support.
Last update on 2023-09-20 / Affiliate links / Images from Amazon Product Advertising API
The Roleadro LED Grow Light is a fantastic option for the price. It's our go-to recommendation. This 600-watt grow light features a cunning 60-degree reflection cup design to maximize diffusion and make sure that your plants are getting full coverage. These reflector cups are upgraded from previous models and reduce light loss, so you'll be saving on electricity costs and your plants will feel the increased light as well!
With a reasonable spectral ratio and upgraded dual-chip, you get 84 full-spectrum reflectors and 12 blue spectral reflectors, with two chips in each. This optimizes your plants to grow faster and stronger, as the full-spectrum lights help to nurse them through each phase of growth and the blue spectral reflectors encourage increased leaf growth.
This grow light's stylish minimalistic design features a white flame-retardant plastic case. That's just a precaution though, since the LED lights have a low heat output anyway and the grow light is designed with multiple high-quality fans and aluminum heat sinks so that you can keep it running all day, every day.
Get extended coverage to keep your whole greenhouse growing efficiently by picking up several of these grow lights and daisy chaining them together – this means you can connect the flights to one another – saving yourself space and time.
Things We Like
Assorted bulbs use different wavelengths designed to actively support and increase plant growth and health
Special heat sink design will keep this light cool to the touch after even extended use
60-degree beam angle increases lit area
Built-in fans regulate temperature, reduce condensation, and improve seedling strength
Check Price and Reviews on Amazon
Types of Grow Lights
Most of the grow lights on the market for smaller scale growing are one of two kinds: fluorescent or LED.
Fluorescent Grow Lights
Fluorescent lights have been around longer and they certainly have their advantages. They create light by running a current through mercury vapor, starting off a chemical process to produce the light we see. They're available in a whole range of different sizes, wattages, and outputs and they're easy to use, requiring no special set up beyond hanging the lamp.
Fluorescent lamps are great at encouraging growth in the early stages of a plant's life, but aren't as good at supporting your plants through the flowering stage. You'll rarely need to worry about the temperature of your lamps causing trouble for your plants, but it does need to be considered if you're using high-output fluorescents.
While they're often a bit cheaper upfront, fluorescent lights cost more to run in the long term and have a much shorter lifespan overall. You'll need to be careful with your fluorescent lights as well. Since they contain mercury, which is highly toxic, breaking them can cause health issues and they continue to pollute the environment long after you dispose of them.
LED Grow Lights
Unlike fluorescent lights, LED lighting gives you a lot more control over your growing, by allowing you to customize your light spectrums during different stages of a plant's growth. Instead of operating on the wavelengths available, with LED lights you can have different light chips operating on different wavelengths, which means you can get a perfectly tailored ratio of red to blue light, with a few other wavelengths thrown in for good measure.
They're also incredibly efficient, using a fraction of the energy of other lighting types and lasting up to ten times longer. Since they're directional, unlike fluorescent lights which transmit light and heat in all directions, where your LED is pointed is where the light will go, so you're not wasting energy lighting the ceiling and instead all of the light is directed at your plants.
They're also non-toxic! No mercury vapor floating around inside. You don't have to worry about a breakage causing lasting problems or contemplate the ultimate effect of your choices as the fluorescent lights continue to leak toxins long after they've been disposed of. Instead, you get an effective, customizable light that is energy efficient and completely non-toxic.
How to Garden Under Grow Lights
Color
A lot of effort has gone into understanding what wavelengths of light is best for encouraging optimal plant growth, and we mean a lot. To break it down a little, wavelengths determine the color we see light as. When the sun shines, it contains all the different wavelengths of light in itself. If you've been outside before, you can see that the sun seems to be doing a great job of encouraging plants to grow.
Since we know so much about how to influence the growth of plants with wavelengths, when we use grow lights we can hack that system to improve yields, taste, and quality of the plants we're growing. The colors that are most important to plant growth are red and blue.
Blue light helps stimulate the production of chlorophyll, which, as you probably learned in middle school, is the chemical that plants use to create energy from light and gives them their green color. So using blue light helps your plants to be healthier and leafier.
When used in tandem with blue lighting, red lighting also helps your plants to be more productive. Red lighting also encourages your plants to germinate and flower more quickly, increasing their yields. Any LED grow light will have a proper balance between red and blue lighting and you'll see a marked difference in your plants as they grow!
Intensity/Distance
Each plant has different needs related to how intense the light they're receiving can be. Plants native to forests or jungles, where they would have lived much of their lives in a shaded environment tend to need less intense light than a native desert plant, which would have been accustomed to intense and undisturbed sunlight.
Since all of your plants will have different needs, it helps to read up on the type of plant you're growing. You'll also find that different types of grow lights have different heat and intensity outputs that will affect your plant growth as well. If your plants are too near your lights you could end up with bleached plants, nutrient deficient plants, or, worse, dead plants.
While there are lots of variables to consider as you're setting up your grow light, here's a great website with charts you can work off of!
Duration
Since you're saving so much on power by using LED lights, you may be tempted to leave them on all day long. Some plants will love this, but other plants desperately need the dark to bloom. Some plants, like orchids and cacti will thrive in 24/7 light and grow much faster than they do in the wild. Other plants, like poinsettias, which bloom in the winter and are evolved to be used to shortened periods of daylight, would suffer in a 24/7 situation. In fact, it's actually the dark that triggers your plants to flower, rather than daylight. There are three main categories of plants based on their daylight and darkness needs.
Short Day Plants
Short day plants would more accurately be called long night plants, because what they need to flower isn't a short exposure to sun, but a longer exposure to dark. They won't flower without that uninterrupted stretch of night. This means that if you're keeping your lights on all day long, you're going to find that these plants aren't doing as well as you may expect. With more than 12 hours of sunlight a day, they simply won't flower. Plants in this category tend to bloom in the spring, fall, and winter.
Long Day Plants
Long day plants require only a short night to bloom. Giving these plants more than 12 hours a day of light will thrill them! Most vegetables, like spinach and potatoes, and summer flowers, like asters and poppies, will thrive under these lighting conditions.
Day Neutral Plants
Day neutral plants will flower regardless of whether or not they're receiving long days or long nights. Tomatoes and corn fall under this category.
Best Brands
Roleadro
Roleadro is a Chinese company with a reputation among indoor agriculturists as high quality grow lights that are energy efficient and affordable.
TaoTronics
TaoTronics is known as a manufacturer of consumer electronics with a desire to use technology to make us more effective and efficient at accomplishing daily tasks. They've certainly improved our ability to grow plants indoors!
Ankace
From tools to grow lights, Ankace manufactures premium tools to support the DIYer in all of us.
Juhefa
Juhefa manufactures a whole variety of home lighting solutions, from decorative lighting to flashlights to grow lights, they have a reputation for creating quality products that are affordable.
OxyLED
A worthy competitor in the LED industry, OxyLED prides itself on creating affordable and high-quality lighting solutions for all of your indoor and outdoor needs.
FAQ
Q: Will grow lights burn my plants?
A: Although most of the grow lights on this list are designed with LEDs, so they don't run especially hot, you certainly can burn or bleach your plants if you don't use them correctly. The best way to avoid burning your plants is to make sure that you don't put your grow lights too close to them. Your users' manual should have information about the proper heights for your specific light and if you can't find them there, it's worth contacting the manufacturer to make sure your plants stay healthy and unburnt.
Q: Can grow lights damage your eyes?
A: Depending on the brightness of your lights and the length of your exposure, it is possible to damage your eyes. If you only have a small grow light and you don't spend an excessive amount of time gardening beneath it, you shouldn't have any problems. If you're doing a larger scale project and do spend a lot of time under your lights, it's not a bad idea to invest in a pair of specially designed LED glasses to protect your eyes from the light that glow lights emit. You can read more information about it here!
Q: Why are grow lights purple?
A: Grow lights are optimized to provide light on wavelengths that plants can easily absorb. The lights they absorb the most tend to be around the blue and red bands of the spectrum. So when you're buying lights that are designed specifically to help plants grow, they focus on the wavelengths that most plants absorb more easily, thus encouraging a higher level of growth.
Wrap Up
If we were setting up a new indoor garden right now and could only choose one of the lights we've talked about, we'd want the best cheap grow lights out there and that would easily be the Roleadro LED Grow Light 600W. It's affordable, effective, and has a reputation backing it.
If you're looking to set up a different type of growing situation, we also recommend the versatile OxyLED Grow Light Strip. It's easy to install in a custom way and it's designed to be super safe and ideal for a hydroponics situation.
Looking for a different kind of lighting? Check out our guides for the best string lights, best rope lights, or best solar lights!
Check out the Roleadro LED Grow Light 600W on Amazon