Finding the perfect gift for your backyard loving friends and family can sometimes be a challenge because you want to get them something that they'll actually use. Not only that, but you probably want something that is both thoughtful and unique. We took a look around and compiled a list of backyard gift ideas so that you can find the perfect present.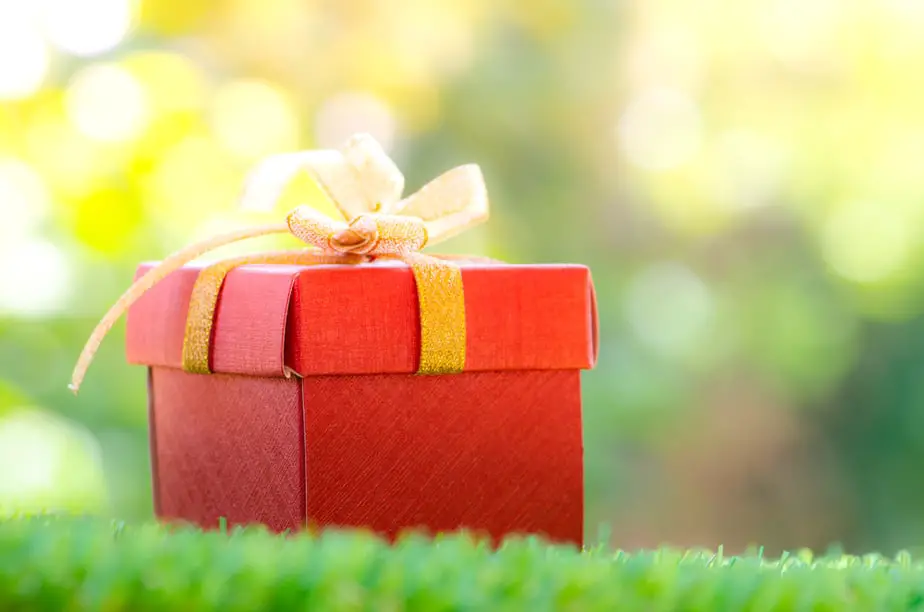 1. Outdoor Pizza Oven
Bertello Outdoor Pizza Oven Black + Pizza Peel Combo
Charcoal and Wood Fired Portable Outdoor Pizza Oven cooker (Gas attachment sold separately)
Cook at over 930 degrees Fahrenheit (500 Celsius) with the Bertello Outdoor Pizza Oven
Use Charcoal, Wood, Pellets or our Gas Burner Attachment(sold separately) for authentic wood fire and gas brick oven pizza
12.5" wide x 13.5" deep cooking surface for authentic wood fire and gas brick oven pizza
Cordierite stone, wood chip/pellet scoop, and wood/charcoal/pellet tray included
Last update on 2020-12-11 / Affiliate links / Images from Amazon Product Advertising API
Are you shopping for someone who loves pizza as much as they like spending time in their backyard? If so, this is a great backyard gift idea that will allow them to enjoy having a crisp pizza fresh out their outdoor pizza oven.
What we love about this particular pizza oven is its moisture vent at the top. With this, it releases extra moisture to prevent soggy pizza, so you can be sure that the crust will be good. 
It doesn't matter if there are just a couple of people craving a pizza or an entire party because this pizza oven works quickly. It only takes 10 minutes to prehead and then just 5 minutes to cook the pizza!
Once preheated, you can use it for up to two hours, cooking pizza after pizza. Because of the quick preheating and cook time, this outdoor pizza oven is great for anyone who loves to entertain and wants to serve a lot of pizza. Or really, just anyone who wants a hot, fresh pizza in their backyard. 
It's portable, so it doesn't have to live in the backyard nonstop either. You and your loved one can enjoy pizza while camping, tailgating, or setting up a picnic.
What We Love About This
Cooks the pizza evenly

Quick preheating and cook time
We also have an article that goes over the Best Outdoor Portable Pizza Ovens to help you find the perfect one!
Check Price and Reviews on Amazon
---
2. Outdoor Bluetooth Speaker
Onforu Outdoor Bluetooth Speakers, 2 Pack 25W Wireless Speakers, Various Speakers Pairing Supported, IPX5 Waterproof Patio Speakers with LED Mood Lights for Yard, Garden, Camping, Christmas
【Synchronize Various Speakers】Up to 100pcs Onforu outdoor bluetooth speakers can be paired wirelessly - no need for apps, cords or wifi. With advanced 5.8GHz signal technology,lantern speakers work together, providing better audio enjoyment. Provide a perfect atmosphere for yard, garden, BBQ and camping.
【Booming Bass and HD Stereo Sound】Get 25 Watts of powerful sound with 2 * 12.5 watt full-range drivers and 2 passive radiators. Super bass booms with less than 1% total harmonic distortion bring an unmatched listening experience. Various pairing bluetooth speakers ensure you enjoy 360°HD stereo surround sound.
【20H LONG PLAYTIME】Built in 6,600mAh rechargeable battery, fully charged within 3 hours, up to 20 hours playtime at Medium Volume or 10 hours at Max. Volume.Long time enough for your gatherings.
【IPX5 WATERPROOF & Beat-Driven Light Show】Being IPX5 waterproof, the speaker is splashproof and rainproof. With 8 colors light display and Color-Changing Fade/Pulse to the music, perfect outdoor speakers for the beach, poolside, or camping. Enjoy your party or gathering outdoors with your friends.
【WIRED OR WIRELESS SPEAKER】The speaker can be connected both by bluetooth or 3.5 mm auxiliary cables. simply connect to an iPhone, Android, Tablet, PC, TV, Amazon Dot or Mac.
Last update on 2020-12-11 / Affiliate links / Images from Amazon Product Advertising API
This attractive outdoor Bluetooth speaker is perfect for anyone who spends a lot of time in their backyard. In fact, they look more like fun outdoor decorations than speakers.
It's perfect for entertaining guests with its impressive light show and 360-degree sound. It has eight color light displays that pulse or fade to the music, bringing the sounds to life! At night, it will light up your backyard as an added bonus. 
This speaker has a built-in 66oomAh rechargeable battery that is fully charged within 3 hours. This will give them around 20 hours of playtime, depending on what volume they're listening to it at.
It's got 25 Watts of powerful sound with 2 12.5 watt full-range drivers along with two passive radiators. The super bass is booming with less than 1% harmonic distortion.
The speakers are Bluetooth and can be paired wirelessly, so no need to use an app, cords, or even wifi. Enjoy hours of entertainment with these bad boys!
What We Love About This
It has 360-degree sound

Has a light display with eight colors for a fun effect

Wireless and Bluetooth compatible
Check Price and Reviews on Amazon
---
3. Wooden Insect House
Niteangel Wooden Insect House, Perfect Home for Ladybirds and Lacewings, as Well as Bees, Size 10 x 6 x 3.4 inch (Red)
Provide a safe environment where it can shelter, hibernate and lay their eggs.
The house makes it easy to find and observe fascinating creatures such as centipedes and beetles in your garden.
Dry wood can be home to many insects such as ladybirds and lacewings which eat aphids and help keep your plants healthy.
Bamboo canes - they're great pollinators and many species are in decline.
If you only have a balcony or yard, the insect house is ideal as it provides a choice of suitable habitats in a small area.
Last update on 2020-12-21 / Affiliate links / Images from Amazon Product Advertising API
If you have a friend or family member who's a big nature lover who loves to bring more wildlife into their backyard, you may consider this gift. This bamboo house will attract lacewings, bees, ladybugs, and other gorgeous insects right to their backyard for them to watch and enjoy!
Not only will it benefit the person you get this for, but it's going to help provide a safe environment for the insects that visit. Bees, ladybugs, and other insects can use this as a shelter and lay their eggs inside. Help boost the bee population in your hard, which in return helps the environment (and your flower garden!) 
This wooden insect house is constructed from sturdy, weather-resistant fir wood with a gorgeous natural finish that will easily blend in with the living elements of a garden, while still appearing decorative.
Hang this in a sunny spot nearby to vegetation or flowering plants to attract the insects. It will naturally attract the insects to it; all you need to do is wait and enjoy!
What We Love About This
Made with sturdy materials such as bamboo and wood fir

Weather-resistant
Check Price and Reviews on Amazon
---
4. Herb Garden Kit
Sale
15 Culinary Herb Seed Vault - Heirloom and Non GMO - 4500 Plus Seeds for Planting for Indoor or Outdoor Herbs Garden, Basil, Cilantro, Parsley, Chives, Lavender, Dill, Marjoram, Mint, Rosemary, Thyme
LOOKING FOR THE 15 MOST POPULAR CULINARY HERBS WITH 15 BONUS PLANT MARKERS? - Stop buying dry, stale, flavorless dry herbs and start growing your own herb garden indoors or outdoors. Nothing compares to fresh herb plants and a beautiful garden. Great for cooking or medicinal herbal teas.
GREAT GIFT FOR GARDENERS - CHEFS - SURVIVALIST - What else is better than giving a gardener a bag full of seeds to have a bountiful garden or for those that are like to be prepared for emergencies. Our collection of starter seeds are great and include planting instructions and plant markers for each herb.
LESS THAN $2 PER SEED VARIETY - 4500+ SEEDS IN EVERY PACKAGE and INSTRUCTION BOOKLET - Our assorted heirloom seeds pack have a large variety of seeds and with high germination rates. Seeds are contained inside in waterproof resealable mylar pouch to maintain freshness and quality of the seeds.
FRESH HERBS ALL YEAR INDOORS or OUTDOOR HERB GARDEN - Plant seeds all year indoors as a window herb garden or transfer them to raised planter to enjoy amazing herbs all year. These can be used as an indoor herb garden, gardening kit, a kitchen herb garden, or in an outdoor garden bed. Plant more and use as spouts or micro greens.
PRODUCT OF USA - Our garden seeds are sustainable sourced in the USA. Have confidence about our quality and 100% satisfaction guarantee. These seeds can work with aerogarden seed pods.
Last update on 2020-12-21 / Affiliate links / Images from Amazon Product Advertising API
An herb garden is an easy way to get started if you're looking to take up gardening. Plant and grow fresh herbs to add to a variety of dishes, naturally enhancing the flavor. 
This kit comes with 15 different popular herbs and plant markers to get the herb garden started. All you need to do is plant, water, and wait a bit for the sprouts to form.  
Each package contains at least 4,500 seeds with high germination rates, so you'll have plenty to get started with. To ensure the seeds are high-quality and fresh, they are contained inside of a waterproof and resealable mylar pouch.
The only complaint that some reviewers had is the lack of instructions. It is recommended to do your own research on each type of herb to learn more about the sun exposure and water required for each.
What We Love About This
Seeds are stored inside of a waterproof and resealable pouch

Comes with an instruction booklet

Contains plant markers
Check Price and Reviews on Amazon
---
5. Grill Stand
Sale
Cuisinart CFGS-222 Take Along Grill Stand
FOLDS QUICKLY: Folds flat quickly and includes carrying handle for easily for transport.
TWO SIDE TABLES: Two flip up side tables! The side tables together have 6 cup holders and 8 tool hooks. Perfect for entertaining!
STORAGE SHELF: The storage shelf is a perfect spot to keep your cooler nearby and yet, out of the way! It holds up to 35 lbs.
NO ASSEMBLY REQUIRED: No tools required for set up! Unfolds in seconds!
Last update on 2020-12-11 / Affiliate links / Images from Amazon Product Advertising API
One of the unwritten rules of having a backyard bash is making BBQ. If your friend spends more time in their backyard than they do inside of their home, there is a good chance they love to fire up the grill. 
This grill stand has two additional side tables, 6 cup holders, and eight tool hooks, making it perfect for entertaining. The storage shelf can hold up to 35lbs, making it the perfect spot to store the cooler close without it being in the way. 
It is compact and lightweight, so they can take this stand on the go anywhere they want to grill. Once they're finished using the table, it folds flat for easy storage. 
What We Love About This
No tools required for set-up

Made with sturdy but lightweight materials

Compact and easy to store away
Check Price and Reviews on Amazon
---
6. Window Bird Feeder
Sale
Window Bird Feeder with Strong Suction Cups and Seed Tray, Outdoor Birdfeeders for Wild Birds, Finch, Cardinal, and Bluebird. Large Outside Hanging Birdhouse Kits, Drain Holes, 3 Extra Suction Cups
🌿 AMAZING CLOSE UP VIEWS OF YOUR FAVORITE WILD BIRDS! Made from high transparency, see-through acrylic so you can study the beautiful markings of each bird. Makes bird watching fun and easy from the comfort of your own home while relaxing in your favorite chair, working at your desk, making dinner in the kitchen, and more. Kids and pets also love to watch the birds sitting inches away from their faces.
🌿 ENJOY THE BEAUTY OF WILD BIRDS WITHOUT NEEDING BINOCULARS! If you are looking for a top-of-the-line bird feeder, to attract birds right to your window, you will love our Nature's Hangout Outdoor Window Bird Feeder! It is made from high transparency, see-through acrylic so you can study and appreciate the beauty of local bird species. Now you can enjoy bird watching from the comfort of your home while drinking your morning coffee, making dinner, or working at your desk!
🌿 THE EASIEST BIRD FEEDER YOU'LL EVER CLEAN… We created our high-end bird feeder with you in mind. The removable tray makes it easy to quickly and easily clean. Simply remove the tray, and discard any debris and old seeds. You can also quickly wipe down the surface with a wet towel to get rid of any dirt or water marks. And you don't have to worry about bird seed staying wet and getting nasty. We made drain holes in the tray and main feeder to prevent seed from staying wet. Enjoy!
🌿 PROVIDES HOURS OF ENJOYMENT FOR CHILDREN, CATS, & THE ELDERLY! Maybe you are looking for great way to teach your curious child about nature and birds— or you're trying to keep your lazy cat entertained throughout the day— or maybe you're looking for a way to help your elderly parents or grandparents feel at peace— Our Window Bird Feeder will provide hours and hours of wholesome enjoyment for all ages!
🌿 INCLUDES OUR LIFETIME "STRONGEST SUCTION CUPS GUARANTEE." Providing exceptional quality products and top notch customer service is our #1 Priority. We promise you that your Nature's Hangout bird feeder will never fall down, or we'll provide you with a full refund! You can click the yellow "Add to Cart" button today with confidence— knowing that you are getting the best window bird feeder!
Last update on 2020-12-21 / Affiliate links / Images from Amazon Product Advertising API
Bird watching is something just about every backyard enthusiast enjoys, especially if their backyard is home to a variety of different birds. With a window bird feeder, you can put your binoculars away and get an up-close look at visiting birds.
This window bird feeder is made from high-transparency see-through acrylic so that you can easily see all of the gorgeous details on each bird's feathers. The suction cups are high quality enough to hold up for years to come, and this particular brand even has a warranty on them.
This bird feeder is designed with drainage holes to keep the birdseed dry to prevent mold. Not only that, but the removable tray and main feeder contain drainage holes, keeping the food protected even during rain or snow. Because of this, you can keep the birdfeeder up all year round without worrying.
Not only will the entire family and pets enjoy this bird feeder, but the birds will also be happy to grab a snack as they come to say hello. 
For other gifts, bird watchers would enjoy, check out this article.
What We Love About This
Contains a removable tray for easy cleaning

Made with see-through acrylic for the best viewing experience

Ultra-strong suction cups

Made with drainage holes to keep birdseed dry and free of mold
Check Price and Reviews on Amazon
---
7. Juegoal (Jumbo Jenga)
Sale
Juegoal 54 Pieces Giant Tumble Tower Blocks Game Giant Wood Stacking Game with 1 Dice Set Canvas Bag for Adult, Kids, Family
Great Game Gift: Suitable for people of all age, great game for indoors or outdoors, perfect for family gathering, picnics, birthdays, parties and everyday backyard fun! Includes 54 tumble tower blocks, each block is 6 x 2 x 1.3 inch.
Overall Giant Size: 6 x 6 x 23.5 inch, 2 FT (18 rows) could be grown up to 4 FT tall tower when played.
Six Marked Blocks & One Extra Dice: Make up your own rules by incorporating the dice into the game (ex: whatever number you roll, that is how many blocks you must move).
Easy to carry, the thick black canvas carrying bag lets you take the set with you, durable handles make transporting the tower easy.
SATISFACTION GUARANTEE! If for any reason you are not satisfied, please let us know and our customer service team will help you RETURN OR REFUND.
Last update on 2020-12-10 / Affiliate links / Images from Amazon Product Advertising API
Who doesn't love an intense game of Jenga? Now, you can take the intensity up a notch with these giant game blocks!
Despite it being a larger version of the game, it's actually quite easy to store, move, and set up. It comes with a thick black canvas carrying bag that has durable handles to ensure that transporting the set is easy.
As a bonus, you get a die so that you can create your own rules if you wish. For example, you could make a rule that you must remove the number of blocks that you roll on the die. 
Whether you play it at a kid's birthday party or have friends over for a BBQ, it's sure to be a hit. 
What We Love About This
Made with premium pine wood

Comes with a sturdy carrying bag
Check Price and Reviews on Amazon
---
8. Decorative Ground Garden Hose Pot
BIRDROCK HOME Water Hose Holder - Copper - Drainage Hole - Ground Garden Hose Pot - Decorative - Handle - Embossed - Steel Metal with Copper Accents - Outdoor or Indoor Use
HIDDEN & ORGANIZED: keep your water hose neatly hidden after your done water your plants and flowers. The holder also helps keep your water hose organized and untangled
DECORATIVE ACCENT: adds an attractive yet functional touch to your backyard, patio, deck or back porch
REMOVABLE CENTER POST: helps guide the water hose when you are coiling and uncoiling. Post can also be removed to allow you to store other house hold items in the holder. Also includes a drainage hole with a rubber plug, so you can easily drain out rain water from the pot
LIGHTWEIGHT & STURDY: made from a solid steel making it lightweight, yet strong and sturdy to last for years to come
COLOR: Copper. Holds water hoses up to 100 ft long
Last update on 2020-12-11 / Affiliate links / Images from Amazon Product Advertising API
A decorative garden hose pot is one of those things that you didn't know you needed until you have it. Who wants to have an unsightly hose lying in their backyard?
This pot makes a gorgeous backyard decoration that actually serves a purpose. It not only keeps the hose hidden but also keeps it clean from any dirt or dust. 
It can also be used to store other items like blankets, toys, or firewood. 
This decorative pot is made from solid steel, so it is lightweight enough to relocate but strong and sturdy to last for years to come!
What We Love About This
Beautiful and functional

Lightweight and sturdy
Check Price and Reviews on Amazon
---
9. Floating Beverage Bar
Novelty Place [LARGE SIZE] Inflatable Ice Serving Buffet Bar with Drain Plug - Salad Food & Drinks Tray for Party Picnic & Camping (Pack of 3)
✔ CONVENIENT - Keep food and drinks cool and fresh for hours by filling ice into it. This serving bar is convenient, inflatable and portable.
✔ DRAIN PLUG - Yes! There is a drain plug at the bottom to easily remove extra water if you need to refill with ice. The drain plug is located at a corner so you can slightly shift the bar off the table and drain into a bucket.
✔ PARTY DELIGHT - This is such a NO-BRAINER for a great and fancy party! Definitely float it on the pool if you are throwing out a pool party. An excellent addition to any indoors and outdoors summer party and impress your guests.
✔ SPECIFICATIONS - The dimensions are 51" long, 24" wide and 4" deep. It weights less than one pound and it is roomy enough to hold multiple bowls dishes, drinks and cans for an remarkable party.
✔ WARRANTY - We stand behind our products! All items sold by Novelty Place come with a 3-MONTH replacement warranty.
Last update on 2020-12-11 / Affiliate links / Images from Amazon Product Advertising API
If you know someone who often throws backyard pool parties, this may be something they don't yet have but would enjoy. Even without a pool, these make a great outdoor cooler that can keep food and drinks cool for hours while sitting neatly on a table. 
This floating beverage bar is 51″ long and 24″ wide, so there is plenty of room to put out a wide array of food and beverages. It's also 4′ deep, giving you plenty of room for ice, bowls, and whatever else you need for the party!
It has a drain plug so that you can easily remove any leftover water from melted ice. It's located at the bottom corner, so it's easy to slide it slightly past the table and drain the melted ice into a bucket.  
Once the party is over, you can easily deflate the bar to make it compact and easy to store. 
What We Love About This
Has an easy to locate the drain plug

Large enough for a variety of foods or beverages

Lightweight and easy to store
Check Price and Reviews on Amazon
---
10. Hanging Hammock Chair
Bathonly Large Caribbean Hammock Hanging Chair, Durable Polyester Hanging Chair, Hanging Hammock Chair w/Foldable Spreader Bar for Indoor/Outdoor, Swing Chair
【Function】Our Caribbean hammock chairs are very laid back and comfortable. We use premium quality and durable materials. Our increased plus size makes them extra-comfortable.
【Upgraded Design】Our Caribbean hammock chairs now come with an upgraded spreader bar. The new design makes our hammock chair foldable and portable. It's easier to get in and out of compared with the traditional straight spreader bar other hammock chairs bring. The foldable spreader bar is designed for easy carrying and storage.
【Durable Materials】Our cradling hammock chair is made from weather-resistant polyester material and wood. The Caribbean hammock chairs are produced with a durable net-like structure and breathable materials.
【Additional Comfort】The newly redesigned hammock chair provides a more ergonomic design, allowing your body to fully-enjoy the hanging chair. With a weight capacity of 330 lbs. it lets you rest worry-free.
【E-Installation and Portable Design】Take anywhere portable design, lightweight making the chair more convenient to carry and store. It's perfect for backyards, patios, camping, hunting, hiking, traveling, and only takes a few minutes to install. The chair can be hung from trees or a stand easily, all you need to find is a suspension point 7.5 feet or more above the ground, and install it with the right hardware.
Last update on 2020-09-19 / Affiliate links / Images from Amazon Product Advertising API
There's nothing cozier than kicking back in a hanging hammock chair in your backyard. This gift is great for any friend who wants to sit back in comfort, dreaming about their next beach vacation.
It has a secure metal and rope connection for safe and secure hanging. Additionally, this premium quality hanging hammock chair can hold up to 330lbs, making it suitable for most people's body types.
This chair is woven for comfort and creates no pressure points. While lying in it, you'll have a feeling of weightlessness as it cradles your body.
One thing that is great about this chair is how roomy it is. Most people who sit in it should be able to fit their entire body when they lie back in it.
What We Love About This
Large enough to fit most people

Looks nice and goes well with most backyard decor
Check Price and Reviews on Amazon
---
11. Metal Fire Pit 
LEMY 32 inch Outdoor Square Metal Firepit Backyard Patio Garden Stove Wood Burning BBQ Fire Pit with Rain Cover, Faux-Stone Finish
🔥[Durable]: Outdoor fire pit is made from durable steel mesh and solid frame.Steel construction design makes this fire pit durable and long-lasting.
🔥[Multipurpose]: Sturdy design with special pattern ideal for warmth, BBQ and cooling drinks and food in patio/garden/yard
🔥[Design]: This decorative square fire pit features attractive faux stone line design with DIY splicing feature.
🔥[Safety]: Safety mesh cover encloses the fire for safety as well as preventing sparks or debris flying;
🔥[Easily Assembled]: With complete hardware and specific assembly instruction, it is easy and convenient to install this fire pit, comes with suitable outer cover to keep clean and avoid getting rusty by water or rain when not in use. Place now and get within 2-5 days! No hesitation!
Last update on 2020-12-23 / Affiliate links / Images from Amazon Product Advertising API
Summer nights would be incomplete without a roaring fire, marshmallows, and hanging out with good friends. If your backyard enthusiast friend lacks a fire pit, this would be a great option for them!
What we love about this fire pit is how decorative it looks. No matter what their backyard decor looks like, it should look great with it all. It has a faux stone cover for an added outdoorsy look.
Another plus about this fire pit is it's safety features. The safety mesh cover encloses the fire to keep you safe as well as preventing debris or sparks flying.
Once you're finished using it, just place the rain cover over, and you'll be good to go.
What We Love About This
Easy to assemble

Has a safety cover
Check Price and Reviews on Amazon
---
12. Golf Net 
AmazonBasics Portable Driving Practice Golf Net, 8-Foot x 8-Foot
Golf net with large hitting area allows for safe golf-swing practice; suitable for indoor/outdoor use
Durable hitting net catches balls and stores them neatly at the base for handy, time-saving retrieval
Sturdy, yet lightweight design made of metal and fiberglass; conveniently portable for anywhere/anytime practice
Quick, easy set-up/take-down; includes 4 metal stakes and a carry bag for storage or transport
Measures 8 feet wide by 8 feet high by 3 feet deep (96 by 96 by 36 inches); weighs 17.3 pounds; backed by an AmazonBasics 1-year limited warranty
Last update on 2020-12-11 / Affiliate links / Images from Amazon Product Advertising API
Who says golf needs to be reserved just for the golf course? With this golf net, you can work on your golf swing in the comfort of your backyard without worrying about hitting the neighbor's house.
After each hit, the net will catch the ball and gently store it neatly at the base. Because of this, you won't have to spend your time searching for golf balls; you can keep swinging and practicing.
If your aim isn't the greatest, no need to worry, this net is very large, measuring at 8′ by 8′ to ensure you have plenty of room to hit the ball safely.
Although this net is very durable and sturdy, it is also lightweight. It is made to withstand continual use for even the most avid golfers so you can enjoy it year after year.
Setting up the net and taking it down is easy, and it comes with a bag for compact storage.
What We Love About This
Easy to assemble and take down

Lightweight and durable materials
Check Price and Reviews on Amazon
---
13. Moon Crackle Glass Solar Light 
Homeimpro Garden Solar Lights Pathway Outdoor Moon Crackle Glass Globe Stake Metal Lights,Waterproof Warm White LED for Lawn,Patio or Courtyard (Bronze)
This solar powered garden light charges during day (ensure the switch is in "ON" position) and turn on automatically at night for up to 6 hours when full charged.
Design with Warm White LED.The reflection of the pattern is beautiful enough to create a romantic atmosphere.
Measure:7.5"x3"x40".Made of stainless steel and Glass,it look like moon staff .Great for decorating your pathway,garden,lawn or courtyard.
Durable construction and weather resistant feature of the garden solar lights ensures long lasting performance under most weather conditions.
When you receive the solar lights, Please Press the button on, Than keeps the solar panel in the darkness to check whether the lights will light up or not.
Last update on 2020-12-11 / Affiliate links / Images from Amazon Product Advertising API
This gorgeous solar light would add a little more ambiance to the backyard at night. The warm LED light and gorgeous crackle glass will cast a romantic light once the sun goes down.
Simply turn the switch to "on" and let it charge in the sun during the day. At night, you'll get to enjoy 6 hours of a gorgeously lit solar light decoration.
It is made from durable materials and is weatherproof, so no need to worry about moving it in and out during a storm. Because of this, you can expect this light to glow for years to come.
What We Love About This
Weatherproof

Lightweight and durable materials

Unique and decorative

Easy to use
Check Price and Reviews on Amazon
---
14. Hooky Game 
Elite Sportz Gifts for Men, Teens and Safe Games for Kids - Our Beautifully Finished Hookey Games Make Great Christmas Gifts for All. Easy Set-Up, Simply Hang and Play
STRUGGLING to FIND FAMILY GIFT IDEAS OR FUN FAMILY GAMES for KIDS and ADULTS?, and are all year round best gifts for teen boys. our hookey ring toss games are always very highly rated and are wonderful family gifts for all
LOOKING for UNIQUE GIFT IDEAS for MEN WHO HAVE EVERYTHING? our classic hookey has been a success for 3 years now..it's been so popular that we added the 20 inch GIANT HOOKEY and our 8 inch game Hooko (gag gift for men) to our collection
MAN CAVE GIFTS FOR DAD WHO HAS EVERYTHING. gifts for dads who have everything are hard to shop for, but i bet they don't have this very popular mens gift set in their game room. fantastic for some fun bar games or if you need quality home bar gifts for men
KID SAFE HOOKEY RING TOSS GAME, a very safe alternative to a dart board, and no sharp darts or holes in your wall, now that's a bonus...these kids games are highly challenging, very addictive, and are also beautifully finished gifts for boys and girls of all ages
OUR PROMISE – We stand by and believe in our products! If you have any problems, contact us and we will offer you a full refund or replacement!
Last update on 2020-12-11 / Affiliate links / Images from Amazon Product Advertising API
Hooky is a unique and fun outdoor game that would be a great addition to any backyard. The rules of Hooky are simple enough; just toss the ring and play as you would with a game of darts.
For example, if you usually play a game of 21 with a dartboard, you can easily apply the same rules to this outdoor game. With 21, the first person who scores exactly 21 points is the winner. However, you can play it however you like.
What's great about this game is how safe it is. Unlike darts, you won't have to worry about sharp objects being around children or poking holes in your wall.
Although this game is family-friendly, people of all ages will enjoy hanging out in the back yard and playing this ring toss type game.
What We Love About This
Easy to set up and play

Safe to play
Check Price and Reviews on Amazon
---
How to Choose the Perfect Backyard Gift 
Now that you have a few backyard gift ideas, you may be trying to decide which one would make the absolute perfect gift. Below are a few tips that should help you make the best decision!
Think of Past Interactions
If you talk to the person you're choosing a gift for often, they've likely left clues as to what they may like to receive. Think of different conversations you've had with them, another gift they got excited about, or any hobbies they enjoy.
For example, if they have previously stated that they'd love to start a garden but don't know where to begin, you could get them gardening tools. Try to think back and put together clues to determine what the perfect gift would be!
Create a Gift Basket From 
Rather than grabbing a pre-made gift basket, you could create your own. Creating a gift basket with your loved one in mind will add a personal touch that is sure to make them smile!
If you like, you could do a backyard themed gift basket. Add things like BBQ seasonings, decor, mugs, shirts, and anything else you think they'd enjoy.
On the other hand, you could create a specifically themed box. If they enjoy birdwatching, you could put together a gift basket centered around that, for example. For people who enjoy BBQing, you can't go wrong with seasonings or marinades. 
Options are really endless when it comes to putting together a gift basket. Get creative and have fun!
Ask Around
If you're not sure at all what your friend may want to receive, ask some others who know them because they may have some insight that could lead you to the perfect gift. Perhaps they have said something to a mutual friend that you can talk to and get a little help from.
Ask friends, family, and even coworkers depending on your relationships with the people around them. They will likely be excited to help you come up with something special.
Make it Personal
The best gifts always have a personal touch to them. If you can recall a memory you've shared with your friend or family member, consider getting something that is related to make it even more special.
If it is someone you are close with, then you already know what kind of hobbies they have. You also probably have an inside joke or two with them. Use these different clues to help guide you to the perfect gift.
If you're shopping for someone you don't know very well, this may make it tricky. Try talking to them and getting a feel for what they might be interested in.
When in Doubt, Include Food
You're going to be hard-pressed to find someone who doesn't love to receive delicious food as a gift. Because everyone needs to eat, food is always a good back up plan.
Although you may not want to make the food the entire focus, it can be fun to throw different things within it. If you know someone who loves to BBQ, throw in some seasonings and marinades along with another BBQ related gift.
One idea that is usually a hit is to use foods or snacks as a pun. If you google search "candy bar puns," you're sure to find a big list of ideas to put something fun together. See if you can find something backyard related or related to their hobby to add a touch of humor to your gift!
Final Thoughts
Choosing the ultimate gift for a loved one can be challenging because all you want to do is give them something they'll truly enjoy. If you have someone in your life who loves to be in their backyard, we hope that our list of backyard gift ideas was beneficial for you so you can choose the right gift. For more gift ideas, check out our other article titled"