Whether you are an avid soccer player who spends the day enjoying a game with friends or are a parent to a child who wants to get more practice in when they're home, having your own backyard soccer field will add a little fun to your backyard. Although it may seem like an overly big task to build your own soccer field, it's actually not as hard as you may think. While building your own sports field may seem like a pipe dream, it's not as far-fetched an idea as you may think. Even if you're on a budget or have a smaller backyard, there are a few ways to adjust these home soccer field ideas to your own needs.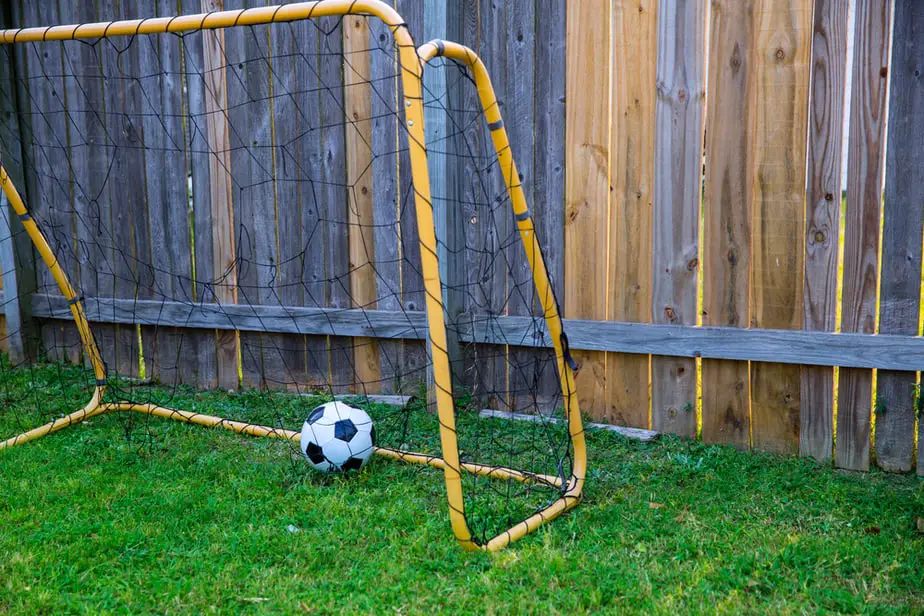 Once you know more about the sizing, costs, and legalities, you'll be one step closer to creating the backyard soccer field of your dreams.
What to Consider Before Starting
1. Finding Space in Your Backyard: First, you'll want to go to your backyard and determine how much space you have and if you have enough for the goal and practice area. For a smaller backyard, you may have room for just one net and some playing space, whereas another backyard may have room for a full field.
Once you have a good spot mapped out, you'll have a better idea if you can proportionately divide up your field to include the other features.
2. The Number and Size of Goals: For youth players, the recommended goal size is 6 feet tall and 18 feet wide, whereas the recommended size for adults is 8 feet tall and 24 feet wide. For league play practicing, using regulation-sized goals typically works best. If you have a smaller backyard, however, you can still have some fun and get practice in with smaller goals.
3. To Add Fencing or Not: While fencing the perimeter of the soccer field is not necessary, you may want to consider it if you have concerns about soccer balls hitting your house or other spaces in your backyard. With a wide-open backyard, you may not need it, but it's worth considering if it will be near your home.
4. The Type of Surface You Want: Although kicking a soccer ball around works on just about any surface, you'll need to choose between artificial grass or using natural grass for the field. We'll talk more about the difference later in the article.
Legalities
While there are no specific laws that prohibit you from having a backyard soccer field, there could be local codes that could affect different elements of the field, such as fencing or floodlighting. It's possible you'll need a permit for the construction of it. For more information, contact your local code enforcement office about everything prior to beginning your project.
What You'll Need
Materials
Choosing the surface to play on is going to be one of the biggest factors when it comes to the cost of installing your soccer field. Generally, natural grass is going to be the least expensive option upfront. You can expect to pay around 5 cents per square foot or between 8 cents and 45 cents per sqft for sod.
When looking at sod or seed, make sure that you choose a type of grass that has a good damage repair rate and good consistency. Depending on where you live, different types will work better with different weather conditions, so keep that in mind. For example, in the north, a Kentucky bluegrass is typically recommended by experts, whereas, in the south, Bermuda grass would be a better option.
If you have a bigger budget, you may want to consider purchasing artificial turf. Although it will cost a bit more upfront to purchase as well as install, it tends to be more durable and requires less effort and expense down the line to maintain.
Benefits of using artificial grass:
No recovery time
Can use year-round
Can use in any weather
No herbicides or pesticides
For a more inexpensive artificial turf option, opt for a turf made from nylon. Advanced artificial turfs are typically made with plastic fibers and infilled with rubber and sand particles will be a bit more costly. Expect to pay anywhere from $2 dollars to $8 dollars.
Equipment
After your field is marked, the only thing you'd actually need is a soccer ball and goal to get started. If your budget allows, you can add additional features to construct your dream soccer field.
Adding floodlights will allow you to get in a practice session as the sun goes down or early in the morning. Because this project requires electrical work, it's best to hire a professional to design and install your floodlights strategically.
As mentioned before, having a fence is a good option for anyone who plans on having their soccer field near a house or outdoor living area. Installing a fence will likely cost at least $1,500, depending on the type of fence you choose. Aside from keeping your home safe, a fence can keep you from spending half your time in your field chasing balls and will give you a bit more privacy.
Labor
If you're able to and handy, it is completely possible to do most of the work it takes to build a field yourself, especially if you can get the help of a few friends. By doing the work yourself, you will save some extra money and can take pride in seeing your hard work pay off once it's finished.
If you do decide to take on the project yourself, take into consideration how long it will take, what equipment you have already and what you'll need, and understand the expertise required to do each task.
Alternatively, there are advantages to having a professional help get the job done. When you hire someone who knows what they're doing, they likely can get the job done even more quickly. Not only that but typically the contractor will provide all of the materials so that you don't have to worry about picking and choosing it all. And of course, it's always a bonus that they have the experience and know-how to get the job done safely and to a high standard.
How to Build a Home Soccer Field in Your Backyard
1. Design the Space
Once you determine how much space you have in your backyard as well as where you'll be placing your soccer field, you can start designing the space.
Determine the size you want your field to be and make sure you have enough room to make it proportional. It is recommended to keep dimensions at a 7:11 or 8:11 ratio if you're sizing down your field.
Start by placing flags in each corner, and then mark the outside rim of the field by using spray paint or yard chalk. Make sure to keep the dimensions as specific as possible so that you'll have a good idea of what it will look like. This will also prevent you from running into any obstacles during the building process.
2. Plant Grass or Add Artificial Turf
Once you make your decision between using natural grass or artificial turf, you can add it inside of the chalk or paint lines you've created. If you already have a good amount of grass in your backyard, this step is easy as you can just leave it as is. If you need to plant seeds, it is recommended is to use something fast-growing, thick, and protective against damage.
3. Choose the Right Goals for Your Field
After the grass has grown in or the sod has been placed, you can start shopping for goals to add to your field. Goals can be found at your local sporting good store and even online.
Standard soccer goals have a width of 24 feet and a height of 8 feet. However, if young kids will be playing in the soccer field, you may want to look at smaller options to accommodate them.
If you want to add another project to your DIY list, you can also make the goals yourself if you wish. Opt for materials that are resistant to water. We recommend fiberglass because it is a heavy-duty, water-resistant material that can withstand a good amount of force.
4. Add Lighting (Optional)
Although lighting isn't necessary, it can be a helpful addition for anyone who wants to hit the field in darker hours of the day. If you wish to add lighting, contact a professional to take care of the electrical work.
5. Add Fencing (Optional)
Lastly, add fencing if you've decided that you'd like to create a barrier between your soccer field and other areas of your backyard. Chain link fencing is typically the go-to option for a backyard soccer field, but you can choose any fencing you like!
Final Thoughts
Believe it or not, building your own soccer field isn't as big of a hassle as you may have thought. Depending on how big you want your field to be as well as your budget, there are a lot of home soccer field ideas you can work with. Now that you know more about the cost, materials needed, and labor required, you can get started designing your dream soccer field!