Whether your child is always on the go in their soccer career or you just want a simple, easy-to-set-up goal for their backyard shots, a pop up soccer goal is a handy and reliable tool for practice. And, in this article, we'll be reviewing 5 of the best pop up soccer goals available on the market today!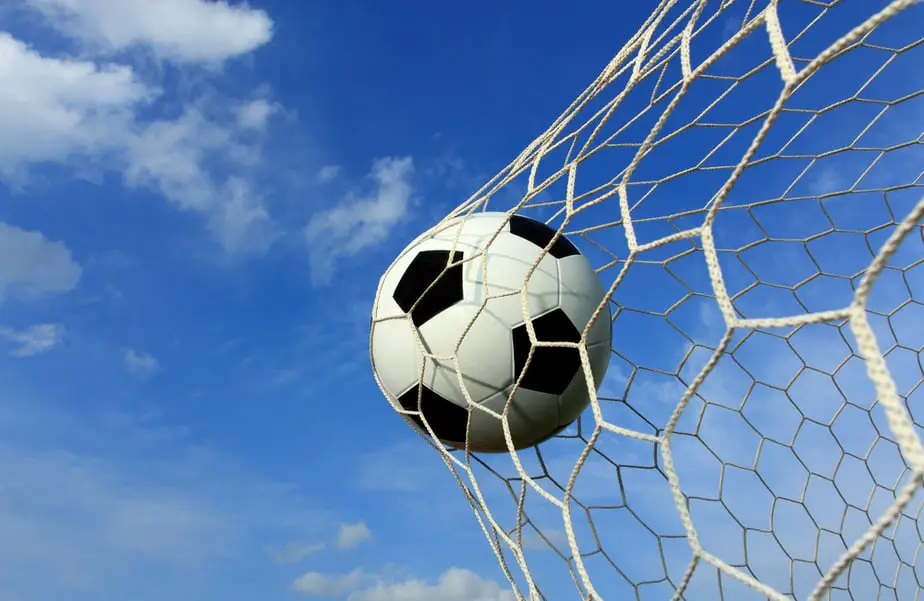 We'll also be providing you with a comprehensive buying guide to set you on the right track to finding the perfect soccer goal for your needs.
So stick around, and let's get right into it!
In a Hurry? Here's Our Top Picks…
| Image | Title | Price | Buy |
| --- | --- | --- | --- |
| | PUGG 6 Foot Pop Up Soccer Goal - Portable Training Futsal Football Net - The Original Pickup Game Goal (2 Goals and Bag) | | CHECK ON AMAZON |
| | FORZA Flash Pop Up Soccer Goal - Ultimate Pro Portable Soccer Nets with Carry Bag - Available in 2.5ft, 4ft & 6ft - [Net World Sports] (2.5ft) | | CHECK ON AMAZON |
| Top | GOLME PRO Pop Up Soccer Goal 2.5 Feet - Two Portable Soccer Nets with Carry Bag | | CHECK ON AMAZON |
| | EliteGo Portable Soccer Goal | Instant Pop Up Net | Fiberglass Poles, Sets of 2 (Blue) | | CHECK ON AMAZON |
| | INTEY Soccer Goal Portable Soccer Net with Carry Bag for Games and Training for Kids and Teens- Size 6'6''x3'3'' | | CHECK ON AMAZON |
Product prices and availability are accurate as of the date/time indicated and are subject to change. Any price and availability information displayed on [relevant Amazon Site(s), as applicable] at the time of purchase will apply to the purchase of this product.
Prices pulled from the Amazon Product Advertising API on:
1.
GOLME PRO Pop Up Soccer Goal
Last update on 2023-05-26 / Affiliate links / Images from Amazon Product Advertising API
With three different sizes to choose from, this 2-pack of GOLME PRO pop up goals is suitable for players of all experience levels and ages. Choose from a 2.5-foot, a 4-foot, or a 6-foot goal to suit your preferences.
If you're new to the world of soccer,  we recommend that you purchase a 2.5-foot for toddlers and children under 4 years of age, the 4-foot for children ages 4 and up, and the 6 foot for children and teenagers 6 and up. Size up if you want your child to grow into the net.
The setup and takedown are easy as can be, with a simple twist open and twist flat when you're finished and you're good to go! These pop up soccer goals even come with a handy carrying bag for storage and effortless transportation.
Multi-grip stakes ensure that no matter how tough a player is, these nets are tougher; able to withstand kick after kick without budging. The frame is ultra-durable and the net is reflective to keep the game going from sun-up to sundown and any time in between.
Overall, these are a pretty reliable set of pop up goals that are sure to last quite a few seasons of practice (or games, if you have small children playing). Plus, it's affordable — even for those who may be on a tighter budget.
What We Like:
Easy twist open and close
Available in three different size options
Affordable and budget-friendly
Reflective net for evening practice or play
Sturdy frame that won't easily bend, sway in the wind, or break
Set of two goals
Comes with stakes to hold goals in place
What We Don't Like:
Some users have complained that the middle of the flexible bar snaps after a few months of use.
Not suitable for use in wet or damp weather conditions
Check Price and Reviews on Amazon
---
2.
PUGG 6 Foot Portable Soccer Goal
PUGG 6 Foot Pop Up Soccer Goal - Portable Training Futsal Football Net - The Original Pickup Game Goal (2 Goals and Bag)
MAXIMUM PORTABILITY AND PERFORMANCE: PUGG is the original pop-up-goal brand created in 1994; Made of a premium denier nylon sleeve, high quality knitted poly net, and a frame constructed of a single piece of spring steel for ultimate strength, our portable soccer goals remain ultra strong, lightweight, and durable
TAKE THE GAME ANYWHERE: Our collapsible soccer nets measure 6 x 3.5 x 3.5 feet (W x H x D) and come with a travel carrying bag equipped with a shoulder strap to make it easy for you to pack up and play your game in the backyard, at the beach, in a dorm hall, basement, or anywhere you like
QUICK & EASY SETUP: Our youth portable soccer goals set up easily with a quick twist and collapse into a 1-inch-thick flat oval for easy storage or transport
GOAL SET: This fold up soccer goal set includes 2 goals, pegs, a spare parts kit, and a carrying bag
QUALITY GUARANTEE: PUGG guarantees to you, the original consumer-purchaser, that all PUGG goals are free of defects in material and/or workmanship for 2 years from the date of purchase
Last update on 2023-05-26 / Affiliate links / Images from Amazon Product Advertising API
This one-of-a-kind goal was actually the first-ever pop up goal to hit the market in 1994. You can choose to buy either a single goal and a bag or a set of two goals and a bag. Like the previous set of pop up goals, the PUGG soccer goal opens and collapses with a simple twist; compacting into a 1-inch-thick flat oval for easy storage.
These goals measure 6 x 3.5 x 3.5 feet and are the perfect size for kids and teenagers alike. It's also great for using on any type of field including grass, artificial turf, and even sand. The net is made of high-quality, knitted fibers referred to by PUGG as, "polynet" and the frame is made of spring steel for extra durability.
And to tie everything together, you get a no-risk guarantee or 30 days on top of a 2-year warranty!
What We Like:
The original pop up goal from 1984 — this goal sets the standards
Great sized goal for all ages. Perfect for scrimmages or games for little kids
Comes with a bag to protect the net from the elements (and for effortless storage)
Can be used on any type of field
What We Don't Like:
Not budget-friendly. Could be a pretty hefty investment for some coaches or parents
Check Price and Reviews on Amazon
---
3.
FORZA Flash Pop-Up Soccer Goals [Pair]
Last update on 2023-05-26 / Affiliate links / Images from Amazon Product Advertising API
Available in three select sizes for all ages and abilities, the FORZA Flash Pop-Up Soccer Goals are a universal option. These goals come in a pair of two and in sizes 2.5 feet (for ages 2+), 4 feet (for ages 4+), and 6 feet (for ages 6+).
Featuring a reflective strip along the outside of the net, this goal would fair well at nighttime practices or youth scrimmages. They can also be used on any scenario imaginable: on concrete, inside the house, on grass, turf, and even sand. The goals come with stakes, but if you're indoors or practicing on an area like concrete or carpet, you may want to consider using sandbags to weigh the goals down.
The fiberglass frame makes these goals lightweight and flexible, but durable and resistant to impact all at once. A portable bag is included with your purchase to make storage and traveling a breeze.
What We Like:
Comes in a pair, making this set great for scrimmages
Reflective strip for when the days are dreary and dark
Available in three sizes to accommodate players of every age group
Sturdy and practically unmovable thanks to the stakes used to anchor the goals into the ground
Very affordable — a budget-friendly choice
What We Don't Like:
The pop open is pretty jolting, so it's a good idea to stand back a little
Check Price and Reviews on Amazon
---
4.
EliteGo Portable Soccer Goal
EliteGo Portable Soccer Goal, Pop Up Soccer Goal Net for Backyard, Set of 2
No Carrying Bag for Mitigating the Greenhouse Effect – By surveying over 5,000 customers, the usage rate of the carrying bag is below 2.5%. In an effort to conserve energy and minimize emissions, no carrying bags will be included for orders placed after March 2023.
The Fun Never Stops – EliteGo's kids soccer goal is the ultimate backyard activity for the whole family! With a durable and practical design, these soccer nets allow you to create your own playfield for the little ones to run around and have fun away from screens and TV.
Convenient Pack and Play – Every order also comes with 8 stainless-steel ground pegs to keep nets in place, easy-to-follow photo-illustrated instructions to help you set it up, and a portable storage bag so you can take them anywhere.
Super Durable, Made to Last for years – The mini soccer goals feature rugged and extra-strong netting made of durable Dacron that will not be damaged by hard shots. The net can withstand even the strongest shots without breaking or tearing.
Perfect Portable Size for Kids & Youth – Each soccer goal net measures 4' x 3' x 3' in size to give plenty of space to practice different shots without taking up too much space.
Last update on 2023-05-26 / Affiliate links / Images from Amazon Product Advertising API
Made with enhanced fiberglass poles, the EliteGo Portable Soccer Goal is a reliable, durable option that's sure to hold up to hours of play. The net is made from exceptionally thick and strong Dacron fiber material to withstand the pressure of even the fastest shots.
And, while this soccer goal pair only comes in one size, it's perfect for youth scrimmages or practice in the backyard. Its size is also great for improving shot accuracy in older players.
After the initial assembly, putting these goals up and down is as easy as 1, 2, 3 (though the assembly does take a few minutes). Storage is quick and easy, considering how tightly compact these goals become when placed in the travel bag.
What We Like:
Enhanced fiberglass poles for extra flexibility and durability
The nets are sturdy and able to withstand hard shots without tearing or snapping
Folds down compactly to fit in a convenient travel bag
What We Don't Like:
Only available in one size, though the size is good for youth practice in the backyard and scrimmages
Assembly right out of the box can take a few minutes
Check Price and Reviews on Amazon
---
5.
INTEY Soccer Goal
No products found.
.To prevent snaps and give your goal a longer life, INTEY gave their soccer goal thicker-than-standard fiberglass poles. Instead of the average 8mm thick pole, the INTEY Soccer Goal increased the thickness to 10mm for better adaptation to hard shots.
With design help from a fishing company, INTEY's net is extremely long-lasting and strong and won't tear even if you try! The goal is 6-foot x 4-foot x 4-foot, making this a top option for all age groups. Though, because this isn't a set of two goals, the INTEY isn't the best choice for scrimmages or youth games.
Assembly and takedown time is also longer than the other goals on our list.
What We Like:
Thicker, more durable fiberglass poles compared to other options on the market
Suitable goal size for backyard practice, scrimmages (for all ages), and games (for some ages)
What We Don't Like:
Only comes with one net. Not a good option for scrimmages.
Initial assembly takes around 10 minutes to set up
Doesn't fold down as easily as the other options on our list. You have to remove the rods before folding for storage.
Check Price and Reviews on Amazon
---
Advantages of Pop Up Soccer Goals
Pop up soccer goals are highly convenient and can turn a boring afternoon into a day full of rambunctious fun for kids in the backyard. And, while they're not suitable for an adult game, kids can practice and play as tough and as long as they'd like. Plus, lugging these lightweight goals around is a breeze (portability is always a plus!).
For coaches and parents, soccer practice can be on the go whenever and wherever you are, since pop up goals fold so compactly and would fit nicely in the trunk of your car.
Health Benefits of Soccer
Aside from the convenience of pop up goals for soccer, there are many health benefits to backyard practices and scrimmages for your kids, as well. Constant running will increase your child's stamina, shed some calories, and build muscle and bone health over time.
In addition to increasing physical health, soccer has mental benefits, as well. Studies show that exercise helps to treat depression and anxiety. Soccer also encourages teamwork, cooperation, and relationship building which is great for emotionally-developing children. It also increases overall confidence in your child's ability to do well and complete tasks, helping them to feel better about performing at school, in the family, and in their friend groups.
How to Choose a Pop Up Soccer Goal
In this section, we'll be taking a look at the best attributes of pop up soccer goals to keep in mind as you browse the world wide web.
Overall Durability
It should go without saying that you don't want a pop up goal with poles that will bend and break or a net that will snap after a few hard practices.
To ensure you're getting the durability you want, there are a few things you should look out for:
Is the brand reputable and well-known for their pop up soccer goals? If not, you may want to pass on purchasing the product.
Be sure that the poles are highly flexible and made of fiberglass. This will prevent easy breakage.
The net should be thick to avoid tears and snaps.
You may also want to check if your pop up goal can withstand various weather conditions without losing any of its durable properties if you plan to have practices in rain, extreme heat, or wind.
Weight
The point of getting a pop up goal for many people is the ease of portability. Be sure that you're checking the weights of each pop up goal that you're interested to ensure that lugging it around will be a breeze for you and your kids.
Cost
Of course, the price is often a make or break deal. It's recommended that you determine your budget and then try to find a reliable pop up goal within this limit. Keep in mind that a goal that is too cheap will likely break quickly and won't be worth the money in the long run.
On the flip side, you don't exactly have to spend a fortune on a pop up goal, either. Find a good medium in price from a trusted brand and it should work just fine.
Size
There are generally three different sizes for pop up goals. These include 2.5-foot goals, 4-foot goals, and 6-foot goals. It's recommended that you get a 2.5-foot for toddlers and children under 4 years of age, a 4-foot for children ages 4 and up, and a 6-foot goal for children and teenagers 6 and up.
Best Pop Up Soccer Brands
Here, we'll take a closer look at the great companies behind the pop up soccer goals you love.
Golme: Though not much is known about Golme, what is known is that they're a family-owned company that is dedicated to bringing your family the best pop up goals and soccer gear possible. And — if you don't love it — you can send it back risk-free.
PUGG: Holding a title that other companies can't, PUGG is the first-ever company to produce and sell pop up goals to the public. Founded in 1994, the U.S.-based company, PUGG, brought you the pop up goal, and to this day continues to innovate the soccer world.
FORZA: Specializing in all things soccer, the crown jewel FORZA is still their wide range of soccer goals, including pop up goals.
Frequently Asked Questions
Q: Are pop up goals better than permanent goals?
A: It really depends on preference. However, pop up goals are definitely more versatile than goals that are permanent. You can travel with, easily store, and effortlessly move a pop up goal while stationary goals are mainly for only backyard use.
Q: Can adults use pop up soccer goals?
A: Yes and no. An adult playing with their children or just using the goals for a few leisurely kicks is totally fine. However, a pop up goal won't hold up to a full-on adult soccer game.
The Verdict
For when you're on the go or just want an easy way for your kids to practice soccer, a pop up goal is your best bet. When it comes to the best pop up soccer goals, our favorite is the Golme Pro. It's made of high-quality, flexible materials that are sure to hold up to hours of play and comes in a set for half the price of other goals on the market!
Regardless of what pop up goal you choose, each of these goals are excellent options and would serve well at home or on the field!