A paintball mask is a crucial piece of equipment for playing paintball. They protect your eyes and face from being unjustly battered during friendly games — oh, and they look super cool. The only issue is that, if you're new to paintball, you may find it difficult to find a reliable, awesome paintball mask.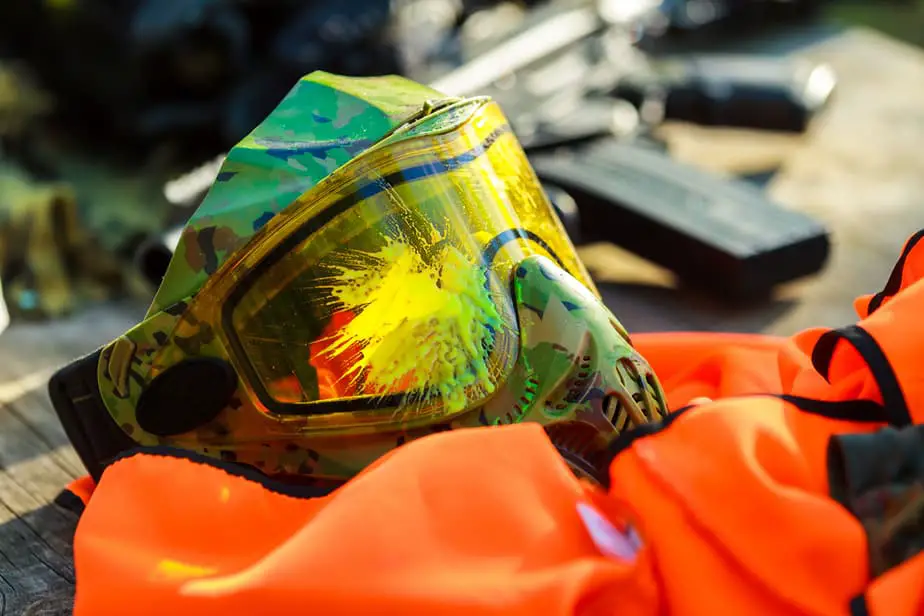 That's why, in this article, we'll be going over our top 5 favorite paintball masks and giving you an in-depth buyer's guide to set you on the path of success.
Let's hop right in!
In a Hurry? Here's Our Top Picks…
| Image | Title | Price | Buy |
| --- | --- | --- | --- |
| | Base GS-F Paintball Goggle/Mask with Built-in Visor - Black with Thermal Lens (5 Pack) | | CHECK ON AMAZON |
| | JT Flex-8 Head Guard Grey | | CHECK ON AMAZON |
| Top | Dye i4 Paintball Goggle (Black/Gold) | | CHECK ON AMAZON |
| | Virtue VIO Contour II Thermal Paintball Goggles/Masks - Black Clear | | CHECK ON AMAZON |
| | Gen X Global XVSN Paintball Mask (Black) G-302 XVSN | | CHECK ON AMAZON |
Product prices and availability are accurate as of the date/time indicated and are subject to change. Any price and availability information displayed on [relevant Amazon Site(s), as applicable] at the time of purchase will apply to the purchase of this product.
Prices pulled from the Amazon Product Advertising API on:
1. Dye Precision I4 Thermal
HK Army Paintball KLR Thermal Anti-Fog Mask/Goggles
Snap in place removable goggle foam insert
Tri-layer face foam for maximized comfort
Optically correct high definition dual-pane thermal lens to prevent any possible fogging
PVT Lock quick-change lens retention system
High-density compression molded earpieces
Last update on 2023-09-09 / Affiliate links / Images from Amazon Product Advertising API
If you are searching for a high-quality paintball mask, then one of the options to consider is the Dye Precision 14. The lens is the first thing that makes the mask a good option. It's a UV resistant thermal anti-fog lens, meaning you can enjoy the game with the guarantee that no external factors will affect your vision.
The mask is quite wide, resulting in the lens stretching almost from one end to the other. It feels very comfortable when worn and covers the ears entirely.
One issue with this specific paintball mask is that it may not fit everyone's face perfectly and some larger folks might find that their chins are exposed. Be sure to check the dimensions if this is something that concerns you.
An advantage of the Dye Precision 14 is it is lightweight to the point you may forget you are wearing it. You will be able to use the mask for long durations and it will not hinder your movement. Ventilation on the mask is also pretty great — so you won't have to worry too much about overheating.
Lastly, this mask is available in a variety of colors. Finding one that suits your style or matches your paintball attire should not be a problem.
Things We Liked
Compact and lightweight
Great ventilation
Comfortable
Anti-fog thermal lens
Full face coverage
Things We Didn't Like
Might be small for larger people
A tad on the pricey side
Check Price and Reviews on Amazon
---
2. Base GS-F
Last update on 2023-09-09 / Affiliate links / Images from Amazon Product Advertising API
Base is a renowned and reputable brand in the paintball industry and the Base GS-F can easily compete with some of the top models on the market!
The first thing we noted was how refreshing and simple the design is – it's not pretentious. It has an all-black look that is similar to the helmets used by special ops teams, bringing that realism that some players shoot for (pun intended).
A dual-pane thermal lens is one of the greatest features of this puppy — it won't fog up even in conditions with high humidity. Unfortunately, the lens does not have a UV resistant coating. However, it has a built-in visor that helps when you play in sunny weather.
As for the strap, it's strong, easily adjustable, and comfortable ensuring your mask is always in place. Although the ears are completely covered, it may be a bit tight there. This will depend on how sensitive your ears are and how big your head is.
If safety is your concern, you will be happy to know that GS-F meets all paintball standards set by ASTM. This means it can divert any type of paintball. Polymer construction is used to build the mask making it durable, strong, and lightweight. Inner padding makes it a very comfortable paintball mask to wear. Not to mention, overheating will never be an issue thanks to vents that are well constructed and designed.
Things We Liked
Built-in visor
Offers full-face coverage
Comfortable and adjustable strap
Beautiful and simple design
Double-pane anti-fog lens
Things We Didn't Like
A bit tight on the ears
No UV protection, though there is a shady visor
Check Price and Reviews on Amazon
---
3. JT Spectra Flex 8
JT Flex-8 Head Guard Grey
Spectra lens offering 260 degree field of vision
Dual Fusion co-molding technology creates this unique venting System
Full head coverage for maximum protection
Includes removable visor
Last update on 2023-09-09 / Affiliate links / Images from Amazon Product Advertising API
This full-coverage paintball mask is perfect for those who are on a budget or for beginners who don't want to spend a fortune on a hobby they may or may not like.
The Flex 8 has a wide lens with a field of vision of 260 degrees, so your ability to see clearly will never be inhibited. However, the lens does not have any special anti-fog properties nor any UV protection. Although, you shouldn't experience any fogging up regardless of the lack of anti-fog gadgets.
Even though the mask covers your head completely, it is designed to ensure sufficient airflow. As such, you can be sure you won't boil inside the mask.
A removable visor is part of the package. It's great for sunny days, but if you're indoors or if it's just not that bright, you can take it off and store it for a more yellow afternoon.
The padding is a little rough, but protective. If you play for long hours, it may get a tad itchy or irritating. Otherwise, it shouldn't be an issue.
All-in-all we found this mask to be a decent piece of equipment. You should give it a try if you're just getting into paintball or if you plan to spend the least amount of money possible.
Things We Liked
Universal fit for all head sizes
Very affordable
Comes with a removable visor
Covers your entire head keeping it safe
Great ventilation
260-degree field of vision
Things We Didn't Like
Lack of anti-fog or UV properties
Padding feels hard when worn
Check Price and Reviews on Amazon
---
4. Virtue Vio Contour II
No products found.
If your goal when hunting for the best paintball mask on the market is to get as many high-quality features as possible, then the Virtue Vio Contour II may be what you're looking for!
For starters, the lens has phenomenal fog-resistant properties. Peripheral vision will not be compromised thanks to the very wide lens. Apart from looking very cool, the bottom of the mask is functional and offers excellent airflow to ensure you stay cool throughout the game. This is a factor that newbies and pros tend to overlook when they're shopping for a paintball mask.
Earpads on this mask are comfortable. They have been engineered to make sure your hearing is not impeded. Additionally, the Virtue Vio Contour II has an adjustable, stretchy strap with a pad for cushioning the back of your head.
All this may sound amazing, but it's not all rainbows and sunshine. When it comes to face coverage, it falls a bit short. The mask leaves a portion of your forehead completely open. It may be its biggest disadvantage.
Things We Liked
Reasonable price
Great airflow and ventilation
Comfortable and excellent padding
Fog-resistant and UV lens
Well designed
Things We Didn't Like
Limited protection for your forehead
Check Price and Reviews on Amazon
---
5. GXG XVSN Paintball Mask
Last update on 2023-09-09 / Affiliate links / Images from Amazon Product Advertising API
Sometimes you need something that will just work despite any setbacks. The GXG XVSN Paintball Mask is the kind of mask that is simple. This product does not have any features you may find in other masks, but it will ensure you are safe during a game.
The main merit of the mask is its price. Its price is so low that you may consider purchasing it even if you are playing paintball one time. For example, GXG XVSN is a good option when you have an unexpected player who doesn't have a mask.
A sturdy plastic construction is used to make the mask and will protect your entire face. There is thick padding in the interior that we found to be surprisingly comfortable considering its low price.
As for the lens, it does not have any UV features but has anti-scratch and anti-fog properties making it suitable for outdoor use. Playing in sunny weather, though, may be a challenge due to the lack of a visor. Additionally, the field of view is a bit narrow, but hey, you get what you pay for.
A thick, single strap is used to hold up the mask, and it is effortless to adjust and put on.
Things We Liked
Easy to put on
Thick padding
Anti-fog lens
Hard plastic provides full face protection
Very cheap
Things We Didn't Like
Might be tight for some users
Narrow field of view
No visor or UV protection
Check Price and Reviews on Amazon
---
Paintball Mask Education
The key to your game is choosing the right paintball mask. Your choice can either hinder or enhance the results you achieve on the field. The following are some of the reasons why:
Paintball Mask Vision
Eyes are protected by the paintball mask. A mask that gets in the way of your sight is not good for your game. It's good to have a clear and full vision through your paintball game.
Paintball Mask Hearing
The difference between hearing an opponent sneak up on you or being blindsided is being able to listen to what's happening around you. Each model will affect your hearing in certain ways. Some make it easier to hear, while others make it harder. All of the mask options on our list thankfully allow you to listen intently to what's going on in your surroundings.
Breathability & the Fog Factor
It's necessary to breathe well when wearing the mask. Decent ventilation also affects your vision.
Masks that tend to fog up from breath are not good because they can cause you not to see your opponents. Rest assured there are products on the market to help you with this. You can look for special anti-fog lens wipes or thermal design lenses.
Paintball Mask Comfort
One of the most important factors in deciding on a paintball mask is comfort. If you don't enjoy wearing it, then you'll take it off every chance you get. If it doesn't fit right, it can have adverse effects on your gameplay. Be sure to check the dimensions before you purchase the mask to ensure the perfect fit.
Features of a Paintball Mask
The following features have to be considered when choosing the best paintball mask to meet your needs:
Sturdiness
A paintball moves very fast by the size of the welt it leaves behind. On average, paintball markers can shoot at speeds of 300 fps, although, the majority of venues allow for a maximum speed of 280 fps. Either way, you'll need a mask that won't be damaged by high-speed paintballs and can resist this force.
Scratch Resistance
One that can resist scratches will go a long way in improving your paintball career. You cannot know when you will come into close contact with another player or an object in the arena.
It's not good to mark up your new mask more than you need to. Doing so has the probability of affecting your sight during gameplay. Finding a paintball mask with this feature is well worth the money you spend.
Paintball Mask Profile
It can either be low (small) or high (large). Mostly, it depends on the type of game you're playing. You will require a smaller profile mask because your head is one of the few body parts exposed.
In other types of games, it doesn't matter as much. Ensure that the profile of the mask doesn't compromise your safety. Small profile masks are not always the best option because they don't protect you as well as a full-face mask.
The Different Parts of A Paintball Mask
It's important to comprehend the various parts of a paintball mask as well as the role each one plays. Knowing their purpose will help you pick the best paintball masks.
Bottoms
This refers to the lower section of the mask that covers your face from the eyes down. The bottoms protect portions of your neck. Some models are better at this than others.
Take note of how well your jawline is covered. The mask's vent allows you to breathe while protecting your mouth area. These are somewhat angled to avoid direct contact with a paintball.
Paintball Mask Lens
The lens protects your eyes from the action, but also lets you see the action. Some will even have space for you to wear glasses or sunglasses.
Consider things like how easy it is to remove (for cleaning and changing purposes). Also, consider if it is thermal (that is if it prevents fogging using a dual-lens), the finish or color, how wide it is (i.e. for peripheral vision), as well as if it's scratch-resistant.
Paintball Mask Straps
Straps keep your mask in place adding a touch of style to your mask. We've come across some awesome paintball masks on the field combined with even cooler straps. You can opt to go for a single strap or a double strap setup.
Ears
You need to cover your ears, too. These protective covers come in all sizes and shapes, but with the main aim of shielding your ears.
They are designed to add a layer of cover, while still making sure that you can hear. A mask includes soft ears and hard ears each offering sufficient protection, but also you should choose what you feel will suit your needs.
Best 4 Paintball Mask Brands
DYE Precision
DYE Precision started operating in 1994 with an athlete's vision and one product. The founder, Dave Dehaan, has evolved and grown the company for two decades. Today, it is one of the industry leaders when it comes to warehouse facilities, manufacturing, design, and production on 3 continents.
BASE
BASE manufactures equipment for all paintball levels. From field equipment used by experienced players who demand the best gear to those used by first-timers. The company produces necessary and not superficial products while developing simplistic yet extremely efficient equipment.
Virtue
This company started operating in a New York basement in 2004. At this time they almost immediately became an industry leader in aftermarket upgrades and electronics. Their original mission was to develop better circuit boards that literally gave an upgrade to the engine of your paintball loader and gun. Virtue made a name for itself by producing the largest amount of circuit boards in the paintball industry.
Since then, Virtue has transitioned to the supply of complete finished products for paintball gamers. They were no longer satisfied with producing accessories and upgrades that were limited by the designs of other manufacturers.
GXG
The name GXG is an acronym for Gen-X Global. It is one of the leading manufacturers of paintball accessories since 2002. Since then, the company stands above the basic entry-level market for all types of paintball players. Their core line consists of speed feeds, grips, elbows, hoppers, masks, and pods all manufactured in the United States.
FAQ
Q: Can I Clean My Paintball Mask?
A: Yes, you can! The best way to do this is by using water and a rag. If you can, you need to get a cleaner approved by the manufacturer of your specific mask. This is because not all cleaners are suitable for any mask.
When you use the wrong lens cleaner, you risk damaging the mask's lens. Polishing should also be done using the manufacturer's recommendations. One of the causes of increased lens fogging is cleaning or polishing using the wrong products.
Q: How Do I Prevent Fogging on My Mask?
A: Common and effective methods for preventing fogging include using thermal lenses or anti-fog spray. Anti-fog spray is recommended since it prevents vapor from settling on the lens surfaces. Additionally, it is more affordable than thermal lenses.
Thermal lenses can be described as dual lenses that have an air-filled space between them. The air-filled space and outside elements have different temperatures.
Another method you can use to prevent fogging is by using a mask-fan. This is a fan located on top of the mask. It is built into the mask and runs off a battery. When the fan runs, it causes evaporation on the condensed moisture thus prevents fogging. This fogging prevention method is rare.
Wrap Up
DYE Precision is top on our list. It offers full-face coverage and has an anti-fog thermal lens. The fact that it's lightweight and compact is a plus. The only downside is it may be too expensive for people on a budget.
If the DYE Precision is way beyond your budget, the next option would be Base GS. It has great features such as full-face coverage and an anti-fog lens. The downside is it's a bit tight on the ears and doesn't have UV protection.
The third best paintball mask, Virtue VIO, is a balance between price and quality. On the plus side, it offers fog-resistance, UV protection, and comfortable padding. The main disadvantage of this product is it doesn't offer protection for your forehead.
Use this guide to help you get the best paintball mask in the market. Check out each product to get a better understanding of each mask.