Paintball is a thrilling activity that just about anyone can enjoy. Having a sniper rifle during gameplay is the perfect way to beat your opponents and come out on top. It doesn't matter your skill level, finding the best paintball gun can be difficult. That's exactly why we found the five best paintball sniper rifles available right now! All of these rifles are high-quality and bring something unique to the table.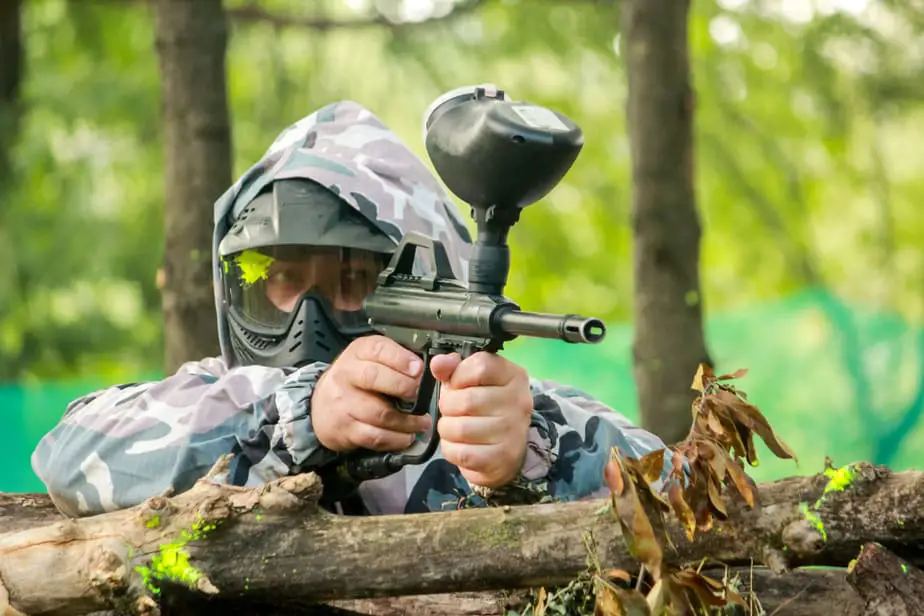 In a Hurry? Here's Our Top Picks…
1. Tippmann U.S. Army Project Salvo Paintball Gun
No products found.
This is one of the most realistic looking paintball sniper rifles that money can buy. It's designed to resemble an AR15 Army rifle. If you enjoy customization, you'll like that there are four Picatinny rails on the Tippmann Salvo paintball gun. It also has front and rear sights that are not only adjustable but removable as well. The gas line is made out of durable stainless steel which makes the gun a lot more durable.
It's relatively lightweight, weighing in at around seven pounds. Many users enjoy the aluminum die-cast receiver on this paintball gun. The one year warranty that you get isn't a bad touch either. Many people can use this paintball sniper rifle, whether you're a beginner, expert, or somewhere in between. There is an option to upgrade this gun as you improve your skills.
The inline bolting system makes this Tippmann paintball gun reliable and dependable. There is a convenient barrel cover included which some users may enjoy. This is a .68 caliber paintball sniper rifle and is far from silent when firing. You can also use the Tippmann U.S. Army Project Salvo paintball gun right out of the box!
What we like:
There are four Picatinny rails
The sights are adjustable and removable
It can be used by players of all skill levels
It's lightweight and easy to maneuver while using
The handle is comfortable to hold during long games
What we don't like:
It can be difficult to tighten the handguard
It's not the fastest paintball sniper rifle on the market
---
2. US Army Alpha Black Tactical Paintball Marker Gun Sniper Set
Last update on 2022-07-01 / Affiliate links / Images from Amazon Product Advertising API
Not to be confused with other U.S. Army paintball sniper rifles, this one from Tippmann has everything you need to start playing paintball. Some of the accessories you'll receive are Genx goggles, a hopper with 200 paintballs, harness, CO2 tank, and more. This sniper rifle looks incredibly realistic and will make you stand out from the rest of the players on the field. It is made with high-quality material, which makes for a sturdy and reliable product.
Conveniently, you have control of whether or not the stock is collapsed. There is a built-in sight that can help you achieve incredibly accurate shots, no matter your skill level. Maintenance is also relatively easy with this paintball sniper rifle. The barrel is 11 inches, making this a rather compact rifle paintball gun.
There is a built-in carrying handle that eliminates the need for a case. This product is around 12 pounds due to the stainless steel and aluminum, which is a bit heavy for a paintball gun. Tippmann paintball guns are great because they can be used by beginners and expert players. Their guns can also be improved with add-ons and accessories, allowing you to have a gun that improves with you.
What we like:
The built-in sight is amazing
The weight is distributed well
The kit comes with everything you need
The stock is adjustable
What we don't like:
This product isn't allowed in specific zip codes
The e-trigger makes this gun prone to jamming
---
3. Empire Paintball Sniper Pump Marker with Barrel Kit, Dust Black/Polished
Last update on 2022-07-01 / Affiliate links / Images from Amazon Product Advertising API
This high-end pump paintball sniper rifle is most commonly used by professional paintball players. If you compete in a lot of tournaments, this might be a paintball gun that you'll want to add to your collection. It has a low-pressure operation and there isn't a terribly intense kickback. The barrel is made up of two heavy-duty aluminum pieces.
There is an auto-trigger feature that allows users to rapidly fire paintballs. This could be a great option for front or back players on a team. It is incredibly rugged and has next-level performance capabilities. It has a convenient on and off ASA. You won't have to worry about your accuracy, as this gun provides plenty with the built-in scope. There is a hitman mod on the pump handle that can be easily removed if needed.
Many people enjoy the quality of the stick magazine and elbow of this paintball gun. The Empire Paintball Sniper Pump Marker is durable and if taken care of properly, can last several years. A ten-round adapter is included, along with a barrel kit. This is one of the sleekest looking paintball sniper rifles on the market. If aesthetics matter to you, consider this product when looking for your next paintball gun to buy.
What we like:
It has a low-pressure operating system
The aluminum is tough and durable
It weighs less than four pounds
The auto-trigger allows for quick shots
It sets itself apart by looking unique
What we don't like:
For a kit, it doesn't come with a ton of extras
Barrel kit may be a bit small
It's hard to get a specific speed
---
4. Tippmann Cronus Paintball Marker Gun Player Package
Tippmann Cronus Paintball Marker Gun Player Package
Tippmann Cronus .68 Caliber Paintball Marker Package
THE BEST CHOICE FOR ENTRY LEVEL PAINTBALLERS! High performance, low maintenance, reliability, and incredible durability make it one of the most popular paintball markers across the globe. Built with the paintballer in mind, the marker's high-impact, composite construction is extremely lightweight and features molded-rubber grips and an internal gas line for enhanced control and maneuverability. Plus four Picatinny rails for fast and easy custom modification.
TIPPMANN CRONUS MILSIM STYLED .68 CALIBER SCENARIO PAINTBALL MARKER - Semi-Automatic - Adjustable from 250-325 FPS - Barrel Thread: A5 - Proven, In-line Bolt Design - Internal Gas Line - High-Impact Composite Body - Multiple Picatinny Rails - High-Performance Ported Barrel - and MORE!
INDUSTRY STANDARD PAINTBALL ACCESSORIES - Kit Includes: GenX Stealth Anti Fog Paintball Mask, 200 Round Gravity Fed Loader, Maddog 20 Oz. CO2 tank (Shipped Empty), 6+1 Paintball Harness w/ (6) Standard Paintball Pods
TAKE THE PAIN OUT OF PAINTBALL! Maddog Bundles the Best Paintball Accessories in the Industry For An EASY, ALL-IN-ONE, Complete Package! Fill Your Tank, Add Some Paint, and You're Set! Tippmann's Cronus Paintball Marker comes with a 1-Year Manufacturer's Warranty, not to mention, Tippmann's DEDICATED Cerfified Technical Support Department Available as a Resource For You and Your Marker All Year Long!
Last update on 2022-07-01 / Affiliate links / Images from Amazon Product Advertising API
Tippmann Cronus is easily one of the best paintball sniper rifles that money can buy. For starters, it requires very low maintenance, yet still remains reliable. This paintball sniper rifle brings high performance and is incredibly durable. By looking at it you wouldn't be able to tell that it's extremely lightweight. Weighing in at less than 10 pounds, it won't be hard to carry this paintball gun during hours of play.
There are molded rubber grips on the ergonomic handle. One of the best things about this product is there for Picatinny rails that allow for endless customization. This .68 caliber paintball gun is semi-automatic and can shoot between 250 and 325 feet per second. In this kit, you will receive an anti-fog paintball mask, CO2 tanks, paintball harness, and more. It's also available in three different colors including basic tan, tactical olive, and a tactical tan.
The hopper can hold 200 paintballs at a time. For many people, this is the only paintball gun they have or will ever own. You can easily upgrade it by adding new barrels, canisters, and other accessories. Whether it's your first time or play paintball or you were one of the competitions, this is a great sniper rifle to add to your collection.
What we like:
CO2 canister lasts for a long time
It's easy to learn how to use
The molded grips on the handle provide more control
It requires little maintenance
What we don't like:
Gunstock can get in the way of the sight
It tends to be a bit back heavy
---
5. Action Village Tippmann US Army Alpha Elite Foxtrot Paintball Gun Package Kit
Last update on 2022-07-01 / Affiliate links / Images from Amazon Product Advertising API
This paintball sniper rifle has a red dot sight and a carrying handle. The red dot sight can be easily adjusted in just seconds. The gun comes with a 20 ounce CO2 tank and a folding grip. The CO2 tank will last quite a while before needing to be refilled. You'll also receive other accessories such as paintball pods and a squeegee.
As for the gun itself, this is a Tippmann semi-automatic sniper rifle. It takes .68 caliber paintballs and works seamlessly. It's comfortable to hold and is easy to carry for long periods of time. Many people enjoy how powerful this gun is. If you're a back player, you may get a lot of use out of the Tippmann US Army Alpha Elite Foxtrot gun. The built-in sight makes it incredibly easy to make clean and accurate shots.
Even though this looks like a real military weapon, it is most commonly used by teenagers who are just getting into the sport. This is likely because it's easy to clean and doesn't take much know-how to setup. If you don't have any paintball equipment yet, buying this gun is a great choice. It comes with just about everything you need to hit the fields. All you need to do is buy safety gear and assemble a team!
What we like:
It's easy to assemble
The red dot sight can be quickly adjusted
The air tank lasts for several matches
It's comfortable to hold
What we don't like:
The threads on the air hose can wear out
---
Buying Guide
Below you will find some of the most popular things to consider when shopping around for your next paintball sniper rifle. This can be incredibly convenient when comparing one product to another.
The Style of Paintball
Many beginners don't realize that there is more than one type of paintball game that you can play. While there are several, speedball and woodsball are the most commonly played. The type of paintball gun and specific requirements can change from game to game.
Speedball
The most popular game, Speedball, is played in a field that has large obstacles all around. If you've ever seen paintball played in movies or TV shows, it's likely Speedball. Something you'll want to look for in a paintball gun for this game is speed. You want to quickly be able to hit your target before they can get behind one of the obstacles. It's also important to note that Speedball uses paintballs faster than most other games. Find one that shoots quickly and can take extended use.
Woodsball
People who play Woodsball usually use a tactical-style gun. As the name suggests, Woodsball is played in the woods or a forest. For this game, you'll need a weapon that shoots with accuracy. These paintball guns will often come with a scope or Picatinny rails. Many times, looking at a tactical-style paintball gun, people easily mistake it for an actual gun.
You also want to be sure that the weapon you use for a game of Woodsball has a long-range, in order for you to hit targets that are far off in the distance. All five of the best paintball sniper rifles reviewed above are great options for Woodsball and can be used during Speedball as well.
New or Used
If you're new to paintball or have a tight budget, buying used gear can be a beneficial choice. New gear can be expensive, but it's guaranteed to work properly. New gear, especially paintball guns, often come with a warranty. This can come in handy if you're using the marker several times a month.
Used gear will likely break quicker or encounter problems, costing you more in the long run, but it's understandable that not everyone has a large budget when they first start playing. Try to get a paintball gun that can be modified and upgraded.
Rifle Feed
When buying one of the best paintball sniper rifles, you have to consider the rifle feed. There are two different types of feed, center and offset. Many people don't use this as a comparison point when shopping around, but it is important.
The feed of the gun will affect where the hopper is that holds the paintballs. Having a rifle feed that you don't like can make it hard to shoot and quite uncomfortable to hold the gun in general.
Center Feed
With a center feed, the paintball hopper is on the center of the weapon. This is great for people who switch dominant hands or if you share your paintball gun with another person. Center feeds are also better balanced than offset feeds.
Offset Feed
Offset feeds can often be found with the hopper on the right side of the gun. This type of feed gives you a better scope and can improve your shot accuracy. If you're just getting into paintball but have experience with real guns, this feed will feed the most comfortable for you.
Maintenance
Owning your own paintball sniper rifle requires you to perform occasional maintenance. Doing this ensures that your paintball gun will last as long as possible and perform well for years. Depending on how much you play, you may want to replace your paintball gun every once in a while to make sure that you're playing with a dependable weapon.
Some paintball guns can only be fixed using parts from a specific manufacturer, while others require very expensive parts. This is something to keep in mind when you're shopping around. Try to find a paintball gun that fits within your needs and has easy to access maintenance options. It may also be important to find a gun that you can fix and maintain. This will save you a lot of money and stress down the road.
Extras
Just like many other things you buy, there are extras and accessories that you can purchase as well. For paintball guns, you may want to consider getting a carrying case if the gun you purchase doesn't come with one. Air tanks are a necessary accessory and people often need to stay stocked with them.
Whether you're an avid paintball player or you only play every few months, safety gear is a must. There are padded jackets, vests, helmets, eye shields, barrel guards and more that you can get. Because you're considering a paintball sniper rifle, there are several more accessories to consider, such as scopes.
Location of the Game
If you're playing in a public location, the type of gun you have is something to keep in mind. Some paintball fields require all players to have the same type of gun, while others don't have any requirements. Check out the rules and policies of your favorite field when it comes to what type of weapon you can use.
This is usually available on their website or by asking one of the referees employed there. You'll see things such as sniper rifles only or that the gun must be mechanical. Some paintball fields offer days where you can use any weapon and receive not only inexpensive paintballs but free air and gas refills.
With that being said, if you're playing paintball in a field in the middle of nowhere, you may not want to use a gun that utilizes CO2 unless you plan on bringing extra tanks with you.
How Often You'll Use It
Something to consider is how often you'll be using the paintball gun. If you find yourself just playing a handful of times every year, it may be best to rent one instead of purchase one. When you rent you'll always have access to the latest gear and you won't have to worry about things such as maintenance.
On the other hand, owning your own paintball sniper rifle has plenty of benefits as well. You can play whenever you want, which is the main reason people buy their own. You also have the option to customize it and make your ideal paintball gun. Plus, not everyone has somewhere that offers paintball gun rentals near them. Owning your own cuts out the worry of trying to find a rental place.
Best Paintball Sniper Rifle Brands
Tippmann was established in 1986 in Fort Wayne, Indiana. It is one of the largest paintball gun manufacturing companies and surprisingly, they also make sewing machines! The 98 model that they offer is the most popular paintball gun in the world.
This company makes high-quality paintball gear. Over the last few years, Empire paintball guns have become more and more popular. Many people use it during competitions and they create everything from guns to goggles and hoppers.
Action Village makes gear for extreme sports including paintball, skateboarding, and real guns. They are best known for their amazing customer service and competitive prices.
FAQ
Q: How far can a paintball sniper rifle shoot?
A: Thought paintball sniper rifles come at a variety of different ranges, most shoot between 150 and 200 feet. When paired with a rifle that has quick speed, you'll be hitting your targets in less than ½ of a second.
Q: How many rounds can a paintball gun shoot?
A: Paintball guns are known for shooting quickly. How many rounds a gun can shoot depends on the type of trigger pull or circuit board it's equipped with. On the low end, paintball guns shoot five to six shots per second. Quicker guns, like many Tippmann products, can shoot over 30 shots per second.
Q: Will a paintball gun break a window on a car or house?
A: A paintball can indeed break a window. It will depend on the exact type of window. House windows are going to be much easier to break than car or business building windows. Either way, it's best to play paintball in an open field, away from the glass.
Q: Which hurts more paintball or airsoft?
A: Even though this can vary from person to person, paintballs tend to hurt a bit more. This is mainly due to the size difference. Airsoft pellets are much smaller and have a softer impact that paintballs do. There have been times where paintballs have broken skin, which is why wearing safety gear is a must.
Q: Can a paintball kill you?
A: Unfortunately, paintball guns can be fatal. Again, safety gear should be worn at all times. It happens rarely, but serious injury or death can happen when paintball guns are used irresponsibly or if people play without safety gear.
Q: How fast can a paintball gun shoot?
A: A paintball gun can shoot between 240 and 280 feet per second. This is equal to around 165 to 190 miles per hour!
Q: Will a paintball stain my clothes or skin?
A: Thankfully, no. Paintballs are specifically created to be environmentally friendly. They are also biodegradable, hypoallergenic, and water-soluble. It may take up to 24 hours for the paintball paint to come off your skin. It will also easily completely wash out of clothing and gear.
Q: What does a paintball hit feel like?
A: Depending on your pain tolerance, you may think a paintball hit doesn't hurt at all. On average, people describe it as a stinging sensation that is similar to being flicked with a rubber band. The pain doesn't last for long, but occasionally if hit hard enough, you may be left with a welt or bruise.
Q: Can you freeze paintballs?
A: It is a common misconception that freezing paintballs will make them last longer if you're not quite ready to use them. Surprisingly, the opposite is true. Freezing paintballs often causes them to become very brittle. They will also dimple and come apart as soon as they're fired. When you freeze a paintball it tends to morph and change shape. Because of this, it will not fire out straight.
Bottom Line
It doesn't matter if you're a paintball gun expert or this is your introduction to the sport, using high-quality products can make a world of difference in your gameplay. Many sniper rifles look very similar to U.S. Army rifles which is one of the main reasons people enjoy using them. The built-in sights on most sniper rifles allow you to easily see your target, aim and hit with accuracy.
There are several things to remember when shopping around one of these products, but a few features are more important than others. For instance, Tippmann U.S. Army Alpha Foxtrot is easily one of the best paintball sniper rifles available due to all of the amazing features. This includes a well-distributed weight, ergonomic handle, large hopper, adjustable stock, and built-in scope.
If you're not a fan of Tippmann products, the Empire Paintball Sniper Pump Rifle comes in at a close second. Remember to consider where you'll be playing, what type of game, how often, and the type of rifle feed. Lastly, please be safe and mindful of your surroundings when you're using a paintball gun. We're confident that you've found an amazing paintball sniper rifle (or two) today. Before you know it, you'll be having a blast playing paintball with your friends!