Some of the best paintball pants in the world can be difficult to find, especially when you just want to jump into the game. Safety gear is important too though, and finding gear that is both useful and sturdy can be incredibly difficult. Thankfully finding some sturdy paintball pants is easier than it looks. The paintball pants on this list are the best ones in our opinion and with them, you can easily go into a round of paintball knowing you or your loved one is protected.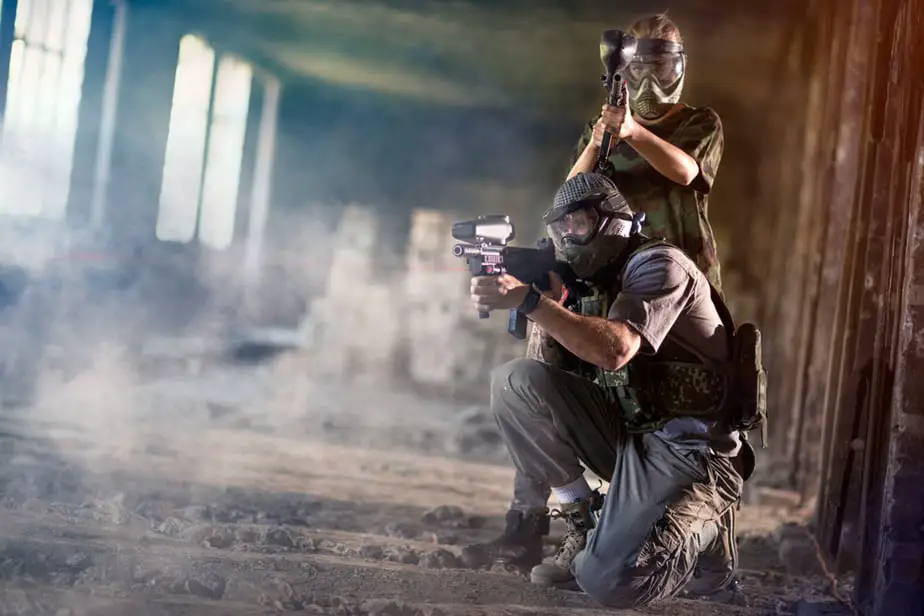 In a Hurry? Here's Our Top Picks…
1. Bunker Kings Paintball Pants
Bunker Kings Featherlight Fly Paintball Pants (XX-Large (2XL), Black)
Adjustable Waist Sizing: Small 24-32in | Medium 28-36in | Large 32-40in | X-Large 36-44in | 2XL-Large 40-48in
[Featherlight Weight] Featherlight Weight Fly down the field with no restrictions. The BK Fly pants may be the lightest, most durable paintball pant yet at only 430 grams or 15 ounces
[BK Harness Lock System] The BK Harness Lock System The super secure royal lock pants closing system has double functionality so you can also lock down your pack and keep your pants from sliding down
[Buttonless No-Zipper Fly] Buttonless / Zipperless Fly Simply pull the Fly pants on and press the velcro together. It's as easy as that to take them off again. No snaps or zippers to worry about
[Weatherproof Four Way Stretch] Both the main front and back parts are made in an amazing Durastretch material which is water resistant and super stretchy for unrestricted mobility with a soft waist adjustment system
Last update on 2023-11-20 / Affiliate links / Images from Amazon Product Advertising API
These paintball pants are a great addition to your paintball arsenal, these are some of the best paintball pants you can find. With an adjustable waist size, a harness locking system and a buttonless and zipperless seam making it difficult to lose these pants, all while ensuring they stay safely on your person as you play. These pants are a very important addition to your gear kit because without them you could easily scrape your legs. Every product has a downside though, and this pair of pants has a weak spot. After months of rigorous use, these pants can tear out in the crotch, which is a deal-breaker for some users. If you're a casual player these pants should hold up for you though and can be a determining factor in your comfort and safety.
Things We Like
Adjustable Waist Size
Harness Lock System
Buttonless and Zipperless
Things We Don't
The seam can split after many uses
Check Price and Reviews on Amazon
---
2. IDIOGEAR Gen 2 Paintball Pants
IDOGEAR Combat Pants Multicam Men Pants with Knee Pads Airsoft Hunting Military Paintball Tactical Camo Trousers
RELIABLE QUALITY MATERIAL: IDOGEAR combat pants is made of high quality new 50% cotton and 50% polyester , teflon water-resistant coating, military level elastic and thread, which makes it very comfortable and durable. YKK zipper, with smooth zipper puller, not easy to break.
ABOUT SIZE: Please refer to our size chart in the last image before ordering. It's in European regular size, about ONE SIZE SMALLER THAN US SIZE.
WIDELY USAGE: IDOGEAR combat pants is lightweight, breathable, soft and comfortable, excellent performance in sweat absorption. Perfect for daily wear, military work, duty, airsoft sport, shooting, hunting, wargame, skirmish game...all kinds of indoor/outdoor activities!
EXCELLENT TAILORING DESIGN: Multi-pocket design and with detachable knee pads(insert the knee pads into the pocket). Zip up closure, the unique low-profile Velcro patch on waist/pocket/bottom to adjust.
Last update on 2023-11-20 / Affiliate links / Images from Amazon Product Advertising API
These paintball pants are one of a kind, with quality material, a warning that the size runs small right in the description, and a 45 day after-sales guarantee there is little left to want from these pants. What's even better is the fact that there haven't been any complaints whatsoever with these pants. No one is uncomfortable, has had shipping issues, has dealt with tears, nothing. Overall these pants are widely used and trusted with an excellently tailored design to help the pants fit you even better.
Things We Like
Quality Material
Size Warning
After-Sales Guarantee
Things We Don't
Check Price and Reviews on Amazon
---
3. TACVASEN Tactical Pants
No products found.
If you're looking for a pair of paintball pants that are sturdy and reliable and are made with quality in mind know that these are on our best paintball pants list for a reason. These pants are made of cotton and polyester, a wonderful combination that allows elasticity along with sturdiness. They're also wear-resistant and breathable, making them excellent even in the heat. Add in the multiple pockets, the fact that size suggestions are made by the seller and you have a recipe for a wonderful pair of paintball pants. Unfortunately, these pants have a bit of a downside, they occasionally tear and sometimes come in a different color than originally advertised. Other than that though you have a wonderful addition to any paintball gear kit allowing you to have more time on the field.
Things We Like
Wear-resistant, breathable
Multiple pockets
Size suggestions
Things We Don't
May tear easily
Different color than advertised
Check Price and Reviews on Amazon
---
4. IDIOGEAR G3 Tactical Camo Paintball Pants
No products found.
These landed on our list of best paintball pants because of there awesome removable knee pads, their waist adjustment system and their large capacity system. The knee pads can be removed and replaced as needed, the weight capacity system can be adjusted, and when paired to your large-capacity carrying system you can very easily move about the field with little to no issues whatsoever.  The only issues with these paintball pants usually come from the shipping. On occasion, the knee pads won't be shipped with the pants. Those knee pads are also softer than some people want by design.
Things We Like
Removable knee pads
Waist adjustment system
Large carrying capacity
Things We Don't
Sometimes missing knee pads
Knee pads are softer by design
Check Price and Reviews on Amazon
---
5. HK Army HSTL Line Paintball Pants
Last update on 2023-11-20 / Affiliate links / Images from Amazon Product Advertising API
These pants have a nice following with plenty of individuals that will only buy this brand. They're durable, allowing you to keep playing over and over again without tearing, ripping or damage. They're flexible, keeping you moving without hindering you or your movement throughout a game, and they're lightweight, making them high performance and low impact, because of all this they've landed a spot on this list of best paintball pants. This pair of pants is versatile and strong making it easier on you when you just want to have fun.
These pants do have a downside though. FIrstly after rigorous wear and tear the zipper is prone to breakage. There have also been some issues with sizes running to large which can be upsetting because large paintball pants can hinder you in a game. Overall though these are great pants that any player would be lucky to have so long as they fit properly.
Things We Like
Durable
FLexible
Lightweight
Things We Don't
Sizing issues
Broken zipper
Check Price and Reviews on Amazon
---
6. These Exalt Paintball Pants
Last update on 2023-11-20 / Affiliate links / Images from Amazon Product Advertising API
These paintball pants are another excellent addition to any paintball player's gear set. With kevlar knees, zipper side pockets, almost boundless padding you can be sure you're going to be safe wearing these pants. These pants landed their way onto our best paintball pants list because of the fact that all of the features available are specifically designed to defend you. The only real downside to this pair of pants is that occasionally the seller ships the wrong size. This overall is frustrating but isn't a deal-breaker especially if you order with plenty of time in advance.
Things We Like
Kevlar Knees
Zipper Side Pockets
Padding on knees, hips, and groin
Things We Don't
Occasionally ships the wrong size
Check Price and Reviews on Amazon
---
Education
In 1981 the first paintball game ever played was played in a field one of the players owned, though it had been talked about for just over ten years. It was played as one team against another, woodsmen against professionals like writers and doctors, to see if the professional team would be able to survive. The capture the flag type game was easily won by one of the woodsmen who avoided shooting at all and simply aimed to collect the flags. Today there's even a sign in the field that they played in, commemorating the first game that brought paintball to the world.
This game was a rigorous one, and though the paintballs don't hurt as much as you may think they do, you still do get welts and bruises when you play. This makes protective gear like the gear on this list of best paintball pants essential. If you aren't prepared to be shot at than you aren't prepared to play paintball. Each round can be very physically taxing, like running your own ninja warrior course, and the more protection you have overall the more fun you're going to be able to have even if you do end up getting shot and tagged out of the round. This is a great game to add to a backyard graduation party!
Best Brands
Some of the best paintball pants on the market is going to fall into one of four serious paintball gear providers, Bunker Kings, IDIOGEAR, TACVASEN, and HK Army. IDIOGEAR is the most popular, making a large amount of paintball gear every year for players who can't get enough, but any one of the brands in this list are all phenomenal choices when trying to find a brand that will fit you and your play style. None of them have issues so vast that they would be unusable throughout the course of your paintball play.
There are other brands on the market of course, but most of them don't live up to the same level of quality, durability, and overall satisfaction that the pants on this list do. Each of these pants made their way to this best paintball pants list for a reason, and though many of them do have small flaws, judging by the brand name each of them is sturdy, stable, and a great overall addition to any paintball players arsenal. All you need to do is decide which of the pants on this list would be best suited to you or your loved one's needs as a player.
FAQ
Q: How many layers should you wear for paintball?
A: That all depends on the person and the weather. Most people can get by with just one layer, but if you're going to be playing in colder temps you may need more than one layer. Don't forget to factor the high activity rate into your decision!
Q: Do paintballs wash off?
A: Yes they do, they're made to be easy to remove if you wash them soon after you play. Otherwise, a stain might set in. Just toss them in the washer when you're done playing and you should be fine.
Q: Does paintball hurt for a kid?
A: Paintball can hurt anyone at any age, but yes, especially if you're shooting a compressed paintball gun it can easily cause bruising.
Q: What does being hit with a paintball feel like?
A: It's only really as bad as being snapped with a wet towel, but it can be as soft as feeling as if you've had a hard flick to the shoulder.
Q: Can a paintball kill you?
A: No, paintballs and paintball guns are nonlethal, there has never been an incident where someone was shot and died from the paintball. That being said, protect your head and neck, because a shot to the veins on the edge of your neck could cause some medical difficulties.
Q: Where is the most painful place to get hit by a paintball?
A: The topmost painful places to get hit start with your hand, which just barely beats out your groin, the back of your head, and your inner thighs. Your neck makes the list to, so be sure to protect these places!
Final Thoughts
Paintball is a game that demands physical ability and some of the best paintball pants you can buy. It's rigorous, demanding, and incredibly fun. Overall though it's even more fun when you don't go home covered in bruises and welts. These paintball pants are absolutely necessary when you're trying to get out and play a game of paintball. They defend your body, including your knees and occasionally even your crotch, and can be the defining factor between going home happy or going home with bruises and scratches. Paintball pants are an incredibly effective tool against every day paints of the paintball world.
So instead of just throwing on a pair of jeans and saying its good enough take the time to look through these five pairs of wonderful pants. Each one has it's pros and cons, but regardless they offer far more protection than the pants you were going to wear. So consider picking one of these solid pair of paintball pants before your next round, it could make all the difference between going home with or without minor injury.