Whether you're a brand-new airsoft player or they know you by name at all of your local airsoft arenas, selecting the best gear can make a world of difference in your playing style. When it comes to personal safety, airsoft goggles can help you prevent the obvious traumatic eye injury and allow you to continue playing without fear of injury.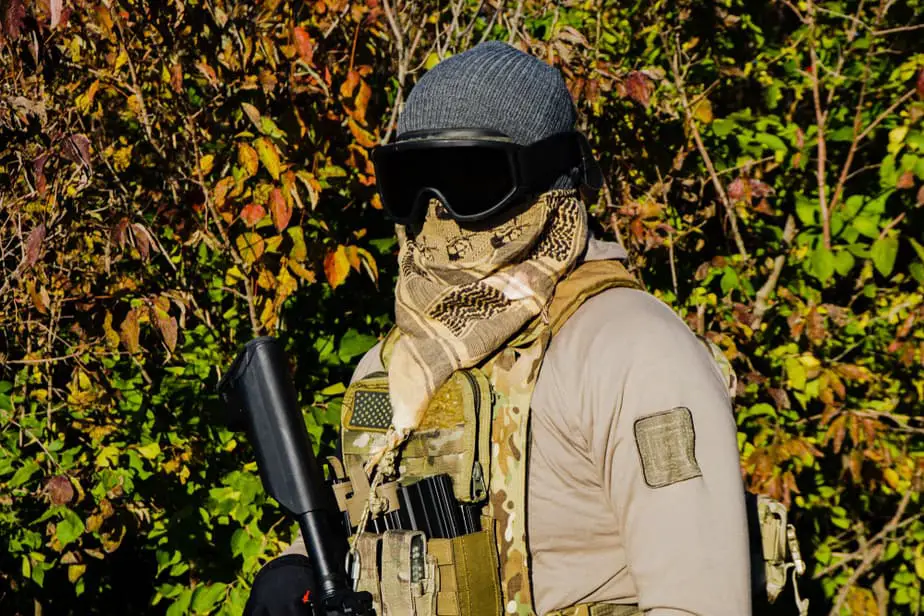 In this article, we will be reviewing the top five airsoft goggles, what to look for when researching airsoft goggles, and how to pick the best pair for yourself
In a Hurry? Here's Our Top Picks…
1. XAegis Airsoft Goggles
Xaegistac Airsoft Goggles, Tactical Safety Goggles Anti Fog Military Eyewear with 3 Interchangable Lens for Paintball Riding Shooting Hunting Cycling (Black)
Interchangeable lenses: 3 Color Lenses - Yellow & Smoke and Clear , rapid and tool-less lens change. The lens options make them great for any type of light in most circumstance and weather
Soft and comfortable hypo-allergenic rubber portion to sit well on your face, with a vented design to allow air flow
Scratch resistant polycarbonate lens with anti-fog coating provides 99% UVA/UVB protection.Full Seal Wrap-around Lens gives full side vision and maximum protection
Includes a carry bag with spare lens. Adjustable head band keeps your goggles tight. Cloth sleeve protects your lens and the back of your head
Suitable for a wide range: perfect for outdoor activities such as airsoft, paintball, riding, hunting, shooting, cycling and more.
Last update on 2023-09-19 / Affiliate links / Images from Amazon Product Advertising API
These XAegis Airsoft Goggles are both customizable and durable, intended for long-term use. With three color lenses (yellow, smoke, and clear), you can adjust your goggles to better prepare for any weather, environment, time of day, or arena. Each lens also provides 99% protection from UVA and UVB rays, so you won't have to shield your eyes or adjust your position while searching for your opponents.
This pair of goggles also includes built-in vents to prevent the buildup of fog and help you keep your field of vision as clear as possible. The lenses are advertised as highly-durable and impact-resistant, making them a great fit no matter who your opponent is. The lightweight and flexible frames let the goggles hug your face more snugly and provide a more comfortable fit.
Things We Like:
Impact-resistant
Blocks out 99% of UV rays
Interchangeable colored lenses
Anti-fog
Things We Don't:
Lack of cushioning in the frames
May not fit certain face masks
Check Price and Reviews on Amazon
---
2. Valken Airsoft Zulu Thermal Lens Goggles
Sale
Valken Airsoft Zulu Thermal Lens Goggles - Clear Lens,One Size
Quick release interchangeable temples and an elastic strap
The thermal system provides anti-fog protection in the worst weather conditions or extreme-temperature working environments
Meets ANSI/ISEA Z87.1, Meets MCEPS Class 1 Military standards, Meets CAN/CSA Z94.3-07 standards, CE EN166 certified
Last update on 2023-09-19 / Affiliate links / Images from Amazon Product Advertising API
These Valken Airsoft Zulu Thermal Lenz Goggles feature an anti-fog thermal design. This model's internal thermal lens system helps to prevent the goggles from fogging up regardless of the weather conditions or temperature.
These heavily ventilated goggles are also resistant to heavy impact, so you don't have to worry about them shattering or becoming disfigured when you take the unfortunate pellet to the goggles. This design includes an adjustable strap for a better, more secure fit.
Things We Like:
Anti-fog (or reduced fog)
Adjustable straps
Lightweight design
Impact-resistant
Things We Don't:
Still may fog despite claims
Uncomfortable or insecure fitting
Check Price and Reviews on Amazon
---
3. Rothco OTG Ballistic Goggles
Sale
Rothco ANSI Ballistic OTG Goggles, Black / Clear
Goggles Are Set to Military (MIL-DTL-43511D) And ANSI-Z87-1 Standards For Ballistic Eyewear Protection
The OTG Goggles Have Been Specifically Designed To Fit Over Your Prescription Glasses Or Sunglasses With A 7/8†Cut Out On Each Side For The Temples
2mm Thick Polycarbonate Anti-Fog And Anti-Scratch Lenses and UV 400 Protection Treatment
Moveable Hinges And Adjustable Strap Allow Goggles to Stay In Place While Mobile. In Addition, 3/8" Foam Padding Around The Tactical Goggles And Top And Bottom Vents Provides Long Lasting Comfort And Breathability
Cleaning Cloth And Cover Included To Protect Goggles When Not In Use
Last update on 2023-09-19 / Affiliate links / Images from Amazon Product Advertising API
These Rothco OTG Ballistic Goggles meet military standards, so you won't have to worry too much about durability and protection. With their 2mm thick anti-fog and anti-scratch lenses, you can play in any weather and against any opponent without worrying if your goggles will impede your gameplay. The adjustable straps and movable hinges are beneficial when it comes to stabilizing the goggles on your face, whether you're sprinting across the arena or camping out behind a structure.
Unlike most goggles, this design has built-in notches to fit prescription glasses or sunglasses, so you can maintain your vision while also protecting your eyes. Additional features include UV400 lenses for reduced sun interference, internal vents for breathability and fog reduction, and a cleaning cloth and cover to assist with eyewear maintenance when you're not in the arena.
Things We Like:
Included cleaning cloth and cover
Military standards
UV400
Anti-fog and anti-scratch
Can wear on top of glasses
Things We Don't:
May still fog up when playing
Check Price and Reviews on Amazon
---
4. Lancer Tactical Airsoft Safety Goggles
Last update on 2023-09-19 / Affiliate links / Images from Amazon Product Advertising API
These Lancer Tactical Airsoft Safety Goggles offer decent levels of protection and comfort. With their 3mm thick lens, these goggles will offer maximal protection from pellets and other environmental dangers and reduce the fear of eye injury. These goggles are also fully sealed and vented to reduce fogging during gameplay
In terms of comfort, these goggles provide interior foam padding for optimal comfort as well as an adjustable strap to promote a tighter fit around the head. These goggles are a low-cost option and provide many of the features of more expensive pairs of goggles.
Things We Like:
3mm thick lenses
Fully sealed and vented
Adjustable strap
Low-cost
Things We Don't:
Some fogging may still occur
Check Price and Reviews on Amazon
---
5. Valken Airsoft Tango Goggles
Last update on 2023-09-19 / Affiliate links / Images from Amazon Product Advertising API
These Valken Airsoft Tango Goggles are customizable for any of your airsoft equipment needs. With three interchangeable lenses (yellow, clear, smoke), you'll be ready for any arena, weather, or personal preference. These lenses are also anti-fog and meet high-impact standards, so you don't have to worry much about durability and long-term use.
These goggles have adjustable straps to create a better fit on the head and are fully sealed for maximal eye protection. The removable prescription eyewear inserts allow you to wear your prescription glasses without having to risk performance.
Things We Like:
Removable prescription eyewear inserts
Interchangeable lenses
Anti-fog design
Meet high-impact standards
Adjustable straps
Things We Don't:
Check Price and Reviews on Amazon
---
Airsoft Goggles Buying Guide
Importance of Wearing Airsoft Goggles
Wearing airsoft goggles can be the difference between a serious eye injury and an enjoyable airsoft playing experience. Goggles are a necessary piece of equipment if you plan to play airsoft longer and avoid frequent trips to the local emergency room. Not only do airsoft goggles protect the eyes themselves, but they also guard a large area of the upper region of the face.
Before you decide on a pair of tactical airsoft goggles, there are are several things you should think about. At the end of the day, the choice is yours. However, we want to make sure you have the information you need to make an educated choice.
Things to Look For
When you're looking for a great pair of airsoft goggles, it is important to think about what types of additional features you might want from your eyewear. It doesn't matter if you are a newbie or highly-experienced, you should be thinking about more than just physically protecting your eyes from the impact of airsoft pellets.
Anti-Fog
In normal weather and body conditions, you usually don't have to worry about your goggles fogging up and affecting your performance. However, when the temperature outside is low and your body temperature is high (maybe from playing a few rounds), this may cause fog to develop in your goggles.
Just how big of a deal can fog be? Fog can completely impair your vision and basically make you blind to your environment. Not only does it make it difficult to see your opponents on the playing field, but it can also limit your vision to just about nothing. The last thing you want to do as you see your enemy across the field and lining up a shot is take off your goggles to clear out the fog (or even take the goggles off in general!).
Some airsoft goggles provide fog protection and advertise themselves as such. Determining if you need this feature depends on the weather conditions you play in and your body's normal response to temperature changes.
If you've worn any type of goggles (or even regular glasses) that did not include this feature in the past, and you had no problems with fogging, then you probably don't need a pair of anti-fog airsoft goggles. However, it doesn't hurt to have fog protection either way. You can't control the weather or humidity, but you can control how your eyewear responds to it.
If your goggles are not anti-fog, there are other solutions to prevent fog that we will be reviewing in the Frequently Asked Questions section below.
UV-Protection
A large number of airsoft goggles on the market today offer UV400 protection, which is a feature that protects your eyes from even the strongest sun rays. Goggles with UV400 typically block out between 99% and 100% of harmful UV light and prevent long-term damage to the eyes.
Using airsoft goggles with UV-protection not only helps to dim the sun's rays and aid your airsoft performance, but it also has long-term benefits for your eyes and vision, just like wearing sunglasses. You won't be blinded by the sun and your vision will remain intact for longer.
If you already wear glasses or have sensitive eyes, you should definitely look into buying goggles that supply ample UV-protection to continue to protect your vision. These would also be a good choice if you're playing mid-day when the sun is at its peak.
Some goggles have designs that allow you to wear glasses underneath the goggles. With that said, you can wear sunglasses underneath these goggles instead of requiring goggles with UV-protection.
Strap & Comfort
Having airsoft goggles that fit you well is extremely important when it comes to performance. Most goggles offer some type of elastic or adjustable strap to allow the goggles to better fit your face and head.
If you've had goggles fall off mid-match in the past, you know how annoying and dangerous this can be. If this has happened to you, you should consider a pair of goggles that have adjustable straps, which will allow you to make the goggles tighter around your head and offer more security.
While some airsoft goggles are designed purely to protect your eyes, others also consider the comfort provided to the wearer. There are airsoft goggles out there that are lined with a soft cushion lining, where you won't feel the goggles "digging in" to your face as much. If you're playing for long stretches of time or plan to play long-term, you might want to invest a little bit more money into airsoft goggles that are more comfortable.
Durability
The durability of airsoft goggles depends highly on the features included in the goggles. Features that affect durability include the thickness of the lens and the actual strength and design of the lenses.
Most lenses range from 2mm to 3mm in thickness, which is suitable for nearly any damage you may take when playing airsoft. The strength and design of the goggles may vary, but in general, you would want to look for a pair of goggles that are anti-scratch and high-impact resistant.
ANSI Z87 is a set standard used to determine if a pair of glasses or goggles are "high-impact." To determine if a pair of goggles meet these standards, they undergo intense product testing to see if the goggles can withstand high-impact high velocity. You should be looking for a pair of goggles that meet this standard if you desire a truly safe pair of goggles.
Other Useful Equipment
It is impossible to deny the benefits of wearing airsoft goggles when playing. However, if you choose to wear goggles, you are more than likely wearing a face mask on the lower half of your face as well.
Rather than wearing two pieces of equipment on your face and risking the slipping and movement of these two protective pieces, you can wear a helmet or a full-face mask that includes goggles in its construction.
Selecting a mask or helmet with built-in goggles is a personal choice, but one that may provide you with an added level of safety. Masks and helmets are less likely to leave small areas of your face or head uncovered, and thus provide the greatest amount of protection.
Check out our previous buying guides for airsoft masks and glasses!
Best Brands
For any sport or hobby, there are a few highly-regarded brands that specialize in making and selling the proper equipment. In this section, we will provide a general overview of the brands mentioned in the top five list above, including the types of products they sell and a little bit of information about the company itself.
XAegis is a smaller company that produces several airsoft tactical products for sale on Amazon. These products include rifle mounts, safety glasses, shell catchers, and tactical backpacks, among others. While not much is known about the company itself, the products receive generally positive reviews from customers.
Valken is one of the leading brands in paintball and airsoft equipment. In addition to goggles, Valken produces grenades, protective wear, uniforms, and guns for both paintball and airsoft. The company produces a wide variety of products that are usually highly rated by customers.
Rothco is another highly-respected brand that produces mainly military and tactical gear. Other products produced by Rothco include clothing, headwear, footwear, camouflage, and survival tools. This company advertises itself as "combat-tested since 1953" and is most recognized for its clothing products.
Lancer Tactical describes itself as the "leading manufacturer and distributor in airsoft." Most products sold by Laser Tactical are a variety of guns and pistols, though the company also sells paintball and airsoft accessories. This company's products are typically highly-respected among avid airsoft players.
Frequently Asked Questions
Q: Should I wear goggles when playing airsoft?
A: In short, yes, you should.
You should always be wearing goggles of some sort when playing airsoft, as goggles provide more eye protection and security than airsoft glasses do.
Your personal preference is key here. Though we would recommend standalone goggles in addition to a lower-face mask, there are other alternatives (as mentioned above) that can be used without affecting performance negatively. These other solutions include full-face masks or helmets with built-in goggles.
Q: What is the difference between goggles and glasses?
A: When talking about the direct protection of the eyes, both goggles and glasses are very similar.
Goggles are typically fully-sealed, hugging the face tightly and protecting the eyes both head-on and from the side. Though some glasses include features that may protect the eyes from the side, they usually do not offer the full, worry-free security that goggles do. Goggles fit the face more securely and leave less open space and entryways for harmful debris or pellets.
If you're looking for full eye protection, you should be looking into goggles instead of glasses.
Q: How can I prevent my airsoft goggles from fogging up?
A: Nearly all glasses and goggles fog up at some point, but having your goggles fog up while an opponent is taking aim at you is a situation you most likely would want to avoid. If you're looking for a pair of goggles that are anti-fog and actually live up to that standard, fog should never be a real issue for you.
However, if you select a pair of goggles that are not truly anti-fog in design, you'll likely need to address the issue of fogging in another way at some point. There are several home remedies and products that can be used to fully prevent or reduce fog. Three of these include:
Dish soap and water: Wipe a small amount of dish soap and water on the interior of the lens and let it dry. Do not rinse the solution off of the goggles with water.
Anti-fog spray: Apply as directed.
Baby shampoo: Wipe a small amount of baby shampoo (like Johnson's baby shampoo) and water on the interior of the lens and let it dry. Do not rinse the solution off of the goggles with water.
Q: How important is UV-protection when it comes to airsoft goggles?
A: Well, how important do you consider your vision?
Honestly, if you're playing airsoft outdoors during the day, you shouldn't even consider buying goggles that do not have UV-protection. It is entirely too risky to spend an extended period of time outdoors in direct sunlight without attempting to protect your eyes and vision from UV rays.
UV-protection is not just beneficial when looking toward the sky (or even in the direction of the sun). Protection from ultraviolet rays will maximize your vision on a sunny day, reduce the urge to squint, and sometimes even prevent a glare produced by the sun.
Q: Can I wear airsoft goggles on top of my glasses?
A: For most airsoft goggles on the market, the answer is no.
One of the major features of the more popular goggles is a fully-sealed design, which may not be conducive to wearing glasses underneath. However, there are some goggles available for sale that have built-in notches within the frame. These included notches allow you to wear your own prescription glasses or sunglasses beneath the goggles without risking comfort and functionality.
If wearing your glasses at all times is necessary for you to have a relatively decent level of vision, we suggest buying a pair of goggles that allow you to continue to do so while playing airsoft.
Wrap Up
We can't deny how important airsoft goggles are, but we can say that not all airsoft goggles provide the same features and support. The best thing you can do before buying airsoft goggles is figuring out what you are personally looking for and the needs you have when it comes to your airsoft performance.
Our top selection for airsoft goggles is the XAegis Airsoft Goggles. These goggles provide protection fro 99% of UV rays, have anti-fog features, and are also considered high-impact resistant.
While these are our top selection, there are many other reasonable options on the market. No two pairs of goggles are the same, so even though this is our top pick when it comes to airsoft goggles, it might not be exactly what you're looking for.
When it comes to features that come along with the goggles, it might help to think about your previous experiences with airsoft goggles (if you've owned goggles previously), prescription glasses, sunglasses, or swimming goggles. Take note if you've had issues in the past with these products fogging up or if you have experienced sensitivity to light when outdoors.
If you don't think airsoft goggles are something you would like to wear while playing, remember that there are other options as well, such as glasses, full-face masks, and helmets. We suggest considering functionality over appearance.
Most importantly, research the brands themselves and take a look at the goggles they sell to see if they would work for you. Try to select a reliable brand and check out reviews from other customers to see what their experiences with the product were like.