Playing soccer is a great hobby that many families enjoy. It doesn't matter if you enjoy a game in your backyard before dinner or you coach a youth soccer team, it's important to have the best equipment. Out of the very few necessary pieces of equipment, a soccer goal is one of the pieces that matter most. Without a high-quality goal, there's no point in playing the game. Take a look at the five best soccer goals for your backyard to find the top buy for your needs!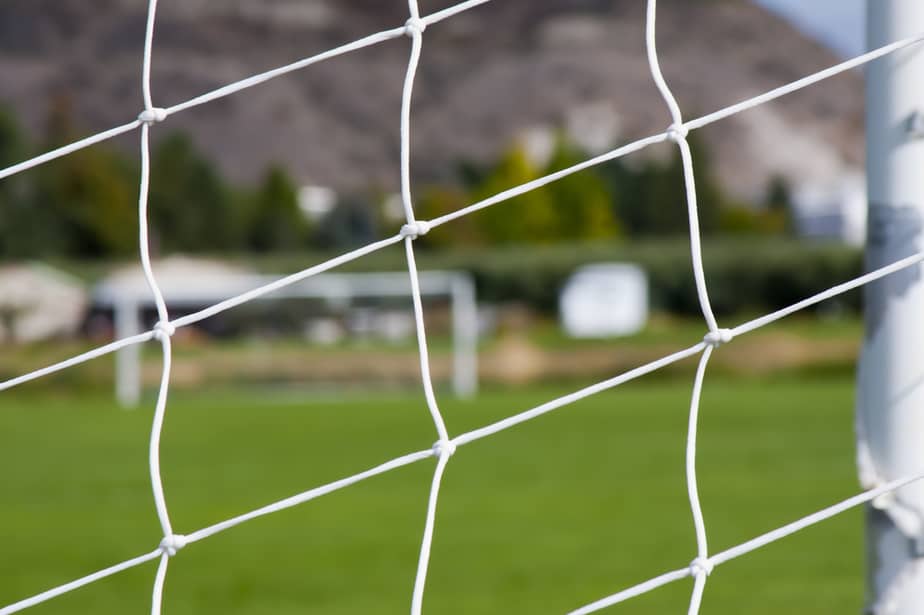 In a Hurry? Here's Our Top Picks…
1. GOLME PRO Pop Up Soccer Goal
Last update on 2023-09-05 / Affiliate links / Images from Amazon Product Advertising API
The first soccer goal we're looking at is the GOLME PRO pop-up goal. One of the best things about this is you get a set of two goals. This is perfect for a quick practice or game in the backyard. You can easily go from one place to another with these goals. They come with a convenient carrying bag and are incredibly portable.
One of the best things about the GOLME PRO pop-up soccer goals is to set them up you just need to twist them open. You twist them the opposite way to store and transport them. They are designed with an indestructible frame that allows soccer players of all ages to use these goals for years. Each net has an ultra-reflective net that provides a quick bounce-back rate to save time and keep the fun going!
These pop-up goals can be used by players of any age. The smaller size of these goals will help improve players' accuracy over time. A great thing about them is that GOLME PRO gives you a 365-day warranty to enjoy the goals risk-free. The inner frame of the goal is reflective enough to even allow for play on cloudy days or during the evening in the summer. There are three different sizes available and the ground spikes keep these goals in place.
Pros:
Easy to set up
Goals are incredibly portable
Affordable
Reflective frame
Lightweight
Can be used by all ages
Cons:
Material isn't the best for intense games
Goal width could be larger
Spikes occasionally raise up with hard goals
Check Price and Reviews on Amazon
---
2. Net World Sports Forza Backyard Soccer Goals
FORZA Backyard Soccer Goals – Premium Weatherproof PVC Goals (Single Goal) for Kids & Adults – Quick Assembly
SIMPLE SETUP – The FORZA PVC Soccer Goal Range is easy to set-up so that you can be practicing your soccer skills in no time at all
SOCCER GOAL POST FOR BACKYARD – This high-quality FORZA outdoor soccer goal for kids & adults is an excellent addition to the backyard. Choose from our Mini, Locking Goals or Match Goals – available in different sizes
ESSENTIAL LOCKING SYSTEM – All of FORZA soccer goals feature an innovative Button Locking System which provides increased strength & stability during use. It also means you can get your goals set-up quickly
SOCCER PRACTICE EQUIPMENT - This soccer PVC goal is ideal for adults, junior and kids practice/training sessions and general leisurely play in the backyard. These soccer posts for backyard will help improve shooting accuracy and goalkeeping skills
PRO GRADE SOCCER NETS – Each goal comes with a premium 2mm HDPE soccer net which features a UV treatment for excellent protection against sun damage & rot. 100% weatherproof soccer goal PVC that can be used in all conditions
Last update on 2023-09-05 / Affiliate links / Images from Amazon Product Advertising API
Net World Sports also has an amazing backyard soccer goal. The FORZA is available in three different styles including the target, combination goal, and locking. It is made out of high-quality PVC and is durable enough to handle hard kicks with ease. These goals are paired with a two millimeter HDPE soccer net.
The nets are soaked in a UV treatment that helps to prevent any sun damage or rot that may occur. The Net World Sports Forza is completely weatherproof and can withstand rain and snow without the worry of rust or corrosion. Because these goals can be left outside 365 days a year, no matter the weather, I think they make a great choice for those living somewhere that has a lot of rain or snow. These nets are also designed with a unique and innovative button locking system.
This system ensures that the net and goal stay in place at all times. It's incredibly easy to assemble and take apart as needed. There are five different sizes in total, allowing just about any soccer player to find a Forza model that works best for them. If you play for a high school or college team, this is a solid soccer goal that would be perfect for practice or real competitive games. Lastly, I have to mention the amazing customer support that helps with any questions or concerns that you might have.
Pros:
Easy to assemble
Button locking system keeps everything in place
It's weatherproof
Can be used during games or practice
Multiple sizes and models available
Comes with a durable net
Cons:
Doesn't come as a pair
Top crossbar has been reported to sag
Check Price and Reviews on Amazon
---
3. GOLME PRO Training Soccer Goal
Last update on 2023-09-05 / Affiliate links / Images from Amazon Product Advertising API
GOLME PRO makes a second appearance on the list with their training soccer goal. It is available in three different sizes. There is an option for kids, regulation adult, and all ages. It is a goal that you can easily take anywhere. It takes around three minutes to set up and three to take down.
This training soccer goal comes with a carrying bag that makes it even that much more portable. This is a great option for those who travel for practice at a park. When it's completely disassembled, you'll be able to easily fit the bag in the backseat or trunk of your car. It is made with aircraft-grade aluminum, making it lightweight, yet incredibly durable.
GOLME PRO gives customers a risk-free 30-day trial as well as a one-year warranty. There aren't any parts to lose during assembly and the net doesn't get tangled. In total, the entire goal weights around 30 pounds and are perfect for practice and training. This could make a great addition to any backyard, but would also work great for elementary and middle school soccer fields.
Pros:
Assembles in just three minutes
It's lightweight and portable
Comes with a carrying bag
Made from aircraft-grade aluminum
Cons:
Check Price and Reviews on Amazon
---
4. Kidodo Soccer Goals for Backyard
Sale
Kidodo Soccer Goal for Backyard Kids Soccer Goals for Kids pop up Soccer Goal net for Toddler Goal net Targets Portable Soccer Goal net Mini Soccer Goal Training Football 1 Goal
✅MULTIFUNCTIONAL SOCCER GOALS - There are 6 target areas for practicing more precise shots, greatly improve children's ball controlling ability and inspire their soccer interest.
✅HIGH QUALITY MATERIAL - The soccer goal is made of high quality steel and polyester, easy to clean, reinforced soccer net with excellent wear resistant performance, built to last.
✅PORTABLE FOLDING DESIGN - The soccer goal is with portable folding design, you can easily put it into the carry bag, easy to carry and storage, saving more space for you.
✅EASY INSTALLATION - Easy to install, 4 nails help you secure the goal to the ground for withstand larger pulling force without flipping over, perfect for outdoor activities.
✅NO RISK PURCHASE - 100% high quality and money back guarantee, Lifetime Warranty. Feel free to contact us if there is any issue with the our kids soccer goal.
Last update on 2023-09-05 / Affiliate links / Images from Amazon Product Advertising API
The penultimate soccer goal I want to share with you is the Kidodo Backyard soccer goal. As you can see in the design, it is best used for youth soccer. This is a soccer goal that has multiple functions. There are a total of six target areas that make it easy to train yourself and become better at hitting your target. You'll learn how to make precise shots and be able to control the ball easier. The Kidodo Backyard soccer goal is made with polyester and the frame is made with high-quality steel.
It's incredibly easy to clean when needed and the next is reinforced to prevent wear and tear from extended use. It is durable and should last for several years if taken care of properly. This is another soccer goal that is incredibly portable. You can easily fold it up in just seconds and put it in the carrying bag. The carrying bag can double as a storage space for times when the goal isn't being used. To install the Kidodo Backyard soccer goal, you will just use the four nails that it comes with to secure it safely into the ground.
You won't have to worry about wind knocking it over or heavy rain flipping it around. This is another purchase that comes with incredible customer service, which can be rare to find sometimes. If you have kiddos that love to play with their siblings or neighbors or you coach a youth team, the Kidodo Backyard soccer goal is an amazing choice. Did I mention it's a great soccer goal for beach soccer? What a great reason to take a vacation and enjoy the great outdoors!
Pros:
Can be used indoors or outdoors
It's easy to set up
Has a carrying case
Perfect for training or sharpening your skills
Comes with six different target areas
Cons:
Not sturdy enough for intense soccer games
Flimsy in comparison to others on this review
Check Price and Reviews on Amazon
---
5. Vallerta Powder Coated Galvanized Steel Soccer Goal w/Net
Last update on 2023-09-05 / Affiliate links / Images from Amazon Product Advertising API
Vallerta is a family-owned company that designed one of the best soccer goals of recent years. It is perfect for a
family game in the backyard
, but also works amazingly for competitive games with your rival team. It is designed with the highest grade dipped galvanized steel frame. The frame is powder-coated, as well as rust and corrosion-resistant.
If you live in a climate that sees a lot of snow or rain, this is the soccer goal for you. The net is made of triple twisted polyethylene twine that is weatherproof and designed with square knots. The Vallerta steel soccer goal is perfect if you're wanting a soccer goal that can stay up all year round. There are stakes included that keep the goal sturdy in the ground. It will only take you between 10 and 15 minutes to completely set up this soccer goal.
It comes with locking banana clip connected and the wing nuts easily can be tightened by hand. Vallerta includes a one year warranty and they'll replace and fix any damage that's been done on the goal in the last 365 days. It comes with everything you need to put it together. It can be used during professional games or for a casual game in the backyard. Due to the high-quality steel, if you take care of this soccer goal, it should last you several years.
Pros:
Doesn't take long to set up
It's available in both black or white
It's completely weather resistant
Comes with everything you need
Surprisingly lightweight
Comes from a family-owned company
Cons:
Top crossbar sags
Not the most portable option
Check Price and Reviews on Amazon
---
Soccer Goals Education – What You Need To Know
Shopping around for a product you don't have a ton of experience with can be overwhelming and intimidating. To make the process as stress-free as possible, I've included a small, yet in-depth buying guide. Below you'll learn about the different types of soccer goal construction, whether or not you should buy a portable goal and more.
Soccer Goal Construction
You're aware of how many different sizes, shapes, colors, and designs that vehicles come in, right? Soccer goals are very similar in the way that there are a plethora of different options to choose from.
Whether you have a toddler learning to kick the ball around or you're a college student practicing for tryouts, there's a soccer goal for you. Goals are generally made out of two main materials – plastic or metal. Let's take a look at the differences between the two material types and how they'll affect your shopping experience:
Plastic Soccer Goals:
Plastic soccer goals are much cheaper than metal goals. They are easy to install and stay in place using weights or anchors. If you're looking for a soccer goal to use that needs to be travel-friendly, you'll like how adjustable and compact plastic goals become.
They are best used for youth games, recreation games in your backyard, and training. While they are less durable than metal, if used for more laid back gameplay, a plastic goal should last a long time.
Metal Soccer Goals:
Even though metal soccer goals are more expensive, it doesn't mean they're something to rule out. They are designed for intense and professional gameplay. If you'll be using a goal excessively or are an adult soccer play, you'll want a metal goal. Metal goals are extremely sturdy and durable.
They are designed to be used in a permanent location, though you can occasionally move them if you need to mow the grass in the area or if you're rearranging your backyard. Metal soccer goals are a must-have for schools and professional soccer leagues. They're generally available in more sizes and designs than plastic soccer goals are.
No Depth vs. Depth vs. Box Goal
It's good to keep in mind that soccer goals are designed differently for a variety of reasons. While some goals are basic, others are extremely complex. Let's take a look at the differences between the three main goal-types and which one will work best for your needs.
No Depth Goals:
A soccer goal that doesn't have depth is as basic as they come. It is a flat wall-like net with a top crossbar. The net simply hangs down and connects to the goal legs. No-depth goals are more lightweight and easier to move around. It's important to know that these goals don't give the goalkeeper any room outside of the box on the pitch to defend the play. These are best for practicing, but not the greatest option for real gameplay.
Goals With Depth:
Out of all the soccer goals that you're likely familiar with, one with depth is probably it. These are designed with a single top bar and two legs that are at a 90-degree angle that extend back into the net. This allows goalkeepers to have extra room to defend the ball during a play.
These goals are great because they reduce a build-up of players all in one spot. They are usually made with metal but are available in plastic as well. Goals that have depth can be either stationary or portable. These are awesome to have in your backyard, but may commonly be found in youth soccer games and tournaments.
Box Goals:
Box goals are goals with depth but in the shape of a box. The legs are designed to all come in at a 90-degree angle to form a rectangle. The net is draped over the frame to allow goalkeepers to have the most room possible.
If you watch a lot of professional soccer, you've likely seen box goals as they are used in the MLS and tournaments like The World Cup. Box goals are heavy-duty, always made of metal, but still remain portable.
Portability
Something else to keep in mind is whether or not you want a portable or semi-permanent goal. If you're on a tight budget or plan to travel a lot, you may need a portable soccer goal. These are great for households that don't have a big yard to use and need to travel to a local park.
Portable soccer goals are more lightweight and can be easily carried when needed. If you live somewhere with seasons and you want to take good care of the soccer goal that you invest in, a portable goal can be put in storage much easier than a semi-permanent goal. These goals are great for practice and training, but may not be the best for actual gameplay.
They are easy to install and usually stay in place with weights or anchors. You can find portable soccer goals in a variety of different sizes and designs. They are best for people on a budget looking for something that'll do the trick.
Permanent goals are also called in-ground goals. These are much heavier and can't be moved to storage quite as easily. Because they're heavy-duty, semi-permanent goals tend to be a bit more expensive. They can handle intense weather better than portable goals and are kept in place with in-ground anchors and footings. You'll find semi-permanent and permanent soccer goals in stadiums, colleges, and soccer fields at parks.
Net Sizing
There are a handful of things to keep in mind when it comes to the net of the goal you're shopping around for. For starters, the soccer goal comes with specific size frames that match the netting size. The standard size is a 4 by 6-foot net for a youth soccer goal.
You'll also need to consider the net depth. First off, you need to think about whether you need any depth at all. Are you getting a goal just for backyard fun or for practice? Then you may not need depth, but it may be worth your money to get a goal with depth.
When you do this, you'll need to look for nets with multiple dimensions. For example, instead of a 4 x 6 foot net like above, you may need a 6 by 20 by 4 by 4 net. These dimensions include the depth as well as the weight and width.
Something that often goes forgotten is the rope size that the net is made with. If you're wanting a net with a lot of durabilities, you'll want one made out of thicker rope. You'll also need to pay attention to the mesh width as well. The majority of the soccer net mesh has a width of 120 millimeters.
Lastly, consider soccer goal net attachments. These are things such as clips, fasteners, and bars. While not all soccer goals come with attachments, they are something you may want to budget for before making a purchase if you're wanting a more permanent goal set up.
Best Soccer Goals Brands
GOLME is a company that is best known for making portable youth soccer goals. They specialize in pop-up goals and are a family run business.
Net World Sports is a company that is based out of the United Kingdom. They make a variety of different sports equipment and are known for amazing customer service.
Created in 1972 in Farmers Branch, Texas, BSN Sports is a popular sporting goods retailer in the southern portion of the United States. Academy Sports is one of its most well-known subsidiaries.
Jaypro is located in Connecticut and is a trusted company when it comes to sporting goods. It was established in the early 1950s and Jaypro has been making high-quality gear ever since.
SKLZ is a professional sports performance company that was founded in the early 2000s. Not only do they offer soccer gear, but they also have plenty of other fitness-related equipment and apparel for sale.
FAQ
Q: What is a soccer goal called?
A: A soccer goal has a few nicknames including an endline or goal line. This is the line that runs directly in front of the goal. The ball must cross over this line in order for it to be counted as a scored goal.
Q: Can I use a soccer goal without a net?
A: While you can, it just makes more work for you. The net helps catch the ball and stops it from flying off. If you're playing in a tournament or competitive game, having a net is a must.
Q: At what age is heading allowed in soccer?
A: If players are under the age of 10 years old, heading cannot be taught nor done intentionally in a competitive game. There is a limit of 30 minutes per week of heading training for 11 and 12-year-old soccer players.
Q: How many goalkeepers are there per team?
A: Each soccer team has between two and three goalkeepers. There is an average of 25 players in total per team.
Q: Can I leave my soccer goal outside all year round?
A: It depends on the type of goal you have. The portable ones it is suggested to store those during rainy or winter months. If you have a semi-permanent goal, make sure that it is weather-resistant if you plan on leaving it outdoors at all times.
Q: What does OG stand for in soccer?
A: OG stands for "own goal" in soccer. For example, if a player on your team accidentally kicked the ball into your team's goal, you could say it was an OG play.
Q: Do I need a plastic soccer goal if I just need one for practice?
A: Not necessarily. While that would be the smart route to take as plastic goals are designed for portability and training, you could get the same thing out of a metal goal.
Bottom Line
I hope now that you've read about five of the best soccer goals to have in your backyard, you're a bit keener on which one you'd like to spend your hard-earned money on. The soccer goal buying guide is designed to make that decision as easy as possible. Remember to consider things like the size, material it's made out of, the climate where it will be used, and whether or not you need a portable soccer goal.
Out of the five above, my top choice is Vallerta soccer goal. There are several features that make this soccer goal great. It's easy to set up, can be used for practice or real gameplay, and it's completely weather-proof. I understand that option may not fit your specific needs. For that reason I wanted to include a runner up. The Net World Sports Forza is a close second. Despite a crossbar that sags a bit at the top, this is an amazing option. It can be used by players of all sizes and it assembles in just minutes.
Whether your family plays soccer in the backyard to get a bit of quality time in or you have a handful of kids who play on teams at school, having a soccer goal in the comfort of your own backyard is a great way to encourage your loved ones to spend time outdoors and get in some exercise. Good luck during the games and hopefully this made your shopping experience a little less stressful!