Laser tag was invented around 1984 and rapidly became one of the most popular recreational games in the United States before spreading around the world. It earned its name from the unique infrared lasers fired by the blasters, which are detected by the sensors in the equipment of the opposing players.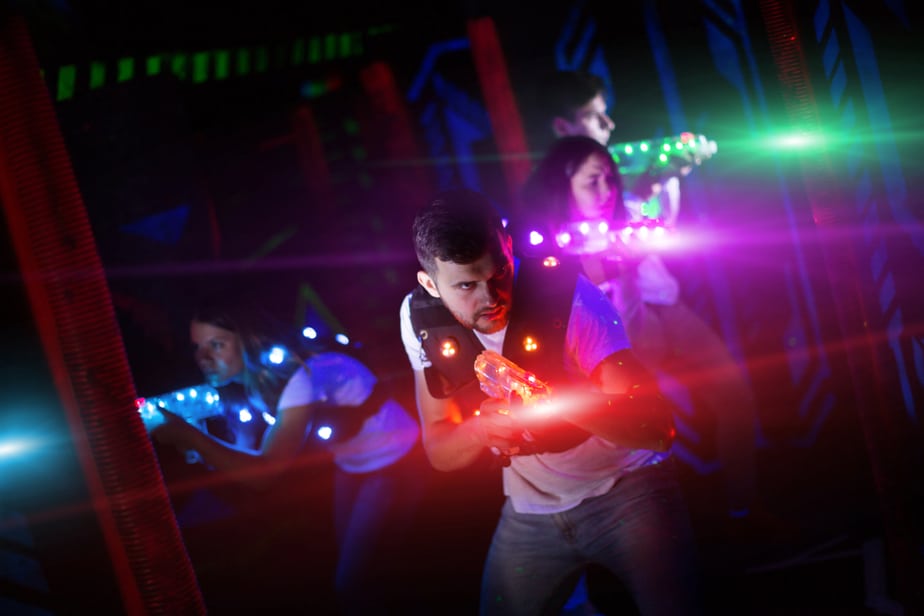 In the past, it was necessary to go to a separate location to play laser tag – you couldn't do it at home. With the advent of more advanced technology, you can now purchase complete home laser tag sets to have fun in your own backyard!
To help you find the best set, we reviewed some of the top options currently on the market and answered some of the most frequently asked questions. Own your yard with this fun game today.
In a Hurry? Here's Our Top Picks…
1. ArmoGear Infrared Laser Tag
ArmoGear Laser Tag – Laser Tag Guns with Vests Set of 4 – Multi Player Lazer Tag Set for Kids Toy for Teen Boys & Girls – Outdoor Game for Kids, Adults and Family – Ages 8+
AUTHENTIC LAZER TAG GAME 🔥 Turn your home or backyard into a laser tag arena with the ArmoGear laser tag blaster set, the most advanced set of laser tag blasters out there! No other laser tag set has real TARGET VESTS, INVISIBILITY MODE, NIGHT VISION FLASHLIGHT, VOICE-GUIDED DIRECTIONS, and an extreme 150 FT SHOOTING RANGE!
MULTI-PLAYER, MULTI-AMMO 🔥 Up to 4 teams can play in this riveting battle! Switch between the unique powers of PISTOL, SHOTGUN, MACHINE GUN, and ROCKET to blast your enemy and declare victory! These laser blasters are ergonomically designed with a solid grip in your hand, even for young kids. Using child-safe infrared emission.
FUN FOR THE WHOLE FAMILY 🔥 Tactile vibrations and lifelike shooting sounds make for deeply immersive gameplay, turn kids and adults away from their screens! Have a blast and create cherished memories on holidays, snow days, or birthday parties, with a fun family laser tag tournament! It's the PERFECT GIFT IDEA, sure to delight kids of all ages!
PREMIUM QUALITY & CHILD SAFETY 🔥 The ArmoGear laser blasters for kids are made according to the highest manufacturing standards for a top-quality, long-lasting toy. LITHIUM RECHARGEABLE BATTERIES are NOT included for child safety, each blaster uses 3 AAA batteries and each vest uses 3 AAA batteries. (set of 4 totals to 24 AAA batteries, batteries not included)
For nearly a decade ArmoGear has been devoping quality toys that inspire imaginative play, outdoor fun and creativity. Bring out the best in your little one!
Last update on 2023-09-14 / Affiliate links / Images from Amazon Product Advertising API
The ArmoGear Infrared Laser Tag Set is one of the most authentic kits you can purchase for home use. It includes four separate blasters as well as four coordinated vests with light-up targets. Each of the blasters is a different color combo to facilitate battle royale matches: blue, orange, green, and red.
When you utilize this set, you can enjoy many of the traditional features which make laser tag fun. There are loud sounds and flashing lights when you fire or hit an opponent, and the vests and guns display the health and ammo of each player. You can also program teams into the set and switch between weapon modes. This means that while playing, each individual can choose whatever weapon they prefer: a pistol, shotgun, machine gun, or rocket launcher. This affects your ammo and how much damage you do while playing.
Besides the weapon modes, you can also switch between the following settings: invisibility, night vision mode, and voice-guided directions. The blasters even have one of the best ranges out of all of the sets on the market: a whopping 150 ft. The lasers are completely safe and are considered Child Safety Infrared Signal Emissions.
Customer satisfaction from ArmoGear is ideal for this set. You receive access to 24/7 customer support and can also receive a full refund if you are not pleased with your blasters. The one downside to the kit is that it requires six batteries for each blaster/target combo: 3 AA for the blaster and 3 AA for the target. The batteries last for over eight hours, and each combo weighs around 4.5 lbs.
What We Liked
Numerous modes to choose from
Long battery life
Ability to switch weapon types
Includes a humongous firing range
What We Didn't Like
Requires a lot of batteries to function
Check Price and Reviews on Amazon
---
2. Kidzlane Infrared Laser Tag
Sale
Kidzlane Laser Tag Guns Set of 4 | Lazer Tag Guns for Kids with 4 Team Players | Indoor and Outdoor Laser Tag Play Toy for Kids and Teens Boys and Girls | Kids Laser Tag for Boys Age 8-12
4-TEAM ACTION TOY ✨ Organize breath-taking battles with your friends and get hooked to the most amazing action game! Pick your team in bright GREEN, RED, BLUE or WHITE, and let the merciless wars begin!
PICK YOUR AMMO ✨ Select one of the 4 Gun Settings - PISTOL, SHOTGUN, SUBMACHINE GUN and ROCKET- and pulverize the enemy! Ultra-realistic shooting sounds accompany each setting for a riveting game!
TOP NOTCH QUALITY ✨ Immerse yourself in the action! These Laser Blasters light up and vibrate while shooting as far as 130ft! Each gun mode comes with a different range of life bars, available shots and booming sounds that will blow your mind!
SAFE PLAY ✨ With a Child Safety Infrared Signal Emission that is less than 1mW, this toy is certified safe for children of all ages. Best activity at parties and get-togethers- great for indoor and outdoor use!
AMAZING GIFTING IDEA ✨ Treat your little adventurers to the laser guns of his dreams and enjoy his ear-to-ear smile! Give him the high-end action toy that will lead to thrilling moments and dreamy memories.
Last update on 2023-09-15 / Affiliate links / Images from Amazon Product Advertising API
The Kidzlane Infrared Laser Tag set is manufactured by a well-known toy company Kidzlane, which is perhaps better known for creating educational toys. This set is ideal for younger children and includes simplified features, bright colors, and fun lights and sounds to keep games engaging no matter who is playing.
Like many other home laser tag sets, the Kidzlane option comes with four separate blasters in a series of primary colors: green, orange, blue, and red. However, no vests are included. Instead, health, ammo, and even hits are monitored by the weapons themselves. This is great as it makes the set simpler and more accessible for younger audiences, but it does make it more difficult to score a shot against an opponent.
Players can choose between four weapon types while in a game: pistol, shotgun, machine gun, or rocket launcher. Each one affects health and ammo, but it can be difficult to see which setting is turned on while playing. The infrared laser fired by the blasters is one of the most child-friendly on the market and once again qualifies as a Child Safety Infrared Signal Emission.
Besides these basics, each gun requires 3 AA batteries and has a full shooting range of 130 ft. The Kidzlane Infrared Laser Tag Set actually has one of the smallest battery requirements and a long lifespan of over ten hours, making it ideal for a family that doesn't want to keep replacing the batteries during play.
What We Liked
Friendly for small children
Has a small battery requirement
Long battery life
Can switch between multiple weapon modes
What We Didn't Like
Does not include a vest for play
Check Price and Reviews on Amazon
---
3. MESIXI Infrared Laser Tag Set
No products found.
The MESIXI Infrared Laser Tag Set is one of the most colorful and child-friendly options currently on the market. It incorporates many desirable play features and comes with four separate blasters and vests in the following colors: dark blue, light blue, yellow, and red.
All of the equipment in this set is made from non-toxic, environmentally friendly materials that will not harm the players or the environment. Up to four teams can play at once, and it is possible to program teams into the weapons instead of always playing a battle royale game. When you buy this set, you can choose between two different options: one that has over the chest vests and one with a skull mask that covers part of the face. Also included in the kit are tactical face masks and protective glasses for the eyes.
The infrared laser in the MESIXI set is safe and not harmful to players. Each blaster utilizes 3 AA batteries, and each vest needs 3 AAs as well. The blaster/vest combo has a long battery life of over ten continuous hours, so you and your family will be able to play many rounds without running out of energy.
One final excellent feature of this set is that each one comes with a lifetime warranty and guarantee for regular use, so you can get a replacement if necessary.
What We Liked
The lifetime warranty and guarantee
Extra equipment like goggles is included
Made from non-toxic materials
Includes multiple modes to choose from
What We Didn't Like
Two of the blasters are blue
Modes can be difficult to set and adjust
Check Price and Reviews on Amazon
---
4. ThrillZone Laser Tag Guns Set
No products found.
ThrillZone is one of the most affordable sets of four blasters and is designed with smaller children in mind, although older players are welcome to join in the fun. Each of the blasters is coded with a different color and displays pertinent information like health and ammo. The colors are a little unusual for home laser tag, including blue, green, white, and an odd orange-red.
This laser tag set does not include vests. All of the information and mode changes can be done on the easy to hold, lightweight plastic weapons. Users can choose whether or not they want a battle royale or to play on teams of two. Some of the included modes include aliens, where the participants can pretend to be an invading force trying to take over the planet.
These blasters have one of the shortest ranges, only covering up to 65 ft. The infrared laser is perfectly safe and rated for regular use. It will not hurt the eyes or any other body part. Because the ThrillZone set is intended for children, the guns are a bit small but are easy to hold for younger players.
The Thrillzone blasters will vibrate when a player has been hit and incorporate fun sci-fi sounds and lights to enhance the game. Each one requires three AA batteries which are not included with purchase. The Thrillzone Laser Tag Guns Set does come with a lifetime guarantee and customer support, so you can receive assistance if something goes wrong while playing.
What We Liked
Allows players to play on teams
Easy to use
Lightweight and good for children
Includes a unique alien mode
What We Didn't Like
Short blasting distance
No vests included
Check Price and Reviews on Amazon
---
5. Kidpal Infrared Laser Tag Set
Infrared Laser Tag, Upgraded Blasters Gun Toys with Vest Infrared Battle Mega Pack Set of 4 Indoor and Outdoor, Group Activity Fun for Kids Age 6 7 8 9 10 11 12+ Boys Girls by kidpal
☀ REAL-LIFE LASER TAG GAME - It may be the best chance for you to keep your child away from the computer, because our laser gun toy is a scene design that simulates real battles. It can be played indoors or outdoors, not only to experience the joy of team battle, but also a chance to let your child to take exercise.
☀ 4 TEAMS ACTION - Get in your character, back up and let's begin! You can choose your teammates or fight alone, up to 4 teams can play in this battle. You can switch between the 4 tpye of weapon (PISTOL, SHOTGUN, MACHINE GUN, and ROCKET GUN). Don't be afraid to fight in the dark, because the flashing lights on the laser blaster and vests can easily determine where the enemy is. Come on and get the victory!
☀ HAVE FUN AT HOME - You don't have to spend more money in the game experience center, because you can have a cherished memories at home through the laser tag blasters team game on holiday, rainy day or parties. Tactile vibrations and lifelike shooting sounds make for deeply immersive gameplay. As a parent, you can play with your children, or Your child can invite his friends to play at home together. It's really a perfect birthday or Christmas gifts for 3 4 5 6 7 8 9 10 11 11 12+ year old boys.
☀ SAFE PLAY & DURABLE - With a Child Safety Infrared Signal Emission that is less than 1mW and made of environmental friendly materials, the laser blaster set for kids is made according to the highest manufacturing standards for a top-quality, so it is certified safe for children of all ages. (Batteries not included, each blaster uses 4 AA batteries and each vest uses 3 AA batteries)
☀ REASSURING AFTER-SALES SERVICE - Please be assured that the laser tag is completely harmless, it won't emit any bullets and harmful light. In case of any issues or concerns with your purchase, please reach out to us to straighten things out, we will reply in 24 hours and resolve the problem as soon as possible.
Last update on 2023-09-15 / Affiliate links / Images from Amazon Product Advertising API
The Kidpal Infrared Laser Tag Set is a complete kit featuring four individual blasters and targets to accommodate four players. The blasters are color-coded into four separate teams as well: blue, red, orange, and white. Unlike some of the other options on this list, the Kidpal blasters include multiple modes. While playing, you can choose a different weapon type – a pistol, shotgun, machine gun, or rocket launcher. Your personal choice does affect the play style, how much ammo you have, and how much damage you do.
The blasters in this set are made with environmentally friendly materials such as repurposed plastic composed with no toxic chemicals. The laser utilized by the system is a Child Safety Infrared Signal Emission designed to not damage the eyes or other sensitive areas. The Kidpal set is recommended for kids under the age of 14 but can be utilized by older players.
The one downside to this set is that the blasters require 4 AA batteries each and the vests require an additional 4 AA. This means you need to use many batteries to play, but you will have longer-lasting games. The battery life is impressive, lasting up to 12 hours of continuous use before requiring replacement.
The range of the blasters is 130 ft. Information like health and ammo is displayed on the vests, and there are flashing lights and improved sounds to make the game more engaging. You can play in clear weather, rain, or snow without difficulty. Each blaster and vest set weighs around 4.5 lbs.
What We Liked
The blasters include multiple modes
The set features vests with full information
The blasters are color-coded
The set is made with recycled or non-toxic materials
The blasters have a long-range
What We Didn't Like
You can't program teams into the equipment
Each blaster/vest combo requires 7 AA batteries
Check Price and Reviews on Amazon
---
Buying Guide
Although laser tag sets seem like they would be a simple buy, there are actually quite a few factors to consider before making a final purchase. After all, you and your family aren't going to want to play with a set that doesn't function well, has a poor lifespan, or is difficult to use. Before buying, see whether or not a product has at least several of these qualities.
Lifespan
Before purchasing any laser tag set, you want to take a good look at the lifespan of the system. The majority of portable at home sets will rely on batteries to function. This improves the portability of the guns but can also cause interruptions in games if the batteries need to be changed frequently. To avoid having a problem, search for a set with longer battery life – preferably over an hour. Also remember that kids are more likely to pull the trigger more frequently, and therefore drain the batteries.
Quality
Laser tag sets are often targeted to children. This means many of the models might be made of cheap, flimsy plastic prone to breaking. Laser tag is not a gentle game, and the set you choose needs to be able to survive a heated match. When looking for the best set, search for composite plastics and thicker builds. These will ensure your games last longer and are not interrupted by someone dropping and breaking their weapon.
Price
Because of the technology built into laser tag sets, the product itself can get expensive fast. For a reliable gun and target, you should expect to pay anywhere from $25 to $35 per weapon. This means a kit of four can cost between $100 and $140 easily. If you are interested in a more affordable set, remember you might need to compromise on either lifespan or quality, which could cost you in the long run.
Number of Blasters
Depending on the size of your family, you might want to find a larger kit to accommodate and include everyone. The majority of home laser tag sets on the market tend to have four guns and targets, great for four people. If you need more, you might need to choose a larger variety pack or purchase the same kit twice so everyone can have fun.
On a similar note, some home laser tag kits include blasters that can function as different weapons. This means the players can choose between having a pistol, a rifle, or even a rocket launcher while using the same small blaster. If you would like to enjoy these extra features, always check to see what your blasters can do before purchase.
Functionality
The ideal laser tag blaster and the target will be simple and easy to use. This means it is excellent at reading shots, can track hits, and accurately reflect how much health or ammo the user retains. In general, simpler or more affordable models tend to be less accurate. This does not mean they are bad, but it can be frustrating during play if the system is unable to keep track of how well the players are doing.
To get the most functionality out of your set, take a look at the settings and built-in features. Some blasters will make obvious sound effects when firing or a player has been hit, but others will not. Some include specific targets for a player to wear, while others rely on the guns themselves. In a few cases, you might even be able to change what mode you are playing in. This can affect how the laser tag set scores and tallies points.
Your ideal laser tag set will vary, but you want the scoring system to be accurate. In general, you should find a system that has designated targets, a clear shot radius, and a reflection of health and ammo. If you don't meet these requirements, your game could rapidly become confusing and less enjoyable overall.
Range
The final characteristic you should check is range. Laser tag can be played in a large or small arena, and this flexibility means the sets you can purchase for home use vary wildly in how far the blasters can shoot. Keeping track of range is also made more difficult by the fact that the shots themselves are invisible. In general, to have a great time, it is ideal to locate a set with a range between 50 and 120 ft. Any less and the game becomes cramped and uncomfortably.
Best Home Laser Tag Brands
A major difficulty in trying to find reliable and recognizable home laser tag sets is the lack of well-known brands in the industry. Although people can typically find laser tag or toy gun franchises – Nerf springs to mind – there are actually only a few manufacturers of home laser tag sets.
ArmoGear
ArmoGear is a dedicated laser tag company. ArmoGear recently made the decision to start manufacturing less expensive laser tag equipment to meet the growing niche of home players and strives to make all of its equipment domestically.
Kidzlane
Kidzlane is a United States-based company with an emphasis on engaging and educational toys. Kidzlane possesses similar goals and focuses on having non-toxic yet highly durable plastic equipment that can be used by children of all ages.
Depending on your personal preferences, you might find you enjoy ArmoGear or Kidzlane more than the other. However, the main thing you should know is that ArmoGear emphasizes professional quality more than Kidzlane, while Kidzlane tends to incorporate features that are friendlier for younger children.
Frequently Asked Questions (FAQ)
Q: Is Laser Tag Home Equipment Safe?
A: The blasters and targets are stringently tested before sale to ensure all equipment is safe and ready to use. The products listed here do not have any major manufacturing errors and do not pose a danger to the users. Although the blasters do use real lasers, they are labeled as Class 1 and do not pose any hazards to the health of humans or animals.
As a general precaution, please avoid aiming the blasters at people's eyes. Focus instead on the targets or on the other player's gun.
Q: Can I Run While Playing?
A: When you play indoors at a dedicated site, you are often told that you cannot run. This is not because of the equipment but is actually just a general safety precaution since the company does not want to be held responsible when you injure yourself.
When you play at home, you can run around with the equipment as much as you want. Just remember to be cautious because you can slip, trip, and get hurt while running, aiming, and dodging.
Q: Are the Blasters Durable?
A: How long your equipment lasts is going to depend on its quality, the materials used, and how well you take care of it. In general, home laser tag sets can last for years if you avoid potentially damaging behaviors like throwing the guns, tackling players, or playing in heavy rain. However, if those are part of the enjoyment of the game for you, then you can expect the blasters and targets to break down much faster.
Q: What Is the Average Firing Distance?
A: A crucial characteristic of a good home laser tag set is a good firing distance on the blasters. In general, home kits can vary between shooting 50 to 120 ft. If you want more durable equipment and varied games, try to find blasters that will shoot around 100 to 120 ft. This way, you can run around and have fun without getting too close to the enemy.
Q: Can I Play in the Rain?
A: Laser tag sets do not have any exposed electronics, so using the blasters and targets in the rain should be acceptable. The only catch is that heavy rains can affect how well the equipment detects the lasers emitted by the blasters. Water can create refraction and actually deflect the light of the laser, causing shots to miss or even hit unintended targets.
Q: Can You Play Specialty Games?
A: When you play laser tag at a traditional locale, you can often choose between specialty matches such as Juggernaut or Domination. Unfortunately, home laser tag sets are designed to be as simple as possible. This means you won't be able to program most specialties. In fact, many of the home sets don't even allow you to program teams into the system. Instead, every match becomes a battle royale with only one survivor standing.
Wrap-Up
Playing laser tag is a quintessential fun afternoon activity. However, in the past, it was almost always necessary to actually go to a specialized location to have all of the fun of harmlessly blasting your friends. Now with the invention of home laser tag sets, you can bring all of the fun to your home.
Out of the sets listed here, perhaps the best one is the ArmoGear Infrared Laser Set. These blasters have incredible range and accuracy, there are multiple modes available, and you can play multiple games without having to switch out the batteries for new ones.
However, even if the ArmoGear set doesn't do it for you, all of the other sets on this list are still stellar and can turn your backyard into a battleground. Just remember to take a look at the key features of durability, functionality, the number of blasters included, and the overall range of the equipment before purchase.
Plus, laser tag can be a great way to introduce the kids to more advanced games like airsoft and paintball. If it's too much, consider water guns.