Few games are as exciting and heart-pounding as laser tag. It's like jumping into your video game and playing it in real life. It combines strategy with keen observation skills and stealth. Of course, if you want to up your game, you have to get the best laser tag set with vests.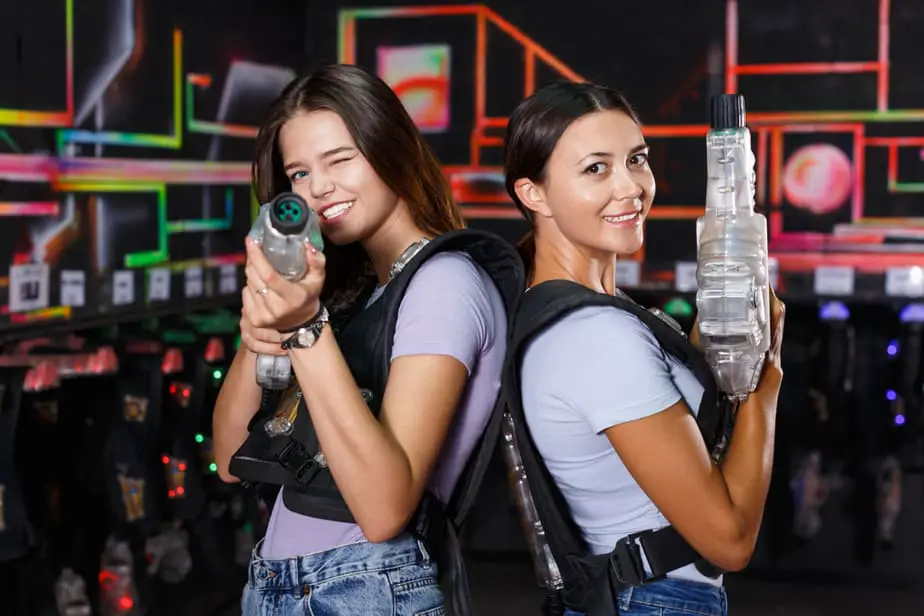 Some people prefer playing without vests and use a gun with a built-in target. We like playing with vests. It makes it more difficult for the players to game the system and give them an unfair advantage. Besides, adding more lights and effects ramps up the excitement.
Our guide will show you the features and options to look for in a laser tag set. We'll also provide some tips for getting the most out of it to improve your game and avoid getting lit up. Ready for some action? Game on!
In a Hurry? Here's Our Top Picks…
1. POKONBOY Laser Tag Guns and Vests
No products found.
The POKONBOY Laser Tag Guns and Vests set comes with equipment for four players. The package also includes a carrying case, which we appreciated. You can have unlimited people in on the action, too. There are four shooting modes with varying ranges and hit points. The shooting range is decent at 150 feet.
The guns are compact at 12.6 inches by 11.5 inches by 7.2 inches. They weigh just over 1 pound each. They use four AA batteries and the vest, three. You can play with or without the vests. The guns also have their own built-in target with gameplay indoors or in close quarters. This product is an upgrade from last year's edition with a cooler look and better grip.
Pros:
The set includes a carrying case for convenient storage.
The vests fit both children and adults.
The compact size of the gun makes it easier for kids to hold it.
Cons:
The product is a bit spendy.
Check Price and Reviews on Amazon
---
2. ArmoGear Laser Tag Blasters and Vests
Sale
ArmoGear Laser Tag – Laser Tag Guns with Vests Set of 4 – Multi Player Lazer Tag Set for Kids Toy for Teen Boys & Girls – Outdoor Game for Kids, Adults and Family – Ages 8+
AUTHENTIC LAZER TAG GAME 🔥 Turn your home or backyard into a laser tag arena with the ArmoGear laser tag blaster set, the most advanced set of laser tag blasters out there! No other laser tag set has real TARGET VESTS, INVISIBILITY MODE, NIGHT VISION FLASHLIGHT, VOICE-GUIDED DIRECTIONS, and an extreme 150 FT SHOOTING RANGE!
MULTI-PLAYER, MULTI-AMMO 🔥 Up to 4 teams can play in this riveting battle! Switch between the unique powers of PISTOL, SHOTGUN, MACHINE GUN, and ROCKET to blast your enemy and declare victory! These laser blasters are ergonomically designed with a solid grip in your hand, even for young kids. Using child-safe infrared emission.
FUN FOR THE WHOLE FAMILY 🔥 Tactile vibrations and lifelike shooting sounds make for deeply immersive gameplay, turn kids and adults away from their screens! Have a blast and create cherished memories on holidays, snow days, or birthday parties, with a fun family laser tag tournament! It's the PERFECT GIFT IDEA, sure to delight kids of all ages!
PREMIUM QUALITY & CHILD SAFETY 🔥 The ArmoGear laser blasters for kids are made according to the highest manufacturing standards for a top-quality, long-lasting toy. LITHIUM RECHARGEABLE BATTERIES are NOT included for child safety, each blaster uses 3 AAA batteries and each vest uses 3 AAA batteries. (set of 4 totals to 24 AAA batteries, batteries not included)
For nearly a decade ArmoGear has been devoping quality toys that inspire imaginative play, outdoor fun and creativity. Bring out the best in your little one!
Last update on 2023-08-31 / Affiliate links / Images from Amazon Product Advertising API
The ArmoGear Laser Tag Blasters and Vests brings some added effects and features to the game, starting with an invisible mode so that you can sneak up on your opponents. The guns are well-made and durable to handle hours of gameplay. Both the guns and vests use three AAA batteries. While lighter, they have a shorter duration than AAs, which we typically see in these products.
There are four shooting modes, along with a night vision LED flashlight. The guns add vibration to the realistic sounds and flashing lights. The devices measure 14 inches by 9.5 inches by 6.8 inches and weigh about 1 pound.
Pros:
There is a money-back guarantee on the set.
The vests fit players of all ages.
The flashlight and invisible mode add to the excitement of the gameplay.
Cons:
The vests and guns don't always play nice together.
Check Price and Reviews on Amazon
---
3. KidPal Laser Tag Guns Set
Sale
Laser Tag Guns Sets 4 Pack for Kids Adults Infrared Laser Tag Toy with Vest and Gun Indoor Outdoor Group Activity Laser Battle Blaster Gun| Best gift for kids Age 6 7 8 9 10 11 12+ Boy Girl 4 Players
⭐REAL-LIFE EXPERIENCE LAZER TAG SET - You may often hear words like "Handsup!" Or "Fire in the cave!", chasing each other for hours around the house and courtyard. They are likely to be playing a real shooting gun game. However, children have the opportunity to improve their real-life gaming experience, they will use the laser tag gun game to explode! Kids laser tag set with a range of up to 130 feet (approximately 39.6 meters), you can play laser tag guns set of 4 indoors and outdoors!
⭐PLAY LAZER TAG GAME WITH FRIENDS & FAMILY - When playing infrared lazer tag with friends or family in the backyard, run around at home. Laser tag gun is easy to figure out how to use it. For example, team selection on vests and guns, shooting sound selection, LED lights for night play, and optional LED lights for reloading actions. You can play with young or old friends and enjoy hours of fun! Laser tag for boys age 8-12.
⭐MULTI PLAYER LAZER TAG SET - Our laser guns for kids laser tag have four team colors: blue, red, white, and green. You can play the lazer tag game alone, or set up the gun as a team. Kids laser tag set also have four types of ammunition: pistol (hit), shotgun (two hits), machine gun (two hits) or rocket launcher (3 hits). This laser tag guns set of 4 gun and vest will glow, vibrate and make noises. It will be very fun to take them to a large playground and shoot each other.
⭐INFRARED LASER TAG SET FOR KIDS 100% SAFE - This laser tag guns set of 4 is certified for use by children over 3 years old. Laser tag for boys age 8-12, child safety is our top priority, and we use infrared signals less than 1mW (0.9mW). It does not emit an actual laser beam. The late label gun set is a sport activity, but it does not use physical ejection, so it is painless. Parents do not need to worry about their children being injured in shooting games.
⭐THE IDEAL GIFT LASER TAG SET FOR KIDS - Do you want to find the most memorable gift there? This infrared laser tag gun is a perfect personalized gift. Kids laser tag set is a strategy and innovation game that encourages you to work as a team and win strategy. This is really the perfect birthday or Christmas gift for boys and girls over the age of 3 4 5 6 7 8 9 10 11 12. A laser tag gun only needs 3 AA1.5V batteries (not included), and the vest needs 3 AA1.5V batteries.
Last update on 2023-08-31 / Affiliate links / Images from Amazon Product Advertising API
The KidPal Laser Tag Guns Set is a product for both kids and adults, alike. It includes four guns and vests, each with brightly colored designs that are easy to distinguish. The guns measure 9.9 inches by 9.4 inches by 7.2 inches and weigh less than a pound. The size makes them small enough for younger players. You'll need three AA batteries for each gun and vest.
The shooting range is 130 feet. The guns light up and vibrate with each shot. You can have an unlimited number of players, too. Both the vests and the guns have targets so that you can play without the vests if you choose.
Pros:
Younger children can get in on the action with this certified-safe product.
The targets work well with the gameplay.
The guns have a good hand feel to them.
Cons:
The guns won't handle rough play well.
Check Price and Reviews on Amazon
---
4. HISTOYE Large Laser Tag Set
HISTOYE Large Laser Tag Sets with Gun and Vest Infrared Laser Tag Guns Toys for Kids Adults Indoor Outdoor Lazer Tag Blaster Best Gift for 4 5 6 7 8 9 10 11 12+ Year Old Boys Girls (4 Packs)
🔫【100% Safety & NO actual laser beams OUT】🔫 :Laser tag game designed for up to Age 3+ with Zero-Injury Infrared Light can not harm the children and players. Infrared Signal Emission is less than 1mW (0.9mW) that won't bring harm to eyes. HISTOYE laser tag guns set of 4 players are certified safe for children of all ages .
🔫【Cool Design Like Science Fiction Gun】🔫: This lazer tag gun sets can freely switching SINGLE SHOT, SHOTGUN, MACHINE GUN and ROCKET with highly simulated shooting sounds and lights. laser tag guns set of 4 & vest can make strong sense of vibration, which makes people feel like they are in a real laser tag arena. laser tag set Max. shooting distance 130 ft fits for an indoor and outdoor laser battling .
🔫【Unparalleled Exciting Battle Game for Multiplayer】🔫: This laser tag set has 4 team colors . Choose any of the 4 teams represented by blue, red, green, and white, organize amazing battles with friends, and fascinated with the most amazing action games! let the merciless wars begin!Laser tag gun game can encourage your kids to work together, cultivate team awareness ,develop strategies, trying the best to be the winner !
🔫【Create Wonderful Memory for Your Kids】🔫: Parents and children can enjoy endless happiness with this laser tag for kids after school, on weekends or holidays . The family can stay away from the cold electronic products..It is thrilling moments and dreamy memories. Laser guns for kids is the best gift for your boys girls
🔫【Easy to Operate】🔫 Laser tag set of 4 is very easy to operate, every laser tag sets with gun and vest just requires 4 x AA 1.5V batteries(Not included) and the vest require 3 x AA 1.5V batteries. Only insert the batteries, choose the team, switch the firing modes and then you can start to battle game indoors or outdoors. If you have any questions or concerns regarding your order, ,please contact us anytime and we will ensure you 100% satisfactory product & service.
Last update on 2023-08-31 / Affiliate links / Images from Amazon Product Advertising API
The HISTOYE Large Laser Tag Set is a well-made product with some fun special effects that we enjoyed. The sounds are excellent. The set includes four vests and guns. They have a shooting range of 130 feet. You'll need four AA batteries for the gun and three for the vest. They measure 12.2 inches by 10 inches by 7.5 inches, weighing at about a pound each.
The compact design makes it easy to tuck close to your body for improved accuracy. Voice prompts keep you informed about the number of hits and state of your health. While you can't turn them off, they do add to the enjoyment of the gameplay.
Pros:
The realistic sounds are awesome.
The grip design makes it easy to hold in two hands.
The guns are durable.
Cons:
Check Price and Reviews on Amazon
---
5. Laser X Laser Gaming Set
Last update on 2023-08-31 / Affiliate links / Images from Amazon Product Advertising API
The Laser X Laser Gaming Set includes four guns and vests for two teams, red and blue, or as four individual players. The price is affordable, considering what you get. It is the only product that we reviewed that included the batteries. The guns are smaller than comparable models, which makes them easy to hold, even for children.
The guns are well-designed with bright lights. The manufacturer kicked it up a notch with the ability to plug-in headphones to hear the company's soundtrack to ramp up the excitement. The guns also provide real-time game tips to improve your strategy. The shooting range is an impressive 200 feet.
Pros:
The voice prompts to improve the gameplay.
The guns are well-made to last.
It is affordably priced.
Cons:
The vest attaches to the gun with a cord.
Check Price and Reviews on Amazon
---
Things to Consider When Buying the Best Laser Tag  Set with Vests
Laser tag has been around since 1974 where it got its start in Dallas, Texas. Interestingly, it began as a kids' game, not unlike pickleball. Today, you'll find it as a way to celebrate birthdays. Even corporations such as Fitbit and Nordstrom use it as a team-building activity.
Things took off with laser tag in a major way. That means that the technology has advanced, too, bringing more sophisticated devices with more bells and whistles to enhance the gameplay. It's more realistic, which isn't surprising given its military influence.
When looking for the best laser tag set with vests, there are several things you must consider to find the right one for you. They include:
Gaming style
Shooting range
Battery power
Effects
Design and construction
Guarantees and warranties
Let's discuss each one and how it will affect your gameplay.
Gaming Style
This point covers several factors. Think about whether you typically play laser tag indoors or outdoors and the venue, if you go to laser tag arenas. Many facilities supply guns, which often are only one brand. If you have a favorite spot, you might be able to buy one there.
Also, consider the age groups of the players. Laser tag is a game for older children, teens, and yes, adults. Some industry experts predict that it may even usurp bowling as the family game of choice. One of the main things going for laser tag is the number of specialty games you can play. Suffice to say that it doesn't get boring.
Shooting Range
Most manufacturers will provide a maximum shooting range. Take note of the wording. Lots of things can affect how far the beam will go, such as nearby objects or walls, if you're playing indoors. The typical distance you'll see is at least 100 feet, although we have seen products that go up to 200 feet.
Battery Power
This one is a biggie. It also is a direct correlation between the next two points we'll discuss. Of course, laser guns and vests light up, so you'll need batteries to provide the power. Pay attention to how many and what type they use. This factor will affect your gameplay with the added weight and your pocketbook to replenish your supplies.
Effects
These features go the gamut from flashing lights to realistic shooting sounds to recoil and vibration. The more a laser tag set has, the more juice it will need to run them, especially if they are uber-cool. A word to the wise: Most products don't have an ON/OFF switch with them.
Design and Construction
The hand feel of the laser gun is probably in the dealmaker or deal-breaker category. The best way to use these devices is to hold them in both hands, close to your body. It's safer. After all, you're in a dark place with other people. You don't want to bean someone with the gun in your outstretched hand. It'll also improve your accuracy.
Those points play a direct role in your satisfaction with the dimensions and weight of the laser gun. Refer back to the battery power section. The chances are that the specs are just for the item and not one that is fully loaded. Other things also matter, such as the controls, gauges, and comfort.
The vests are usually just straps with a sensor that you wear in front of your body. We prefer this barebones design because it makes it easier for children and adults to use the same items. Bear in mind that they also require batteries. Many sets include a screwdriver to make swapping out new ones quicker.
Guarantees and Warranties
It's always a smart idea to check for both of these things. We prefer choosing products from manufacturers that back up what they sell. They should cover defects, at the very least. Make sure to read the fine print for any special conditions or other gotchas. Pay attention to who pays the shipping if you have to return your set. And save your original receipt.
Top 3 Brands
ArmoGear
ArmoGear specializes in laser guns and accessories. The New York-based company emphasizes realistic gameplay with its designs and sound effects with its laser products.
Kidzlane
Kidzlane puts children first for creating family-friendly games and toys that are certified safe. It produces a full line of items, with an emphasis on educational and STEM themes.
Laser X
Laser X is another company that is all about everything laser. It produces a full line of products for both the casual player and serious competitor.
Frequently Asked Questions
Q: How many people can play in a laser tag game?
A: The answer depends on the product you buy. Most manufacturers will provide this information in the description. We'd also check on the compatibility with other sets in their line as well as other brands. We think that more the better, as long as you have the space and plenty of room to maneuver. Many sets allow for an unlimited number of players.
Q: Are laser guns safe?
A: One of the major selling points of laser gun sets is the fact that there is no physical contact between players. And there's no paint flying around, either. However, there is a concern with the infrared light. Most manufacturers adhere to the FDA Class I or  IEC Class 1 emission limits. You'll undoubtedly see it in the product description, too. Most are typically under 1mW.
Kids will be kids. Therefore, we strongly urge parents to instruct their children not to point a laser gun at anyone's face. And while you're at it, tell them to avoid running if they're playing in the dark.
Q: What is the best way to use a laser gun?
A: Holding the laser gun is the best and safest way to use it. The targets are on the vests of the other players, usually on the front and sometimes the shoulders, too. Accuracy is adequate at best. Having a firm hold on the device can improve your chances of getting someone lit up.
Final Thoughts About the Best Laser Tag Set with Vests
The excitement of laser tag makes a strong case for its rising popularity for players of all ages. We love it because it teaches teamwork and fosters an active imagination, especially with role-playing games. The best laser tag set with vests offers a durable product with features that enhance gameplay with realistic effects. Who knows? It could become your family's favorite game.